623G
Quick loading, high travel speeds and the ability to load and spread on the run yield fast cycle times, allowing Cat Elevating Scrapers to consistently deliver high productivity at the lowest cost per ton.
SPECIFICATIONS
Engine
Net Power - Tractor/Scraper
246 kW (330 hp)
Tractor Engine
Cat® C15 ACERT™
Net Power - Gears 1 - 2
330.0 hp
Net Power - Gears 3-8
365.0 hp
Gross Power - Gears 1 - 2
359.0 hp
Gross Power - Gears 3-8
394.0 hp
Scraper Bowl
Depth of Cut - max
13.0 in
Width of Cut, to Router Bits
138.0 in
Ground Clearance - max
15.2 in
Cutting Edge thickness
1.14 in.
Hydraulic Penetration Force
33750.0 lb
Depth of Spread - max
15.0 in
Transmission
Travel Speed Maximum
32.0 mph
Weights
Total Operating - empty
82530.0 lb
Total Shipping
81196.0 lb
Tractor Shipping
52778.0 lb
Scraper Shipping
28419.0 lb
Total Operating - loaded
137646.0 lb
Front Axle Weight - loaded
68823.0 lb
Rear Axle Weight - loaded
68823.0 lb
Elevator
Length - overall
146.9 in
Width of Flight Face
8.5 in
Length of Flights
89.0 in
Spacing of Flights
20.0 in
Dimensions
Height - overall shipping
146.0 in
Length - overall machine
520.0 in
Width - overall machine
140.0 in
Height - top of cab
134.8 in
Height - scraper blade max.
15.0 in
Width - inside of bowl
116.0 in
Width - rear tire center lines
85.8 in
Width - outside rear tires
120.0 in
Front of Tractor to Front Axle
120.4 in
Rear Axle to Rear of Machine
85.7 in
Ground Clearance, Tractor
21.8 in
Steering
Width - 180° Turn
35.9 ft
Steering Angle - Right
90°
Steering Angle - Left
85°
Hydraulic Output
55.0 gal/min
Service Refill Capacities
Final Drive (each side)
5.0 gal
Wheel Coolant (each)
12.0 gal
Hydraulic Reservoir
37.0 gal
Hydraulics
Bowl Cylinder Bore
6.0 in
Bowl Cylinder Stroke
20.0 in
Floor Cylinder Bore
6.0 in
Floor Cylinder Stroke
53.25 in
Ejector Cylinder Bore
5.0 in
Ejector Cylinder Stroke
48.0 in
Steering Circuit
55.0 gal/min
Scraper Circuit
63.7 gal/min
Cushion Hitch Circuit
9.8 gal/min
Supplemental Steering Circuit
39.9 gal/min
Relief Valve - Steering Circuit
2250.0 psi
Relief Valve - Implement Circuit
2510.0 psi
Compensator Settings - Cushion Hitch Circuit
2175.0 psi
Compensator Settings - Elevator Circuit
5246.0 psi
BENEFITS & FEATURES
Power Train - Engine
The new ACERT technology and proven components are electronically integrated to achieve new levels of performance and efficiency.
C15 Tractor Engine
The Cat C15 Electronically Controlled Unit Injection (EUI) diesel engine powers the tractor. With dual horsepower capability, it provides high power and torque rise for excellent lugging in tough loading conditions. The C15 is designed for long hours of continuous operation with high displacement and low RPM ratings.
Dual Horsepower
Electronic engines deliver increased power when the auger is engaged or when the machine is in the roading gears, providing quicker acceleration on the haul road.
ACERT Technology
The C15 electronic engine with ACERT technology meets US EPA Tier 3 and European Union Stage III exhaust emission regulations. ACERT technology reduces emissions during the combustion process by using advanced technology in the air and fuel systems, in conjunction with integrated electronics. Caterpillar meets emission regulations at the combustion source rather than recycling exhaust gases.
Electronic Control Module (ECM)
The ECM responds to operator commands and engine sensor input to optimize engine and machine performance. This advanced engine management software controls and protects the engine at all times against cold starts, high altitude operations and air filter plugging by monitoring:
injection timing and pressure
engine cooling fan speed
ether starting aid
hydraulic pumps
Electronic Unit Injection (EUI)
Electronic injection provides complete control over injection timing, duration, rate and pressure under changing conditions over the entire engine operating range. The EUI controlled engine delivers:
improved fuel efficiency
more power
decreased smoke and emissions
faster hot and cold starts
better high altitude performance
less noise than mechanical injector engines
Engine Speed Lock
Allows the operator to maintain a given engine speed without using the accelerator pedal. This eliminates operator fatigue associated with holding the pedal down for extended periods of time. An on/off rocker switch enables the Speed Lock feature, and a dashboard lamp indicates the feature is active. Moving the rocker switch to the off position, or activating the service brakes or the retarder, disables the feature.
Automatic Belt Tensioning
Both the tractor and scraper engines now have automatic belt tensioning rather than manual tensioning. Other engine improvements include:
reducing the number of belts (from five to two on the tractor, from four to two on the scraper)
eliminating the servicing for fan drive bearings
Power Train - Transmission
Integrated electronics allows the machine to monitor the power train which reduces stress as well as provides a better ride to the operator.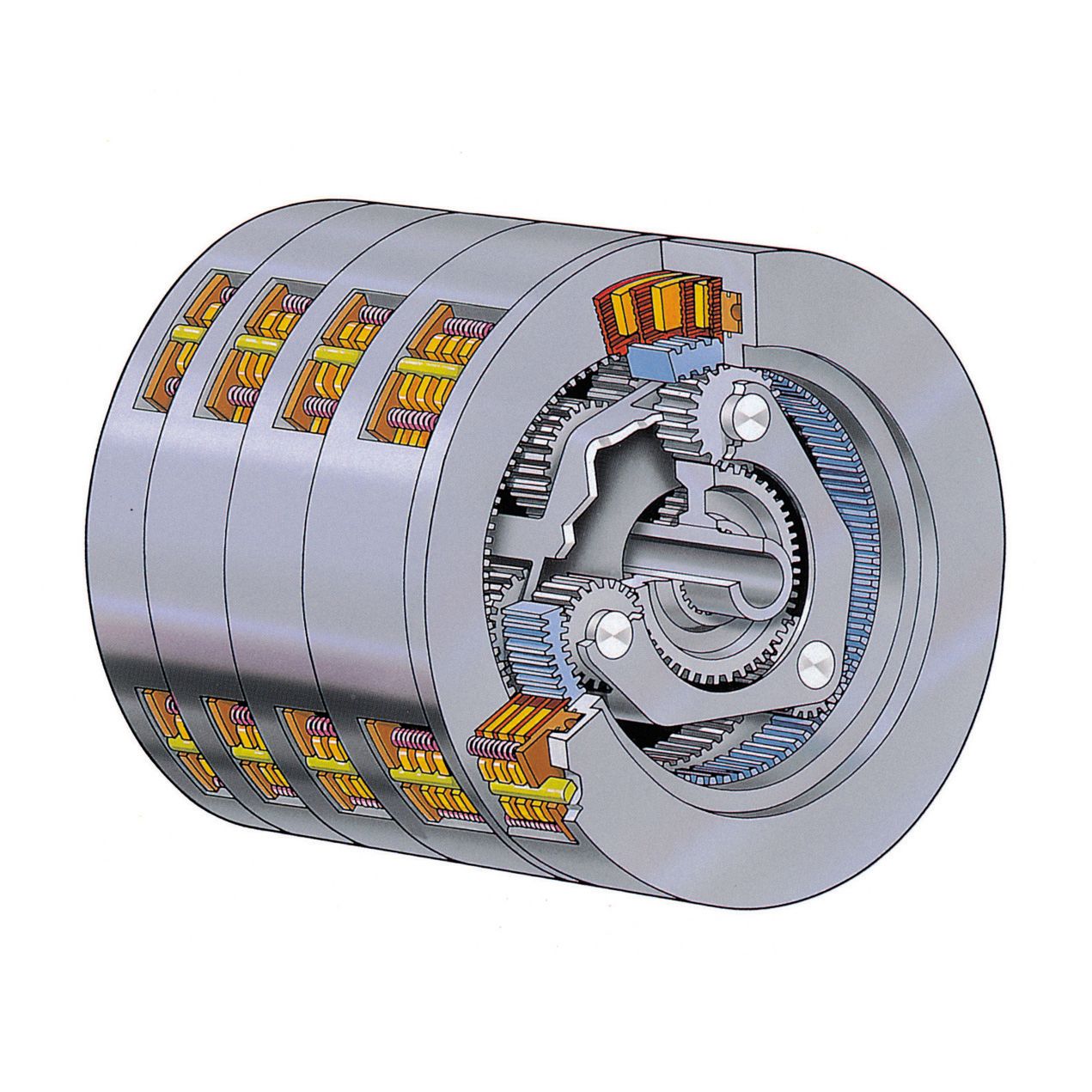 Transmission
Electronically controlled Caterpillar planetary powershift transmission with eight forward and one reverse speed. Tractor gears 1 & 2 operate in converter drive for increased torque capability during cut and fill operations. Gears 3-8 operate in direct-drive for drive train efficiency during the haul. Reverse gear operates in converter drive.
Brake Performance
Redesigned axles on both the tractor and scraper accommodate wider brake shoes and brake drums, improving brake performance as much as 20 percent and reducing brake and drum wear as much as 75 percent.
Final Drives
Outboard-mounted, planetary design final drives reduce torque loads on the other power train components. Large-capacity, double-row roller bearings and Caterpillar Duo-Cone® seals deliver exceptional reliability in the toughest applications.
Electronic Controls
Instant response optimizes machine performance, and advanced diagnostic capabilities maximize machine availability.
Simplified System
The electrical system has been redesigned to utilize three electronic control modules (ECM) on the tractor instead of four.
Improved Serviceability
Combined monitoring systems, easy access diagnostics and more durable components make routine maintenance and servicing simple and fast.
Fuel Economy
Electronic controls yield a fuel savings by optimizing the timing setting for varying conditions. The ECM matches timing to the load on the engine, engine speed and temperature.
Product Link Ready
Product Link is a wireless system that allows the customer to track machine data such as location, service meter hours as well as machine health information. The system has the capability to automatically issue alerts when the machine is being operated beyond owner defined time and location limits.
Reduced Exhaust Smoke
The ECM reads electronic sensors to determine the optimum fuel/air ratio, then precisely controls fuel during cranking, starting and acceleration to reduce smoke. The ECM system is faster and more efficient than mechanically controlling the governor rack position.
Operator Station
Redesigned for enhanced operator comfort and productivity.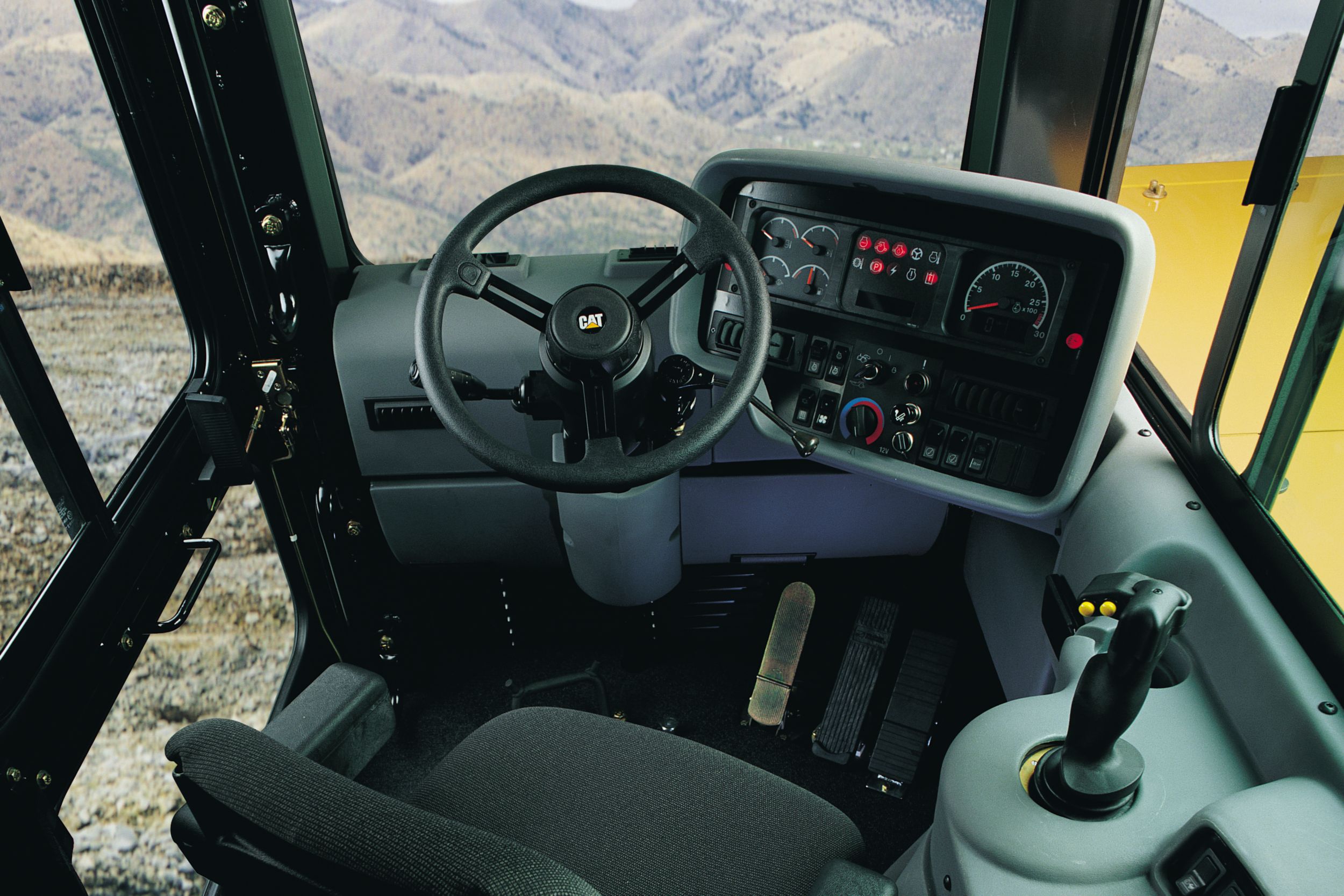 Multi-Adjustable Seat
The Cat Comfort Cloth Seat has an adjustable seat and armrests for maximum operator comfort.
Swivels and locks in four positions (0º, 10°, 20° and 30º) providing the optimum operating position in the cut or on the haul.
Fore/aft and vertical height adjustment to accommodate various sized operators.
Revised Steering Column
Increases legroom a full 3.5 inches (89 mm), and reduces knee contact points.
Standard Air Conditioning
Gives the operator a comfortable workstation in various types of weather. Relocated ventilation louvers improve airflow to the operator.
Storage And Amenities
Convenient storage location includes space for a lunch box and first aid kit. The cab also has a cup holder as well as an ashtray.
Visibility
Hood and front shroud width increased to accommodate the low emission engine, the air-to-air aftercooler (ATAAC), ether starting aid, and lights. Hood corners are sloped to maintain the excellent visibility.
Single Lever Implement Control
Simple and easy to operate, the joystick enhances the productivity of operators of all skill levels. Requires less force to control the critical scraper functions and requires less lever travel. Grab handle/hand rest next to joystick controller so operator has a place to rest hand while on the haul and return roads. 1) Bowl (forward & back) 2) Ejector (side to side) 3) Thumb rocker switch
Apron position
Elevator direction, speed 4) Transmission Hold 5) Cushion Hitch 6) Trigger* (not shown here - is on front of joystick)
Auger (on/off)
Elevator (on/off, resume)
* Standard open bowl does not have a trigger
Instrument Display Panel
Features a quad-gauge layout showing engine coolant temp, transmission/torque converter oil temp, fuel level, and system air pressure.
Engine Speed Lock Controller
Enhances operation during long haul cycles by allowing the operator to maintain a desired engine speed without maintaining pressure on the accelerator.
Simplified Transmission Control
Simplifies gear selection (1st, 2nd, Drive and Reverse) and allows operator-defined top gear control. Relocating the gear control to the rear increases operator legroom.
Structures
Superior structural design and construction optimize performance and reliability.
Cushion Hitch
The electronically actuated cushion hitch incorporates a parallelogram-type linkage for exceptional strength with nitrogen accumulators to deliver a smooth ride for enhanced operator comfort.
controlled oil flow dampens rebound oscillation
leveling valve automatically centers piston in cylinder for all loads
steel castings are used extensively to eliminate many welded joints and increase strength
double-kingbolt design withstands high external forces and simplifies installation and removal
Scraper Bowl
Designed for optimum loading, material retention and ejection.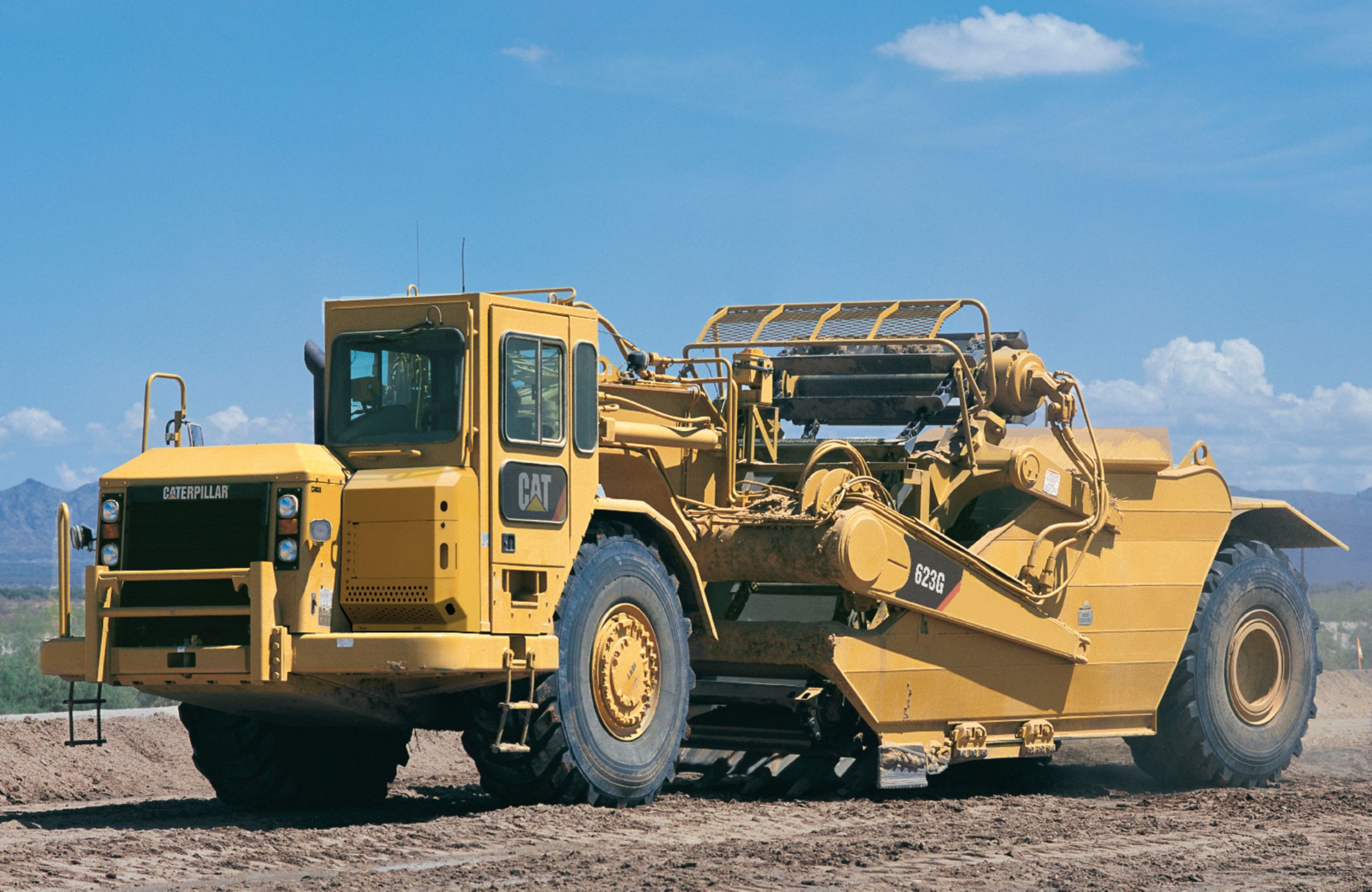 Redesigned Bowl
Excellent productivity with a 10% increase in bowl capacity from the F series, improved draft arm protection, and better load retention. Low-profile design of the bowl offers less resistance to incoming materials, while cellular construction adds strength and dent resistance to bowl sides and floor.
Bulldozer Ejection System
Combines constant spreading control while minimizing carryback material. The floor of the bowl retracts as the ejector moves forward, allowing the operator to precisely control the flow of material.
Cutting Edges
May be adjusted according to job conditions. For most efficient loading, use the thinnest edge that provides satisfactory wear life and impact resistance.
Caterpillar Ground Engaging Tools (G.E.T.)
A wide variety of Ground Engaging Tool (GET) options, such as standard, serrated, and abrasion resistant material (ARM), are available to optimize scraper loading in various materials. Most are reversible to provide long life and reduced operating costs. Contact your Cat Dealer to learn more about the best tools for your applications.
Material Application
The 623G is ideal for windrowing, blending material as well as breaking up vegetation in stripping operations.
Elevator Mechanism
Self-loading capability, versatility and excellent material handling characteristics.

Versatility
The 623G is ideal for windrowing, blending material as well as breaking up vegetation in stripping operations.
Material Handling
The elevator lifts material off of the cutting edge and carries it to the top of the elevator and then dumps the material into the bowl. Blending the material helps eliminate voids in the bowl for consistent payloads and even unloading.
Drive Sprockets
Split, bolt-on drive sprockets eliminate the need to remove the chain during servicing and require no lubrication. Hydraulically adjustable chains have exceptional pull strength for dependable performance and long life.
Throat Opening
Adjustable up to 610 mm (24"), enables faster loading and greater material control.
Low-Maintenance Rollers
Carrier rollers and chain idlers are heat-treated for wear resistance. Fixed elevator rollers require no adjustment, reducing maintenance. Sealed and lubricated floor rollers are maintenance free. The direct acting floor mechanism eliminates the drag link.
Two-stage Ejection System
Allows the floor to slide backward while a dozer-type ejector moves forward (toward the cutting edge), cleaning the entire bowl in one motion.
Implement Pumps
High-pressure, engine-driven implement pumps enable the operator to take deeper cuts and load in a shorter distance with less elevator stall.
Elevator Controls
The operator has variable control of the elevator to match the speed of the elevator to the material conditions for increased productivity.
Single-pivot Design
The single-pivot elevator design improves the load profile which allows the machine to achieve consistent payloads.
Chain Adjustment
Maximize chain life quickly and easily with just a grease gun.
Serviceability
Count on Caterpillar for simplified service and the most productive uptime.
Grouped Service Points
Maintenance and service points for the engine are grouped on the right-hand side for easy access. They include the engine air cleaner, engine oil check and fill, fuel filters and priming, coolant level sight glass, window washer bottle, air conditioning dryer cartridge, ether starting aid canister, engine oil filter, fan drive lubrication, and sampling ports for the engine oil and coolant.
Spin-on fluid filters for all but the main hydraulic filter
Cab wiring harness redesigned and relocated for better serviceability
Electronic Monitoring System (EMS III)
Monitors machine status and provides real-time information to the operator including warnings of problems identified by the Electronic Control Modules.
Implement Valve Relocation
The implement valve has been relocated from the tractor to the top of scraper draft tube, reducing the number of hoses and tubes that cross over the gooseneck. The move reduces potential leak points, and improves service access.
One Piece Power Block
Jumpstart receptacle and disconnect switch are integrated into a one-piece power block for better electrical integrity and serviceability. The disconnect switch, with a lockable cover, disables all power from the batteries and jumpstart functions.
Electro-Hydraulic Implement Control
Simplifies serviceability by removing the cab pilot valve and associated lines, which also improves reliability and reduces noise. The high efficiency electro-hydraulic pilot oil filter provides cleaner oil for the pilot system.
Scraper Electrical Harness
A ribbon wiring harness replaced the cable harness for improved wear and durability. Its increased flexibility oscillates with the machine, and polyurethane boots offer better protection against the elements.
Access Doors
The tractor has a standard two-piece door on the right side for better access to service points. The hood, hinged on the front and supported by spring struts, easily opens towards the front of the machine, for better access to the top of the engine.
Electronic Technician (Cat ET)
The Caterpillar Electronic Technician (Cat ET) Service Tool is useful in troubleshooting existing problems or identifying potential problems by displaying:
Real-time pressures, temperatures, fuel settings and diagnostic messages
Historical data such as engine over-speeds, overheating, low oil pressure and air filter restriction events
More detailed information to the service technician who can access ET via a laptop computer
Easy Access Diagnostics
Diagnostic codes are accessible through the EMS main display module, via the Cat ET. Relaying this information to the service technician can let him know which tools, troubleshooting guides, and possibly even replacement parts to bring to the machine.
Customer Support
Cat dealer services help you operate longer with lower costs.
Product Support
You will find nearly all parts at our dealer parts counter. Cat dealers use a world-wide computer network to find in-stock parts to minimize machine down time. Save money with genuine Cat Reman parts. You receive the same warranty and reliability as new products at substantial cost savings.
Machine Selection
Make detailed comparisons of the machines under consideration before purchase. Cat dealers can estimate component life, preventive maintenance cost, and the true cost of lost production.
Purchase
Look past initial price. Consider the financing options available as well as day-to-day operating costs. Look at dealer services that can be included in the cost of the machine to yield lower equipment owning and operating costs over the long run.
Customer Support Agreements
Cat dealers offer a variety of product support agreements, and work with customers to develop a plan that best meets specific needs. These plans can cover the entire machine, including attachments, to help protect the customer's investment.
Operation
Improving operating techniques can boost your profits. Your Cat dealer has videotapes, literature and other ideas to help you increase productivity, and Caterpillar offers certified operator training classes to help maximize the return on your machine investment.
Maintenance Services
Talk to your dealer about the range of available maintenance services. Repair option programs guarantee the cost of repairs up front. Diagnostic programs such as S•O•SSM Analysis and Coolant Sampling and Technical Analysis help avoid unscheduled repairs.
Replacement
Repair, rebuild or replace? Your Cat dealer can help you evaluate the cost involved so you can make the right choice.
EQUIPMENT
Standard Equipment
ELECTRICAL
Alarm, backup
Alternator, 75 amp
Batteries (4), 12V Maintenance Free, High Output
Electrical System, 24V
Lighting System
Starting Receptacle
OPERATOR ENVIRONMENT
Air Conditioner (includes heater and defroster)
Cigarette Lighter and Ashtray
Coat Hook
Diagnostic Connection Port (12V)
Dome Courtesy Light
Gauge Group
Horn
Implement Control Joystick
Rearview Mirrors
Radio Ready (two radio openings, speakers, and 5-amp converter)
ROPS Cab with Sound Suppression and Pressurization
Static Seatbelt
Seat, Air Suspension, Caterpillar Comfort, cloth
Steering Wheel - tilt and telescoping
Storage Compartment
Engine Speed Control Lock
Transmission Hold
Windows - sliding side, swing out
Windshield - laminated glass
Windshield Wiper/Washer - front and rear
POWER TRAIN
Engine
Braking System
Transmission
OTHER STANDARD EQUIPMENT
Air dryer
Cushion hitch
Extended Life Coolant, -36° C (-33° F)
Fast Oil Change
Fenders
Locks, vandalism protection
Product Link ready
Rims - 29 in (736.6 mm)
Tires, 33.25-R29 radial
Tow Pins - front and rear
Optional Equipment
Fenders, scraper 121 kg 266 lb
Fuel system, fast-fill 10 kg 23 lb
Heater, engine coolant 2 kg 4 lb
Lights, side vision 5 kg 10 lb
Retarder, hydraulic 150 kg 330 lb
Ripper teeth 290 kg 640 lb
Steering, secondary 50 kg 110 lb
CONNECT. DISCUSS. SOLVE.
CATERPILLAR EQUIPMENT MAINTENANCE ONLINE COMMUNITY
HOW CAN WE HELP?
SHARE YOUR FEEDBACK OR ASK A QUESTION