613G
The G-Series 613 carries on a unique tradition of clearing, cut and fill, and finish grade earthwork with a new emphasis on operator comfort and performance. The tractor frame has been redesigned to support a spacious new cab with a Cat Comfort seat that rotates 30 degrees for ease of loading. The cab is standard and comes with air conditioning and heat. Performance improvements - primarily in the cut - are the result of a new power train that features the Cat C6.6 with a horsepower increase and new torque converter. The result is more rimpull that when combined with more hydraulic flow to the elevator yields 13% faster loading. Order the machine with indicate-only AccuGrade and you'll move dirt more efficiently and profitably.
SPECIFICATIONS
Engine
Flywheel Power: Tractor/Scraper
135 kW (181 hp)
Tractor Engine
Cat® C6.6 ATAAC
Scraper Bowl
Scraper Capacity: Heaped
11 yd3
Depth of Cut - max
6.3 in
Width of Cut, to Router Bits
95.7 in
Ground Clearance - max
17.7 in
Cutting Edge thickness
0.87 in.
Hydraulic Penetration Force
62946 lb
Depth of Spread - max
22.5 in
Transmission
Top Speed (Loaded)
24.4 mph
Weights
Total Operating - empty
37229 lb
Tractor Shipping
24434 lb
Scraper Shipping
12219 lb
Total Operating - loaded
63629 lb
Front Axle Weight - loaded
33364 lb
Rear Axle Weight - loaded
30266 lb
Elevator
Width of Flight Face
6.9 in
Length of Flights
66.1 in
Dimensions
Height - Overall Shipping
125.6 in
Length - Overall Machine
410.2 in
Width - Overall Machine
95.7 in
Height - Top of Cab
125.6 in
Height - Scraper Blade Maximum
22.5 in
Width - Inside of Bowl
86.7 in
Width - rear tire center lines
70.8 in
Width - Outside Rear Tires
95.7 in
Front of Tractor to Front Axle
115.5 in
Rear Axle to Rear of Machine
48.1 in
Ground Clearance - Tractor
14.4 in
Steering
Width - 180° Turn
29.3 ft
Steering Angle - Right
90°
Steering Angle - Left
90°
Hydraulic Output
25.4 gal/min
Ground-Driven Secondary Steering System
4.23 gal/min
Service Refill Capacities
Final Drive (each side)
1.5 gal
Hydraulic Reservoir
33.8 gal
Hydraulics
Bowl Cylinder Stroke
16.5 in
Floor Cylinder Bore
5.1 in
Floor Cylinder Stroke
24.6 in
Ejector Cylinder Bore
3.5 in
Ejector Cylinder Stroke
36 in
Steering Circuit
25.4 gal/min
Scraper Circuit
85.3 gal/min
Supplemental Steering Circuit
4.23 gal/min
Relief Valve - Steering Circuit
2756 psi
Relief Valve - Implement Circuit
2502 psi
Compensator Settings - Elevator Circuit
2498 psi
Standards
ROPS / FOPS
ISO 3471-1994, SAE J1040-MAY 2003; ISO 3449-2005
BENEFITS & FEATURES
Operator Station
A spacious new cab, standard, offers room to operate more efficiently.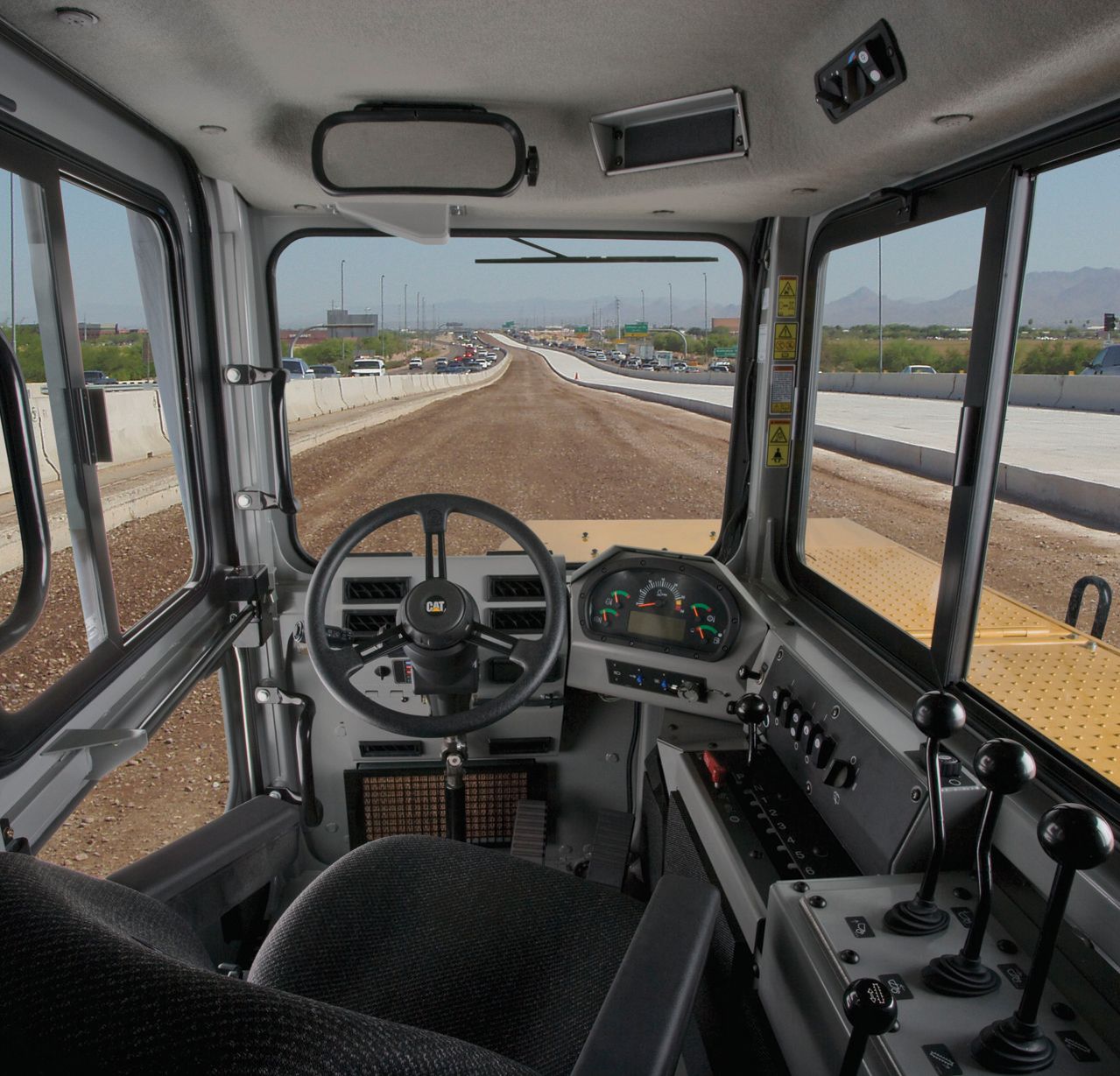 Operator Comfort
Air conditioning and heat standard
Hand holds and room to enter and exit freely
Fully adjustable steering wheel and seat accommodate operator sizes, rotates for easy loading, durable yet soft cloth surface, adjustable seat suspension for hauling
Arm rests, left foot rest for support and reduced fatigue
Ergonomic, low-effort controls with auto-kickouts and detents improve efficiency and speed
Radio ready
Productivity
AccuGrade™ ready
Cab mounted display for accurate material placement
Excellent visibility to cutting edge facilitates fine grading, with more glass than 613C II
Rotating seat for viewing the cutting edge and loading
Fatigue-fighting comfort in the seat, roomy interior
With all-new hydraulic system, implement and steering controls are quick to respond to operator input
76 dB(A) operator sound levels
Safety
Improved visibility to the work site
Steering disabled when operator is not in seat and machine speed is zero
Low cab sound levels reduce fatigue
Integrated ROPS protects the operator when combined with seat belt use
Primary and secondary braking systems hydraulically actuated eliminates the air-over-hydraulic system
Parking brake with 304 mm (12 inch) drum has more slope holding ability
Front and rear windshield wipers
Instruments
Simple gauge cluster is easy to read
Backlit switches are close at hand
Messaging alerts technicians and operator to service needs
Power Train
Cat® C6.6 and torque converter deliver horsepower and rimpull gains.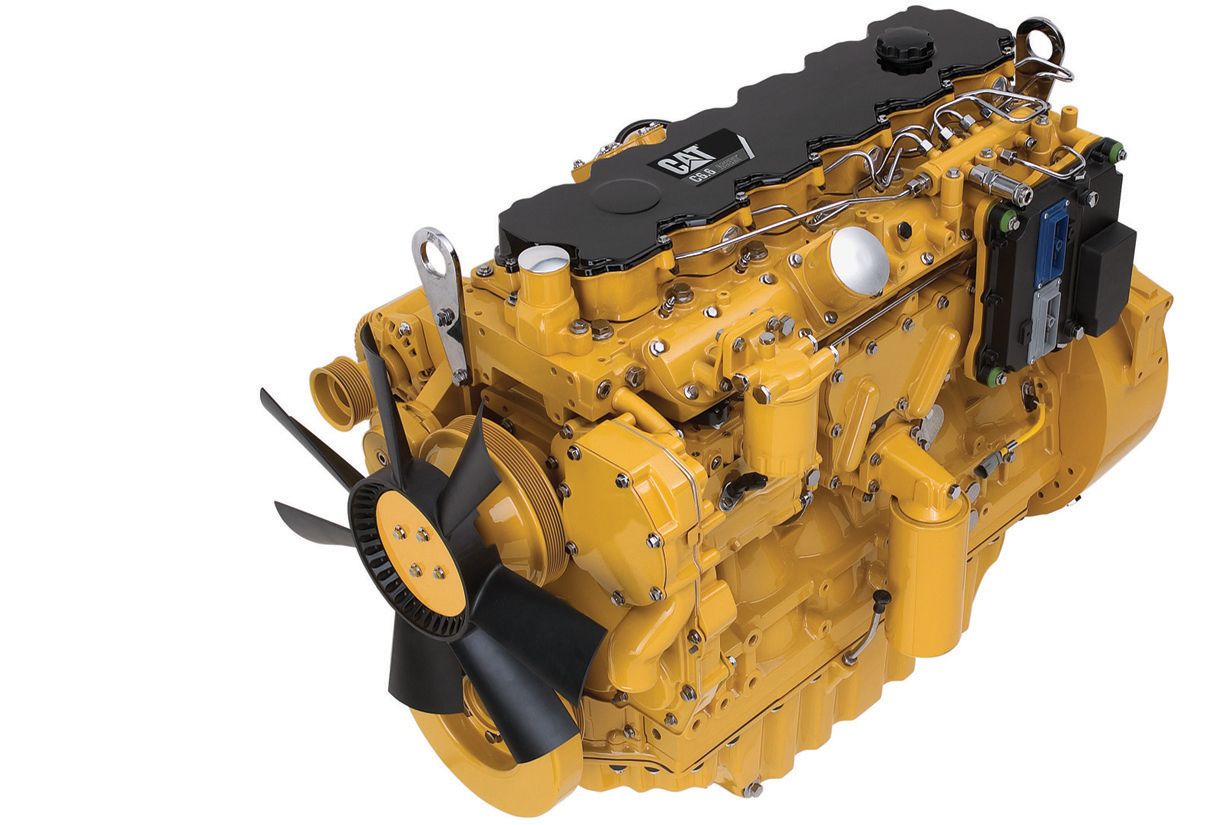 Cat C6.6 Engine with ACERT™ Technology
Net power increase from the C6.6 engine (135 kW/181 hp)
Electronically controlled for quick load response and emissions control
Common rail fuel injection facilitates emissions compliance through pilot ignition and control over injection timing and pressures
500 hr engine oil and oil filter change intervals
Easy access fuel filters
Modular cooling package with swing out cores facilitates maintenance
Torque Converter
New torque converter, proven in the D6N, increases rimpull by 11% in 2nd gear and shortens load times
Efficient at delivering power to the ground converting fuel dollars into more dirt moved
Built tough for constant directional changes typical of track-type tractor applications
Transmission
Planetary powershift manual transmission
6 speeds forward / 1 reverse
Design proven for the application
Differential Lock
Foot activated differential lock evenly distributes power, minimizing wheel spin
Improves traction in slippery underfoot conditions
Hydraulics
Newly updated hydraulics enhance 613G performance and serviceability.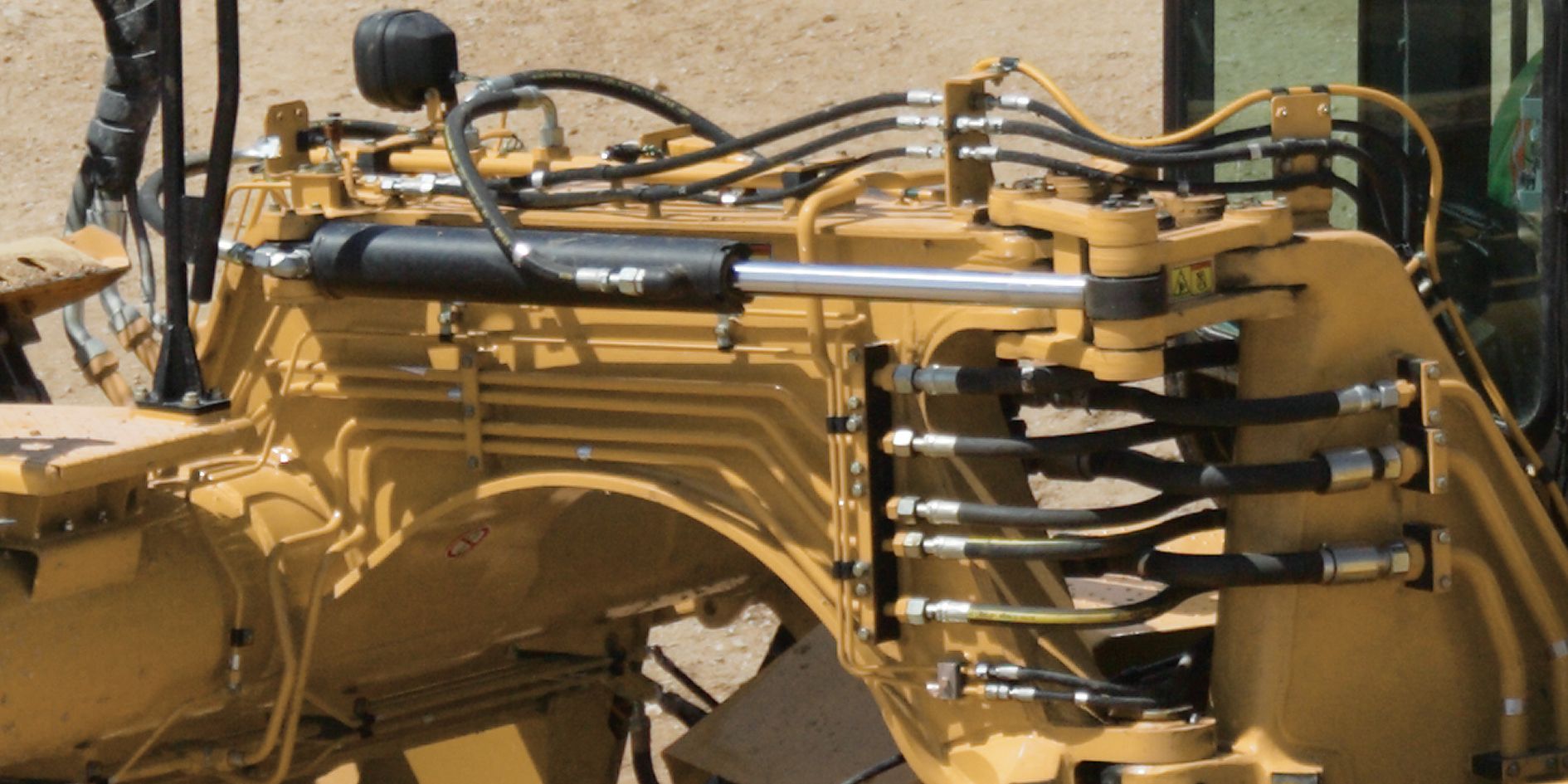 Braking
Primary, secondary and tertiary braking is hydraulically controlled without the need for an air system.
Hoses
All new routings avoid rubs and facilitate service.
New service port on the bowl side improves access to hoses reducing service time.
Hydraulic Tank
• New tank offers simpler construction, better accessibility, greater capacity, low oil turbulence and aeration with reverse flow filtration for cleaner oil.
Pumps, Motors, Valves
All new pumps work more efficiently and are sized for performance improvement.
New elevator pump provides higher flow and turns the elevator at slightly faster speeds.
New implement valve offers faster response to operator input.
Steering disable valve engages when machine is in Park, operator is absent from the seat and ground speed is zero. Eliminates unwanted articulation when entering or exiting the cab.
AccuGrade™ Grade Control
The 613G offers factory-installed AccuGrade options.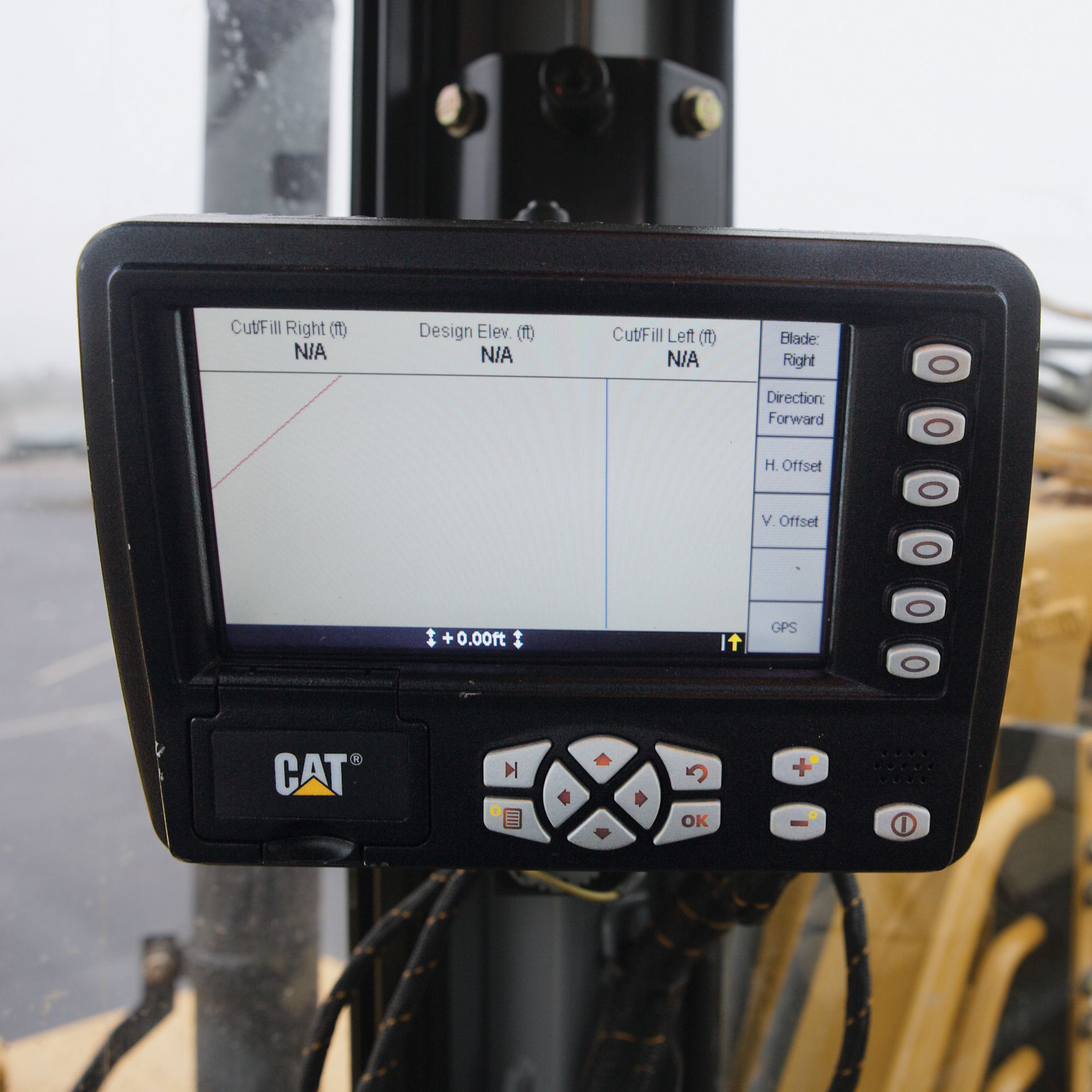 Features
The 613G offers indicate-only AccuGrade system.
The AccuGrade system is cross slope, single GPS technology.
AccuGrade allows the operator to manually place or cut dirt exactly where it's called for.
This system is accurate and efficient, allowing the 613G to work on stake-less job sites.
For easy mounting of the satellite receiver, the 613G features purpose built platforms and hand-holds assembled and durability tested at the factory.
These platforms align for safe removal of the GPS (Global Positioning System) receiver when the machine is articulated 90 degrees to the right.
The system, along with the mast, is purpose built to work with the 613G's cutting edge.
Each component has been designed and validated to withstand scraper applications and life expectancies.
Electrical
All new harnesses, routings and lamps improve availability and visibility.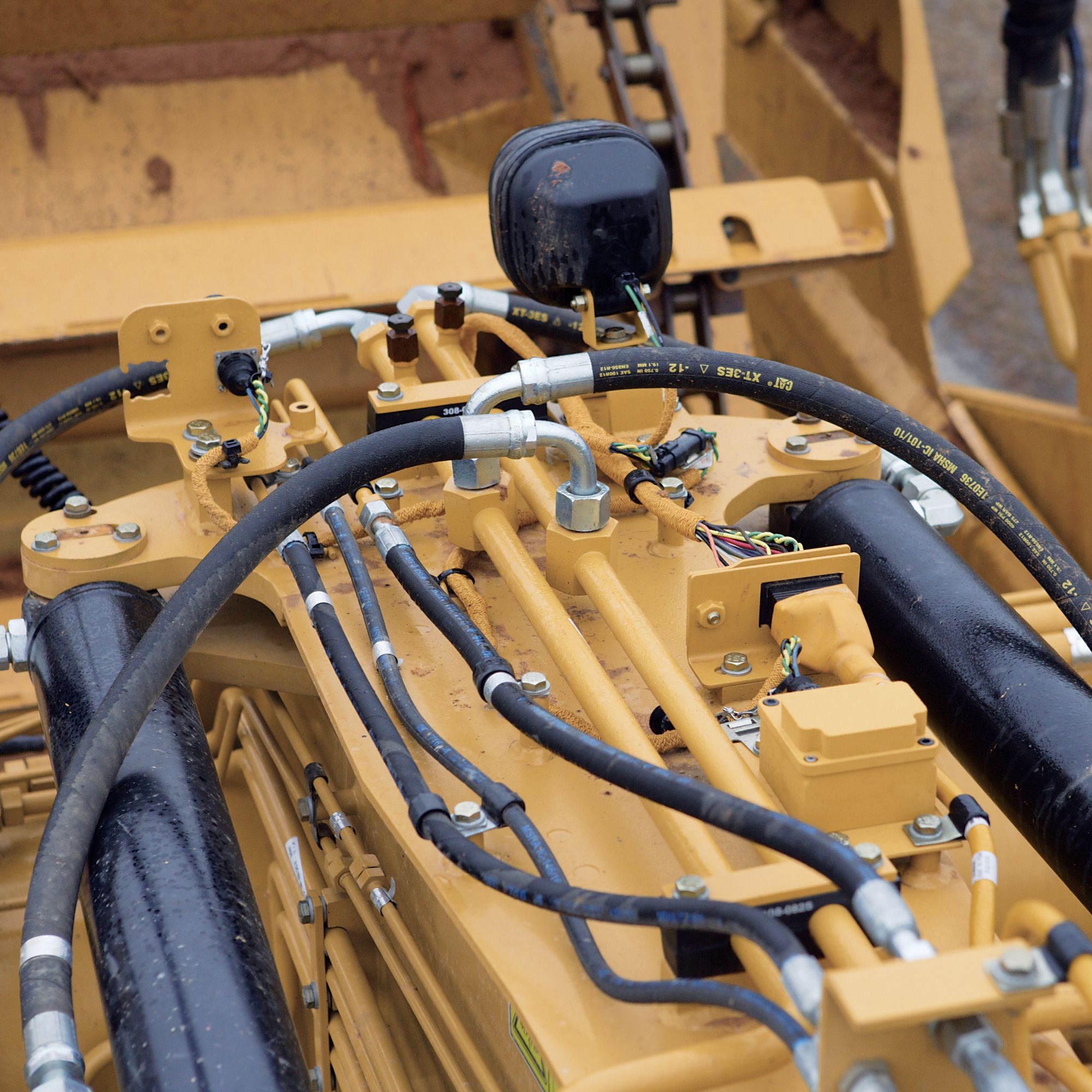 Key Updates
LED lights offer superior life and reliability on the rear of the scraper.
HID lighting options available on flood lamps offer 6X the output of conventional halogens.
Front head lamps feature low and high beam settings with directional lamps for roading.
An optional air horn gets respect under all job site conditions.
Polyurethane coated harnesses, found across the hitch, are weather resistant and improve durability.
Serviceability
The 613G is easier than ever to service, monitor and inspect.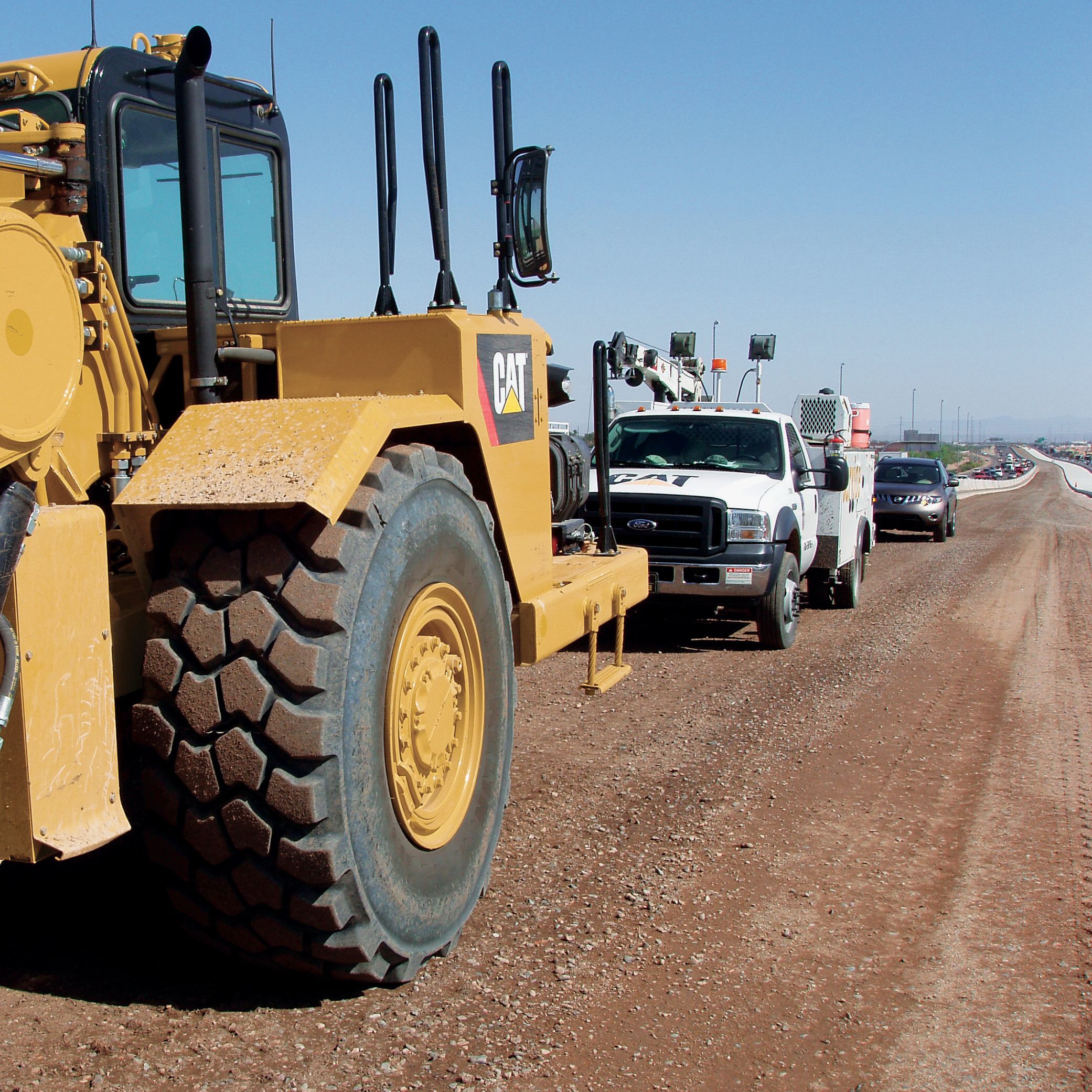 Accessibility to filter and fluid sight gauges are either at ground level or have platforms with anti-skid plate.
Thoughtful hydraulic hose routings reduce wear and improve accessibility.
Electrical wiring harnesses over the hitch use weather resistant polyurethane jacketing.
Smaller harness sections are easy to replace and resist pinching and stretching.
Cab tilts for access to left side of the engine.
Fuse and breaker box located in the cab for easy access.
Recessed battery reduces the opportunity for damage.
Electric priming located on primary fuel filter.
Grease point for elevator pivot joint located outside the bowl at ground level.
New elevator rollers include grease fittings for longer life.
New, clean fuel tank design reduces fuel contamination risk.
Fold out radiator cores make cleaning fast and simple.
Fault code messaging through the Electronic Monitoring Center simplify service.
EQUIPMENT
Standard Equipment
Bowl
8 m³ / 11 yd³ heaped
Elevator
Backup alarm
AccuGrade ready option weldments
Electrical
Alternator, 80 ampere
Electrical system, 24 volt
Batteries (2), 70 ampere hr.
Lighting system
AccuGrade ready option wiring
Starting/charging receptacle
Other Standard Equipment
Tractor
Scraper
Tires, Rims, & Wheels
Antifreeze
Optional Equipment
Ground Engaging Tools
Teeth, GET, Long set of 4
Antifreeze, -50°C (-58°F)
NOTE: Standard machine is protected with Extended Life Coolant to -36°C (-33°F)
Packing
Domestic Packing
Export Packing
Additional Packing
Note
Custom Product Ordering Instructions
Electrical
Lights, 5x5 flood, Work Lamps
Guard, Powertrain
CONNECT. DISCUSS. SOLVE.
CATERPILLAR EQUIPMENT MAINTENANCE ONLINE COMMUNITY
HOW CAN WE HELP?
SHARE YOUR FEEDBACK OR ASK A QUESTION