IT38G SERIES II
Improved visibility and increased static tipping loads provide unmatched performance and versatility.
SPECIFICATIONS
Engine
Net Power - ISO 9249
180 hp
Engine Model
Cat® 3126B ATAAC
Max. Flywheel Power
180 hp
Peak Torque (Net) @ 1,400 rpm
619 ft-lb
Weights
Operating Weight
32156 lb
Buckets
Bucket Capacities
2.21-2.8 m3 2.75-3.5 yd3
Maximum Bucket Capacity
3.5 yd3
Hydraulic System
Bucket/Work Tool System - Relief Valve Setting
3597 psi
Hydraulic Cycle Time - Raise
5.8 Seconds
Hydraulic Cycle Time - Dump
2 Seconds
Hydraulic Cycle Time - Lower, Empty, Float Down
2.9 Seconds
Hydraulic Cycle Time - Total
10.7 Seconds
Pilot System - Pump Output
26.9 gal/min
Service Refill Capacities
Fuel Tank - Standard
67.9 gal
Differentials and Final Drives - Front
6.3 gal
Differentials and Final Drives - Rear
7.1 gal
Hydraulic System (Including Tank)
23.8 gal
Transmission
Axles
Maximum Single-Wheel Rise and Fall
16.5 in
Brakes
Brakes
Meets required standards.
Cab
ROPS/FOPS
Meets SAE and ISO standards.
Tires
Tires
Choose from a variety of tires to match your application.
Operating Specifications
Static Tipping Load, Full Turn
19106 lb
Dimensions
Height to Top of ROPS
10.83 ft
Height to Top of Exhaust Pipe
10.59 ft
Height to Top of Hood
7.74 ft
B-Pin height - standard
13.32 ft
Center Line of Rear Axle to Edge of Counterweight
6.09 ft
Center Line of Rear Axle to Hitch
4.95 ft
BENEFITS & FEATURES
Engine
The IT38G II provides more power, excellent fuel economy, and reduced maintenance.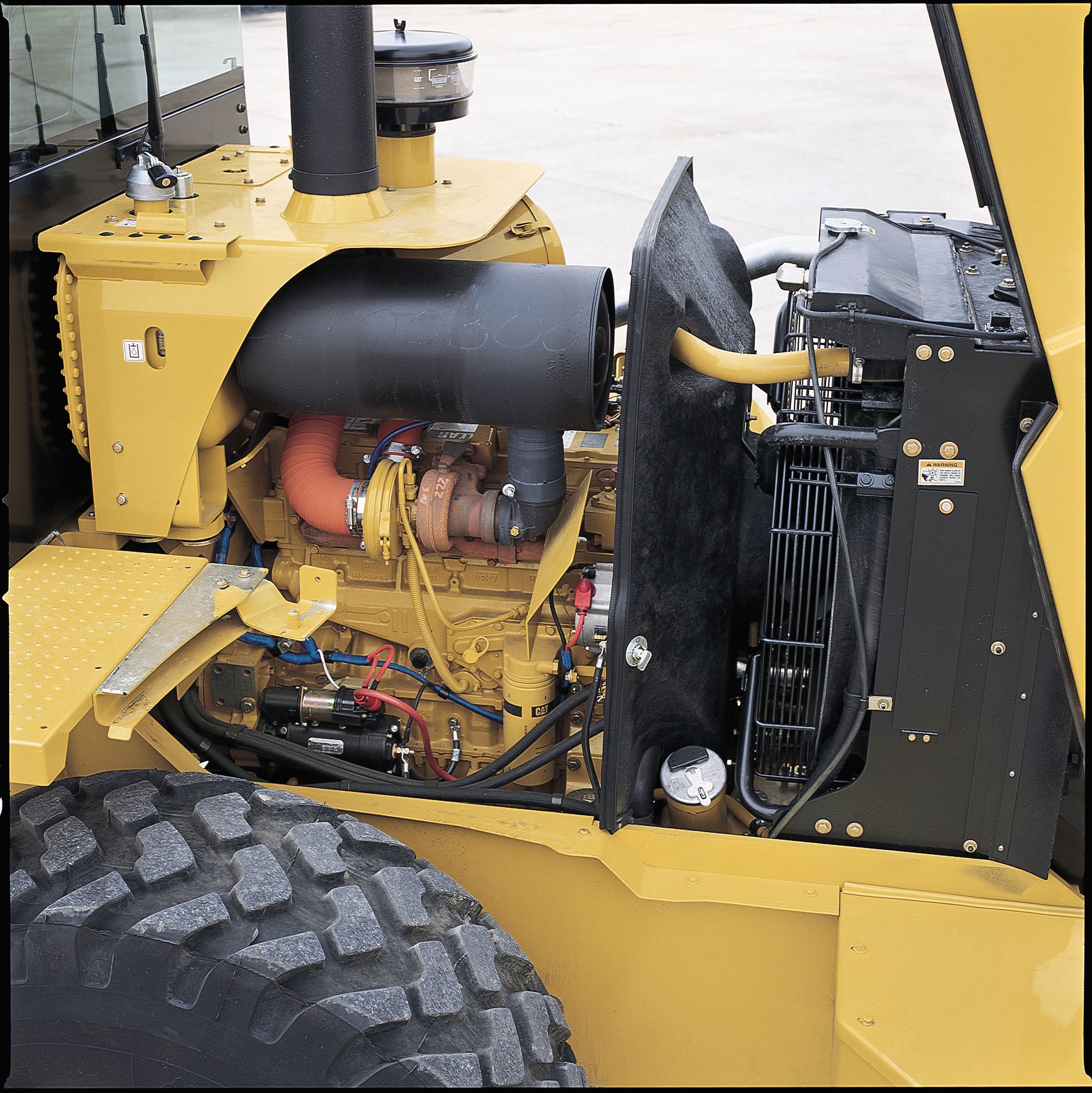 Powerful Performance
The 3126B ATAAC engine delivers net power of 119 kW (160 hp), and meets EPA Tier 2 emissions standards. Its advanced fuel system keeps fuel at low pressure in the lines until it is injected into the cylinder. Fuel pressure is created hydraulically in response to a signal from the ADEM™ III Electronic Control Module.
Electronic Control Module
The ADEM III fuel system is a proprietary electronic control module that provides improved engine response and fuel efficiency, plus advanced diagnostics and reduced emissions. Altitude capability up to 3050 meters (10,000 feet) is available without derating. ADEM III allows full electronic integration of the engine and transmission for maximum power train efficiency.
Turbocharged, ATAAC
Turbocharging packs dense air into the cylinders for more complete combustion and lower emissions. Air-to-air aftercooling (ATAAC) provides a separate cooling system for intake manifold air. The ATAAC system reduces smoke and emissions by providing cooler inlet air for more efficient combustion.
Constant Net Horsepower
The IT38G II electronic engine is integrated with an on-demand cooling fan. The engine compensates for varying fan loads and provides constant net horsepower, regardless of operating conditions. A consistent level of "working" horsepower is provided and fuel consumption is reduced.
Oil Change Intervals
The engine oil change interval of 500 hours (with CH-4 oil), reduces costs and downtime.
Power Train
Advanced Caterpillar® power train is reliable and fuel efficient.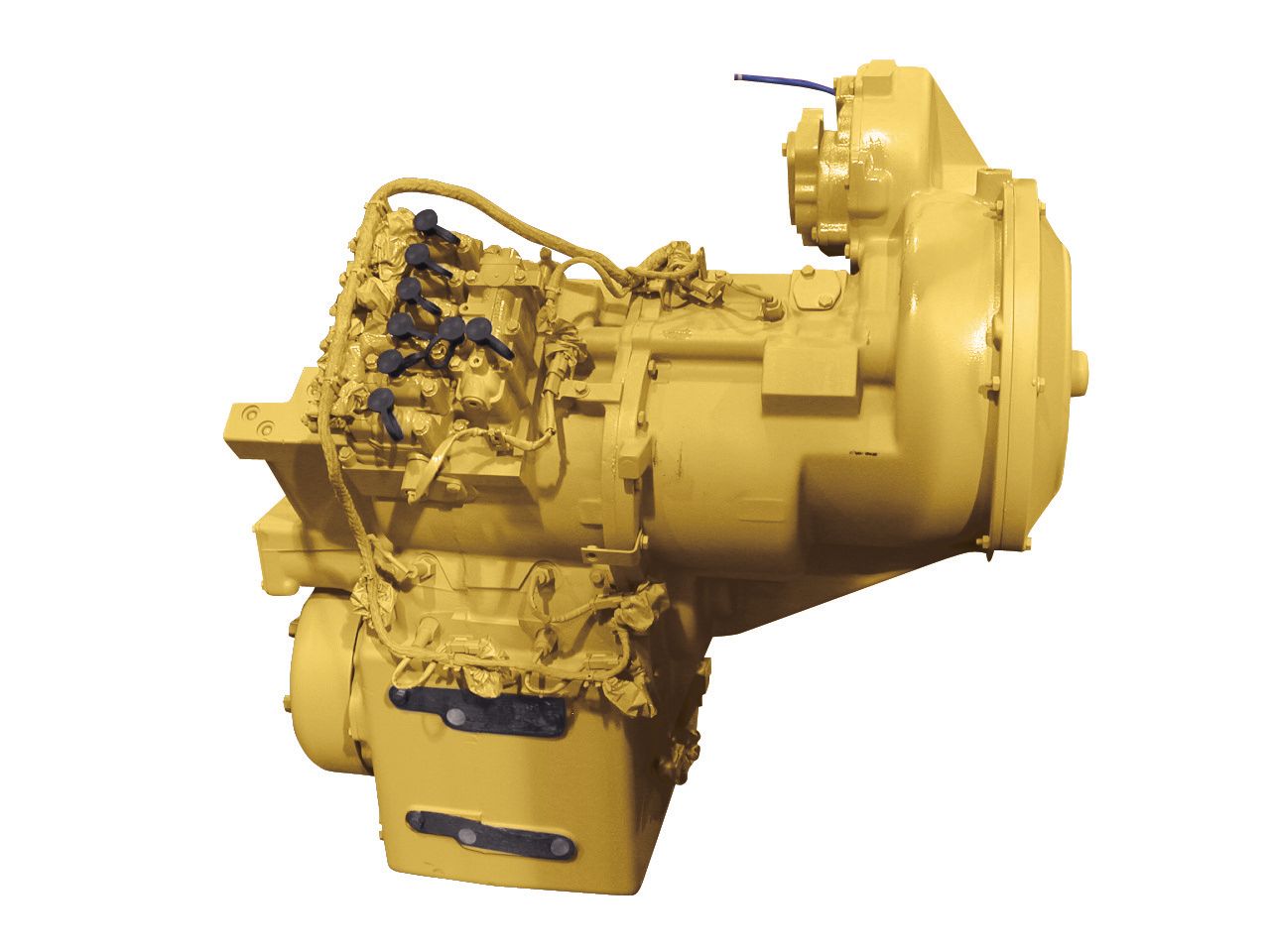 Electronic Power Shift Transmission
The electronic power shift transmission with automatic shift capability is a countershaft design built by Caterpillar. It is electronically controlled and allows full power shifts and directional changes. Fully modulated gear shifts contribute to operator comfort and increase component life.
Electronic Clutch Pressure Control (ECPC)
Senses input from both the transmission and the operator controls in the cab to modulate each individual clutch through a proportional electro-hydraulic valve. This results in smoother gear changes and improved shift quality. Energy is modulated into the clutches, resulting in longer clutch life.
Integrated Braking System (IBS)
The Caterpillar exclusive Integrated Braking System integrates downshifting and transmission neutralization into the left brake pedal. IBS provides smooth, optimized transmission neutralizer performance with a greater range of adjustability. IBS also lowers owning and operating costs by reducing axle oil temperatures, which can extend service brake life.
Easy Service
Daily transmission oil level check is done from the ground through a well-protected sight gauge. An oil sampling valve allows quick, clean access to the transmission for S•O•SSM oil analysis.
Variable Shift Control (VSC)
Variable Shift Control allows the operator to select one of three different shift patterns based on the application and operating preferences. VSC reduces fuel consumption in many applications. In all modes, full machine power remains available for loading.
Limited Slip Differentials
Front and Rear Limited Slip Differentials are available as attachments. The differential clutch slows the slipping wheel and transfers torque to the slower turning wheel.
Cooling System
The G Series II cooling package reduces radiator plugging and improves fuel efficiency.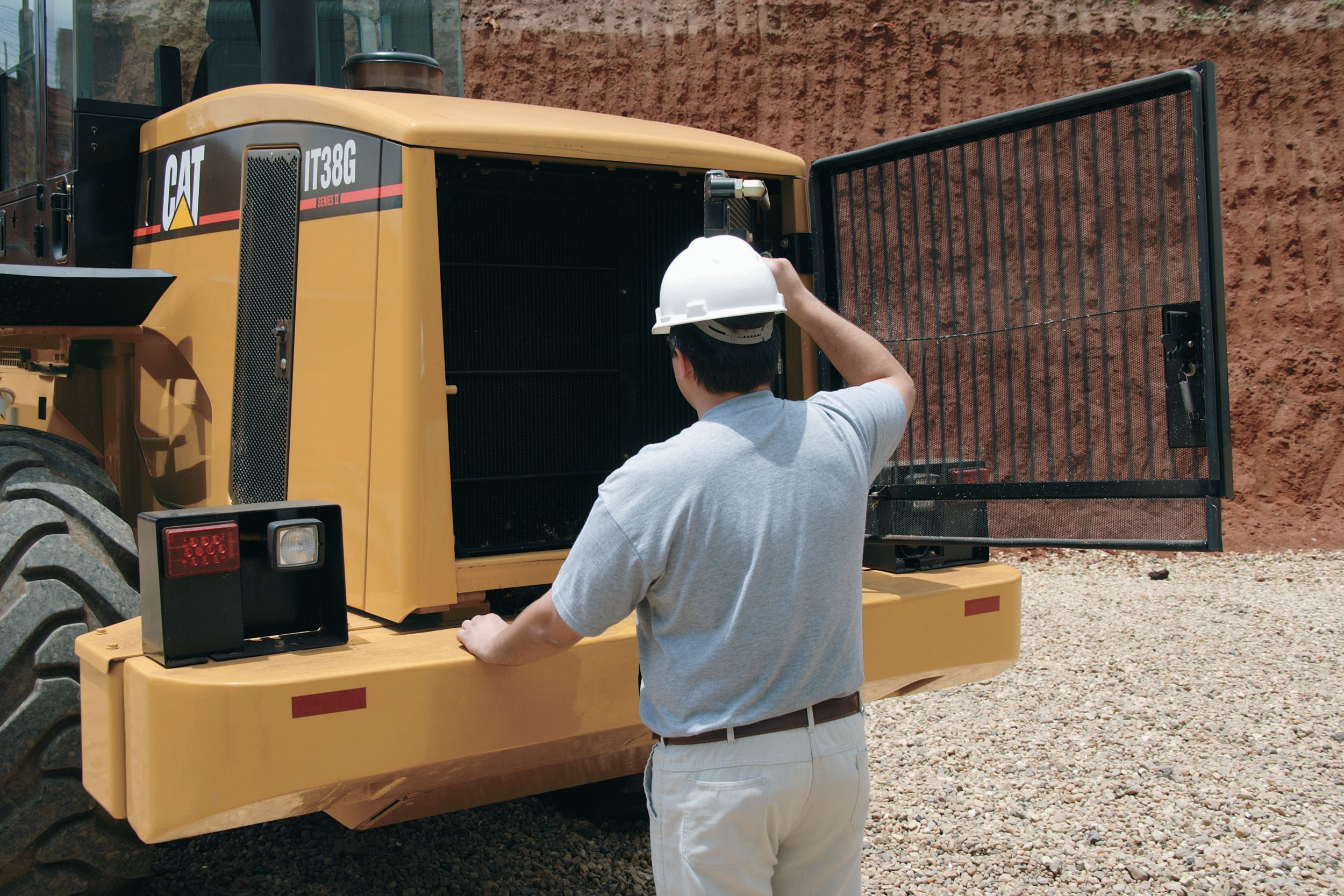 Excellent System Access
The IT38G II provides a swing-out grill, hydraulic oil cooler and air conditioner condenser for easy cleaning. Side panels open to allow access to both sides of all cores for cleaning. A heavy duty airborne debris grill, with 4 mm perforations is available as an attachment.
Reverse Flow
Air enters through the rear grill and exits out the top opening and side hood doors. Rear air flow picks up less debris from the ground, reducing plugging.
On-Demand Fan
Electronically controlled, variable speed on-demand fan adjusts to meet the varying cooling requirements of the machine. Fan speed is determined by oil, coolant and inlet manifold temperatures. In cooler operating conditions, average fan speed is reduced, resulting in less fuel consumption, lower noise levels and less radiator plugging.
Unit Core Radiator
The unit core radiator with square wave-shaped fins and lower fin density (6 fins per inch) allows debris to pass through easily.
Environmental Features
Caterpillar cares about the environment and continues to develop innovative solutions.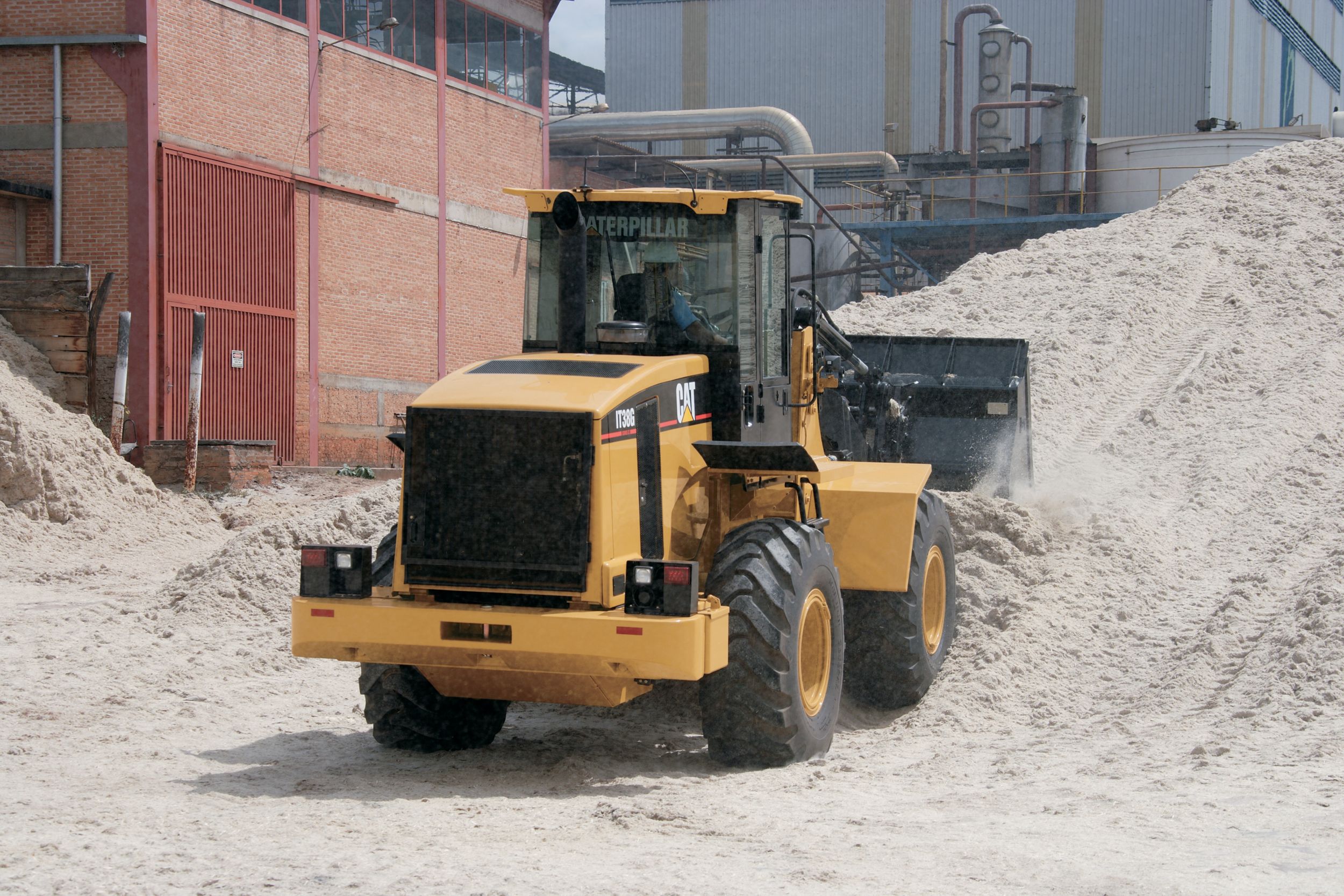 Low Exhaust Emissions
The Cat® 3126B ATAAC engine used in the IT38G Series II is a low emission engine designed to meet current emissions regulations. It is electronically controlled, with air-to-air aftercooling for more efficient combustion and cleaner emissions.
Reduced Sound
The electronic on-demand fan automatically regulates fan speed depending on cooling requirements. The fan draws less horsepower in cooler ambient temperatures, which reduces fuel consumption. Sound levels are also reduced when the fan slows down. There is additional insulation around the engine to reduce sound levels.
Environmental Fluids
Extended Life Coolant/Antifreeze with anti-foaming and anti-corrosion properties provide extended service intervals (up to 6000 hours) and requires less frequent fluid changes and disposals. Air conditioning refrigerant is CFC-free.
Fewer Leaks And Spills
Oil sampling valves and pressure test ports are included for easy service diagnostics, with less chance of spills. Filters are positioned vertically and located for easy access, allowing for removal without fluid spillage.
Ecology Drains
Standard for the engine, transmission, hydraulics, radiator and fuel. Activating the valve allows fluid to be drained into a container without spillage. Axle oil ecology drains are an attachment and allow quicker oil changes with reduced spillage.
Rebuildable Components
Many major components are designed to be rebuilt. Worn components can be remanufactured instead of thrown out.
Operator Station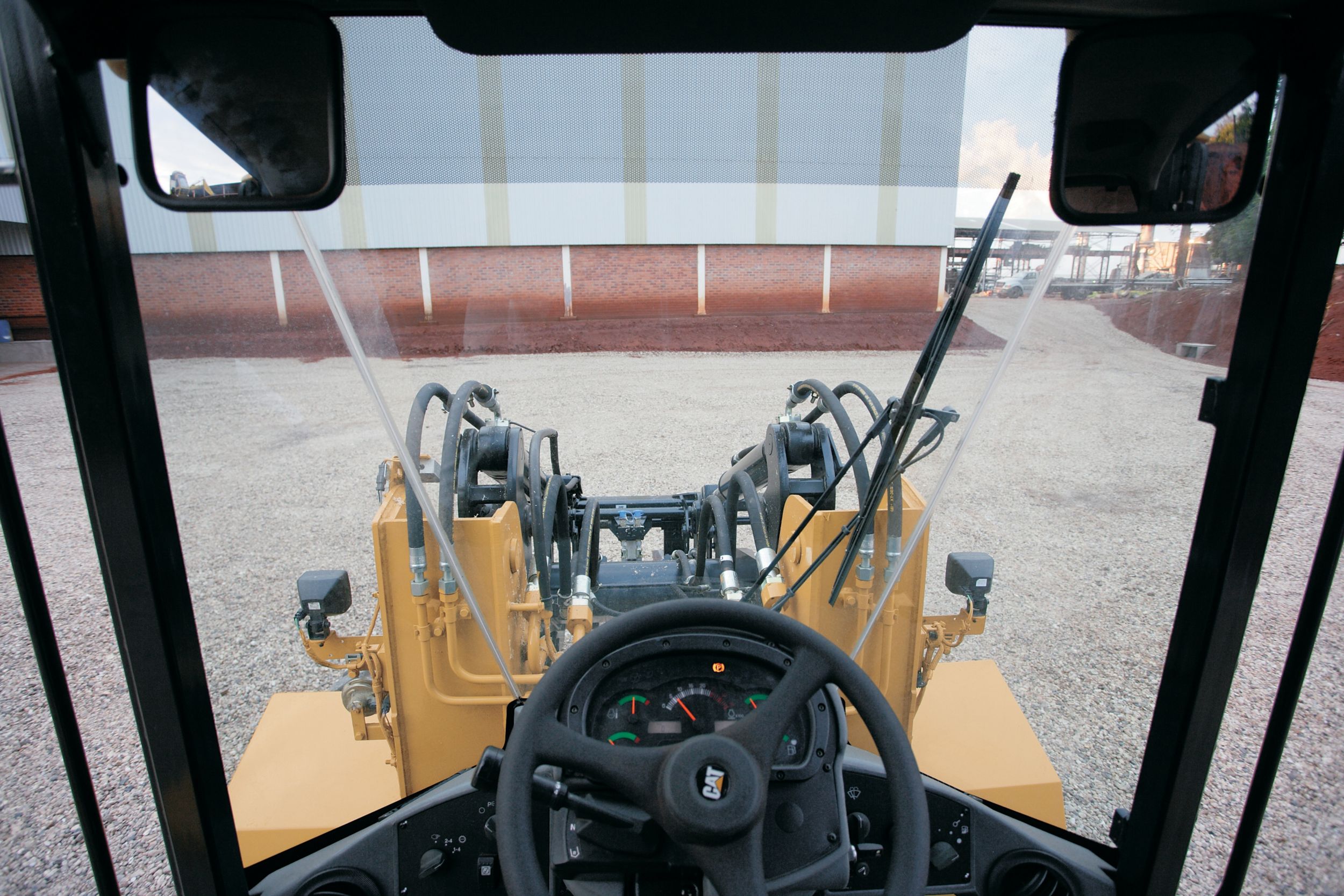 Excellent Visibility
Best in class visibility allows safe and confident operation - maximizing performance, productivity and versatility.
Low-Effort Steering
Low effort hand metering unit steering. Tilt steering column helps fit the wheel to the operator. Load sensing steering directs power through the steering system only when needed. When not steering, more engine power is available to generate rimpull, breakout and lift forces.
Finger Tip Controls
Pilot-assisted hydraulic implement controls deliver comfortable, low-effort operation. Third valve hydraulics are standard and controlled by an in-cab lever. Single lever joystick and lift lever F-N-R switch are available as attachments.
Centrally-Located Indicators
Gauges, status indicators and alert indicators are centrally located. 3-level warning system monitors key functions. The system alerts the operator of immediate or impending problems with engine oil pressure, parking brake, fuel pressure, electrical system, brake oil pressure, hydraulic oil temperature, transmission filter bypass, engine inlet manifold temperature, primary steering oil pressure and the air inlet heater. LED warning indicators with no bulbs to replace.
Convenient Cab Access
Left and right side doors swing open 180 degrees and latch for optimal ventilation, visibility and communication to ground level. Left and right side sliding windows are available as an attachment. Full service platforms are provided on both sides of the machine for safety and easy maintenance access.
Floor Mounted Pedals
All pedals, including the electronic governor, are floor mounted for greater operator comfort. Left pedal incorporates the Integrated Braking System that combines service brake, transmission neutralizer and downshift functions.
Generous Storage Space
Compartments for lunchbox, coolers and cups.
Seat Options
The standard cloth and vinyl seat adjusts 6 ways. The optional Caterpillar Contour air suspension seat provides increased operator comfort with 6-way adjustment and automotive-style lumbar support.
Electronic Autoshift Control
Provides manual or one of two fully automatic shifting modes.
Ride Control System
Option that reduces fore and aft pitch for a smoother, more comfortable ride. Allows the selection of three different modes: Off - always off service. On - always in service. Auto - the system is automatically actuated when the machine travels at a speed greater than 9 km (6 mph).
Variable Shift Control
Allows the operator to select three different shift patterns based on application and working preferences. Normal, Economy and Aggressive modes. Lowers sound levels and fuel consumption and provides smoother shifts.
Quick Coupler
Electronically controlled by a switch in the cab.
Radios
12-volt converter (5-amp), speakers, antenna, wiring and brackets for entertainment radio installation. Factory installed AM/FM/CD radio available as an attachment.
Linkage
Increased full turn static tipping load allows stable and versatile operation.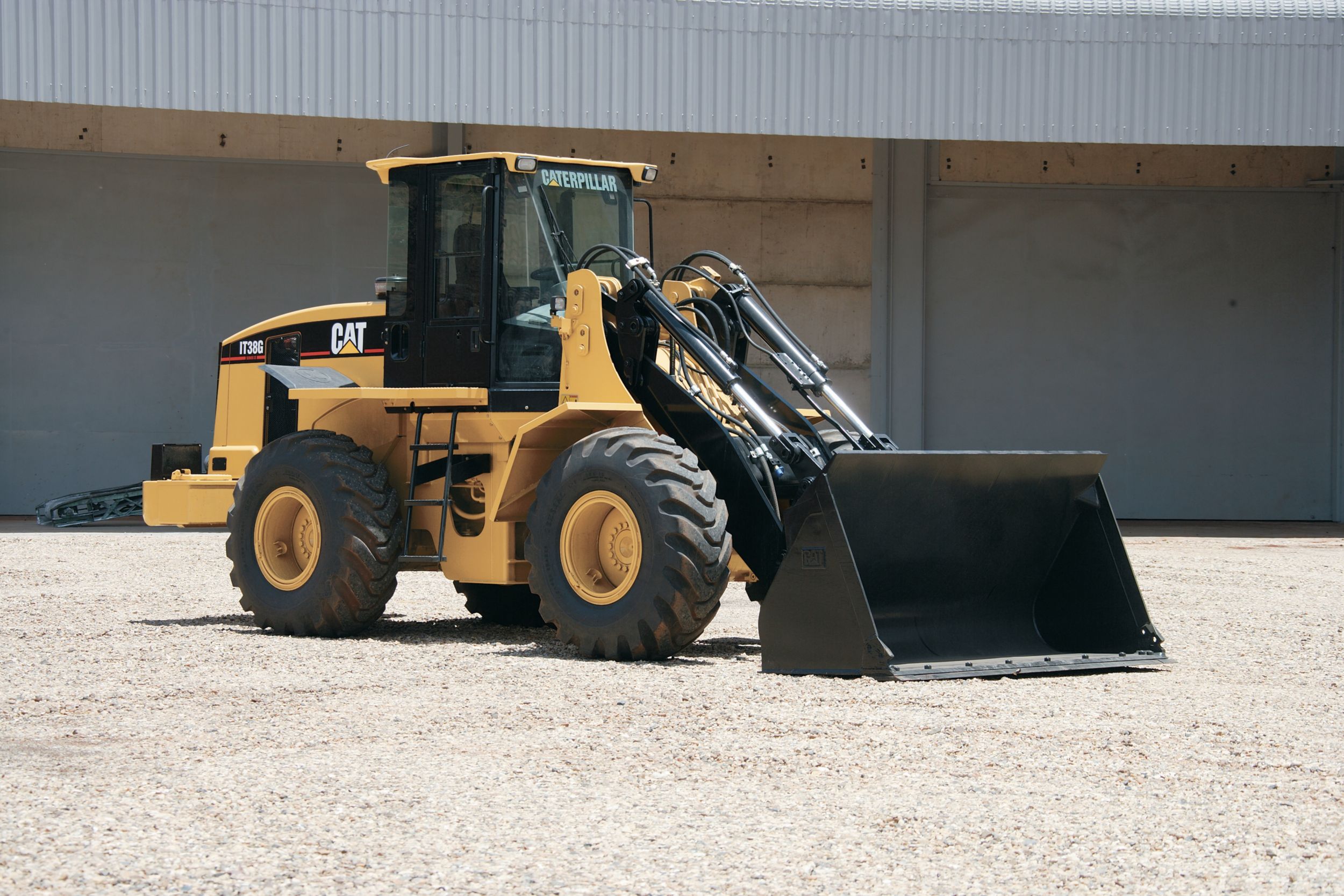 8-Bar Linkage
Provides parallel lift, which keeps the load level throughout the lift cycle, particularly when using forks. Parallel lift lets the operator concentrate on placing the load, instead of retaining it. Visibility to the work tool is excellent.
Frame
Consists of a durable four plate loader tower and a full box-section frame. The IT38G II features a spread hitch design that distributes forces between the upper and lower hitch plates. Double-tapered roller bearings are used on the upper and lower hitch pins for better load distribution.
Quick Coupler
Allows most attachments to be changed in under 30 seconds. The quick coupler is electrically actuated from inside the cab.
Work Tools
A variety of couplers, work tools and buckets are available from the factory or from your Caterpillar® dealer. New 3.5 yd3 bucket now available.
Quick Couplers
Quick Couplers provide unmatched versatility for wheel loaders. The hydraulic model allows an operator to change attachments in seconds without leaving the cab.
Coal Buckets
Coal Buckets maximize productivity in loading and stockpiling coal and other materials of similar density.
Fertilizer Buckets
Fertilizer Buckets are specially designed with increased capacity for greater efficiency when handling light materials.
Material Handling Buckets
The Material Handling Bucket is a flat-floor bucket used for handling stockpiled materials such as aggregates or other easy-to-load materials requiring moderate breakout force.
Multi-Purpose Buckets
Multi-Purpose Buckets have a unique four-way action that can load, strip topsoil, bulldoze, clamp pipe or large chunks of concrete, clean up debris, and many other tasks.
Side Dump Buckets
Side Dump Buckets dump both to the front and to the side of the machine, an advantage when working in tight quarters, such as street work, tunnel construction and building levees.
Waste Buckets
Waste Buckets are designed for long life in the harsh world of refuse applications. This high capacity bucket is well-suited for loading, sorting and other transfer station work.
Woodchip and Clean-Up Buckets
Woodchip and high-capacity Clean-Up Buckets are available for forestry and millyard applications.
Lumber and Log Forks
Lumber and log forks are ideal for a wide range of jobs - loading, decking and sorting lumber, logs or palletized material.
Millyard Forks
Used for unloading, sorting, decking and feeding logs to the mill, millyard forks maximize loader efficiency in millyard applications.
Pallet Forks
When used with a quick coupler, pallet forks increase the versatility of the machine; ideal for handling a variety of materials.
Material Handling Arms
Material Handling Arms move pipe, concrete blocks, highway dividers and other construction materials quickly and precisely.
Loader Rakes
Loader Rakes are durable, high-capacity tools for land clearing and site clean up. Rakes are available with or without top clamps and in quick coupler and pin-on models.
Angle Blades
Angle Blades, available in both manual and hydraulic versions, equip Cat machines to sidecast soil, plow snow, pioneer roads and move debris and rocks.
Angle Brooms
Hydraulic and manual Angle Brooms are ideal for clearing parking lots, industrial plants, millyards, airport runways, streets, driveways and lanes.
Special Application Brooms
Special application brooms are built to handle tough sweeping situations found in sewer and pipeline, governmental and coal seam applications.
Snow Removal
Hydraulic and manual reversing plows and trip-edge reversing plows are available for the IT38G Series II. Quick reversing action plows are ideal for clearing snow on mountain roads, airports, large parking lots, plant facilities and rural or urban roads. V-plows penetrate drifts and throw snow both directions to quickly clear a path through heavy accumulations.
Serviceability
The IT38G Series II continues Caterpillar leadership in wheel loader serviceability.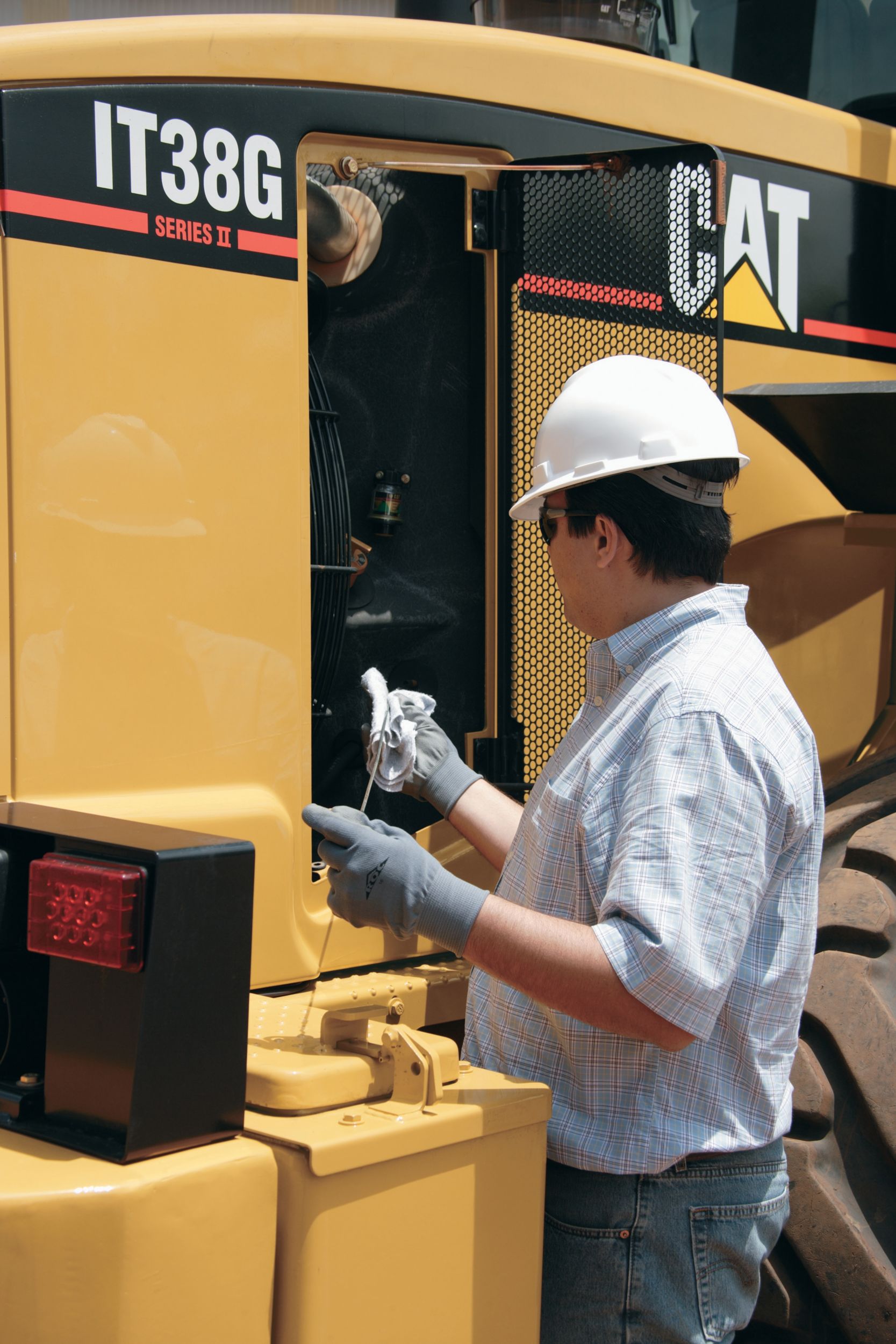 Ground Level Maintenance Points
All service points, including color-coded S•O•S sampling ports are accessible from ground level. Remote grease lines culminate in two convenient central lube banks in the right hitch area.
Sight Gauges
For the transmission oil, hydraulic oil and radiator coolant are easy to see and eliminate the risk of contaminants entering the system during daily checks.
Engine Compartment
Access is convenient through service doors and side panels that can be quickly opened.
Non-Metallic Hood
Tilts for full access to engine, cooling system and major components. An electric screw-jack, with manual backup, tilts the hood up to 70 degrees.
Ecology Drains
For engine, transmission and hydraulic oil, reduces spills when draining fluids. Axle oil ecology drains are available as an attachment.
Electric Fuel Priming Pump
An electrically-actuated fuel priming pump simplifies fuel filter changes.
Engine Oil Change Intervals
Are every 500 hours with the use of CH-4 oil.
Coolant
System is factory filled with Caterpillar Extended Life Coolant, which can provide up to 6000 hours between change intervals.
Remote Pressure Taps
Are available as an attachment to make transmission diagnostics even easier.
Brake Wear Indicators
Inboard indicator allows a service technician to measure and track brake wear.
Batteries
Two maintenance-free batteries are located in a built-in battery box in the left rear frame with a sealed lid to keep moisture out.
Caterpillar Monitoring System (CMS)
Provides machine performance feedback along with diagnostic codes, which a service technician can use to quickly troubleshoot problems.
Product Link
Is a wireless communication system that provides two-way information flow between a machine and Caterpillar dealers and customers. Machines are fitted with a data module, wiring, and an antenna. The system up-links via satellite to the Caterpillar network and PC software. Product Link eliminates trips to obtain data, allows more effective maintenance scheduling and can identify unauthorized machine usage.
Machine Security System
An optional programmable system that manages machine access and restricts unauthorized usage. Keys can be programmed (using Caterpillar Electronic Technician) to deny access during specific times or days of the week.
Complete Customer Support
Cat® dealer services help you operate longer with lower costs.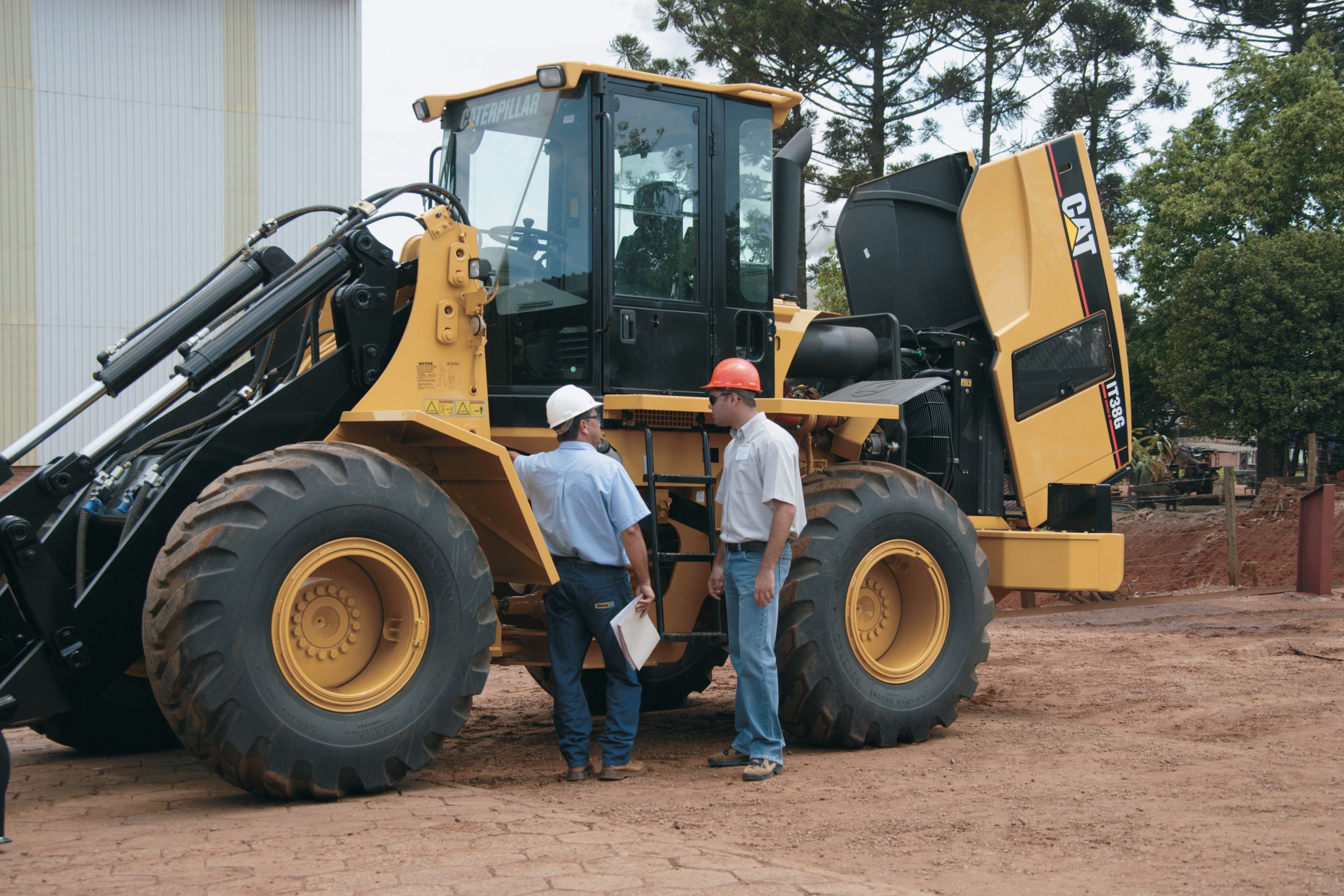 Machine Selection
Make detailed comparisons of the machines under consideration before purchase. Cat dealers can estimate component life, preventive maintenance costs and the true cost of lost production.
Purchase
Look past initial price and consider the many financing options available as well as day-to-day operating costs. Consider the dealer services that can be included in the cost of the machine to yield lower equipment owning and operating costs over the long run.
Customer Support Agreements
Cat dealers offer a variety of product support agreements and can develop a plan that meets your specific needs. These plans can cover the entire machine, including attachments, to help protect your investment.
Parts Support
You will find nearly all parts at our dealer parts counter. Cat dealers use a worldwide computer network to find in-stock parts to minimize machine downtime.
Operation
Improving operating techniques can boost your profits. Your Cat dealer has training videotapes, literature and other ideas to help you increase productivity.
Maintenance Services
Choose from a variety of maintenance services when purchasing your machine. Repair option programs guarantee the cost of repairs up front. Diagnostic programs such as S•O•S and Coolant Sampling help avoid unscheduled repairs.
Component Replacement
Repair, rebuild or replace? Caterpillar offers a line of genuine remanufactured components, which can help lower repair costs. Your Cat dealer will help you evaluate the cost involved so you can make the right choice.
www.cat.com
For more complete information on Cat products, dealer services, and industry solutions, visit us on the web at www.cat.com.
EQUIPMENT
Standard Equipment
Electrical
Alarm, back-up
Alternator, 50-amp brushless
Batteries, maintenance-free (2) 950 CCA
Ignition key, start/stop switch
Lighting system, halogen (6 total)
Main disconnect switch
Starter, electric, heavy-duty
Starting and charging system (24-volt)
Operator Environment
Bucket/Work Tool function lockout
Cab, pressurized and sound suppressed
Cigar lighter and ashtray
Coat hook
Computerized Monitoring System
Controls, lift and tilt function
Heater and defroster
Horn, electric (steering wheel mounted)
Lunchbox, beverage holders, storage box
Mirrors, rearview (internally mounted)
Seat, KAB (cloth) mechanical suspension
Seatbelt, retractable, 51 mm (2") wide
Steering column, adjustable, angle
Wet-Arm wipers and washers, front and rear
Power Train
Brakes, full hydraulic enclosed wet-disc with Integrated Braking System (IBS)
Driveline, extreme service
Engine, Cat 3126B diesel with ATAAC, electronically controlled
Fan, radiator, hydraulically driven, variable speed, temperature sensing, on demand
Filters, fuel, primary/secondary
Fuel priming pump (electric)
Fuel/water separator
Muffler, sound suppressed
Precleaner, engine air intake
Radiator, unit core (6 fins per inch) with ATAAC
Starting aid (air inlet heater)
Switch, transmission neutralizer lockout
Torque converter
Transmission, automatic countershaft power shift (4F/3R)
Variable Shift Control (VSC)
Other Standard Equipment
Automatic work tool positioner
Counterweight
Couplings, Caterpillar O-ring face seals
Diagnostic pressure taps
Fenders, steel front and rear
Hitch, drawbar with pin
Hood, non-metallic power tilting
Hoses, Caterpillar XT™
Hydraulic arrangement, two-valve quick coupler actuation
Hydraulic oil cooler, swing-out
Kickout, lift and return-to-work, adjustable
Linkage, 8-bar, parallel lift
Product Link Ready
Sampling valves (engine, transmission)
Sight Gauges:
Steering, load sensing
Vandalism protection caplocks
Antifreeze
Premixed 50% concentration of Extended Life Coolant with freeze protection to -34° C (-29° F).
Optional Equipment
Actuator, electrical (power train and bottom guard)
Air conditioner
Alternator, heavy-duty (65 amp)
Axle ecology drain
Axle oil cooler
Axle oil temperature monitor
Buckets and Work Tools
Bucket Ground Engaging Tools (GET) - see Cat dealer for details
Differentials
Limited slip, front or rear
NO-SPIN, rear
Fan, auto-reversing
Fender and platform extensions, rear
Fenders and platforms, narrow
Fenders, roading, rear
Grill, airborne debris
Guard, axle seal
Guard, power train
Heater, engine coolant (120V)
Hydraulic arrangement, third-valve
Hydraulic arrangement, fourth-valve
Joystick control, two- or three-valve
Lights, cab-mounted (4)
Lights, directional
Lights, roading
Machine Security System
Mirrors, rearview, external
Open canopy
Precleaner, turbine
Precleaner, turbine/trash
Product Link
Radio, AM/FM Weatherband (CD)
Remote pressure taps
Ride Control System, two- or three-valve
Seat, air suspension
Seat belt 70 mm (3")
Sliding windows, cab
Starting aid, ether
Steering, secondary
Sunscreen, rear
Sun visor, front
Switch, lift lever F-N-R
Quick coupler, hydraulic, horizontal pin
Wiper, intermittent rear
Special machine arrangements
Scrap handler
Waste handler
CONNECT. DISCUSS. SOLVE.
CATERPILLAR EQUIPMENT MAINTENANCE ONLINE COMMUNITY
HOW CAN WE HELP?
SHARE YOUR FEEDBACK OR ASK A QUESTION