IT28G
Cat Integrated Toolcarriers give you the power of a wheel loader combined with the versatility of a Quick Coupler. The wide range of work tools allows you to work in a variety of applications - from construction to underground utility to aggregate handling.
DETAILS
SPECIFICATIONS
Engine
Weights
Operating Weight
26526.0 lb
Buckets
Dimensions
Height to Top of ROPS/FOPS
10.72 ft
Bucket Pin Height at Max Lift
13.06 ft
Rack Back Angle at Carry
56.0 Degrees
Operating Specifications
Breakout Force
23441.0 lb
Static Tipping Load (Full Turn)
16174.0 lb
Reach - full lift/45 degree dump angle
3.33 ft
Dump clearance - Full lift/45 degree dump angle
9.58 ft
Articulation Angle
40.0 Degrees
Bucket Capacity (with bolt-on cutting edge)
2.0 yd3
Loader Hydraulic System
Hydraulic Cycle Time
10.3 Seconds
Pump flow - Implement pump
40.3 gal/min
Relief Pressure - Implement pump
3200.0 psi
Lower, empty, float down
2.8 Seconds
Tires
Axles
Axle Oscillation
11.0 Degrees
Steering
Steering Articulation
40.0 Degrees
Minimum turning radius (over tire)
206.02 in
Transmission
Service Refill Capacities
Hydraulic system (including tank)
33.02 gal
BENEFITS & FEATURES
Overview
Offering world class performance, value and reliability.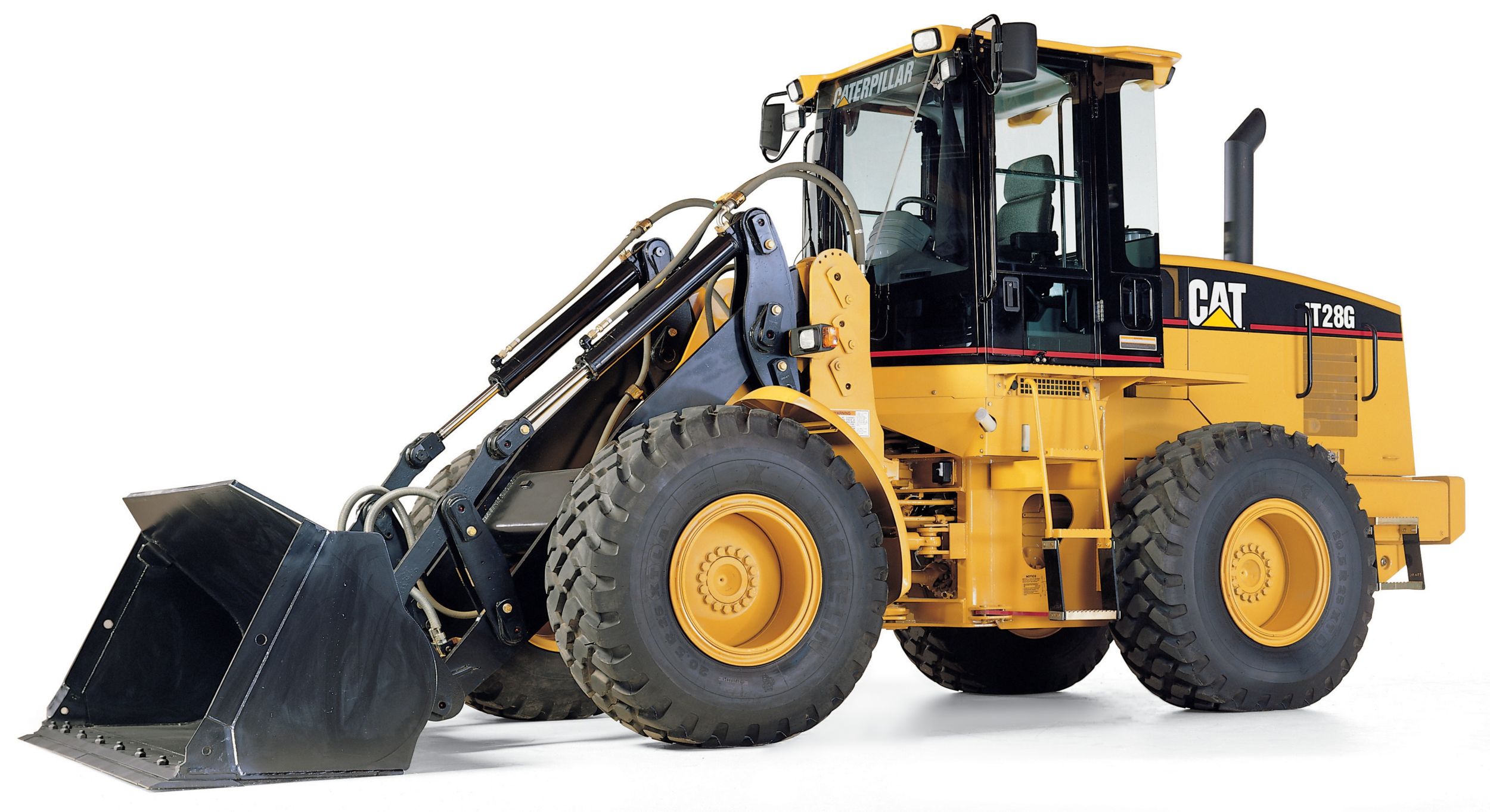 Performance You Can Feel
High horsepower and torque rise, greater rimpull, strong hydraulics and superior load control make the IT28G a solid performer.
Value You Can See
A larger, intelligent-design operator station offers exceptional forward and peripheral visibility. Lower interior and exterior sound levels and larger fuel capacity make the IT28G easier to operate.
Reliability You Can Trust
Proven Cat power train and hydraulic components, exhaustive field testing and the world's best support system assure the IT28G will provide maximum uptime.
Cat Power Train
The IT28G uses an all Caterpillar power train to most effectively get maximum power to the ground. A Caterpillar 3116T standard low-emission engine and Cat power shift transmission is performance-matched to the Cat torque converter and axles.
Low Emission 3116T Diesel Engine
The six-cylinder, turbocharged 3116T is one of the most developed and proven engines offered by Caterpillar. It has a strong reputation for reliability, durability and performance.
Power Shift
Rugged, field-proven Caterpillar 4F/3R transmission uses heavy-duty components for durable and reliable operation. Full power shift capability and electronically-controlled Autoshift simplify designed for easy service and rebuild.
Rimpull
The greatest rimpull increase is in second forward gear where the IT28G has nearly 20 percent more rimpull than the standard IT28F, and 5 percent more rimpull than a IT28F equipped with the high-rimpull package.
Caterpillar Axles and Brakes
Enclosed design allows extended operation, even in harsh environments. Heavy-duty design features stronger gears and bearings for durable performance.
Axles
These axles feature a heavy-duty, robust design with strong gears and bearings for durable, reliable performance.
Brakes
Caterpillar brakes meet the following standards: OSHA, SAE J1473 OCT 90, ISO 3450-1996.
Final Drives
Planetary final drives consist of ring gears and planetary carrier assemblies.
Differentials
The IT28G can be ordered with standard conventional, Limited Slip or NoSPIN differentials.
Operator Station
Ergonomically designed for total control in a comfortable, spacious environment.
Access/Egress
Through the new two-door design. The left-hand door is for primary access/egress and the right-hand door provides secondary access/egress.
Larger Windows
Improved visibility in all directions. Thirty-two percent more glass area opens the operator's view for remarkable forward and peripheral visibility.
Low Sound Levels
The result of several new designs. Interior sound measurements has been cut in half by use of a combination of improved sound insulation and the use of low-noise components.
Seat Options
Includes the basic seat with fully adjustable fore/aft position, seatback angle, bottom cushion height, armrest angle and suspension stiffness.
Generous Storage
Includes a lockable compartment for personal items, coat hook and special molded compartments designed to securely hold several items.
Customize The Cab
Customize the cab with a variety of available accessories.
Low-effort Operation.
Pilot hydraulic controls give the IT28G uncompromised ease of lift and tilt functions.
Load-sensing
Load sensing, closed-center steering system with flow amplification matches steering response to a wide variety of application requirements.
Guages/Indicators
There are several standard guages and indicators available on the steering console, gages for visually checking fluid level, and indicator warning lights.
Quick Coupler & Attachments
The IT28G is a machine with applications limited only by your imagination. Choose from a wide selection of attachments, most of which can be changed in less than 30 seconds without leaving the cab.
Attachment Controls
The attachment controls have pilot-operated lift and tilt circuits. Choice of low effort single-lever control or two lever control of lift and tilt circuits.
Frame Structure
The frame structures of the IT28G has been redesigned to provide greater structural integrity, improved function and better overall machine performance.
Versatility
The IT28G offers excellent performance in a wide variety of applications such as bucket loading, material handling, utility work and industrial support.
Bucket Loading
Exceptional rimpull, high breakout and lift forces help make short work of excavation and other bucket loading applications.
Material Handling
Exceptional visibility and heavy-lift capabilities enable you to work quickly and efficiently with the IT28F as a material handler.
Special Applications
With the wide variety of attachments offered by Caterpillar and other third-party manufacturers, the application spectrum of the IT28G is limited only by your imagination.
Scheduled Oil Sampling
Scheduled Oil Sampling (S.O.S) Valves are factory installed for improved access to engine, transmission and hydraulic oils. S.O.S valves make oil sampling quicker, cleaner and provides the most representative oil sample for analysis.
Serviceability
Easily perform daily maintenance with ground-level access to all major service points.
Improved Service
New gull-wing engine enclosure doors make it quicker and easier to gain access to the engine compartment and hydraulic tank.
Ground-Level Service
Service points have been grouped to two main locations on the G-Series machines and are all accessible from ground level.
Swing-out Cooling Fan
The new swing-out cooling fan system simplifies and improves access to the G-Series machines' radiator. This new design allows access to the radiator for inspection and cleaning in a matter of seconds.
Environmentally Responsible Design
Caterpillar machines not only help you build a better world, they help maintain and preserve the fragile environment.
Complete Customer Support
Your Cat Dealer offers a wide range of services that help you operate longer with lower costs.
Linkage and Hydraulics
The IT28G offers longer, wider lift arms for better reach, dump height and improved visibility to the bucket. The IT28G uses an open-center, pilot-operated system with full-flow filtering.
Electrical System
The main power components are mounted on the firewall inside the engine compartment, including the start relay, main breaker, alternator breaker and an auxiliary breaker.
EQUIPMENT
Standard Equipment
Air cleaner, dry type
Alarm, back-up
Alternator, 50-amp
Antenna, for radio
Antifreeze/coolant, extended life, protects to -36°C/-33°F
Batteries, maintenance free, heavy duty 900 CCA, 12V (2)
Brakes
Service - enclosed, sealed
Parking - mechanical on drive line
Bucket positioner, automatic
Cab, ROPS (sound suppressed and pressurized)
Ground level door release
Heater/defroster
Rear window defroster, electric
Personal storage space, cup holder
Lighter
Coat hook
Rear view mirrors (2 inside)
Tilt steering console
Seat, adjustable suspension (fabric or vinyl)
Seat belt, retractable, 75 mm (3 in)
Tinted safety glass
Two door cab, fixed glass
Wiper and washer, front/rear, with intermittent control
Counterweight
Differentials, conventional (front/rear)
Driveshaft, lubed for life
Electrical system, 24V
Engine, Caterpillar 3116T (Low Emission Diesel)
Engine enclosure, lockable
Engine fuel priming pump
Fenders (front/rear)
Hitch, drawbar
Horn, front warning (electrical)
Hour meter, electric
Hydraulic diagnostic connectors
Hydraulic oil cooler
Hydraulic control, 3-valve, 2-lever
Implement control lever locks
Implement positioner, two-position
Indicators
Air cleaner service
Coolant level
Hydraulic oil level sight gauge
Transmission oil level gauge
Instrumentation
Engine coolant temperature gauge
Hydraulic oil temperature gauge
Torque converter oil temperature gauge
Fuel level gauge
Lift kickout, automatic
Lift/tilt kickout neutralizer
Lighting system
Brake lights
Directional, front/rear
Working lifts (halogen, flood)
Includes 2 on front tower, 2 on front roof and 2 on rear roof
Loader linkage, sealed 8-bar parallel lift
Load-sensing steering system
Muffler
Quick Coupler, hydraulic
Radiator, unit serviceable
Steering stops, cushioned
Swing-out, hydraulically-driven fan
Switch, key start and stop
Torque converter
Transmission, 4F/3R, autoshift, single lever control and kickdown button
Transmission neutralizer
Vandalism protection, lockable service points
Warning indicators
Alternator
Coolant temperature
Engine oil pressure
Parking brake
Service brake oil pressure
Transmission oil temperature
Optional Equipment
Air conditioner (R-134a refrigerant)
Alternator, heavy duty, 70-amp
Antifreeze/coolant, extended-life, protects to -50°C (-58°F)
Beacon light, rotating, magnetic-mount
Buckets/Ground Engaging Tools
Canopy, ROPS
Counterweight, 250 kg (550 lb)
Differential, limited slip
Front axle and/or rear axle
Differential, NoSpin, rear axle only
Electrical accessories package
(12V converter, accessory plug outlet, wiring)
Fenders, roading
Guards
Crankcase
Power train
Vandalism protection (ROPS canopy only)
Hydraulic control, two lever (lift/tilt)
Hydraulic control, fourth valve
Hydraulic oil cooler, heavy-duty
Lights
Flood (auxiliary, cab-mounted)
Load check valves (dealer installed)
Material handling arm
Mirrors, external (2)
Pallet forks, carriage
Radio prep packages
For 12V installation, includes speakers, cable, mounting bracket, hardware, converter, and accessory plug. Radio not included.
Ride Control System
Seats
Caterpillar Contour Series, fabric
Caterpillar Contour Series, fabric, with air suspension
Sliding door windows, left and right
Sound suppression package
Starting aids
Engine coolant heater, 120V
Air intake heater
Steering, secondary
Sun screen, rear
Tires
Bias ply, 17.5-25 and 20.5-25
Radial, 17.5-25 and 20.5-25
Visor, sun (front)
CONNECT. DISCUSS. SOLVE.
CATERPILLAR EQUIPMENT MAINTENANCE ONLINE COMMUNITY
HOW CAN WE HELP?
SHARE YOUR FEEDBACK OR ASK A QUESTION