IT14G2
The Cat® IT14G2 delivers strong performance, high productivity and proven reliability. Spacious cab with joystick control keeps you comfortable throughout the work day, allowing you to get more done. Loader design provides strength and durability with superior control. Expand your business with the IT14G2.
SPECIFICATIONS
Engine
Model
Cat® C4.4 Electronic
Maximum Gross Power - ISO 14396
101.0 hp
Maximum Gross Power - ISO 14396 (DIN)
102.0 hp
Net Power - ISO 9249 (DIN)
98.0 hp
Net Power - ISO 9249/EEC
97.0 hp
Net Power - SAE J1349
95.0 hp
Rated Net Power @ 2,300 rpm - ISO 9249 (DIN)
98.0 hp
Rated Net Power @ 2,300 rpm - ISO 9249/EEC
97.0 hp
Rated Net Power @ 2,300 rpm - SAE J1349
95.0 hp
Weights
Operating Weight
18632.0 lb
Optional Counterweight*
330.0 lb
Operating Specifications
Rated Bucket Capacity
1.7 yd3
Breakout Force
17342.0 lb
Full Turn Static Tipping Load, Bucket
10566.0 lb
Dump Height @ Full Lift
9.58 ft
Articulation
40.0 Degrees
Oscillation +/-
11.0 Degrees
Engine Dimensions
Buckets
Bucket Capacities
1.2-1.4 m3 (1.6-1.8 yd3)
Transmission
Cab
ROPS
SAE J394, SAE J1040, ISO 3471
Hydraulic System
Hydraulic Cycle Time - Lift
5.6
Hydraulic Cycle Time - Dump
2.1
Hydraulic Cycle Time - Lower, Float
3.2
Lift Cylinders, Double Acting
89 × 795 mm (3.5 × 31.3 in)
Tilt Cylinder, Double Acting
76 × 805 mm (3.0 × 31.7 in)
Service Refill Capacities
Hydraulic System
26.4 gal
Brakes
BENEFITS & FEATURES
Operator Station
Superior comfort keeps you productive, all day long.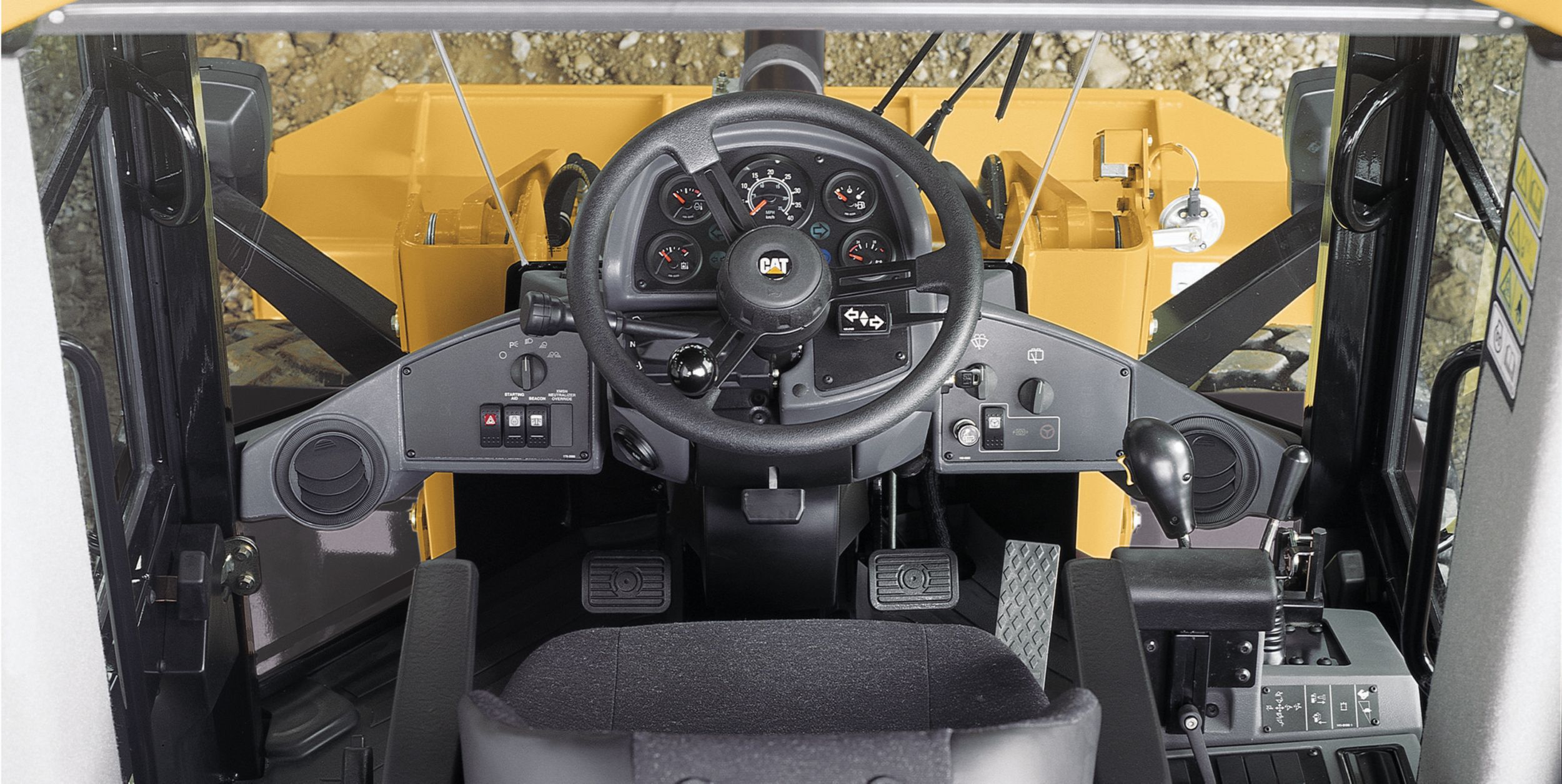 Cab
The ergonomic cab provides a comfortable work environment with large windows, spacious interior room, generous storage areas and low interior sound levels. The two-door design allows easy entry and exit. Both doors open fully and lock flush against the cab. Steps leading up to the cab are wide and angled out for secure footing. The optional air suspension seat is designed for maximum comfort and fully-adjustable support. Generous storage space includes a lockable compartment, coat hook and compartments designed to hold a lunchbox/cooler, cup or can. A tool box is also provided.
Low Effort Controls
Hydraulic pilot controls provide easy operation of lift and tilt functions. A remote transmission control option adds a forward/neutral/reverse control switch on the implement lever for easier operation and enhanced productivity. Third and fourth function controls are also available for use with special work tools. Hydrostatic, closed-center steering system with flow amplification provides fast or slow steering response, depending on the operational requirement. With the optional Engine Speed Control, a specific engine RPM can be set and maintained with a switch in the cab. The creeper control option allows variable function of travel speeds with full engine RPM.
Visibility
The loader arms have been designed to provide excellent visibility throughout the production cycle.
Power Train
Designed for power, durability and performance.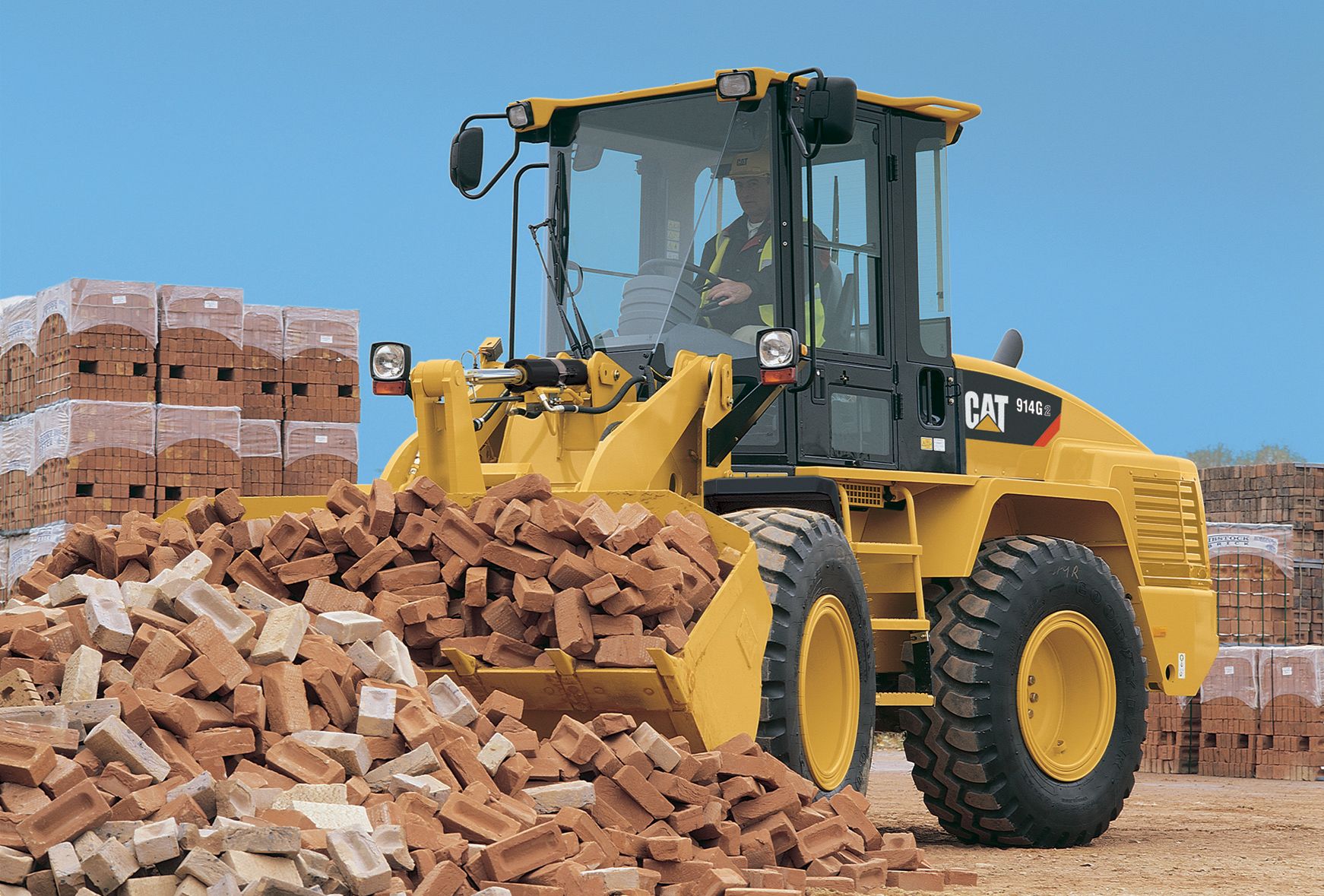 Cat Engine
The Cat C4.4 Electronic engine has a proven reputation for rugged, reliable operation while providing peak performance in a wide range of operating conditions. High horsepower and torque help you get more work done in a day.
Transmission
The high-pressure closed-loop hydrostatic transmission delivers high performance with a broad range of power to the ground.
Axles
Heavy-duty axle design features strong gears and bearings for durable performance. The fixed front, oscillating rear axle helps assure four-wheel ground contact for optimum traction and stability. Patented Duo-Cone™ seals on the axle and housing keep oil in and lock contaminants out. A choice of standard conventional or Limited Slip Differentials adapts the machine to a wide range of operating conditions.
Brakes
Hydraulically-actuated disc brakes are standard on both the front and rear axles and provide low effort operation. The mechanical, shoe-type parking brake also automatically neutralizes the transmission when applied.
Loader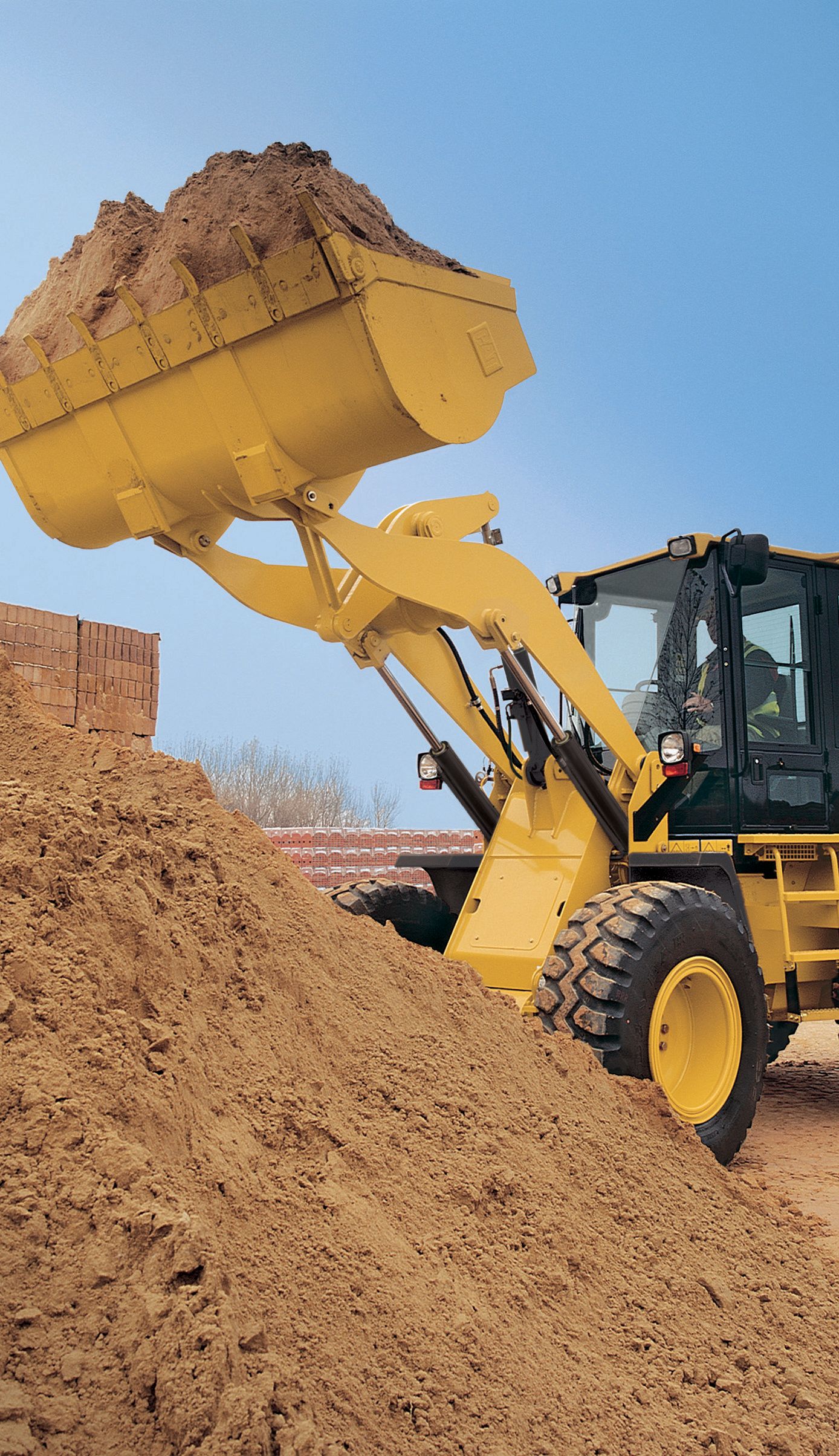 8-Bar Parallel Linkage Design
The 8-bar parallel linkage on the IT14G2 simplifies keeping forks level throughout the range of lift, without adjustment. Longer lift arms, taller front tower and higher pivot points offer more lift, height and reach than conventional loaders. Having more tilt capacity than lift in almost every position provides superior load control.
Work Tools
Do more jobs with one machine with Cat Work Tools.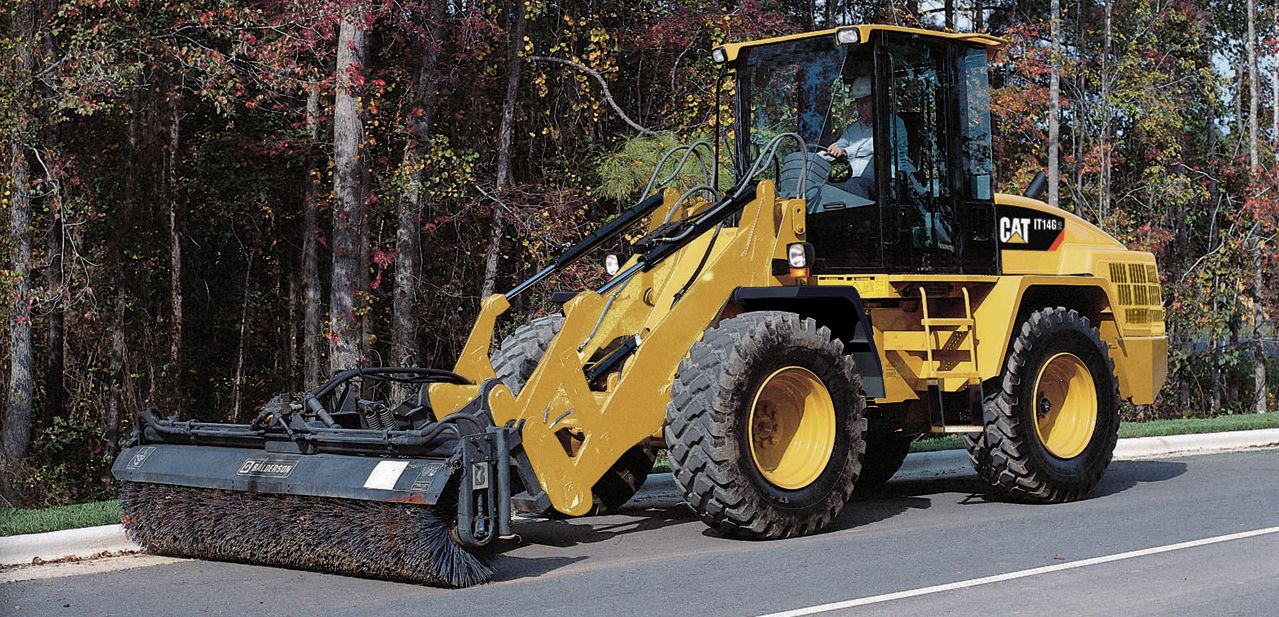 The Right Tool for the Job
With a variety of Cat Work Tools, the IT14G2 is ideal for a wide range of applications. Work tool controls feature pilot operated lift and tilt circuits with low effort single-lever control.
Quick Coupler
Work Tools can be changed quickly and easily with the integral quick coupler system, standard on the IT14G2. A switch in the IT14G2 cab activates a hydraulic cylinder for positive tool engagement or disengagement.
Auxiliary Hydraulics
Standard 3rd and optional 4th function hydraulics are available for use with work tools that require hydraulic power such as rotary brooms.
Serviceability
Easy access and minimal maintenance requirements reduce downtime.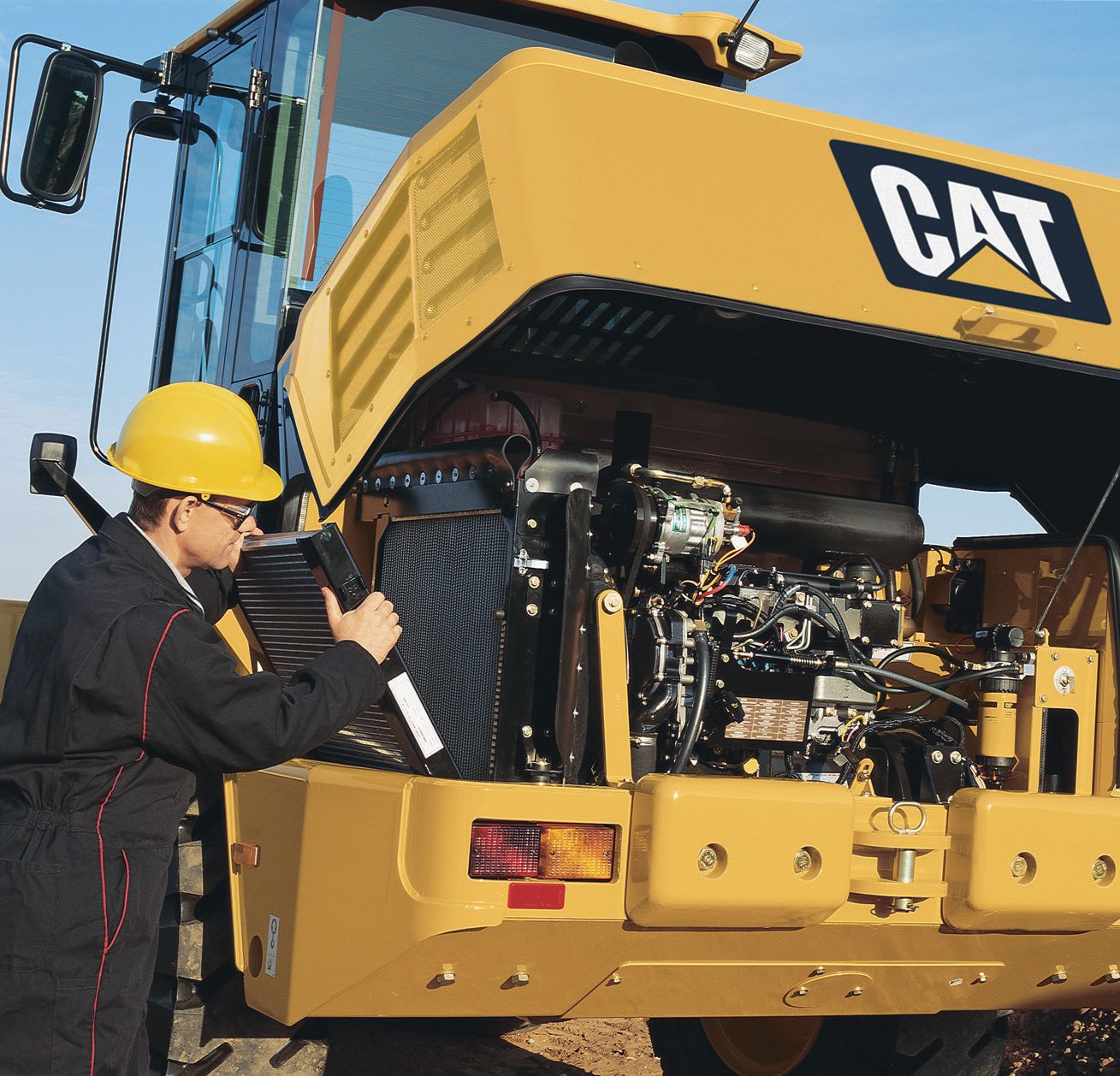 Convenient Service Features
One-piece engine enclosure hood with gas struts lifts for exceptional access to filters and service points. All service points are accessible from ground level.
Radiator and oil coolers are easily accessible for cleaning.
Easily check radiator coolant and hydraulic oil levels with sight gauges.
Swing-out oil cooler allows quick, easy cleaning and service to the radiator.
S•O•SSM ports are factory installed for improved access to engine, transmission and hydraulic oils. S•O•S ports make oil sampling quicker, cleaner and provide the best oil sample for analysis.
Spin-on filters for engine oil and hydraulic oil are vertically mounted for easier servicing.
Cat Extended Life Coolant/Antifreeze allows extended operation (up to 6,000 hours) between changes.
Customer Support
Support you can count on.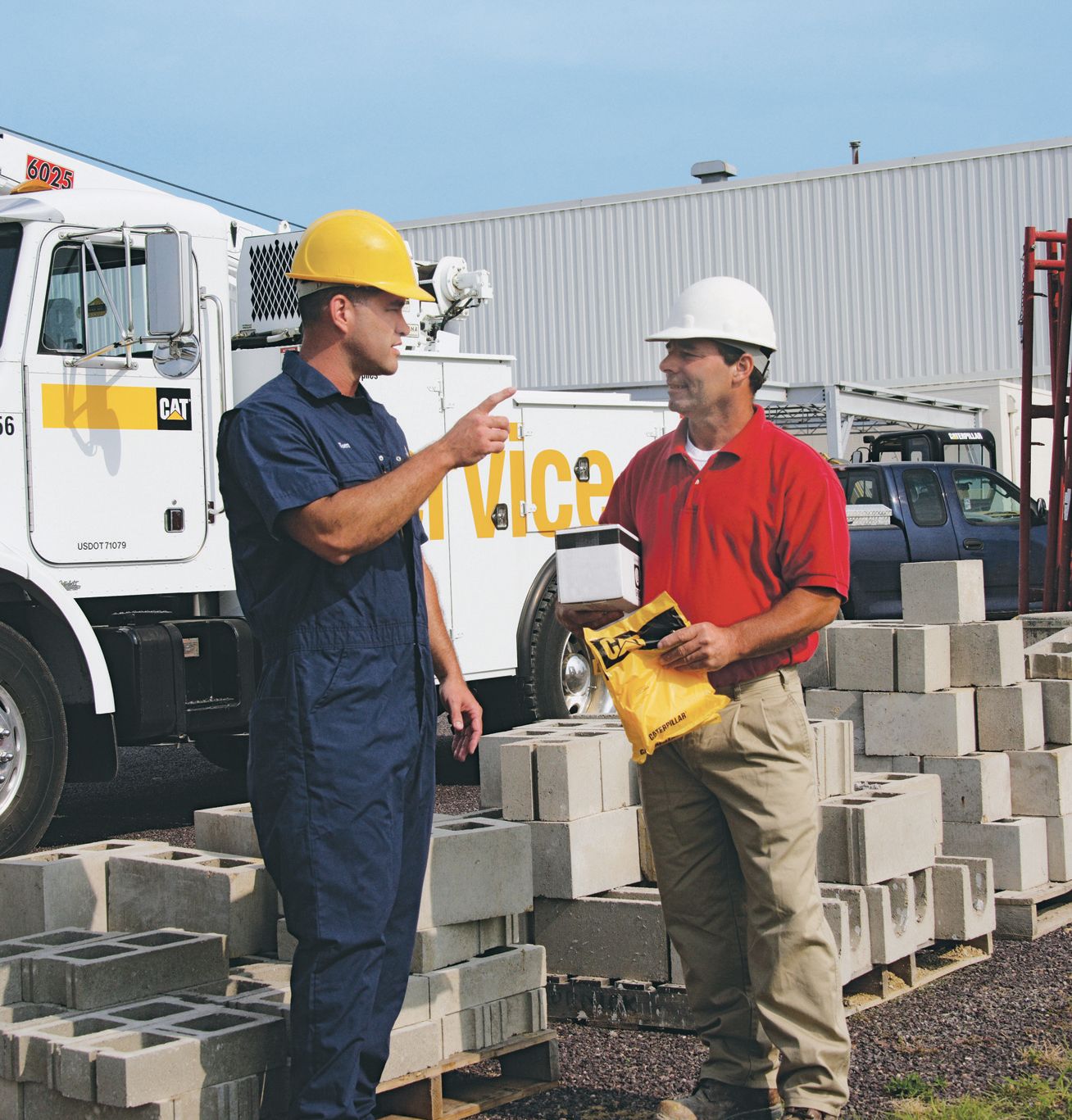 Superior Dealer Service
Your Cat dealer is ready to assist you with your purchase decision and everything after.
Make comparisons of machines, with estimates of component life, preventative maintenance and cost of production.
Financing packages are flexible to meet your needs.
Your Cat dealer can evaluate the cost to repair, rebuild and replace your machine, so you can make the right decision.
For more information on Cat products, dealer services and industry solutions, visit us at www.cat.com.
EQUIPMENT
Standard Equipment
ELECTRICAL
24V direct electric starting
Alarm, back-up
Alternator, 80-ampere
Batteries, two 900 CCA maintenance free
Battery disconnect switch
Glow plug starting aid
Horn, front, warning (electrical)
Ignition key start/stop switch
Lighting system: brake lights, interior light, turn signals (front and rear), halogen working lights (front and rear)
Power receptacles; internal and external
LOADER
Linkage, 8-bar parallel lift linkage with sealed pins
Bucket/fork positioner, automatic
Lift kickout, automatic
Lift/tilt kickout neutralizer
HYDRAULICS
Hydraulic control, pilot-operated implement, single lever, 2 valve
Hydraulics, third function
Hydraulic oil cooler, tiltable
Hydraulic diagnostic connectors
S•O•S port - hydraulic oil
Standard hydraulic oil cooler
Steering, hydraulic
OPERATOR ENVIRONMENT
Bucket control, single lever, pilot
Cab, ROPS (sound suppressed and pressurized):
Adjustable steering column
Cigar lighter
Cup holder
Ground level door release
Heater/defroster
Rearview mirrors, inside (2)
Storage space, lockable
Seat, adjustable fabric suspension
Retractable seat belt
Tinted safety glass
Two doors
Wiper and washer (front and rear), front intermittent
Defroster, rear window, wired glass
Indicators:
Air cleaner
Air filter
Brake charge pressure
Engine oil pressure
Electrical system voltage
Hystat oil filter bypass
Parking brake
Primary steering
Instrumentation:
Battery voltage gauge
Engine coolant temperature gauge
Fuel level gauge
Digital hour meter
Hydraulic oil level sight gauge
Hydraulic oil temperature gauge
Single lever transmission control
POWER TRAIN
Air cleaner, radial seal
Antifreeze (protected to -36° C/-33° F)
Extended life coolant antifreeze
Brakes, Service - inboard, oil-immersed, enclosed, wet-disc full hydraulic
Brakes, Parking - mechanical on drive line, secondary
Differentials, conventional (front and rear)
Driveshaft, lubed for life
Electric fuel pump
Engine: Cat C4.4 Electronic diesel turbocharged, EU Stage IIIA and U.S. EPA Tier 3 emission compliant
Engine enclosure, lockable
Muffler
Radiator, serviceable unit core
Radiator expansion bottle
S•O•SSM port - engine oil
Suction fan
Transmission, hydrostatic
OTHER
Counterweight (with quick coupler)
Fenders (front/rear)
Hitch, drawbar
Pressure test points
Vandalism protection-locked service points
Optional Equipment
ELECTRICAL
Electrical Accessories Package (12V converter, accessory plug outlet, wiring)
Lighting, auxiliary front: 2 additional cab-mounted halogen working lights
Machine Security System
Rotating beacon, magnetic
HYDRAULICS
Drain valves, ecological
Hydraulic fourth valve
Hydraulic quick disconnects
Steering, secondary
OPERATOR ENVIRONMENT
Air conditioner (R-134a refrigerant)
Canopy, ROPS
Mirrors, two external
Radio prep package (12V) includes speakers, antenna, converter and mounts (radio not included)
Ride Control System
Seats:
Heated, fabric, with parking brake alarm
Cat Comfort Series, fabric, air suspension
Sliding door window
Speedometer
Sun screen, rear window
Sun visor
POWER TRAIN
Antifreeze (protected to -50° C/-58° F)
Creeper control, transmission
Differential, Limited Slip (front and/or rear axle)
Engine air filter precleaner, cyclone
Engine Speed Control (ESC)
Forward/Neutral/Reverse (FNR) remote transmission control
Starting aid, engine block heater, 120V
OTHER
Bottom guard, hystat
Fenders, roading
Ground engaging tools, bucket
Low sound package
"Blue Angel" low sound package
Tires:
Bias ply, 15.5 × 25 and 17.5 × 25
Radial, 17.5 × R25
Tire rims, 1- and 3-piece
Tool box, lockable
Tool kit
CONNECT. DISCUSS. SOLVE.
CATERPILLAR EQUIPMENT MAINTENANCE ONLINE COMMUNITY
HOW CAN WE HELP?
SHARE YOUR FEEDBACK OR ASK A QUESTION