IT14G
The IT14G Brushcutter Attachment is one of the first Caterpillar machines completely designed using state-of-the-art three-dimensional modeling computer technology. The results include a highly responsive hydrostatic transmission, exceptional machine balance and easier serviceability than ever before.
BENEFITS & FEATURES
Overview
The IT14G sets the standard for performance, responsiveness and operating comfort for machines in this class.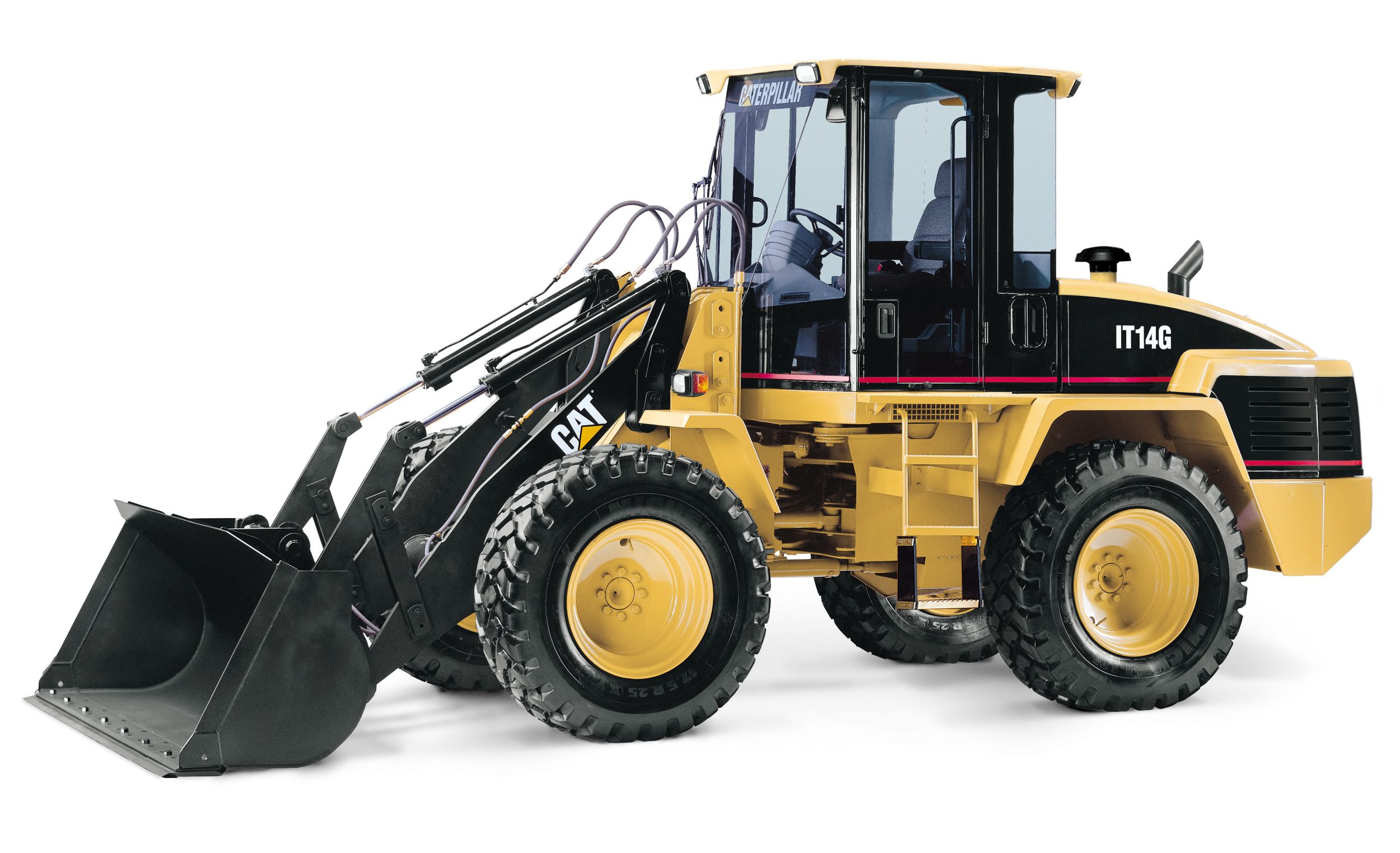 Totally New Design
One of the first Caterpillar machinescompletely designed using state-of-the-art three-dimensionalmodeling computer technology.
Modern Operator's Environment
Ergonomic controls and seating adjust to any operator. Implement controls are low-effort pilot hydraulic for smooth, precise operation.
Exceptional Performance
The IT14G hydrostatic transmissionprovides continuously variable,uninterrupted torque throughout theentire speed range for a highlyefficient, more productive machine.
Operator Station
Ergonomically designed for totalmachine control in a comfortable,spacious environment. All controls,levers, switches, and gauges arepositioned to maximize productivity.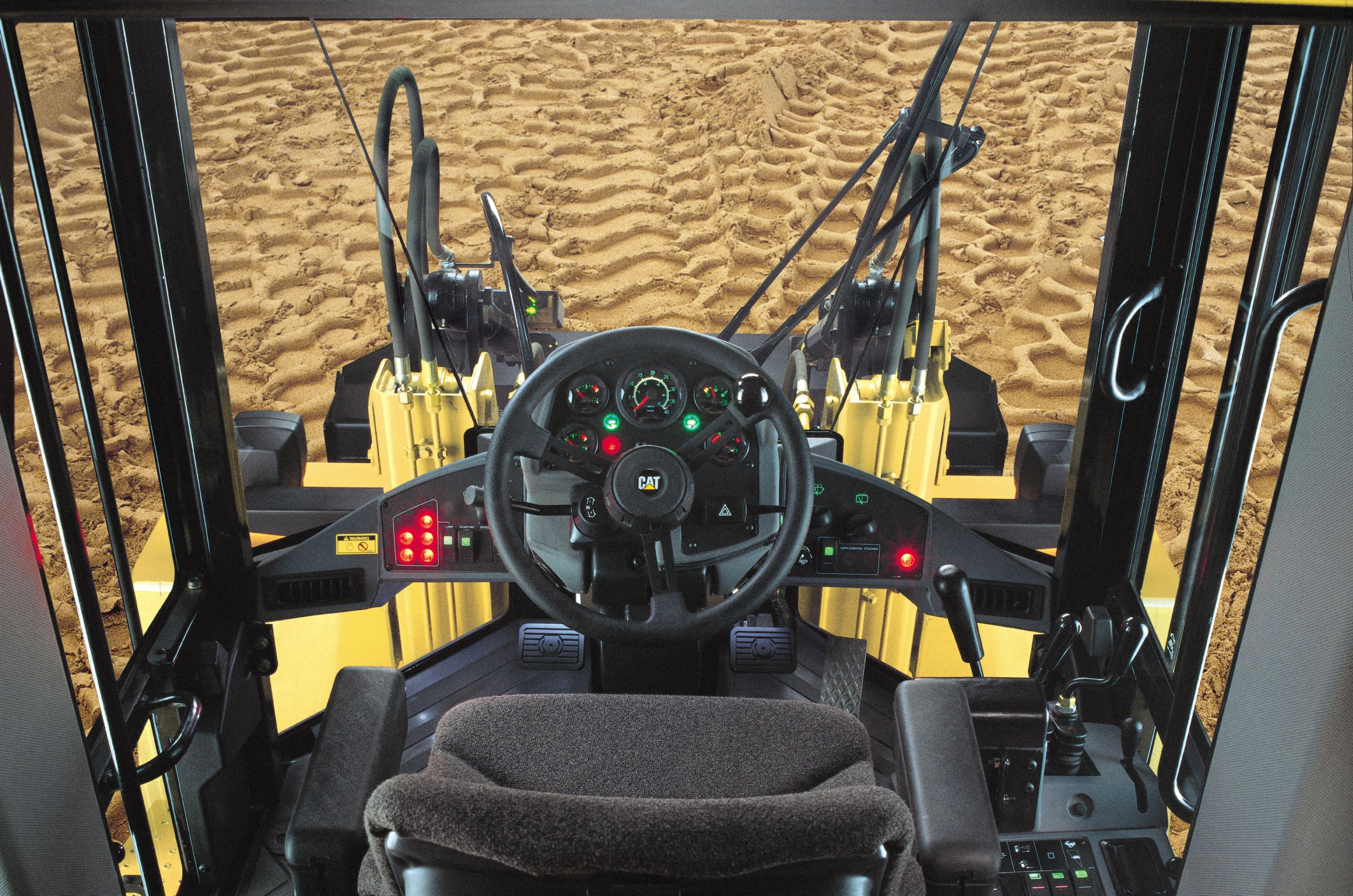 Operator Comfort
The IT14G operator station is aspacious work environment thatpromotes productive operation. withremarkable peripheral visibilitycoupled with operators' most requested features.
Low-Effort Operation
New pilot hydraulic controls give theIT14G uncompromised easier operation of lift and tilt functions.
More Seating Options
The Contour Series Seat is the premium seat option and is designed for maximum comfort and fully-adjustable support.
Cab
Ergonomic cab is designed with theoperator in mind. Comfort, visibility,and easy operation are emphasizedin this design.
Hystat Power Train
The hystat power train delivers abroader range of power and performance with less operator input than converter-driven transmissions.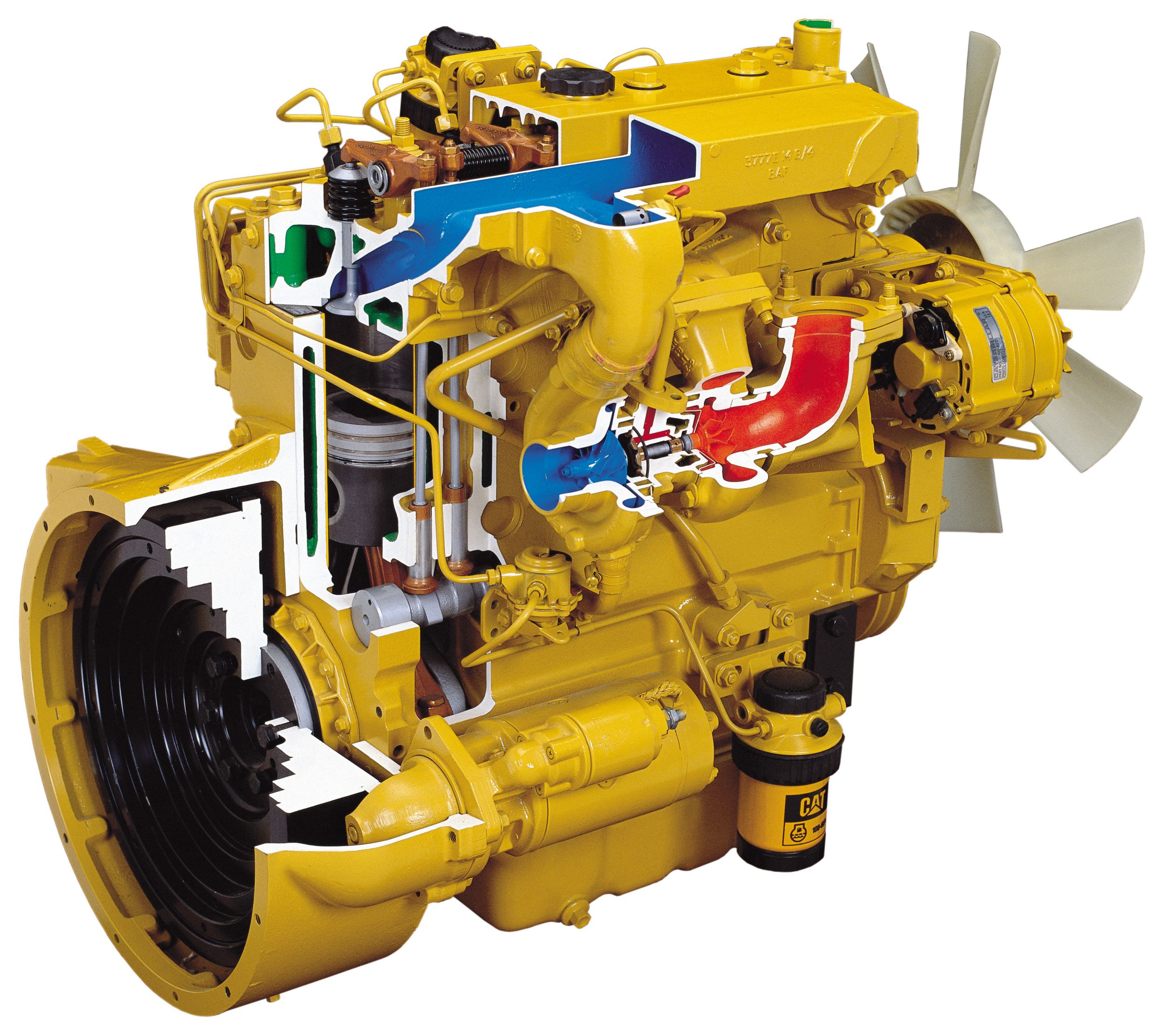 Hydrostatic Transmission
The high-pressure closed-loop hydrostatic transmission delivers high performance with a broader range of power and performance to the ground.
Caterpillar 3054T Diesel Engine
It is designed for rugged, reliableoperation while providing peakperformance over a wide range ofoperating conditions.
Caterpillar Axles and Brakes
The brakes meet the all of followingstandards: OSHA, SAE J1473 OCT 90, ISO 3450-1996.
Disc Brakes
Hydraulically-actuated disc brakesare standard on both front and rearaxles which provide improvedperformance and low-effort operation.
Duo-Cone Seals on Axles
Patented Duo-Cone Seals on the axle and housing keep oil in and lock contaminants out.
Fixed Front, Oscillating Rear
The fixed front, oscillating rear axle(±11 degree )ensures four-wheel ground contact for optimum traction and stability.
Hydrostatic System
Hydrostatic drive is variablyneutralized during braking. Thehydrostatic system providesadditional hydraulic braking capacity.
Parking Brakes
Parking brake features include thefollowing: (1)Mechanical, shoe-typebrake. (2) Mounted on drive line forpositive manual operation.(3) Transmission is automaticallyneutralized when parking brake isapplied.
Differentials
A choice of standard conventional orlimited Slip differentials adapts themachine to a wide range of operating conditions.
Final Drives
Planetary final drives consist of ringgears and planetary carrier assemblies.
Quick Coupler and Attachments
The Quick Coupler is an integral part of the Caterpillar Integrated Toolcarrier. Tool changes are quick and easy, most in under a minute. A lever in the operator compartment activates a hydraulic cylinder for positive tool retention or disengagement.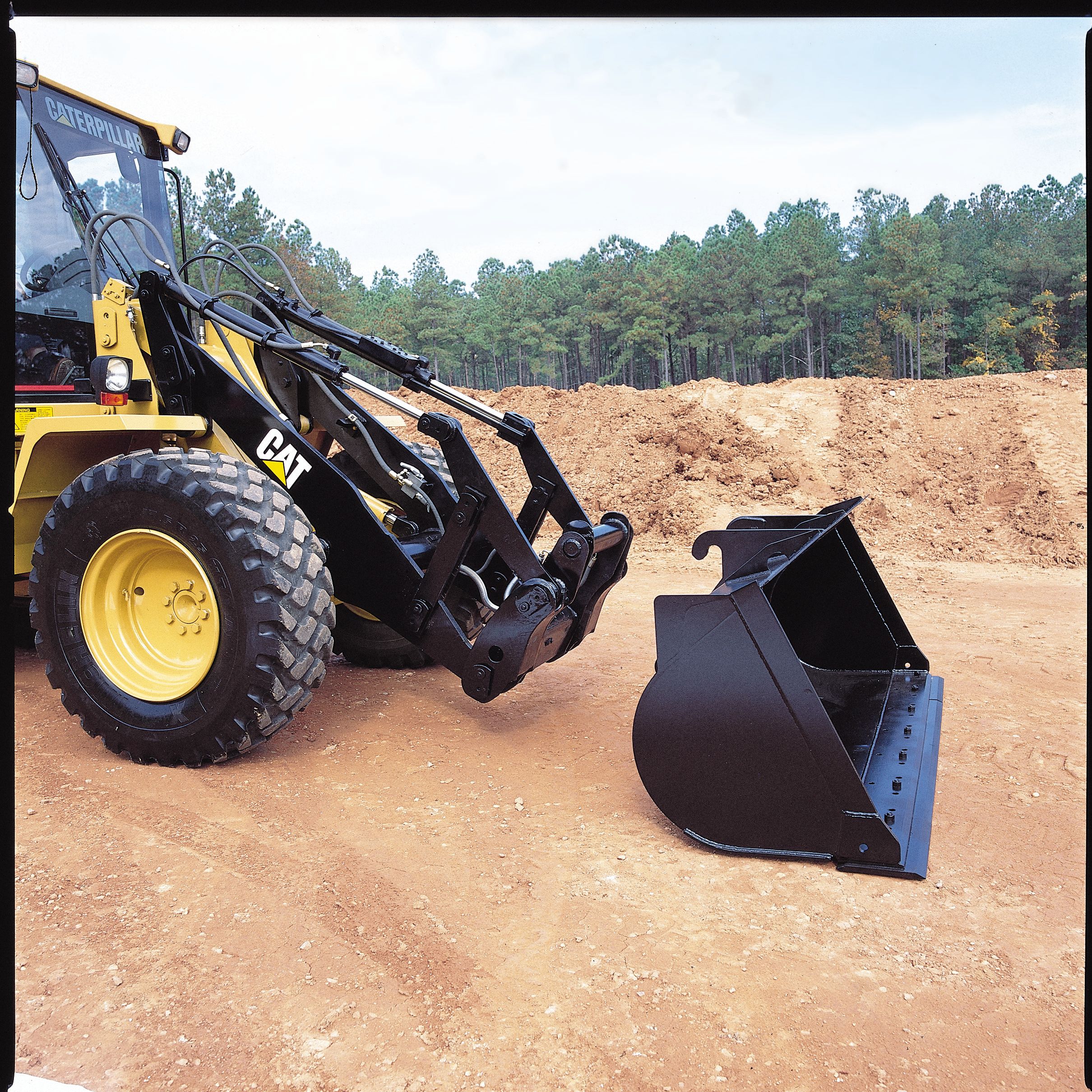 Attachment Controls
Pilot-operated lift and tilt circuits.Low effort single-lever control of liftand tilt circuits. Controls can belocked for roading.
Engine Enclosure Hood
One-piece engine enclosure hood provides open access to many service points.
Electrical System
The electrical system on the IT14G is a 24 volt system. Standard machines include two 12V (750 CCA) Caterpillar maintenance-free batteries which are easily accessible inside the engineenclosure and a charging systemequipped with a 60-amp alternator.
EQUIPMENT
Standard Equipment
Air cleaner, radial seal
Alarm, back-up
Alternator, 60-amp
Batteries, heavy-duty, 12V (2)
Battery disconnect switch
Brakes
Service - inboard, oil-immersed
Parking - mechanical on drive line
Cab, ROPS, sound suppressed and pressurized
Ground level door release
Heater/defroster
Personal storage space
Rear view mirrors (2 inside)
Seat, adjustable suspension
Seat belt, 75 mm (3 in), retractable
Tinted safety glass
Two door cab
Wiper and washer (front/rear) with intermittent control
Counterweight, 250 kg (550 lb)
Defroster, rear window, wired glass
Differentials, conventional (front/rear)
Electrical system, 24V
Engine, Caterpillar 3054 DIT (Low Emission Configuration)
Engine enclosure, lockable
Engine fuel priming pump
Fenders (front/rear)
Hitch, drawbar
Horn, front warning (electrical)
Hour meter, electric
Hydraulic control - single lever, pilot (additional lever for quick coupler engage/disengage)
Hydraulic oil cooler, tiltable
Hydraulic third valve - high flow
Diverter valve
Quick disconnects
Hydraulic lines (high flow)
Implement control lever locks
Implement positioner, two-position
Indicators
Air cleaner service
Hydraulic oil lever sight gauge
Instrumentation
Engine coolant temperature gauge
Hydraulic oil temperature gauge
Fuel level gauge
Battery voltage gauge
Lift kickout, automatic
Lift/tilt kickout neutralizer
Lighting system
Brake lights
Working lights (halogen)
Loader linkage, 8-bar parallel design
Muffler
Quick coupler, Caterpillar
Radiator, unit core, expansion bottle
Starting aid, thermal
Steering stops, cushioned
Suction fan
Switch, key start and stop
Tilt steering console
Transmission, hydrostatic drive, two speed modes (high/low)
Turn signals
Warning indicators
Parking brake
Service brake oil pressure
Hydraulic oil temperature
Engine oil pressure
Coolant temperature
Hydraulic filter bypass
Alternator
Optional Equipment
Air conditioner (R-134a refrigerant)
Bottom guard, hystat motors
Buckets, quick coupler mounted
Canopy, ROPS
Creeper control, transmission
Differential, limited slip
Front axle and/or rear axle
Drain valves, ecological
Electrical accessories package (12V converter, accessory plug outlet, wiring)
Fenders, roading
Ground Engaging Tools, buckets
Hydraulic fourth valve
Quick disconnects
Hydraulic lines and control
Lights, auxiliary working
Low sound package
Mirrors, external (2)
Radio prep packages (12V)
Speakers, antenna, converter, mounts
Remote forward/neutral/reverse transmission control
Ride Control System
Rotating beacon, magnetic
Seats
Heated, fabric, with parking brake alarm
Caterpillar Contour Series, fabric
Caterpillar Contour Series, fabric, air suspension
Sliding door window
Speedometer
Starting aid, engine coolant heater
Steering, secondary
Sun screen, rear window
Tires
Bias ply, 15.5-25 and 17.5-25
Radial, 15.5-25 and 17.5-25
Tire rims, 1- and 3-piece
Tool box, lockable
Tool kit
Visor, sun
CONNECT. DISCUSS. SOLVE.
CATERPILLAR EQUIPMENT MAINTENANCE ONLINE COMMUNITY
HOW CAN WE HELP?
SHARE YOUR FEEDBACK OR ASK A QUESTION