994D
Designed for maximum productivity, the 994D builds on its productive tradition with innovations that enhance performance, reliability, durability and operator comfort, to lower your cost-per-ton.
SPECIFICATIONS
Engine
Engine Model
Cat® 3516B EUI
Net Power - Caterpillar
1375 hp
Net Power - ISO 9249
1375 hp
Net Power - SAE J1349
1361 hp
Peak Torque @ 1,100 rpm
5786 lb ft
Net Power - EEC 80/1269
1375 hp
Operating Specifications
Operating Weight
421600 lb
Rated Payload - Standard
38 tons
Rated Payload - High-Lift
34 tons
Bucket Capacity Range
15-31 m3 19.5-41 yd3
Cat Truck Match - Standard
785C, 789C
Cat Truck Match - High Lift
789C, 793C
Articulation Angle
40 Degrees
Buckets
Bucket Capacities
15-31 m3 19.5-41yd3
Max. Bucket Capacity
41 yd3
Transmission
Transmission Type
Cat planetary power shift
Axles
Maximum Single-Wheel Rise and Fall
26.65 in
Hydraulic Cycle Time
Lower Float Down (Empty)
4 Seconds
Total Hydraulic Cycle Time
19.9 Seconds
Hydraulic System - Steering
Steering System - Circuit
Closed
Steering System - Pump
Piston, variable displacement
Max Flow @ 1,710 rpm (6900 kpa) (2x)
112 gal/min
Relief Valve Setting - Steering
4495 psi
Number of Steering Pumps
2
Service Refill Capacities
Differentials and Final Drives - Front
164.05 gal
Differentials and Final Drives - Rear
164.05 gal
Differential/Final Drives (each)
164 gal
Hydraulics - Lift/Tilt
164 gal
Hydraulics - Brake Cooling
6 gal
Hydraulics - Steering/Brake
66 gal
Hydraulic System (including tank)
235.91 gal
Hydraulic System - Lift/Tilt
Lift/Tilt System - Circuit
Closed
Lift/Tilt System - Pump
Piston, fixed displacement
Max Flow at 1,710 rpm (3x)
329 gal/min
Relief Valve Setting - Lift/Tilt
4408 psi
Cylinders - Lift/Tilt
Double-acting
Lift Cylinder - Bore
13 in
Lift Cylinder - Stroke
65.4 in
Tilt Cylinder - Bore
10.5 in
Tilt Cylinder - Stroke
44.9 in
Number of Lift/Tilt Pumps
3
Number of Lift Cylinders
2
Number of Tilt Cylinders
2
Dimensions*
Height to Top of Exhaust Stacks
22.7 ft
Height to Top of ROPS/FOPS
22 ft
Height to Top of Hood
15.6 ft
Height to Center of Axle
5.7 ft
Reach at Max. Lift/Dump - Std
7.4 ft
Reach at Max. Lift/Dump - HL
9.3 ft
Clearance at Max. Lift/Dump - Std
18.4 ft
Clearance at Max. Lift /Dump - HL
19.5 ft
Bucket Pivot at Max. Lift - Std
26.8 ft
Bucket Pivot at Max. Lift - HL
27.9 ft
Overall Height Bucket Raised - Std
37.19 ft
Overall Height Bucket Raised - Std
36.1 ft
Overall Height Bucket Raised - HL
37.2 ft
Length - Rear Axle to Bumper
14.8 ft
Length - Front Axle to Bucket Tip - Std
19.4 ft
Length - Front Axle to Bucket Tip - HL
22 ft
Overall Length - Std
55.1 ft
Overall Length - HL
57.7 ft
Hinge Pin Height at Full Lift - Std
26.76 ft
Length with Bucket on Ground
666.49 in
Hydraulic System - Pilot
Pilot System - Circuit
Closed
Max Flow at 1710 rpm
20.6 gal/min
Relief Valve Setting - Pilot
348 psi
Standards
Cab/ROPS
SAE J1394 SAE J11040 APR88 ISO 3471-1 1986
Cab/FOPS
SAE J231 JAN81 ISO 3449 1992 Level II
Cab Sound*
ISO 6394: 1998
Cab Vibration
EC 89/392EEC
Brakes
SAE J1473 OCT90 ISO 3450 1992
BENEFITS & FEATURES
Power Train
Cat power train delivers smooth, responsive performance and reliability in tough conditions.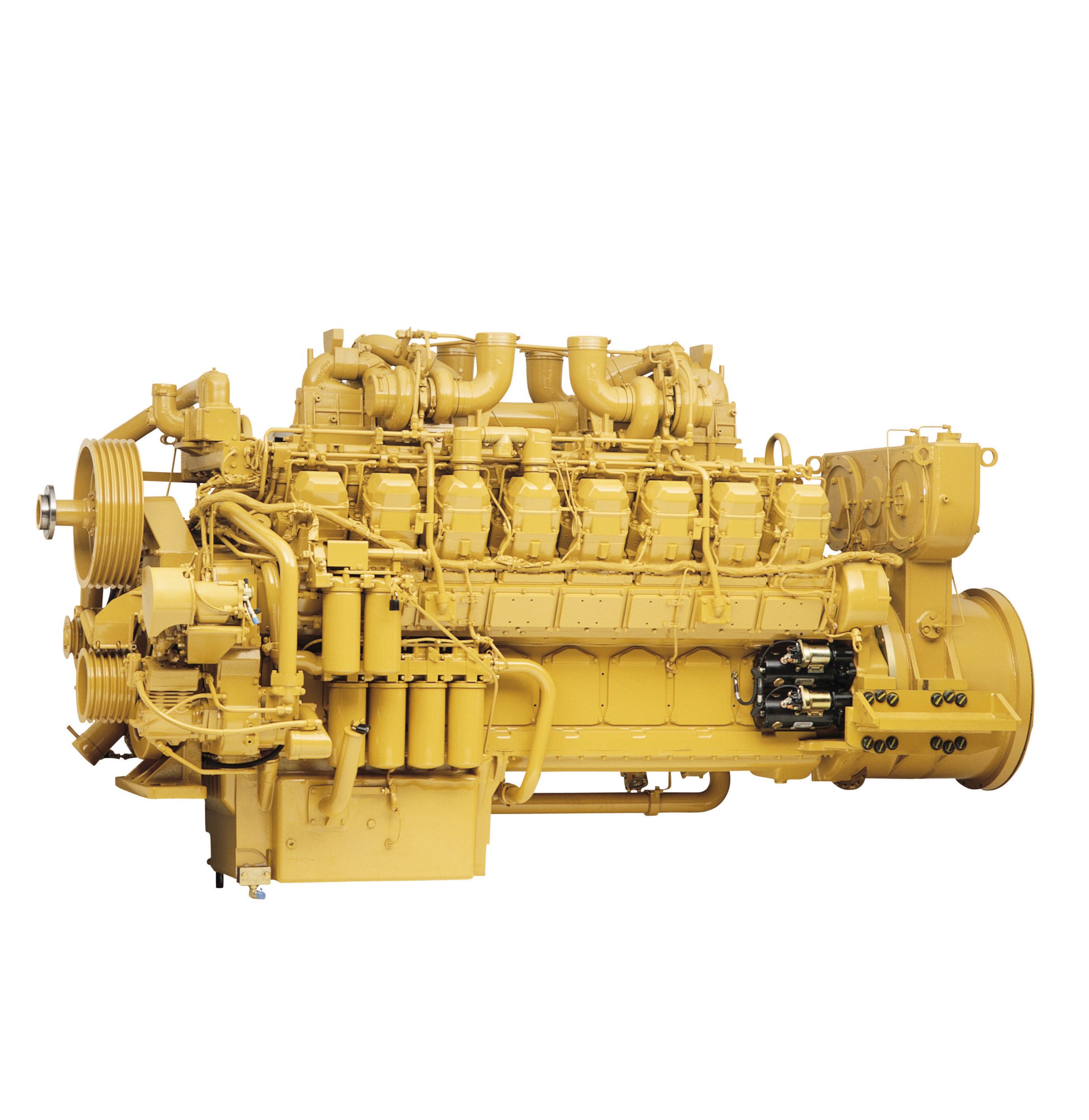 Engine
Field-proven Cat 3516B EUI turbocharged and aftercooled diesel engine delivers high power and reliability in the world's most demanding mining applications. The 3516B is a 16-cylinder, four-stroke design and uses long, effective power strokes for more complete fuel combustion and optimum efficiency.
Engine Features
Three-ring, two-piece pistons with high strength forged steel crowns and lightweight aluminum skirts.
Steel-backed, copper-bonded aluminum bearings.
Uniflow cylinder head design with four alloy steel valves per cylinder.
High carbon steel alloy crankshafts with hardened journals.
Pressure lubrication with full-flow filtered oil and heat exchanger oil cooler.
Direct-electric 24-volt charging system.
High Torque Rise
With 33% torque rise, the 3516B delivers high lugging forces during digging and acceleration in high rimpull conditions for maximum efficiency and fast cycle times.
Enhanced Life
High displacement, low rpm rating and conservative horsepower ratings mean more time in the field and less time in the shop.
Electronic Control Module (ECM)
The ECM is the electronic "brains" of the power system. Computerized system senses operating conditions and power requirements and adjusts engine for most efficient operation at all times.
Electronic Unit Injection (EUI)
The electronically controlled unit injection fuel system senses operating conditions and regulates fuel delivery for optimum fuel efficiency.
Advanced Diesel Engine Management (ADEM)
ADEM system controls fuel injector solenoids to start and stop fuel injection for superior performance, greater reliability, cold start protection, automatic altitude compensation and air filter restriction indication.
Separate Circuit Aftercooler
Allows aftercooler circuit to operate cooler than jacket water temperature for a denser air charge and greater combustion.
Ether Starting Aid
Ensures reliable start-up in extreme cold operating conditions.
Cat Planetary Power Shift Transmission
Features heavy duty components to handle the toughest jobs. Electronic controls allow smooth shifting for greater productivity, durability and longer component life.
Impeller Clutch Torque Converter (ICTC)
Electronically controlled impeller clutch torque converter provides maximum flexibility in regulating optimum rimpull in all conditions for smoother operation.
Inching Capability
Left brake pedal operation allows the operator to reduce rimpull to 25% then brake for more precise inching when approaching a truck or making directional changes.
Rimpull Control
Allows operator to adjust maximum rimpull from 100% down to 90, 85, 75 and 65% using a four-position dial while in first gear. Matching rimpull to job conditions provides greater traction in slippery or rough conditions for better performance and longer tire life.
Stable Design
Low mounted heavy-duty power train components ensure a stable machine, for an unequalled payload to full turn static tipping load ratio.
Proven Reliability
The 994D power train has proven itself with the most reliable and durable components in the industry for the lowest operating cost-per-ton.
Torque
Torque is developed at the wheel, generating less stress and wear on the axle shafts.
Axles
The front axle is fixed, and the rear axle oscillates ±10°, which allows either rear wheel to rise or fall 677 mm (26.7 in) while all wheels remain on the ground for maximum stability, greater traction and a more comfortable ride.
Differentials
Standard conventional differentials allow one tire to spin faster than the other, keeping developed torque out of the axles.
Axle Shafts
Free-floating axle shafts can be removed independently of the wheels and planetaries for quick and easy servicing.
U-Joints
Permanently lubricated for greater durability and long service life. Only the slipjoint requires manual lubrication.
Oil-Cooled Disc Brakes
Four-wheel, fully hydraulic oil-cooled multiple disc brakes are completely sealed and adjustment free. Two brake pedals allow standard braking with right pedal plus rimpull modulation braking with left pedal.
Brake Cooling
The brake oil cooler provides additional cooling to the brake discs for greater durability.
Filtration
Screens on the brake circuit minimize the risk of contamination.
Parking/Secondary Brake
Manual, spring-applied, multiple dry-disc brake is located on the front driveline for protection from contamination. Monitoring system alerts operator if transmission is engaged while parking brake is applied, and if the pressure drops, the parking brake is automatically applied.
Engine Cooling
Advanced Modular Cooling System (AMOCS) significantly improves heat rejection through the use of copper cooling cores and an efficient two-pass cooling design.
Final Drives
The all-wheel drive design features four planet carrier gears with planetary double reduction in each wheel for superior reliability. Planetaries can be removed independently of the wheels and brakes for quick and easy servicing.
Duo-Cone® Seals
Seals out dirt and contamination to extend component life.
Structures
Designed for maximum strength and durability in the harshest operating environments.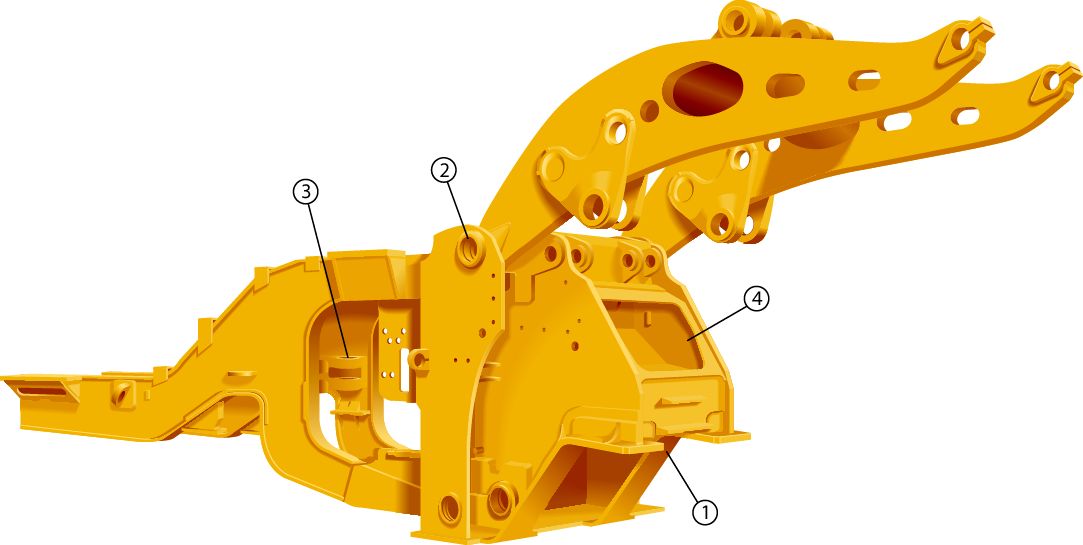 Robust Structures
The 994D front loader frame features robust structural components for outstanding durability in the toughest loading conditions. The frame is the backbone of the 994D's durability and is specifically designed and manufactured to withstand the higher forces required by the machine's increased payload rating.
Frame
The box-section rear frame, articulation hitch and four-plate loader tower are designed to resist torsional shocks, twisting forces and stresses generated during the loading cycle while protecting driveline and hydraulic system components.
Lift Arms
The 994D's solid steel lift arms absorb high stresses generated during loading without sacrificing strength or durability. The linkage design provides an excellent view of the bucket edges, corners, and work area, allowing the operator to focus on productivity.
Z-bar Loader Linkage
Proven Z-bar loader linkage geometry delivers maximum productivity. Fewer pivot point and moving parts are designed to reduce maintenance costs.
Hydraulics
Cat hydraulics deliver the power and control needed to keep material moving.
Hydraulic System
Completely enclosed hydraulic system uses separate circuits for lift and tilt, steering and brake control. Separate circuits provide increased cooling and elimination of cross-contamination, resulting in less downtime and greater productivity.
Lift and Tilt System
Three dedicated fixed displacement piston pumps deliver high reliability, efficiency and performance to the lift and tilt system.
Pilot Controls
Low-effort, pilot-operated finger-tip controls provide smooth, precise control of lift and tilt functions. Automatic lift kickout and return to dig detents deliver fast cycle times.
Steering System
The 994D features a load-sensing steering system with variable displacement piston pump for smooth, precise control. The revolutionary steering system integrates steering and transmission control functions into a single controller. Simple side-to-side movement of the STIC steer lever turns the machine right or left. Center point frame articulation allows the machine to articulate 40° to the left or right, permitting precise positioning in tight areas.
Filtration System
Advanced filtration system consists of additional screens and filters throughout the lift/tilt, steering and brake systems to maintain cleanliness, and prevent downstream contamination. All are monitored electronically through VIMS to simplify diagnostic troubleshooting and reduce downtime.
Lift/tilt high pressure screens
Steering high pressure screens
Lift/tilt case drain filters
Steering case drain filters
Hydraulic case drain filters
Front pump drive lube filter
Front and rear brake oil screens
Cat Hydraulic Hose
Field proven Cat high-pressure XT hydraulic hose is exceptionally strong and flexible for maximum system reliability and long life in the most demanding conditions. Reusable couplings with o-ring face seals provide superior, leak free performance and prolong hose assembly life. Large-bore lift and tilt cylinders round out the hydraulic system, delivering high performance and durability.
Operator's Station
Ergonomically designed for operator comfort, superior control and high productivity.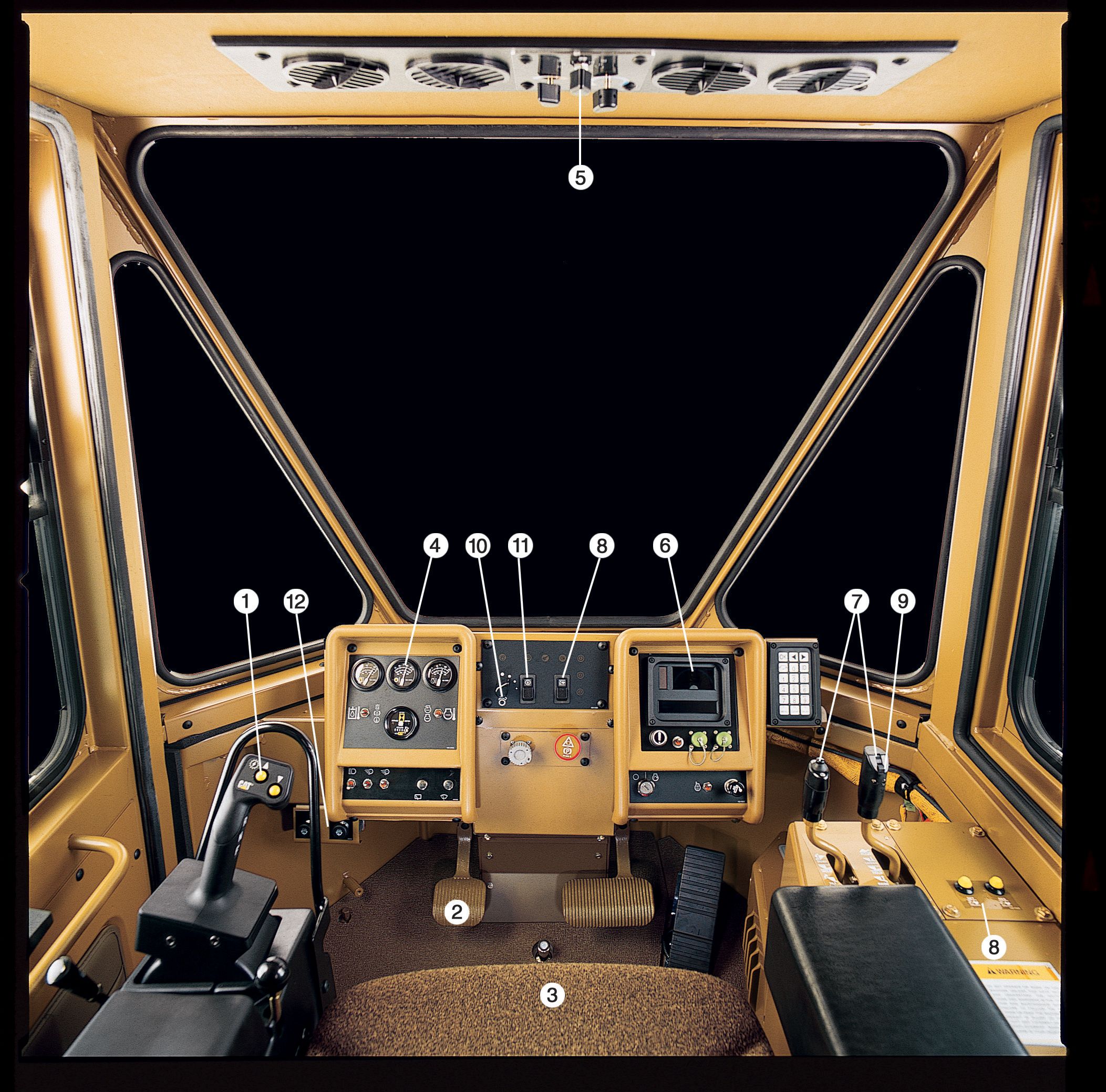 Ergonomic Design
The 994D sets the standard for productivity with advanced controls and greater operator comfort. Ergonomic design creates a unique human engineered environment that helps the operator get more work done, all shift long.
1) Steering and Transmission Integrated Control System (STIC)
Combines directional selection, gear selection and steering into a single lever for maximum responsiveness. Simple side-to-side motion turns machine right or left. Transmission shifting (forward/neutral/reverse) is controlled by the operator's fingers, and gear selection is controlled by the thumb. The integrated control system delivers low effort controls for smoother, faster cycles with less operator fatigue.
2) Left Brake Pedal
Operates the Impeller Clutch Torque Converter reducing rimpull to 25%, then engages the brakes for improved control and smoother directional shifts.
3) Contour Series Seat
The air suspension Cat Contour Series Seat with retractable seat belt offers six seat and armrest adjustments for precise positioning and optimum operator comfort. Ergonomic design reduces pressure on the lower back and thighs and allows unrestricted arm and leg movement for greater productivity with less fatigue.
4) Gauge Group
Four separate gauges allow the operator to constantly monitor vital machine systems.
Hydraulic oil temperature gauge - Lift and tilt oil - Brake system oil - Steering system oil
Transmission oil temperature gauge
Coolant temperature gauge - Aftercooler coolant - Engine coolant
Engine hour meter
5) Air Conditioner/Heater Controls
A/C system contains environmentally safe R134a refrigerant.
6) Monitoring System
Vital Information Management System (VIMS) electronically monitors and stores diagnostic and performance information in easy-to-read displays for early identification of potential problems and more accurate troubleshooting. The integrated Payload Control System displays and stores vital production information for tracking payloads, loader cycle times and other machine data. The message center displays vital machine information and alerts operator of potential problems. It also stores data that can be easily accessed through the keypad or downloaded to a laptop for quick diagnosis and troubleshooting. A data port allows for wireless transmission of data to the mine office.
7) Bucket and Hoist Controls
Two levers control bucket and lift arm functions.
Bucket tilt/curl control - three positions: tilt back, hold, dump.
Lift arm hoist control - four positions: raise, hold, lower, float.
Adjustable automatic kickouts for lift and bucket tilt deliver faster cycle times. Automatic bucket positioning returns to desired loading angle.
8) Throttle Lock
Similar to cruise control, throttle lock allows the operator to preset engine speed for specific applications and more effectively concentrate on productivity.
9) Rimpull Control Switch
Activates/ deactives rimpull control system.
10) Rimpull Control Dial
Allows operator to match rimpull settings to job conditions with four-position dial. Operator can adjust maximum rimpull from 100% down to 90, 85, 75 and 65% while in first gear. Matching rimpull to job conditions provides greater traction in slippery or rough conditions for better performance and longer tire life.
11) Torque Converter Lock-Up
Lock-up provides greater efficiency and faster roading capability.
12) Intermittent Wiper Control
Buckets and Ground Engaging Tools
Cat buckets provide the flexibility to match the machine to the material and conditions.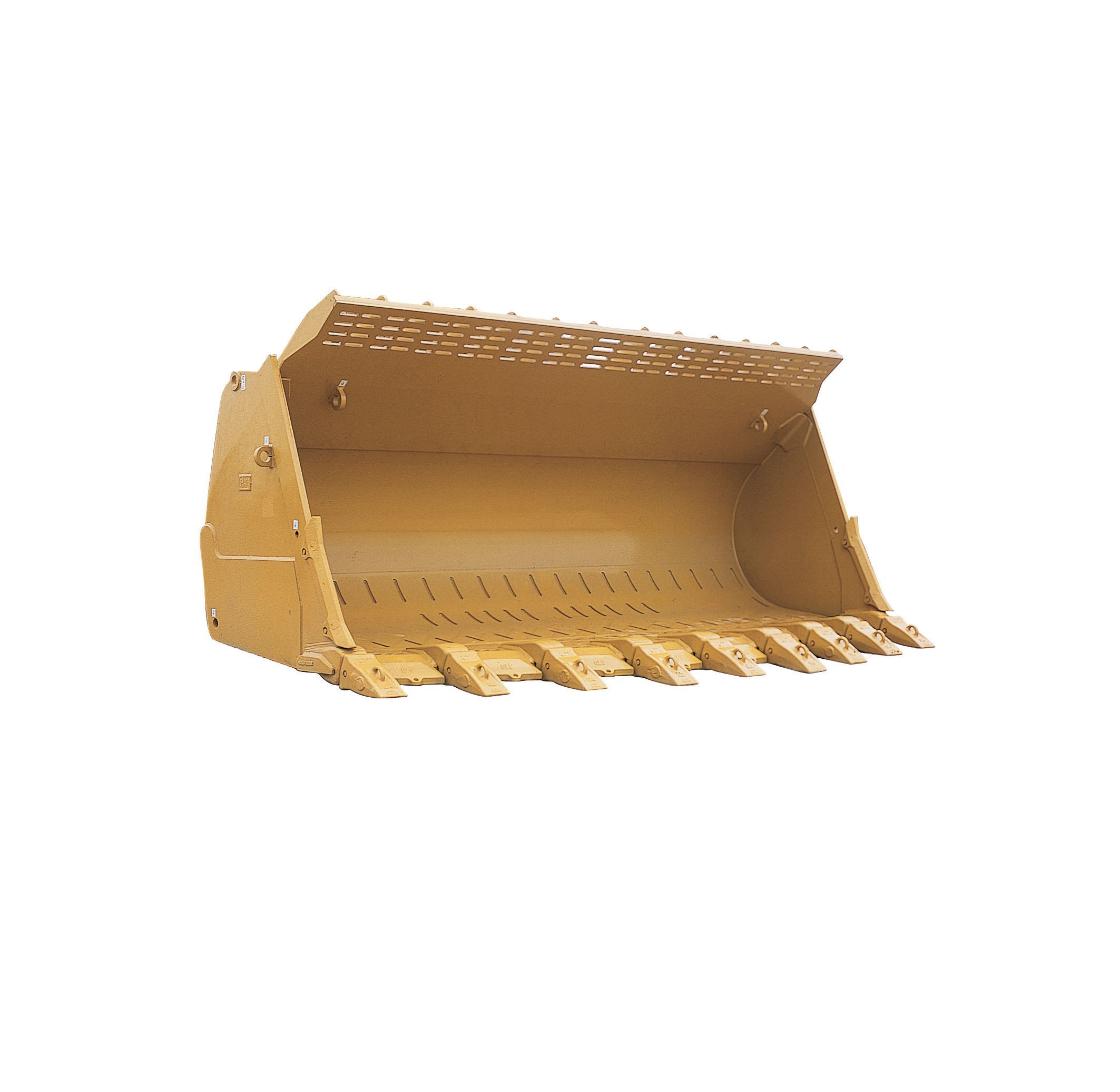 High Productivity
Aggressive Cat bucket designs deliver unmatched productivity in the most demanding applications. 994D buckets have been redesigned for optimal loadability and structural reliability.
Increased Bucket Capacity Ratings
994D buckets have been slightly modified to allow for a higher capacity rating, which better reflects the actual carrying capacity of the bucket. Physical dimensions have not changed.
Rugged Design
Cat buckets are manufactured using shell-tine construction to resist twisting and distortion. A more aggressive spade edge increases bucket penetration and fill factors and provides better retention of loose material. An integral rock guard helps retain big loads for greater fill factors and optimum truck loading.
Spade Edge Rock Buckets
Spade edge rock buckets with bolt-on segments are designed to penetrate through the pile while leaving a smooth work floor. Shouldered, double-strap adapters allow easy change-out and bolt-on segments extend base edge life.
Bucket Protection
Cat Ground Engaging Tools (G.E.T.) provide superior bucket protection for long life in the most punishing conditions. Built to absorb shock, impact, and abrasion, G.E.T. work and wear as a system to boost productivity and lower costs.
Tips
Tips extend bucket life in high wear applications.
Sidebar Protectors
Protects bucket corner and sides from wear in abrasive materials. Pin-on sidebars are reversible to extend wear life.
Edge Protectors
Protects bucket edge from wear in materials with high wear rates. Independently pinned for easy replacement without removing tips or adapters.
Wear Plates
Replaceable wear plates protect the bucket bottom. Bolt-on and weld-on wear plates protect the rear base edge from damage.
Mechanically Attached Adapter System (MAA)
Designed for high wear applications, this system offers full protection for the bucket wear edge while featuring fast removal and installation (top-pinned tips require less time to change than side-pinned tips).
MAA Corner Adapters
Increases overall bucket width by 76-102 mm (3-4 in) without changing bucket capacity.
MAA Wear Indicator
Built-in wear indicator provides a visual indication of when center adapters need replaced.
Serviceability
Less time spent on maintenance means more time on the job.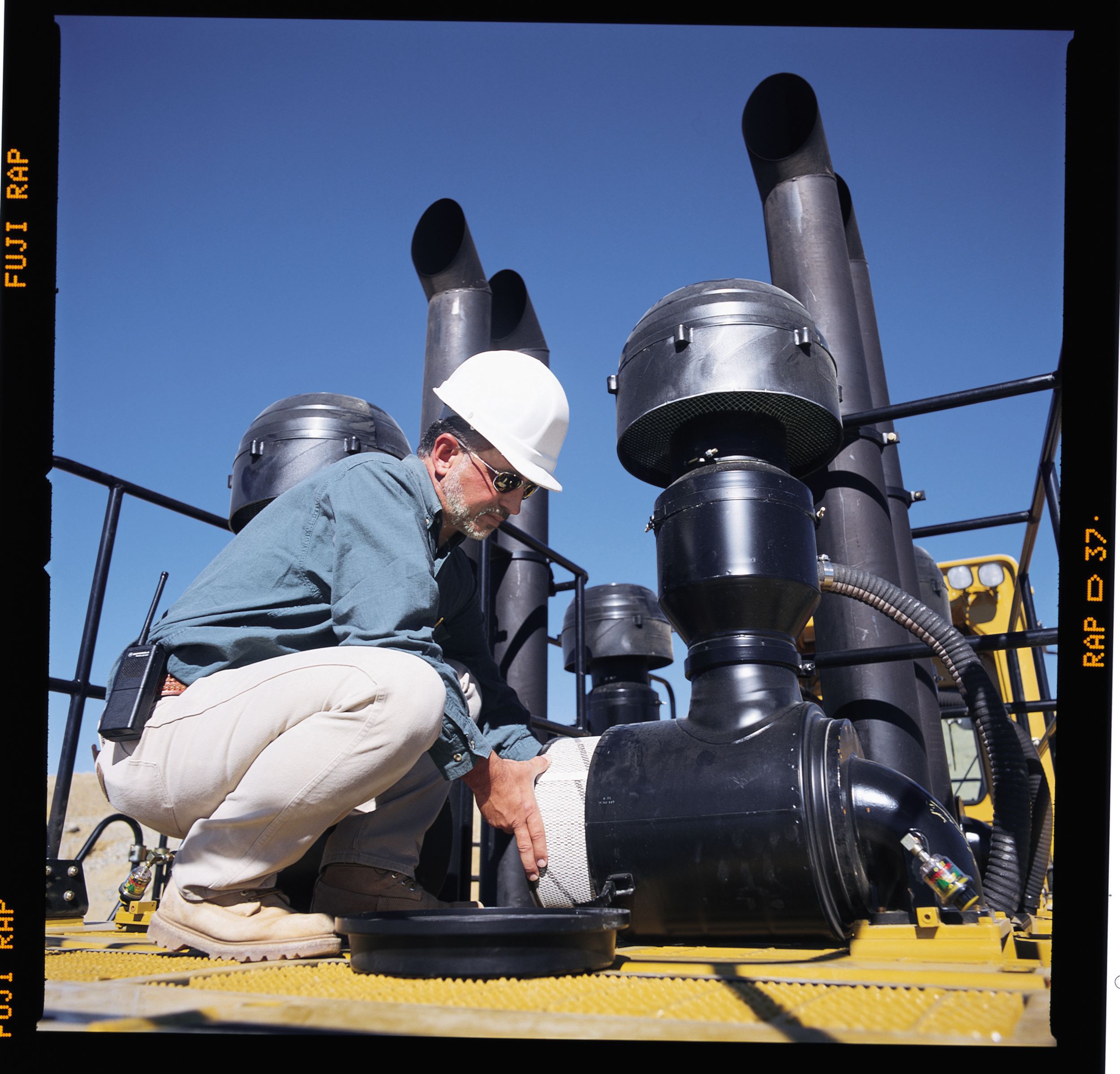 Easy Servicing
The 994D is designed for quick, easy servicing. Simplified access to service areas allows for quick servicing and ensures routine maintenance procedures are performed on time.
Ground-Level Access
Ground-level access to centralized lubrication points makes lube service quick and easy.
Air Cleaners
Dry-type air cleaners with primary and secondary elements, automatic dust ejector, and service indicator are positioned above the hood for easy access.
Pressure Test Ports
Hydraulic pressure test ports enable fast troubleshooting of major hydraulic circuits.
Cooling System
Two-pass Advanced Modular Cooling System (AMOCS) has modular design with removable cores for easy replacement and maintenance.
On-Board Diagnostics
Diagnostic connector allows quick troubleshooting of starting and charging functions.
Monitoring System
VIMS notifies operator and service technicians of problems before failure and identifies location to minimize troubleshooting and reduce downtime. Features:
Three-level warning system
Data recording system
Payload Control System
Off-board analysis system
Autolube
Standard automatic lubrication system reduces maintenance time by automatically lubricating bearings in:
lift and tilt cylinders
upper and middle bucket tilt levers
bucket pins
steering cylinders
rear axle trunnions
fan drive and belt tightening pulleys
upper and lower articulation hitch
Lubrication timing and duration can be easily set using the VIMS keypad.
Wiggins Service Center
Reduces maintenance time by centralizing fast fill connections and providing ground-level service access for:
lift and tilt oil
steering oil
steering/brake actuator oil
brake oil
engine oil
engine coolant
transmission oil
autolube
air tank
Customer Support
Caterpillar dealers have what it takes to keep mining machines productive.
Machine Selection
Make detailed comparisons of the machines you are considering before you buy.
Purchase
Look past initial price. Consider the financing options available, as well as day-to-day operating costs. This is also the time to look at dealer services that can be included in the cost of the machine to lower equipment owning and operating costs over the long run.
Financing
Your dealer is expert at arranging affordable financing options for all Caterpillar products.
Customer Support Agreements
Cat dealers offer a variety of product support agreements, and work with customers to develop a plan that meets specific needs. These plans can cover the entire machine, including work tools, to help protect your investments.
Product Support
You will find nearly all parts at your dealer parts counter. Cat dealers use a worldwide computer network to find in-stock parts to minimize machine downtime. Cat reman parts offer the same warranty and reliability as new products at cost savings of 40 to 70 percent.
Operation
Improving operating techniques can boost your profits. Your Cat dealer has training videotapes, literature, and equipment training courses to help you increase productivity.
Maintenance Services
Choose from your dealer's range of maintenance services when you purchase your machine. Repair option programs guarantee the cost of repairs up front. Diagnostic programs such as S•O•SSM coolant sampling and technical analysis help you avoid unscheduled repairs.
Replacement
Repair, rebuild or replace? Your Cat dealer can help you evaluate the cost involved so you can make the right choice.
www.CAT.com
For more complete information on Cat products, dealer services, and industry solutions, visit us on the web at www.CAT.com.
Matched Systems
An efficient loading/hauling system starts with a perfect match.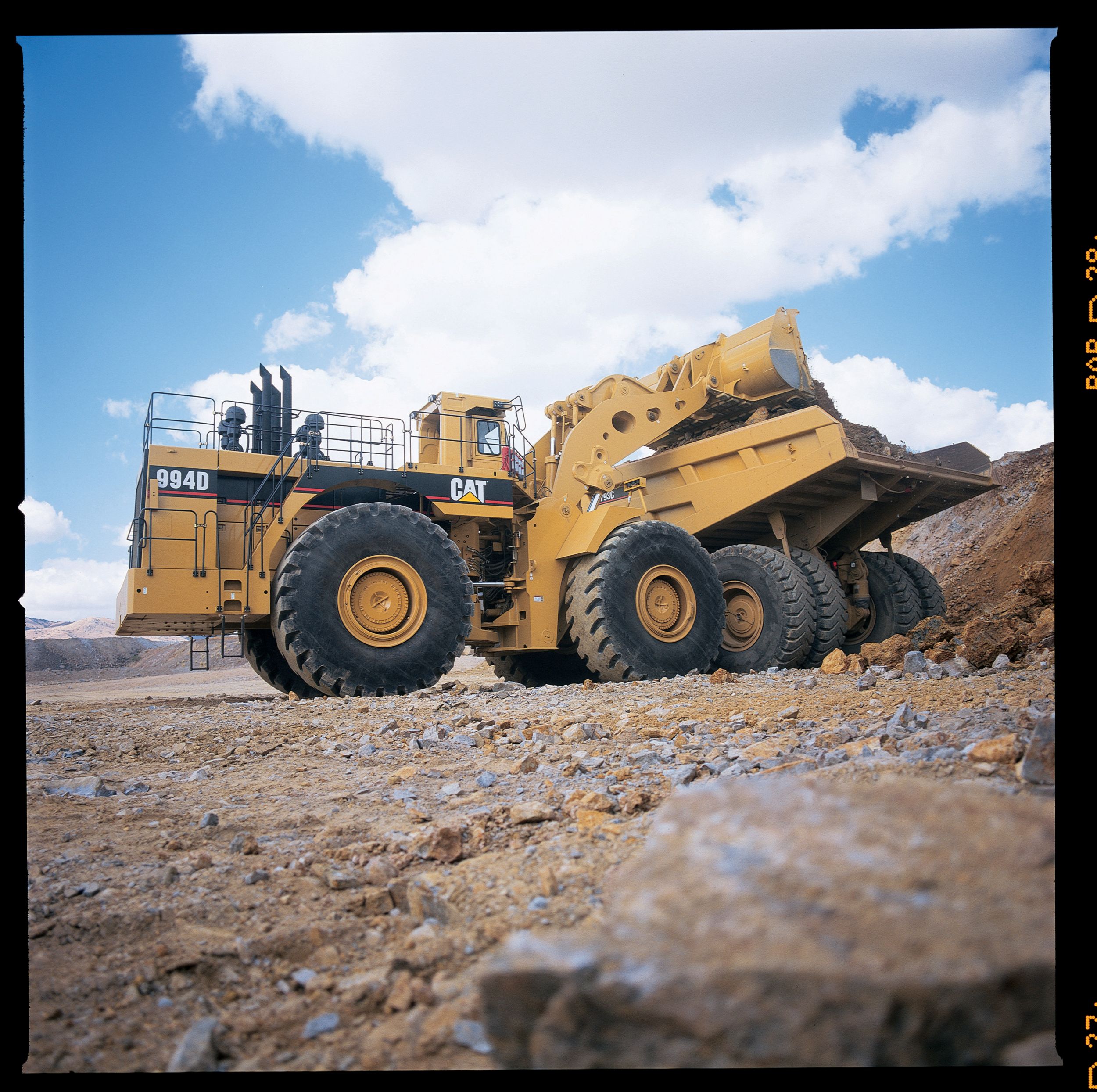 Efficient Combination
For full truck payloads with minimum loading time, an efficient loading/hauling system starts with a perfect match. Cat Wheel Loaders are matched with Cat C-Series Mining Trucks to maximize volume of material moved at the lowest operating cost-per-ton.
Application Match
The standard 994D is sized to load the 150-ton 785C in four passes. The 994D high-lift loads the 195-ton 789C in six passes and the 240-ton 793C in seven passes.
Bucket Selection
Selection of the right bucket width depends on penetration requirements and the loading target. Bucket sizes are matched to truck bed capacities for optimum loading efficiency and greater productivity.
Narrow Bucket
The narrower 5650 mm (222 in) buckets are optimally matched to load the Cat 785C, and are also sized for the 789C.
Wide Bucket
The wider 6220 mm (245 in) buckets are optimally matched to load the larger Cat 789C, and are also sized for the 793C.
EQUIPMENT
Standard Equipment
ELECTRICAL
Alarm, back-up
Alternator, 100 amp
Batteries, dry
Converter, 15 amp, 24V to 12V
Diagnostic connector
Lights, halogen, working; access/service platform lights
Starting and charging system, 24V
OPERATOR ENVIRONMENT
Air conditioner
Cab, sound suppressed and pressurized
Cab, external rollover protective structure, ROPS/FOPS
Cab, cleanout hose
Cigar lighter, ashtray
Coat hook
Controls, lift and tilt function
Heater, defroster
Horn, electric
Instrumentation, gauges
Light, cab, dome
Lunchbox, beverage holders
Mirrors, rearview, externally mounted
Rimpull Control System
Seat, Cat Contour, air suspension, six-way adjustable, cloth
Seat belt, retractable, 76 mm (3 in) wide
STIC Control System
Tinted glass
Transmission gear indicator
Vital Information Management System (VIMS)
Wipers/washers, intermittent, front/rear
POWER TRAIN
Brakes, oil-cooled, multi-disc, service/secondary
Driveline parking brake
Engine, 3516B EUI Diesel, turbocharged, aftercooled
Fuel priming pump
Guard, transmission/torque converter
Ground level engine shutoff
Precleaner, engine air intake (above hood)
Radiator, Advanced Modular Cooling System (AMOCS)
Rims, factory installed
Starting aid, ether, automatic
Throttle lock, electronic
Torque converter, impeller clutch (ICTC), lockup clutch
Transmission, planetary powershift, 3F/3R electronic control
OTHER
Air tank, ECC compliant (EN286)
Air line dryer
Antifreeze, premixed, 50% concentration extended life coolant w/ freeze protection to -50° C (-58° F)
Automatic bucket lift kickout
Automatic bucket positioner
Automatic lubrication system, fast fill, Wiggins
Blower fan
Doors, service access, locking
Ecology drains
Engine oil change system, high speed, Wiggins
Fast fill fuel system, Wiggins
Fuel tank, 4641 L (1226 gal)
Hitch, drawbar, pin
Hydraulic system
Mufflers
Oil sampling valves
Rear access, cab, service platform
Supplemental steering system
Wiggins Service Center
Vandalism protection, caplocks
CONNECT. DISCUSS. SOLVE.
CATERPILLAR EQUIPMENT MAINTENANCE ONLINE COMMUNITY
HOW CAN WE HELP?
SHARE YOUR FEEDBACK OR ASK A QUESTION