992K
Caterpillar first introduced the 992 in 1968. This large wheel loader has been a global leader ever since, building a reputation as a face loader that's both safe to operate, productive and durable. With the introduction of the K Series™, we've enhanced the operator's experience and the safety of those working on and around the machine. We've reduced operating costs with fuel saving efficiencies that reduce your cost per ton.With both standard and high lift configurations, this machine will pass match with fleets of 775, 777 and 785 trucks. If your operations revolve around the 992 as a loading tool, you'll find everything that's important to your business in the 992K; safety, productivity, cost control and comfort for your people.
SPECIFICATIONS
Engine
Engine Model
Cat® C32 with ACERT™ Technology
Gross Power – SAE J1995
904.0 hp
Operating Specifications
Operating Weight Standard Lift
214948.0 lb
Operating Weight – High Lift
226249.0 lb
Rated Payload – High Lift
21.0 tons
Rated Payload – Standard Lift
24.0 tons
Buckets
Bucket Capacities
10.7-12.3 m3 (14-16 yd3)
Transmission
Converter Drive – Forward 1
4.4 mph
Converter Drive – Forward 2
7.6 mph
Converter Drive – Forward 3
12.8 mph
Converter Drive – Reverse 1
4.6 mph
Converter Drive – Reverse 2
8.1 mph
Converter Drive – Reverse 3
13.9 mph
Direct Drive – Forward 1
Lock-up Disabled
Direct Drive – Forward 2
8.0 mph
Direct Drive – Forward 3
14.2 mph
Direct Drive – Reverse 1
4.9 mph
Direct Drive – Reverse 2
8.8 mph
Direct Drive – Reverse 3
15.4 mph
Loader Hydraulic System
Relief Valve Setting
4500.0 psi
Lift Cylinders, Double Acting: Bore
11.0 in
Lift Cylinders, Double Acting: Stroke
45.2 in
Tilt Cylinder, Double Acting: Bore
10.5 in
Tilt Cylinder, Double Acting: Stroke
80.9 in
Service Refill Capacities
Differentials and Final Drives – Front
95.0 gal
Differentials and Final Drives – Rear
91.0 gal
Fuel Tank – Standard
413.0 gal
Hydraulic Tank – Implement
86.0 gal
Hydraulic Tank – Steering/Brake
42.0 gal
Windshield Washer Fluid
4.9 gal
Hydraulic Cycle Times
Lower Float Down (Empty)
3.7 Seconds
Total Hydraulic Cycle Time
14.9 Seconds
Operating Specifications – Standard Lift
Breakout Force
128895.0 lb
High Lift Breakout Force
127775.0 lb
Standard Lift Breakout Force
128895.0 lb
Static Tipping Load, at 35° articulation
113159.0 lb
Cab
ROPS/FOPS
Meets SAE and ISO standards
Operating Specifications – High Lift
Breakout Force
129777.0 lb
Static Tipping Load at 35° articulation
96853.0 lb
Weights
Operating Weight – High Lift
226249.0 lb
Operating Weight – Standard Lift
214948.0 lb
Brakes
Brakes
Meets SAE J1473, OCT90 and ISO 3450:1992
Tires
Tires
Choose from a variety of tires to match your application.
BENEFITS & FEATURES
Quality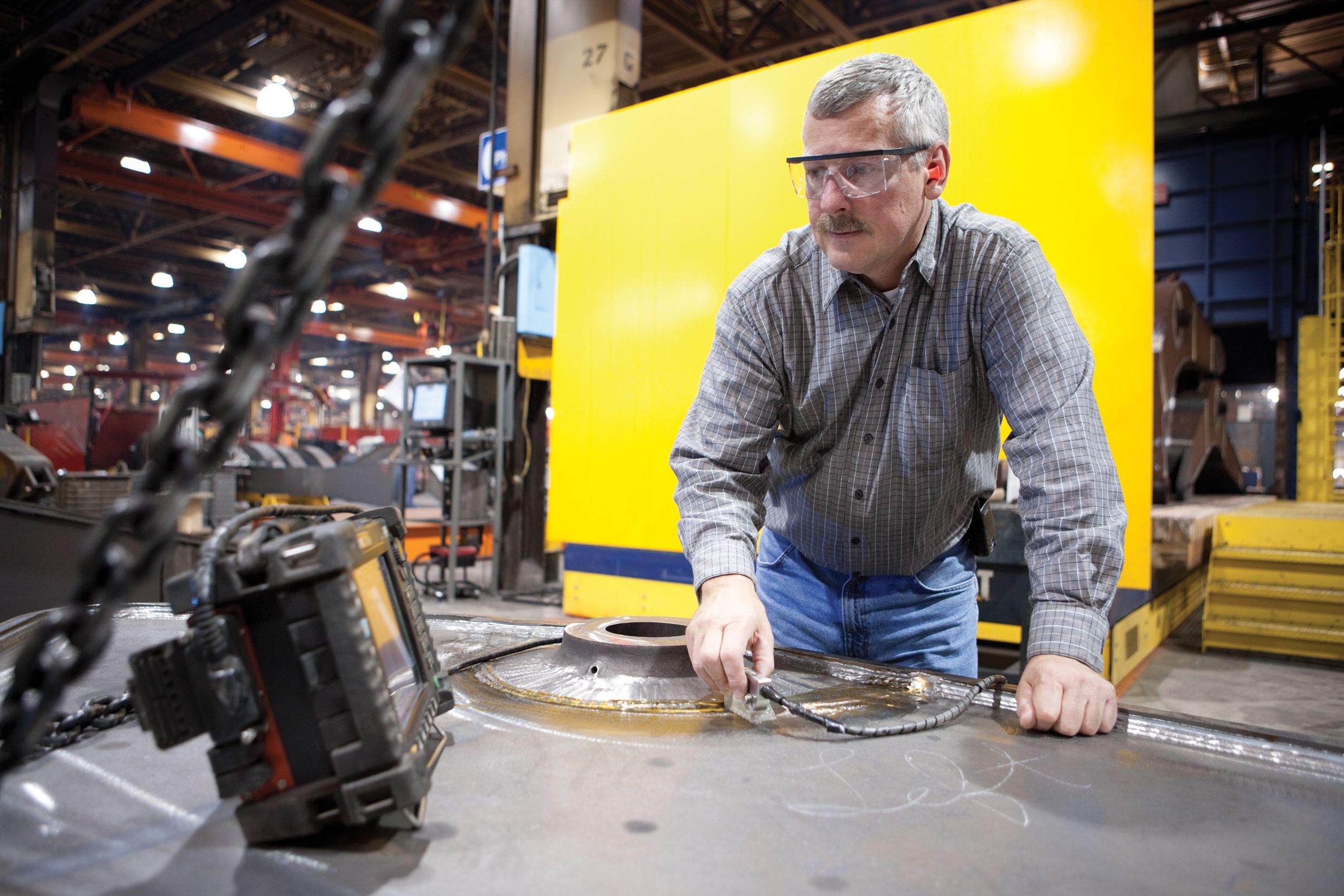 Caterpillar's commitment to quality is profound. We design to a higher standard so that your business can prosper.
All of our parts are subject to quality and conformance checks. We collaborate with suppliers early in the design phase for their knowledge and manufacturing experience.
New designs undergo Finite Element Analysis telling us where stresses congregate under loads typical of the machine's application. New castings are virtually monitored to evaluate fill quality and temperature exchange.
A shake table simulates thousands of hours of use in days – allowing engineers to validate durability. Further analysis on airflow, ergonomics, performance, and ISO standard compliance are performed on prototype and field follow machines.
Further tests are performed by operators and technicians for comfort, ergonomics and serviceability either in 3D virtual environments or on the iron.
You should know that all new product introductions at Caterpillar are guided by your voice and input, the voice of our dealer organization and their mechanics, and on our ability to physically manufacture a new design. These are just some of the criteria that make Cat products leaders in the industry, and help us ensure long life, reliable machines for your business.
Long Life, Reliable Components
We value your success and build our machines to support your business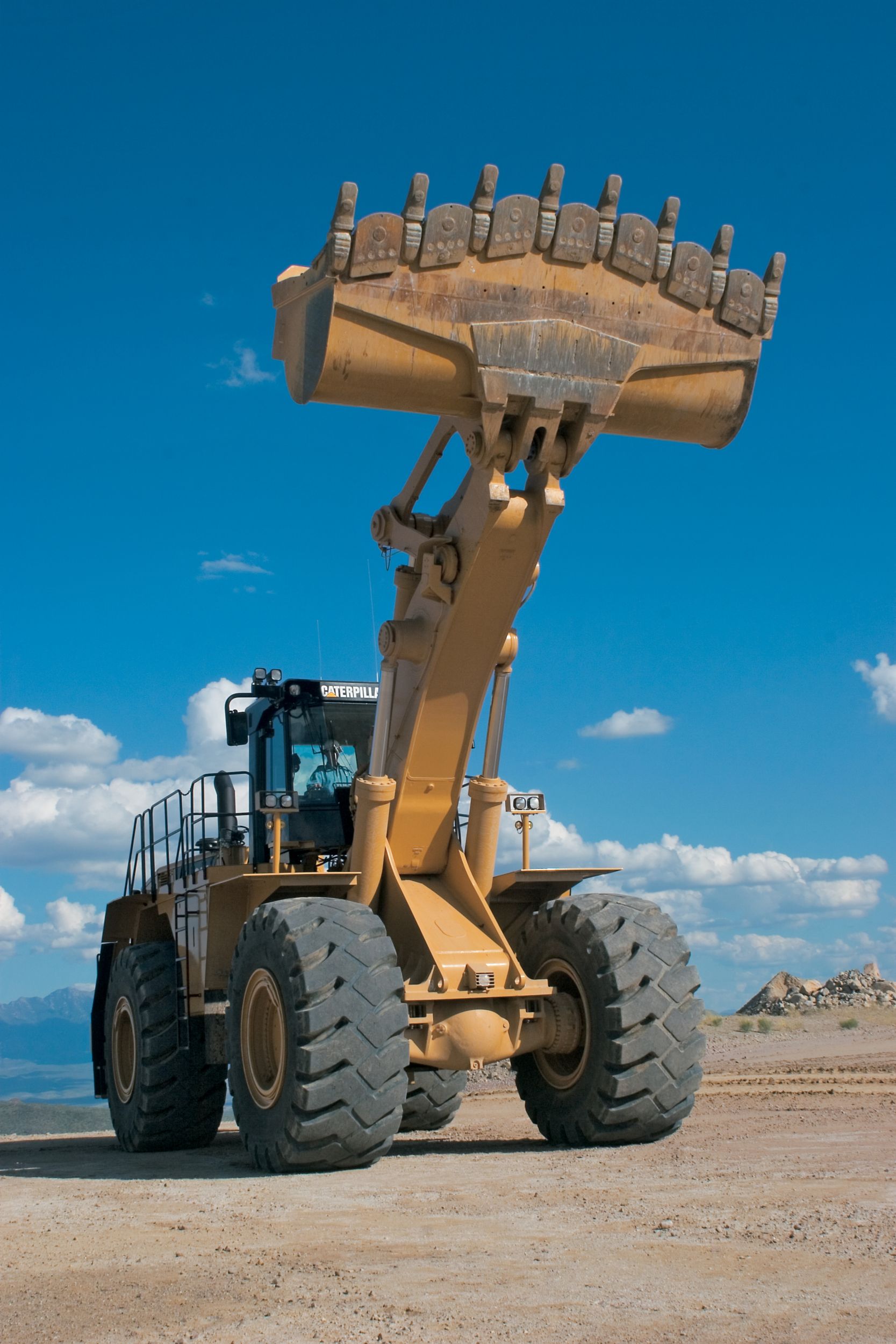 Linkage and Frames
We combine 40+ years of design and field experience – as well as new validation technologies – to ensure 992K frames, castings, welds and fabrications are the best in the industry. Our unique box section rear and front frame designs combine plates and castings to manage torsion loads and provide longer lasting alignment for hitch and pin life. Sleeve bearing pins in the linkage are more predictable in their wear and limit daily greasing. For load and carry applications, optional Ride Control further reduces shock loads to the frame while giving the operator a much smoother ride.
Cat C32 Engine
The Cat C32 diesel engine with ACERT™ Technology is common to other Cat products – like the 777F off-highway truck – but it will not be identical to the C32 found in the 992K. In the process of integrating a power train into a machine, Cat product groups develop unique power curves and ratings as well as fuel maps unique to that machine and its applications. The C32 in the 992K has starters, oil coolers and turbochargers chosen for its applications. It has mechanically-actuated, electronically controlled (MEUI) fuel injection that meters out fuel in just the right quantity to meet demand. The quality of our Cat fuel injectors ensures ultra fine mists and higher quality combustion from every liter of fuel burned. The C32 is built on a strong core that's smelted at Caterpillar's foundry. The quality of the core is highly scrutinized before further assembly. Even gaskets are carefully designed to reduce leaks while controlling vibration and noise.
Cat Planetary Powershift Transmission
Nobody builds a better transmission than Caterpillar for earthmoving applications. Everything from gear geometry, heat treatment and metallurgy are Caterpillar design controlled, including the electronics that allow it to integrate with the C32 engine and Impeller Clutch Torque Converter of the 992K. The Cat Planetary Powershift Transmission in the 992K offers three forward and three reverse speeds. The planetary gear group is common with the 993K and 994F large wheel loaders.
Operator Comfort
Leading the industry in design and ergonomics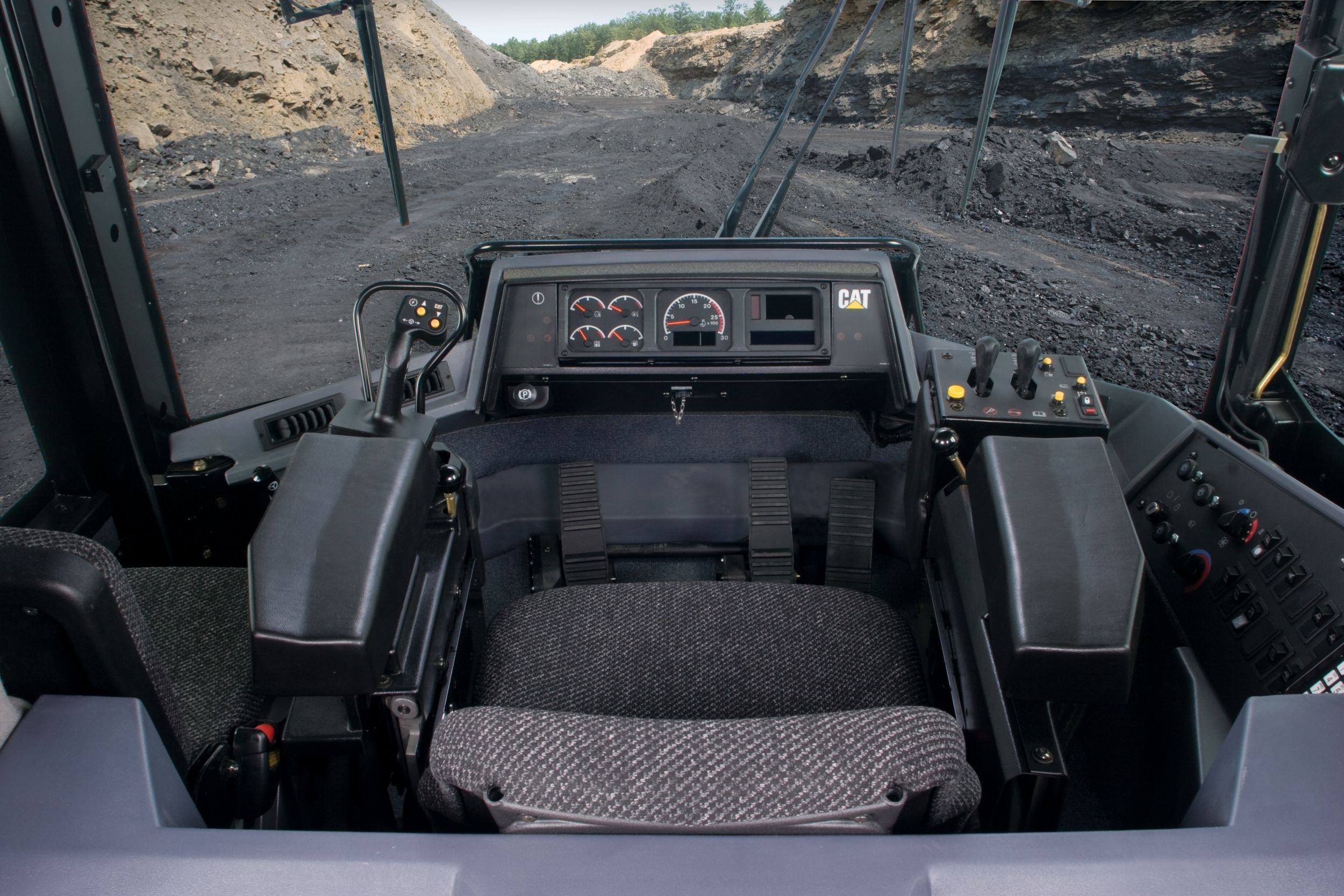 The 992K offers a world-class cab, a well-built and designed machine and performance that compliments the operator's skill.The 992K cab has room to think, is comfortable on long shifts and adjusts arm height, lumbar support, seat position and mirror coverage.A retractable seat belt is available for both the operator and trainer seat.For added safety, a rear vision camera option is available, and Ride Control, that adds accumulators to the loader linkage, dampens loping on the haul road. Two doors offer access and ingress options, and the operator is protected from falling objects and rollovers with ROPS/FOPS structures.Operators can set automatic bucket heights for easier truck loading or feeding a crusher. The implement controls are finger tip controlled and low effort.The cab is sound suppressed, has vibration dampening and air is filtered to keep dust out. An optional precleaner can extend filter life in extreme applications.
Safety
Safety is always our first priority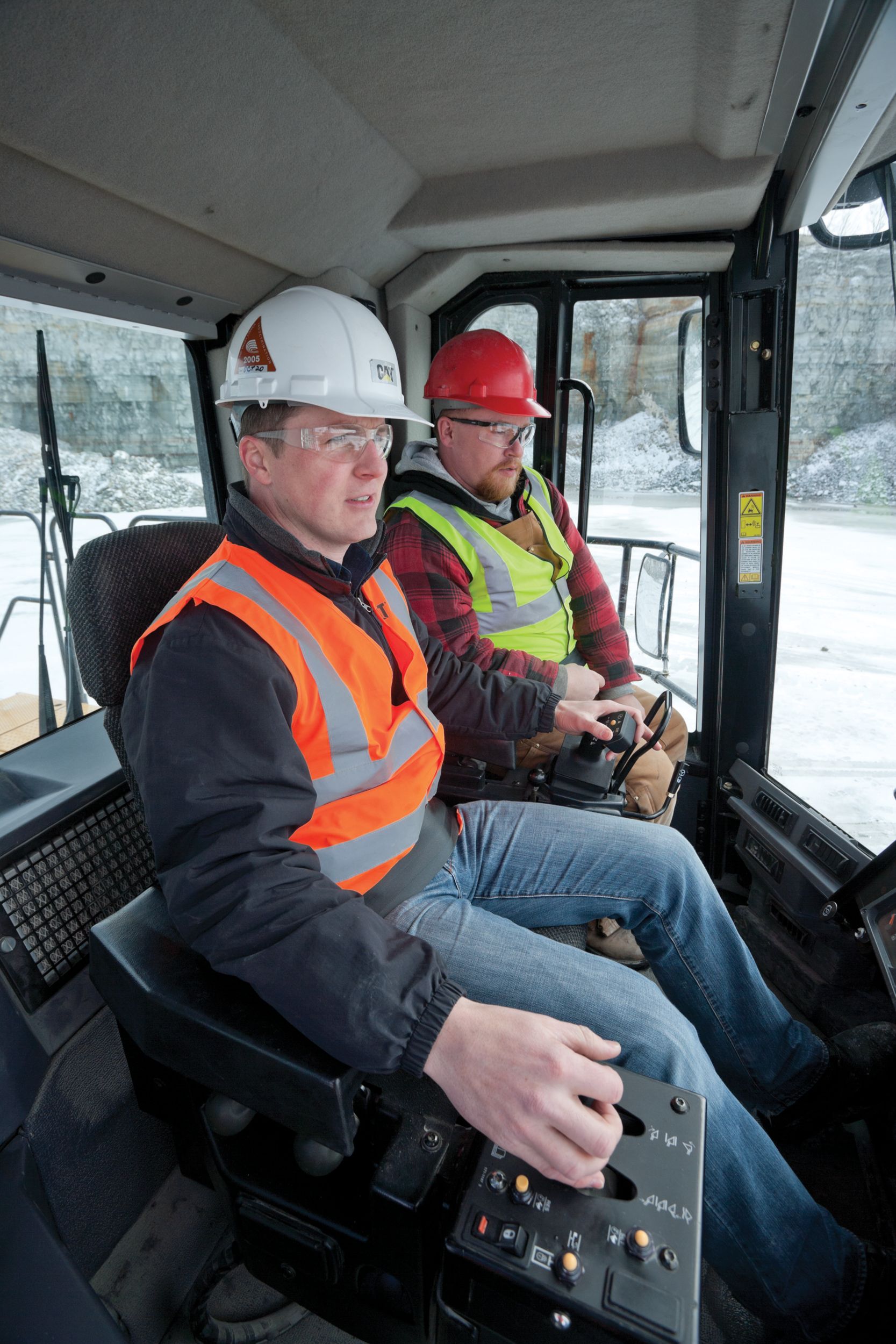 We are constantly improving our products in an effort to provide a safe work environment for the operator and those who work on your job site. Here are just a few of the safety features found on the 992K.
The 992K features wide, easy to climb stairs with hand holds at critical locations.
Walkways offer non-skid surfaces and integrated lock out/tag out points are designed into the service areas.
Extensive glass in the cab and optional heated mirrors extend visibility. A rearview camera option and in cab display can be installed along with HID lights.
A backup alarm is standard, and operators receive three levels of warning when the machine requires attention.
An operator trainer seat allows your seasoned professionals to guide new operators. Safety belts are available on both seats.
Roll over and falling object protection (ROPS/FOPS) is integrated around the cab.
Service Made Simple
Organized to reduce your costs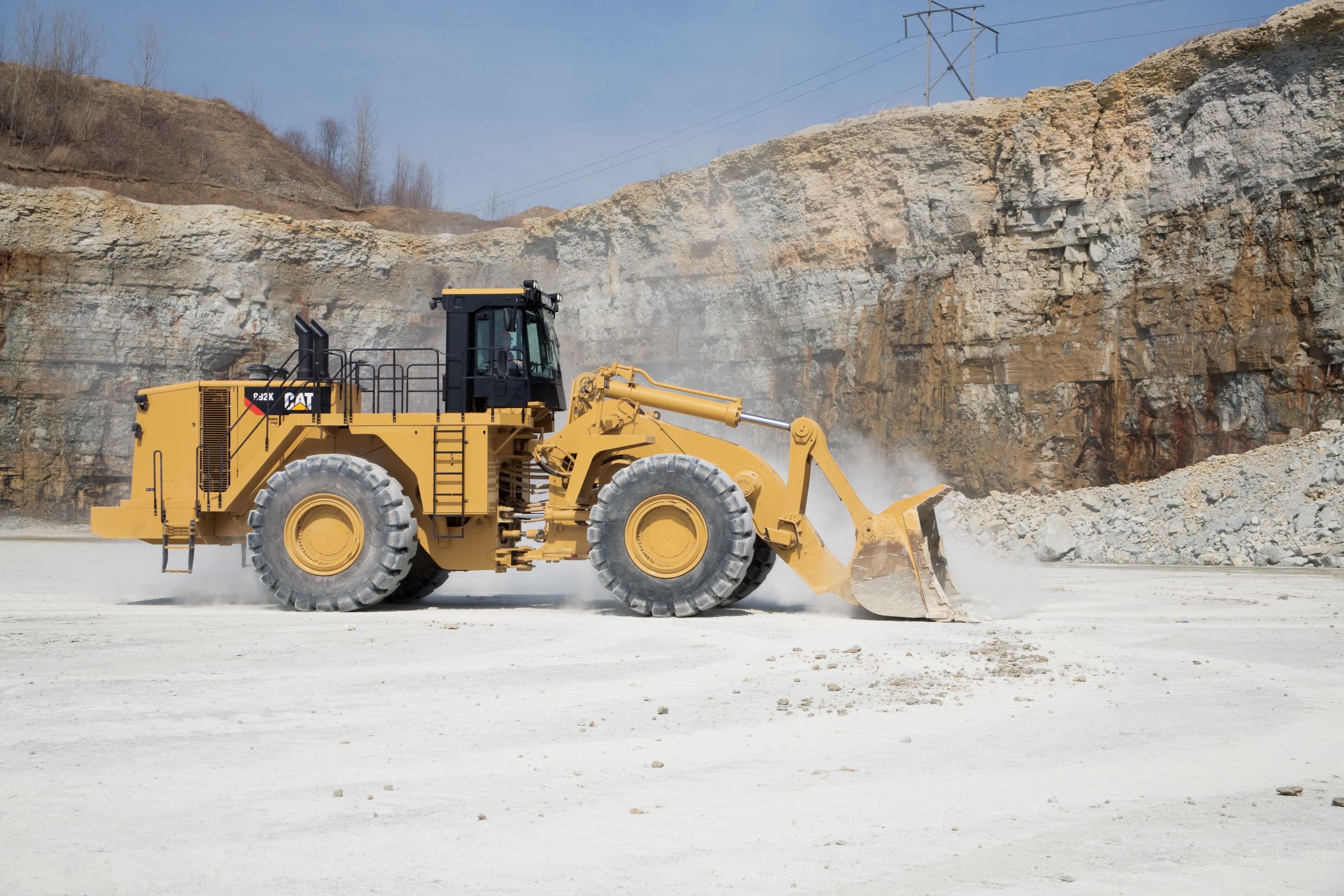 The 992K is organized into individual service centers. Combined with the diagnostics available through VIMS, Product Link and Electronic Technician, servicing the 992K can be simple and efficient.1) Optional Service Center
Ground level
Oil renewal system (if equipped) tank fill port
Oil renewal system full light
Radiator fill port
Implement fill port
Steering tank fill port
Transmission fill port
Engine oil fill port
Autolube (if equipped) fill port
Autolube tank full light2) Hydraulic Service Center
Hydraulic pilot filters
Hydraulic pumps
Hydraulic case drain filters3) Bumper Service Center (left side bumper)
Auxiliary emergency shutdown switch
VIMS port
Power on switch
Electronic Technician "ET" Com-II port
Stairway light switch
Starter lockout switch
Transmission lockout switch4) Remote Diagnostic Pressure Ports Front Frame
Lift and lower circuit
Dump and rackback circuit
Right and center implement pump relief pressures
Ride control (optional)
Pilot supply
Manual lower valve5) Remote Diagnostic Pressure Ports Rear Frame
Steering left
Steering right
Steering pump discharge
Fan drive
Brake accumulator – front and rear
Impeller clutch
Lock-up clutch
Transmission lube
Brake pump discharge
Axle oil cooler motor supply
Axle oil cooler pump – front and rear
Service brakes – front and rear6) Electrical Service Center
Breakers
ECMs
Fuse7) Engine Service Area
Primary fuel filter
Engine oil filter
Water separator
Air filters
Secondary fuel filter
Buckets
Options to reduce your cost per ton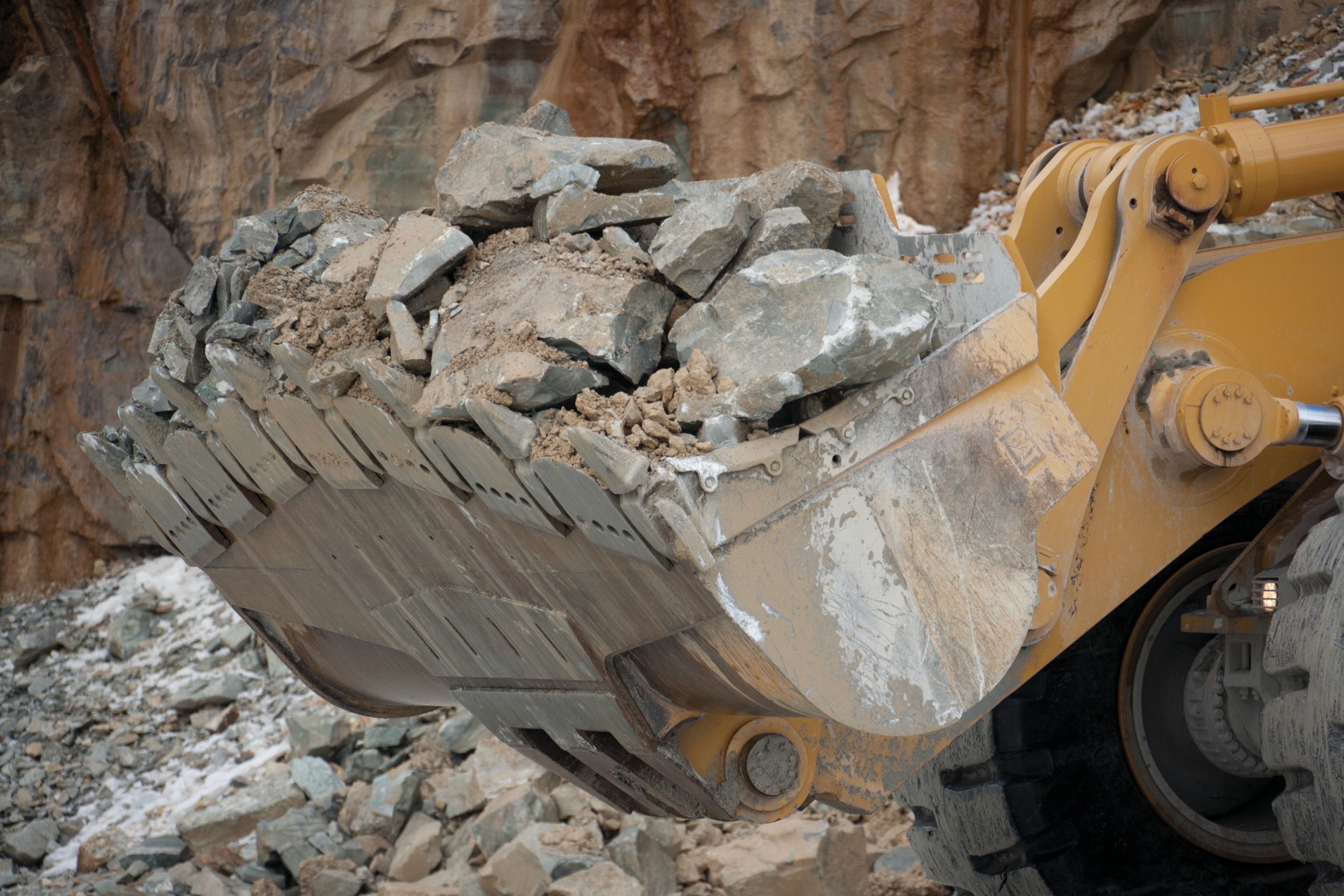 Selecting the right bucket will dictate the productivity of your loader. The process of selection starts with knowing the density of the material you load. From there, you can select the size and appropriate protection strategies that will suit the rated payload targets of your machine. With a large selection of ground engaging tools, your Cat dealer can help you build a bucket that best suits your application. Custom buckets are an option, however many 992K customers will choose one of the following:
Bucket Ground Engaging Tools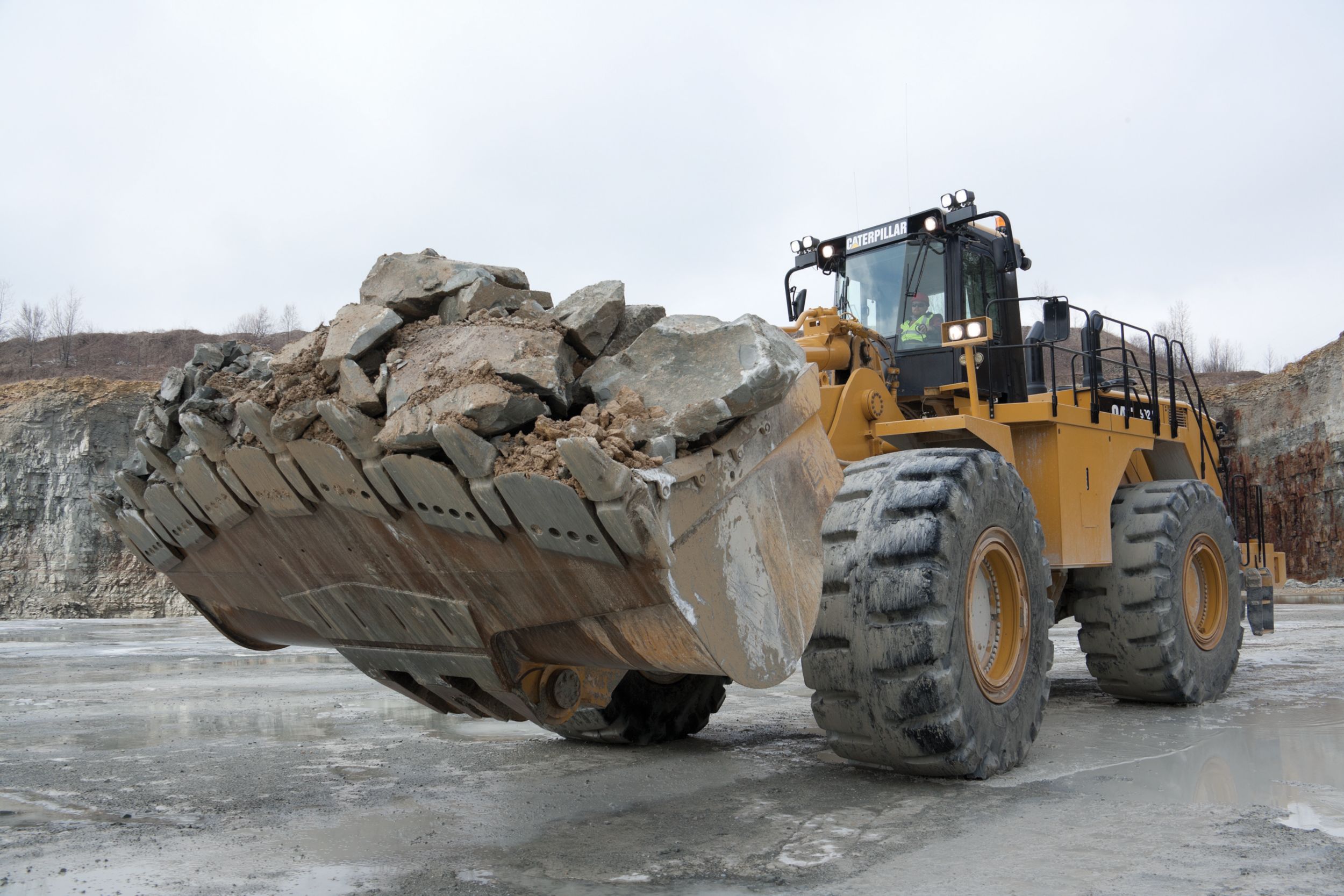 You can't buy a better performing or longer lasting tip than Cat K Series ground engaging tools. Short of a missing operator, nothing affects the productivity of your loader more, so consult your Cat dealer if your current system isn't living up to expectations. When worn beyond use by such materials as iron ore, K Series are easy to change out – no hammer required. A full list of Cat GET can be found on http://www.Cat.com/get.Typical 992K Ground Engaging Tools include:Adapters and Tips: Heavy Penetration – Heavy Abrasion – PenetrationSide Bar ProtectorsBase EdgesBucket Wings
Sustainability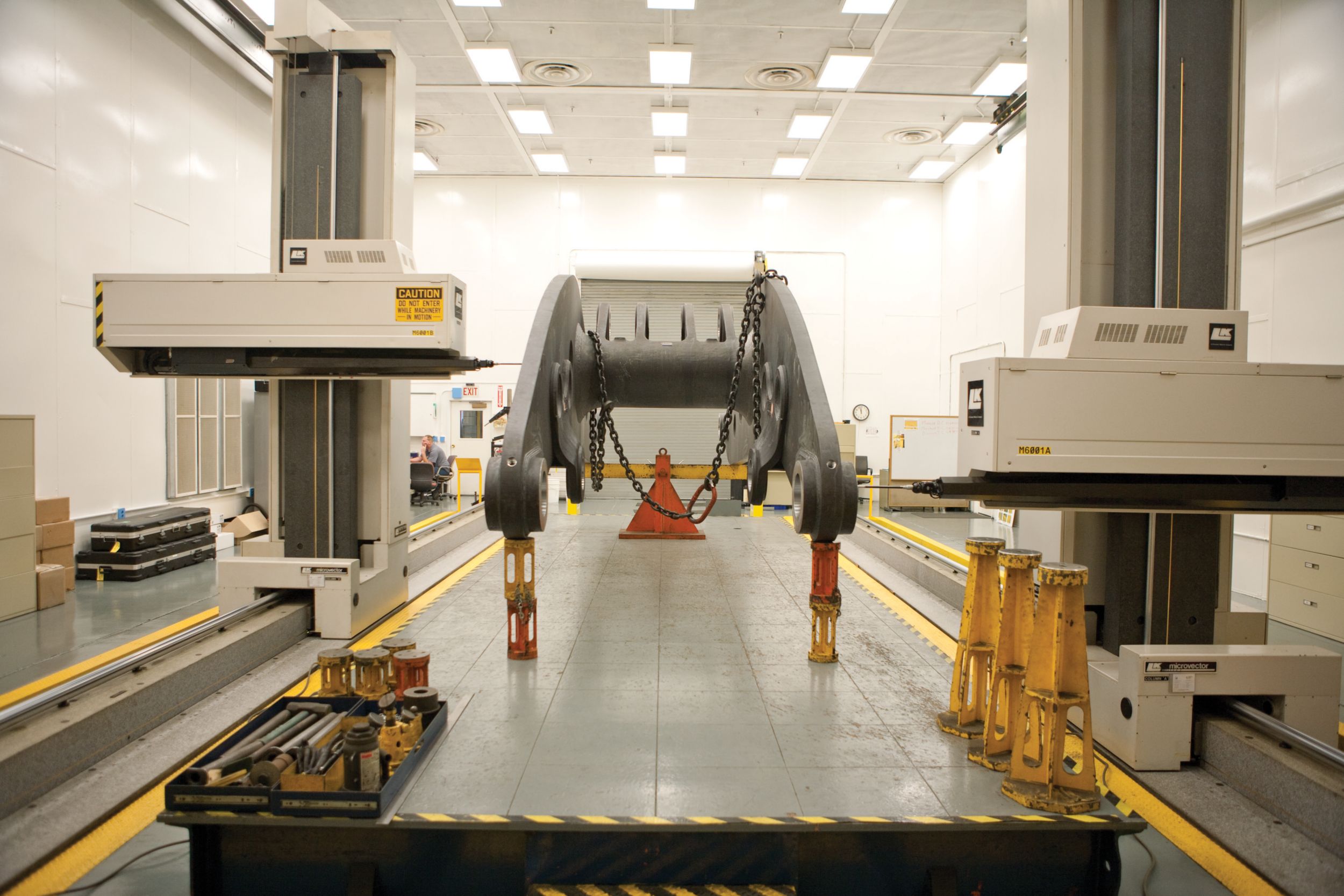 Our commitment to you, your business and future generations is as strong as the machines we build.Our effort to build machines that live longer, use fewer resources, and produce fewer emissions is only the start. Our plants, like the Aurora facility where the 992K is built, are conserving precious energy and resources with solar power, roof top gardens, and comprehensive recycle programs.Sustainability is profitable. Our cleaner environment helps us control quality on the assembly line and build better products. It reduces our energy demand and our output to the landfill.We can similarly help your business with machines that lead the industry in balancing fuel use with productivity demands. Each generation of Cat product is more emissions friendly than the last, helping reduce the carbon foot print of your fleet. We can also offer people and technologies that train your operators to be more efficient, help you build better haul roads, and protect the environment at service time. Technologies like Cat Product Link let your Cat dealer know what machines are coming due for service and what parts are required. This allows your dealer to optimize the mileage and fuel use of their service fleet – while providing you with more efficient and timely service.We welcome the opportunity to support your business and its sustainable growth.
EQUIPMENT
Standard Equipment
ELECTRICAL
Alarm, back-up
Alternator, (150-amp)
Batteries, low maintenance
Deutsch & Amp Seal terminal connectors
ECM diagnostic connector
Lighting system, halogen (front and rear)
Lighting, access stairway
Starter, electric (heavy duty)
Starting and charging system (24-volt)
Starting receptacle for emergency start
OPERATOR ENVIRONMENT
Action alert system, three category
Air conditioner
Cab, sound suppressed, pressurized, rollover protective structure (ROPS/FOPS) Radio ready for (entertainment) includes antenna, speakers, and 1 x 12V converters (24-volt, 10 amp) for use with laptop/cell phone
Cigar lighter and ashtray
Coat hook
Electro-hydraulic tilt and lift control system locks
Heater and defroster
Horn, electric
Instrumentation, gauges:
Intermittent front wipers
Light, dome (cab)
Lunchbox and beverage holders
Mirrors, rearview (externally mounted)
Monitoring system (VIMS) with gauges
Seat belt, retractable, 76 mm (3 in) wide
Seat, Cat Comfort (cloth) air suspension
STIC control system
Tinted glass
Trainer seat with lap belt
Transmission gear indicator
Wet-arm wipers/washer (front, rear, and corners)
POWER TRAIN
Axle oil coolers (front and rear)
Brakes, fully hydraulic, enclosed, wet multiple disc service brakes and dry parking/secondary brake
Demand fan
Electric fuel priming pump
Engine Cat® C32 ACERT
Ground level engine shutdown
Ground level transmission lockout
Ground level starter lockout
Implement and steering lockouts
Precleaner, engine air intake
Next Generation Modular Radiator (NGMR)
Starting aid (ether) automatic
Throttle lock
Transmission, 533 mm (21 in) planetary, powershift with 3F/3R, electronic control
OTHER STANDARD EQUIPMENT
Autolube
Automatic bucket lift/tilt kickouts, electronically adjustable from cab
Bumper service center
Couplings, Cat O-ring face seals
Doors, service access (locking)
Fenders, steel (front and rear)
Grouped hydraulic pressure ports
Guards, power train and crankcase
Hitch, drawbar with pin
Hoses, Cat XT and XT-ES
Hydraulic oil cooler
Impeller clutch
Implement and steering ecology drains
Mufflers, under hood
Oil sampling valves
Piston pump case drain filters
Positive Flow Control implement valve and pumps
Sight gauges:
Starter lockout, bumper
Stairway, left rear access
Steering and transmission lock lever, cab
Steering, load sensing
Transmission lockout, bumper
Vandalism protection caplocks
Venturi stack
TIRES, RIMS, AND WHEELS
A tire must be selected from the mandatory attachments section. Base machine price includes a tire allowance.
ANTIFREEZE
Premixed 50 percent concentration of extended life coolant with freeze protection to 34° C (–29° F)
Optional Equipment
ELECTRICAL
10A converter
HID lights
Rear vision camera – WAVES
Warning beacon light
OPERATOR ENVIRONMENT
AM/FM, CD basic radio
Cab precleaner
Satellite radio ready
Satellite Sirius radio
Satellite XM radio
STARTING AIDS
Engine coolant 120V heater
Engine coolant 240V heater
MACHINE CONTROL AND GUIDANCE
CAES attachment ready option
MISCELLANEOUS ATTACHMENTS
Oil renewal system
Roading fenders
Service center
CONNECT. DISCUSS. SOLVE.
CATERPILLAR EQUIPMENT MAINTENANCE ONLINE COMMUNITY
HOW CAN WE HELP?
SHARE YOUR FEEDBACK OR ASK A QUESTION