980G
Increased power and torque rise, stronger power train components and improved stability make the 980G a solid performer. World-class cab provides revolutionary electronics and hydraulics for low-effort operation and increased productivity.
DETAILS
SPECIFICATIONS
Engine
Engine Model
Cat® 3406C DITA
Max. Flywheel Power
300 hp
Weights
Operating Weight
65078 lb
Buckets
Maximum Bucket Capacity
7.5 yd3
Hydraulic System
Hydraulic Cycle Time - Raise
6.8 Seconds
Hydraulic Cycle Time - Dump
2 Seconds
Hydraulic Cycle Time - Lower, Empty, Float Down
3.4 Seconds
Hydraulic Cycle Time - Total
12.2 Seconds
Service Refill Capacities
Fuel Tank - Standard
124 gal
Differentials and Final Drives - Front
22.98 gal
Differentials and Final Drives - Rear
21.4 gal
Hydraulic System (Including Tank)
54.95 gal
Transmission
Axles
Maximum Single-Wheel Rise and Fall
21.65 in
Operating Specifications
Static Tipping Load, Full Turn
40005 lb
BENEFITS & FEATURES
Power Train
Cat power train delivers top performance and durability in tough applications.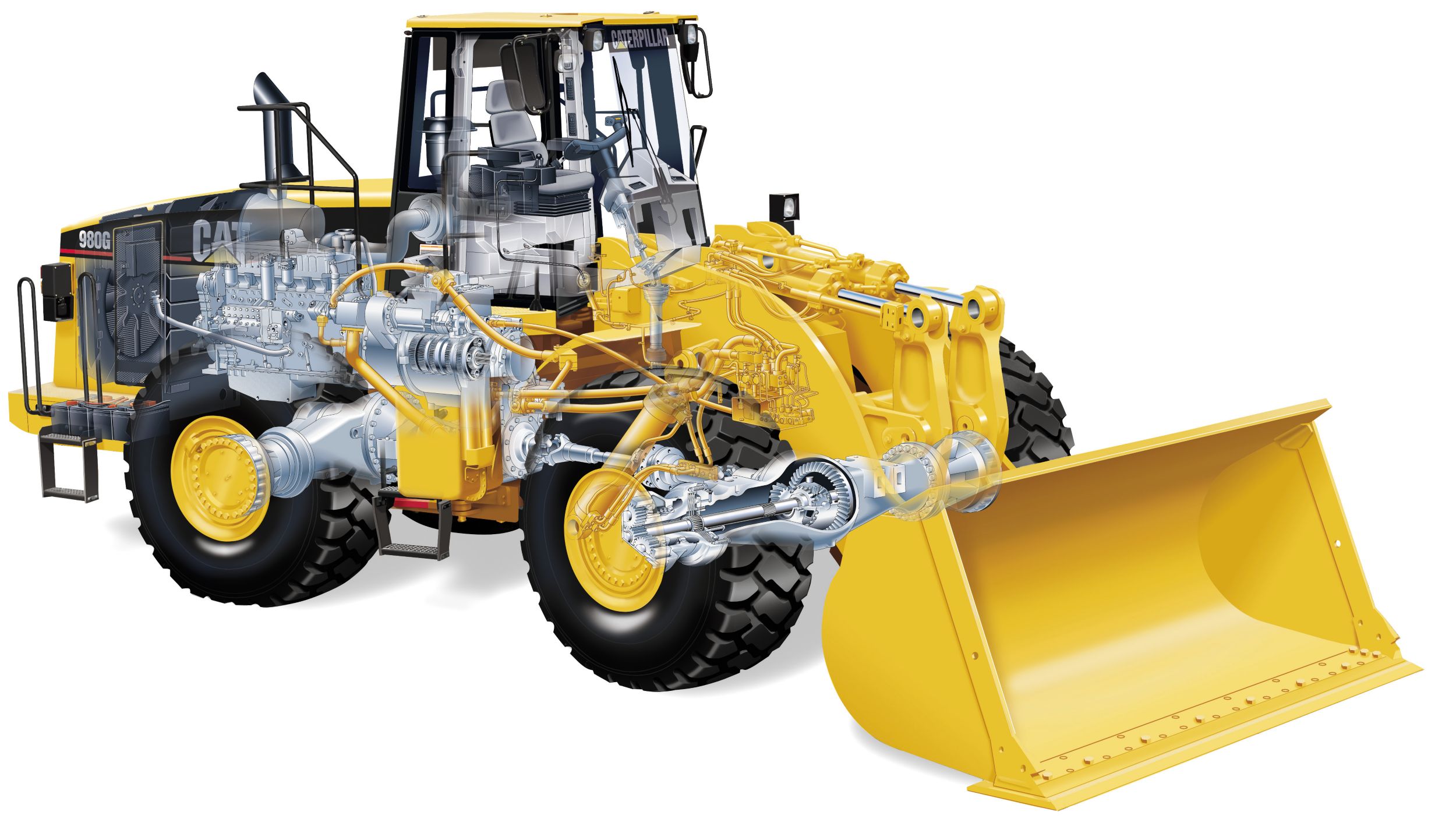 Engine
The turbocharged and aftercooled 3406C delivers increased power and improved torque rise for performance operators can really feel.
Transmission
Designed for durability, the Caterpillar power shift transmission features a full match, high capacity torque converter and heavy-duty planetary drives.
Axles
Heavy duty axles feature stronger gears and bearing in both the differentials and final drives for increased durability.
Brakes
Oil-enclosed, multiple-disc brakes feature fewer parts, better heat rejection and improved serviceability.
Structures
Built with strength to handle severe loads and durability to provide years of service.

Box-section Frame
Full box-section frame resits twisting and impact forces to provide a solid foundation for the engine, transmission and axles.
Spread-hitch Design
Spread-hitch design widens the distance between upper and lower hitch plates to distribute forces and increase bearing life.
Loader Tower
Four-plate loader tower provides a solid mount for lift arms, lift cylinders and Z-bar tilt lever.
Hitch Pins
Upper and lower hitch pins pivot on double-tapered roller bearings.
Lift Arms
Solid steel lift arms provide superior strength with great visibility to the front end.
Cross Tube
Heat treated, cast-steel cross tube provides excellent resistance to torsion and impact loads, keeping pin bores well aligned.
Z-bar Linkage
Z-bar linkage generates powerful breakout forces and a good rack back angle for better bucket loading and material retention.
Buckets and Ground Engaging Tools
Caterpillar buckets and Ground Engaging Tools give you the flexibility to match the machine to your application.
General Purpose Buckets
Caterpillar offers four general purpose buckets built to handle the toughest applications.
Rock Buckets
Four rock buckets are available in three sizes, all built to the same tough standards.
Quarry Buckets
Heavy-duty quarry buckets are available for severe rock loading conditions such as high-impact and/or high-abrasion quarry applications.
Hydraulics
Well balanced hydraulics deliver precise low-effort control and trouble-free operation.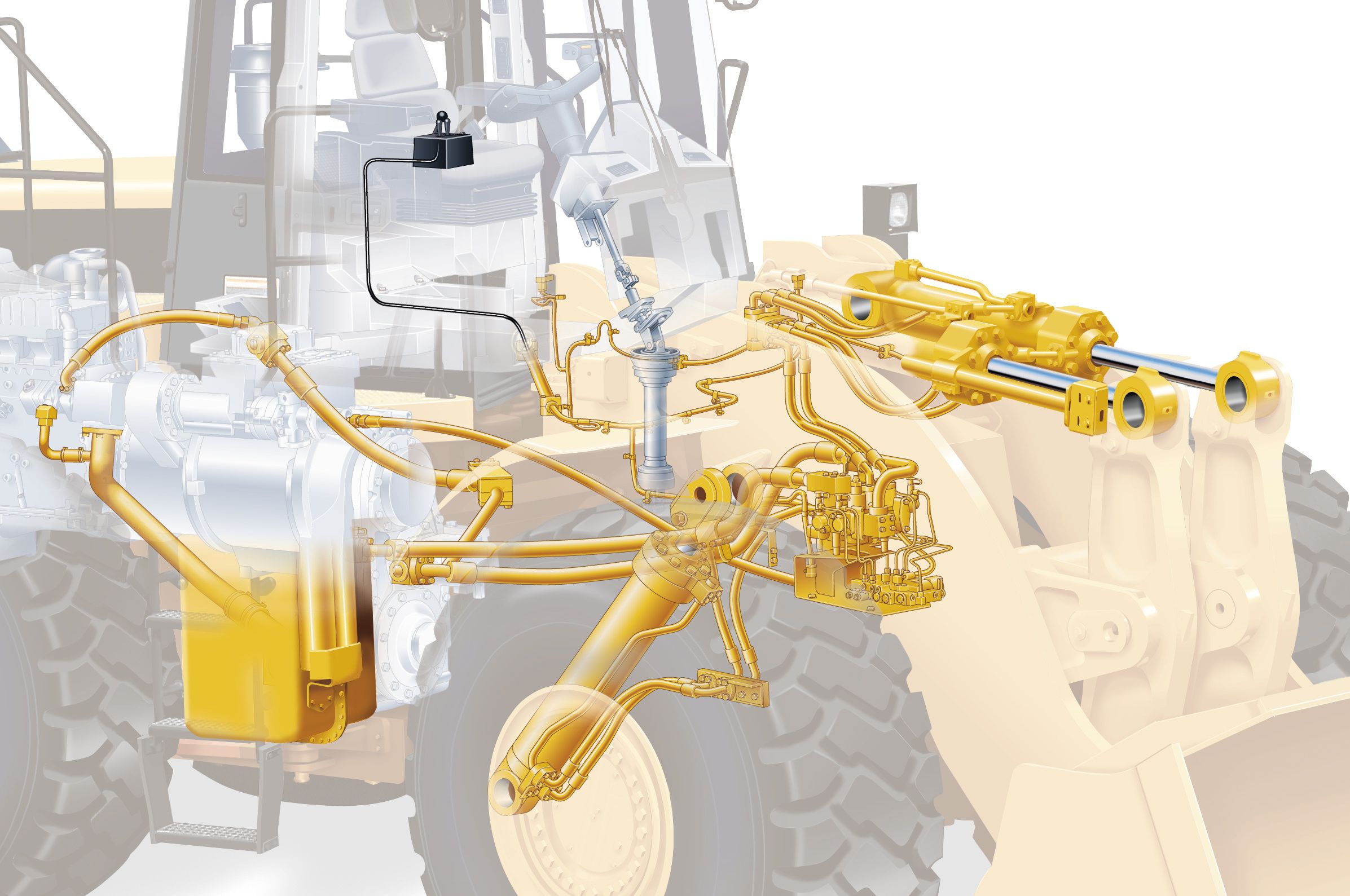 Hydraulic System
Revolutionary electro-hydraulic system provide low-effort, finger-tip bucket/work tool control.
Command Control Steering
Low-effort, command control steering is another result of innovative design.
Hydraulic Pumps
Positive-displacement hydraulic pumps perform with high efficiency and great reliability.
Performance
Caterpillar's XT-3 and XT-5 hose, O-ring face seals and large-bore lift and tilt cylinders top off the hydraulic system, delivering the performance and durability owners expect.
Automatic Ride Control
Automatic Ride Control is an optional attachment that helps operators perform better.
Operator's Controls
A revolutionary way to operate with easy-to-use, low-effort controls.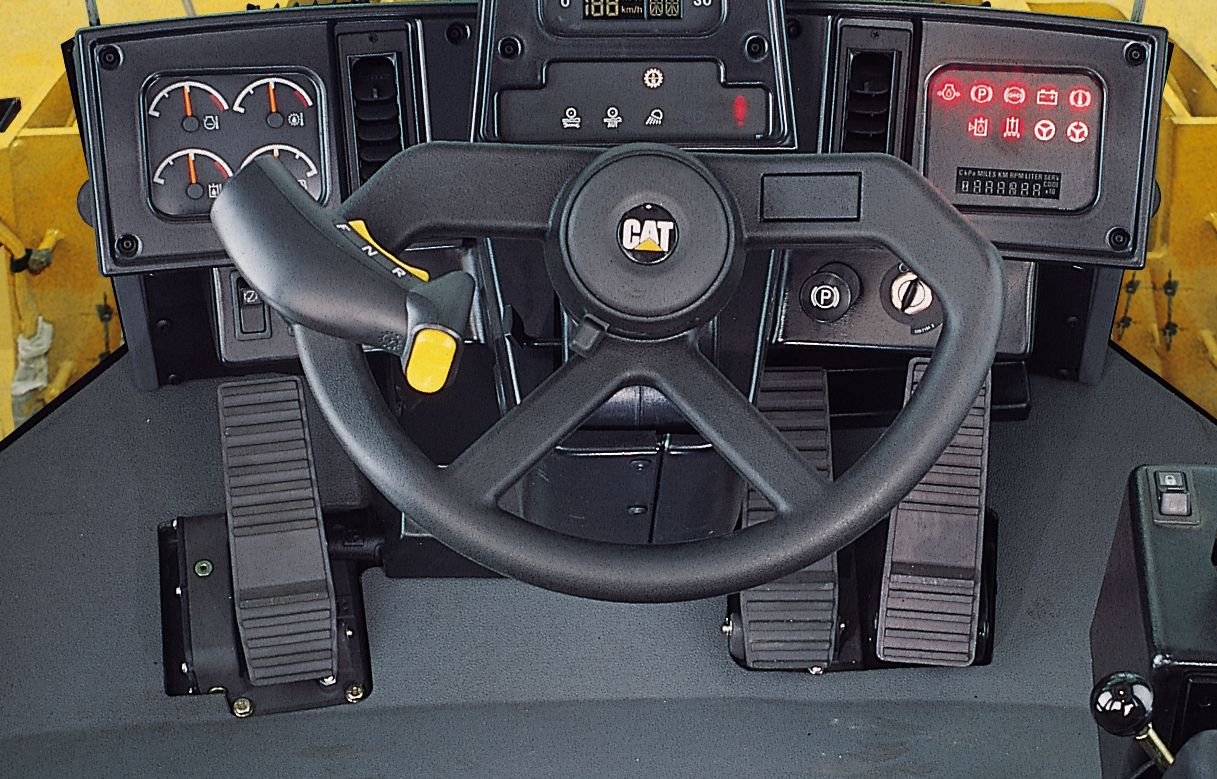 Steering
Command Control steering allows one hand operation of steering and transmission controls.
Control Levers
Finger-tip bucket/work tool control levers require very low operator effort and reduced lever travel.
Transmission Controls
Integrated transmission controls are part of the steering design, providing one hand operation.
Transmission Neutralizer Lockout
Transmission neutralizer lockout switch lets the operator shut the neutralizer off, allowing the left pedal to work as a brake only.
Autoshift Control
Electronic Autoshift control lets the operator choose manual or automatic shifting.
Braking
Dual-pedal braking lets the left pedal function as a transmission neutralizer and as a brake.
Operator's Station
Experience a new level of operator comfort and efficiency.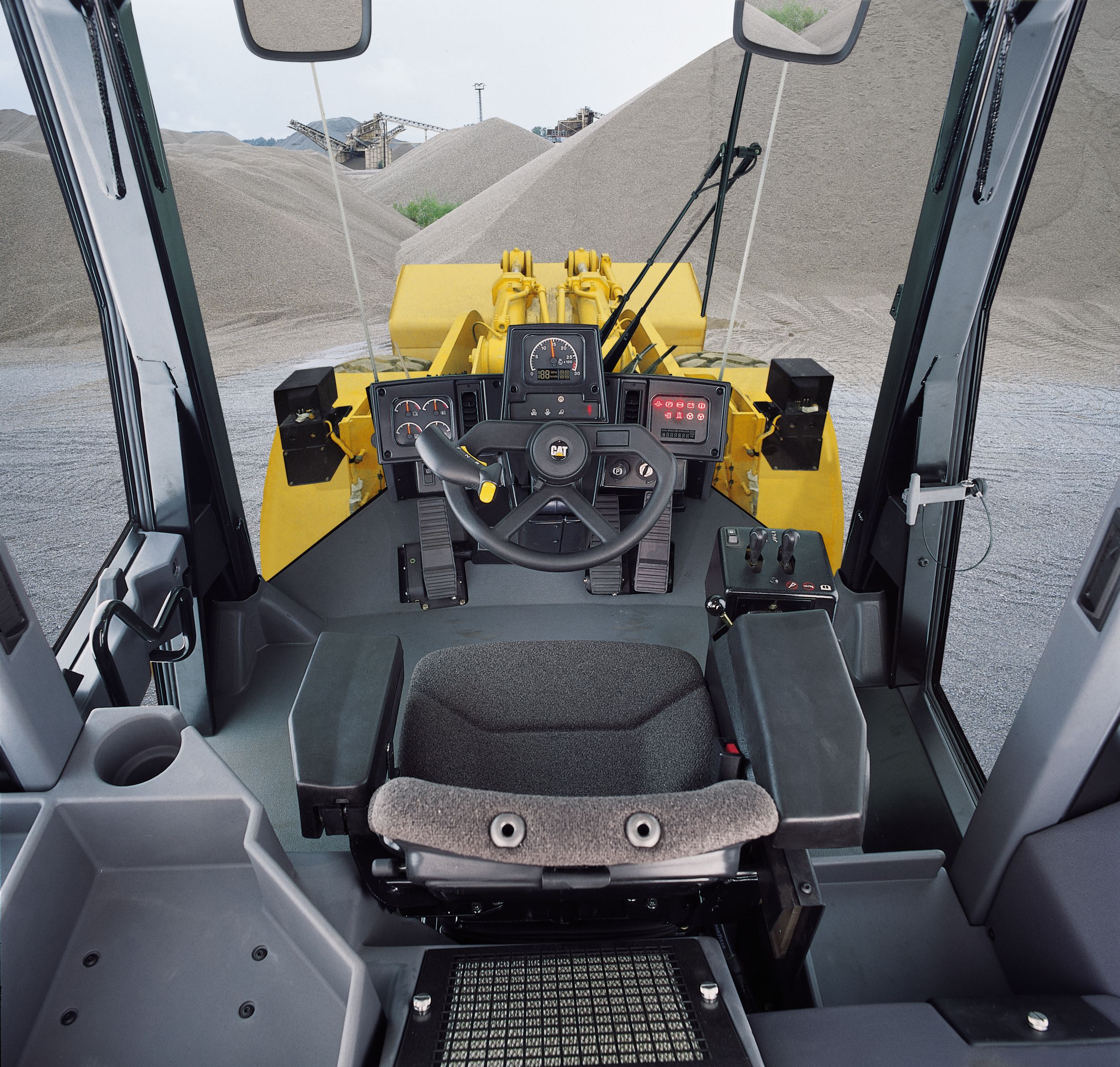 Internal ROPS
Internal ROPS improves visibility and styling, giving the 980G a sleek new look.
Windows
Larger windows improve visibility in all directions.
Hood
Downsloped hood also contributes to improved rearward visibility by allowing the operator to see objects on the ground closer to the machine.
Kickouts
Automatic lift/lower kickouts are easily adjustable from the cab.
Doors and Windows
Right and left rear-hinged doors provide a walk-through operator's station.
Floor
Non-metallic floor is rust-proof and slopes to assist water drainage.
Sound Level
Reduced sound level is the result of several new designs.
Storage Space
Increased storage space provides room for a lunch cooler, a thermos, a cup, coat hook and other personal items.
Seat
Caterpillar Contour Series seat is 6-way adjustable, providing comfort and support.
Monitoring System
980G Monitoring System provides gauges, tachometer/speedometer and 3-level warning to provide full time monitoring of key functions.
Ventilation
Improved ventilation ducts and vents, in better locations, provide more air flow to the operator and the windows.
Air-conditioning
Optional air-conditioning uses blended air for immediate temperature changes, clears windows with ease and improves operator comfort.
Additional Features
Additional features are dual-pedal braking, electronic autoshift control, transmission neutralizer lockout and ride control switch.
Versatility
Increase your productivity by performing a variety of jobs with one machine.
Bank Excavation
This machine shows its versatility and productivity on the construction site.
High Lift Arrangement
Although the standard 980G provides adequate dump clearance for most applications, the optional high lift arrangement provides even more.
Rock Excavation
The 980G was designed with excellent breakout force and increased lift force to make it a more aggressive machine in applications like rock excavation.
Material Handling
The 980G's standard specifications -- more power, increased torque rise, heavy-duty transmission, faster hydraulics and low-effort controls -- make this machine a winner in aggregates.
Forestry Machine
The optional forestry machine arrangement lets the 980G extend its versatility into the logging industry.
Waste Handling
The waste handling arrangement provides additional guarding features for machines used in waste transfer stations or recycling stations.
Steel Mill Application
The Custom Products Steel Mill Arrangement gives the added protection needed for extended life and low operating costs in this rugged environment.
Application Match
Matched payloads and matched buckets ensure optimum performance.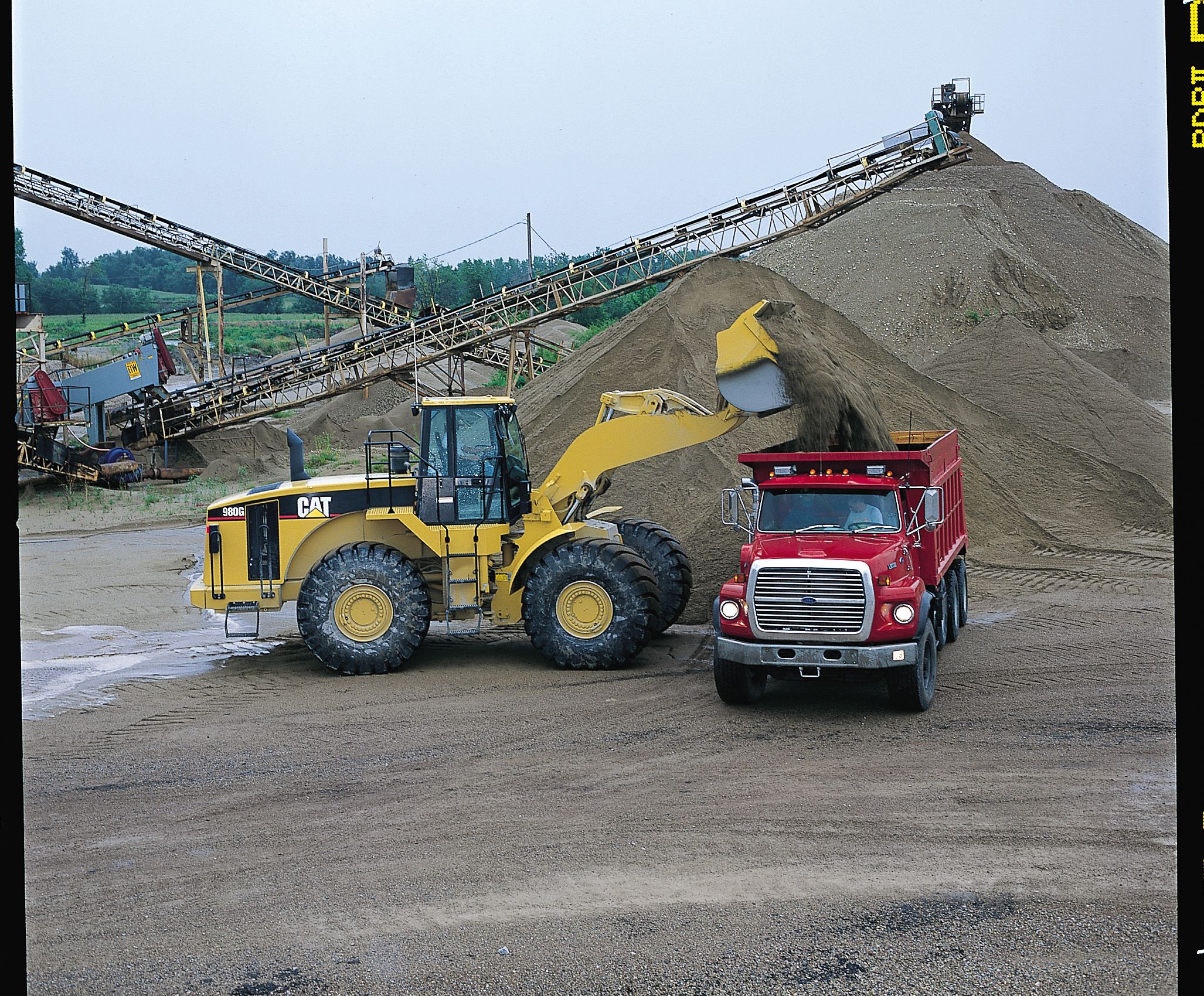 Truck Match
Although the 980G is an aggressive 1st gear loader for face and bank excavation, we also designed the versatility of a material handler into the machine.
Bucket Match
With the 980G there are 4 General Purpose and 4 Rock Buckets available in various ground engaging tool configurations.
Serviceability
Keep your machine up and running with easy-to-perform daily maintenance.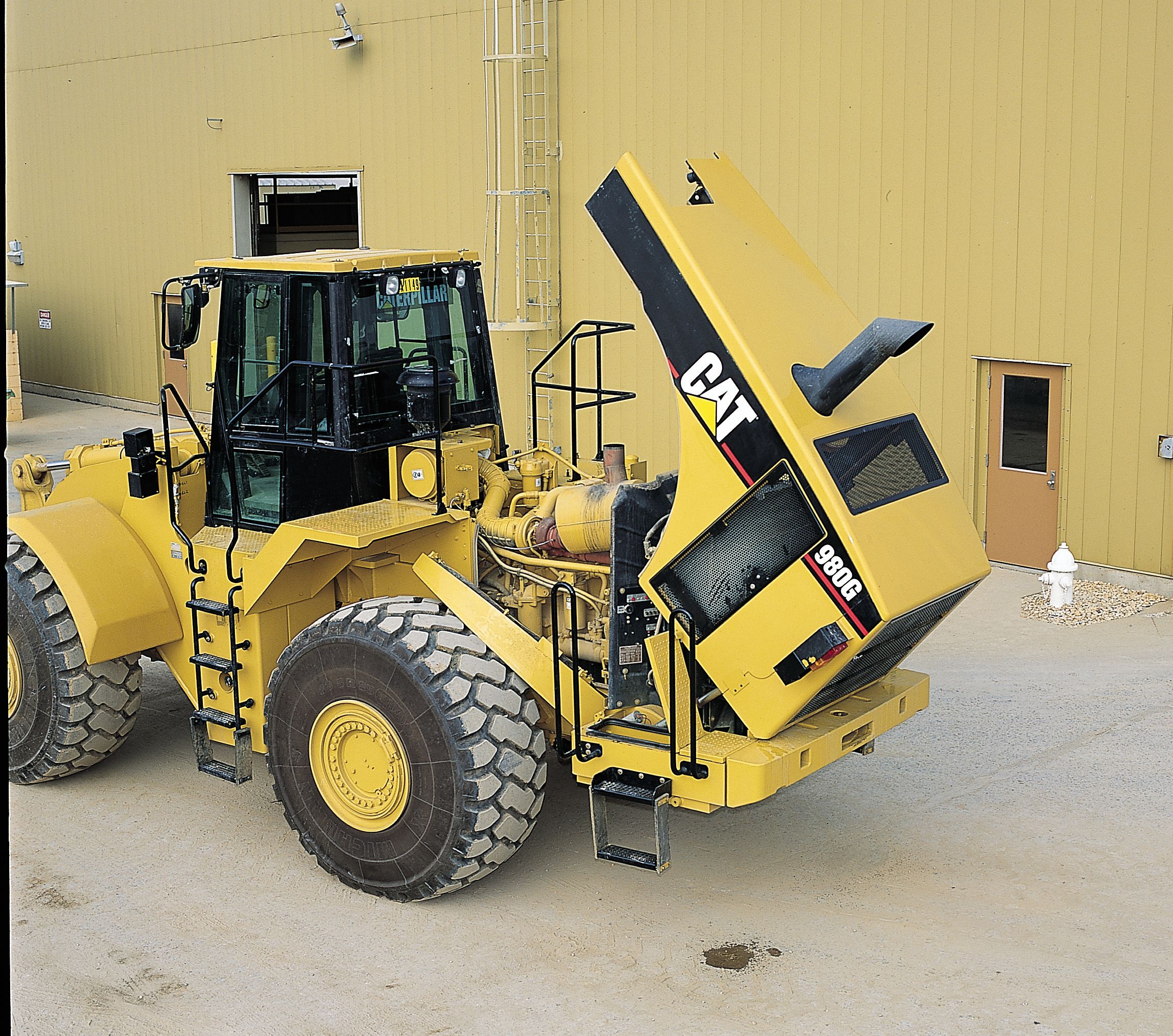 Maintenance
Daily maintenance has never been more accessible than on the 980G.
Hood
Sloped hood tilts for complete access to the engine, cooling system and other major components.
Side Panels
Side panels quickly lower to give access to the engine and can be easily removed for even better access.
Cooling System
Separated cooling system isolates the fan and radiator away from the engine for a quieter running machine.
Monitoring System
980G Monitoring System provides diagnostics, allowing technicians to review a machine's operation and quickly troubleshoot problems.
Operator's Station
Operator's station may be removed in about 45 minutes without having to disconnect hydraulic lines.
Customer Service
Cat dealer services help you operate longer with lower costs.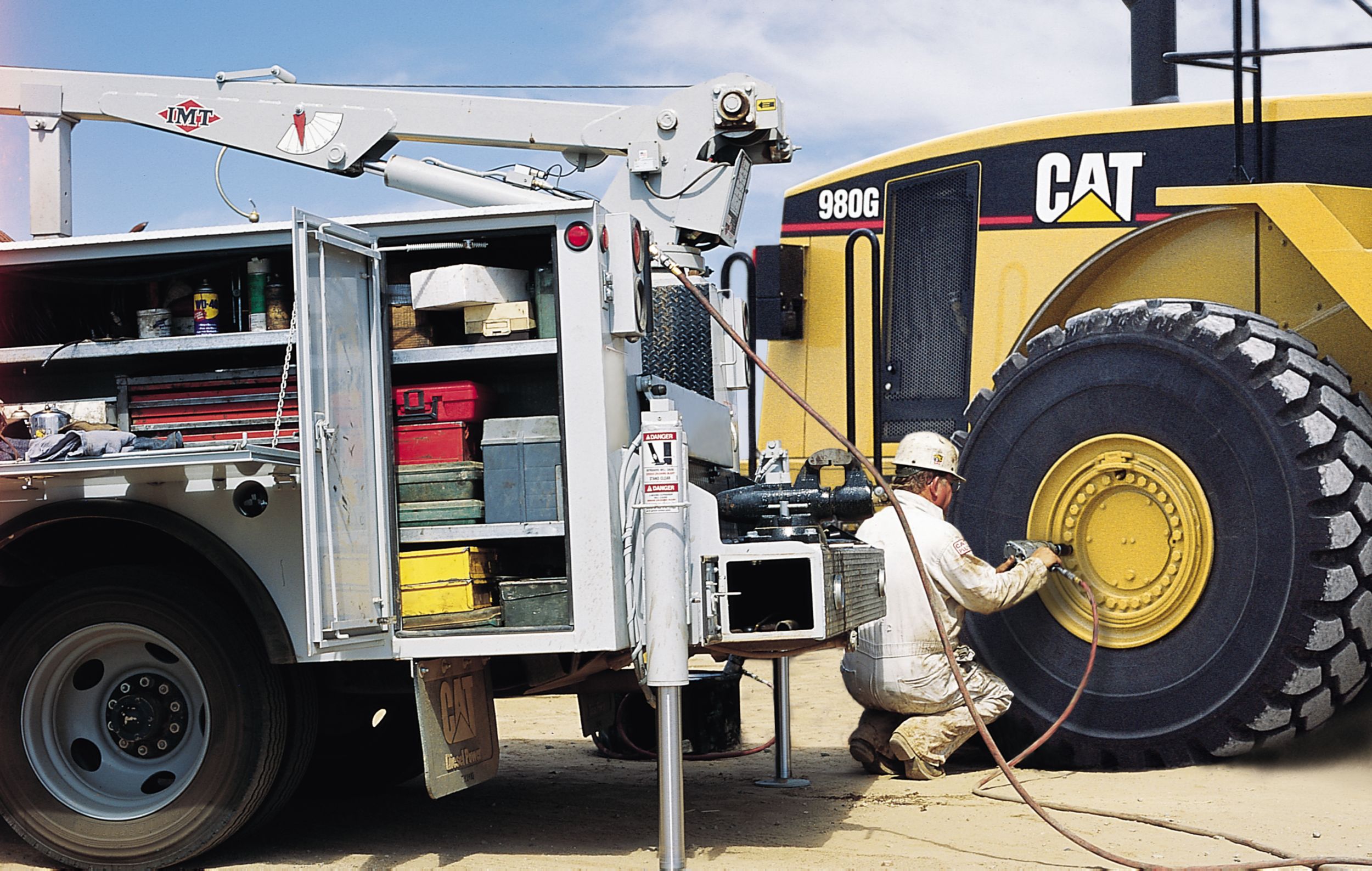 Customer Support Agreements
Cat dealers offer a variety of product support agreements, and work with customers to develop a plan that best meets specific needs.
Selection
Make detailed comparisons of the machines under consideration before purchase.
Purchase
Look past initial price.
Operation
Improving operating techniques can boost your profits.
Maintenance
More and more equipment buyers are planning for effective maintenance before buying equipment.
Replacement
Repair, rebuild or replace?
Product Support
You will find nearly all parts at our dealer parts counter.
CONNECT. DISCUSS. SOLVE.
CATERPILLAR EQUIPMENT MAINTENANCE ONLINE COMMUNITY
HOW CAN WE HELP?
SHARE YOUR FEEDBACK OR ASK A QUESTION