972G
The 972G delivers excellent breakout force, fast load and cycle times, and precise maneuvering for top all-around performance. Proven components, combined with easy maintenance ensures reliability over the life of the machine.
BENEFITS & FEATURES
Frame
Superior engineering and materials provide excellent strength and durability for an all-purpose machine.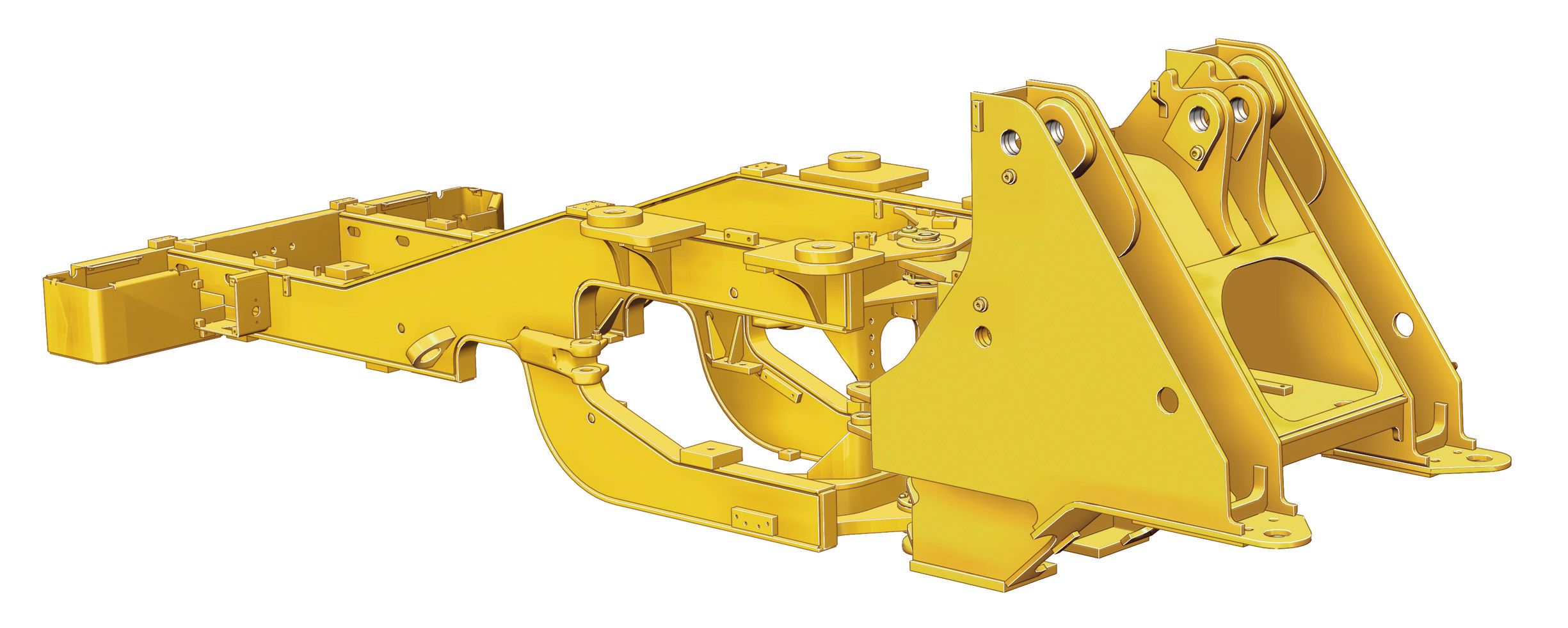 Articulated Frame
The articulated frame consists of a durable box-section engine frame and a rigid four-plate loader tower to absorb impact forces and provide a solid foundation for the entire machine.
Upper and Lower Hitch Pins
Upper and lower hitch pins pivot on double-tapered roller bearings. This design distributes vertical and horizontal loads over a greater surface area for reduced wear and extended life.
Frame Structure Design
The frame structure is specifically designed for increased machine stability without sacrificing turning radius, improved loader performance and operating specifications, and improved serviceability to frame and components.
Frames Tested Under Severe Applications
The frames were tested under severe applications including virgin material hardbank digging, load and carry, bump course travel and J-hook corner loading.
Engine
The six-cylinder, direct injection, turbocharged and aftercooled engine is built for power, reliability, low maintenance, excellent fuel economy and low emissions.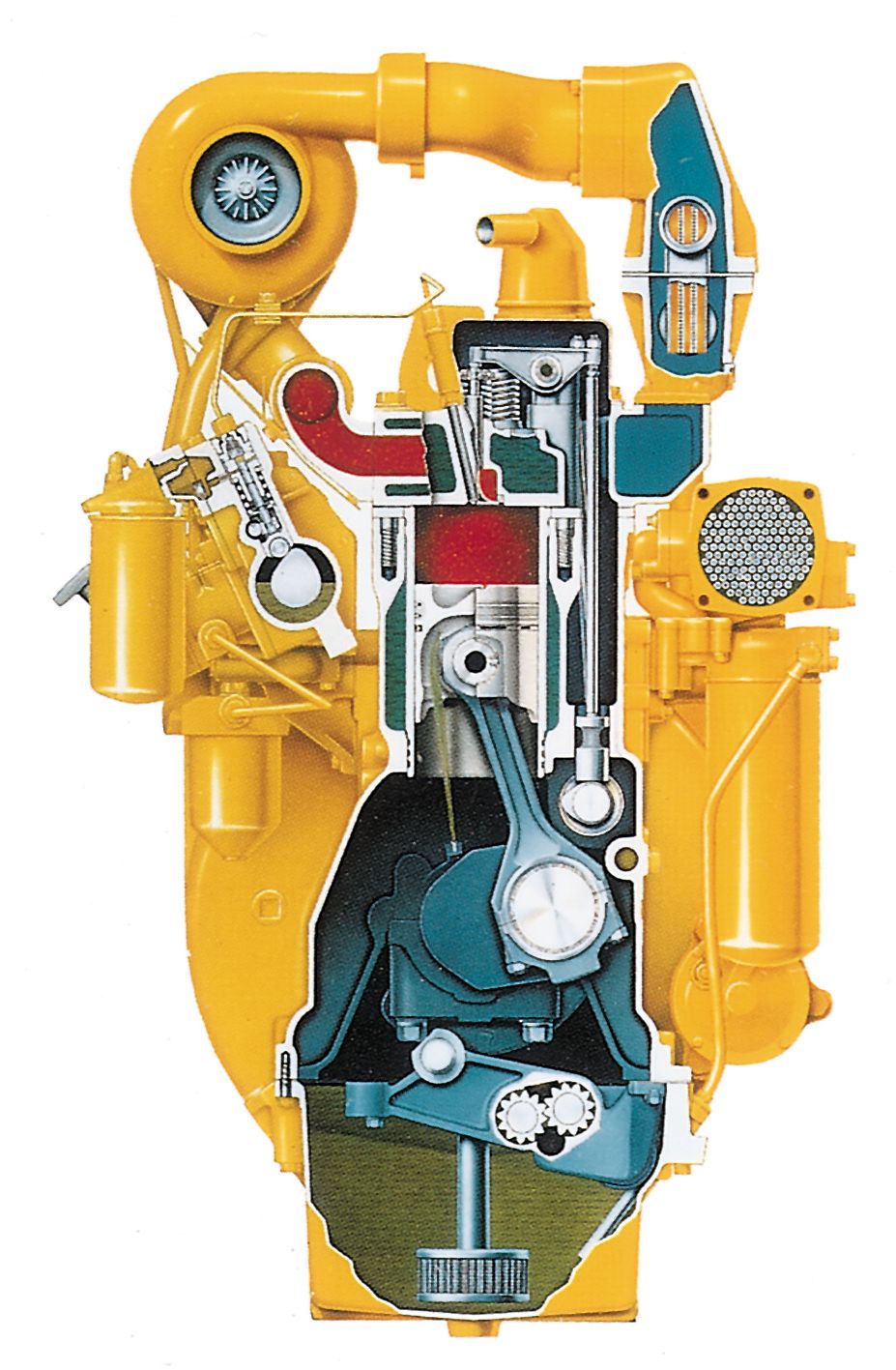 Powerful Performance
The 3306 DITA Engine develops maximum flywheel power of 205 kW (275hp) at 1900 rpm, and meets all current and proposed worldwide emissions standards.
Four-Stroke Cycle Design
Four-stroke design delivers long power strokes, efficient fuel combustion with low emissions, and excellent fuel economy.
Precise Engineering and Stringent Testing
Precise engineering and stringent testing help maintain a tradition of quality and offer built-in serviceability, profit-boosting performance, and heavy-duty durability and reliability.
Torque Rise
The unit fuel system increases fuel as the engine lugs back from rated speed, resulting in greater engine torque rise.
Deep Skirt Engine Block Design
The deep skirt engine block design ensures rigidity and reduces vibration.
Caterpillar Engine Oil
Caterpillar engine oil is formulated to optimize engine life and performance and is strongly recommended for use in Cat diesel engines.
Factory Remanufactured Parts
Factory remanufactured parts. A large choice of factory remanufactured parts and dealer proposed repair options increase machine availability and reduce total repair costs.
Transmission
The Caterpillar power train makes dependable performance a standard feature.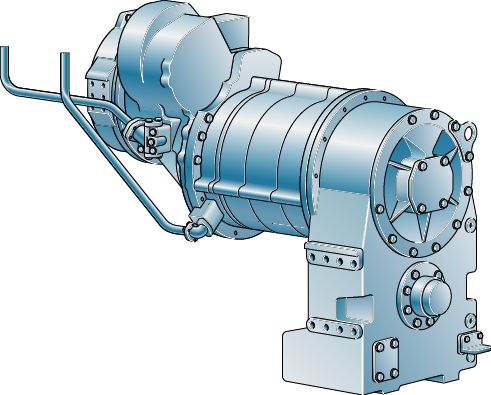 Powershift Transmission with Automatic Shift Capability
Powershift transmission with automatic shift capability is designed, developed and built by Caterpillar.
Caterpillar Transmission Oil
Caterpillar transmission oil is balanced to provide optimum friction control for powershift transmissions and optimize transmission gear life.
Electronic Clutch Pressure Control (ECPC)
Electronic Clutch Pressure Control (ECPC) delivers smoother shifting and extended clutch life.
Transmission Neutralizer
The transmission neutralizer allows the operator to disengage the transmission clutches, removing torque from the drive train.
Six, Proportional Electro-Hydraulic Valves
Six, proportional electro-hydraulic valves driving the clutches are identical and are easy to service. Using the Electronic Technician (ET) service tool, the transmission can be easily recalibrated to maintain quick response.
Easy Maintenance
Easy maintenance is designed into the transmission.
Axles
Large, heavy-duty axles protect internal components from the harsh environment and offer excellent serviceability.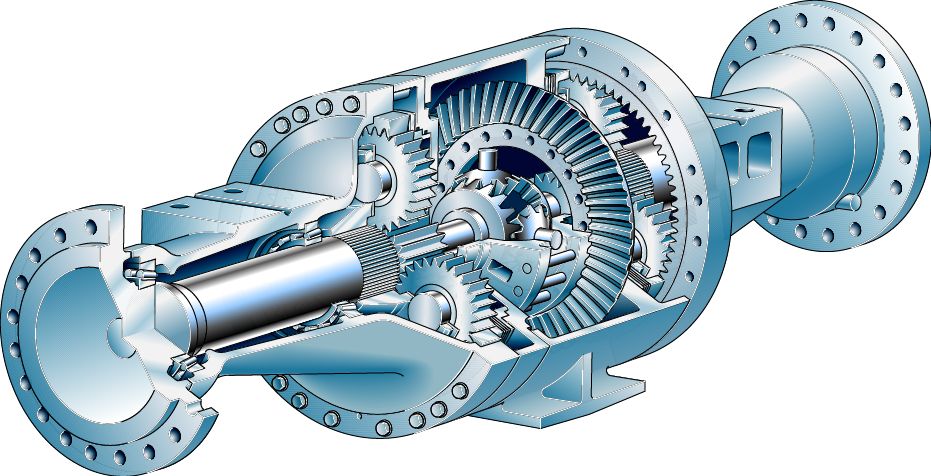 Heavy-Duty Axles and Brakes
Heavy-duty axles and brakes are designed to last in all kinds of operating conditions.
Four-Piece Axle Design
The four-piece axle design contains two axle shaft housings, the center housing, and the intermediate housing.
Patented Metal-to-Metal, Duo-Cone Seals
Patented metal-to-metal, Duo-Cone Seals between the axle shafts and housings keep lubrication in and dirt out.
External Port
An external port provides access to measure brake disc wear without disassembling the axle.
Hydraulics
Well-balanced hydraulics deliver precise, low-effort control and trouble-free operation.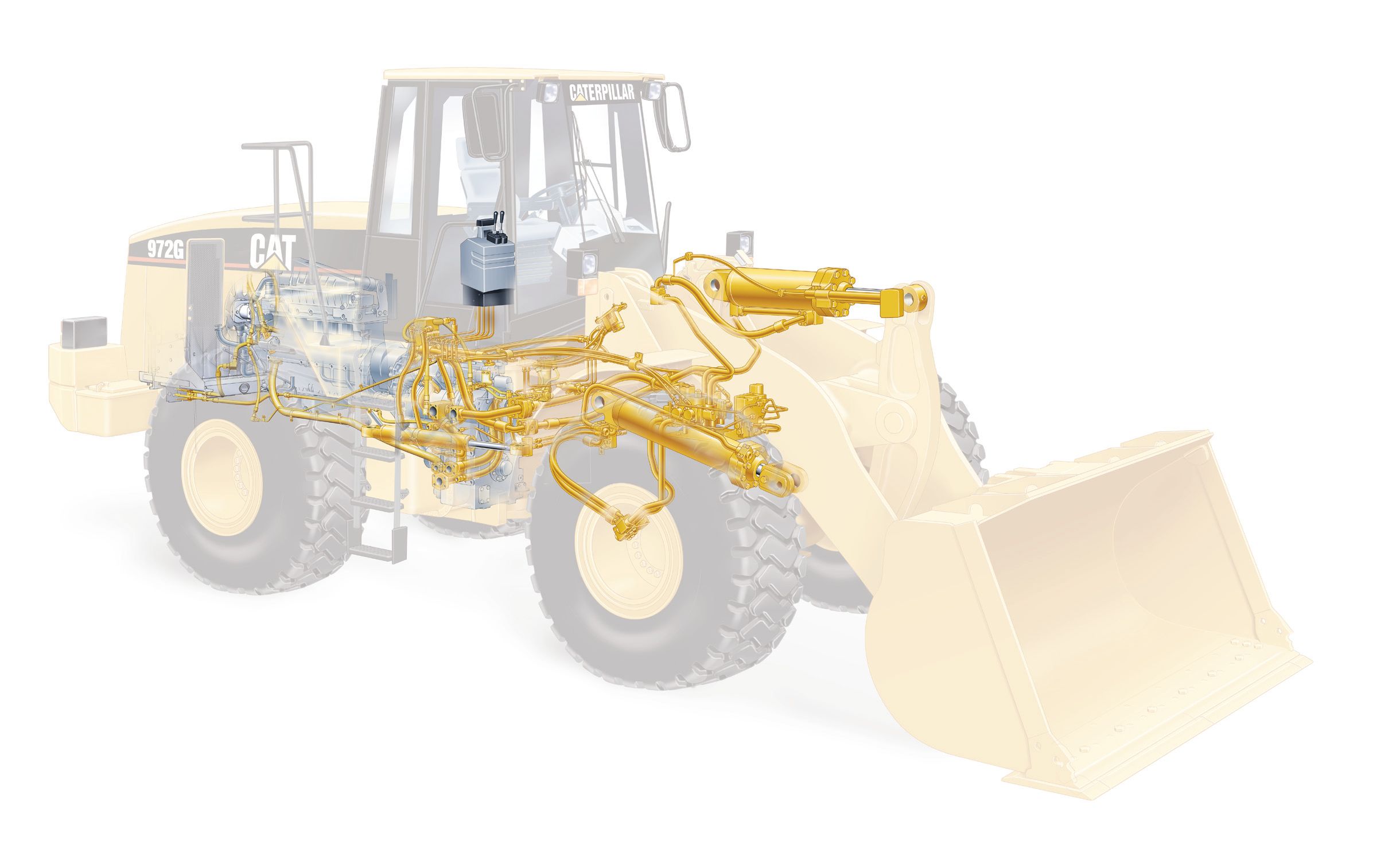 Low-Effort Hydraulic Controls
Low-effort hydraulic controls allow the operator to precisely maneuver bucket lift and tilt.
Smooth, Efficient Steering
Load sensing steering maximizes machine performance by directing power through the steering system only when needed.
Positive-Displacement Hydraulic Pumps
Positive-displacement hydraulic pumps perform with high efficiency and great reliability.
Caterpillar Hydraulic Oil
Caterpillar hydraulic oil offers maximum protection against mechanical and corrosive wear in all hydraulic systems. Its high zinc content reduces wear and extends pump life.
Caterpillar XT Hoses and Couplings
Caterpillar XT hoses and couplings are uniquely designed and tested to work together as a system for superior performance.
Automatic Ride Control
This optional Caterpillar system uses a nitrogen-oil accumualtor in the hydraulic lift circuit that acts like a shock absorber.
Pressure Taps
Pressure taps allow quick diagnosis of the hydraulic system.
Sampling Valves
Sampling valves provide easy access to hydraulic oil for S-O-S oil analysis.
Operator Controls
Low-effort controls provide ease of operation for increased comfort and efficiency.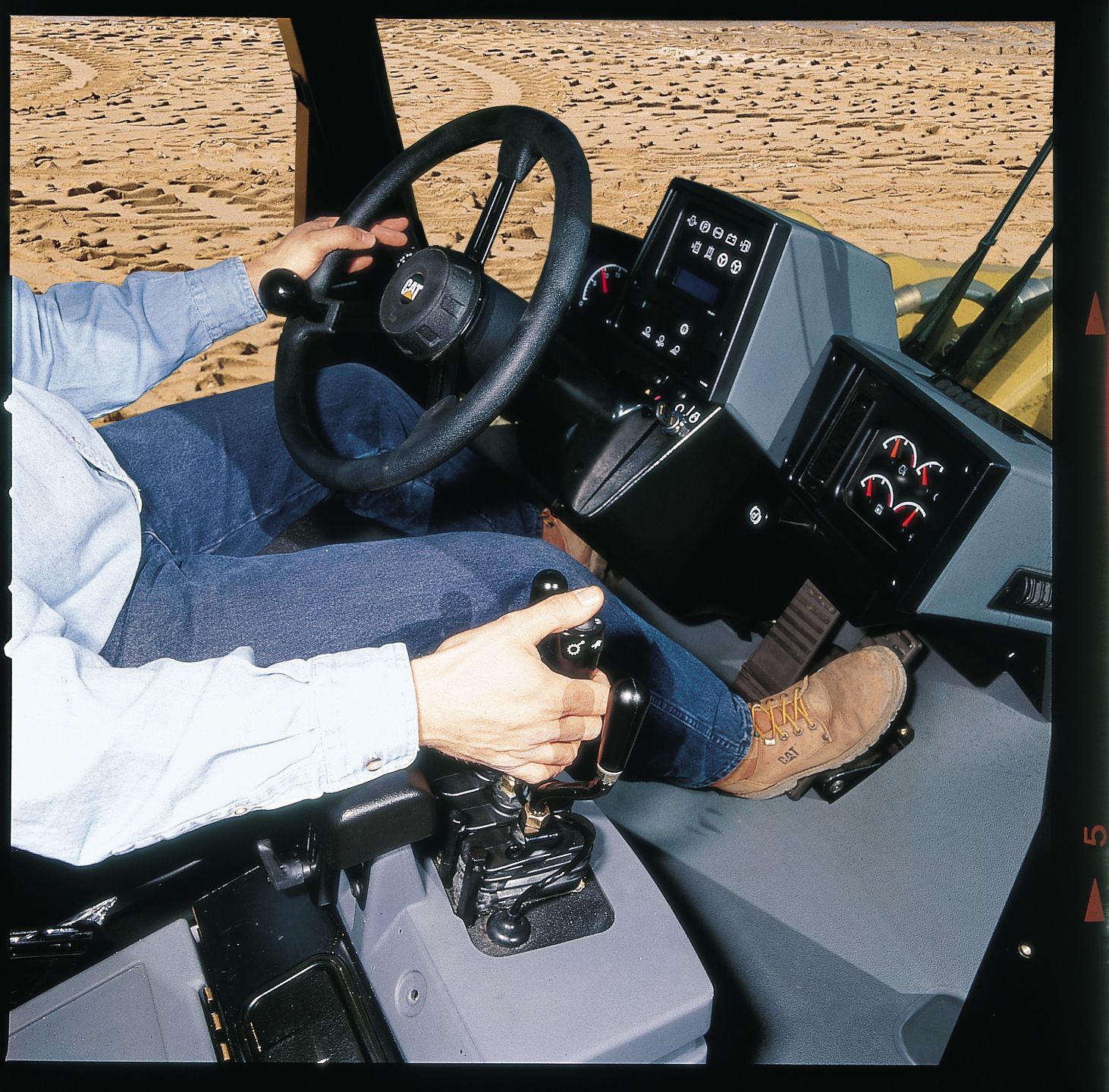 Two Operator Controls Configurations
The 972G is available with two different configurations of operator controls - one with electro-hydraulic bucket/work tool controls and Command Control steering, and another with pilot hydraulic bucket/work tool controls and Conventional steering.
Electronic Autoshift Control
Electronic Autoshift Control allows the operator to concentrate on the work, notgear selection.
Dual-Pedal Braking
Dual-pedal braking lets the left pedal function as a transmission neutralizer and as a brake.
Transmission Neutralizer Lockout Switch
A transmission neutralizer lockout switch lets the operator shut the neutralizer off, allowing the left pedal to work as a brake only. This provides a choice to operators who prefer to operate without a neutralizer or to match the application.
Operator Station
Comfort and control - top-quality operator station will help maximize productivity.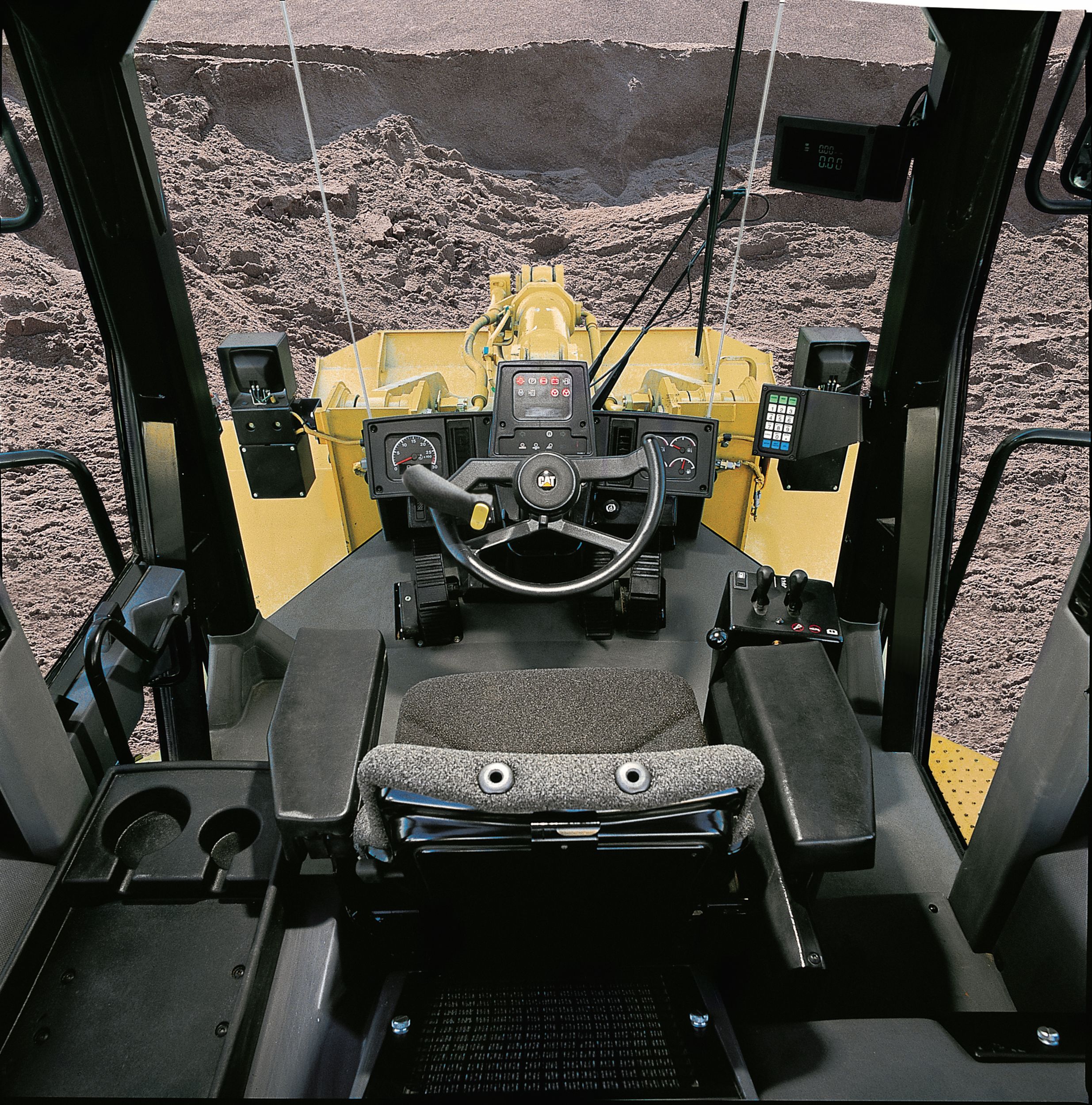 Top-Quality Operator Station
The 972G cab is a spacious and comfortable work environment that promotes productive operation. The cab includes improved viewing area, ease of service, ergonomic design and control placement, improved ventilation and generous storage areas.
Improved Viewing
The 972G operator station features improved viewing in all directions.
Command Control Steering
Command Control steering has integrated transmission controls.
Finger Tip Bucket Controls
Finger tip bucket controls use electro-hydraulics for extremely low effort and precise hydraulic modulation capability.
Automatic Lift/Lower Kickouts
Automatic lift/lower kickouts are easily adjustable from the cab. Kickout stops are hydraulically cushioned for greater operator comfort and less material spillage.
972G Monitoring System
The 972G Monitoring System provides gauges, tachometer/speedometer and 3-level warning to provide full time monitoring of key functions.
Left, Rear-Hinged Door
A left, rear-hinged door provides entrance and exit to operator station. Swing open right-side window provides a secondary exit if needed.
Dual Brake Pedals
Dual brake pedals serve brake and transmission neutralizer functions (left pedal only for neutralizer) so the operator can maintain high engine rpm for full hydraulic flow.
Generous Storage Space
Generous storage space includes a coat hook and molded compartments forlunchbox, cooler, thermos, cup or can.
Caterpillar Contour Series Seat
Control steering version and optional on the Conventional steering version, is 6-way adjustable, providing comfort and support.
Improved Ventilation
The 972G operator station features improved ventilation for better air flow to the operator and windows. There are twelve louvered vents with two on each door post.
Electronic Autoshift Control
Electronic autoshift control allows the operator to concentrate on the work, not gear selection.
Ride Control Switch
A ride control switch allows theselection of three different modes: Off, On, and Auto.
Transmission Neutralizer Lockout
A transmission neutralizer lockout switch lets the operator shut the neutralizer off, allowing the left pedal to work as a brake only. This provides a choice to operators who prefer to operate without a neutralizer or to match the application.
Conventional Steering Configuration
Conventional steering configuration offers generous storage, including a lockable compartment for personal items.
Conventional Steering Wheel
The Conventional Steering wheel can be positioned infinitely within the tilt range by the operator.
Pilot-Assisted, Hydraulic Bucket
A pilot-assisted, hydraulic bucket control makes low-effort operation possible. Pilot lines are marked and can be easily disconnected at the bottom of the right-hand door.
Quick Gear Kickdown Button
A quick gear kickdown button lets the operator downshift easily to a lower gear, saving time, increasing bucket fill factors and lowering cycle times.
Padded, Adjustable Wrist Rest
A padded, adjustable wrist rest helps reduce fatigue.
KAB Seat
A KAB seat is standard on the Conventional steering configuration, with adjustable fore/aft position, seatback angle, lumbar support, bottom cushion height, armrest angle and suspension stiffness.
Radio-Ready
Radio-ready means this cab includes a 12-volt converter (5-amp), speakers, antenna, all wiring and brackets for entertainment radio installation.
Other Options
The 972G comes with additional options, such as air conditioning and a Payload Control System.
Buckets and Ground Engaging Tools
A wide variety of bucket and ground engaging tool combinations optimize performance and versatility of the 972G.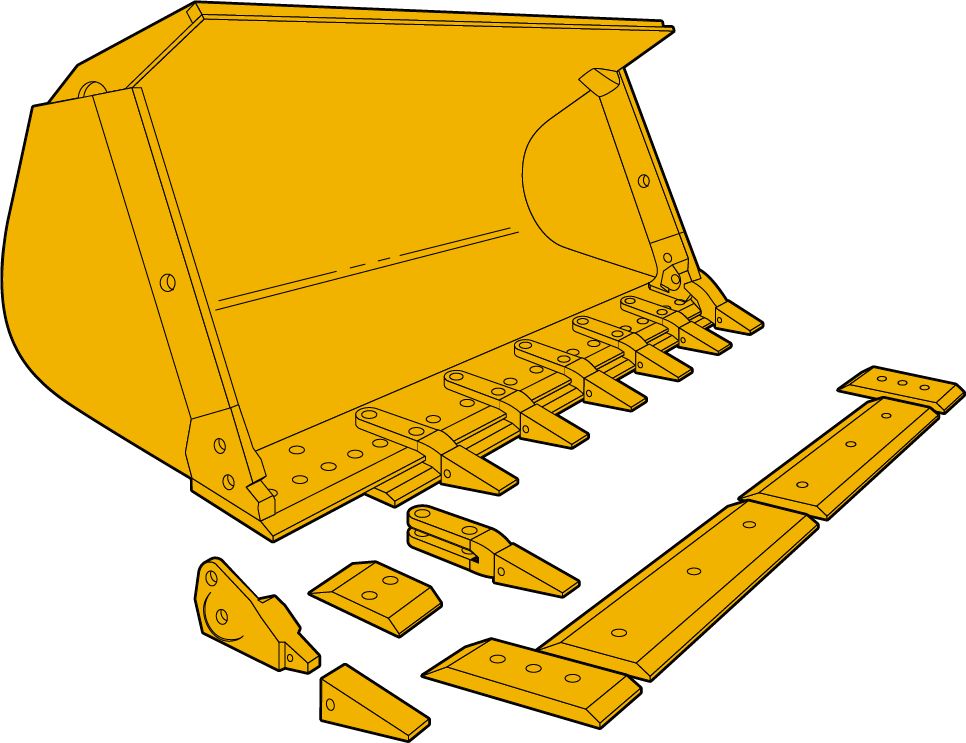 General Purpose Buckets
General purpose buckets are designed for a broad range of applications such as bank loading, excavating, and stock pile loading.
Bolt-On Cutting Edge and End Bits
Bolt-on cutting edge and end bits are Standard DH-2, reversible, for superior strength and wear life. Optional Abrasion Resistant Material (ARM) with impregnated tungsten carbide for maximum wear life in low-to-medium impact applications is available.
New, Two-Bolt Corner Adapter
A new, two-bolt corner adapter securely attached to prevent shifting.
Bolt-On, Two-Strap Center Adapters
General purpose buckets come with bolt-on, two-strap center adapters.
Heavy-Duty, Reversible, Bolt-On Segments
Heavy-duty, reversible, bolt-on segments protect the base edge, eliminating scalloping and maintaining a smooth work surface.
Material Handling Buckets
Material handling buckets have a flat floor for excellent performance, easier pile penetration, better fill factors and faster loading cycles in stock pile applications.
Rock Buckets
Rock buckets have a spade-edge design that provides easier penetration and makes them well suited to high-impact jobs. Rock buckets are available with or without teeth.
Ground Engaging Tool (GET) Options
Many Ground Engaging Tool (G.E.T.) options are available to help meet the special needs of each machine and application.
Serviceability
Keep machines up and running with easy-to-perform daily maintenance.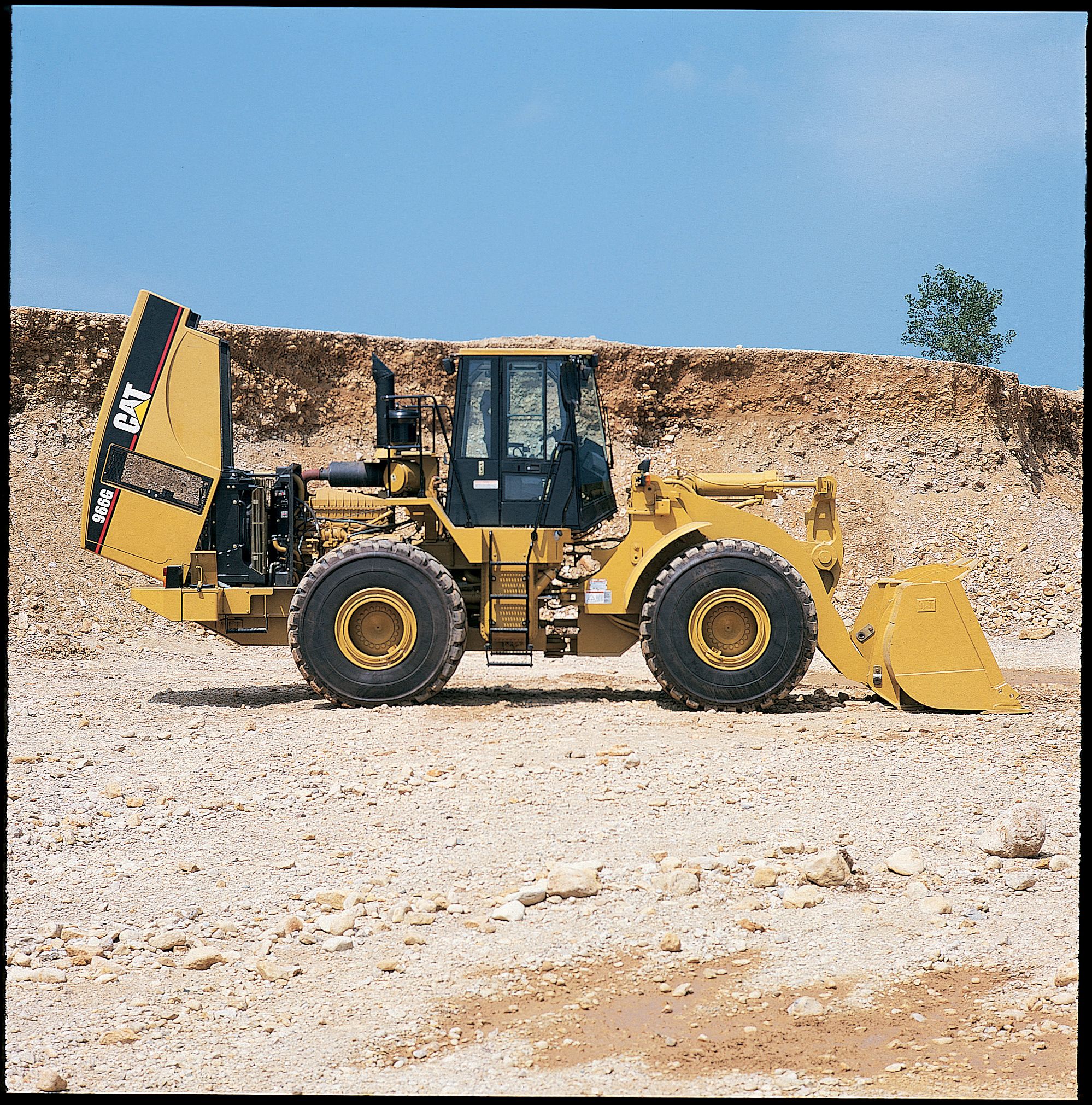 Maintenance
Maintenance has never been more accessible than on G-Series machines. Fast, easy and reduced maintenance means improved uptime and greater value.
Sloped Hood
The sloped hood, electrically activated, tilts up for complete access to the engine, cooling system and other major components.
Sampling Valves
Sampling valves allow quick, clean access to engine, transmission and hydraulic oils, and provide the most representative oil samples for analysis.
Ecology Drains
Ecology drains for the engine, transmission, hydraulics, radiator and fuel are factory installed and replace the standard drain plugs.
Cat Engine, Transmission and Hydraulic Oils
Caterpillar engine, transmission and hydraulic oils deliver maximum performance and service life.
Factory Remanufactured Parts
A large choice of factory remanufactured parts and dealer proposed repair options increases machine availability and reduces repair cost.
Total Customer Support
Unmatched in the industry.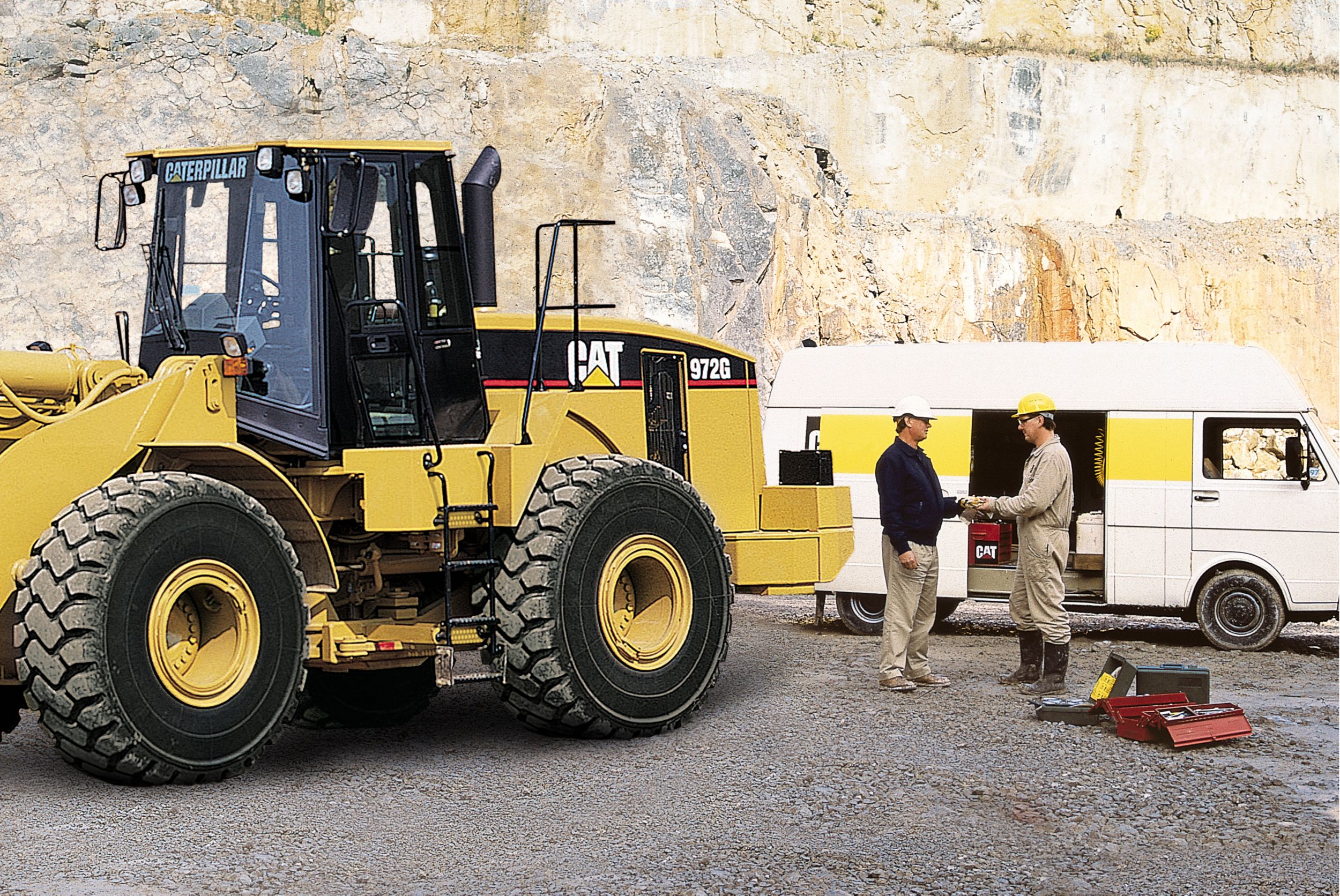 Customer Support Agreements
Cat dealers offer a wide variety of product support agreements and work with customers to develop a plan that best meets specific needs.
Machine selection
Make detailed comparisons of the machines under consideration beforepurchase.
Purchase
Look past initial price. Consider the financing options available as well as day-to-day operating costs.
Operation
Improving operating techniques can boost profits. Cat dealers have training videotapes, literature and other ideas to help increase productivity.
Maintenance
Choose from a wide range of maintenance services at the time you purchase a machine.
Replacement
Repair, rebuild or replace? Cat dealers can help evaluate the cost involved so customers can make the right choice.
Product Support
Cat dealers utilize a world-wide computer network to find in-stock parts to minimize machine down time.
Attachments
Add versatility to the machine with a wide range of buckets and attachments designed for the 972G to optimize operation.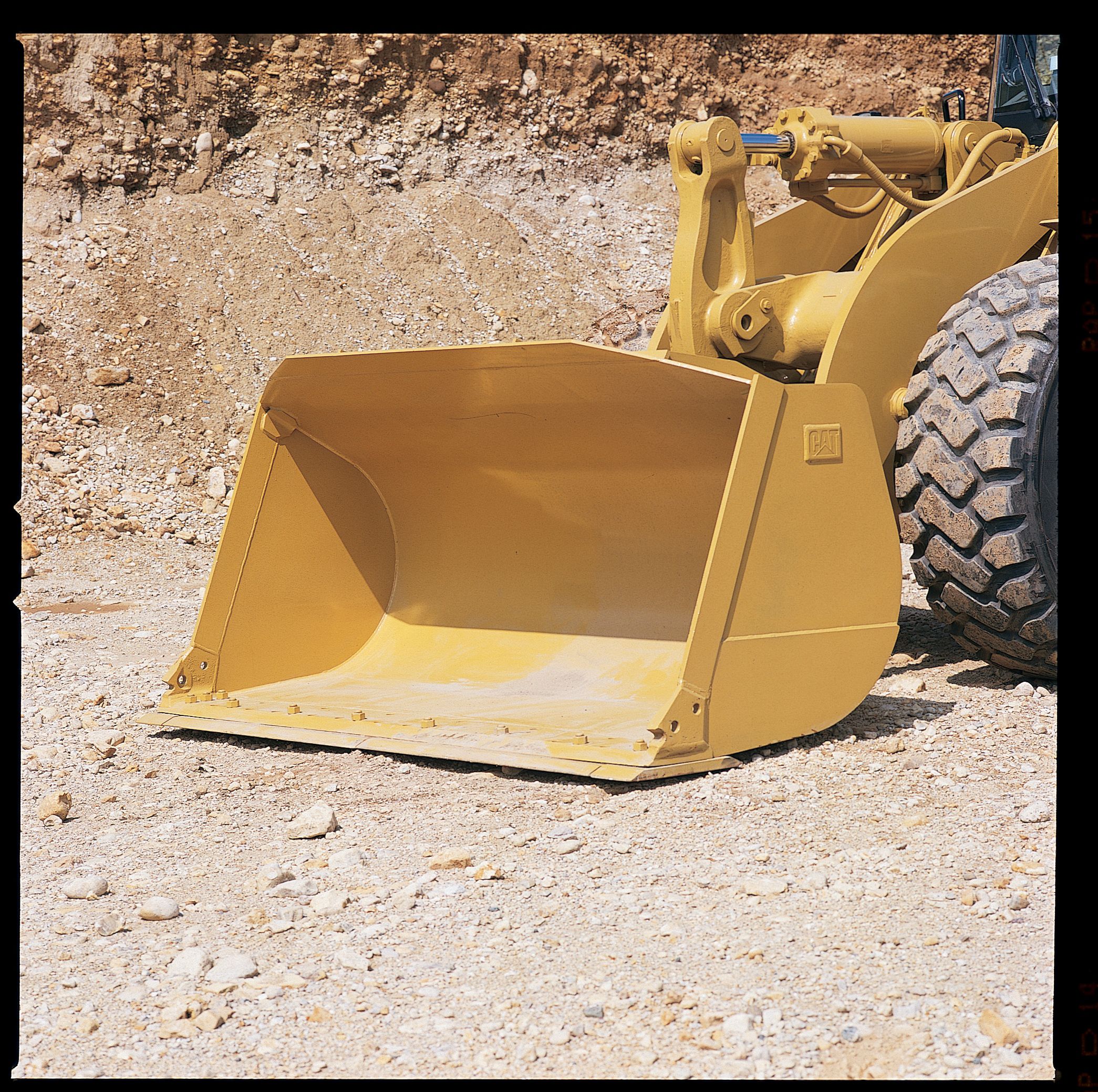 Quick Couplers
Quick Couplers provide unmatched versatility and allow one operator with one machine to perform a wide variety of tasks, resulting in greater machine performance and efficiency.
Coal Buckets
Coal buckets are available in special widths. All coal buckets include a bolt-on cutting edge.
Woodchip Buckets
Woodchip buckets are specially designed to load and carry woodchips and similar light materials. Bolt-on cutting edges are standard. Visibility screens help the operator with loading.
Multi-Purpose Buckets
Loading, dozing, clamping objects or filtering the discharge of material are easy tasks with multi-purpose buckets.
Side-Dump Buckets
Side-dump buckets permit loaders to operate in congested worksites and also dump forward like conventional buckets.
Light Material Buckets
Light material buckets easily haul, load, dig and pile light material. They have an increased capacity over standard buckets.
Other Available Buckets
Other available buckets include sand and gravel and landfill/refuse.
Forks
Millyard, logging and lumber forks are the ideal tools for handling a variety of materials. The different configurations (various tine lengths, top clamps, etc.) are well-matched to the applications and log size.
Pallet Forks
Pallet forks are available with a number of different tine lengths. Swinging tines slide to permit adjustments in width to accommodate various sizes of loads.
Other Available Forks
Core forks are also available.
Snow Plows
Snow plows are hydraulically reversible and angle 35 degree left or right. This reversing action is ideal for cleaning applications on mountain roads, airports, parking lots, plant facilities, etc.
Material Handling Arms
Material handling arms, designed for use with the quick coupler, are constructed of tough rectangular tubing. They provide the loader with a utility tool for jobs where a bucket cannot be used. Pre-drilled holes in the arm make load changes possible.
Other Attachments
Other attachments include rakes and hooks.
CONNECT. DISCUSS. SOLVE.
CATERPILLAR EQUIPMENT MAINTENANCE ONLINE COMMUNITY
HOW CAN WE HELP?
SHARE YOUR FEEDBACK OR ASK A QUESTION