938G SERIES II
Performance you can feel, with powerful breakout force, fast cycle times and smoother shifts for optimal productivity and operator comfort.
BENEFITS & FEATURES
Engine
The 938G II provides more power, excellent fuel economy, and reduced maintenance.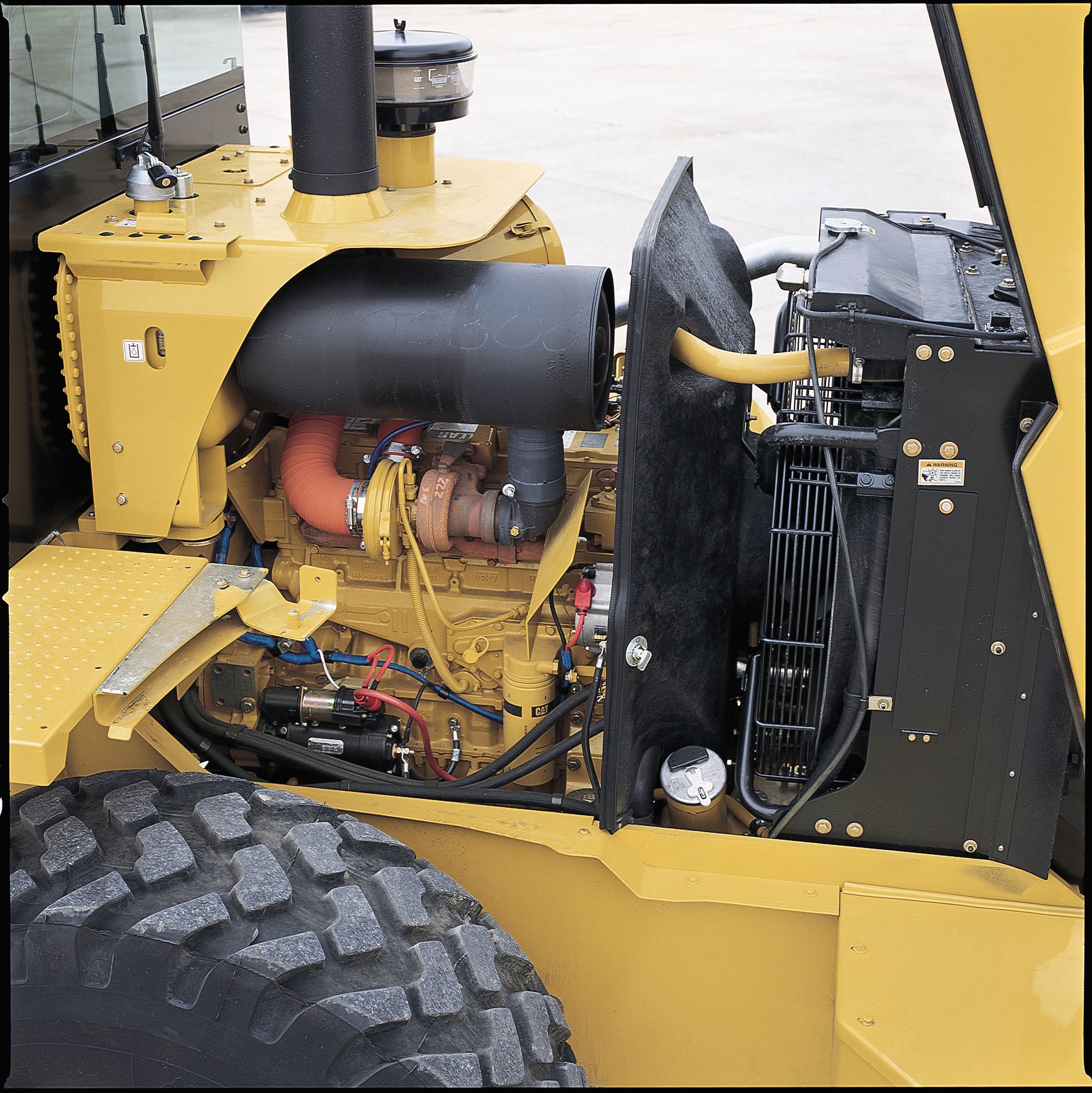 Powerful Performance
The 3126B ATAAC engine delivers net power of 119 kW (160 hp), and meets EPA Tier 2 emissions standards. Its advanced system keeps fuel at low pressure in the fuel lines until it is injected into the cylinder. Fuel pressure is created hydraulically in response to a signal from the ADEM III™ Electronic Control Module.
Electronic Control Module
The Advanced Diesel Engine Module (ADEM III) fuel system is a proprietary electronic control module, which provides improved engine response and fuel efficiency, plus advanced diagnostics and reduced emissions. Altitude capability is increased to 3050 meters (10,000 feet) without derating. ADEM III allows full electronic integration of the engine and transmission for maximum power train efficiency.
Turbocharged, ATAAC
Turbocharging packs dense air into the cylinders for more complete combustion and lower emissions. Air-to-air aftercooling (ATAAC) provides a separate cooling system for intake manifold air. The ATAAC system reduces smoke and emissions by providing cooler inlet air for more efficient combustion.
Constant Net Horsepower
The 938G II's electronic engine is integrated with an on-demand cooling fan. The engine compensates for varying fan loads and provides constant net horsepower, regardless of operating conditions. A consistent level of "working" horsepower is provided and fuel consumption is reduced.
Oil Change Intervals
The engine oil change interval is increased to 500 hours (with CH-4 oil), reducing costs and downtime.
Power Train
Advanced Caterpillar power train is reliable and fuel efficient.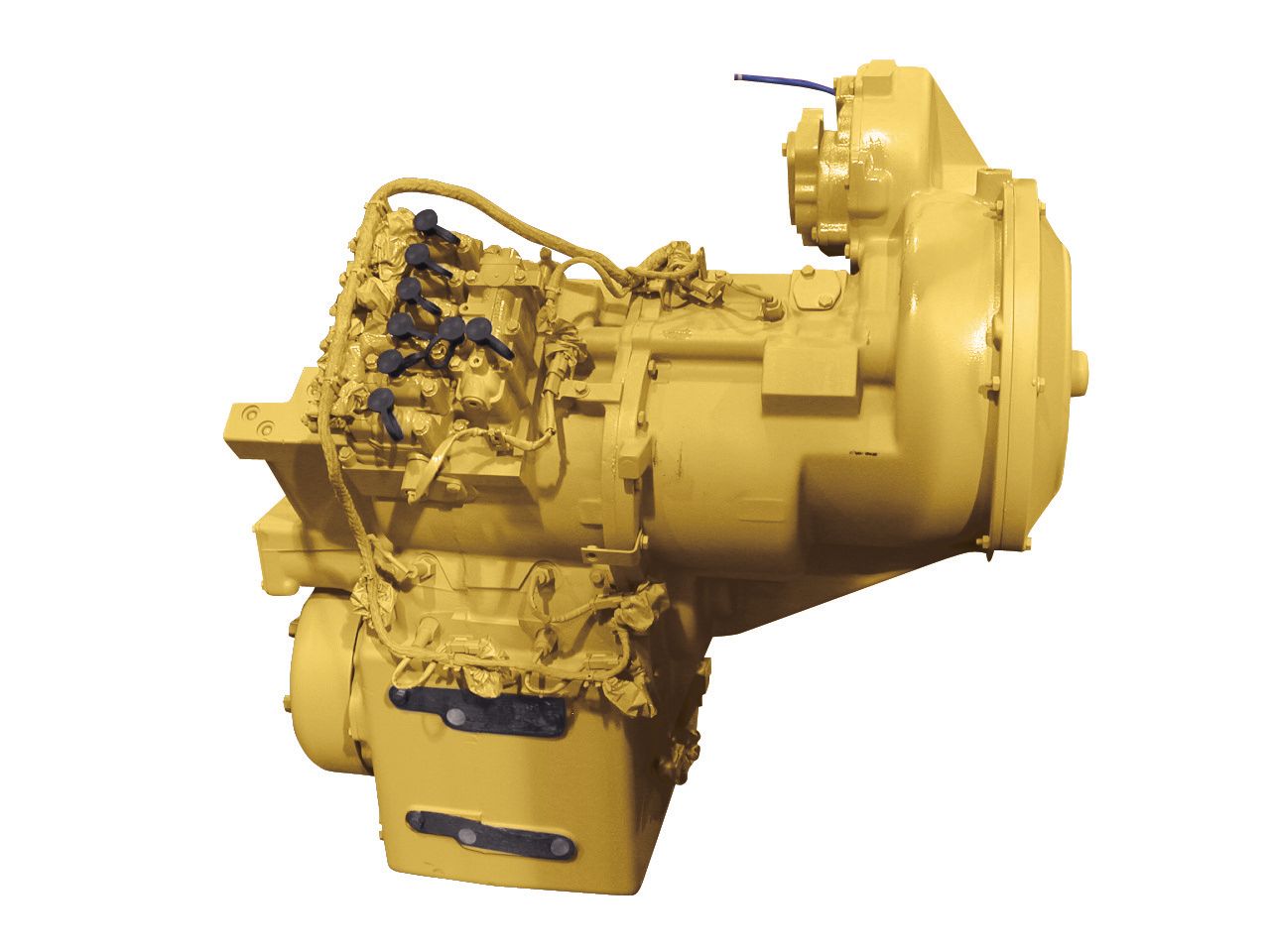 Electronic Power Shift Transmission
The electronic power shift transmission with automatic shift capability is a countershaft design built by Caterpillar. It is electronically controlled and allows full power shifts and directional changes. Fully modulated gear shifts contribute to operator comfort and increase component life.
Electronic Clutch Pressure Control (ECPC)
Senses input from both the transmission and the operator controls in the cab to modulate each individual clutch through a proportional electro-hydraulic valve. This results in smoother gear changes and improved shift quality. Energy is modulated into the clutches, resulting in longer clutch life.
Integrated Braking System
New for G Series II, IBS integrates downshifting and transmission neutralization into the left-hand brake pedal. IBS provides smooth, optimized transmission neutralizer performance with a greater range of adjustability. The Integrated Braking System also lowers owning and operating costs by reducing axle oil temperatures, which can extend service brake life.
Easy Service
Daily transmission oil level check is done from the ground through a well-protected sight gauge. An oil sampling valve allows quick, clean access to the transmission for S•O•SSM oil analysis.
Variable Shift Control
New transmission feature which allows the operator to select one of three different shift patterns based on the application and operating preferences. VSC reduces fuel consumption in many applications. In all modes, full machine power remains available for loading.
Limited Slip Differentials
Front and Rear Limited Slip Differentials are available as attachments. The differential clutch slows the slipping wheel and transfers torque to the slower turning wheel.
Cooling System
New G Series II cooling package reduces radiator plugging and improves fuel efficiency.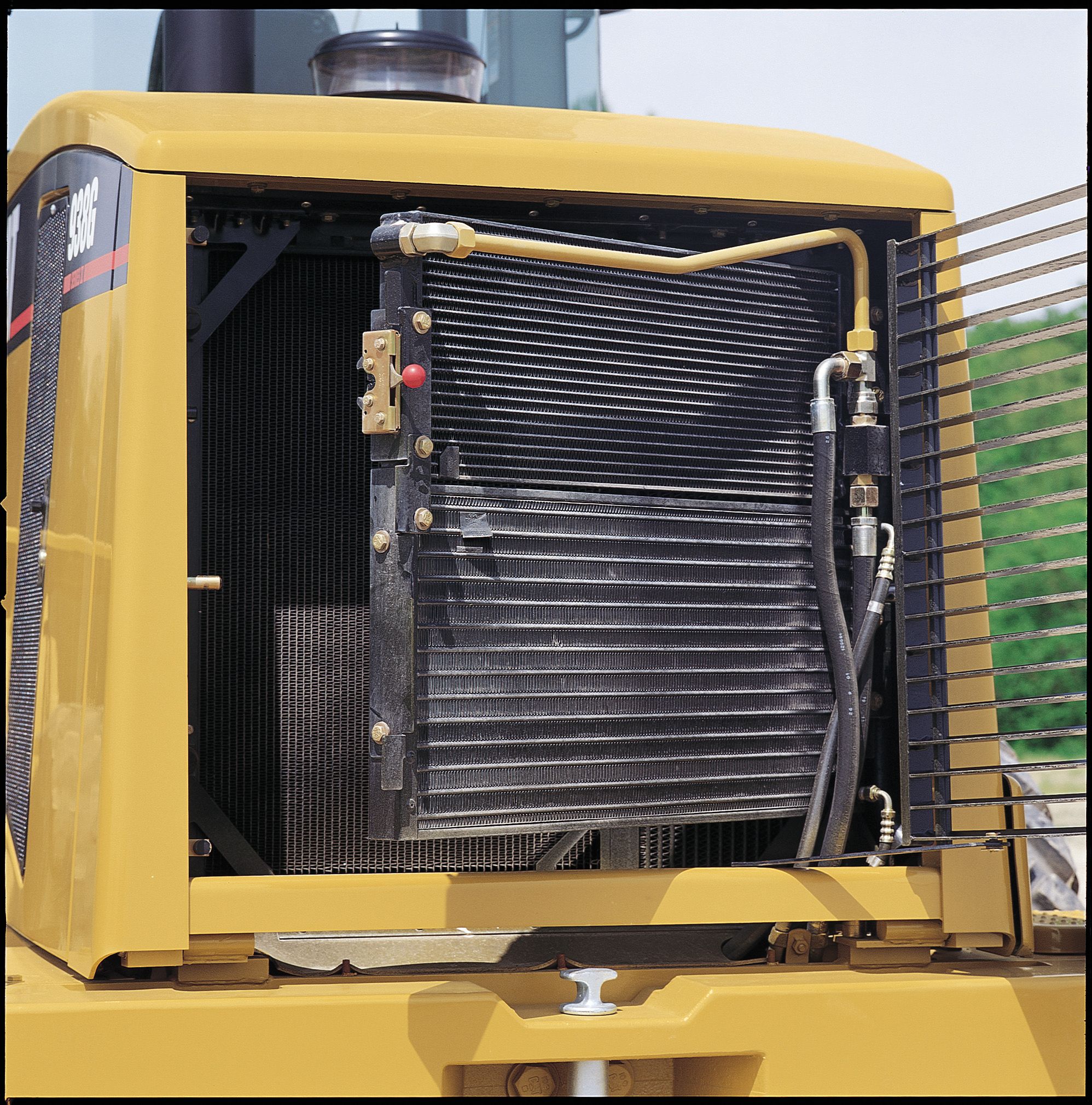 Reverse Flow
Air enters through the rear grill and exits out the top opening and side hood doors. Rear air flow picks up less debris from the ground, reducing plugging.
Improved System Access
The 938G II adds a swing-out grill, hydraulic oil cooler and air conditioner condenser for easier cleaning. Side panels open to allow access to both sides of all cores for cleaning. A heavy duty Airborne Debris Grill, with 4 mm perforations is available as an attachment.
On-Demand Fan
Electronically controlled, variable speed on-demand fan adjusts to meet the varying cooling requirements of the machine. Fan speed is determined by oil, coolant and inlet manifold temperatures. In cooler operating conditions, average fan speed is reduced, resulting in less fuel consumption, lower noise levels and less radiator plugging.
Unit Core Radiator
New unit core radiator with square wave shaped fins. Lower fin density (6 fins per inch) allows debris to pass through more easily.
Environmental Features
Caterpillar cares about the environment and continues to develop innovative solutions.
Low Exhaust Emissions
The Cat 3126B ATAAC engine used in the 938G Series II is a low emission engine designed to meet Tier 2 emission regulations. It is electronically controlled, with air-to-air aftercooling for more efficient combustion and cleaner emissions.
Reduced Sound
The electronic on-demand fan automatically regulates fan speed depending on cooling requirements. The fan draws less horsepower in cooler ambient temperatures, which reduces fuel consumption. Sound levels are also reduced when the fan slows down. There is additional insulation around the engine to reduce sound levels.
Environmental Fluids
Extended Life Coolant/Antifreeze with anti-foaming and anti-corrosion properties provide extended service intervals (up to 6000 hours) and requires less frequent fluid changes and disposals. Air conditioning refrigerant is CFC-free.
Fewer Leaks And Spills
Oil sampling valves and pressure test ports are included for easy service diagnostics, with less chance of spills. Filters are positioned vertically and located for easy access, allowing for removal without fluid spillage.
Ecology Drains
Standard for the engine, transmission, hydraulics, radiator and fuel. Activating the valve allows fluid to be drained into a container without spillage. Axle oil ecology drains are an attachment and allow quicker oil changes with reduced spillage.
Rebuildable Components
Many major components are designed to be rebuilt. Worn components can be remanufactured instead of thrown out.
Operator Station
The ultimate in wheel loader operator comfort and efficiency.
1 Steering
Low effort hand metering unit steering. Tilt steering column helps fit the wheel to the operator. Load sensing steering directs power through the steering system only when needed. When not steering, more engine power is available to generate rimpull, breakout and lift forces.
2 Excellent Visibility
The front window provides remarkable forward and peripheral viewing, including the machine wheels and bucket corners. Bonded glass in the windshield eliminates frame obstructions. The sloping hood provides excellent visibility to the rear of the machine.
3 Finger Tip Controls
New pilot-assisted hydraulic implement controls deliver comfortable, low-effort operation. Single lever joystick and lift lever F-N-R switch are available as attachments.
4 New Instrument Cluster
Gauges, status indicators and alert indicators are now centrally located. 3-level warning system monitors key functions. The system alerts the operator of immediate or impending problems with engine oil pressure, parking brake, fuel pressure, electrical system, brake oil pressure, hydraulic oil temperature, transmission filter bypass, engine inlet manifold temperature, primary steering oil pressure and the air inlet heater. LED warning indicators with no bulbs to replace.
5 Cab Access
Left and right side doors swing open 180 degrees and latch for optimal ventilation, visibility and communication to ground level. Left and right side sliding windows are available as an attachment. Full service platforms are provided on both sides of the machine for safety and easy maintenance access.
6 Floor Mounted Pedals
All pedals, including the new electronic governor, are floor mounted for greater operator comfort. Left pedal incorporates the new Integrated Braking System that combines service brake, transmission neutralizer and downshift functions.
7 Generous Storage Space
Compartments for lunchbox, coolers and cups.
8 Seat Options
The standard cloth and vinyl seat adjusts 6 ways. A new Caterpillar Contour air suspension seat (attachment) provides increased operator comfort with 6-way adjustment and automotive-style lumbar support.
9 Electronic Autoshift Control
Set for manual or one of two fully automatic shifting modes.
10 Ride Control System Switch
Attachment that reduces fore and aft pitch for a smoother, more comfortable ride. Allows the selection of three different modes: Off - always off service. On - always in service. Auto - the system is automatically actuated when the machine travels at a speed greater than 9 km (6 mph).
11 Transmission Neutralizer Lockout Switch
Rocker switch that locks out the neutralizer. Defaults back to neutralizer "on" upon machine start up.
12 Variable Shift Control
Allows the operator to select three different shift patterns based on application and working preferences. Normal, Economy and Aggressive modes. Lowers sound levels and fuel consumption and provides smoother shifts.
Radios
12-volt converter (5-amp), speakers, antenna, wiring and brackets for entertainment radio installation. Factory installed AM/FM/Cassette radio is now available as an attachment.
Buckets and Ground Engaging Tools
Choose from General Purpose, Material Handling or Quick Coupler Buckets, matched with a variety of Ground Engaging Tool options to precisely fit your application.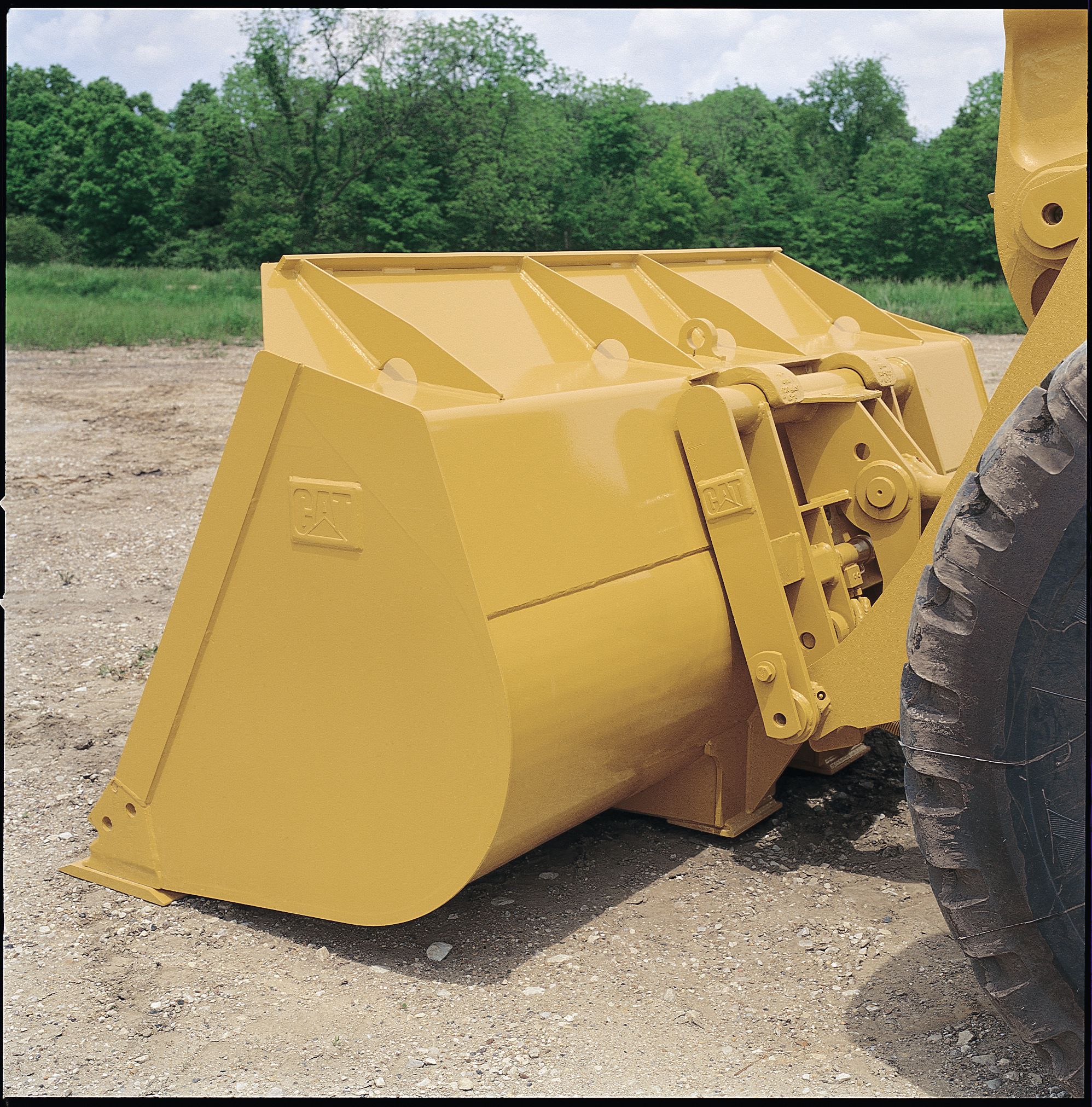 General Purpose Buckets
Perform well in a broad range of applications including excavation, stockpiling and dozing. Proven shell and tine construction. GP buckets accept standard Caterpillar bolt-on cutting edges or bolt-on teeth. Four basic bucket sizes are available. Buckets are rebuildable.
Material Handling Buckets
Flat floor Opti-Profile designs for free-flowing material (stockpile applications). Two basic bucket sizes are available. Uses Corner Guard System bolt-on edges.
Quick Coupler Buckets
General Purpose profile, compatible with factory installed horizontal pin-lock quick coupler. Three sizes available.
Specialty Buckets
Refuse, Multi-Purpose, and Coal buckets are available for industry specific applications.
Bolt-On Cutting Edge
Reversible, for superior strength and wear life. Standard, Heavy-duty edge, (providing 50% more wear life) or Abrasion Resistant Material (ARM) edge are available. Corner Protectors complete the system.
Bolt-On Teeth
Two-bolt corner adapter is securely attached to prevent shifting. Bolt-on two-strap center adapters. Seven tip options are available with heavy-duty retention system.
Bolt-On Teeth and Edge Segments
Standard reversible segments protect the base edge between teeth, and eliminate scalloping. Heavy-duty reversible segments (providing 50% more wear life) are also available.
Rear Wear Plates
Replaceable rear wear plates provide bucket bottom protection.
Quick Couplers And Work Tools
Add versatility to your Series II machine with a factory installed Quick Coupler, plus Work Tools and Specialty Buckets offered by Caterpillar.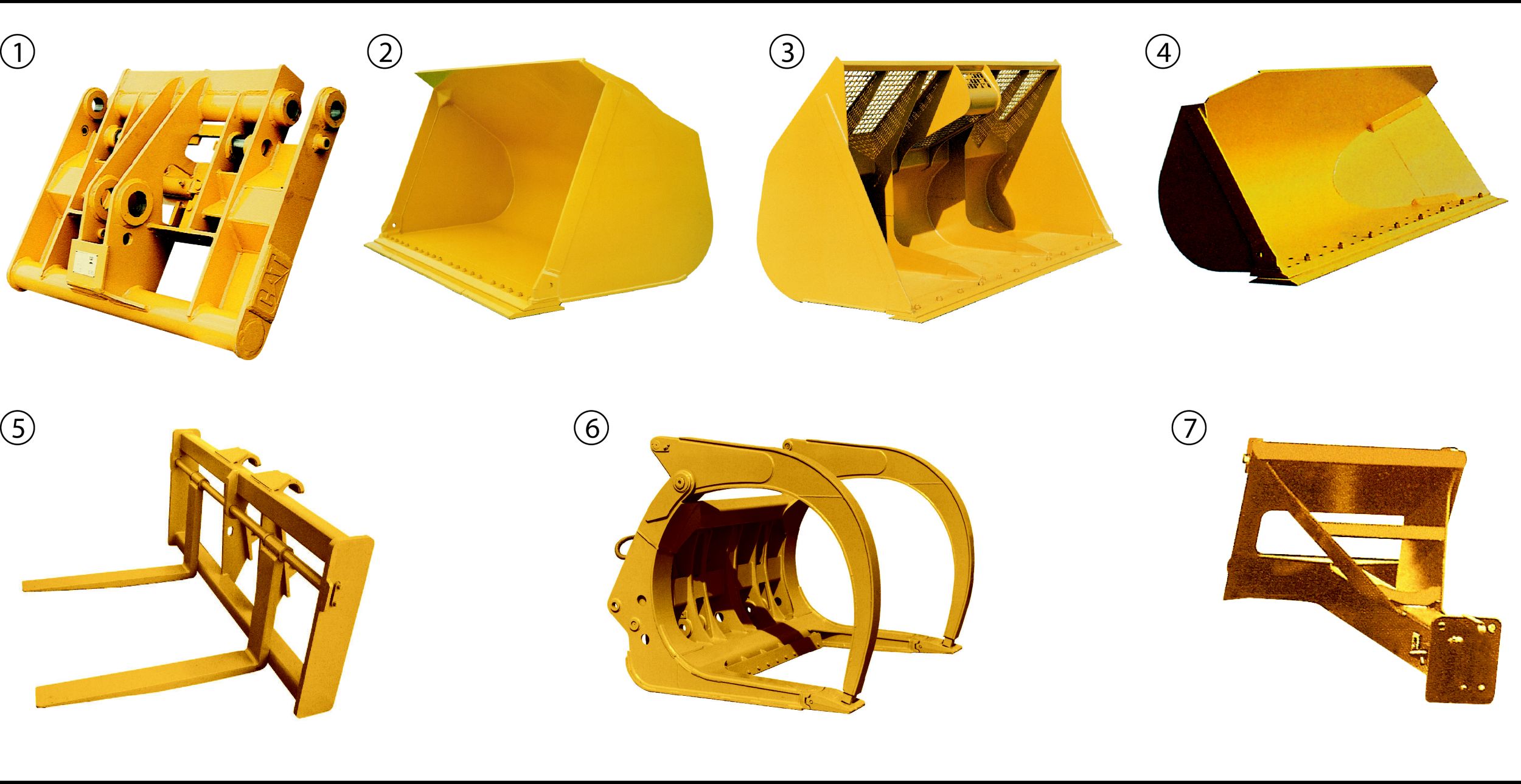 1 Quick Couplers
Provide outstanding versatility and allow one machine to perform a wide variety of tasks. Factory installed, with steel hydraulic lines and a clean routing down the lift arms. In-cab electric actuation, with safety lock-out switch. Horizontal pin-grabber design.
2 Coal Buckets
Flat floor for stockpile applications. Coal buckets include bolt-on cutting edges.
3 Woodchip Buckets
Are specially designed to load woodchips, and other light materials. Flat floor. Bolt-on cutting edges are standard. Screens help visibility when loading.
4 Side-Dump Buckets
Permit loaders to operate in congested worksites and can also dump forward like a conventional bucket (3rd valve required).
5 Forks
Pallet forks are ideal work tools for material handling tasks. Available in a variety of tine lengths.
6 Log Forks With Top Clamp
For tree length or cut to length logs. Lumber and log forks are also available.
7 Material Handling Arm
Material handling arm with adjustable lengths and load capacities can serve as a crane on the jobsite.
Plows
Hydraulic reversible plows angle 30°, left or right. This reversing action is ideal for cleaning applications on mountain roads, airports, parking lots, plant facilities, etc.
A complete range of Work Tools are available from your Caterpillar dealer.
Serviceability
The 938G Series II continues Caterpillar leadership in wheel loader serviceability.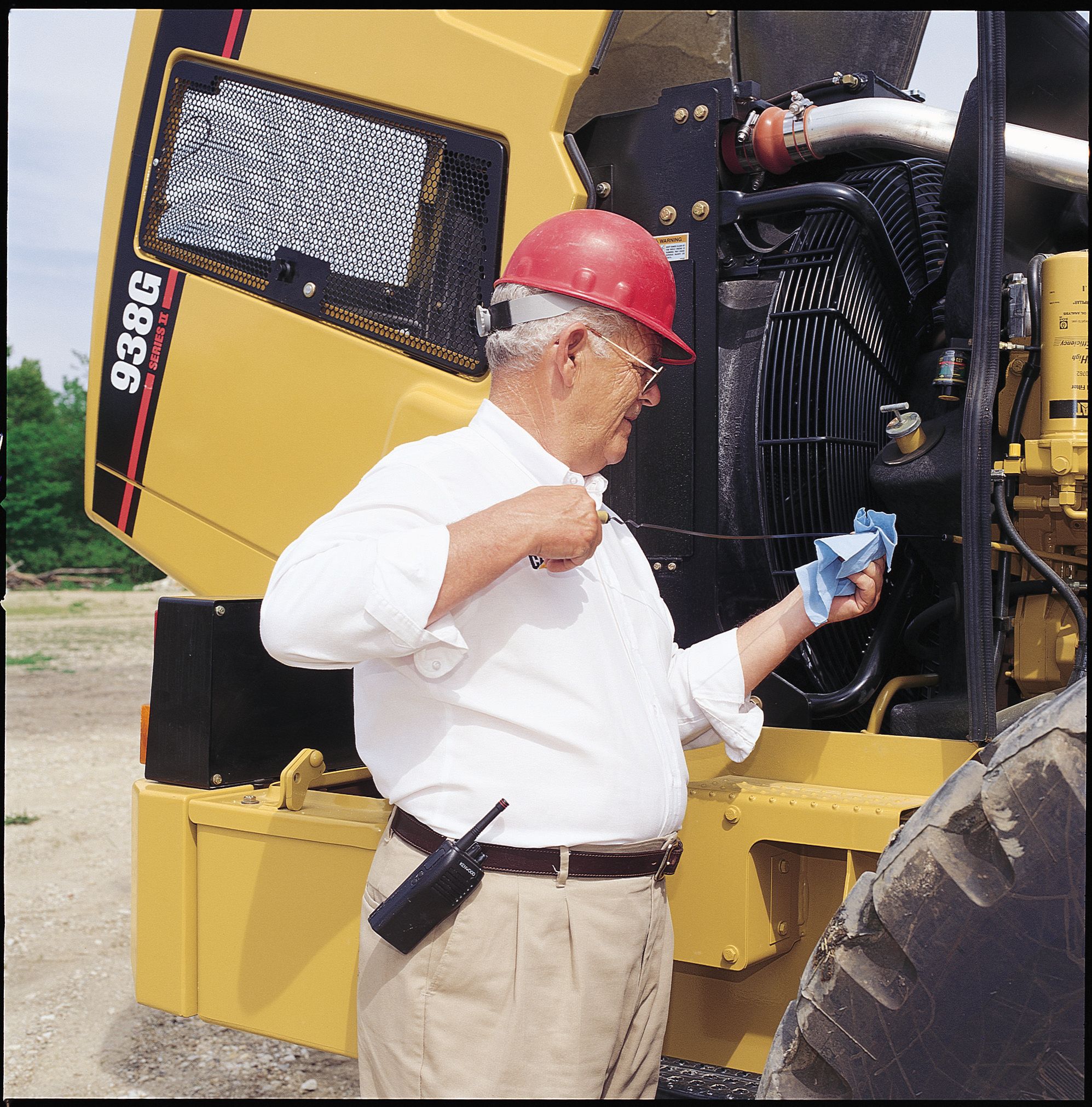 Ground Level Maintenance Points
All service points, including color-coded S•O•S sampling ports are accessible from ground level. Remote grease lines culminate in two convenient central lube banks in the right hitch area.
Sight Gauges
For the transmission oil, hydraulic oil and radiator coolant are easy to see and eliminate the risk of contaminants entering the system during daily checks.
Engine Compartment
Access is convenient through service doors and side panels that can be quickly opened.
Non-Metallic Hood
Tilts for full access to engine, cooling system and major components. An electric screw-jack, with manual backup, tilts the hood up to 70 degrees.
Ecology Drains
For engine, transmission and hydraulic oil, reduces spills when draining fluids. Axle oil ecology drains are available as an attachment.
Electric Fuel Priming Pump
A new electrically actuated fuel priming pump simplifies fuel filter changes.
Engine Oil Change Intervals
Are every 500 hours with the use of CH-4 oil.
Coolant
System is factory filled with Caterpillar Extended Life Coolant, which can provide up to 6,000 hours between change intervals.
Remote Pressure Taps
Are available as an attachment to make transmission diagnostics even easier.
Brake Wear Indicators
Inboard indicator allows a service technician to measure and track brake wear.
Batteries
Two maintenance-free batteries are located in a built-in battery box in the left rear frame with a sealed lid to keep moisture out.
Caterpillar Monitoring System (CMS)
Provides machine performance feedback, along with diagnostic codes, which a service technician can use to quickly troubleshoot problems.
Product Link
Is a wireless communication system that provides two-way information flow between a machine and Caterpillar dealers and customers. Machines are fitted with a data module, wiring, and an antenna. The system up-links via satellite to the Caterpillar network and PC software. Product Link eliminates trips to obtain data, allows more effective maintenance scheduling and can identify unauthorized machine usage.
Product Link 201
Is available as a factory installed attachment and offers:
Service meter hour update (one per day)
Machine location update (four times a day)
Mapping and route planning features
DBS machine usage file integration
Product Watch (configurable parameters for machine location and time operation)
Event/diagnostic monitoring
E-mail/pager alerts (interfaces with DBS Robot/Alert function)
Product Link 151
Is available as a dealer installed option and offers many of the PL-201 features.
Machine Security System
A programmable system (attachment) to manage machine access and restrict unauthorized usage. Special Machine Security System keys can be programmed (using Caterpillar Electronic Technician) to deny access during specific times or days of the week.
Complete Customer Support
Cat dealer services help you operate longer with lower costs.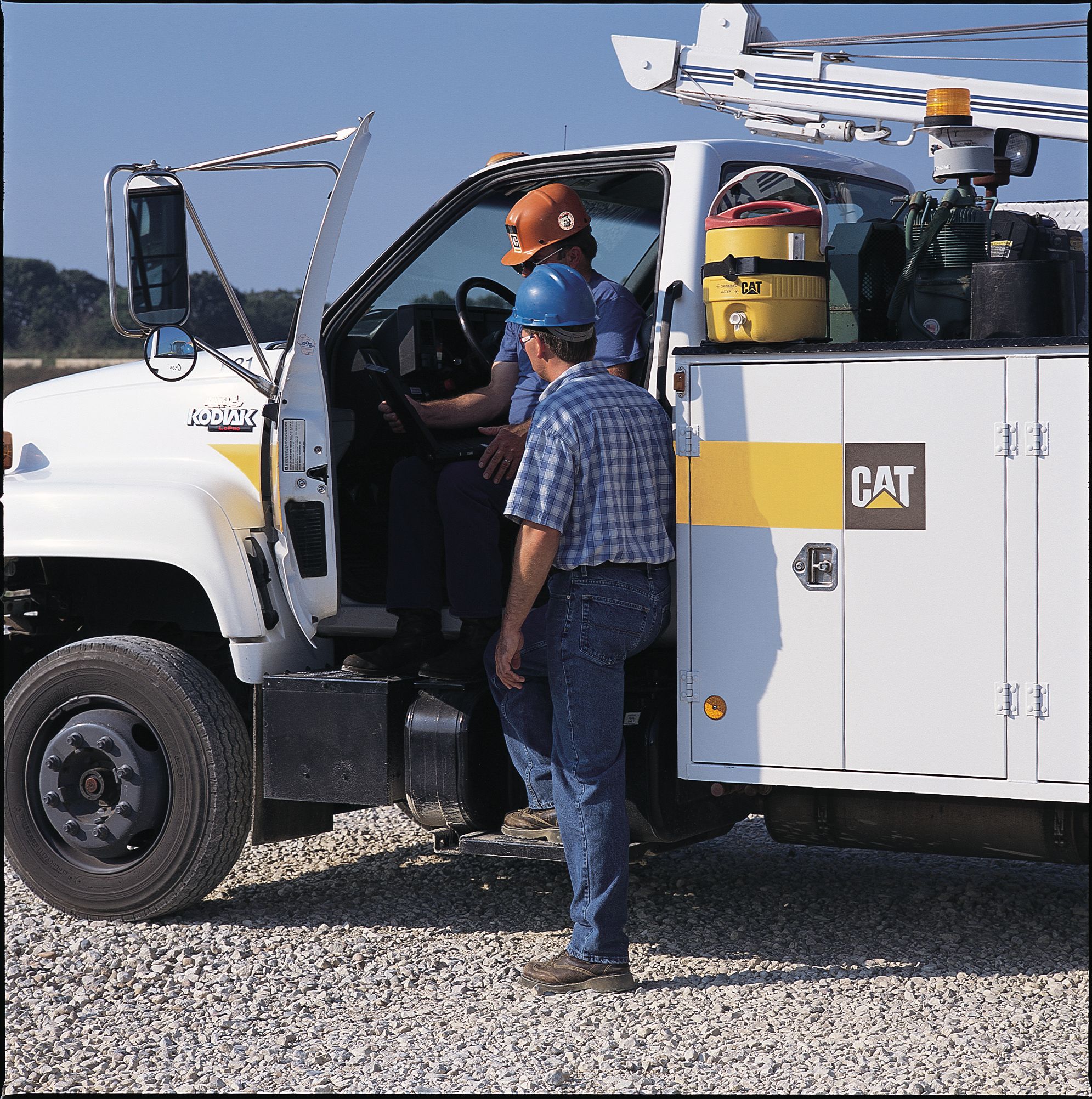 Machine Selection
Make detailed comparisons of the machines under consideration before purchase. Cat dealers can estimate component life, preventive maintenance costs and the true cost of lost production.
Purchase
Look past initial price and consider the many financing options available as well as day-to-day operating costs. Consider the dealer services that can be included in the cost of the machine to yield lower equipment owning and operating costs over the long run.
Customer Support Agreements
Cat dealers offer a variety of product support agreements and can develop a plan that meets your specific needs. These plans can cover the entire machine, including attachments, to help protect your investment.
Parts Support
You will find nearly all parts at our dealer parts counter. Cat dealers use a worldwide computer network to find in-stock parts to minimize machine downtime.
Operation
Improving operating techniques can boost your profits. Your Cat dealer has training videotapes, literature and other ideas to help you increase productivity.
Maintenance Services
Choose from a variety of maintenance services when purchasing your machine. Repair option programs guarantee the cost of repairs up front. Diagnostic programs such as S•O•S and Coolant Sampling help avoid unscheduled repairs.
Component Replacement
Repair, rebuild or replace? Caterpillar offers a line of genuine remanufactured components, which can help lower repair costs. Your Cat dealer will help you evaluate the cost involved so you can make the right choice.
www.CAT.com
For more complete information on Cat products, dealer services, and industry solutions, visit us on the web at www.Cat.com.
EQUIPMENT
Standard Equipment
Electrical
Alarm, back-up
Alternator 52-amp
Batteries, maintenance-free (2) 950CCA
Ignition key, start/stop switch
Lighting system, halogen (6 total)
Main disconnect switch
Starter, electric, heavy-duty
Starting and charging system (24-volt)
Operator Environment
Bucket/Work Tool function lockout
Cab, pressurized and sound suppressed
Cigar lighter and ashtray
Coat hooks (2) with straps
Computerized Monitoring System
Controls, lift and tilt function
Heater and defroster
Horn, electric (steering wheel mounted)
Lunchbox, beverage holders, personal tray
Mirrors, rearview (internally mounted)
Seat, KAB (cloth) mechanical suspension
Seatbelt, retractable, 76 mm (3 in) wide
Steering column, adjustable, tilt
Wet-arm, wipers/washers (front and rear)
Power Train
Brakes, full hydraulic enclosed wet-disc
Driveline, extreme service
Engine, Cat 3126B diesel with ATAAC
Fan, radiator, variable speed, on demand
Filters, fuel, primary/secondary
Fuel priming pump (electric)
Fuel/water separator
Muffler, sound suppressed
Precleaner, engine air intake
Radiator, unit core (6 fins per inch) with ATAAC
Starting aid (air inlet heater)
Switch, transmission neutralizer lockout
Torque converter
Transmission, automatic countershaft power shift (4F/3R)
Variable Shift Control (VSC)
Other Standard Equipment
Automatic bucket positioner
Counterweight
Doors, service access (locking)
Ecology drains (engine, transmission and hydraulic oil)
Fenders, steel front and rear
Hitch, drawbar with pin
Hood, non-metallic power tilting
Kickout, lift, adjustable
Linkage, Z-bar, cast crosstube/tilt lever
Product Link Ready
Sampling valves (engine, transmission)
Sight Gauges:
Vandalism protection caplocks
Hydraulics
Couplings, Caterpillar O-ring face seals
Diagnostic pressure taps
Hoses, Cat XT™
Hydraulic oil cooler (swing-out)
Steering, load sensing
Antifreeze
Premixed 50% concentration of Extended Life Coolant with freeze protection to -34° C (-29° F).
Optional Equipment
Air conditioner
Alternator, heavy-duty (70 amp)
Axle ecology drain
Axle oil cooler
Axle oil temperature monitor
Buckets and Work Tools
Bucket Ground Engaging Tools - see dealer
CB radio ready (20-amp)
Differentials. limited slip (front or rear), No-SPIN
Fender extensions
Fenders, narrow
Grill, airborne debris
Guard, power train
Heater, engine coolant (120V or 240V)
High lift arrangement
Hydraulic arrangement, three-valve
Joystick control
Lights, directional
Lights, roading
Lighting, auxilary (4)
Mirrors, rearview, external
Open canopy
Payload Control System
Precleaner, turbine
Precleaner, turbine/trash
Product Link 201
Quick coupler
Radio, AM/FM, cassette
Remote pressure taps
Ride control system, two-and three-valve
Seat, air suspension
Security system
Sliding windows, cab
Steering. secondary
Sunscreen, rear
Switch, lift lever F-N-R
Tires
Value package
Visor, front
Waste Handling Arrangement
Wiper, rear
CONNECT. DISCUSS. SOLVE.
CATERPILLAR EQUIPMENT MAINTENANCE ONLINE COMMUNITY
HOW CAN WE HELP?
SHARE YOUR FEEDBACK OR ASK A QUESTION