938G
The 938G delivers excellent breakout force, fast load and cycle times, and precise maneuvering for top all-around performance. Proven components, combined with easy maintenance ensures reliability over the life of the machine.
DETAILS
BENEFITS & FEATURES
Engine
The six-cylinder, direct injection, turbocharged and aftercooled engine is built for power, reliability, low maintenance, excellent fuel economy and low emissions.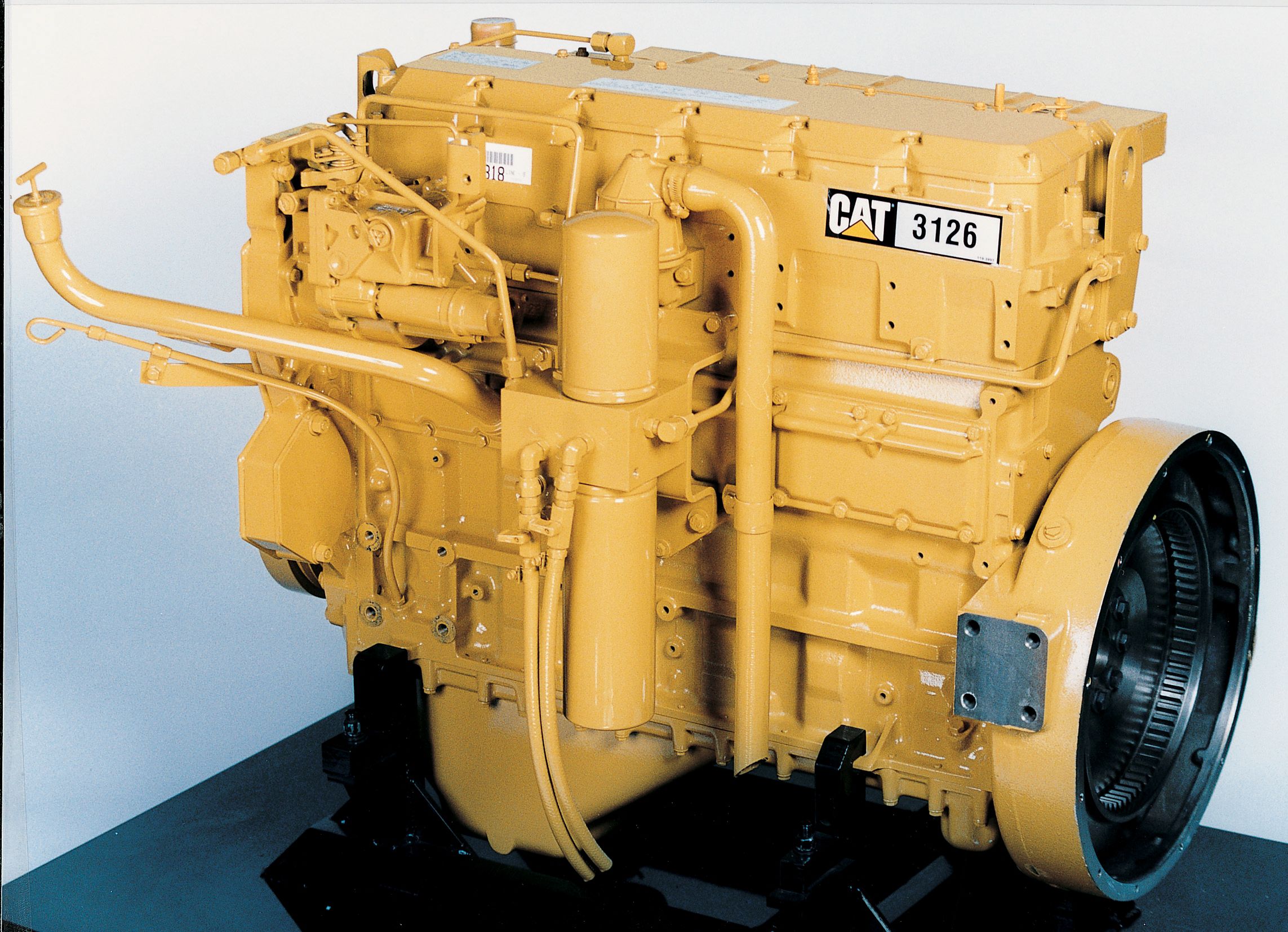 Performance
The 3126 DITA Engine develops flywheel power and meets all current and proposed worldwide emissions standards.
Torque Rise
The unit fuel system increases fuel as the engine lugs back from rated speed, resulting in greater engine torque rise.
Turbocharger
Turbocharger enhances performance and engine efficiency, especially at high altitudes by packing more air in the cylinders for excellent combustion.
Jacket Water Aftercooler
Jacket water aftercooler cools combustion air from the turbocharger for more efficient combustion, reducing smoke and emissions.
Air Intake Heating
Air intake heating (optional on some configurations) eases cold starts.
Unit Injectors
Individual, high-pressure unit injectors atomize fuel efficiently for fast response, increased fuel economy with low emissions.
Fuel Pre-filter and Water Separator Element
Fuel pre-filter and water separator element combined with two high efficiency micron fuel filters, in series, ensure excellent fuel cleanliness, provide extended injector life fuel system durability and protection.
Camshaft Roller Followers
Camshaft roller followers reduce wear and frictional power losses for durability and fuel economy.
Pistons
Two-piece, articulated pistons with forged steel crown and forged aluminum skirt provide durability, lower engine sound levels, enhanced fuel efficiency with improved thermal and structural capability.
Crankshaft
Crankshaft is forged and induction hardened for long-term durability.
Engine Block
Deep skirt engine block design ensures rigidity and reduces vibration.
Engine Oil
Caterpillar engine oil is formulated to optimize engine life and performance and is strongly recommended for use in Cat diesel engines.
Factory Remanufactured Parts
A large choice of factory remanufactured parts and dealer proposed repair options increase machine availability and reduce total repair costs.
Power Train
The Cat power train makes dependable performance a standard feature.

Axles and Brakes
Heavy-duty axles and brakes are designed to last in all kinds of operating conditions.
Transmission
Power shift transmission with automatic shift capability is designed, developed and built by Caterpillar.
Easy Maintenance
Easy maintenance is designed into the transmission.
Optional Traction Control System
Optional Traction Control System is a state-of-the-art Caterpillar electronic system.
Optional Differentials
Optional limited-slip differentials and NoSPIN rear differentials are also available to deliver traction in low traction or inconsistent ground conditions.
Hydraulics
Well-balanced hydraulics deliver precise, low-effort control and trouble-free operation.

Matched Hydraulics
Pump flow, large-bore lift, and tilt cylinders ensure quick, efficient load handling.
Hydraulic Control
A pilot control valve enables the operator to move the control lever with minimum effort.
Hydraulic Oil
Caterpillar hydraulic oil offers maximum protection against mechanical and corrosive wear in all hydraulic systems.
Hoses and Couplings
Caterpillar XT hoses and couplings are uniquely designed and tested to work together as a system for superior performance.
Pressure Taps
Pressure taps allow quick diagnosis of the hydraulic system.
Sampling valves
Sampling valves provide easy access to hydraulic oil for SOS oil analysis.
Steering
Smooth, efficient steering. Load sensing steering maximizes machine performance by directing power through the steering system only when needed.
Automatic Ride Control
Automatic Ride Control. This optional Caterpillar system uses a nitrogen-oil accumulator in the hydraulic lift circuit that acts as a shock absorber.
Operator Station
Comfort and control -- top-quality operator station will help maximize productivity.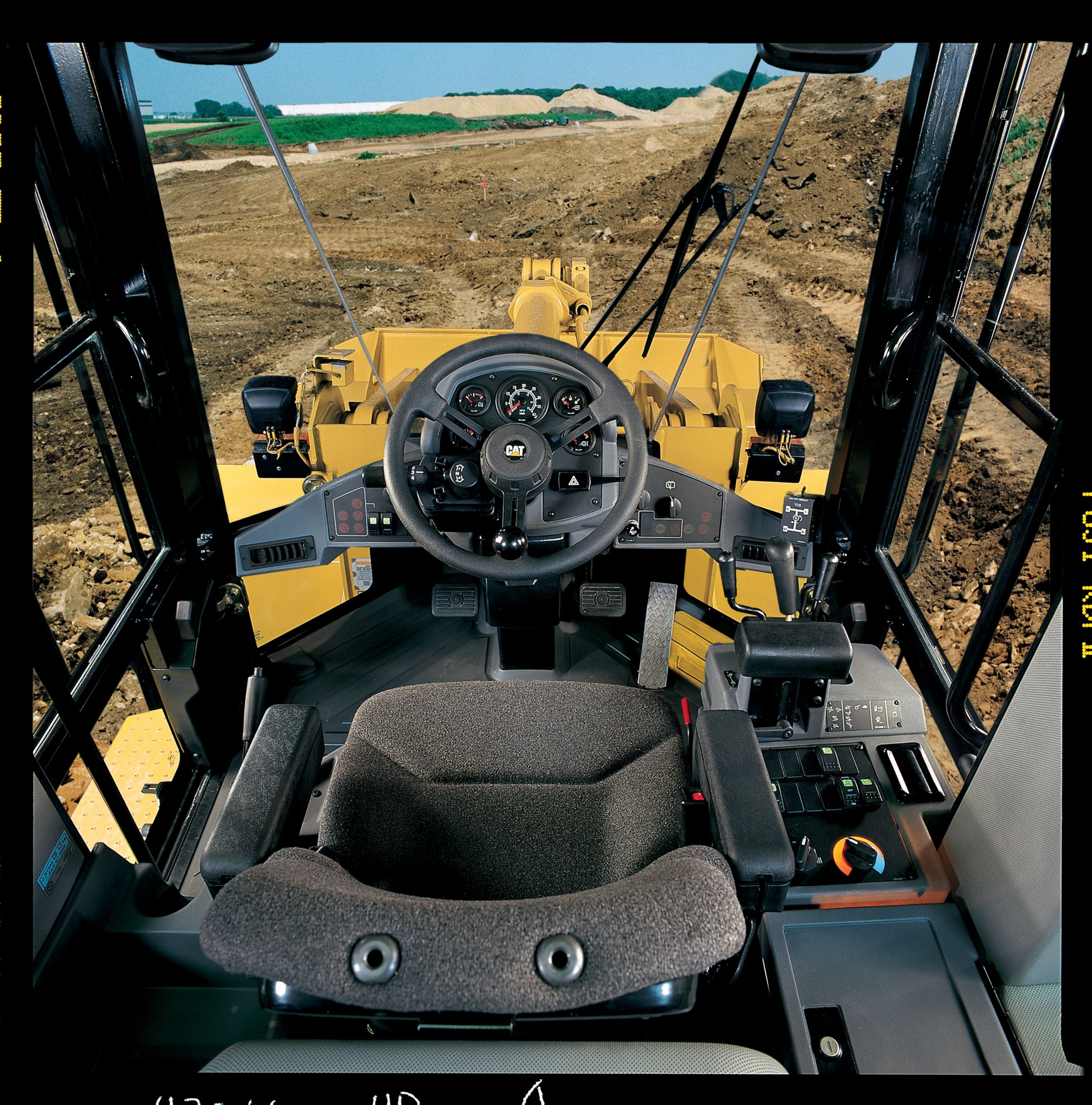 Access/Egress
Access/egress is through a new two-door design.
Windows
Larger windows improve the viewing area in all directions.
Automatic Shift Control
Automatic Shift Control allows the operator to concentrate on the work, not gear selection.
Gear Kickdown Button
Quick gear kickdown button lets the operator downshift easily to a lower gear, saving time, increasing bucket fill factors and lowering cycle times.
Bucket Controls
Pilot-assisted hydraulic bucket controls make low-effort operation possible.
Wrist Rest
Padded, adjustable wrist rest helps reduce fatigue.
Steering System
Load-sensing, steering system with flow amplification matches steering response to application requirements.
Steering Console and Gauges
Steering console and all the machine's primary gauges can be positioned infinitely within the tilt range by the operator.
Brake Pedals
Dual suspended brake pedals serve brake and transmission neutralizer functions (left pedal only for neutralizer) so the operator can maintain high engine rpm for full hydraulic flow.
Storage Space
Generous storage space for personal items.
Parking Brake
Parking brake
Warning Indicators
Warning indicators.
Ventilation
Improved ventilation for better air flow to the operator and windows.
Radio-ready
Radio-ready means this cab includes a 12-volt converter, speakers, antenna, all wiring and brackets for entertainment radio installation.
Seat Options
Seat options include the standard seat with adjustable fore/aft position, seatback angle, lumbar support, bottom cushion height, armrest angle and suspension stiffness.
Other Options
Other options are available for the 938G operator's station.
Third Valve Control
Third valve control for actuating the quick coupler pin to retain attachments, or for controlling the hydraulic flow when using powered attachments.
Ride Control Switch
Ride Control switch allows the selection of three different modes: Off, On and Auto.
Traction Control Indicator
Traction Control indicator.
Buckets and Ground Engaging Tools
A wide variety of buckets and Ground Engaging Tool combinations maximize performance in all spplications.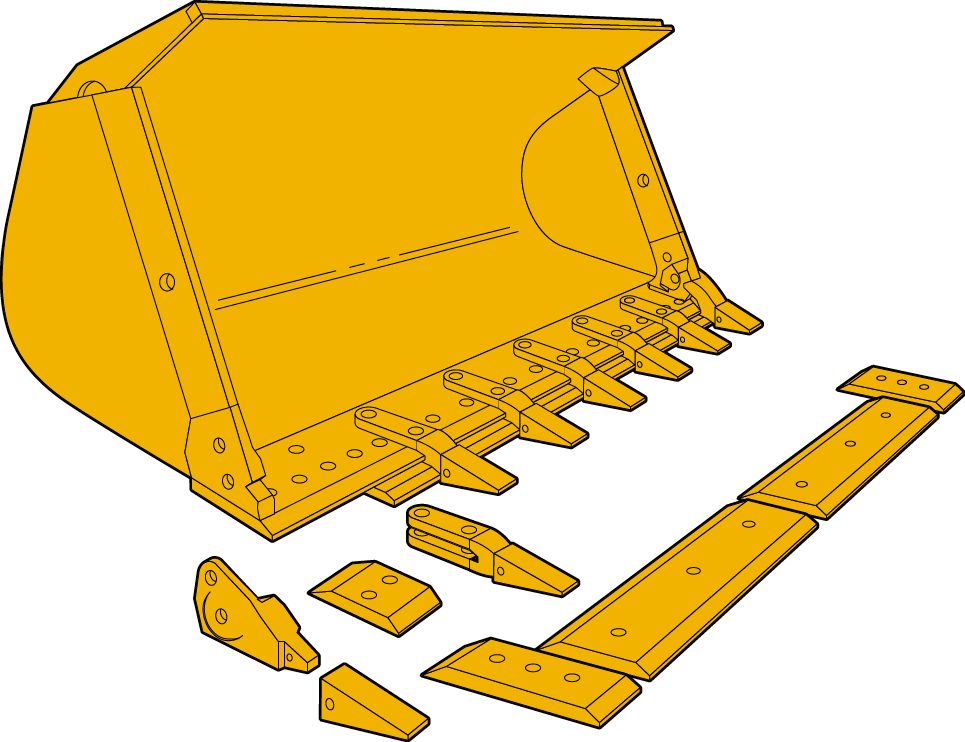 General Purpose Buckets
Nine combinations are designed for excellent loadability and extended life in a broad range of applications such as bank loading, excavating and stock pile loading.
Material Handling Buckets.
Material Handling Buckets. Nine combinations are designed with a flat floor for excellent performance, easier pile penetration, better fill factors and faster loading cycles in stock pile applications.
Ground Engaging Tool Options
Many Ground Engaging Tool (G.E.T.) options are available to help meet the special needs of each machine and application.
Retention Systems
Retention Systems. Two systems are now available -- standard and heavy-duty.
Attachments
Add versatility to the machine with a wide range of buckets and attachments designed for the 938G to optimize operation.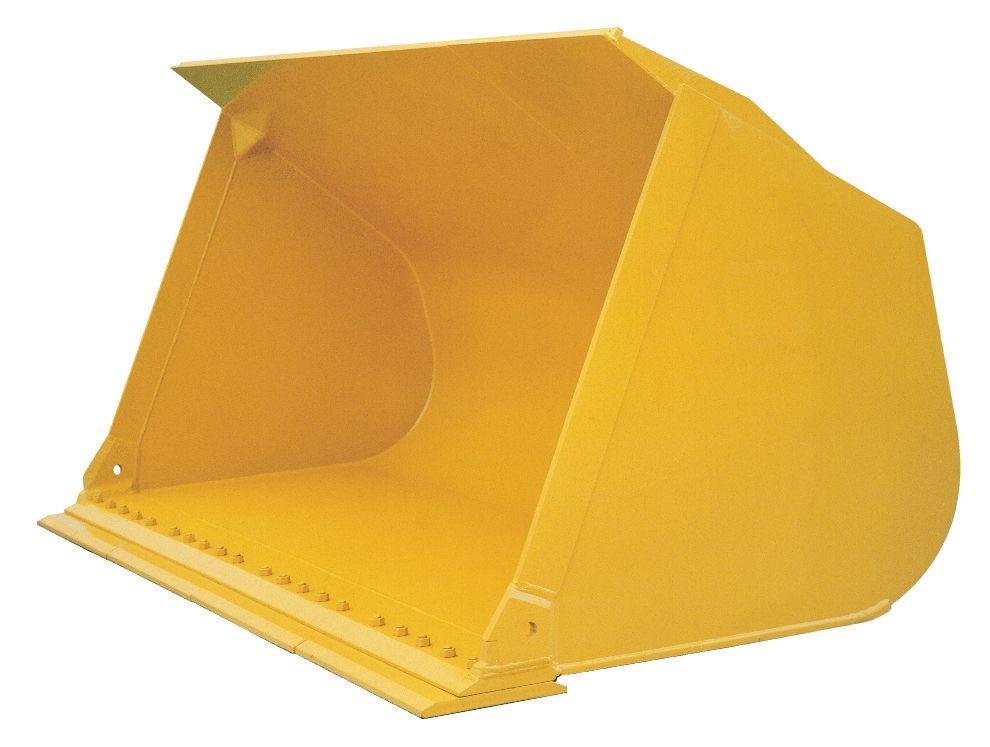 Quick Couplers
Quick Couplers provide unmatched versatility and allow one operator with one machine to perform a wide variety of tasks, resulting in greater machine performance and efficiency.
Buckets
Various buckets available.
Forks
Various forks available.
Angle Brooms
Hydraulic angle brooms offer a unique balanced suspension system which eliminates the need for supporting wheels.
Snow Plows
Snow plows, hydraulically reversible, angle left or right.
Material Handling Arms
Material handling arms, designed for use with the quick coupler, are constructed of tough rectangular tubing.
Other Attachments
Loader rakes, hooks, tire loaders, V-plows and reversible plows.
Serviceability
Keep machinery up and running with easy-to-perform daily maintenance.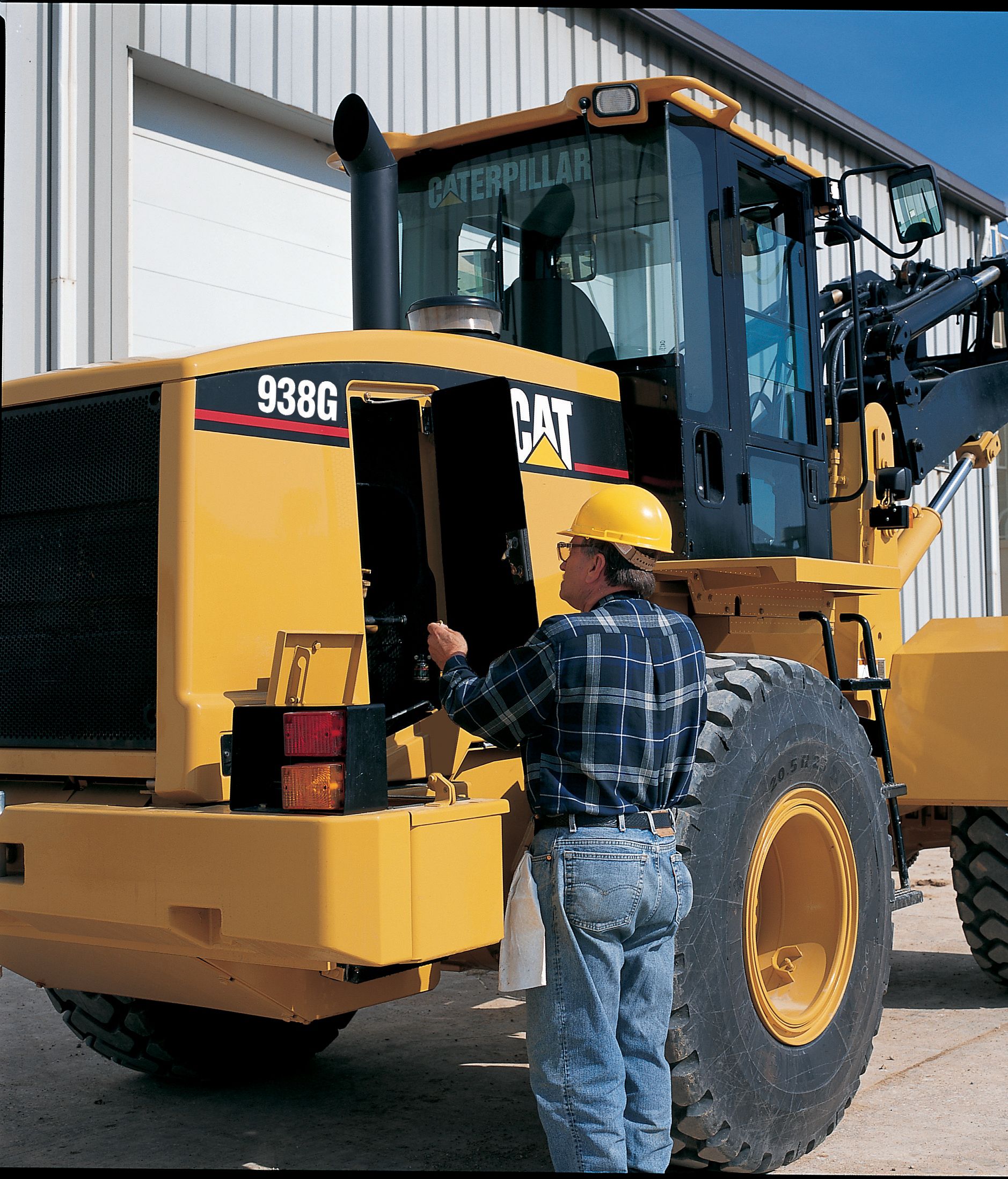 Maintenance
Maintenance has never been more accessible than on G-Series machines.
Hood
Sloped hood, electrically activated, tilts up for complete access to the engine, cooling system and other major components.
Sampling Valves
Sampling valves allow quick, clean access to engine, transmission and hydraulic oils and provide the most representative oil samples for analysis.
SOS Oil Analysis
SOS oil analysis enables scheduling of downtime for component repair or replacement before major problems occur.
Oil
Caterpillar engine, transmission and hydraulic oils deliver maximum performance and service life.
Factory Remanufactured Parts
A large choice of factory remanufactured parts and dealer proposed repair options increases machine availability and reduces repair cost.
Total Customer Service
Unmatched in the industry.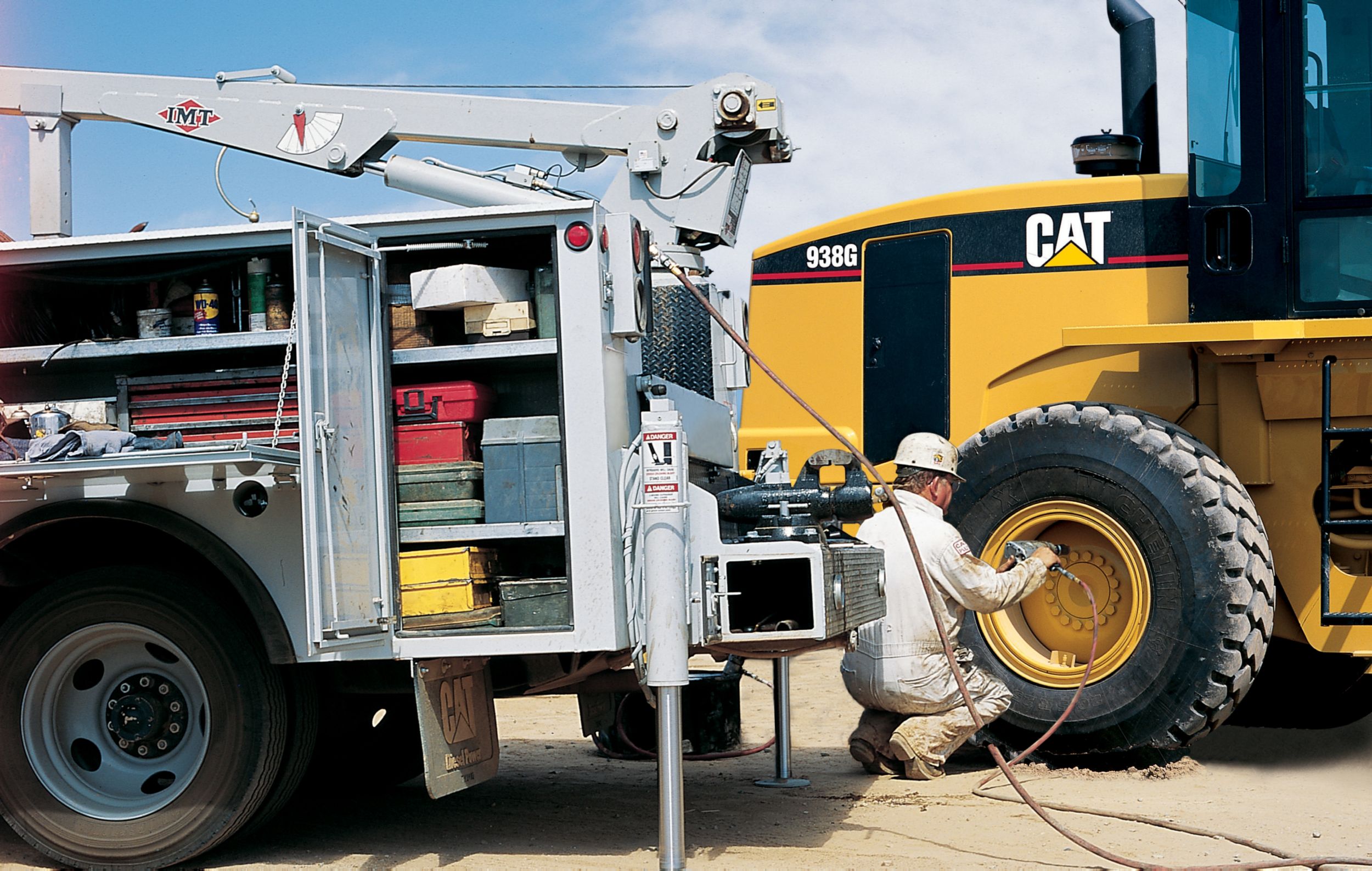 Customer Support Agreements
Cat Dealers offer a wide variety of product support agreements, and work with customers to develop a plan that best meets specific needs.
Selection
Make detailed comparisons of the machines under consideration before purchase.
Purchase
Look past initial price.
Operation
Improving operating techniques can boost profits.
Maintenance
More and more equipment buyers are planning for effective maintenance before buying equipment.
Replacement
Repair, rebuild or replace? Cat Dealers can help evaluate the cost involved so customers can make the right choice.
Product Support
Cat Dealers utilize a worldwide computer network to find in-stock parts to minimize downtime.
EQUIPMENT
Standard Equipment
Electrical
Alternator (50-amp)
Back-up alarm
Batteries (heavy duty, maintenance free, 950 CCA)
Electric starter (heavy duty)
Ignition key start/stop switch
Lighting system, Halogen (six total)
Main disconnect switch
Operator Environment
Cab, pressurized and sound suppressed, with rollover protective structure (ROPS)
Cigar lighter and ashtray
Coat hook
Cloth seat, KAB (adjustable backrest, armrest, lumbar support)
Dome light (cab)
Heater and defroster
Horn, electric (steering wheel mounted)
Implement lever lockout
Instrumentation
Lunch box and beverage holders
Radio-ready cab includes antenna, speakers and converter (12-volt, 5-amp)
Rearview mirrors (internal mount)
Seat belt, retractable, 76 mm (3 in) wide
Steering column, adjustable angle
Warning indicators (LED)
Windshield washers/wipers, wet-arm (front and rear), front intermittent
Power Train
Brakes, full hydraulic, enclosed wet-disc
Cat 3126 DITA engine, turbocharged and aftercooled
Driveline, extreme service
Fuel filters (primary and secondary)
Fuel priming pump
Fuel/water separator
Multi-row (six) modular radiator (IMRM)
Precleaner, engine air intake
Radiator cooling fan, hydraulically driven
Torque converter
Transmission, countershaft automatic power shift (4F/3R) with fully automatic speed range control and quick gear kickdown button
Transmission neutralizer lockout switch
Other Standard Equipment
Automatic bucket positioner
Automatic lift, kickout and return to work
Bottom guard
Counterweight
Drawbar hitch with pin
Extended Life Coolant antifreeze
Fenders, front and rear
Hydraulic diagnosis connectors
Indicators
Loader linkage, sealed Z-bar design
Oil sampling valves for engine, transmission and hydraulic system
Pilot hydraulic controls
Steering, load-sensing hydraulic
Tilting hood, non-metallic, one-piece
Vandalism protection caplocks
Optional Equipment
Air conditioning
Auxiliary lighting package
Axle oil cooler
Buckets
Cab removed, ROPS remains
Differentials
NoSPIN (rear only)
Limited slip (front and/or rear)
Guard, power train
Hydraulic oil cooling package
Lighting system, warning (rotating beacon)
Mirrors, outside mounted
Payload Control System
Radio, AM/FM cassette in fixed mounting or quick-release versions
Ride Control System
Roll-down sun screen (rear window)
Seat, air suspension
Signal lights, directional
Speedometer
Starting aids
Air intake heater
Engine coolant heater, 120-volt
Ether starting aid
Receptacle, 120-volt, 220-volt
Steering, supplemental
Sun visor
Traction Control System
Voltage converter, 5-amp, 15-25 amp
CONNECT. DISCUSS. SOLVE.
CATERPILLAR EQUIPMENT MAINTENANCE ONLINE COMMUNITY
HOW CAN WE HELP?
SHARE YOUR FEEDBACK OR ASK A QUESTION