904H
The Cat 904H Compact Wheel Loader delivers high performance with outstanding versatility. Spacious cab with joystick control keeps you comfortable throughout the work day, allowing you to get more done. Loader design delivers strength and durability with superior control. Do more with one machine with the skid steer loader style coupler. This coupler allows the use of Cat Skid Steer and Multi Terrain Loader hydromechanical Work Tools on the Cat Compact Wheel Loader for greater machine versatility. Expand your business with the new 904H.
SPECIFICATIONS
Engine
Weights
Operating Specifications
Rated Bucket Capacity
0.8 yd3
Rated Operating Load @ Full Turn, Forks (EN 474-3:2006, Firm and Level Ground, 500 mm [20 in] Load Center) (80% of FTSTL)
3527 lb
Rated Operating Load @ Full Turn, Bucket
2756 lb
Rated Operating Load @ Full Turn, Forks (EN 474-3:2006, Rough Terrain, 500 mm [20 in] Load Center) (60% of FTSTL)
2646 lb
Straight Tipping Load, Bucket
6614 lb
Full Turn Static Tipping Load, Bucket
5511 lb
Rackback, Transport Position
49 Degrees
Engine Dimensions
Buckets
Bucket Capacities
0.6 m3 - 1.0 m3 0.8 yd3 - 1.3 yd3
Transmission
Cab
ROPS
SAE J1040 MAY94, ISO 3471:1994
FOPS
SAE J/ISO 3449 APR98 Level I and II; ISO 3449:1994 Level I and II
Hydraulic System
3rd valve flow
22 gal/min
Hydraulic Cycle Time - Lift
4.5 seconds
Hydraulic Cycle Time - Dump
0.8 seconds
Hydraulic Cycle Time - Lower, Float
3.2 seconds
Service Refill Capacities
BENEFITS & FEATURES
Operator Station
Superior comfort keeps you productive, all day long.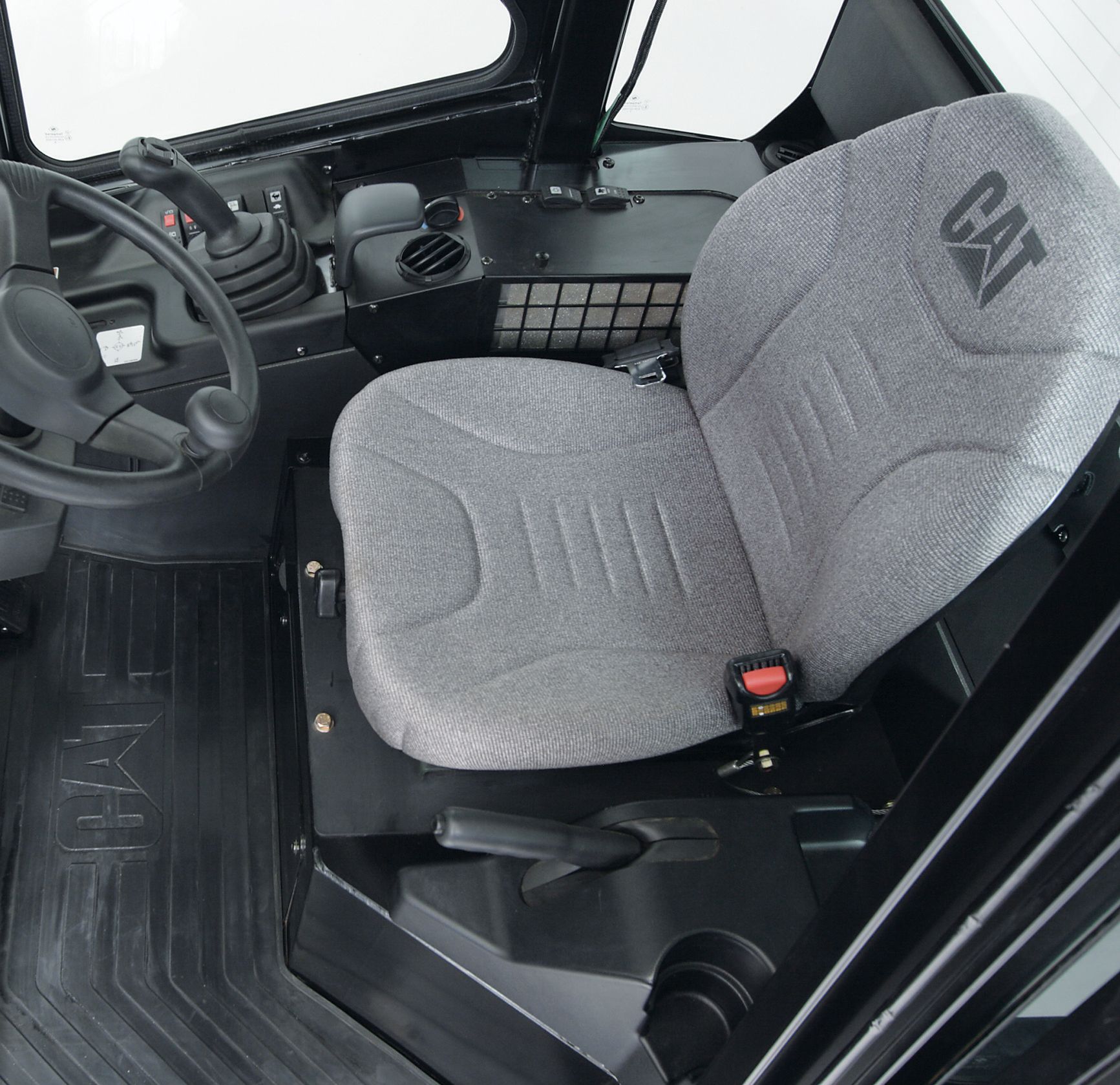 Cab Comfort
Spacious, comfortable cab with increased floor space helps you stay productive. Canopy, cab with heat or cab with heat and air conditioning are available. All cabs are pre-wired, making it easy to install future options. A backlit LED display provides system information and is conveniently located in the operator's line of sight. Right side window opens fully for better ventilation or communication with workers.
Low Effort Controls
Pilot hydraulics for implement control and use with Cat Work Tools keep operator fatigue low. No linkage to adjust or wear ensures consistent control over the life of the machine. The multi functional joystick contains a 3-position Forward/Neutral/Reverse switch, an easy to control third function auxiliary hydraulics switch, and (when equipped) optional bucket positioner (return to dig) switch.
Excellent Visibility
The loader arms have been designed with visibility to the work tool in mind. Wide cab glass area and sloping rear hood provide both a 360 degree panorama and visibility within a few feet of the machine. This makes for safer operation and reduces machine damage caused by collision with unseen obstacles.
Power Train
Designed for power, durability and performance.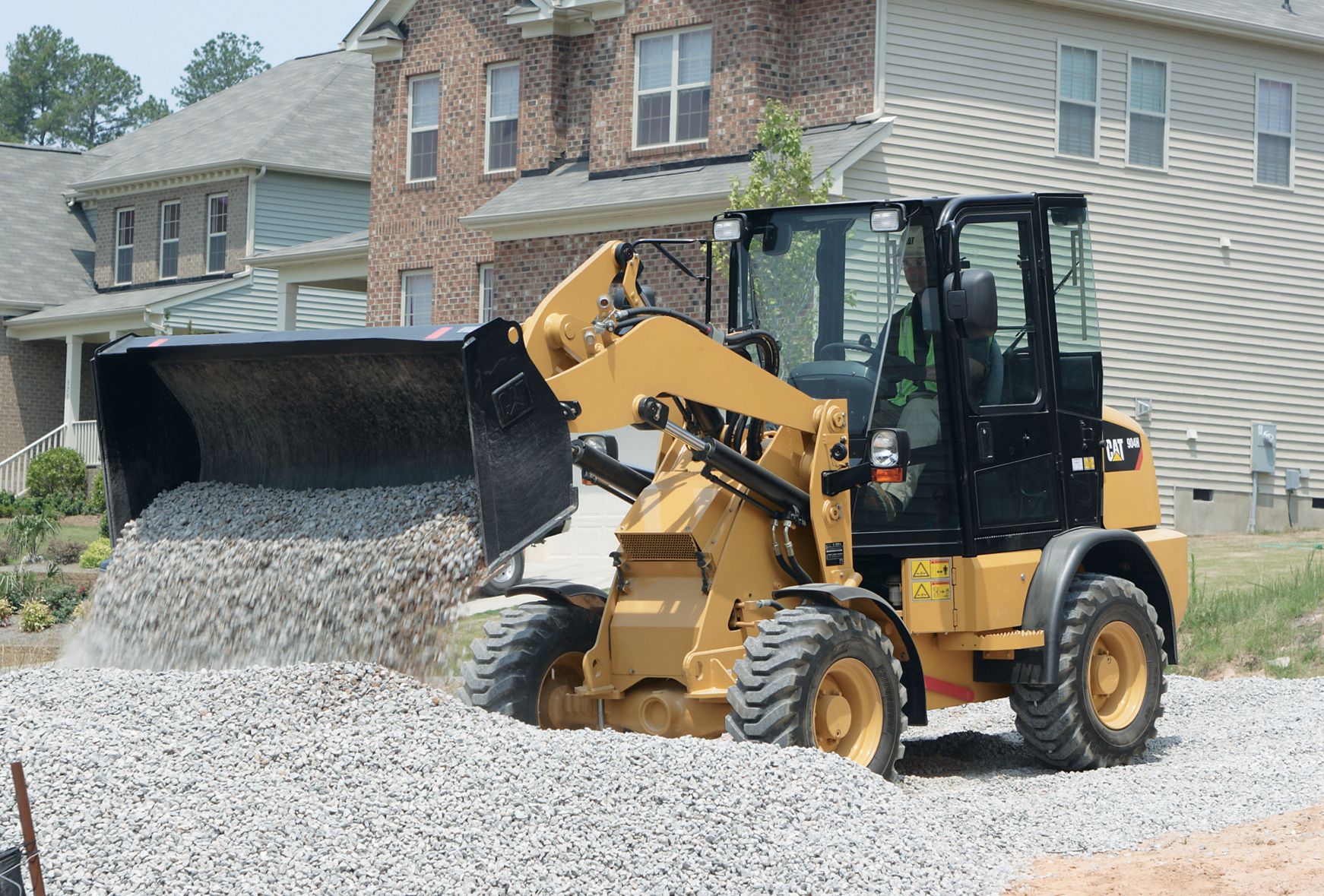 Engine
The MHI S4Q2 Turbo engine meets EPA Interim Tier 4 emissions requirements and delivers superior power to help you get more done.
Chassis
Rear axle oscillation helps assure four wheel ground contact for optimum traction and stability. Heavy duty axles with outboard planetary reduction gears are built for durable performance. Optional differential lock is available in the front axle only or both axles and can be easily engaged by a foot switch to the left of the steering column to increase tractive effort in poor underfoot conditions.
Power Train
Two-speed closed loop hydrostatic transmission delivers smooth transition from full rimpull to runout. Precise inching control and smooth acceleration and deceleration minimize operator fatigue. Optional speed (creeper) control and hand throttle are also offered.
Ride Control
The optional Ride Control System further enhances the already smooth road handling of the machine, resulting in increased operator comfort and higher productivity. It is suited for extreme applications where operators need to maintain bucket material load or carry a heavy work tool and have a smooth ride.
Linkage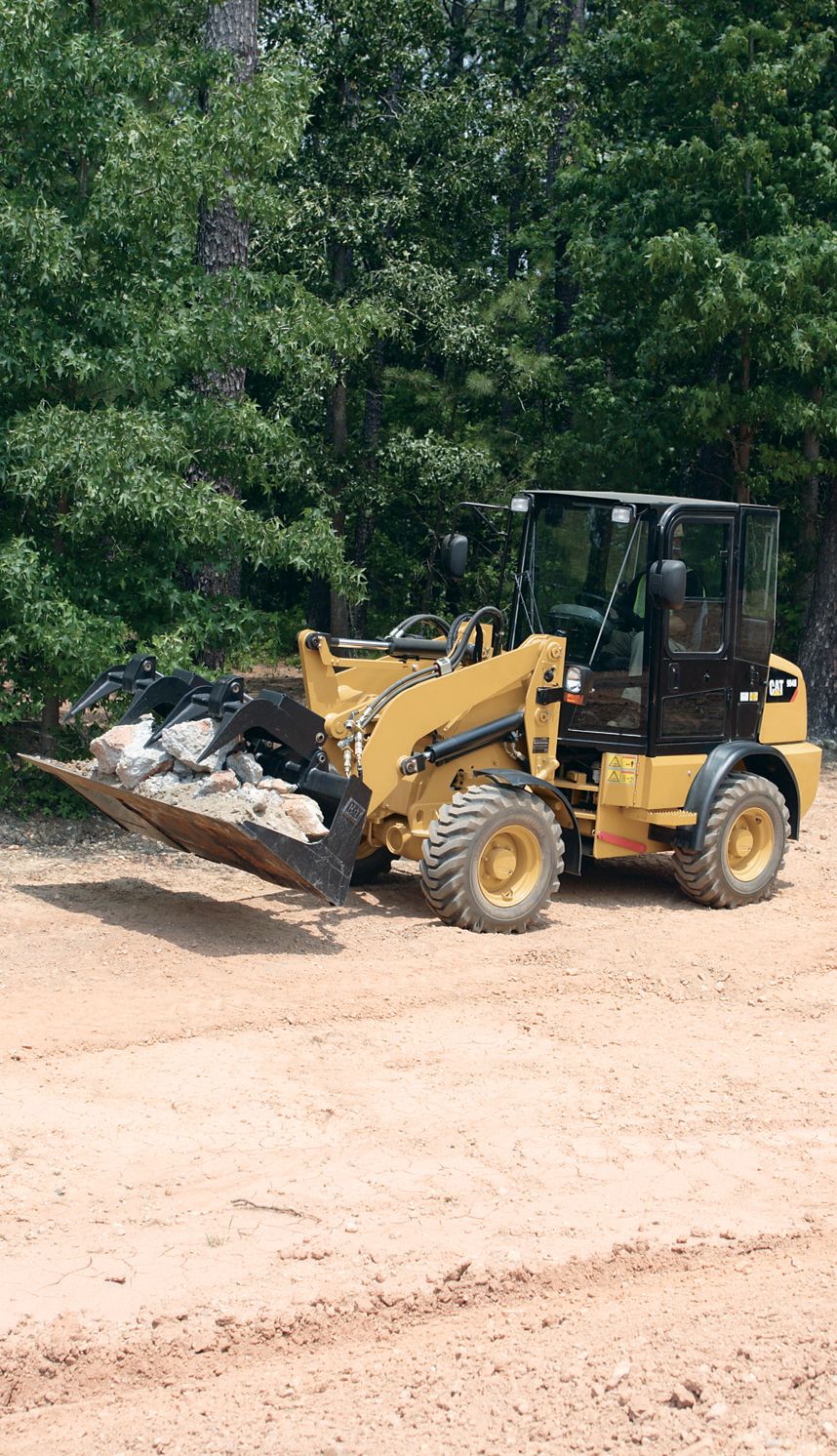 Z-Bar Design
The high performance Z-bar loader design is built for strength, visibility and versatile attachment usage. The Z-bar linkage gives the operator a clear view to the work tool and excellent dump clearance while maintaining good cycle times.
Work Tools
Do more jobs with one machine with Cat Work Tools.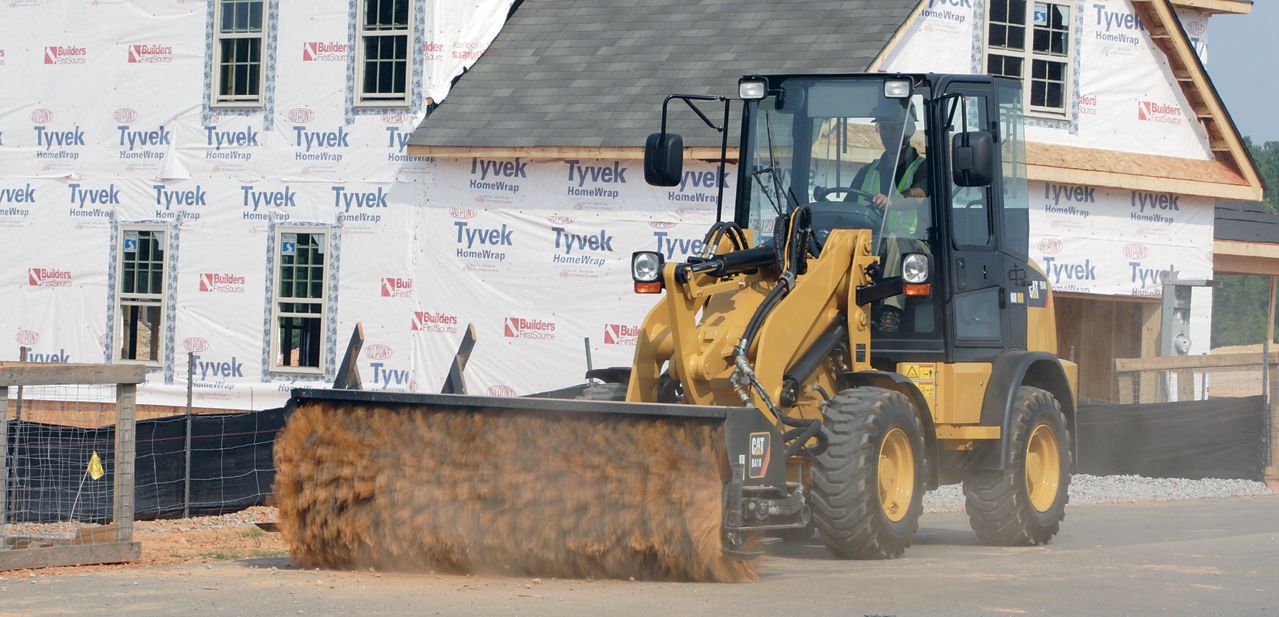 The Right Tool for the Job
Increase the machine's versatility with the wide range of Cat buckets, forks and hydraulically powered work tools. Work tools can be changed quickly and easily with the machine's quick coupler system. Available work tools include:
Buckets and Forks
Augers
Blades (Angle/Dozer)
Brooms
Cold Planers
Grapple Buckets, Forks and Rakes
Landscape Rakes and Tillers
Material Handling Arm
Power Box Rakes
Snow Blowers
Stump Grinders
Trenchers
Vibratory Compactors
Consult your Cat dealer for a complete list.
Skid Steer Loader Style Coupler
The universal skid steer loader style coupler allows the use of many Cat Skid Steer, Multi Terrain and Compact Track Loader hydromechanical work tools. Standard flow auxiliary lines and connectors are optional equipment.
Additional Options to Increase Productivity
The following options further increase your productivity:
Return to dig work tool positioner automatically returns the bucket to level position after dumping.
Auxiliary hydraulic lines and fittings for a 3rd hydraulic function when more than general bucket and fork work is required, such as a broom.
Work tool wiring harness for fourth hydraulic function such as broom angling.
Speed control (creeper) provides variable control of ground speed while maintaining optimal hydromechanical work tool speed.
Hand throttle control provides infinitely variable means of fixing engine speed, ideal for steady operation of hydromechanical work tools.
Serviceability
Easy access and minimal maintenance requirements reduce downtime.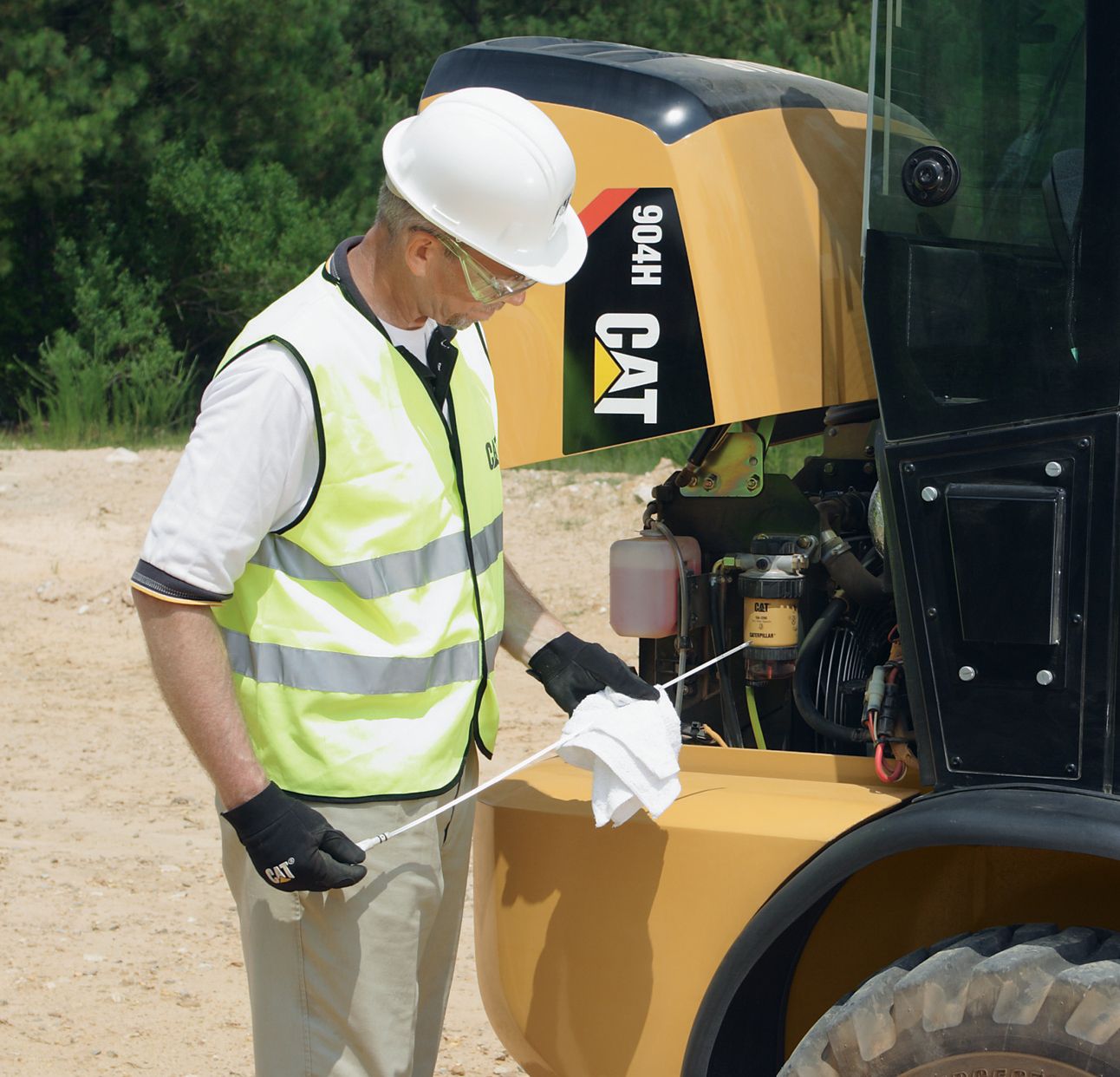 Convenient Service Features
Easy to lift engine hood provides easy access to all major components and service points from ground level.
S•O•S valve is conveniently located in the engine bay for analyzing hydraulic system cleanliness and pressure taps for service analysis, prolonging machine life.
Two stage air cleaner with primary and secondary element and a visual restriction indicator improves service life.
Auxiliary fuses, relays and other electrical service points are all located together behind a locked door for ease of servicing.
Spin-on engine and hydraulic oil filters and fuel filter with water separator are vertically mounted for easier servicing.
Heavy-duty wiring increases electrical durability and is multicolored to ease diagnosis and fault finding. Water resistant sealed connectors prevent dust and moisture from interfering with the electronics.
Wheels and tires are mounted on studs rather than secured with bolts for easier wheel removal/installation.
Customer Support
Support you can count on.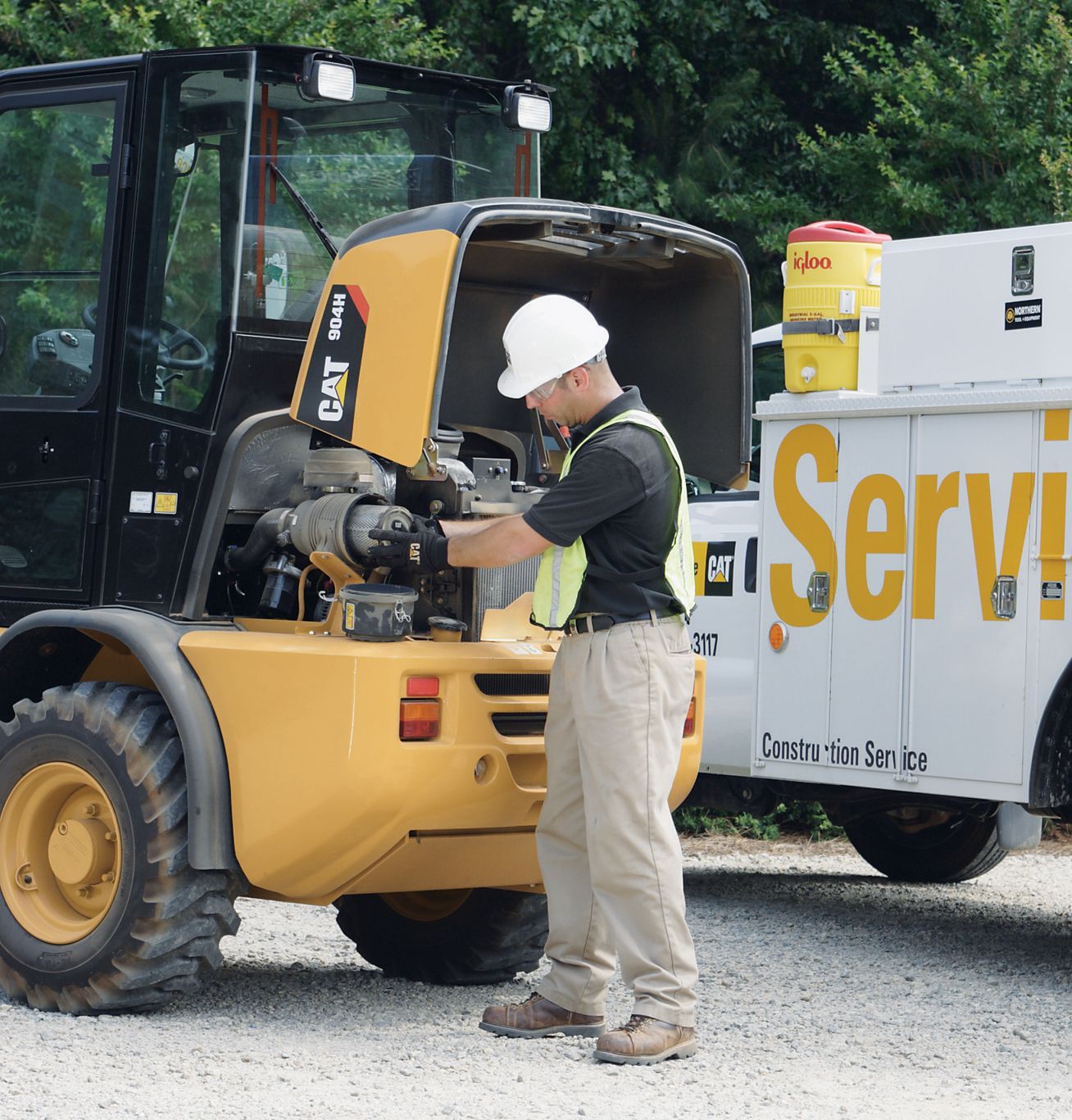 Superior Dealer Service
Your Cat dealer is ready to assist you with your purchase decision and everything after.
Make comparisons of machines, with estimates of component life, preventative maintenance and cost of production.
Financing packages are flexible to meet your needs.
Your Cat dealer can evaluate the cost to repair, rebuild and replace your machine, so you can make the right choice.
For more information on Cat products, dealer services and industry solutions, visit us at www.cat.com.
EQUIPMENT
Standard Equipment
TRANSMISSION
Transmission, 20 km/h (12.4 mph) with standard axles
Transmission inching function
Hydrostatic drive
LOADER
Skid steer loader quick coupler
Loader arm float function
Connect under pressure hydraulic quick connector
ENGINE
MHI S4Q2-T Interim Tier 4 emissions compliant
Two stage air cleaner with visual indicator
Cat Extended Life Coolant
Lockable engine compartments
Easy quick release fuel filter/water separator
Engine oil drain valve
ELECTRICAL
Battery, maintenance free, 650 CCA
Engine cold starter aid
Alternator, 90 amp
Roading lights
Back up alarm
GENERAL
Pressure test points
Recovery hitch pin ready
S•O•S ports
Fuel filler cap
OPERATOR ENVIRONMENT
Multifunction joystick with direction control
Auxiliary control switch
Warning indicators for major systems
Wiper/washer front and rear (cab only)
Easy clean cab floor
Left side door (cab only)
Personal storage
Cup holder
Heated rear window
ROPS & FOPS
Wrist rest
Seat belt, 50 mm (2 in), retractable
Cabin light
Auxiliary power sockets
Coat hook
Heater with window, side, feet and defrost vents
Sound suppression
Steering column, fixed
Heavy duty floor mat
Seat, static, vinyl
Left sliding window (cab only)
Storage tray
Internal mirror
Optional Equipment
TRANSMISSION
Creeper control
Hand throttle
Ride control
100% Differential Lock on both axles
LOADER
Proportional auxiliary hydraulic circuit
Return to dig work tool positioner
ENGINE
Engine block heater, 120V
Cat extended life coolant, protects to -50° C (-58­° F)
Turbine style precleaner
ELECTRICAL
Rotating beacon
Work tool wiring harness
Working lights, two front and two rear
Battery, heavy duty, 880 CCA
GENERAL
Tire options including Flexport and flotation tires
Recovery hitch pin
Guard, overhead, FOPS II rating
WORK TOOLS
For all work tool options, consult your Cat dealer
OPERATOR ENVIRONMENT
Air conditioning
Canopy
Cab, Comfort
Proportional auxiliary control
External mirrors (2)
Seat belt, 75 mm (3 in), retractable
Seat, adjustable suspension, vinyl
Seat, adjustable suspension, cloth
Radio ready kit including speakers (cab only)
Sun visor
CONNECT. DISCUSS. SOLVE.
CATERPILLAR EQUIPMENT MAINTENANCE ONLINE COMMUNITY
HOW CAN WE HELP?
SHARE YOUR FEEDBACK OR ASK A QUESTION