R2900G XTRA
Compact design, high engine power, higher torque rise, stronger components and excellent maneuverability ensures the R2900G XTRA is a solid and agile performer.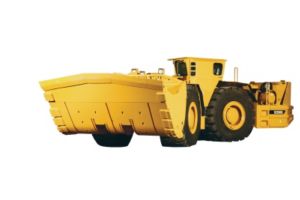 DETAILS
SPECIFICATIONS
Engine
Engine Model
Cat® C15 ACERT™
Gross Power – SAE J1995
430.0 hp
Net Power – SAE J1349
389.0 hp
Net Power – ISO 9249
386.0 hp
Net Power – 80/1269/EEC
430.0 hp
Operating Specifications
Nominal Payload Capacity
44092.0 lb
Gross Machine Operating Weight
166614.0 lb
Nominal Payload Capacity – Tramming
44092.0 lb
Static Tipping Load Straight Ahead Lift Arms Horizontal
105306.0 lb
Static Tipping Load Full Turn Lift Arms Horizontal
89225.0 lb
Breakout Force (SAE)
60298.0 lb
Weights
Bucket Capacities
Bucket Capacity - Std.
11.6 yd3
Bucket Width (Over cutting edge)
132.0 in
Bucket Capacity - Optional
13.7 yd3
Bucket Capacity - Optional
15.2 yd3
Hydraulic Cycle Time
Lower, Empty, Float Down
3.1 Seconds
Total Cycle Time
15.7 Seconds
Turning Dimensions
Outside Clearance Radius
295.7 in
Inner Clearance Radius
129.5 in
Axle Oscillation
8.0 Degrees
Articulation Angle
42.5 Degrees
Transmission
Tires
Standards
Brakes
ISO3450, AS2958.1, CAN-CSA424.30-M90
Dimensions
Overall Tire Width
126.0 in
Tunnel Clearance Width
196.9 in
Height to Top of ROPS
117.6 in
Height to Top of Hood
93.4 in
Overall Height - Bucket Raised
245.5 in
Bucket Pin Height at Max Lift
178.8 in
Dump Clearance at Max Lift
213.8 in
Overall Length (Tramming)
436.4 in
Dump Angle at Max Lift
42.0 Degrees
Centerline of Front Axle to Centerline of Hitch
74.4 in
Centerline of Back Axle to Centerline of Hitch
74.4 in
Length - Rear Axle to Bumper
140.6 in
Overall Length (Digging)
453.7 in
Tunnel Clearance Height
177.2 in.
Service Refill Capacities
Front Differential and Final Drives (with Axle Oil Cooler)
159.0 gal
Rear Differential and Final Drives (with Axle Oil Cooler)
167.0 gal
Secondary Fuel Tank (If Equipped)
150.8 gal
Engine Crankcase with Filter
9.0 gal
Front Differential and Final Drives
31.4 gal
Rear Differential and Final Drives
33.5 gal
BENEFITS & FEATURES
Power Train - Engine
The Cat 3406E diesel engine delivers the power and reliability necessary to perform in the most demanding underground mining applications.
Engine
The six cylinder, four-stroke, turbocharged Cat 3406E EUI ATAAC diesel engine is precisely engineered and stringently tested to maintain a tradition of quality. It does it all with profit-boosting performance, heavy duty durability and reliability, built-in serviceability, excellent fuel economy and low emission levels.
High Torque Rise
Provides unequalled lugging force while digging, tramming and traversing steep grades. Torque rise effectively matches transmission shift points for maximum efficiency and fast cycle times.
Electronic Control Module (ECM)
ECM utilizes advanced engine management software to monitor, control and protect the engine utilizing self-diagnosing electronic sensors. The computerized system senses operating conditions and power requirements and adjusts engine for peak performance and most efficient operation at all times.
Turbocharged and Aftercooled
Air-to-air aftercooling provides improved fuel economy by packing cooler, denser air into cylinders for more complete combustion of fuel and lower emissions. The turbocharger enhances performance and efficiency.
Electronic Unit Injection
The electronically controlled unit injection fuel system senses operating conditions and regulates fuel delivery for optimum fuel efficiency. The proven high-pressure fuel system provides improved response times and more efficient fuel burn with lower emissions and less smoke.
Pistons
Oil cooled pistons increase heat dissipation and promote longer piston life.
Cylinder Liners
Full-length water-cooled cylinder liners provide maximum heat transfer.
Crankshaft
The crankshaft is forged and induction hardened for long-term durability.
Radiator
Modular radiator with swing-out grill provides easy access for cleaning or repair. Built in sight gauge allows for quick, safe coolant level checks.
Power Train - Transmission
Designed for durability, the Cat power shift transmission delivers smooth, responsive performance and reliability in tough conditions.
Power Shift Transmission
The Cat four-speed planetary power shift transmission is matched with the 3406E diesel engine to deliver constant power over a wide range of operating speeds.
Final Drives
Cat final drives work as a system with the planetary power shift transmission to deliver maximum power to the ground. Built to withstand the forces of high torque and impact loads, double reduction final drives provide high torque multiplication to further reduce drive train stress.
Axles
Heavy duty axles are built rugged for long-life in the most demanding environments.
Brakes
Fully enclosed oil immersed disc brakes incorporate independent service and parking brake pistons. Hydraulic actuated independent circuits provide improved performance and reliability.
Electronic Technician
ET service tool provides service technicians with easy access to stored diagnostic data through Cat Data Link to simplify problem diagnosis and increase availability.
Hydraulics
Cat hydraulics deliver the power and control to keep material moving.
Hydraulic System
Powerful Cat hydraulics deliver exceptional digging and lifting forces and fast cycle times.
Lift and Tilt System
High hydraulic flow rates provide fast hydraulic cylinder response and powerful lift forces. Large-bore lift and tilt cylinder delivers exceptional strength, performance and durability.
Pilot Controls
Low effort, pilot operated joystick implement control with simultaneous lift and tilt functions optimizes operating efficiency. Optional circuit controls enable ejector bucket to be controlled from switch on joystick.
Steering System
STIC™ control system integrates steering and transmission into a single controller for maximum responsiveness and smooth control.
Optional Ride Control
Automatic Ride Control enhances machine ride and performance at speeds above 5 km/h (3 mph).
Cat Hydraulic Hose
Field proven Cat high pressure XT hydraulic hoses is exceptionally strong and flexible for maximum system reliability and long life in the most demanding conditions. Reusable couplings with O-ring face seals provide superior, leak free performance and prolong hose assembly life.
Structures
Designed for maximum strength and durability in the harshest operating environments.
Frame Design
The frame features robust structural components for outstanding durability in the toughest loading conditions. Caterpillar integrates advanced processes in the design and manufacture of Cat frames and structures. Computer modeling and Finite Element Analysis (FEA) are used extensively throughout design.
Z-Bar Loader Linkage
Proven Z-Bar loader linkage geometry generates powerful breakout force and an increased rack back angle for better bucket loading and material retention.
Sealed Pins
Sealed colleted pins are fitted to all bucket and lift arm hinge points for longer pin and bushing life. This reduces maintenance costs and extends service intervals. The sealed joints retain lubrication and prevent contaminant entry.
Hitch
Spread hitch design widens the distance between upper and lower hitch plates to distribute forces and increase bearing life. Thicker hitch plates reduce deflection. The wide opening provides easy service access. Upper and lower hitch pins pivot on roller bearings to distribute horizontal and vertical loads over a greater surface area. Shim adjusted preload reduces maintenance time. An on-board steering frame lock pin is fitted to prevent articulation during maintenance and service.
Operator Station
Setting a new industry standard for comfort and efficiency.
Ergonomic Layout
The R2900G XTRA operator station is ergonomically designed for total machine control in a comfortable, productive and safe environment. All controls, levers switches and gauges are positioned to maximize productivity and minimize operator error.
Pilot Controls
Low-effort pilot operated joystick controls integrate steering, transmission and implement functions for smoother, faster cycles with less operator fatigue.
Dual-Pedal Braking
Dual brake pedals function as a brake and a transmission neutralizer so the operator can maintain high engine rpm for full hydraulic flow and fast cycle times.
Protective Structure
Integral to the cab and frame, the Rollover Protective Structure (ROPS) is resiliently mounted to the frame to isolate the operator from vibration for a more comfortable ride.
Optional Enclosed Cab
Optional sound-suppressed ROPS cab provides a quiet, secure working environment. Large window openings offer excellent visibility in all directions. Enclosed design provides fresh, pressurized, temperature-controlled air circulation with air-conditioned comfort and a more comfortable working environment. The system uses environmentally friendly R134a refrigerant.
Optional Ride Control
The system uses a nitrogen filled oil accumulator in the hydraulic lift circuit to act as a shock absorber for the bucket and lift arms. The lift arm and bucket response to movement is dampened over rough ground, reducing fore and aft pitch, improving cycle times and load retention. A smoother, more comfortable ride gives operators the confidence to travel at higher speeds during load and carry applications.
Suspension Seat
Suspension seat provides optimal driving position and enhances operator comfort, all shift long.
Monitoring System
Caterpillar Monitoring System (CMS) continuously provides critical machine data to keep the machine performing at top production levels. A warning system alerts the operator of immediate or impending problems with engine oil pressure, parking brake engagement, brake oil pressure, electrical system, low fuel, hydraulic oil temperature, coolant level/temperature, transmission oil temperature and impending brake application (optional).
Gauges - display engine coolant temperature, transmission oil temperature, hydraulic oil temperature, and fuel tank level.
Tachometer/speedometer - displays engine speed, ground speed, gear indicator, and machine direction.
Digital Display - "Normal" mode displays choice of hour meter, odometer or digital tachometer. "Service" mode displays operating parameters, diagnostic codes and out-of-range gauge readings.
Buckets
Cat buckets provide the flexibility to match the machine to the material and conditions.
Buckets
Aggressive Cat bucket designs deliver unmatched productivity in the most demanding applications. Underground mining buckets are designed for optimal loadability and structural reliability to help lower your cost-per-ton.
Bucket Selection
Cat underground loader buckets are available in two styles to meet a range of loading, hauling and dumping conditions.
Dump buckets
Ejector buckets
Bucket Capacities
Buckets are available in a range of sizes and capacities to suit most material types and densities.
Wear Packages
Weld-on wear plates in high wear areas are standard. Additional wear packages, including sacrificial wear strips and Cat heal shrouds protect the edges from damage and reduce the need for costly bucket rebuilds.
Cutting Edges
Cat half arrow and cast half arrow cutting edges extend bucket life in high wear applications.
Serviceability
Less time spent on maintenance means more time being productive.
Service Access
Easy access to daily service points simplifies servicing and reduces time spent on regular maintenance procedures.
Ground-Level Access
Allows convenient servicing to all tanks, filters, lubrication points and compartment drains.
Air Filters
Radial seal air filters are easy to change, reducing time required for air filter maintenance.
Sight Gauges
Makes fluid levels checks quick and easy.
Diagnostics
Electronic Technician (ET) Service Tool enables quick electronic diagnosis of machine performance and key diagnostic data for effective maintenance and repairs.
Sealed Electrical Connectors
Electrical connectors are sealed to lock out dust and moisture. Harnesses are braided for protection. Wires are color and number coded for easy diagnosis and repair.
Customer Support
Caterpillar dealers have what it takes to keep your underground mining loader productive.
Machine Selection
Make detailed comparisons of the machines under consideration before purchase. Cat dealers can estimate component life, preventive maintenance cost, and the true cost of lost production.
Purchase
Look past initial price. Consider the financing options available, as well as day-to-day operating costs. This is also the time to look at dealer services that can be included in the cost of the machine to lower equipment owning and operating costs over the long run.
Financing
Your dealer is an expert at arranging affordable financing options for all Caterpillar products.
Product Support
You will find nearly all parts at your dealer parts counter. Cat dealers use a worldwide computer network to locate in-stock parts to minimize machine downtime. Save money with Cat Reman parts. Receive the same warranty and reliability as new products at a savings of 40 to 70 percent.
Litature Support
Operation and maintenance manuals are easy to use, helping you get the full value of your equipment investment.
Customer Service Agreements
Cat dealers offer a variety of product support agreements, and work with customers to develop a plan that meets specific needs. Plans can cover the entire machine, including attachments, to help protect your investments.
Customer Service Agreements
Cat dealers offer a variety of product support agreements, and work with customers to develop a plan that meets specific needs. Plans can cover the entire machine, including attachments, to help protect your investments.
Operation
Improving operating techniques can boost your profits. Your Cat dealer has training videotapes, literature and other ideas to help you increase productivity.
Replacement
Repair, rebuild or replace? Your Cat dealer can help you evaluate the cost involved so you can make the right choice.
Technology Products
Cat dealers offer a range of advanced mining technology products for customers, dealers and operators designed to improve fleet efficiency, increase productivity and lower costs.
www.CAT.com
For more complete information on Cat products, dealer services, and industry solutions, visit us on the web at www.CAT.com.
CONNECT. DISCUSS. SOLVE.
CATERPILLAR EQUIPMENT MAINTENANCE ONLINE COMMUNITY
HOW CAN WE HELP?
SHARE YOUR FEEDBACK OR ASK A QUESTION