AD55
The AD55 underground articulated truck is designed for high production, low cost-per-ton hauling in large underground mining applications. Rugged construction and easy maintenance guarantee long life with low operating costs. Expanded application range delivers increased performance.
DETAILS
SPECIFICATIONS
Engine
Engine Model
Cat® C18 ATAAC
Gross Power - SAE J1995
650.0 hp
Net Power - SAE J1349
617.0 hp
Net Power - ISO 9249
617.0 hp
Net Power - 80/1269/EEC
617.0 hp
Operating Specifications
Gross Machine Operating Weight
224871.0 lb
Nominal Payload Capacity
121254.0 lb
Body Capacities
Weights
Weight Distribution
Body Hoist
Total Cycle Time
36.0 Seconds
Turning Dimensions
Outside Clearance Radius
389.2 in
Axle Oscillation
10.0 Degrees
Articulation Angle
42.5 Degrees
Transmission
Tires
Standards
Brakes
ISO3450, AS2958.1, CAN-CSA424.30-M90
Cab/FOPS
ISO3449, SAEJ231, AS2294.3, EN13627
Cab/ROPS
ISO3471, SAEJ1040, AS2294.2, EN13510
Dimensions
Tunnel Clearance Width
196.9 in
Tunnel Clearance Height
196.9 in
Height to Top of Load (2:1)
151.5 in
Overall Height - Body Raised
274.4 in
Height to Top of ROPS
118.1 in
BENEFITS & FEATURES
Power Train - Engine
The Cat 3456E diesel engine delivers the power and reliability necessary to perform in the most demanding underground mining applications.
Engine
The Cat 3456E electronic engine delivers higher power, durability and complete system integration of the engine and transmission for maximum efficiency.
High Torque Rise
The 18% torque rise provides unequalled lugging force during acceleration and less down-shifting on grade. Torque rise effectively matches transmission shift points for maximum efficiency and fast cycle times.
Turbocharged and ATAAC
Air-to-air aftercooling provides improved fuel economy by packing cooler, denser air into cylinders for more complete combustion of fuel and lower emissions.
Electronic Unit Injection (EUI)
The electronically controlled unit injection fuel system senses operating conditions and regulates fuel delivery for optimum fuel efficiency. The proven high-pressure fuel system provides improved response times and more efficient fuel burn with lower emissions and less smoke.
Electronic Control Module (ECM)
ECM utilizes advanced engine management software to monitor, control and protect the engine utilizing self-diagnosing electronic sensors. The computerized system senses operating conditions and power requirements and adjusts engine for peak performance and most efficient operation at all times.
Engine Construction
Caterpillar designed one-piece cast iron block provides strength and maximum durability. Two-piece articulated pistons with forged steel crowns withstand higher cylinder pressure.
Power Train - Transmission
Cat power train delivers more power to the ground for greater productivity and lower operating costs.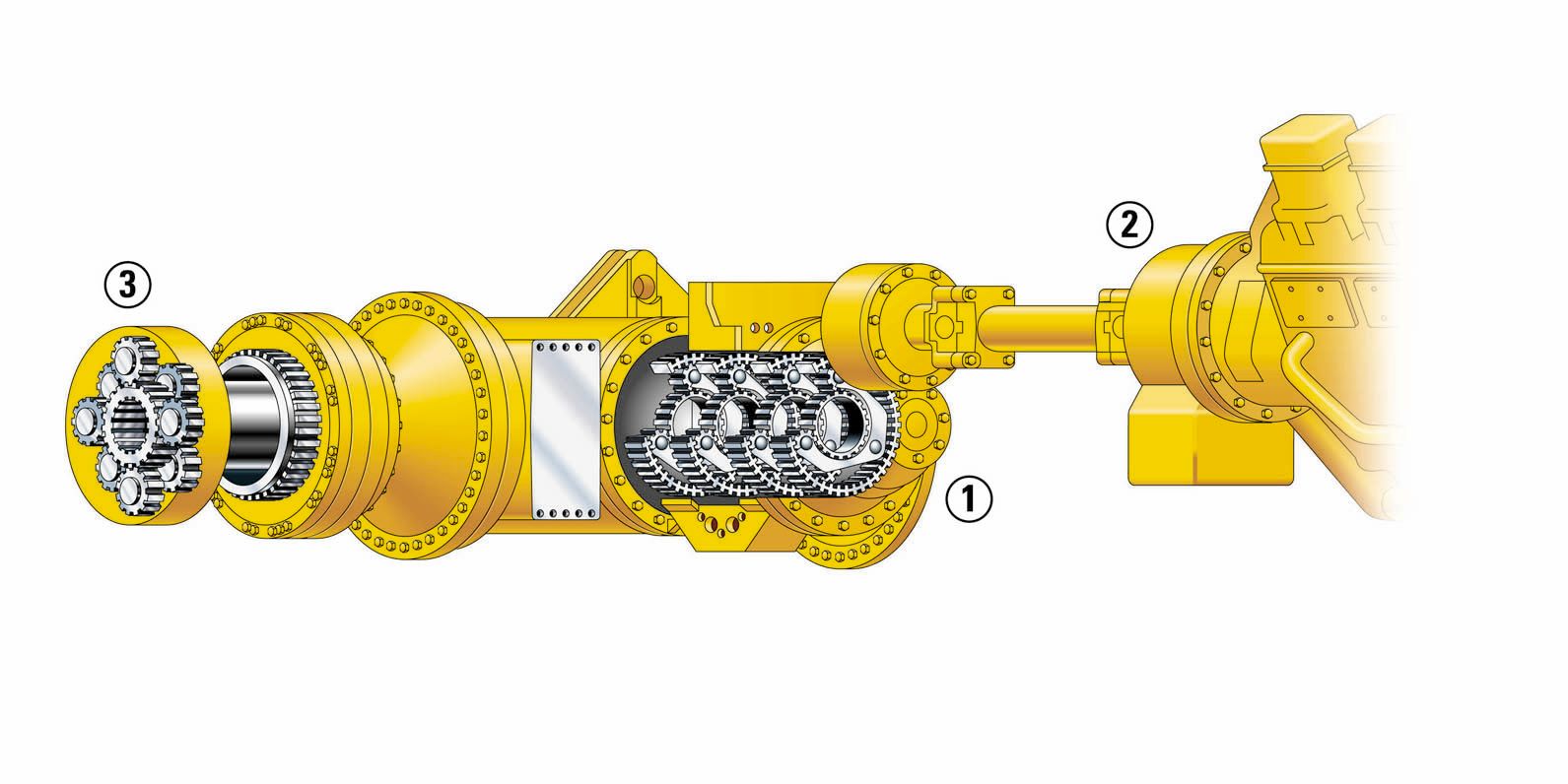 Mechanical Power Train
The Cat mechanical drive power train and power shift transmission provide unmatched operating efficiency and control on steep grades, in poor underfoot conditions, and on haul roads with high rolling resistance.
1) Transmission
The Cat seven-speed planetary power shift transmission is matched with the direct-injection 3456E diesel engine to deliver constant power over a wide range of operating speeds.
2) Lock Up Torque Convertor
Combines maximum rimpull and cushioned shifting of torque converter drive with the efficiency and performance of direct drive. When engaged, lock-up provides superior power train efficiency by delivering more power to the wheels.
3) Final Drives
Cat final drives work as a system with the planetary power shift transmission to deliver maximum power to the ground. Built to withstand the forces of high torque and impact loads, double reduction final drives provide high torque multiplication to further reduce drive train stress.
Engine/Power Train Integration
Electronically combines critical power train components to work more intelligently and to optimize overall truck perforamnce.
Cat Data Link
Electronically integrates machine computer systems to optimize overall power train performance, increase reliability and component life, and reduce operating costs.
Electronic Technician (ET)
ET service tool provides service technicians with easy access to stored diagnostic data through Cat Data Link to simplify problem diagnosis and increase availability.
Diagnostic Capability
Critical data from the electronic engine and transmission controls, including transmission shifting, engine speed and fuel consumption, provides service technicians with enhanced diagnostic capability to reduce downtime and operating costs.
Caterpillar Brake System
Reliable braking with superior control gives the operator the confidence to focus on productivity.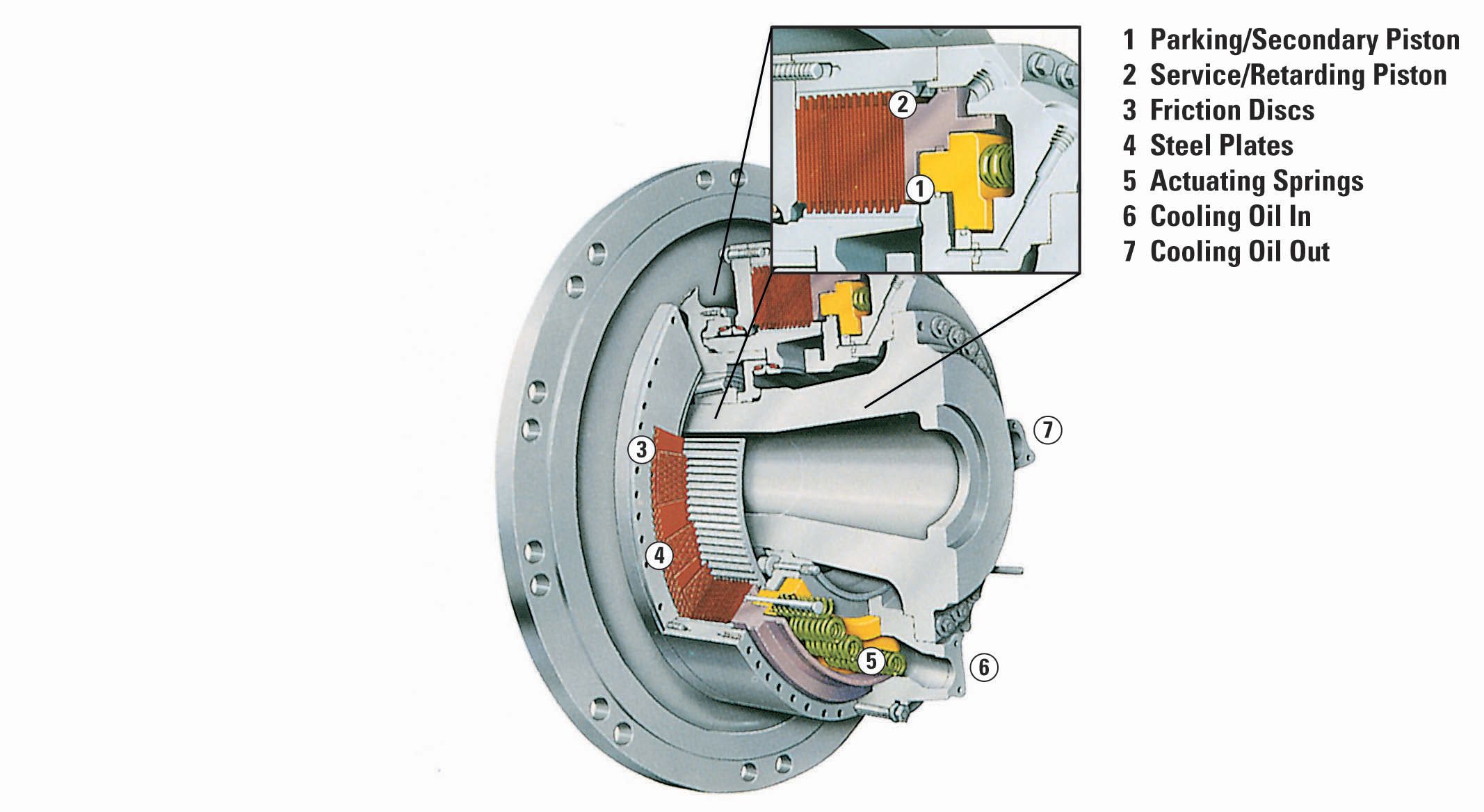 Integrated Braking System
The Cat oil-cooled braking system delivers reliable performance and control in the most extreme underground mining conditions. The integrated system combines the service, secondary, parking brake and retarding functions in the same robust system for optimum braking efficiency.
Automatic Retarder Control (ARC)
Electronically controls retarding on grade to maintain optimum engine rpm and oil cooling. Additional braking may be applied using the manual retarder or the brake pedal. ARC is deactivated when the operator applies the brakes or throttle.
Operator's Station
Ergonomically designed for operator comfort, superior control and high productivity.
Ergonomic Layout
The AD55 operator station is ergonomically designed for total machine control in a comfortable, productive and safe environment. All controls, levers switches and gauges are positioned to maximize productivity and minimize operator error.
Protective Structure
Integral to the cab and frame, both the ROPS-Rollover Protective Structure and FOPS-Fallover Protective Structure are resiliently mounted to isolate the operator from vibration for a more comfortable ride.
Optional Enclosed Cab
Optional sound-suppressed ROPS cab provides a quiet, secure working environment. Enclosed design provides fresh, pressurized, temperature-controlled air circulation with air-conditioned comfort and a more comfortable working environment.
Suspension Seat
Ergonomically designed, fully adjustable suspension seat with adjustable armrests provide optimal operator comfort. Thick cushions reduce pressure on lower back and thighs. Wide, retractable seat belts provide a secure, comfortable restraint.
Steering Column
Sport wheel with tilt and telescopic steering provides a comfortable driving position, secure grip and greater control.
Monitoring System
Caterpillar Electronic Monitoring System (CEMS) continuously provides critical machine data to keep the machine performing at top production levels. Displays are backlit for easy viewing.
Gauge Cluster. Maintains a constant display of critical machine functions.
Speedometer/Tachometer/Gear Indicator
Message Center. Contains a three-category warning system to alert operator of abnormal machine health conditions.
Truck Body Systems
Cat designed and built for rugged performance and reliability in tough underground mining applications.
Cat Truck Bodies
Caterpillar offers two specific body styles for the most efficient hauling solutions at the lowest cost-per-ton.
Body Selection
Selection of the right body depends on material, haul road, and dump conditions. The better the match of body to application, the greater the efficiency. Your Cat dealer can help you select the right body system for your site specific application.
Body Design
Cat truck bodies are designed for optimal strength, capacity and durability. Wear surfaces are equipped to handle tough impact and abrasion over the long haul without diminishing capacity.
Body/Chassis Integration
Caterpillar truck bodies are designed and matched with the integrated chassis system for optimum structural reliability, durability and long life.
Load Carrying Capacity
Large target area provides high load carrying capacity. It's diverging flow design gives clean load ejection, which maximizes production and avoids waste of material carryback.
Fast Hoist Cycle Times
Fast body raise and lower times mean less time spent in the dump areas.
Structures
Rugged Cat structures are the backbone of the AD55 underground mining truck's durability.
Frame Design
The frame incorporates a box-section design with wide and stiff frame beams to hangle torque loads. The divergent frame design decreases stress in the hitch area and optimizes suspension geometry. Materials and weld joints are matched to optimize the life of the structure.
Articulating/Oscillating Hitch
The articulating hitch provides the truck with steering articulation and the oscillation ensures the truck maintains all wheel ground contact in rough terrain.
Serviceability
Less time spent on maintenance means more time on the haul roads.
Service Access
Easy access to daily service points simplifies servicing and reduces time spent on regular maintenance procedures.
Diagnostics
Electronic control system enables quick diagnosis of engine conditions and effective maintenance and repairs utilizing the Electronic Technician (ET) Service Tool.
Air Filters
Radial seal air filters are easy to change, reducing time required for air filter maintenance.
Sight Gauges
Makes fluid levels checks quick and easy.
Sealed Electrical Connectors
Electrical connectors are sealed to lock out dust and moisture. Harnesses are braided for protection. Wires are color and number coded for easy diagnosis and repair.
Customer Support
Caterpillar dealers have what it takes to keep underground mining haul trucks on the haul roads.
Machine Selection
Make detailed comparisons of the machines under consideration before purchase. Cat dealers can estimate component life, preventive maintenance cost, and the true cost of lost production.
Purchase
Look past initial price. Consider the financing options available, as well as day-to-day operating costs. This is also the time to look at dealer services that can be included in the cost of the machine to lower equipment owning and operating costs over the long run.
Financing
Your dealer is an expert at arranging affordable financing options for all Caterpillar products.
Service
Your dealer is available to help you manage your machine service and maintenance requirements to keep your machines productive and on the haul roads.
Product Support
You will find nearly all parts at your dealer parts counter. Cat dealers use a worldwide computer network to locate in-stock parts to minimize machine downtime. Save money with Cat Reman parts. Receive the same warranty and reliability as new products at a savings of 40 to 70 percent
Literature Support
Operation and maintenance manuals are easy to use, helping you get the full value of your equipment investment.
Customer Service Agreements
Cat dealers offer a variety of product support agreements, and work with customers to develop a plan that meets specific needs. Plans can cover the entire machine, including attachments, to help protect your investments.
Operation
Improving operating techniques can boost your profits. Your Cat dealer has training videotapes, literature and other ideas to help you increase productivity.
Replacement
Repair, rebuild or replace? Your Cat dealer can help you evaluate the cost involved so you can make the right choice.
Technology Products
Cat dealers offer a range of advanced mining technology products for customers, dealers and operators designed to improve fleet efficiency, increase productivity and lower costs.
www.CAT.com
For more complete information on Cat products, dealer services, and industry solutions, visit us on the web at www.CAT.com.
CONNECT. DISCUSS. SOLVE.
CATERPILLAR EQUIPMENT MAINTENANCE ONLINE COMMUNITY
HOW CAN WE HELP?
SHARE YOUR FEEDBACK OR ASK A QUESTION