953D WH
Our customers think the track loader is the 2nd most important machine behind the compactor in a landfill. Discover the assets of this Cat® Waste Handler ...
SPECIFICATIONS
Engine
Engine Model
Cat® C6.6 ACERT™
Weights
Operating Weight
34381.0 lb
Buckets
Capacity - General Purpose Landfill
3.0 yd3
Capacity - Multi-Purpose Landfill
2.74 yd3
Width - General Purpose Landfill
96.8 in
Width - Multi-Purpose Landfill
99.8 in
Undercarriage
Track Shoe Width - Standard
18.9 in
Track Shoe Width - Optional
15.0 in
Ground Contact Area - Standard Shoe
2790.0 in2
Ground Contact Area - Optional Shoe
3410.0 in2
Ground Pressure - Standard Shoe
9.5 psi
Ground Pressure - Optional Shoe
12.3 psi
Track Shoe Type
Double Grouser
Operating Specifications
Standards
Service Refill Capacities
Crankcase (with Filter)
4.4 gal
Final Drives (each)
2.8 gal
Ripper Specifications
Overall Width/Beam
76.9 in
Hydraulic System - Implement
Cycle Time - Dump
1.5 Seconds
Cycle Time - Raise
5.9 Seconds
Output - Maximum
30.8 gal/min
Relief Valve Setting
4061.0 psi
Total Cycle Time
10.6 Seconds
Type
Close center load sensing/piston
BENEFITS & FEATURES
Waste Handling Arrangement
Tailored for waste applications.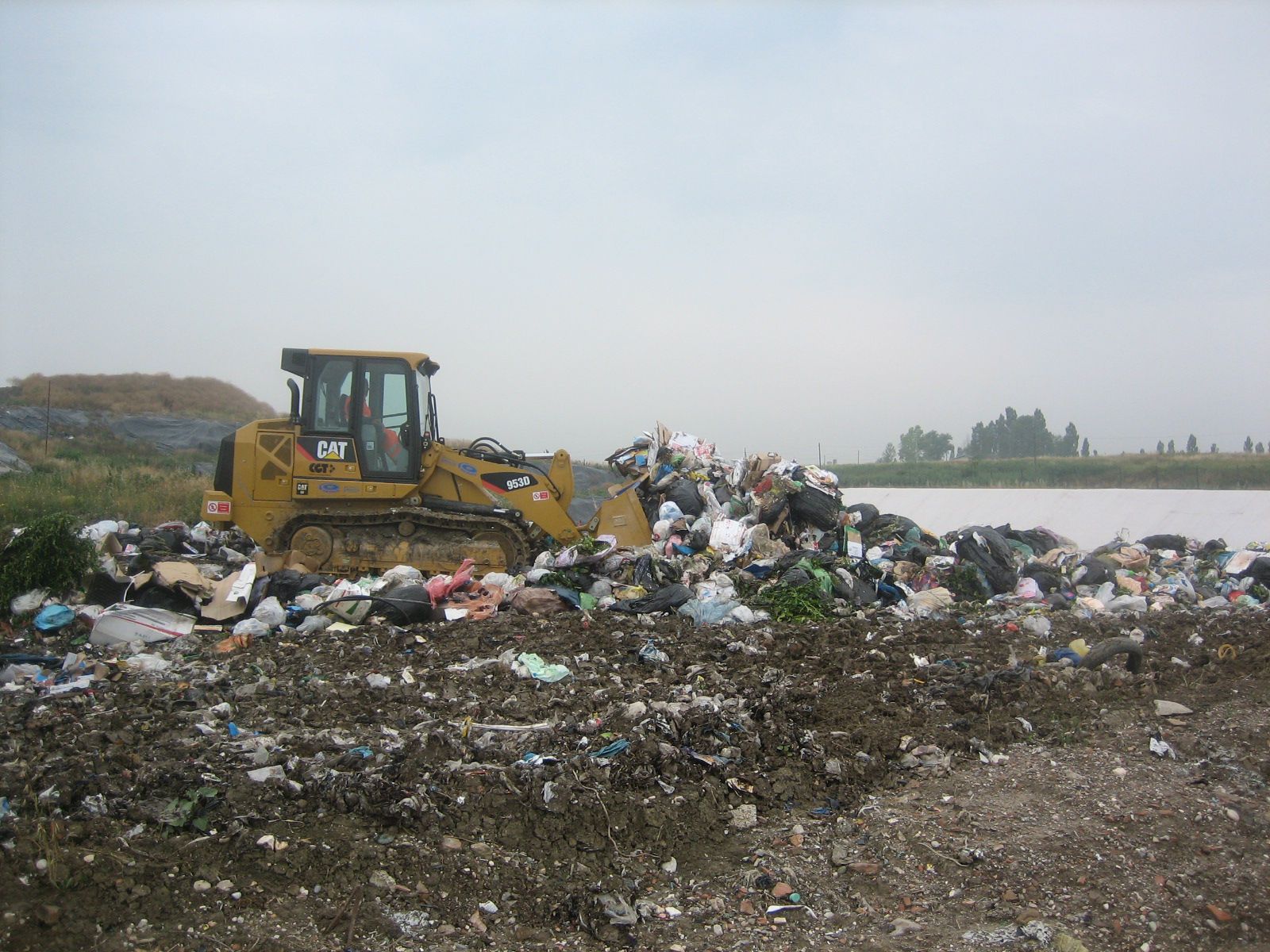 Final Drive Seal Guards
Protects the Duo Cone seal against wrapping of wires or plastics.
Hydraulic Reversible Fan
Purges the debris from the air inlets by reversing the airflow. Limits radiator plugging and increases maintenance interval.
Turbine Precleaner
Increase engine air filter life by pre-cleaning the air.
Guard, Idler and Lift Lines
Protects and limits the entry of debris into the tensioning system and lift lines. It includes scrapers mounted around idler.
Rubber Mounted Windshield
Makes the windshield replacement easy and fast.
Eight Lights
Increase work time with four lights at the front and four at the back.
Hinged Grill and Radiator Fan
Provides excellent access to radiator and fan for cleaning.
Extensive Sealing
Improved sealing between engine enclosure, cab and frame limits radiator plugging.
Options
Tailored for waste applications.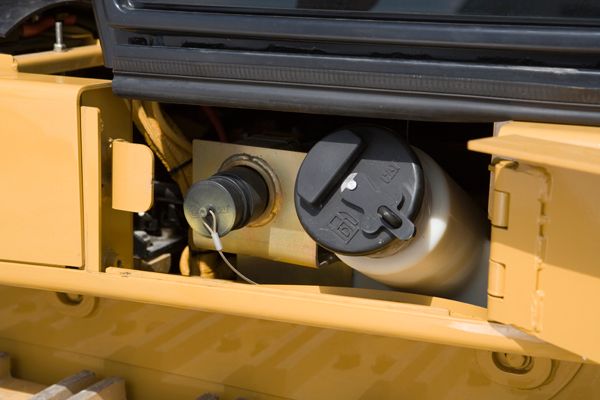 Center Holes Shoes
The center holes in the track allow sprocket to punch out dirt and debris, that prevents an increase of track wear caused by an abnormal track tension. This is the best choice in landfill.
Striker Bars
Very useful in landfills, the striker bars removes waste from the tracks to prevent damaging the fenders and the cab. Equipped with a step, it facilitate the access to the cab from the rear.
General Purpose Bucket - Landfill
This trash rack increases the standard bucket capacity to move low density materials.
Multi-Purpose Bucket - Landfill
This buckets provides the ability to load, push, grab. Trash rack increases the standard MP bucket capacity to move low density materials.
Guard, Cab Lights and Windshield Screen
Provides additional protection to the windshield and the lights against debris.
Guard Track Roller
Provides additional protection for rollers and reduce debris entry inside the links.
Tilt Cab System
The D-Series enables the cab to tilt up to 90°. The optional hydraulic jack provides a 30° tilting capability recommended for an easy servicing in the field.
Fast Fill System
Special port and vent designed to minimize the fuel tank refill time and increase productivity.
EQUIPMENT
Standard Equipment
For standard equipment, please refer to the 953D Track Loader information.
Optional Equipment
ELECTRICAL
Lights, 4, extra
Beacon, rotating
OPERATOR ENVIRONMENT
Control, joystick, MP bucket
Control, two levers, GP bucket
Comfort seat, air suspended, heated
Cab window, front sealed
Cat Messenger
POWER TRAIN
Fan, demand, reversible
Tank fuel, fast fill
Air inlet, pre-cleaner, turbine
HYDRAULICS
Hydraulic oil, bio
Oil change, high speed
Hydraulics MP Bucket, lines front
Hydraulics RIPPER, control, lines rear
Hydraulics MP + RIPPER, lines front and rear
REAR ATTACHMENT
Striker bar, rear
Ripper, multi-Shank
Hitch, standard
Hitch, extended
Counterweight, light
Counterweight, additional
BUCKETS
General Purpose, for bolt-on GET
General Purpose, flush mounted adapt
Multi-Purpose
Multi-Purpose, landfill
General Purpose, landfill, flush mounted adapt
General Purpose, landfill and demolition
BUCKET ATTACHMENTS
Teeth, Extra Duty
Teeth, General Duty
Teeth, Penetration
Bolt On, Cutting Edge
Bolt On Segments, Cutting Edge
Cutting Edge Segment
Tips, Extra Duty
GUARDS
Guard, track roller
Guard, idler
Guard, cab lights
Guard, lift lines
Screen, windshield
UNDERCARRIAGE
Track shoes, 380 mm (15 in), double grouser
Track shoes, 480 mm (19 in), center hole
Track shoes, 480 mm (19 in), double grouser
Track shoes, 800 mm (31 in), Wide Gauge
Final drive, waste
Undercarriage, 2100 mm (83 in), Wide Gauge
OTHER ATTACHMENTS
Cab, tilt jack, hydraulic
Radio, AM/FM, CD
Heather, engine coolant, 120V
Heather, engine coolant, 240V
Re- fueling pump
Sediment pump, fuel tank
Cat Product Link
Antifreeze, -50° C (-58° F)
CONNECT. DISCUSS. SOLVE.
CATERPILLAR EQUIPMENT MAINTENANCE ONLINE COMMUNITY
HOW CAN WE HELP?
SHARE YOUR FEEDBACK OR ASK A QUESTION