953D SH
Time is money. Optimizing the unloading time is what it is all about when it comes to machine selection. You can load many types of machines inside a shiphold but none would provide the perfect match for the application as the Track-Type Loader can thanks to the combination of tracks giving traction, loader arm for the reach and engine at back for the machine balance.
SPECIFICATIONS
Engine
Net Flywheel Power
148.0 hp
Engine Model
Cat® C6.6 ACERT™
Regulations
Rating at 2,000 rpm
Weights
Operating Weight - GP Bucket with Teeth
34229.0 lb
Operating Weight with GP Bucket and Teeth
34229.0 lb
Operating Weight with Trim Blade
33726.0 lb
Operating Weight - Trim Blade all material
33726.0 lb
Buckets
Bucket Width - General Purpose
97.8 in
Bucket Width - Multi-Purpose
97.3 in
Capacity - General Purpose
2.42 yd3
Capacity - Multi-Purpose
2.09 yd3
Undercarriage
Ground Pressure - Optional Shoe
12.3 psi
Ground Pressure - Standard Shoe
9.5 psi
Ground Pressure - Standard Shoe with Trim Blade
9.8 psi
Grouser Height - Double Grouser
1.4 in
Track Shoe Type
Double Grouser
Track Shoe Width - Optional
15.0 in
Track Shoe Width - Standard
18.9 in
Drive System
Drive Pump
Two, variable-displacement, slipper-type axial piston pumps
Relief Valve Setting
6961.8 psi
Track Motor
Two, variable displacement, bent axis motors
Type
Drive System Hydrostatic drive with infinite machine speeds to 10.0 km/h (6.2 mph)
Main Service Refills
Blade
Trim Blade Capacity - All Material
2.09 yd3
Trim Blade Capacity - Coal
Can be designed at order
Trim Blade
Capacity - All Material
3.0 yd3
BENEFITS & FEATURES
Track-Type Loaders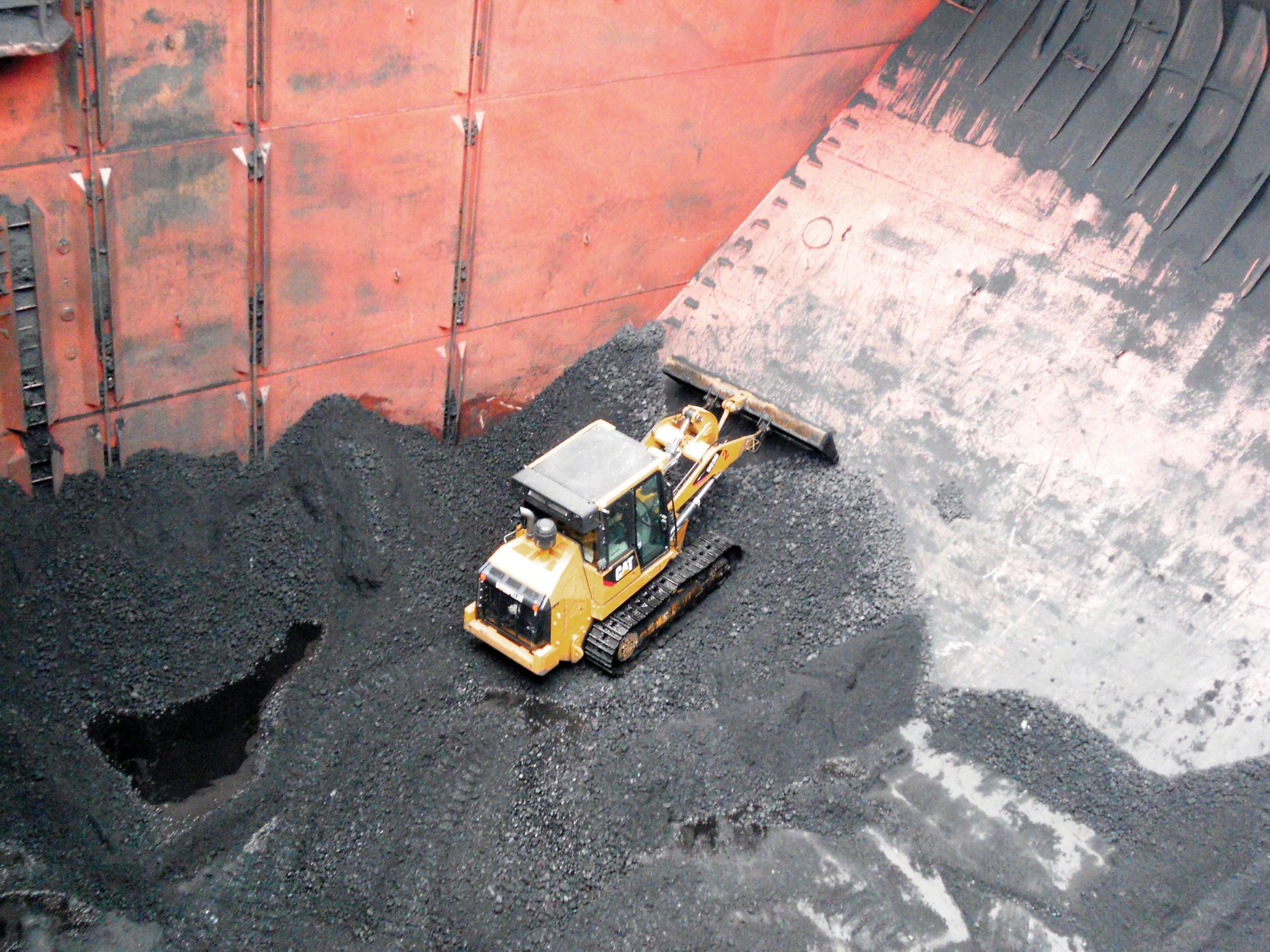 Infinite Variable Speeds (hydrostatic transmission)
Smooth controls, more operator comfort
Increased operator productivity
Joysticks for Transmission and Work Tools
Easy to maneuver
Intuitive controls minimize training requirements
High Reach Work Tool
Loader arm allows cleaning of the walls of the hold
Increases versatility of the machine
Track-Type Undercarriage
Low ground pressure for better traction in some materials
Several shoe widths available or can be manufactured at order to meet customer requirements
Optional center hole shoes reduce track packing and track chain tightening which extends undercarriage life
Lifting Eyes
Front eyes welded on the Track Roller Frame (TRF)
Rear eyes mounted on the main frame
Wide spacing for good stability during lifting
Sound
Sound suppressed cab and air suspended seat reduce operator fatigue and increase concentration
The sound levels measured per ISO 6396 reach 74 dB(A) for 953D
Visibility
Large windows all around operator and clipped engine enclosure provide excellent view to the environment and the work tool
Day and night operations are lighted with 8 halogen lights: 4 lights facing frontward, 2 lights facing rearward and 2 facing sideways
Rear Engine and Cooling System Location
Improved machine balance
Engine less exposed to dust, increase engine life
Limit plugging of radiator core
Better visibility at front
Reduce O&O cost
Reversing Fan
The air flow can be either automatically or manually reversed. Maintains proper heat transfer by blowing material out of the radiator core.
The hinged radiator grill gives easy access to the cooling system of the machine
The hinged hydraulic fan makes the cleaning of the radiator easy and faster
Maintenance and Serviceability
Filters and other systems are accessible from the ground on each side of the machine
Cab can be tilted 90° with a crane or 30° with a hydraulic jack allowing job site repair
Makes the maintenance of the machine easier for engine or hydraulic components
Engine Air Precleaner
Debris is centrifugally removed from the airstream and delivers cleaner air to the engine filter
Air filter life is extended
Work Tools and Optional Equipment
Designed to meet your needs
Work Tool Options
Pin-on trim blade for all material
Pin-on trim blade for coal
Pin-on general purpose bucket
Pin-on multi purpose bucket
Additional Fuel Tank
Additional fuel tank increases the working time into the shiphold. The unloading process is simplified and the ship unloading duration is optimized. • The 953D can work 25 hours without refill
For additional information on the Track-Type Loader D series, please refer to the 953D, 963D and 973D specalogs.
Features
When the attachments are available a typical Track-Type Loader working in the shiphold/port handling application needs to be equipped with the following recommended features:
Four lifting eyes
Joystick for the transmission control
Front guard for hydraulic tank
Guards for lift and tilt cylinders
Guard for the track rollers
Heavy duty bumper
Reversing fan
Engine air precleaner
E-SALT tracks equipped with center hole shoes
Trim blade or bucket (with or without quick coupler)
Lights facing forward, backward and sideways
Windshield sealed
Hydraulic tilt cab system
CONNECT. DISCUSS. SOLVE.
CATERPILLAR EQUIPMENT MAINTENANCE ONLINE COMMUNITY
HOW CAN WE HELP?
SHARE YOUR FEEDBACK OR ASK A QUESTION