939C HYSTAT
Outmaneuver every job you tackle. A single lever joystick control is all that is needed to control speed, direction and steering on Cat 939C Hystat Track-type Loaders. Full powerturn capability is made possible by maintaining power to both tracks at any ground speed or turning radius. You'll find operating a loader of this size has never been easier or as much fun.
DETAILS
SPECIFICATIONS
Engine
Weights
Operating Weight
20908.0 lb
Operating Specifications
Capacity - General Purpose
1.5 yd3
Dump Clearance at full height and 45° discharge
105.0 in
SAE specified dump angle
2.83 Degrees
Max Operating Height
172.6 in
Max rollback at carry position
50.2 Degrees
Max rollback, fully raised
64.9 Degrees
Reach at full length height
34.0 in
Static Tipping Load (SAE)
14565.0 lb
Breakout Force (SAE)
20200.0 lb
Dimensions
Height to top of cab
109.0 in
Overall Width with bucket
85.0 in
Overall width without bucket
77.0 in
Length to front of track
117.0 in
Height to bucket hinge pin
131.7 in
Undercarriage
Length of Track on Ground
84.45 in
BENEFITS & FEATURES
Overview
Offering rugged construction and outstanding reliability to allow for maximum productivity.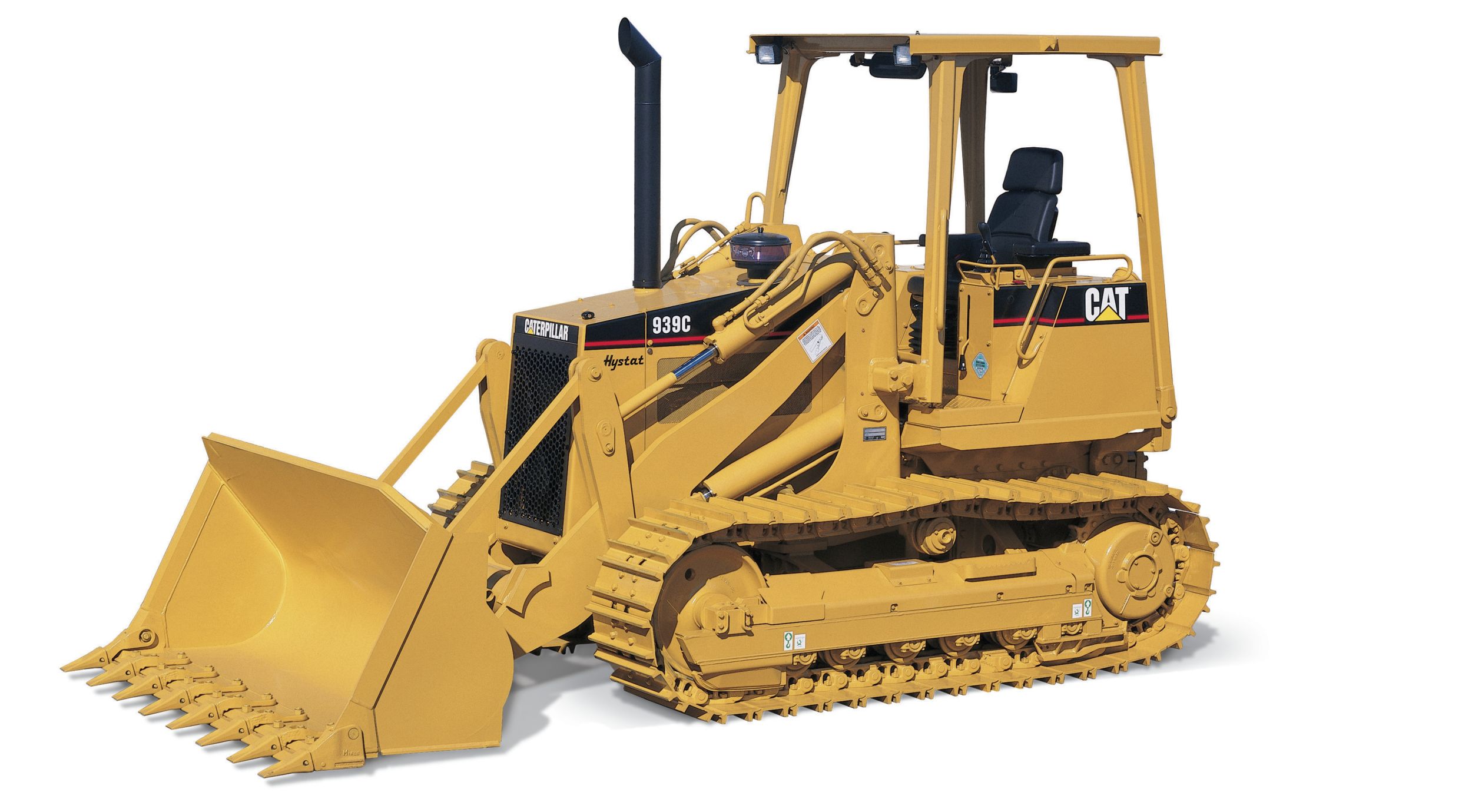 Outmaneuver Every Job You Tackle
A single lever joystick control is all that is needed to control speed, direction and steering on Cat 939C Hystat Track-type Loaders.
Power Train
Quick response and acceleration plus better maneuverability decrease cycle times and increase productivity.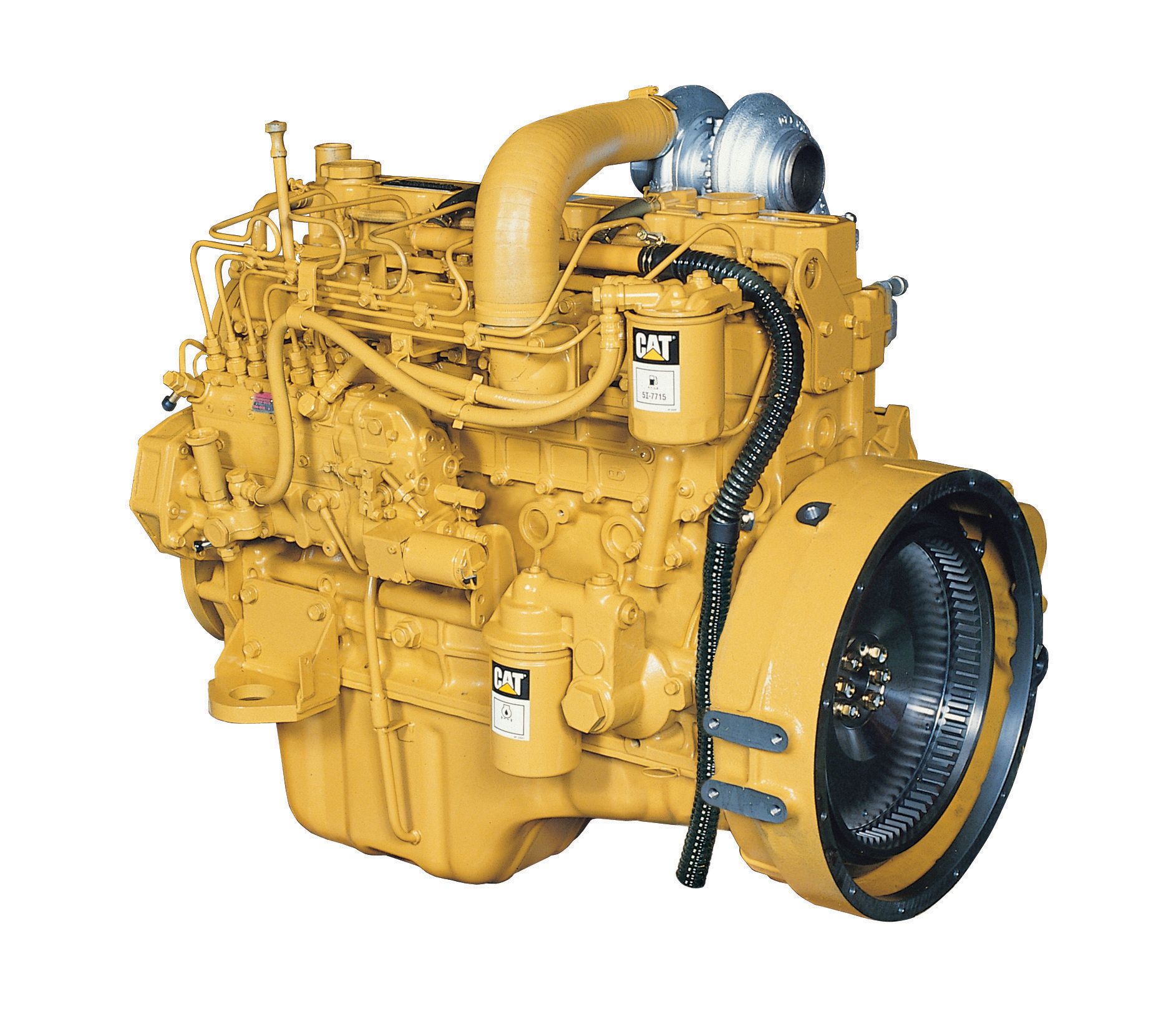 Hystat Power Train System
Quick response and acceleration plus better maneuverability decrease cycle times and increase productivity.
Caterpillar 3046 Diesel Engine
Smooth, responsive power, excellent fuel economy and lasting reliability.
Track Motors
The high pressure motors are 2-speed type (turtle/rabbit). The Hystat motors convert hydraulic power to mechanical power.
Hydraulic Lines
Hydraulic Lines XT-6 hose is used to connect pumps and motors. O-ring face seals ensure tight and reliable connections throughout the Hystat system.
Power Train Oil
One filter is located in the charge pump outlet from each of the hystat pumps. This location assures that all oil is filtered before entering the piston rotating group portion of the hystat circuit.
Parking Brakes
The parking brakes are a multi-disc design. These parking brakes are spring applied and hydraulically released.
Final Drives
The Hystat final drive is a double-reduction unit, similar in design to that of the current hydrostatic track loaders.
Cooling System
The cooling package is a stacked configuration, with the configuration of fan - oil cooler - radiator. The blower fan forces cooling air first through the oil cooler then through the radiator.
Drive Pumps
The pumps are over-center style, providing forward and reverse directions by changing the direction of flow from the pumps, and are controlled by a hydraulic pilot control system (joystick).
Hydraulic System
Improved for increased productivity
Hydraulic System
50 percent increased pump flow provides faster cycle times, resulting in more work done per hour
Larger lift cylinders deliver 26 percent more lift force for tough loading applications
Improved bucket control provides multi-function capabilities for fast truck loading and spreading applications
Reduced bucket control lever efforts provide lower operator fatigue
3046T Engine
Smooth, responsive power, excellent fuel economy and lasting reliability.
Hystat Control
Steering, machine direction and speed are combined into one control for enhanced operator controllability, comfort and increased productivity.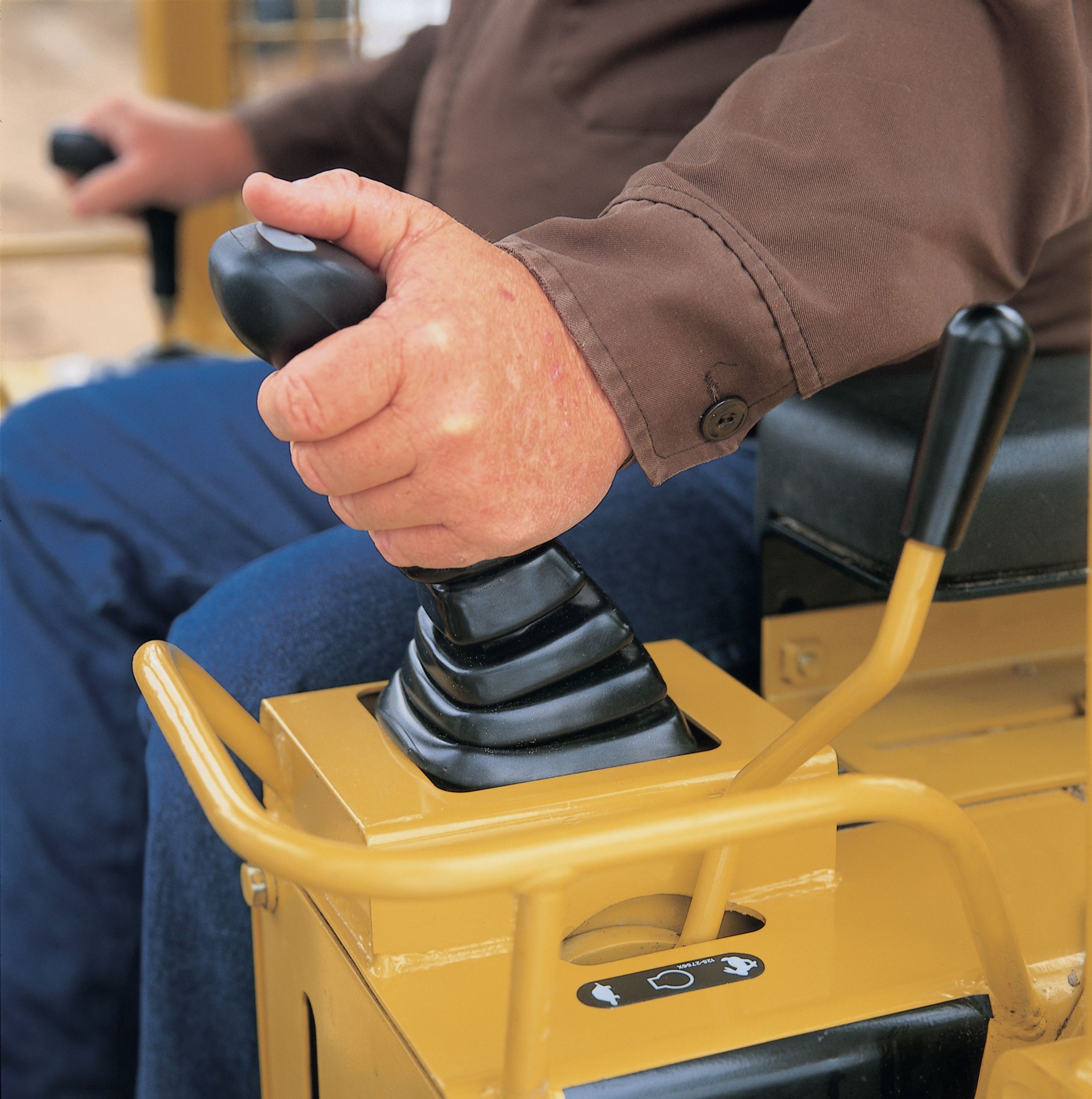 Joystick Control
The joystick control is simple and easy to understand. With it, you will control the direction, speed, and steering of your 939C Hystat track loader. The joystick is ergonomically designed to fit comfortably in the palm of your hand. Control effort is minimal, so much so that you might find yourself using your fingertips.
Direction/speed
Machine direction and speed are easy to handle with the four easy movements on the joystick.
Steering
With the machine moving in forward or reverse, moving the joystick to the right results in the machine turning to the right; moving the joystick to the left causes the machine to move to the left.
Operator Station
Ergonomically designed for your maximum comfort and productivity.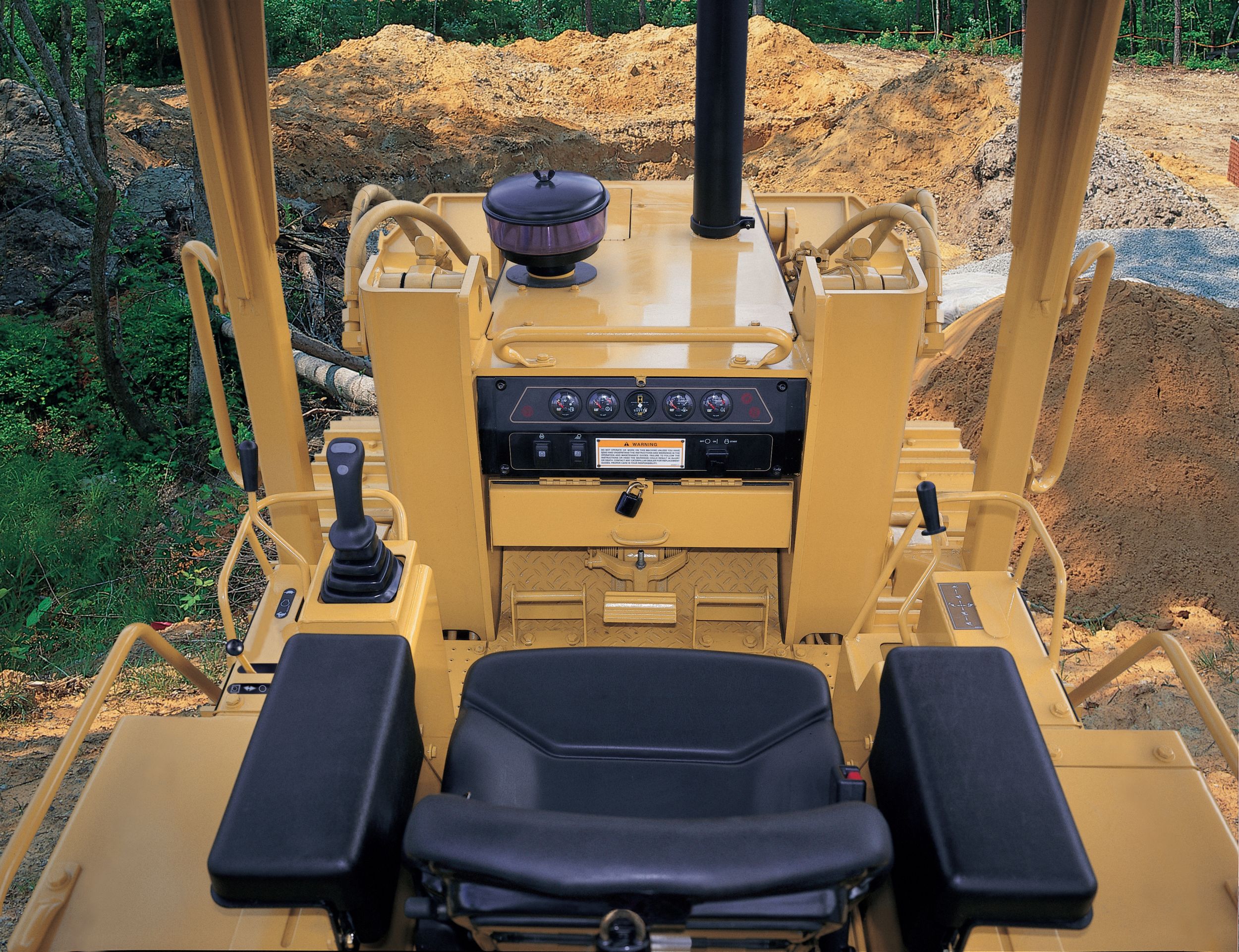 Canopy
Take the opportunity to work comfort-ably and productively, day-in and day-out. Whether you equip your loader with an open canopy or an optional cab, you'll find thoughtfully positioned controls and a variety of other convenience features.
Ease of Operation
All major machine work functions can be accomplished with just two hands.
Reduced Operator Fatigue
Low control lever efforts help increase operator productivity each day. Day after day.
Hystat joystick control
Hystat joystick control gives you the power to control steering, direction and speed all with your left hand. Easily switch from turtle/rabbit mode with the toggle switch located on top of the joystick. Activate the horn by pressing the button beneath the turtle/rabbit toggle switch.
Joystick hold control
Joystick hold control holds the joystick in any forward/reverse position, freeing the operator's left hand.
Hystat center pedal
Hystat center pedal may be used to either slow down or stop the machine. Adjustable foot rests provide a great place for your feet to relax while working.
Single lever lift and tilt control
Single lever lift and tilt control improves efficiency. Needle bearings on all major pivot points and valve spools with precision metering help ensure precise, lasting control.
Governor control
High to low setting allows you to set engine speed at the desired RPM. Hystat loaders can be operated at any RPM.
Dash panel
Dash panel has five individual, analog gauges, providing fluid level and temperature information at a glance. All gauges are back-lighted.
A suspension seat
A suspension seat is standard on all 939C track loaders and is equipped with a seat belt and an adjustable backrest.
Armrests are adjustable
Armrests are adjustable fore and aft, as well as up and down to best suit your preferred operating position.
Vandalism protection guarding
Vandalism protection guarding on canopy models folds down under the dash for storage, and is raised over the dash and padlocked when needed.
Cab
The pressurized cab is sealed to keep dust out and sound to a minimum, resulting in a quiet working environment. Nine adjustable vents keep air circulating and improve the cab's heating, optional air conditioning, and defrost/defog capabilities.
Tinted windows
Tinted windows. A continuous, three-piece glass windshield and a large, single-piece door glass provide excellent visibility to the work site. Large, sliding right and rear side windows provide excellent flow-through ventilation.
Control Console
Control console is back-lighted and contains controls for cab temperature, fan speed, the front/rear window washers, and two-speed wipers. A cigarette lighter and ashtray are also included.
An optional Caterpillar Contour Series Seat
An optional Caterpillar Contour Series seat, with a retractable seat belt, is the premium seat option and is designed for maximum comfort and fully-adjustable support. Ergonomically shaped seat cushions reduce pressure on the lower back and thighs, while allowing unrestricted arm and leg movement. Contour Series seats are available in cloth for use in cab, or vinyl when used in open canopy.
Other cab conveniences include:
Radio ready factory installed components, including speakers, an antenna, and all wiring/brackets
Tie-downs for secure lunch box storage
Sunvisor
Rearview mirror
Dome light
Coat hook
Center Brake Pedal
The center brake pedal is located towards the floor of the operator's compartment (cab and OROPS) and can be used to stop the machine by pressing the pedal all the way down.
Footrests
Since Hystat track loaders are not steered with foot pedals, two footrests, one on each side of the center brake pedal, are provided for enhanced operator comfort. Footrests are also adjustable.
Bucket Control
A single lever control handle is used to control the bucket. The control lever operates on two axis: fore/aft for bucket lift, side to side for bucket tilt.
Bucket and Lift Arms
Designed and built for unmatched versatility, durability, and strength.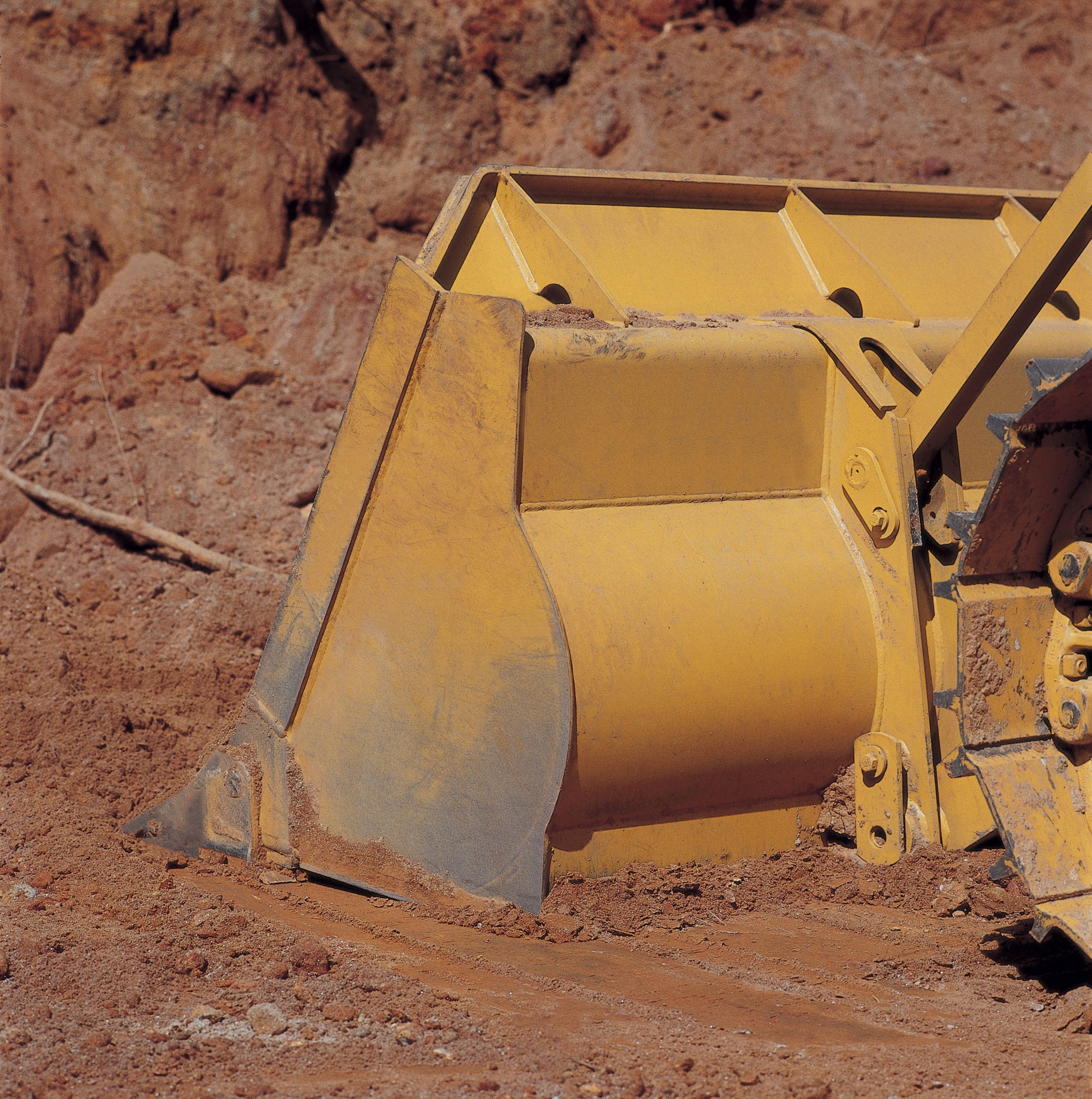 Buckets
Rugged construction along with powerful, matched hydraulics provide excellent breakout force and lift capacities for maximum production capabilities and load handling.
Arms
Solid-plate lift arms provide strength and durability for excellent lift and breakout capacities.
Undercarriage
Components designed to provide you with maximum performance and wear life.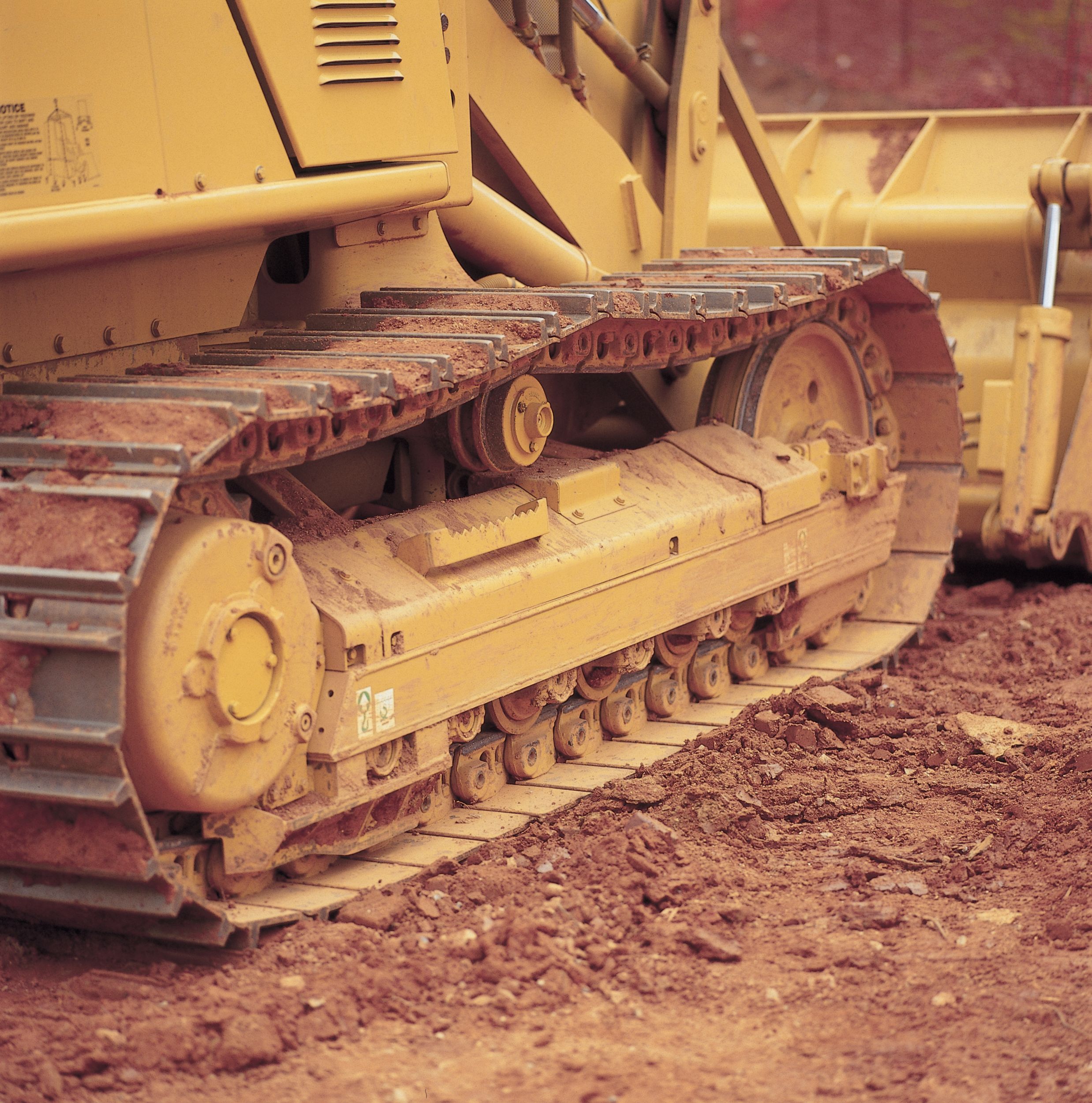 Undercarriage is designed and built by Caterpillar for long wear life and low owning and operating costs.
Standard undercarriage
A general purpose undercarriage that performs well in applications with firm underfoot conditions.
Standard shoe width: 406 mm (16 in) double grouser.
Optional shoe width: 460 mm (18 in) double grouser.
Updated Rear Track
The new guarding prevents material ingestion into the sprocket and rear roller area. The result is the introduction of bolt-on rear guiding guards which enhance rear guiding due to increased length over current rear guiding guards.
Updated Recoil Guards
The recoil guards protect the recoil mechanism from impact damage and reduce the amount of abrasives entering critical wear areas.
Double Flange Bottom Rollers
The double flange bottom roller group serves the same function as the single flange group, but it is designed with an additional outboard flange to increase its guiding ability.
Track
The track group serves to transfer power from the final drive to the ground through the use of links, bushings, pins, and shoes.
Optional Full Length Track Roller Guards
In order to increase the protection of the roller wear surfaces from abrasives and rocks, full length track roller guards are offered as an attachment for all undercarriage configurations.
Serviceability
More access and fewer maintenance requirements add up to unparalleled ease of service.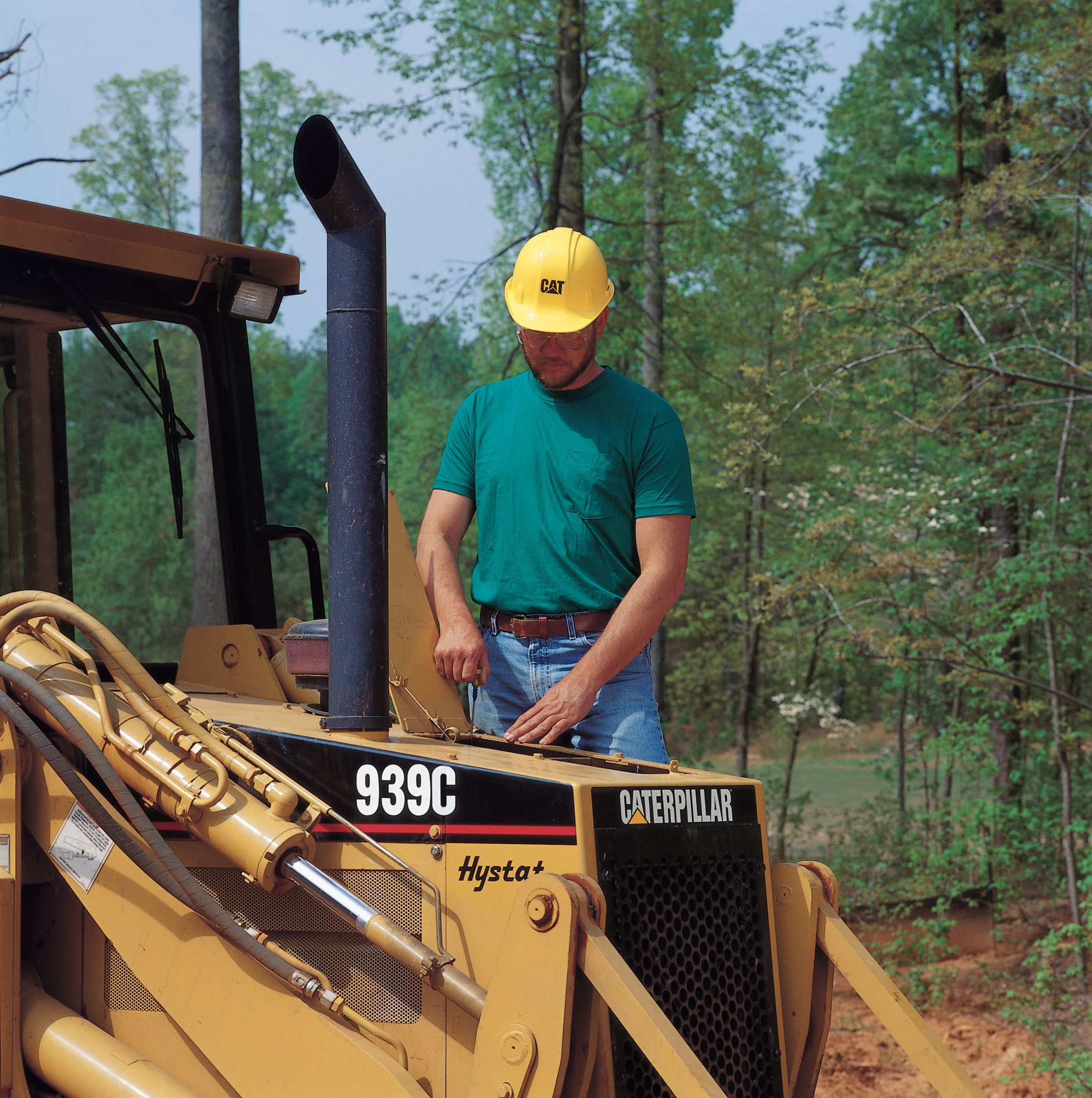 Zerk lube fitting
Zerk lube fittings allow easy lubrication of the loader linkage pivot pins to provide long life and maintain tight linkage.
Removable engine enclosure
Removable engine enclosure has a built-in grip handle and provides access to vertically mounted, spin-on engine oil and fuel filters, S•O•SSM valve, and fuel priming pump.
Engine oil dipstick, oil fill and radiator fill is easily accessed
Engine oil dipstick, oil fill and radiator fill is easily accessed through a hinged and lockable panel on top of the hood.
Combined power train and hydraulic oil
Combined power train and hydraulic oil filters are vertically mounted for cleaner changes and are easily accessible by removing the rear panel. An S•O•S valve is conveniently installed on the filter base for sampling power train oil.
Ground level sight gauge
Ground level sight gauge allows easy check of hydraulic oil level.
Fuel/water separator
Fuel/water separator is accessed easily through a hinged door located at the rear of the machine.
New Engine Enclosure Panel
The 939C loaders are built with an updated enclosure panel which incorporates a built-in grip handle for easy removal and access to the vertically mounted, spin-on engine and oil fuel filters, SOS valve, and fuel priming pump.
Filters & Change Intervals
The combined power train and implement hydraulic system uses two 7 micron spin-on type filters located inside the rear access door for easy accessibility.
Fluid Check Points
The engine oil dipstick, engine oil fill cap, and radiator cap are located inside the access door on top of the hood.
Fluid Drain Locations
The engine crankcase drain plug and the radiator drain valve are accessible underneath the machine by removing the access covers from the bottom guards.
Grease Points
The loader lift, tilt cylinders contain grease zerks on both ends of the cylinder pivot pins.
Total Customer Support
When you purchase Cat equipment, you also get Caterpillar and your Cat dealer's total commitment to customer support.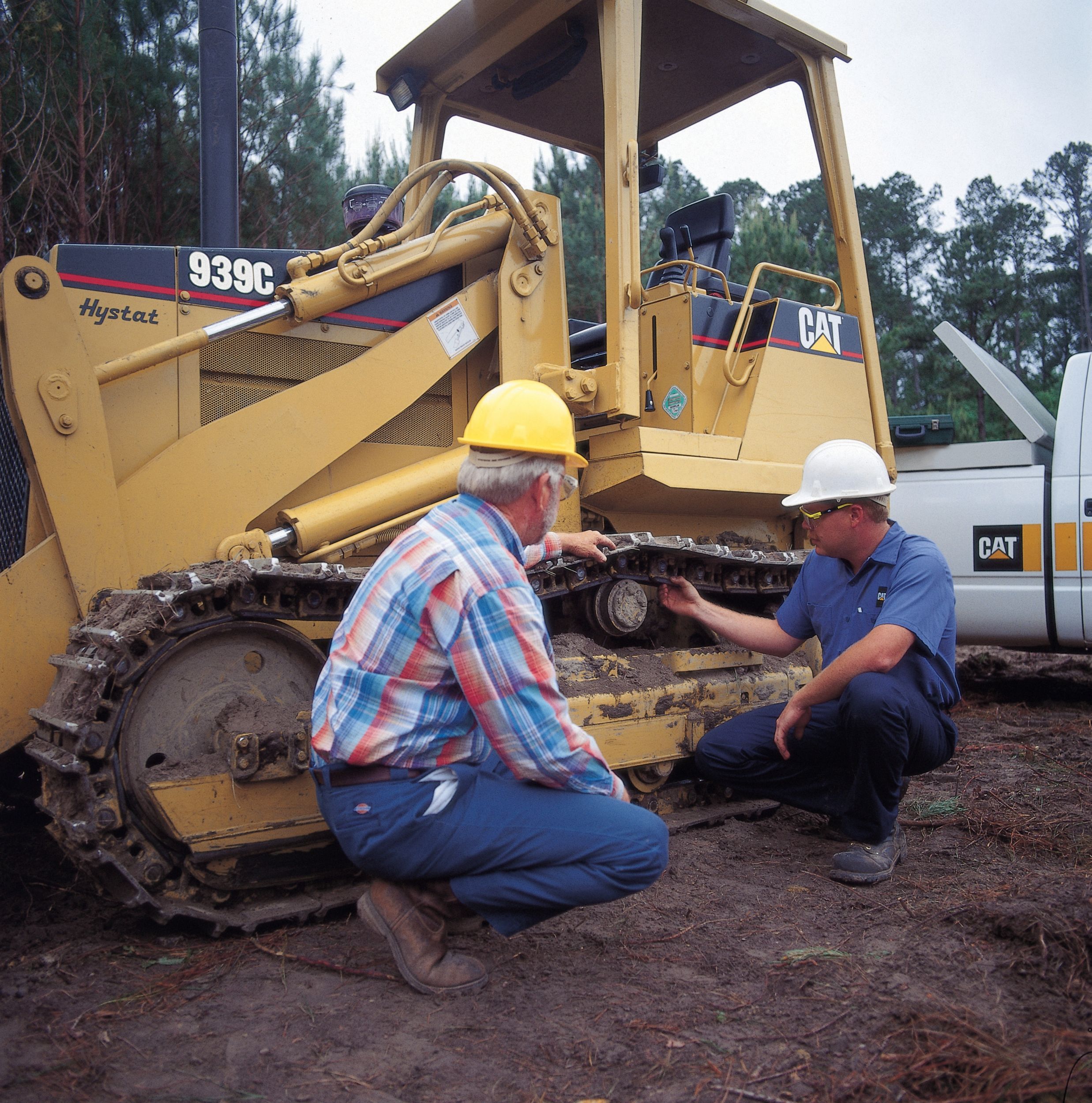 Your Cat dealer offers a wide range of services that can be set up under a customer support agreement when you acquire a 939C Hystat loader or any other Caterpillar equipment. The dealer will help you choose a plan that can cover everything from machine and attachment selection to replacement intervals. The bottom line is you get the best return on your machine investment.
Selection
Your Cat dealer can help you make detailed comparisons of machines you are considering before you buy. You can compare things like expected component life, the cost of preventive maintenance and the true cost of lost production. You can get precise answers to these questions from your Cat dealer.
Easy financing
Consider all the flexible financing options your Cat dealer offers as well as day-to-day operating costs. Whether it's rental, leasing, or purchase, your Cat dealer can meet your needs.
Maintenance
Choose from your Cat dealer's wide range of maintenance services at the time you acquire your 939C Hystat loader. Repair option programs guarantee the cost of repairs up-front. Diagnostic programs such as S•O•SSM Oil Analysis and Technical Analysis help you avoid unscheduled repairs that can cost you unnecessary time and money.
A Customer Support Agreement
A Customer Support Agreement can enhance the value of your 939C Hystat loader by lowering your costs per unit of production and puts your Cat dealer's superior support capabilities to work for you. They are flexible and customized to your individual needs, whether for a single machine or a whole fleet. Ask your Cat dealer for details.
Product support
Nearly all the parts needed to support the 939C Hystat loader are already available at your dealer's parts counter. Cat dealers use a world-wide computer network to find in-stock parts to minimize downtime.
Replacement
Throughout the life of your 939C Hystat, your Cat dealer can help you evaluate the cost involved with repairing, rebuilding or replacing. You can be assured that the choice you make will be the right one.
Complete Versatility
From the beginning of a job to the finish grading, the 939C Hystat Track-Type Loader is a versatile tool.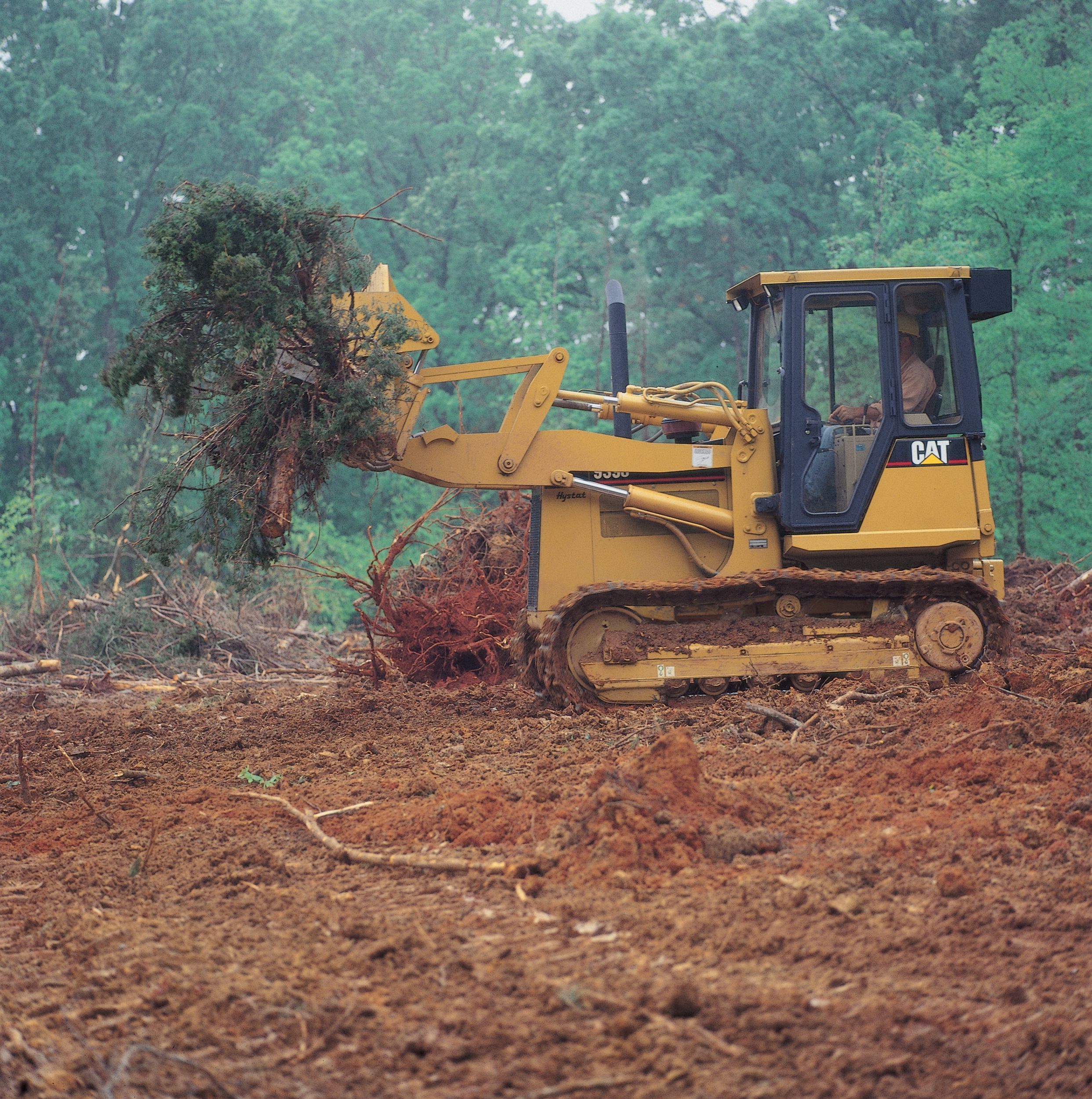 One machine for all jobs!
Some of the first steps on any job can be accomplished easily with the help of the 939C, beginning with clearing the job site by loading and carrying debris, as shown above. Excavating and carrying/spreading material, above right, are also crucial elements to any job. The 939C is the perfect tool to perform them. Rounding out the job, below right, the 939C greatly facilitates trash cleanup, loading, and finish grading work.
Your Cat Dealer
There is one very important component included with every Caterpillar 939C Hystat Track-Type Loader that no one else can offer: your Cat dealer. Whether you have questions about performance, service or financing, your Cat dealer has the answers. He is dedicated to helping you make the right equipment choice for your requirements. Plus, your Cat dealer has most parts you will ever need for your Cat equipment right on the shelf. If not, the dealer's worldwide computerized network will immediately find the closest location of the part you need, minimizing your downtime. When you need more details about the 939C, contact your Cat dealer. You'll find he's easy to talk to. And he's genuinely interested in talking with you.
EQUIPMENT
Standard Equipment
Air-to-oil transmission cooler
Air cleaner, dry-type with restriction indicator
Alternator, 55-amp
Arm rests, four-way adjustable
Automatic bucket positioner and lift kick out
Battery, 12-volt, maintenance free, 900 cca with disconnect switch
Blower fan
Cat 3046, turbocharged 6 cylinder diesel engine with 12-volt direct electric key start/stop
Engine enclosures, with grip handle
Fuel/water separator
Fuel priming pump
Foot rests, adjustable
Gauges, illuminated, dash mounted showing engine coolant temperature, engine oil pressure, transmission oil temperature, and fuel level
Indicator lights:
Low alternator voltage
Transmission/hydraulic oil filter restriction
Parking brake
Rabbit speed selection
Glow plugs
Guards, bottom
Guards, recoil, full length with sprocket guards and wipers
Horn
Hydraulic controls, two-valve, single-lever bucket control
Hydraulic implement pump
Hydrostatic transmission, dual path, closed loop
Joystick control lever
Lifetime lubricated rollers and idlers
Muffler
Parking brake - automatic
Precleaner
Pull hook, front
Retrieval hitch, rear
Seat, vinyl, suspension with adjustable backrest and 76.2 mm (3 in) seat belt
Segmented sprockets
Service hour meter
Tool box with hinged lid
Track:
Adjusters, hydraulic
Front/rear guiding guards
Roller frames, six roller
Sealed and Lubricated, two-piece master links
Track shoes:
Vandalism protection
CONNECT. DISCUSS. SOLVE.
CATERPILLAR EQUIPMENT MAINTENANCE ONLINE COMMUNITY
HOW CAN WE HELP?
SHARE YOUR FEEDBACK OR ASK A QUESTION