517
The 517 Skidder is a state-of-the-art machine that represents Caterpillar's commitment to the logging industry. The 517 Skidder builds upon a strong history of reliability and durability set by the 527 and previous generations of Caterpillar track-type skidders.
DETAILS
SPECIFICATIONS
Engine
Net Flywheel Power
120.0 hp
Engine Model
Cat® 3304 DIT
Weights
Operating Weight
38234.72 lb
Operating Specifications
Track on Ground
114.57 in
Travel Speed - Fwd. 1st
2.3 mph
Travel Speed - Fwd. 2nd
4.1 mph
Travel Speed - Fwd. 3rd
7.1 mph
Travel Speed - Rev. 1st
2.8 mph
Travel Speed - Rev. 2nd
5.0 mph
Travel Speed - Rev. 3rd
8.8 mph
Transmission
Transmission
3-Speed Powershift
Fuel Tank
BENEFITS & FEATURES
Power Train
Four cylinder, four stroke engine and heavy-duty torque converter significantly improve skidding performance.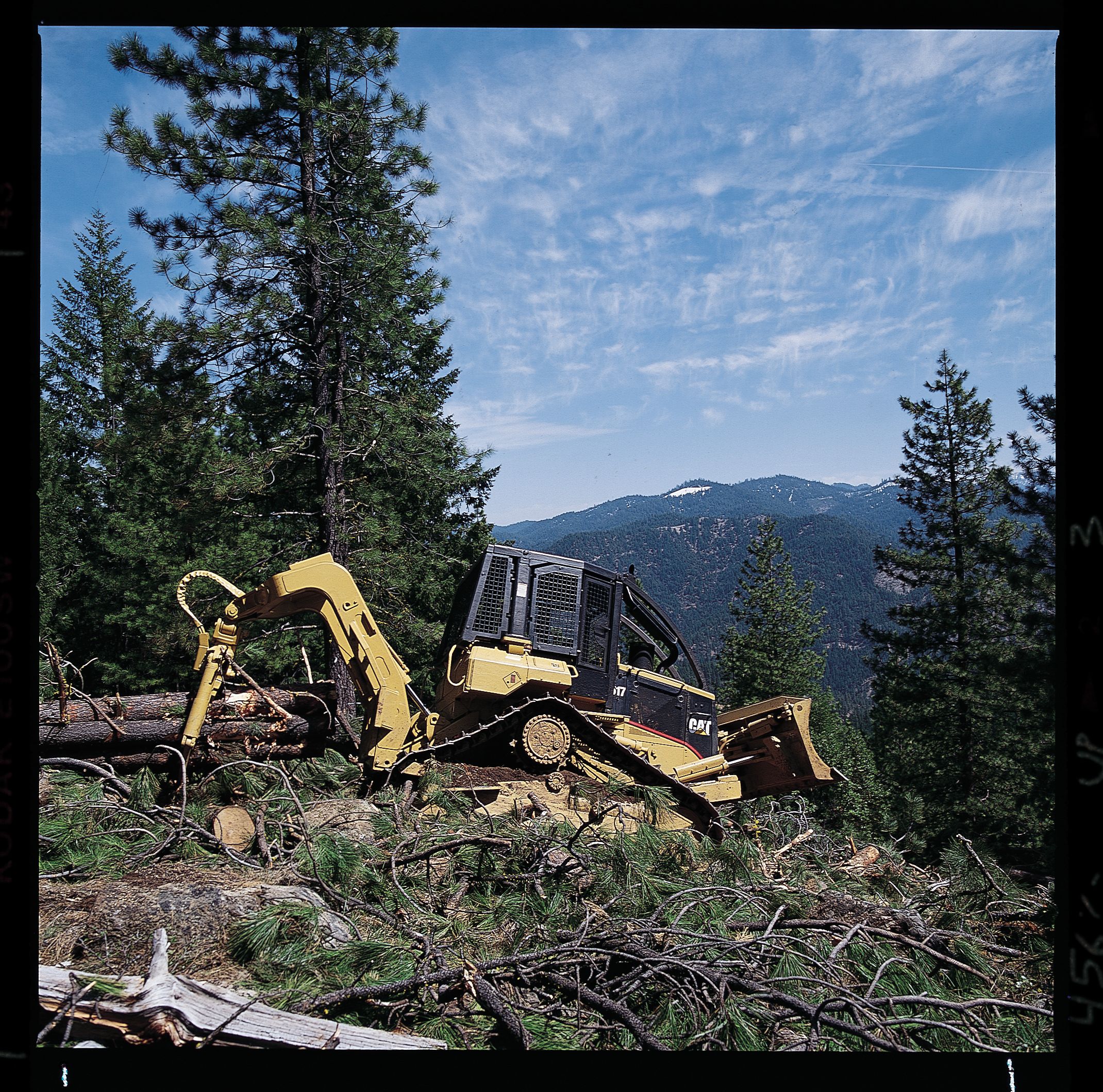 Engine
Turbocharged Cat 3304 DIT diesel engine sets the industry standard for reliability and durability.
Torque Converter
Large, heavy-duty torque converter is matched to the 3304 engine power for excellent drawbar pull and improved skidding performance.
Radiator
Six-row radiator core has large surface areas for improved heat rejection.
Transmission
Three-speed planetary power shift transmission is designed and built by Caterpillar and delivers three speeds in both forward and reverse.
Application Flexibility
The 517 Skidder can easily handle an array of tasks and applications for today's loggers.
Performance
Maximum skidding performance is best attained through the available swing boom and grapple.
Horsepower and Torque
High horsepower and torque further enhance the 517's dozing abilities.
Track Options
Expanded track options allow the 517 to maintain skidding performance and minimize ground disturbance in a wide range of ground conditions.
Ground Clearance
Excellent ground clearance allows the 517 to readily avoid obstacles, maneuver in poor underfoot conditions, and work effectively and efficiently on snow covered sites.
Undercarriage
Undercarriage options provide optimized performance and durability, while allowing customization for different logging applications.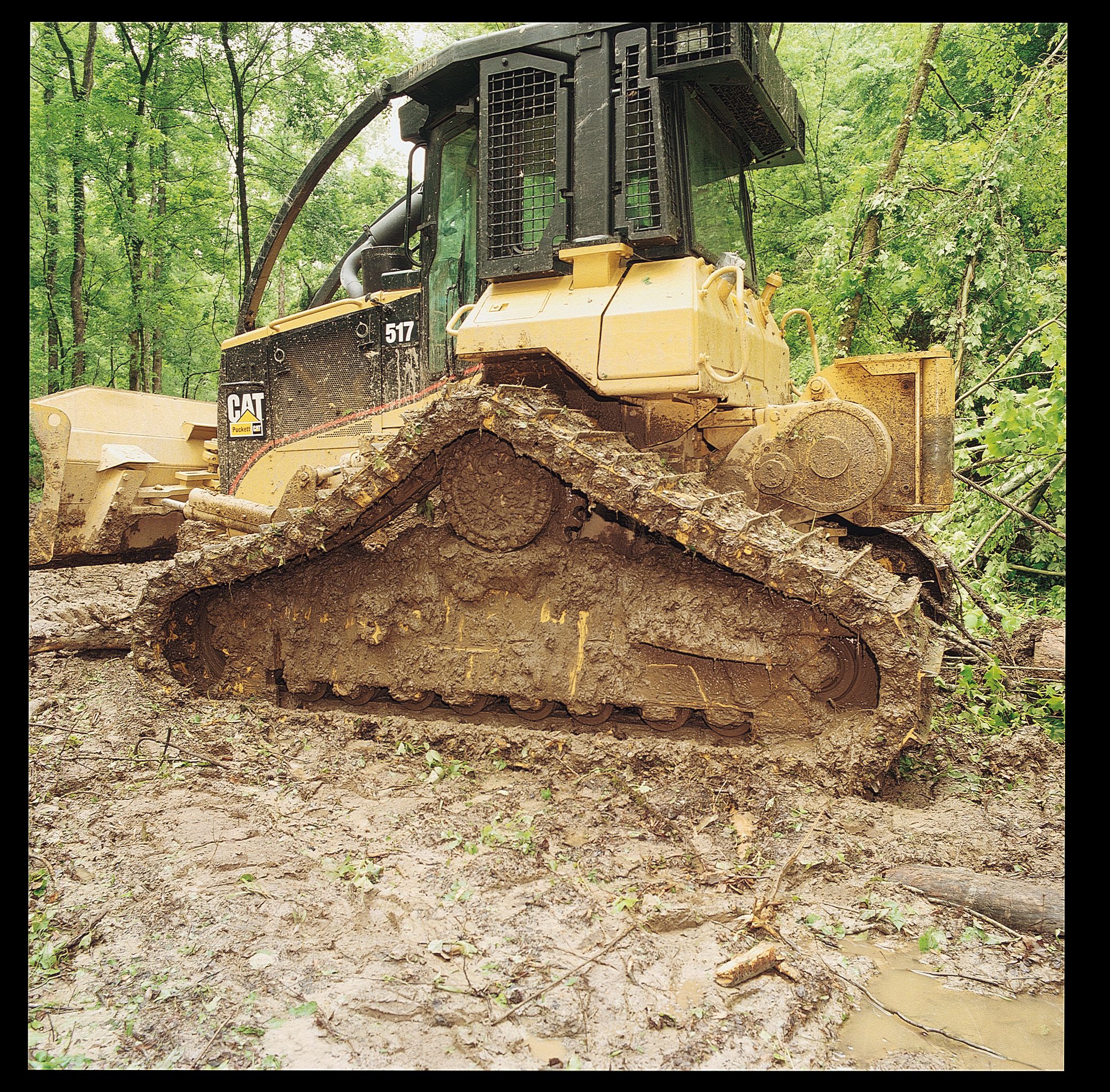 Track Roller Frame
Heavy-duty track roller frame and undercarriage are key to the 517's superior balance and durability.
Supported Undercarriage
Supported undercarriage options reduce stress loads and impact forces on undercarriage assemblies and contribute to longer system life.
Hydraulics
Load Sensing Hydraulic system improves skidding performance and efficiency.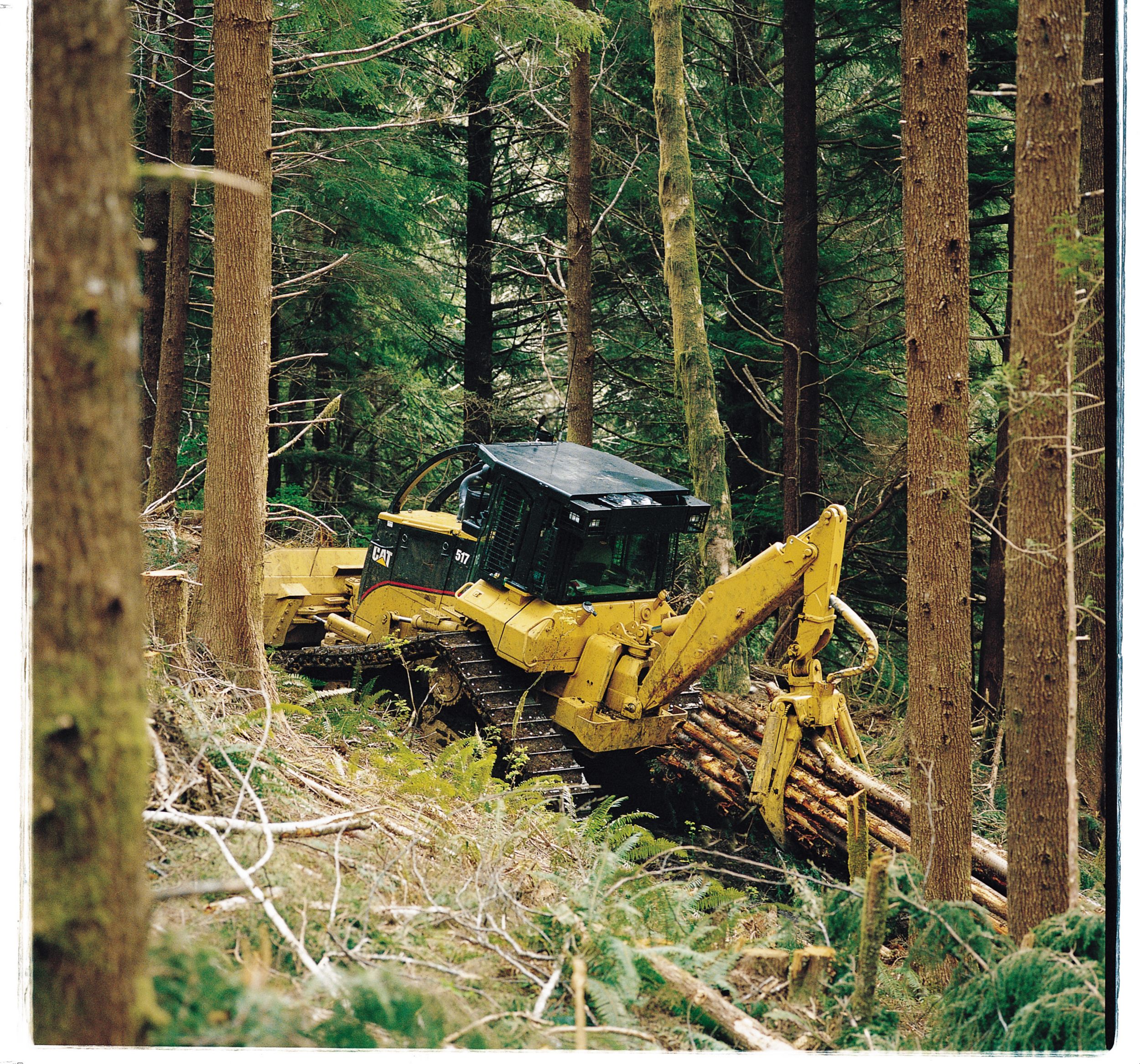 Load Sensing Hydraulics
Load sensing hydraulics utilize a load sensing, variable displacement pump and pressure compensating system which continually monitors dozer and grapple hydraulic power requirements.
Auto-Grab Feature
The Auto-Grab feature from Caterpillar constantly monitors and adjusts tong pressure as needed to securely hold grapple loads while skidding.
Operator Station
Designed operator comfort and ease of operation to ensure maximum productivity.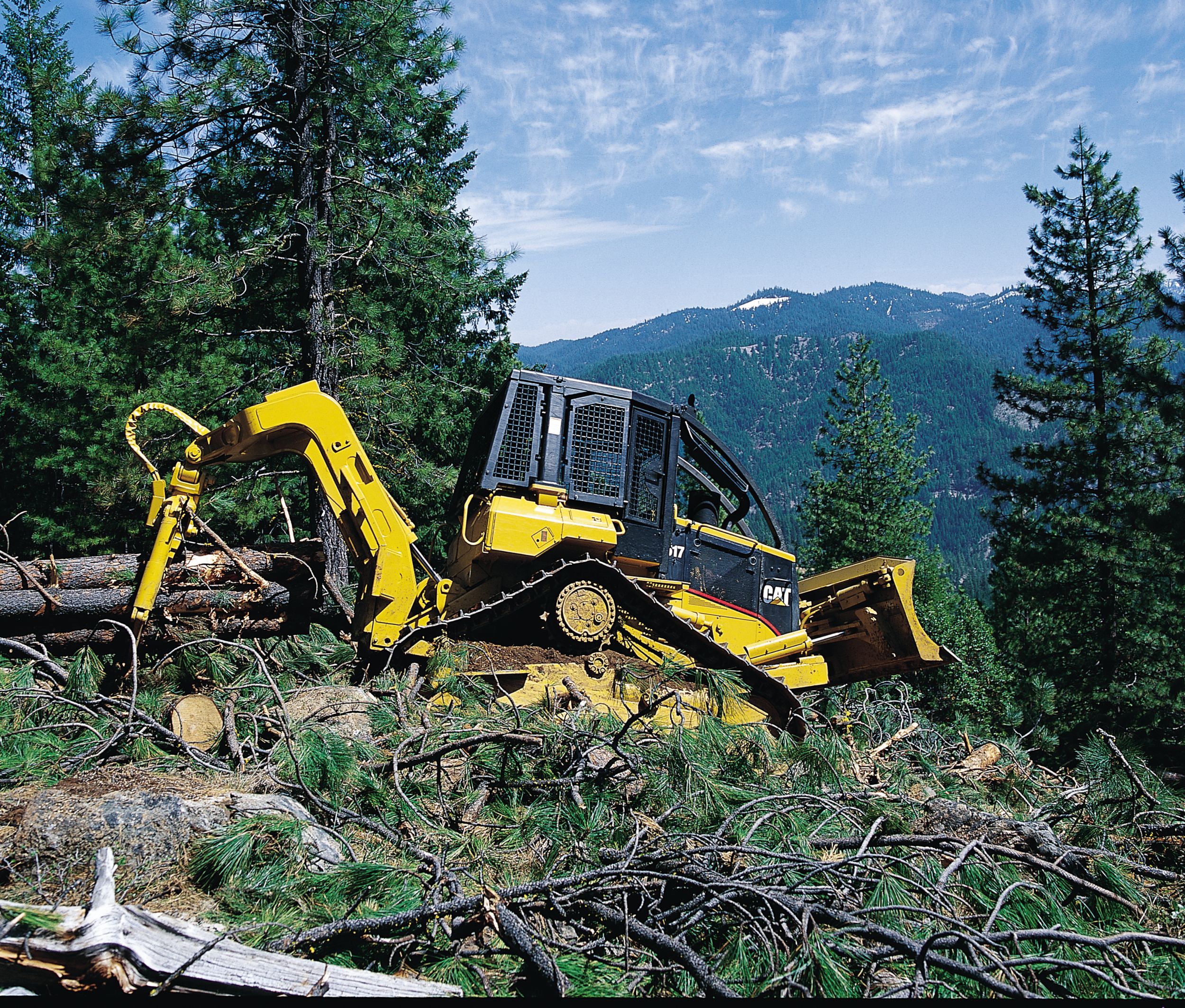 Easy and Comfortable Operation
Modular ROPS/FOPS cab is resiliently mounted to the frame. Large window area allows excellent front and rear viewing area.
Transmission
Power shift transmission delivers three speeds forward and three reverse. Gear selection is quick and easy.
Steering
Clutch and brake steering controls each track individually providing exceptional maneuverability.
Electronic Monitoring System
Electronic monitoring system monitors critical machine functions and has a three-level warning system to inform operators of potential problems.
Blade Control
Single-lever blade control manages all blade functions including height, angle and tilt.
Grapple Control
Single-lever grapple control allows for simplified operation and reduced operator fatigue.
Auto-Grab Switch
Auto-Grab switch activates the system that monitors and adjusts tong pressure to maintain a secure grip on grapple loads.
Seat
Standard suspension seat is angled ten degrees to the right so the operator can more comfortably observe grapple/winch functions to the rear.
Air-conditioning
Air-conditioning is standard with the enclosed cab. Controls allow operator to manage cab temperature for optimal comfort levels.
Windows
Polycarbonate windows provide excellent viewing and eliminate the need for screens.
Canopy
Open ROPS/FOPS canopy is standard with side, front, and rear screens, vandalism protection and optional heater.
Cable Skidder
The 517 winch is specifically designed for the 517 to help maximize productivity.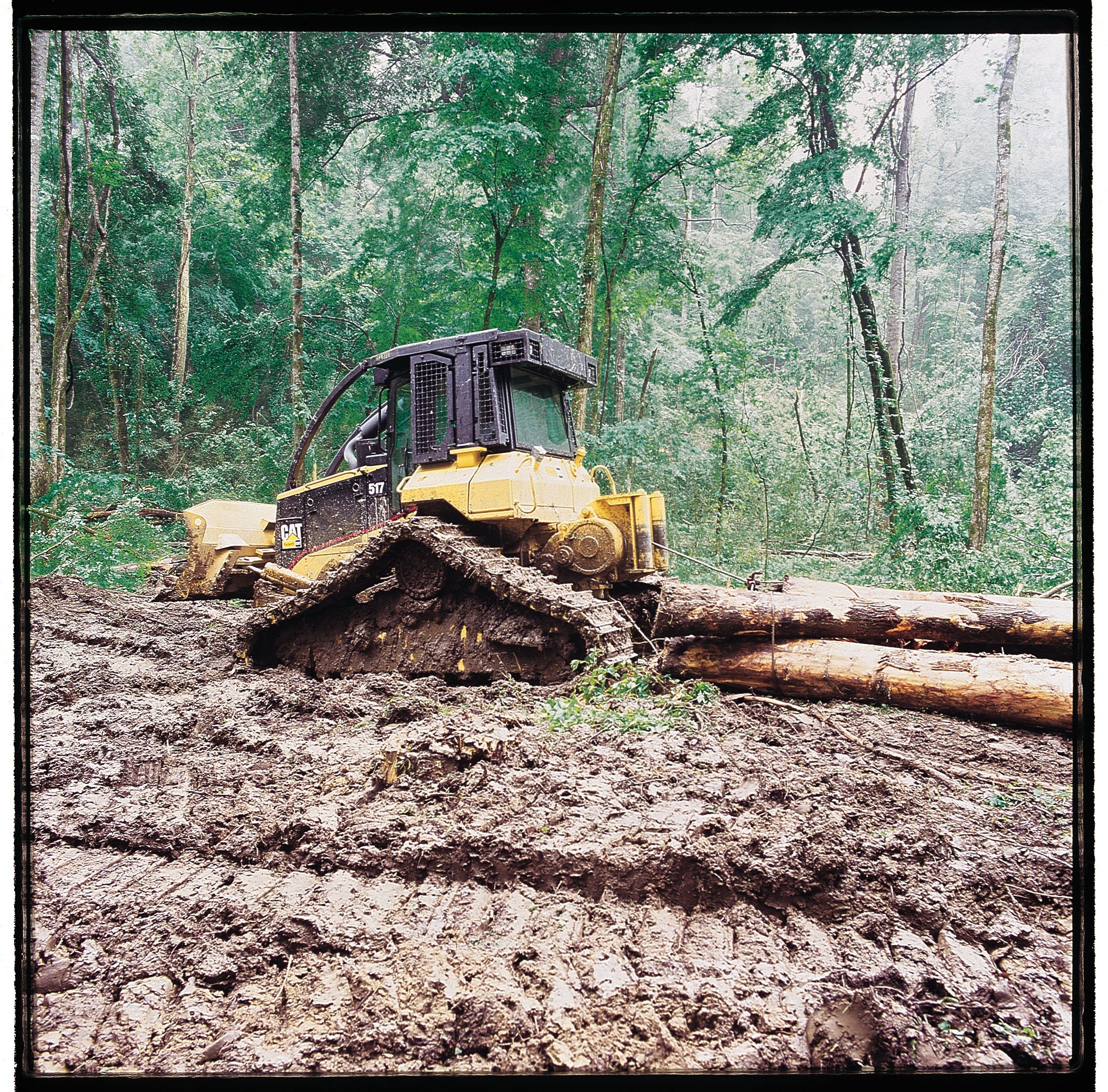 Winching Performance
The combination of high drawbar pull, torque converter driveline and balance enable the 517 to overcome the loads created during winch applications.
Balance and Pulling Power
Superior balance and pulling power enable the 517 to skid large loads with the optional 517 winch. This highly productive winch has been specifically designed for the 517 skidder in steep and mountainous skidding applications.
Serviceability
The most serviceable machines from the most committed dealers.
Servicing
Less service time means more working time. Major components are made as modules and most can be removed without disturbing or removing others.
Ground-level Access
Ground-level access provides convenient servicing to most filters and lube points.
Pre-screener
Centrifugal pre-screener removes large debris before it reaches the internal air cleaner, significantly increasing engine protection.
Oil Filters
Spin-on fuel and engine oil filters save changing time.
Air Filters
Radial seal air filters are easy to change, reducing air filter maintenance times.
Electrical System
24-volt electrical system delivers increased electrical power for engine cranking, lights, and engine diagnostics.
Customer Support
Cat dealer services help you operate longer with lower costs.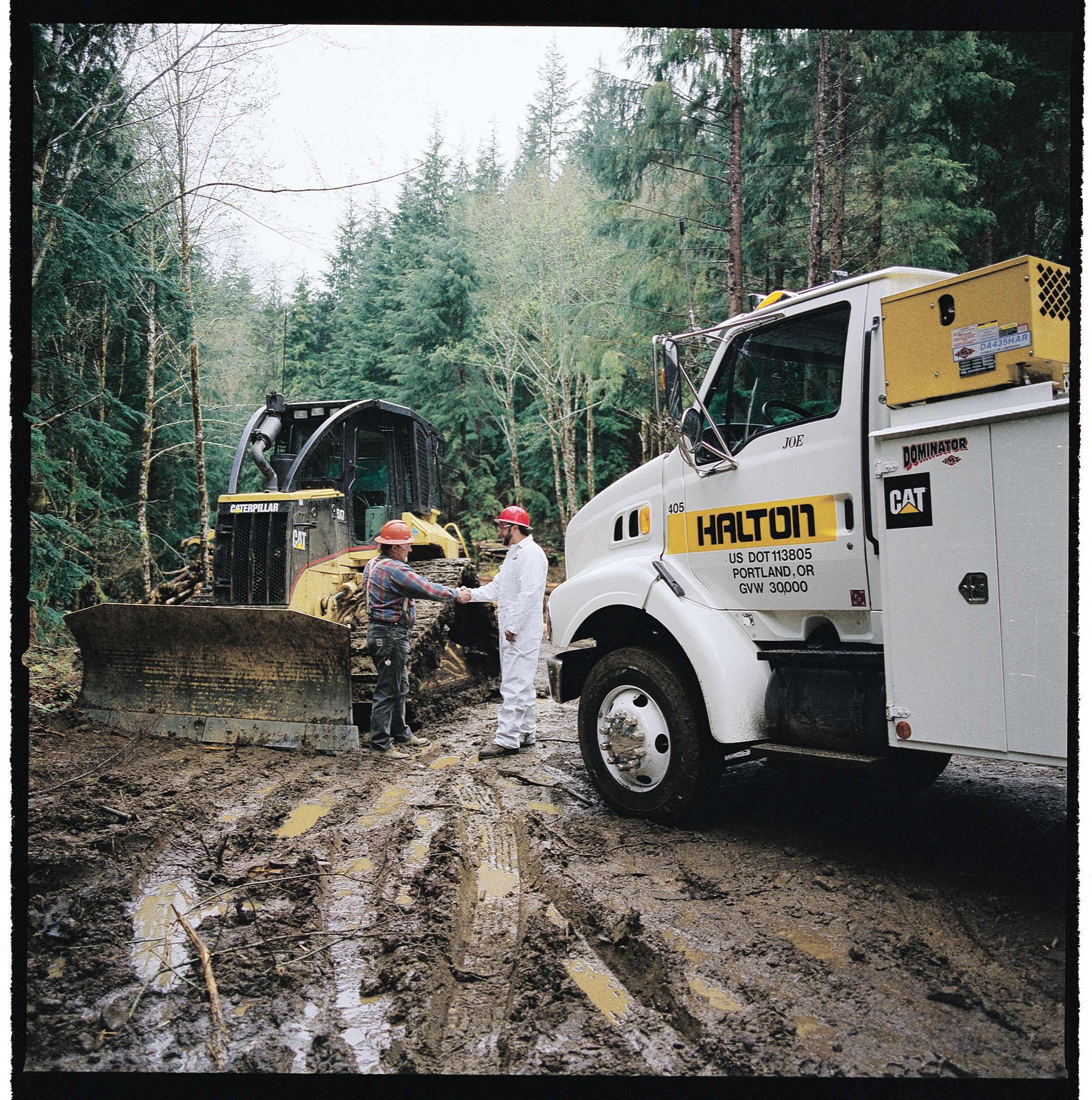 Selection
Make detailed comparisons of the machines you are considering before you buy.
Purchase
Look past initial price. Consider the financing options available as well as day-to-day operating costs.
Operation
Improving operating techniques can boost your profits.
Replacement
Repair, rebuild or replace? Your Cat dealer can help you evaluate the cost involved so you can make the right choice.
Product Support
You will find nearly all parts at our dealer parts counter. Cat dealers utilize a world-wide computer network to find in-stock parts to minimize machine down time.
Maintenance
More and more equipment buyers are planning for effective maintenance before buying equipment.
CONNECT. DISCUSS. SOLVE.
CATERPILLAR EQUIPMENT MAINTENANCE ONLINE COMMUNITY
HOW CAN WE HELP?
SHARE YOUR FEEDBACK OR ASK A QUESTION