777D
Engineered for performance, designed for comfort, built to last.
DETAILS
SPECIFICATIONS
Operating Specifications
Nominal Payload Class (100%)
100 tons
Top Speed - Loaded
39.9 mph
Body Capacity - Struck
55.06 yd3
Maximum Capacity
100 tons
Body Capacity - SAE 2:1
78.6 yd3
Engine
Engine Model
Cat® 3508B EUI
Rated Engine Speed
1750 RPM
Gross Power - SAE J1995
1000 hp
Net Power - SAE J1349
938 hp
Net Power - 80/1269/EEC
938 hp
Net Power - ISO 9249
938 hp
Weights - Approximate
Target Gross Machine Operating Weight
360000 lb
Operating Weight - Empty
141749 lb
Capacity - Dual Slope - 100% Fill Factor
Heaped 2:1 (SAE)
78.6 yd3
Weight Distributions - Approximate
Transmission
Final Drives
Differential Ratio
2.74:1
Total Reduction Ratio
19.16:1
Brakes
Brake Surface - Front
432 in2
Brake Surface - Rear
15828 in2
Brake Standards
ISO 3450: 1996; SAE J1473 OCT90
Service Refill Capacities
Differentials and Final Drives
87 gal
Steering System (Includes Tank)
22 gal
Torque Converter / Brake / Hoist Hydraulic Tank
66 gal
Torque Converter / Brake / Hoist System (Includes Tank)
133 gal
Body Hoists
Pump Flow - High Idle
119 gal/min
Relief Valve Setting - Raise
2750 psi
Relief Valve Setting - Lower
3450 psi
Body Raise Time - High Idle
15 Seconds
Body Lower Time - Float
13 Seconds
Body Power Down - High Idle
13 Seconds
Suspension
Effective Cylinder Stroke - Front
12.5 in
Effective Cylinder Stroke - Rear
6.5 in
Rear Axle Oscillation
5.4 Degrees
Approximate Weights - Dual Slope
Sound
Sound Standards
ANSI/SAE J1166 MAY90, SAE J88 JUN96
ROPS
ROPS/FOPS Standards
SAE J1040 MAY94, ISO 3471:1997
Approximate Weights - Dual Slope Lined
Dimensions
Height - Top of ROPS
14.8 ft
Overall Body Length
31.3 ft
Inside Body Length
23.73 ft
Rear Axle to Tail
9.11 ft
Loading Height - Empty
14.37 ft
Inside Body Depth - Max
6.3 ft
Overall Height - Body Raised
33 ft
Centerline Front Tire Width
13.69 ft
Engine Guard Clearance
2.33 ft
Overall Canopy Width
19.1 ft
Outside Body Width
18.12 ft
Inside Body Width
17.06 ft
Front Canopy Height
16.6 ft
Rear Axle Clearance
2.5 ft
Centerline Rear Dual Tire Width
11.75 ft
Overall Tire Width
17.26 ft
Steering
Steering Standards
SAE J1511 OCT90, ISO 5010:1992 (E)
Tires
Standard Tire
27.00-R49 (E4)
BENEFITS & FEATURES
Power Train - Engine
The Cat 3508B engine is built for power, reliability and efficiency for superior performance in the toughest applications.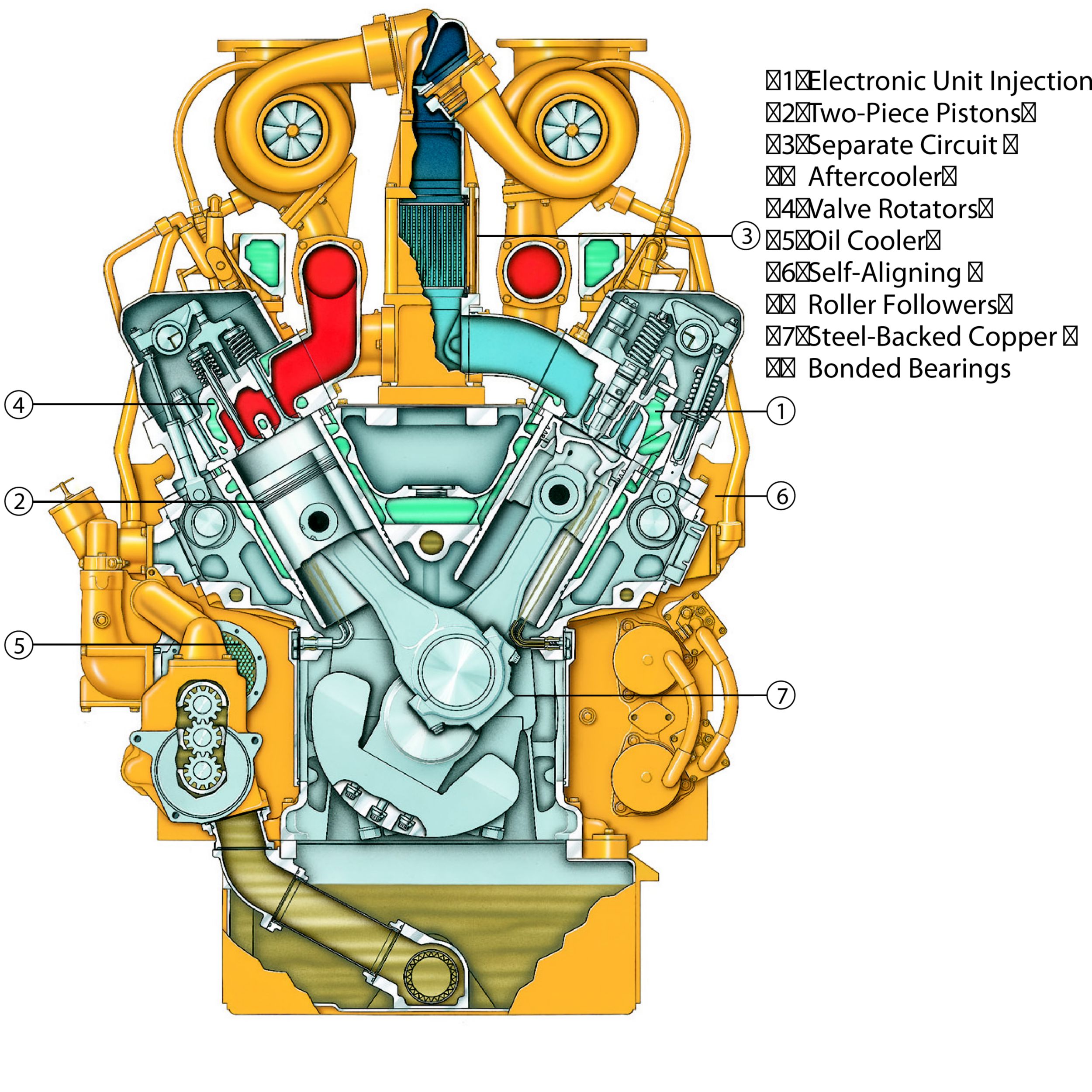 Engine
The Cat 3508B EUI twin turbocharged and aftercooled diesel engine delivers high power and reliability in the world's most demanding applications. The 3508B is an 8-cylinder, four-stroke design that uses long, effective power strokes for more complete fuel combustion and optimum efficiency.
Fuel Efficiency
The 3508B EUI has 2% improved specific fuel consumption over the former 3508 EUI engine.
EPA Compliant
The 3508B engine is compliant with U.S. Environmental Protection Agency Tier I emissions standards.
Starting System
Features a direct-electric, 24-volt starting system with a 100-amp alternator and four 190-amp-hour, low maintenance, high output, 12-volt batteries for dependable starting.
Altitude Compensation
Designed for maximum operating efficiencies at altitudes under 2228 m (7,500 ft).
High Torque Rise
The 23 percent torque rise provides unequalled lugging force during acceleration, on steep grades and in rough underfoot conditions. Torque rise effectively matches transmission shift points for maximum efficiency and fast cycle times.
Enhanced Life
High displacement, low rpm rating and conservative horsepower ratings mean more time on the haul roads and less time in the shop.
Two-Piece Piston Design
Two-piece articulated pistons with a deep bowl, low volume crevice design enhances combustion efficiency, improves fuel efficiency and lowers emissions.
Electronic Unit Injection (EUI)
The electronically controlled unit injection fuel system senses operating conditions and regulates fuel delivery for optimum fuel efficiency. The proven high-pressure fuel system provides improved response times and more efficient fuel burn with lower emissions and less smoke.
Electronic Control Module (ECM)
ECM utilizes advanced engine management software to monitor, control and protect the engine utilizing self-diagnosing electronic sensors. The computerized system senses operating conditions and power requirements and adjusts engine for peak performance and most efficient operation and at all times.
Separate Circuit Aftercooler
Allows the aftercooler circuit to operate cooler than jacket water temperature for a denser air charge and greater combustion.
Engine Protection
Computerized system electronically protects the engine during cold starts, high altitude operation, air filter plugging, and high exhaust temperature.
Oil Renewal System (optional)
Oil renewal system meters and injects used engine oil from the crankcase to the engine's fuel return line, extending oil change intervals and increasing machine availability and productivity.
Exhaust Diverter (optional)
Unique muffler/exhaust design transfers heat to the truck body to keep materials from sticking in cold climates. When in the lowered position, the diverter routes the exhaust through the body; when raised, exhaust is diverted through the muffler.
Power Train - Transmission
Cat power train delivers more power to the ground for greater productivity and lower operating costs.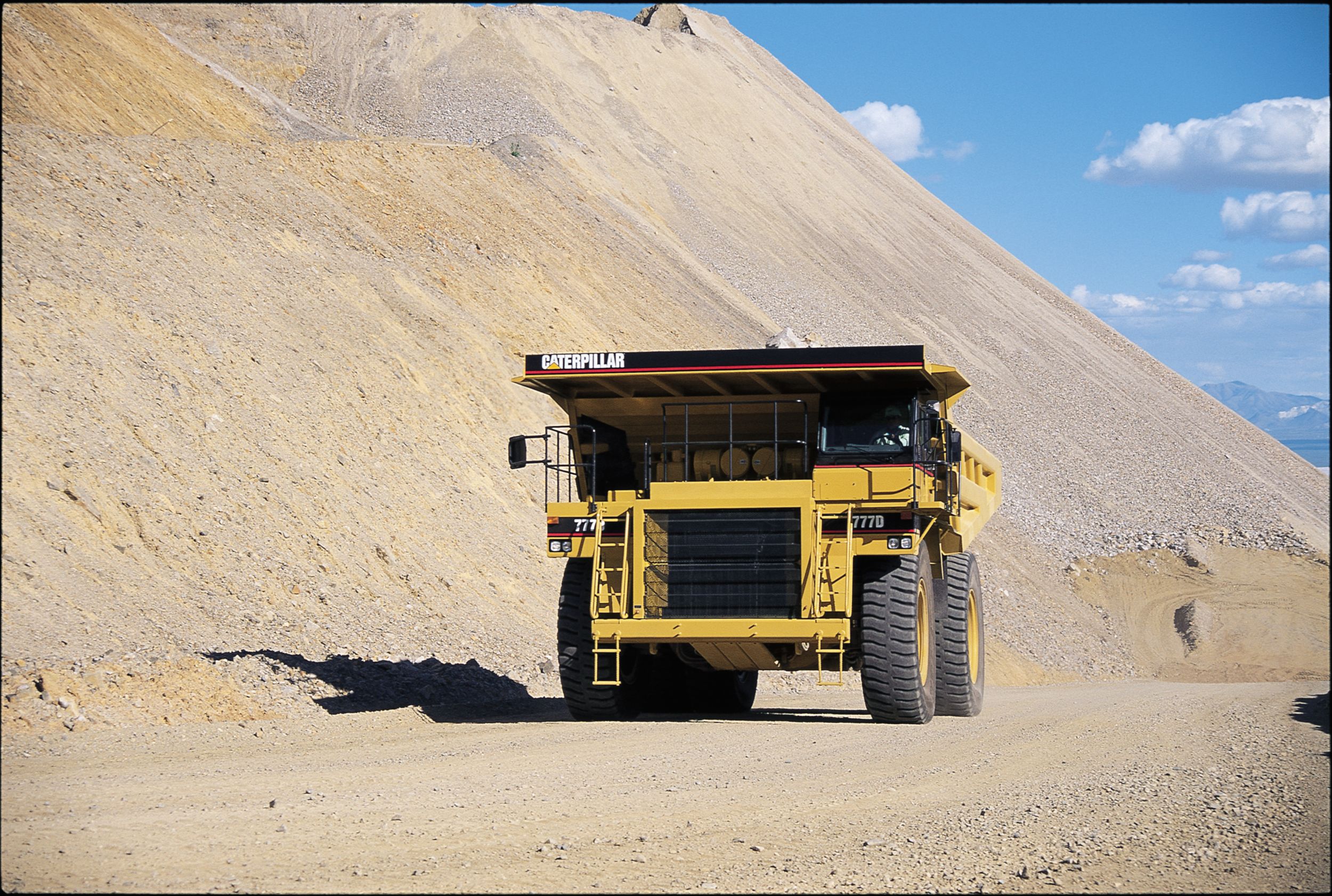 1) Transmission
The Cat seven-speed planetary power shift transmission is matched with the direct-injection 3508B diesel engine to deliver constant power over a wide range of operating speeds.
Robust Design
Designed for the higher horsepower of the 3508B engine, the proven planetary power shift transmission is built tough for long life between overhauls.
Transmission Chassis Control (TCC)
TCC uses electronically transferred engine rpm data to execute shifts at preset points for optimum performance, efficiency and clutch life.
2) Lock-Up Torque Converter
Combines maximum rimpull and the cushioned shifting of torque converter drive with the efficiency and performance of direct drive. Engages at approximately 6.4 km/h (4 mph), delivering more power to the wheels.
3) Final Drives
Cat final drives work as a system with the planetary power shift transmission to deliver maximum power to the ground. Built to withstand the forces of high torque and impact loads, double reduction final drives provide high torque multiplication (19.16:1) to further reduce drive train stress.
Axles
Full floating axles are shot peened to relieve internal stresses and increase durability. Rolled splines also provide increased service life.
Wheels and Rims
Cast rear wheels and Cat center-mount rims are mounted using studs and nuts to minimize maintenance and maximize durability.
Steering System
Hydraulic steering control system is designed for exceptional smoothness and precise control. A separate circuit prevents cross contamination for long life.
Engine/Power Train Integration
Electronically combines critical power train components to work more intelligently to optimize overall truck performance.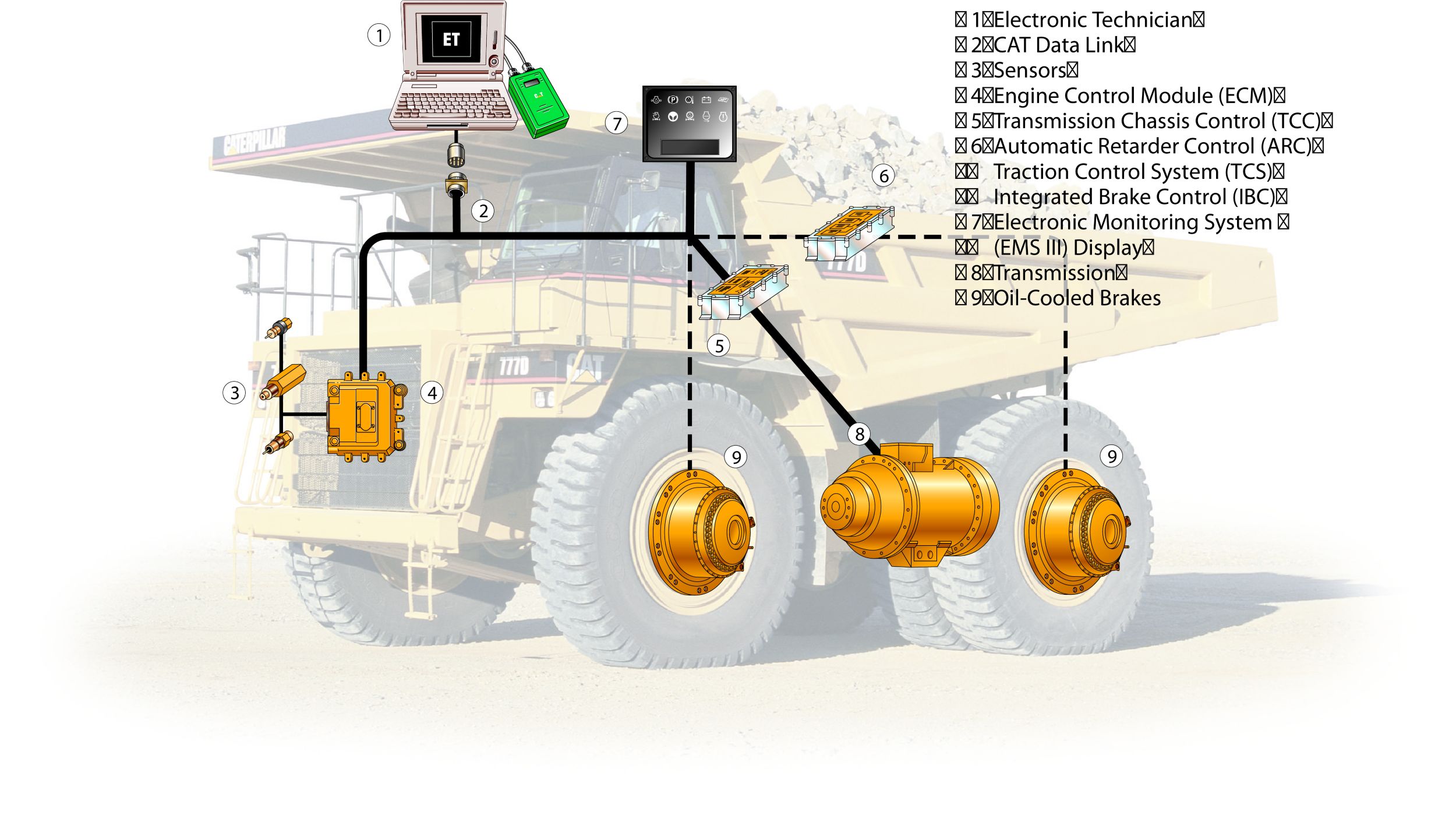 Cat Data Link
Electronically integrates machine computer systems to optimize overall power train performance, increase reliability and component life, and reduce operating costs.
Economy Mode
Using the Electronic Technician (Cat ET) service tool, the mechanic can reduce the engine setting to 920 gross horsepower to match loader/crusher availability and conserve fuel.
Transmission Chassis Control (TCC)
TCC uses electronically transferred engine rpm data to execute shifts at preset points for optimum performance efficiency and clutch life. The transmission chassis controller provides integrated functionality, to the following electronic controls:
Electronic Technician (ET)
Cat ET service tool provides service technicians with easy access to stored diagnostic data through the Cat Data Link to simplify problem diagnosis and increase machine availability.
Cat ET displays the status of all engine parameters, including throttle position, timing and fuel flow.
Cat ET replaces 13 mechanical tools to perform functions like cylinder cutout checks, injector solenoid tests and timing calibration.
Electronic Monitoring System (EMS III)
EMS III allows the operator to view requested information and utilizes a three-category warning system to alert the operator of abnormal machine conditions. Data can be downloaded via the Electronic Technician (ET) service tool for quick diagnosis and repair.
Optional Attachments
Caterpillar offers optional braking controls that are electronically integrated with the Cat Data Link to enhance retarding, traction and braking performance:
Brake System
Reliable braking with superior control gives the operator the confidence to focus on productivity.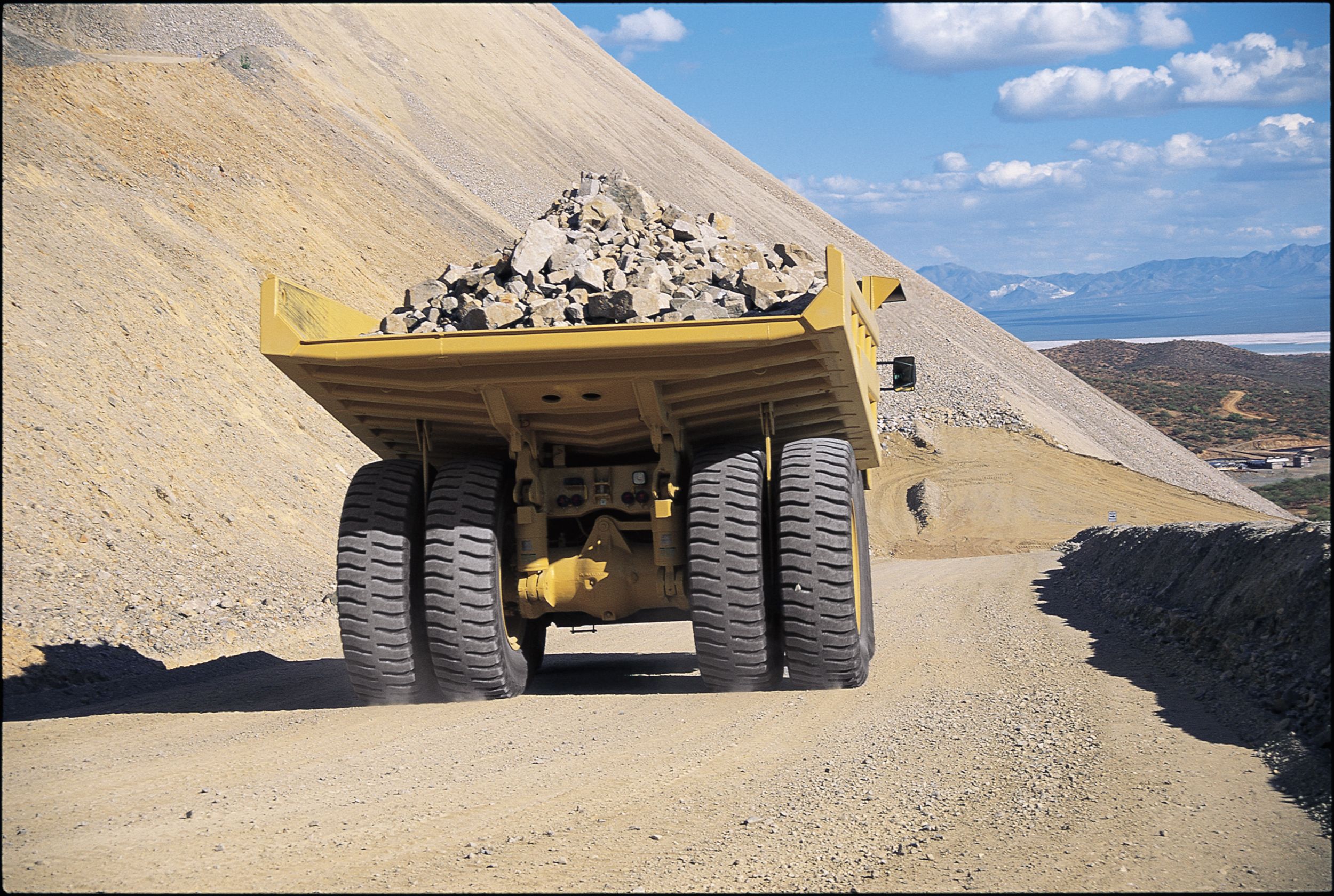 Integrated Braking System
The Cat oil-cooled braking system delivers reliable performance and control in the most extreme haul road conditions. The integrated system combines the service, secondary, parking brake and retarding functions in the same robust system for optimum braking efficiency.
Front/Rear Oil-Cooled Multiple Disc Brakes
Caterpillar four-wheel, forced oil-cooled, multiple disc service brakes are continuously cooled by water-to-oil heat exchangers for exceptional, non-fade braking and retarding performance.
Brake Design
Cat oil-cooled disc brakes are designed with large discs and plates for reliable, adjustment-free operation and performance. Brakes are completely enclosed and sealed to prevent contamination and reduce maintenance.
Dry Front Caliper Disc Brakes (optional)
Multiple disc, spring-applied, hydraulically-released, dry brakes available for front wheel braking only.
Pistons
The Caterpillar two-piston design combines the service, secondary, parking brake and retarding functions in the same system. The primary piston hydraulically actuates both service and retarding functions. The secondary piston is spring-applied and held in the disengaged position by hydraulic pressure. If hydraulic system pressure drops below a specified level, the spring-applied secondary piston automatically applies the brakes.
Parking Brake
Oil-cooled, spring-applied, hydraulically released parking brake is applied to all four wheels for superior parking capability on all grades up to 15 percent.
Automatic Retarder Control (ARC) (optional)
ARC electronically controls braking on grade to maintain engine at approximately 1900 RPM (adjustable from 1850-1950 RPM in increments of 10). ARC is deactivated when the operator applies the brakes or throttle.
Traction Control System (TCS) (optional)
TCS electronically monitors and controls rear wheel slippage for greater traction and enhanced truck performance in poor underfoot conditions. If slippage exceeds a set limit, the oil-cooled disc brakes engage to slow the spinning wheel. Torque is then automatically transferred to the wheel with better traction.
Integrated Braking Control (IBC) (optional)
IBC combines Automatic Retarder Control (ARC) and Traction Control System (TCS) into one integrated brake control system for optimum efficiency, performance and reliability.
Cat Data Link
All control modules communicate via the Cat Data Link and work together as an integrated system to maximize production efficiency and extend component life.
Structures
Rugged Cat structures are the backbone of the 777D off-highway truck's durability.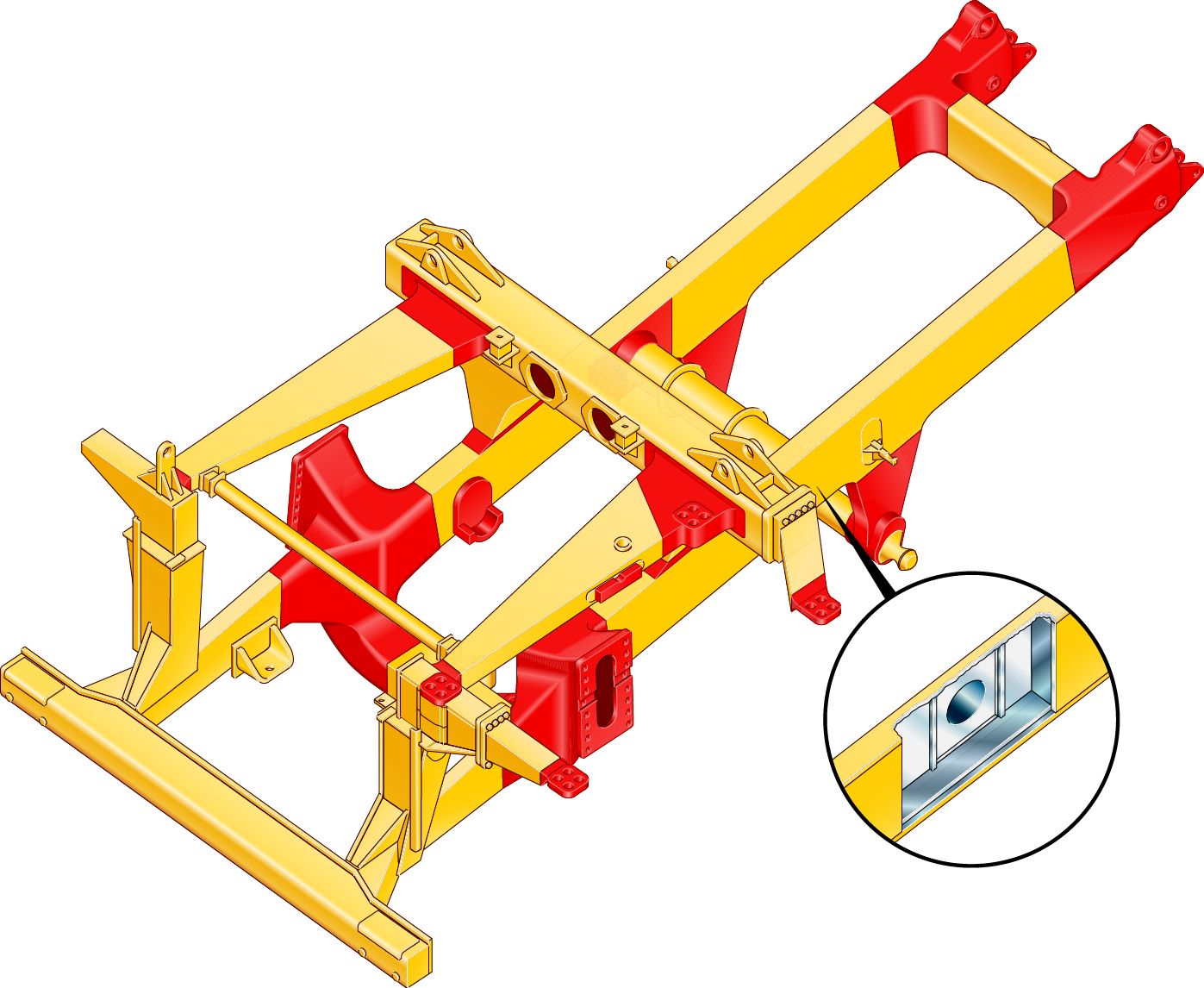 Box-Section Design
The 777D frame uses a box-section design, incorporating two forgings and 22 castings in high stress areas with deep penetrating and continuous wrap-around welds to resist damage from twisting loads without adding extra weight.
Integral Four-Post ROPS Cab
Resiliently mounted to the main frame to reduce vibration and sound, the integral ROPS structure is designed as an extension of the truck frame. The ROPS/FOPS structure provides "five sided protection" for the operator.
Steering and Suspension System
Cat integrated steering and suspension system is designed for precise steering, excellent maneuverability with minimal tire wear, and superior ride control to optimize operator comfort all shift long.
Steering System
A twin double-acting cylinder steering system is designed to deliver precise control under all loading and underfoot conditions. The steering system is separate from the main hydraulic system to prevent cross-contamination and overheating from other sources.
Suspension System
Designed to dissipate haul road and loading impacts for longer frame life and a more comfortable ride.
Ride Control
Built-in rebound control and strategically located cab relative to the front axle minimizes the effect of pitch and bounce, resulting in a more comfortable ride, higher productivity and less fatigue.
Operator's Station
Ergonomically designed for operator comfort, superior control and high productivity.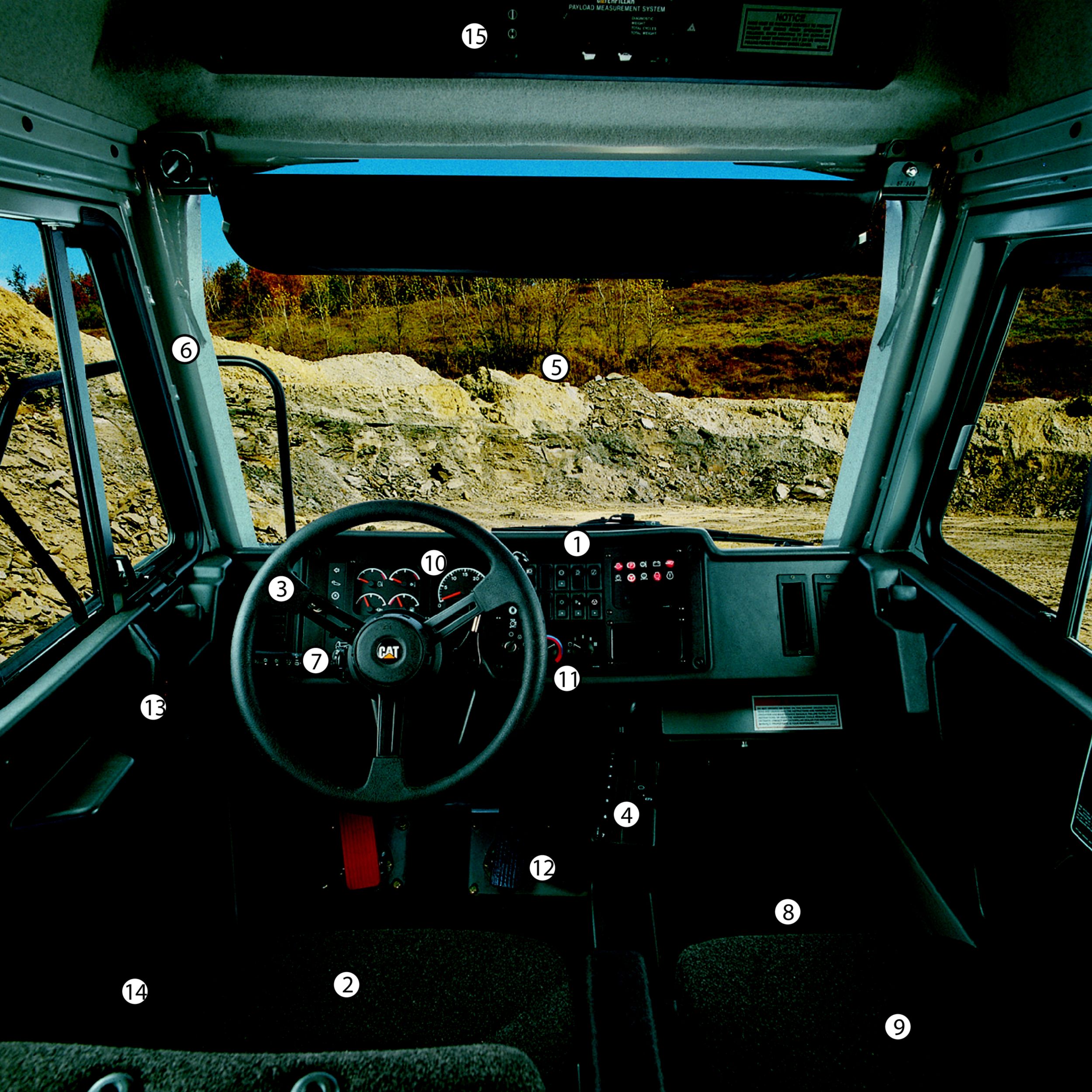 Ergonomic Layout
The 777D operator station is ergonomically designed for total machine control in a comfortable and productive environment. All controls, levers switches and gauges are positioned to maximize productivity and minimize operator fatigue.
1) Dash
Wrap-around dash puts all controls within each reach of the operator. Backlit displays enhance visibility.
2) Air Suspension Seat
Ergonomically designed, fully adjustable Cat Comfort Air Suspension Seat with adjustable armrests provides optimal driving comfort. A wide, retractable seat belt provides a secure, comfortable restraint.
3) Steering Column
Sport wheel with tilt and telescopic steering provides a comfortable driving position and greater control.
4) Transmission Console
Ergonomic gear shift lever with backlit gear indicators optimize efficiency.
5) Viewing Area
Designed for excellent all-around visibility and clear sight lines to the haul road, the large viewing area enables the operator to maneuver with confidence for greater productivity.
6) ROPS/FOPS Cab
Integral, sound-suppressed cab is resiliently mounted to the mainframe to isolate the operator from sound and vibration for a quiet, secure and comfortable ride.
7) Operator Controls
Easy to reach turn signal, high beam, windshield wiper/washer, and retarder controls are designed for optimum efficiency and comfort.
8) Storage Compartment
Large compartment located under the trainer seat provides an uncluttered working environment.
9) Trainer Seat
Full-size, fully padded trainer seat features a backrest, wide hip and shoulder room, and seat belt for secure travel.
10) Monitoring System
Electronic Monitoring System (EMS III) features easy-to-read displays for precise machine status information. Data can be downloaded via the Electronic Technician (Cat ET) service tool for quick diagnosis and repair.
Gauge Cluster maintains a constant display of vital machine functions, including: coolant temperature, oil temperature, brake air pressure, and fuel level.
Speedometer/Tachometer Module monitors three systems: engine speed, ground speed and actual gear.
Message Center displays messages requested by operator and advises operator of abnormal machine conditions.
11) Heating/Air Conditioning
Electronically controlled four-speed fan and nine vents deliver temperature-controlled air circulation for a comfortable working environment in any climate. A/C is optional.
12) Foot Pedals
Ergonomically designed for comfort. Secondary brake pedal is conveniently located on the floor for easy operator control.
13) Operator Window
Powered operator window offers simple operation and an unobstructed view.
14) Hoist Levers
Four-position electronic hoist system with fingertip control provides low impact body-down snubbing. Mounted next to the operator's seat for ease of operation.
15) Truck Production Management System (TPMS) (optional)
TPMS provides valuable payload and cycle time data to improve productivity.
Utilizes strut pressure sensors and on-board microprocessor to determine payload weight.
Delivers consistent, accurate payloads and improves efficiency by minimizing overloading and underloading.
External lights signal loading tool operator when payload is reached.
On-board computer stores up to 1,400 cycles for analysis of payload weight, cycle times, distances, and actual cycle dates and times.
System is accurate within ±5% under normal loading conditions over a normal shift.
Radio Ready
Cab is prewired with power converter, speakers, wiring harness, antenna and provision for add-on communication systems.
Product Link Ready
Optional Product Link system provides a two-way communication flow of vital machine data and location information between the dealer and the customer. Product Link provides updates on service meter hours, machine condition, machine location as well as integrated mapping/route planning.
Truck Body Systems
Cat designed and built for rugged performance and reliability in the toughest hauling applications.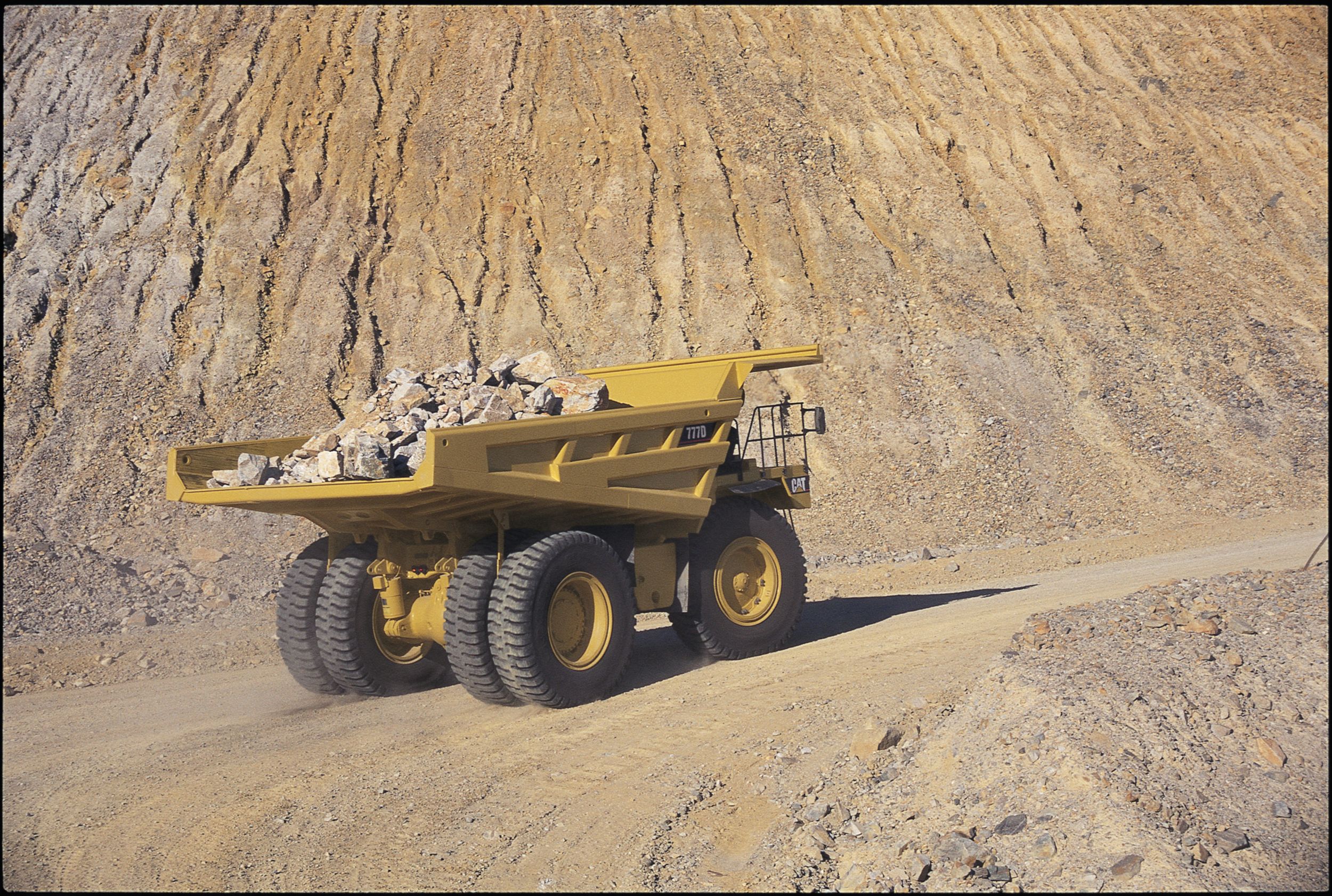 Cat Truck Bodies
Caterpillar offers three specific body styles to help customers obtain the lowest cost-per-ton hauling solution.
Dual-Slope
Flat Floor (custom)
Mine Specific Design (MSD) (custom)
Body Selection
Selection of the right body depends on material and haul road conditions. The better the match of body to application, the greater the efficiency. Your Cat dealer can help you select the right body system for your site specific application.
Body/Chassis Integration
Caterpillar truck bodies are designed and matched with the integrated chassis system for optimum structural reliability, durability and long life.
Electronic Hoist Control
Provides the operator with better control of the load when dumping, including over-center load control and modulated control throughout the operating range. The automatic body snubbing feature reduces impact on the frame, hoist cylinders and operator.
Fast Hoist Cycle Times
Two-stage hoist cylinders provide fast dump cycle times of 15 seconds for raise and 13 seconds for lower.
Body Design
Cat truck bodies are designed for optimal strength, capacity and durability. Wear surfaces are equipped to handle even the toughest impact and abrasion over the long haul without diminishing capacity.
Five-Sided Beams join the sidewall and floor junctions for increased body rigidity and strength.
Wide Ribs in body floor provide increased durability and impact support.
Full-Length Stringers create strength and rigidity throughout the bed.
Box Section Beams offer increased durability in the floor, sidewall, top rail, corner, and cab canopy areas.
Wide Body Design provides complete coverage of tires, eliminating the need for rock deflectors.
1) Dual-Slope Body
The advanced dual-slope body design with V-shaped floor increases load retention, maintains a low center of gravity, reduces shock loading, and maintains optimum load distribution on steep inclines and in challenging haul road conditions.
Reinforced, rolled steel top rail increases body strength and protects the body from damage caused by the loading tool or falling material
8 degree "V" reduces shock loading and centers the load.
10 degree forward body slope and 18 degree ducktail slope helps retain loads on steep grades.
Maintains a load height of 4380 mm (14 ft 3 in) for faster, more confident loading.
60.1 m3 (78.6 yd3) capacity allows operators to achieve rated payload in 2900 lb/BCY material.
2) Flat Floor Body (custom)
The flat floor design with slight incline delivers excellent payload capacity, high dump clearances and smooth, controlled dumping.
Flat floor design provides consistent wear characteristics on body tail.
12 degree forward body slope provides good load retention on better maintained haul roads.
400 Brinell steel on surfaces provides excellent wear.
Maintains a load height of 4571 mm (15 ft) to match a variety of loading tools.
60.6 m3 (78.7 yd3) capacity allows operators to achieve rated payload in 2900 lb/BCY material.
3) Mine Specific Design (MSD) Body (custom)
The MSD body is based on the flat floor design and is customized to maximize payload potential and minimize cost-per-ton. Each MSD body design begins with a detailed mine site profile to develop a body suitable for a mine's individual needs.
Body Liners
A variety of liner options are available to save weight and help extend the body system's life. Wear surfaces and liners are equipped to handle tough impact loads while resisting abrasion. Wear plates deliver long life in high wear areas.
Matched Systems
An efficient loading/hauling system starts with a perfect match.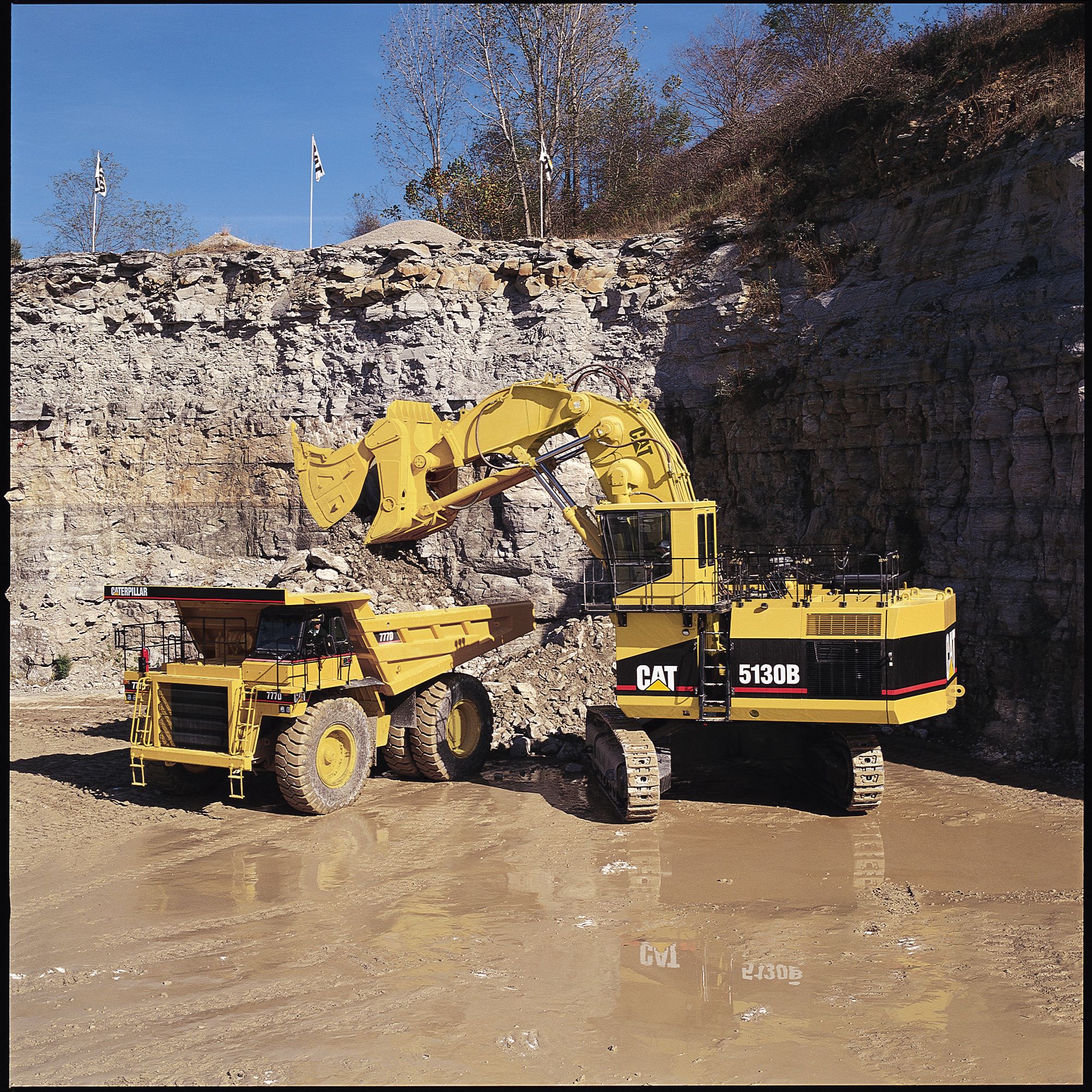 Efficient Combination
The 777D is designed to deliver full payloads and fast cycle times. When properly matched, Cat trucks and loading tools create an efficient combination to maximize volume of material moved at the lowest operating cost.
Machine Configuration Options
Choose from various truck configuration options to match specific site and hauling conditions.
Body Options
Choose from a full line of standard and custom body designs and wear protection based on material, loading tools and site conditions.
Tire Options
Choose from a range of tire options to match specific underfoot conditions, haul road conditions and hauling distances to maximize performance and extend tire life.
Systems Approach
The Caterpillar systems approach means increased efficiencies through common design. Cat haul trucks, loaders and excavators use common engines, parts and operator environments which add up to more uptime, greater productivity and lower maintenance costs.
Loader Match
Designed to work as an optimum pass/match system, the 777D is best sized to match the following Caterpillar loading tools: Wheel Loaders
990 II — 6 pass/match
992G — 4 pass/match Mass Excavators
5110B ME — 6-7 pass/match
5130B ME — 5 pass/match
5230B ME — 3-4 pass/match Front Shovels
5130B FS — 4-5 pass/match
5230B FS — 3-4 pass/match
Serviceability
Less time spent on maintenance means more more time on the haul roads.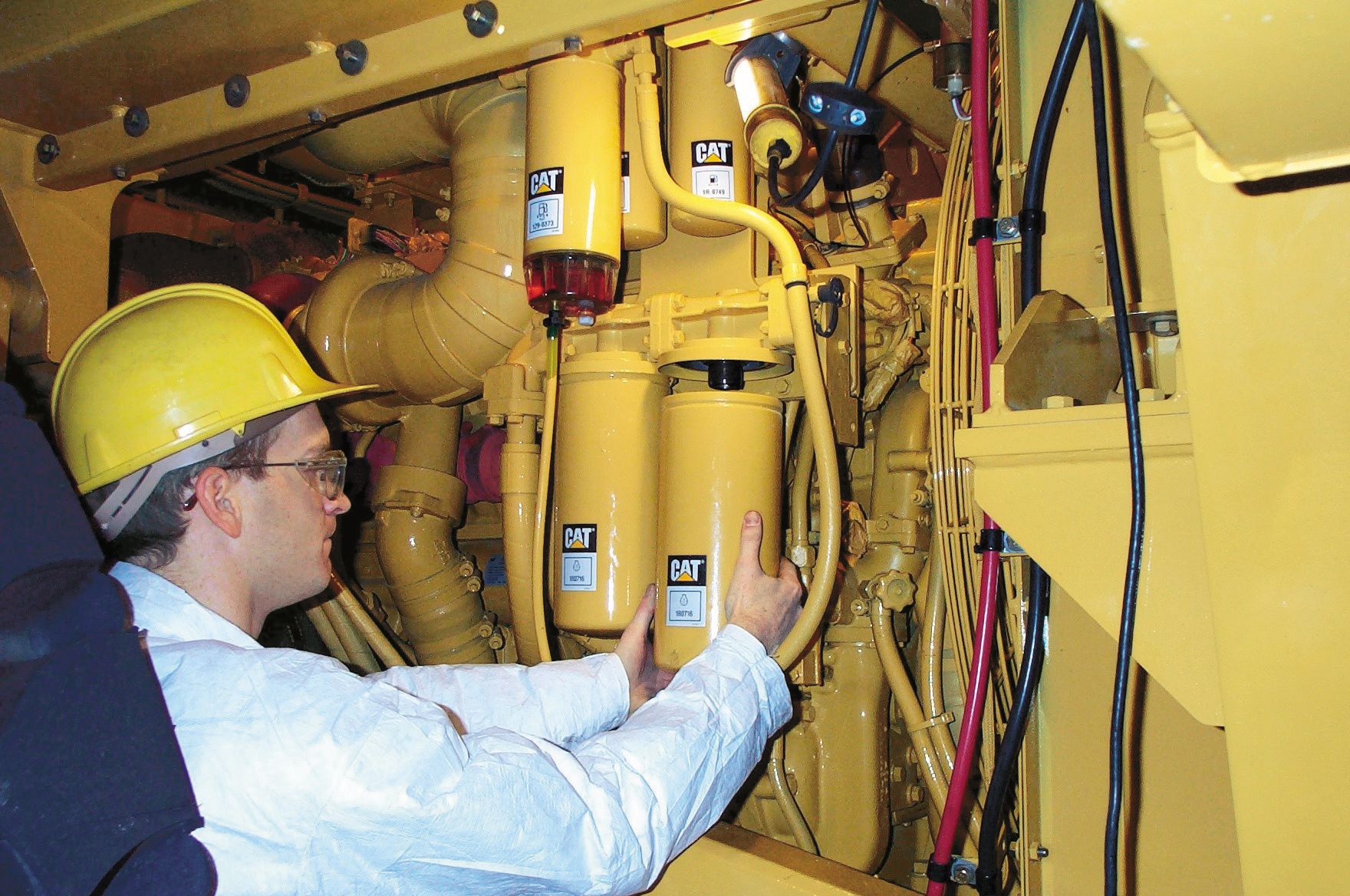 Servicing Ease
Easy access to daily service points simplifies servicing and reduces time spent on regular maintenance procedures. Enhanced serviceability and extended service intervals are designed to increase machine availability and productivity.
Maintenance Platform
Provides access to engine, air filters, steering hydraulic tank and battery compartment.
In-Frame Access
Permits easy access to major components for easy servicing and removal.
Ground-Level Access
Allows convenient servicing to tanks, filters, drains, battery disconnect and engine shutdown.
Engine Prelube (optional)
Engine prelubrication provides engine oil pressure prior to engine cranking. Reduces engine dry and cold start wear and reduces engine component wear. Automatically fills engine oil filters and galleries, and ensures components are lubed prior to cranking.
Fast Fill Service Center (optional)
Wiggins fast fill service center features high speed fuel and oil exchange.
Oil Renewal System (ORS) (optional)
Extends oil change intervals and reduces waste oil handling by continuously burning oil from the engine oil pan through normal engine operation. Make-up oil must be continually added to compensate for oil burned.
Scheduled Oil Sampling
S•O•SSM sampling valves speed sampling and analysis reliability.
Pressure Test Points
Disconnect valves are conveniently located throughout the hydraulic systems for easy pressure testing.
Air Filters
Radial seal air filters are easy to change, reducing time required for air filter maintenance.
Sealed Electrical Connectors
Electrical connectors are sealed to lock out dust and moisture. Harnesses are braided for protection. Wires are color coded for easy diagnosis and repair.
Spin-on Filters
Spin-on filters for fuel and oil systems reduce changing time and help assure clean, tight seals.
On-Board Diagnostic Systems
EMS III continuously checks all critical machine functions and components, and helps locate faults quickly for faster repair. Electronic control system enables quick diagnosis of engine conditions and effective maintenance and repairs utilizing the Electronic Technician (ET) service tool.
Customer Support
Caterpillar dealers have what it takes to keep haul trucks productive.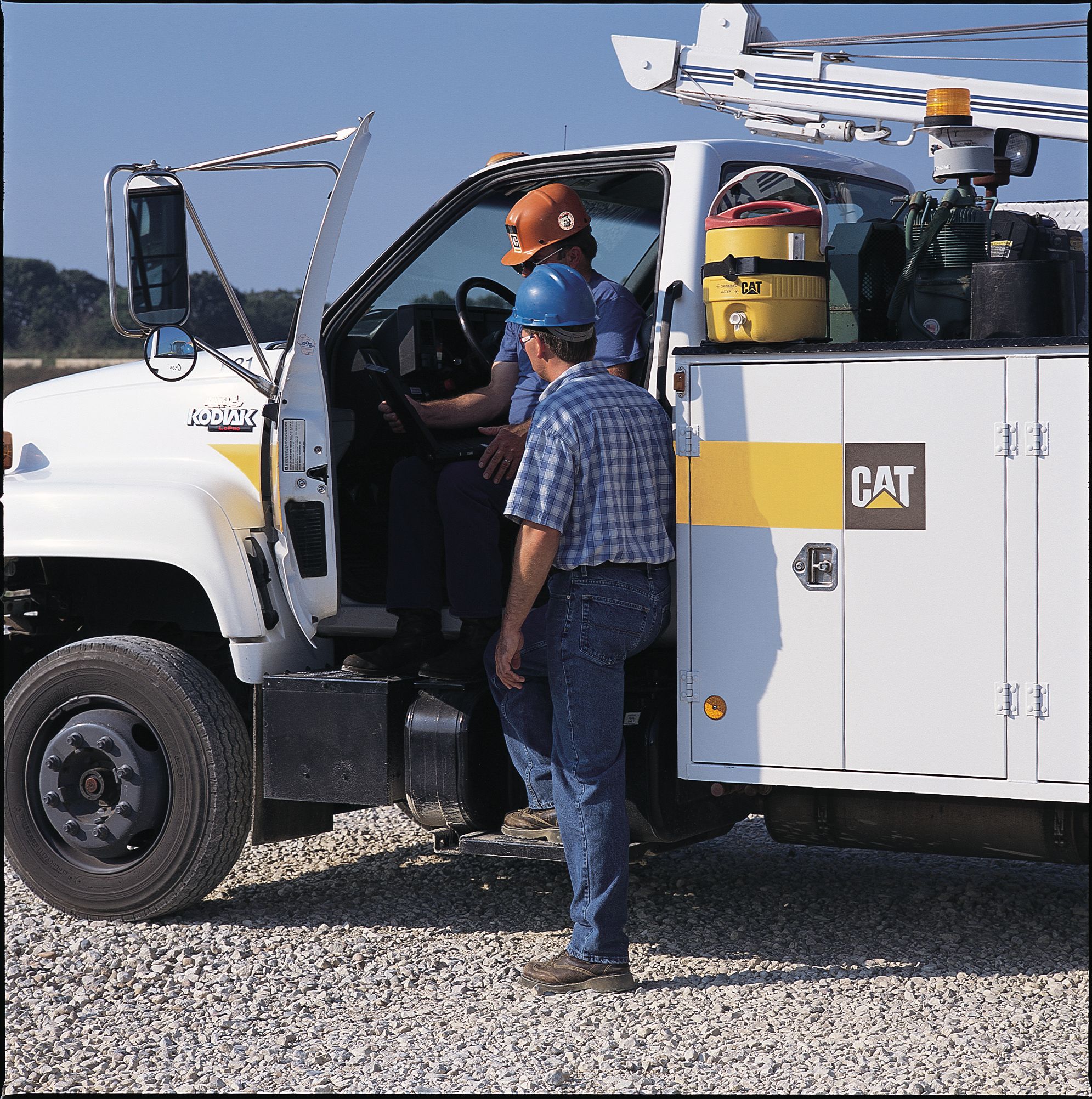 Machine Selection
Make detailed comparisons of the machines under consideration before purchase. Cat dealers can estimate component life, preventive maintenance cost, and the true cost of lost production.
Purchase
Look past initial price. Consider the financing options available, as well as day-to-day operating costs. This is also the time to look at dealer services that can be included in the cost of the machine to lower equipment owning and operating costs over the long run.
Financing
Your dealer is an expert at arranging affordable financing options for all Caterpillar products.
Product Support
You will find nearly all parts at your dealer parts counter. Cat dealers use a worldwide computer network to locate in-stock parts to minimize machine downtime. Save money with Cat Reman parts. Receive the same warranty and reliability as new products at a savings of 40 to 70%.
Literature Support
Operation and maintenance manuals are easy to use, helping you get the full value of your equipment investment.
Customer Support Agreements
Cat dealers offer a variety of product support agreements, and work with customers to develop a plan that meets specific needs. Plans can cover the entire machine, including attachments, to help protect your investments.
Operation
Improving operating techniques can boost your profits. Your Cat dealer has training videotapes, literature and other ideas to help you increase productivity.
Replacement
Repair, rebuild or replace? Your Cat dealer can help you evaluate the cost involved so you can make the right choice.
www.CAT.com
For more complete information on Cat products, dealer services, and industry solutions, visit us on the web at www.CAT.com.
EQUIPMENT
Standard Equipment
Air Line Dryer
Alternator (100-amp)
Alarm, Back-up
Batteries, 190-amp hour, 12-volt (4)
Battery Disconnect Switch, ground level
Body Mounting Group
Body Safety Pins
Body Up Reverse Inhibitor
Braking System
Brake Disconnect Switch, front
Brake Heat Exchanger
Brake Release Motor for Towing
Oil-Cooled Multiple Disc Brakes (front/rear)
Parking Brake
Retarder
Secondary Brake
Cab, ROPS
Coat Hook
Diagnostic Connector Port, 24-volt
Electronic Monitoring System III
Heater/Defroster, 7570 kCal (38,000 Btu)
Hoist Lever, finger tip-actuated
Horn, air
Insulated and Sound-Suppressed
Power Port, 24-volt
Product Link Ready
Radio Ready, 5-amp converter, speakers, antenna, wiring
Seat, Caterpillar Comfort, full air suspension
Seat Belts, 75 mm (3 in) wide retractable
Seat, Passenger
Steering Wheel, tilt, padded, telescopic
Storage Compartment
Sun Visor
Tinted Glass
Window, electric (operator)
Coolant, Extended Life, -35°C (-30°F)
Crankcase Guard
Driveline Guard
Electrical System, 24-volt
Engine
Cat 3508B Electronic Unit Injection
8-Cylinder Diesel
Turbocharged
Aftercooled
Air Cleaner with Precleaner (2)
Automatic Cold Mode Idle Control
Electric Start
Engine Shutdown Switch, ground level
Starting Aid, Ether
Filters, Spin-on
Gauges
Actual Gear Indicator
Air Cleaner Service Indicator
Air Pressure
Body Down Indicator
Brake Oil Temperature
Coolant Temperature
Engine Overspeed Indicator
Fuel Level
Hour Meter
Load Counter, automatic
Odometer
Speedometer
Tachometer
Lighting System
Auxiliary Jump Start Receptacle
Back-up Lights
Directional Signals and Hazard Warning, LED
Dome/Courtesy Light
Headlights, Halogen, with dimmer
Stop and Tail Lights, LED
Mirrors, right/left
Reservoirs (separate)
Brake/Converter/Hoist
Steering
Transmission/Torque Converter
Rims, 19.5 x 49
Rock Ejectors
Service Platform, bolt-on
Supplemental Steering, automatic
Tires, 24.00-35, radial
Tow Hooks, front
Tow Pin, rear
Transmission
7-Speed Automatic Power Shift, electronic control
Body-up Shift Limiter
Controlled Throttle Shifting
Directional Shift Management
Downshift/Reverse Shift Inhibitor
Economy Shift Mode
Engine Overspeed Protection
Reverse Neutralizer During Dumping
Neutral Coast Inhibitor
Neutral Start Switch
Programmable Top Gear Selection
Vandalism Protection Locks
Windshield Wipers and Washer, electric intermittent
CONNECT. DISCUSS. SOLVE.
CATERPILLAR EQUIPMENT MAINTENANCE ONLINE COMMUNITY
HOW CAN WE HELP?
SHARE YOUR FEEDBACK OR ASK A QUESTION