365B MH
The Cat 365B Material Handler is specifically designed for the scrap and material handling customer. This machine uses the most sophisticated manufacturing technology to ensure the highest level of manufacturing quality. This quality, with high Cat design standards, means that the 365B Material Handler will deliver the reliability and productivity you demand from Caterpillar.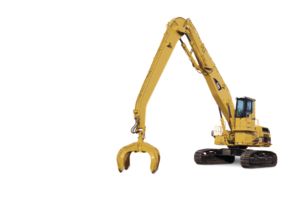 DETAILS
SPECIFICATIONS
Engine
Net Flywheel Power
385 hp
Net Power - ISO 9249
385 hp
Net Power - SAE J1349
385 hp
Net Power - EEC 80/1269
385 hp
Engine Manufacturer
Caterpillar
Weight / hp ratio
387.27 lb/hp
Displacement / hp ratio
1.9 in3/hp
Deration Altitude
7545.91 ft
Weights
Operating Weight
164177 lb
Undercarriage (includes carbody)
60814 lb
Two-Piece Front (with cylinders)
27068 lb
Counterweight/weight
0.19 %
Operating Specifications
Max. Reach Below Ground
22.31 ft
Ground Level Lift @ Radius
24.61 ft
Front lift capacity (MAX)
38536.76 lb
Side lift capacity (MAX)
38536.76 lb
Performance
Max. Drawbar Pull
103820 lb
Service Refill Capacities
Hydraulic System (including tank)
177 gal
Hydraulic System
Maximum Flow (each of two pumps)
106 gal/min
Max. Pressure Implements
4640 psi
Max Pressure - Heavy Lift
5077.73 psi
Max. Pressure Travel
5075 psi
Max. Pressure - Swing
4200 psi
Pilot System Max. Flow
24 gal/min
Pilot System Max. Pressure
595 psi
Rotate Circuit for Grapple Max. Flow
15.8 gal/min
Rotate Circuit for Grapple Operating Pressure
2830 psi
Main Pumps Type
Variable displacement
Swing System - Maximum Flow
94.31 gal/min
Dimensions
Operating Height - to Top of Cab (Fixed)
19.6 ft
Shipping Height - Cab Tipped
13 ft
Tail Swing Radius
12.9 ft
Height to Top of Exhaust
13.5 ft
Counterweight Clearance
5.8 ft
UC with Standard Shoe Width
17.22 ft
Swing Mechanism
Swing Torque
150850 lb ft
Track
Overall Track Length
19.23 in
Standard Type
Double grouser
Standard Ground Pressure
11.36 psi
Width of shoe - Option 1
29.53 in
Type of shoe - Option 1
Flat
Finals within Std. Shoe width
Yes
Variable Gauge (MIN)
157.4 in
Variable Gauge (MAX)
177.09 in
Number of Carrier Rollers Each Side
3
BENEFITS & FEATURES
The Caterpillar 365B Material Handler
Tough, dependable, and loaded with performance-improving features.
Operator Station
The work station is designed to be quiet and comfortable for the operator, assuring high productivity during a long work day. The Caterpillar designed electronic control system uses VIDS (Vital Information Display System) as the easy interface between the machine and the operator or the serviceman.
1.9m (6'5") Cab Riser
Cat designed and built cab riser gets your operator to an operating height with excellent visibility for loading or unloading your processing equipment, trucks, rail cars, and barges. Access to the cab is provided by a platform which extends around the riser to allow windshield cleaning. The cab riser can also be manually tilted forward 90 degrees for shipping.
33 kW hydraulically driven generator set
The exclusive Caterpillar genset can power magnets up to 1981mm (78 in.) in diameter. A Caterpillar patented state-of-the-art electronic magnet controller and generator are linked to provide trouble free service. The new controller completely eliminates traditional contactor maintenance and it is supported and warranted through your Cat dealer.
Long Square Undercarriage
Long (L) square undercarriage is standard to maximize stability and lifting capacity. The wide track gauge provides the over-the-side stability required to handle heavy loads and improve productivity, but is also retractable to provide a narrow gauge and reduced shipping width.
365B MH two-piece fronts by Caterpillar
365B MH two-piece fronts by Caterpillar meet your material handling needs with excellent lift performance and working range both in close and at full reach.
The material handling front offers a maximum horizontal reach of 18.9m (61'11") from swing center and a maximum vertical pin height of 19.2m (62'10") at 9.7m (31'11") from swing center. This front is an excellent match for a two and a half cubic yard scrap grapple.
The cambered boom barge unloading front offers a maximum horizontal reach of 16.9m (55'6") from swing center and a maximum vertical pin height of 14.5m (47'5") at 12.4m (40'8") from swing center. This front is an excellent match for a three cubic yard scrap grapple.
Innovative Cat 3196 ATAAC diesel engine
Delivers large-engine performance from a compact engine design. The six-cylinder 287 kW (385 hp) engine is turbocharged and air-to-air aftercooled. With high horsepower and low displacement, this engine provides excellent fuel economy and durability that can significantly reduce operating costs.
Material Handler Hydraulic Systems
Auxiliary hydraulics are specifically designed to meet your hydraulic attachment requirements. The grapple open/close circuit works with the other implement circuits to deliver smooth, simultaneous, multi-function control. Load sensing PPPC (Proportional Priority Pressure Compensation) system now with Caterpillar developed Hydrac electronic actuation combines a proven system with state-of-the-art electronic control for high efficiency and excellent controllability.
Cooling Cores
Easy clean-out engine and hydraulic cooling cores are provided for operating in debris-laden environments. Ample space between the oil cooler and radiator cores maximizes cooling capacity and allows for simple, efficient cleaning.
Serviceability
Simplified service and maintenance features save you time and money.
Faster, easier maintenance
Means improved uptime and a better value. • Service points are centrally located with easy access to facilitate routine maintenance.
Improved filters and filter locations
Make maintenance easier.
Hydraulic capsule filters are mounted outside the tank to prevent spills and system contamination during replacement.
Radial seal main air cleaner has double layered filter element for more efficient filtration. No tools are required to change the element. Operator is alerted to clogged condition by a message on VIDS.
Pilot hydraulic system filter keeps contaminates away from the pilot system. This system includes a Scheduled Oil Sampling port to simplify sampling.
Swing and travel motor case drain filter removes contaminates, keeping them from returning to the tank.
Water Separator
Removes water from fuel even when under pressure and is located in the battery compartment for easy access.
Remote greasing block
On the boom and stick and three grease points for the swing bearing deliver grease to hard to reach locations.
Electronic System Control
Has diagnostic capabilities for Cat Dealers' use. A single connection point allows Electronic Technician (ET) to communicate with all machine controllers. • Dealer service technicians can quickly and easily diagnose and adjust machine components, maximizing uptime.
Complete Customer Support
Cat Dealer services help you operate longer with lower costs.
Cat Dealers
Your Cat Dealer offers a wide range of services that can be set up under a customer support agreement when you purchase your equipment. To help you get the best return on your investment, the dealer will help you choose a plan that can cover everything from machine and attachment selection to replacement.
Selection
Make detailed comparisons of the machines you are considering before you buy. What are the job requirements? What production is needed? What is the true cost of lost production? Your Cat Dealer can give you precise answers to these questions.
Purchase
Look past initial price. Consider the financing options available as well as day-to-day operating costs. This is also the time to look at dealer services that can be included in the cost of the machine to yield lower equipment owning and operating costs over the long run.
Maintenance
What is the cost of preventative maintenance? More and more equipment buyers are planning for effective maintenance before buying equipment. Choose from your dealer's wide range of maintenance services at the time you purchase your machine. Repair option programs guarantee the cost of repairs up front. Diagnostic programs such as Scheduled Oil Sampling and Technical Analysis help you avoid unscheduled repairs.
Replacement
Repair, rebuild or replace? Your Cat Dealer can help you evaluate the cost involved so you can make the right choice.
Product support
You will find nearly all parts at our dealer parts counter. Cat Dealers utilize a worldwide computer network to find in-stock parts to minimize machine down time. Save money with remanufactured parts. You receive the same warranty and reliability as new products at cost savings of 40 to 70 percent.
EQUIPMENT
Standard Equipment
Electrical
70 Ampere Alternator
Light, storage box mounted (one)
Light, cab mounted (two)
Light, upper frame (one)
Guards
Guard, Heavy duty bottom - including swivel guard with bolt head protection and heavy duty track motor guards
Operator Environment
Automatic climate control with air conditioner, heater and defroster
Polycarbonate windows except laminated glass in front windshield/tempered glass left upper windows and sliding upper door window
Cab Riser, 1.9 m, manual tilt
Alternate rear window exit
Instrument panel and gauges (VIDS)
Neutral lever lock out for all controls
Openable front windshield upper & lower with assist device
Platform with provisions for two attachment related pedals
Polycarbonate skylight
Pressurized cab
Positive filtered ventilation
Radio mounting (DIN) with - antenna and mounting for 2 stereo speakers
Seat KAB 524P with: • suspension and adjustable armrest • high back and headrest • retractable seatbelt (76 mm width) • four way adjustable (up-down, front-rear)
Seat mounted multifunction joystick type (wrist lever) controls (electric signal)
Start up level check for hydraulic oil, engine oil, and engine coolant
Storage compartment suitable for lunch box
Sun shade for skylight and front windshield
Windshield wipers & washers (vertical type) - lower & upper
12V - 7A Power supply with socket
Travel control pedals with removable hand levers
Powertrain
Diesel Engine - Cat 3196 ATAAC • Low emission/low noise version • 2300m/7500 ft. altitude capability • Air inlet heater for low ambient starting
Automatic engine speed control with return to idle push button
Automatic swing parking brake
Radial seal air filter with Donaclone precleaner
Separated cooling system with variable speed fan
Two speed travel with automatic shift change
Water separator in fuel line
Undercarriage
Hydraulic track adjusters
Idler and center section track guiding guards
Track type sealed undercarriage with: • 750 mm double grouser shoes
Std. Long track roller frames
Square carbody and undercarriage for stability
Hydraulic Systems
Boom and stick lowering check valves
High pressure grapple open & close hydraulic circuit
Medium pressure aux. hydraulic circuit for powering rotating grapples
Aux. pump and lines to drive generator
Separate hydraulic filter with reusable metal tube for filter element
Other Standard Equipment
Caterpillar Extended Life Coolant at 44% concentration with protection of -29°C (-20°F)
Door and cap locks plus Caterpillar one key security system
Electrical source for service light
Fire wall between pump compartment and engine
Mirrors - Rearview, Frame-right, Cab-left
Overheat protection system
Material handling counterweight, 13.8T
High ambient cooling
Spaced coolers for easy cleaning
Cat walks left and right hand
Reinforced upper frame for cab riser
Material handling boom foot pin in upper hole on frame (145mm)
Optional Equipment
Falling Object Guard
Front Linkage, 18.9m (61'11") material handling front
Front, 16.9m (55'6") cambered boom, barge unloading front
Generator, 33kW hydraulically driven Caterpillar genset
Grapple, 2.5 cu.yd. rotating 4-tine grapple [18.9m front]
Grapple, 3 cu.yd. fixed 5-tine grapple [16.9m front]
Magnet, 72" magnet (matched to 18.9m front)
Magnet, 78" magnet (matched to 16.9m front)
Track, 30" double grouser, flat
CONNECT. DISCUSS. SOLVE.
CATERPILLAR EQUIPMENT MAINTENANCE ONLINE COMMUNITY
HOW CAN WE HELP?
SHARE YOUR FEEDBACK OR ASK A QUESTION