325C MH
More powerful engine, improved cooling system, wider track gauge, increased hydraulic flow, and new front linkage lead to increased productivity and lower operating costs.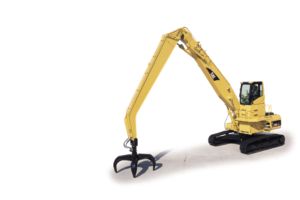 DETAILS
SPECIFICATIONS
Engine
Engine Model
Cat® 3126B ATAAC HEUI
Net Flywheel Power
188 hp
Net Power - ISO 9249
188 hp
Net Power - SAE J1349
186 hp
Net Power - EEC 80/1269
188 hp
Engine Manufacturer
Caterpillar
Weight / hp ratio
413.96 lb/hp
Displacement / hp ratio
2.44 in3/hp
Deration Altitude
7545.91 ft
Weights
Operating Weight
76350 lb
Undercarriage (includes carbody)
24214 lb
Two-Piece Front (with cylinders)
14294 lb
Counterweight/weight
0.23 %
Operating Specifications
Cab Riser - Fixed
6.42 ft
Cat 2-Piece MH Linkage Arrangement
50.9 ft
Max. Reach Below Ground
24.61 ft
Ground Level Lift @ Radius
19.68 ft
Front lift capacity (MAX)
26234.98 lb
Side lift capacity (MAX)
22928.05 lb
Performance
High Range Max. Travel Speed
3.1 mph
Max. Drawbar Pull
54853 lb
Low Range Max. Travel Speed
1.9 mph
Maximum Gradeability
70 %
Service Refill Capacities
Final Drive (each)
1.6 gal
Hydraulic System (including tank)
82 gal
Hydraulic System
Maximum Flow (each of two pumps)
62 gal/min
Max. Pressure Implements
4850 psi
Max. Pressure Travel
4850 psi
Max. Pressure - Swing
3988 psi
Pilot System Max. Flow
10 gal/min
Pilot System Max. Pressure
597 psi
Rotate Circuit for Grapple Max. Flow
15 gal/min
Rotate Circuit for Grapple Operating Pressure
2000 psi
Generator Auxiliary Pump Max Flow
44 gal/min
Generator Auxiliary Pump Max Pressure
2500 psi
Main Pumps Type
Variable displacement
Dimensions
Operating Height - to Top of Cab (Fixed)
16.7 ft
Shipping Height - Cab Tipped
10.2 ft
Height to Top of Exhaust
9.5 ft
Counterweight Clearance
4.1 ft
Rear of Carrier to Tipped Cab
26.5 ft
UC with Standard Shoe Width
13.94 ft
Swing Mechanism
Track
Overall Track Length
15.3 in
Standard Type
Triple grouser
Finals within Std. Shoe width
Standard
Number of Carrier Rollers Each Side
2
BENEFITS & FEATURES
325C MH Material Handler
Special features provide for aggressive performance, reliability, and excellent productivity.
Cab Riser
Cat designed and built, 77" (1.95 m) manual tilt cab riser provides for operating height with excellent visibility for loading and unloading processing equipment, trucks, and rail cars. Access to the cab is provided by a ladder leading up to the platform extending around the cab riser. This platform will allow for windshield cleaning. The cab riser can be manually tilted forward 90 degrees for shipping.
Generator Set
A 15 kW hydraulically driven generator set can power magnets of 48" (1.22 m) or 57" (1.45 m) in diameter. A Baldor generator and state-of-the-art electronic magnet controller manufactured by Cat are linked to provide trouble free service. This controller virtually eliminates traditional contractor maintenance.
Special Counterweight
The material handler specific counterweight is 45% heavier than the standard counterweight for added stability.
Cooling System
The C-Series side-by-side cooling system is separated to prevent stacking of debris and allow easier access for cleaning.
325C MH Two-Piece Caterpillar Front Linkage
Caterpillar 325C Material Handler fronts are purpose designed and built for excellent reach, flexibility, and lift performance to meet all requirements of material handling applications.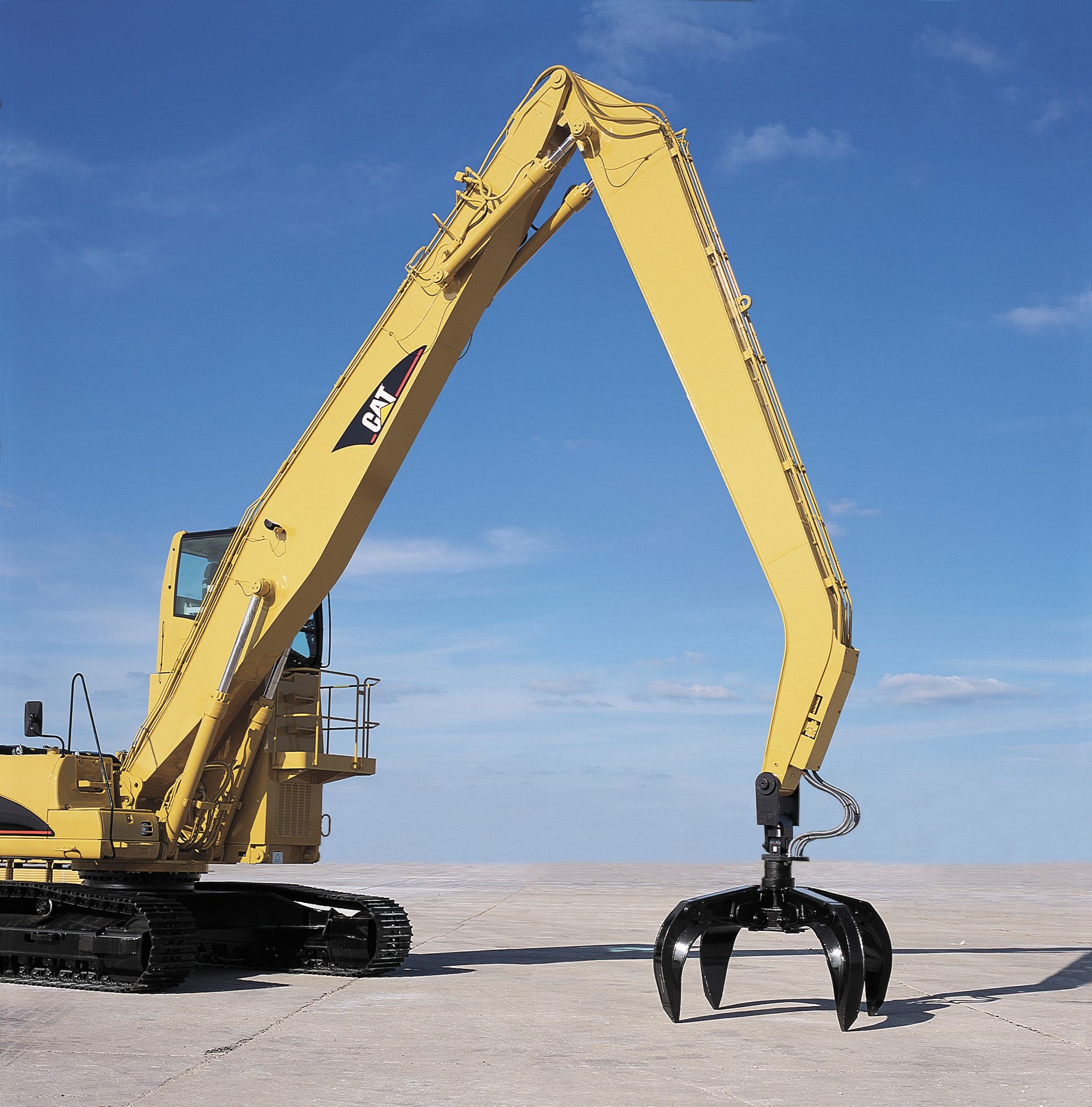 The Cat Two-Piece Front Linkage
Offers a maximum horizontal reach of 50'10" (15.5 m) from swing center and maximum vertical reach of 53'6" (16.3 m), which is an excellent fit for the 0.75 cubic yard (0.57 cubic meter) Cat Orange Peel Grapple or the 48" (1.22 m) Walker magnet.
Booms and Sticks
Designed and built for performance and long service life.
Welded Box-Section Structures
Efficiently designed with thick, multi-plate fabrications in high stess areas, which allows structures to flex, dissipating stress and maximizing strength.
Stress Relieving Booms and Sticks
Maximizes strength and minimizes structure weight.
Dual Stick Cylinders
Provides excellent geometry for working close in to the machine or at full reach.
Engine and Hydraulics
The Cat 3126B ATAAC HEUI™ engine and hydraulics give the 325C MH exceptionally powerful and efficient performance unmatched in the industry for material handling applications.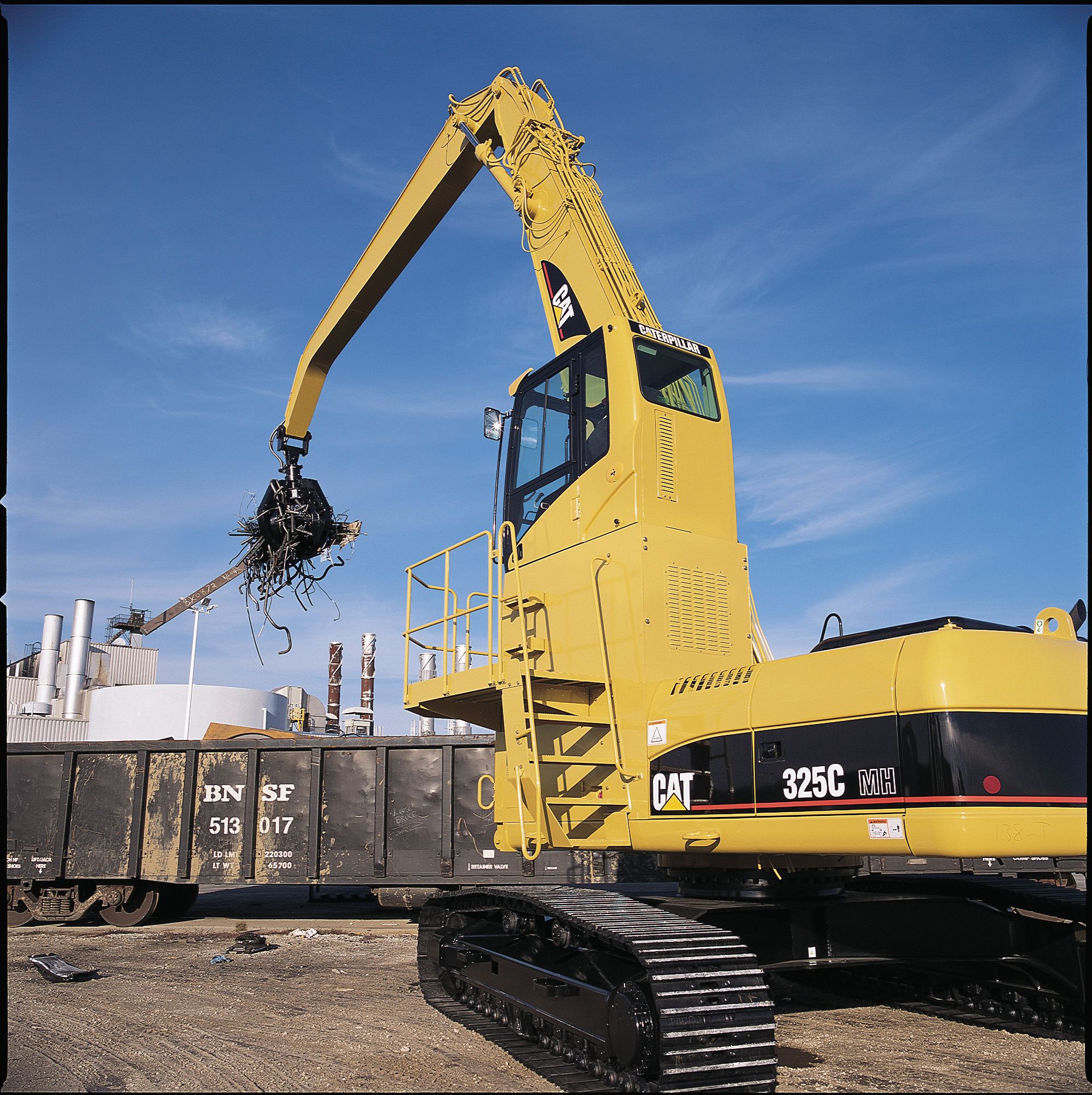 Engine
Six-cylinder turbocharged engine built for power, reliability, and economy will allow the machine to consistently perform at high levels. The Cat 3126B engine is designed for low emissions and will meet EPA Tier 2 and EU Stage II emissions requirements.
Hydraulic System
Cat Material Handler Hydraulic Systems are specifically designed to meet hydraulic attachment requirements.
Structures
The 325C MH structural components are the backbone of the machine's durability and provide for excellent stability.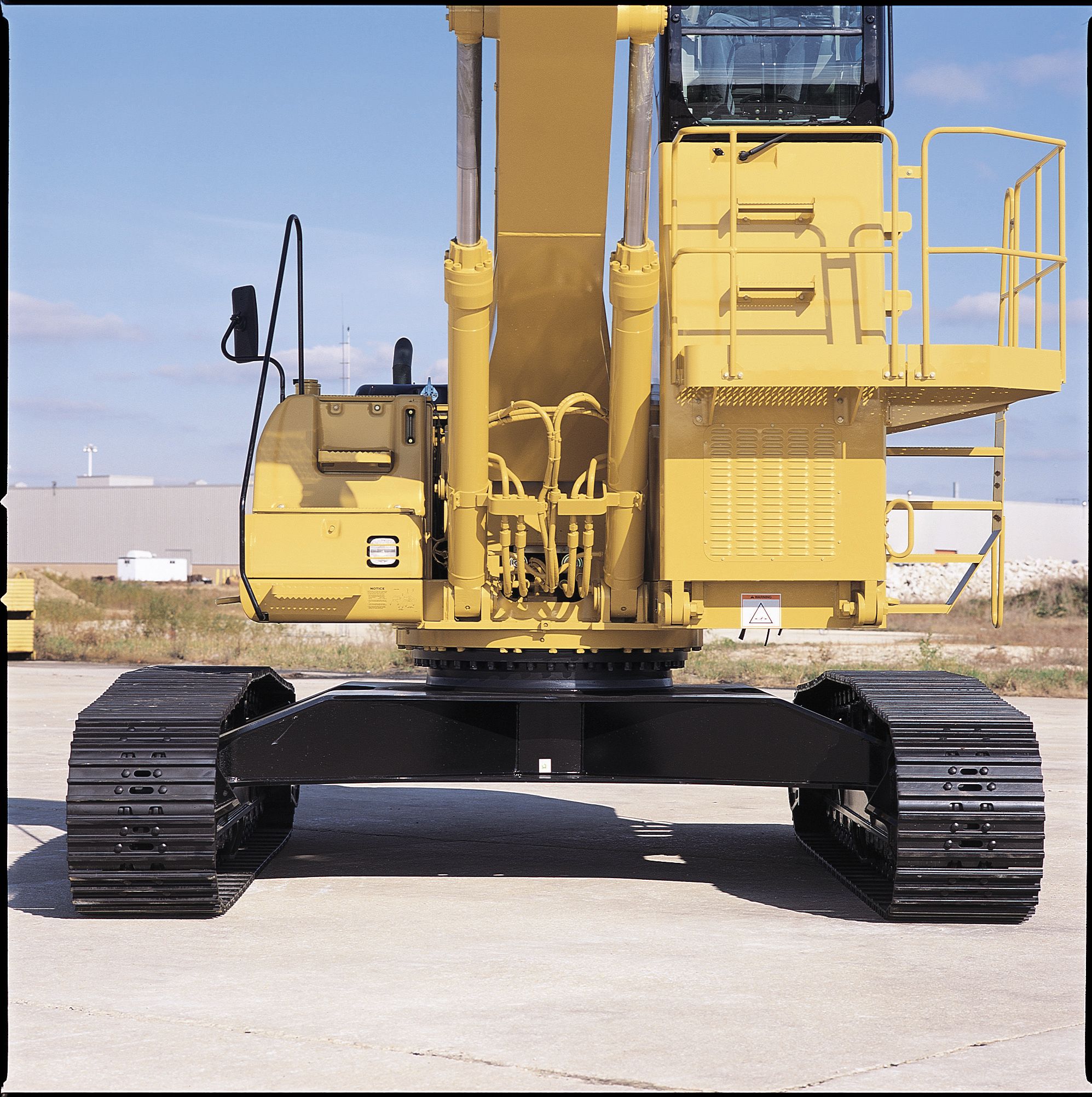 Track Gauge
Wide, 11'2" (3394 mm), track gauge provides excellent over-the-side stability required to handle heavy loads and improve productivity.
Advanced Square Carbody Design
Stands up in the toughest applications.
Heavy Duty Upper Frame
The upper frame is specifically designed for the scrap and material handling applications. It is built of higher strength material and thicker steel sections to handle increased swing loads from the longer front and heavier counterweights used in material handling.
Work Tools - Attachments
A variety of grapples and magnets are available to maximize machine performance in material handling applications.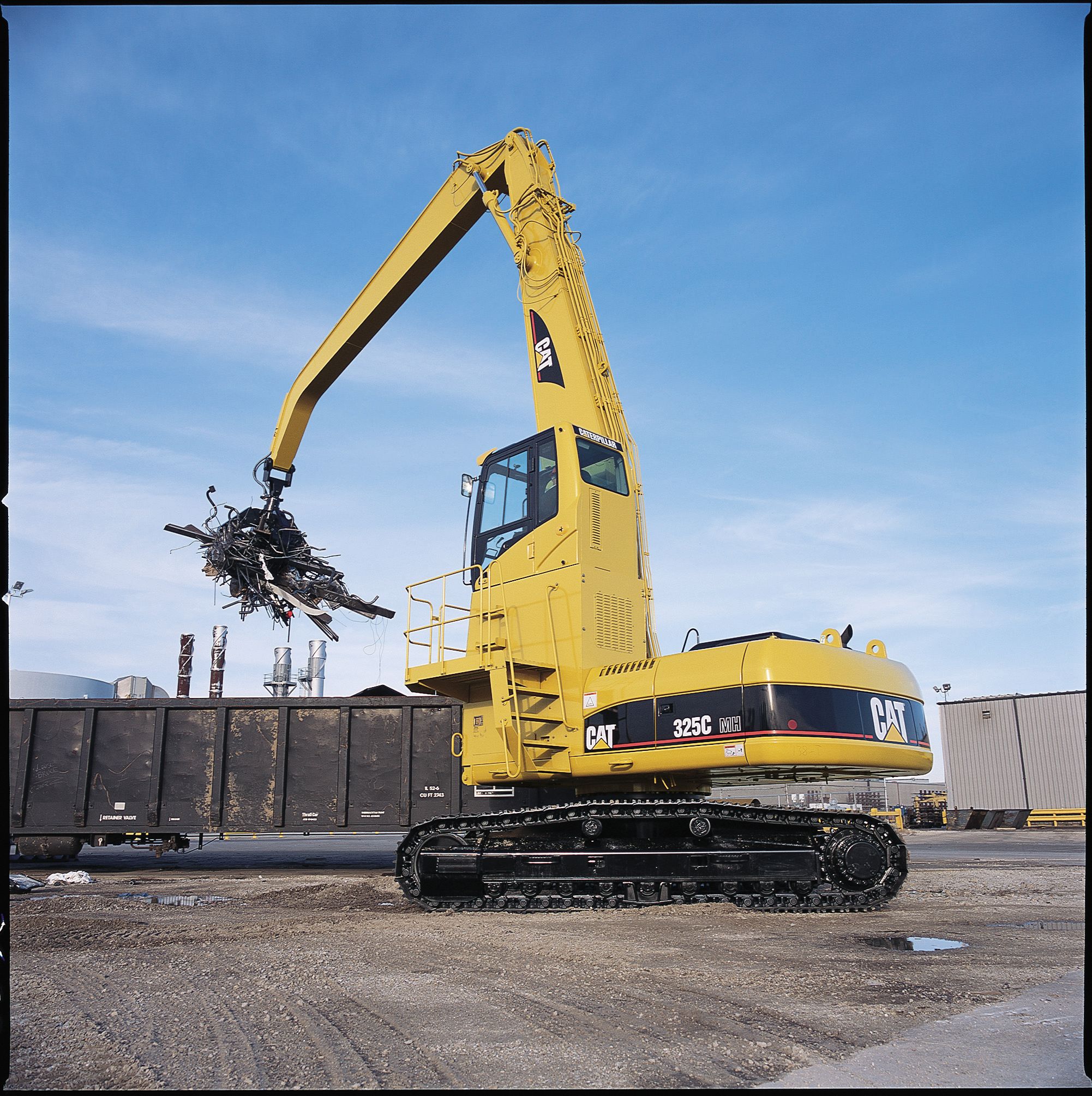 Cat Orange Peel Grapple
The 0.75 CYD (0.57 cu. m) and the 1.25 CYD (0.96 cu. m) grapples are constructed with four wear-resistant steel tines and fully replaceable tips for excellent service life.
Walker Magnets
The Walker 48" (1.22 m) or 57" (1.45 m) Lift Master magnets can be used with the 325C MH. These magnets have been designed and engineered for scrap processing applications. Ask your dealer salesperson for information on the Walker Magnet.
Serviceability
Simplified service and maintenance features save you time and money.
Faster, Easier Maintenance
Means improved uptime and a better value.
Service points are centrally located with easy access to facilitate routine maintenance.
Ground Level Service
Many of the service locations are easily accessible at ground level allowing critical maintenance to get done quickly and efficiently.
Pump Compartment
A service door on the right side of the upper structure allows ground-level access to the pump and pilot filter.
Radiator Compartment
The left rear service door allows easy access to the engine radiator.
Air Filter Compartment
The air filter features a double-element construction for maximum cleaning efficiency.
Cat Dealer Maintenance
Choose from your Cat Dealer's wide range of maintenance services at the time you purchase your machine. Preventive Maintenance will help you to avoid unscheduled repairs, and diagnostic programs such as Scheduled Oil Sampling and Technical Analysis are available.
EQUIPMENT
Standard Equipment
ELECTRICAL
65-Ampere alternator
Base machine light (frame)
Lights, cab mounted (two)
Horn
OPERATOR ENVIRONMENT
Adjustable pilot operated joystick type (wrist lever) controls
Air conditioner with auto climate control and defroster
Ashtray with lighter
Beverage holder
Coat hook
Floor mat
Instrument panel and gauges
Interior lighting
Literature compartment
Neutral lever for all controls
Polycarbonate windows except laminated glass in retractable front windshield / tempered glass in removable lower windshield and sliding upper door window
Pop-up skylight
Positive filtered ventilation
Pre-start monitoring system (alert if there is a shortage of hydraulic oil, engine oil and engine coolant)
Pre-wired radio mounting areas with two stereo speakers (includes antennae) and one 24v to 12v converter
Seat KAB 527P/C suspension seat with adjustable arm rest and retractable seat belt (cloth)
Storage compartment suitable for lunch box
Travel control pedals with removable hand levers
Toggle switch in RH console to switch between magnet and grapple operation
Windshield wiper / washers (upper/lower)
POWERTRAIN
Automatic engine speed control with manual return to idle (not functional when hydraulic generator is in operation)
Cat 3126B ATAAC Diesel engine with 24-volt electric starting and air intake heater
Muffler
Side-by-side radiator / oil cooler
Two speed auto-shift travel
Water separator in fuel line
UNDERCARRIAGE
24" (600 mm) Triple Grouser Shoes (48 sections)
High wide carbody with swivel guard
Hydraulic track adjusters
Idler and center section track guiding guards
Track type undercarriage with grease lubricated seals
OTHER STANDARD EQUIPMENT
50'10" (15.5 m) 2-piece MH Front
Antifreeze
Automatic swing parking break
Cat 77" (1.9 m) Cab Riser with platform
Door locks and caps locks and Caterpillar one key security
Ether and cold weather starting aids
Fine swing control
Heavy duty upper frame with bottom guards
Hydraulic Systems
Mirrors (frame-right, cab-left)
MH Counterweight - 17,850 lbs. (8097 kg)
Travel alarm
Optional Equipment
Exit, Secondary, Rear Window
Generator, 15 kW Hydraulically driven solid state with crosshead adapter for hanging magnet
Grapple, Caterpillar 0.75 CYD (0.57 cu. m) Orange Peel
Grapple, Caterpillar 1.25 CYD (0.96 cu. m) Orange Peel
Guard, Falling Objects
Magnet, Walker 48" (1.22 m) Lift Master
Magnet, Walker 57" (1.45 m) Lift Master
Prefilter, Air
Stick, 19'8" (6.0 m) for the 46'4" (14.1 m) front linkage
CONNECT. DISCUSS. SOLVE.
CATERPILLAR EQUIPMENT MAINTENANCE ONLINE COMMUNITY
HOW CAN WE HELP?
SHARE YOUR FEEDBACK OR ASK A QUESTION