320C MH WASTE HANDLER
The 320C MH Waste Handler is designed specifically for the transfer station. It has many special features that will enable it to perform at the optimum level with maximized uptime and productivity.
DETAILS
SPECIFICATIONS
Engine
Net Flywheel Power
138.0 hp
Net Power - ISO 9249
138.0 hp
Net Power - SAE J1349
138.0 hp
Net Power - EEC 80/1269
138.0 hp
Weights
Operating Weight
47644.0 lb
Operating Specifications
Performance
High Range Max. Travel Speed
3.4 mph
Max. Drawbar Pull
44040.0 lb
Service Refill Capacities
Final Drive (each)
2.6 gal
Hydraulic System (including tank)
53.0 gal
Dimensions
Hydraulic System
Maximum Flow (each of two pumps)
54.2 gal/min
Max. Pressure Implements
4980.0 psi
Max. Pressure Travel
4980.0 psi
Max. Pressure Swing
3625.0 psi
Pilot System Max. Flow
10.8 gal/min
Pilot System Max. Pressure
597.0 psi
Swing Mechanism
Swing Torque
45611.0 lb ft
Track
BENEFITS & FEATURES
Engine and Hydraulics
Caterpillar designed engine and hydraulics work together to give the 320C MH Waste Handler an exceptional combination of speed and power required in waste applications.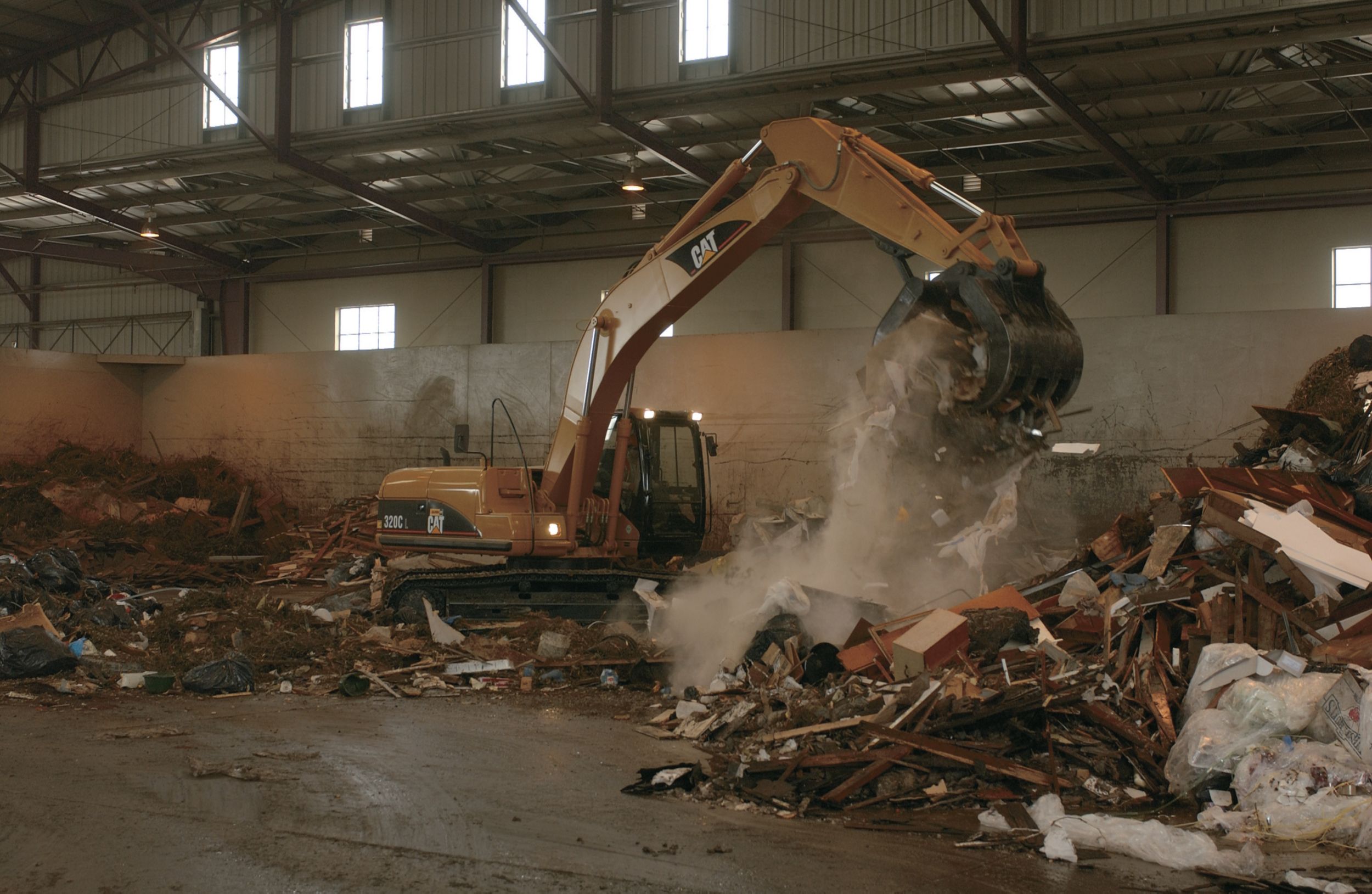 3066T Engine
The six-cylinder, turbo charged engine is EPA Tier 2 and EU Stage II emissions compliant and is built for power, reliability, and fuel economy.
Automatic Engine Speed Control
The two-stage, one-touch control maximizes fuel efficiency and reduces sound levels.
Low Sound, Low Vibration
The 3066T design improves operator comfort by reducing sound and vibration.
Hydraulic Cross Sensing System
Improves productivity with faster implement speed and quick, strong pivot turns.
Fine Swing Control
Fine swing control cushions swing start and stop for better implement control.
Hydraulic Cylinder Snubbers
The hydraulic cylinder snubbers at the rod-end of the boom cylinders and both ends of the stick cylinders cushion shock to improve cylinder life.
Controllability
The hydraulic system offers very precise operator control to reduce fatigue and improve operator efficiency translating into enhanced machine performance and productivity.
Boom and Stick Regeneration Circuit
Boom and stick regeneration circuit increases efficiency and reduces cycle time for higher productivity and lower operating costs.
Operator Comfort
Redesigned interior layout maximizes operator space, provides exceptional comfort and reduces operator fatigue.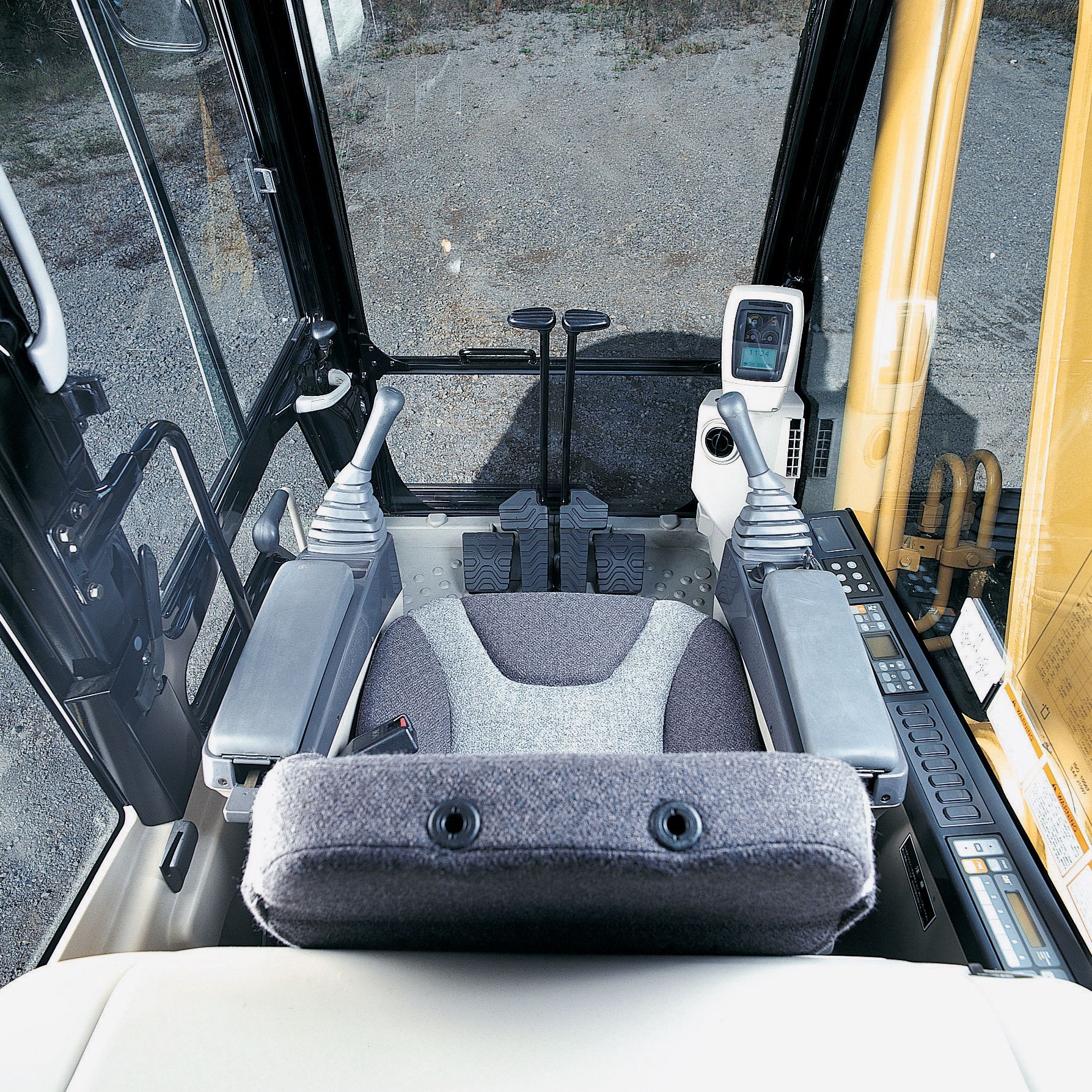 Interior Operator Station
The 320C MH operator station is quiet with ergonomic control placement and convenient adjustments, low lever and pedal effort, ergonomic seat design and highly efficient ventilation.
Redesigned Layout
Redesigned cab layout emphasizes simplicity and ease of use. Right-hand wall and console provide easy access to all switches, dials and controls.
Travel Controls
A large rubber-covered footrest at the side of the travel pedals allows the foot to easily grip the pedal. The travel lever stroke and force have been enhanced to improve fine controllability, making the machine easier to operate.
Seat
A new seat with a two-tone color offers two types of cushions - soft and firm - for operator comfort. The reclining knob is located at the right side of the seat for easier reclining adjustment.
Console
Redesigned consoles for simplicity and functionality. Both consoles have attached adjustable armrests.
Automatic Climate Control
Fully automatic climate control adjusts temperature and flow and determines which air outlet is best in each situation.
Upper Cab Door Window
The upper cab door window slides open, providing extra ventilation and allowing communication with people outside.
Skylight
A large polycarbonate skylight delivers excellent natural lighting and good ventilation. Standard sliding sunshade protects from direct sunlight.
Automatic Boom and Swing Priority
For simpler operation work mode and power mode switches have eliminated. Instead, the automatic boom and swing priority function selects the best mode. based on joystick movement.
Monitor
New, compact monitor enhances viewing while displaying a variety of easy to read and understand language-based information.
Waste Handling Features
The waste handler has been designed with many benefit adding features to enhance its performance in waste applications.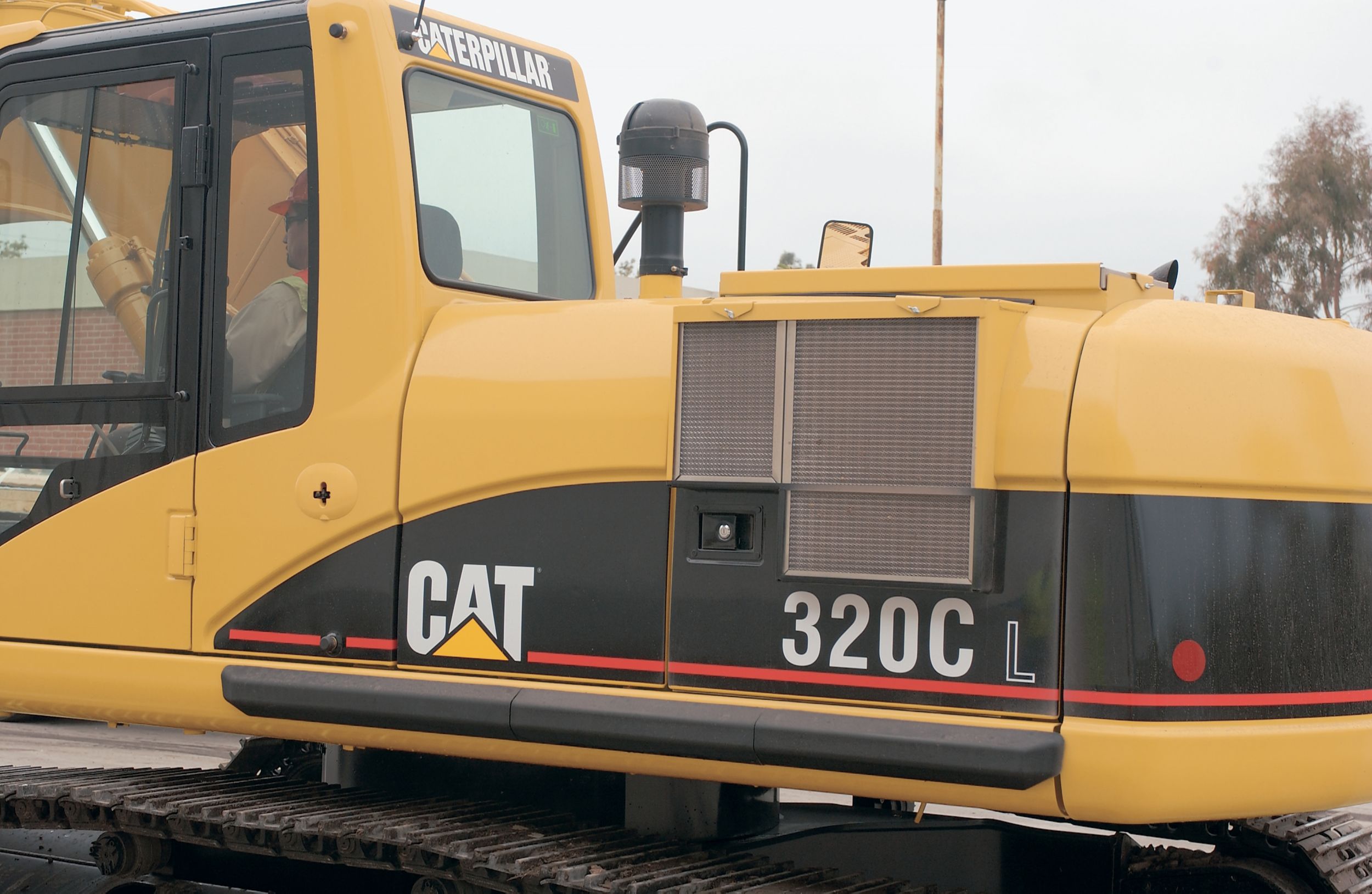 Trash Resistant Cooling System
A Trash Resistant Cooling arrangement is now available for the 320CL. This cooling arrangement reduces cooling system maintenance and downtime when operating in environments with large amounts of airborne debris such as feeding shredders in scrap applications, waste transfer stations, demolition and forestry applications. This package will also help avoid costly engine and hydraulic repairs and downtime resulting from overheating caused by a plugged cooling system.
Heavier Counterweight
The 320C MH Waste Handler has been outfitted with a counterweight that is 25% heavier than a standard 320CL counterweight for better stability while handling loads of waste.
Cab Riser
The optional 4 ft (1.2 m) cab riser provides for elevated operating height to improve visibility while loading waste into a hauling unit and allows the operator to see over obstructions in the transfer station.
Swing Bearing Guard
The swing bearing guard is a bolt on guard that protects the swing bearing from any damage by shielding it from any potential sources of wrapping such as video tapes and wire. It also prevents packing of debris around the swing bearing.
Falling Object Guard
The optional falling object guard protects the cab and front windshield from debris in transfer stations.
Rubber Bumpers
The rubber bumpers provide much needed guarding to protect the sheet metal of the machine from being damaged while maneuvering in tight areas.
Complete Customer Support
Cat dealer services help you operate longer with lower costs.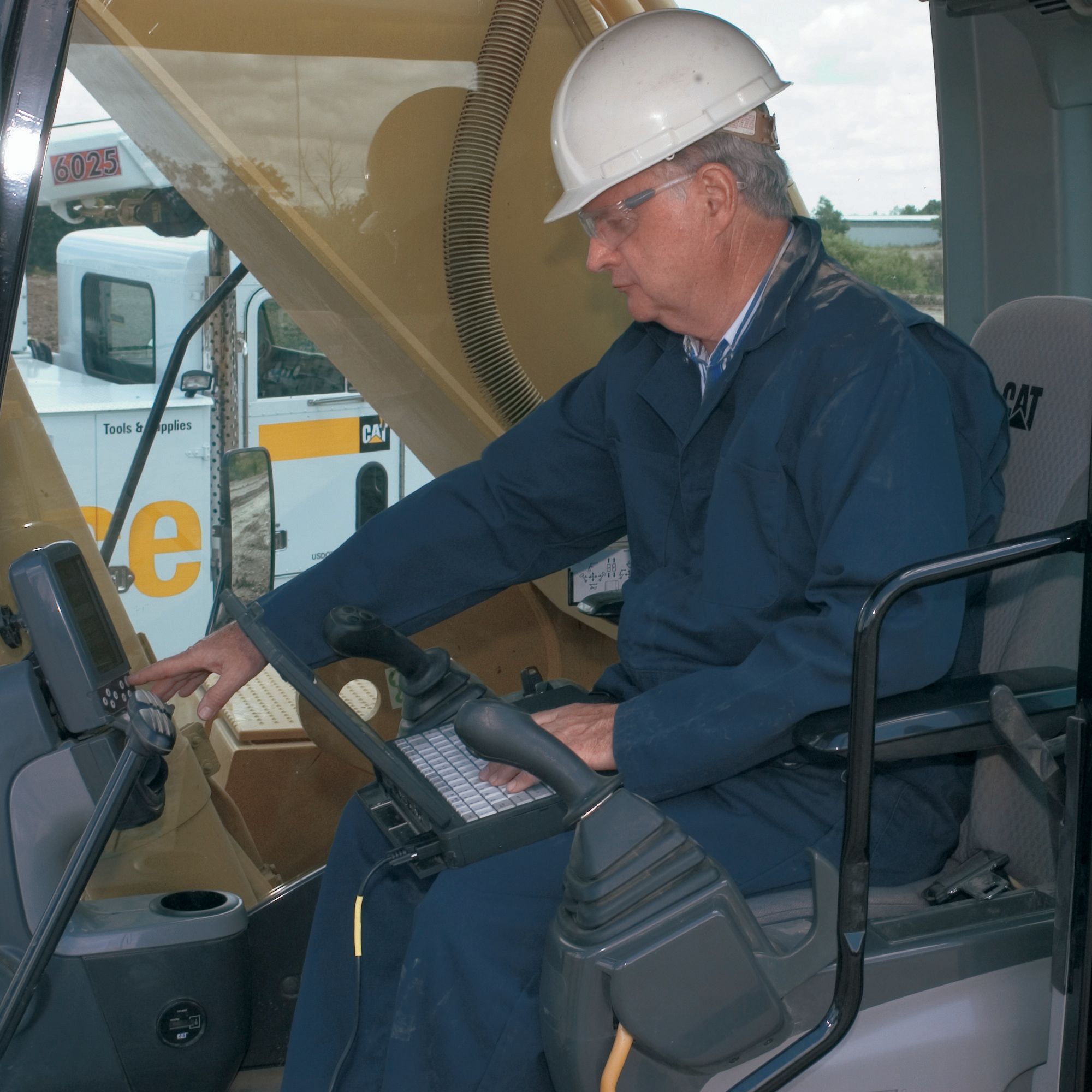 Cat Dealers
Your Cat dealer offers a wide range of services that can be set up under a customer support agreement when you purchase your equipment. To help you get the best return on your investment, the dealer will help you choose a plan that can cover everything from machine and attachment selection to replacement.
Selection
Make detailed comparisons of the machines your are considering before you purchase. What are the job requirements? What production is needed? What is the cost of lost production? Your Cat dealer can help you find precise answers to these questions.
Purchase
Look past the initial purchase price of the machine. Consider the financing options available as well as day-to-day operating costs. This is also the time to look at dealer services that can be included in the cost of the machine to yield lower equipment owning and operating costs over the long run.
Maintenance
What is the cost of preventative maintenance? More and more equipment buyers are planning for effective maintenance before buying equipment. Choose from your dealer's wide range of maintenance services at the time you purchase your machine. Repair option programs guarantee the cost of repairs up front. Diagnostic programs such as Scheduled Oil Sampling and Technical Analysis help you to avoid unscheduled repairs.
Replacement
Repair, rebuild, or replace? Your Cat dealer can help you evaluate the costs involved so you can make the right choice.
Product Support
You will find nearly all parts at our dealer parts counter. Cat dealers utilize a worldwide computer network to find in-stock parts to minimize machine downtime. You can also save money with remanufactured components.
EQUIPMENT
Standard Equipment
ELECTRICAL
Alternator, 50A
Horn, Signaling/Warning
OPERATOR ENVIRONMENT
Ashtray with Lighter
Beverage Holder
Bi-Level Air Conditioner
Coat Hook
Floor Mat
Hydraulic Neutralizer Lever for All Controls
Joystick Type Controls, Pilot Operated
Language Display Monitors with Gauges
Light, Interior
Literature Holder
Openable Skylight with Sunshade
Positive Filtered Ventilation
Radio Mounting
Rear Window, Emergency Exit
Seat, Suspension Type
Sliding Upper Door Window
Storage Compartment
Travel Control Pedals with Removable Hand Levers
Windshield Wiper with Washer, Pillar Mounted Upper
POWER TRAIN
Cat 3066T Diesel Engine
Automatic Engine Speed Control
Air Intake Heater
Water Separator in Fuel Line
UNDERCARRIAGE
Idler and Center Section Track Guiding Guards
Towing Eye on Base Frame
Track-type Undercarriage with Grease Lubricated Seals
600 mm (23.6 in) Triple Grouser Shoes
OTHER STANDARD EQUIPMENT
Automatic Swing Parking Brake
Auxiliary Hydraulic Valve (One)
Heavy Counterweight with Lifting Eyes 4810 kg (10,604 lb)
Fine Swing Control
Mirrors (Frame-right, Cab-left)
Product Link Ready
Regeneration Circuit for Boom and Stick
Front Linkage Including Heavy-Duty Reach Boom and Heavy-Duty 9.5 ft (2.9 m) Stick
Heavy-Duty Upper Frame
Rubber Bumpers
Cold Weather Start
Heavy-Duty Bottom Guards
Swing Bearing Debris Guard
Swivel Guard
Trash Resistant Cooling System
Optional Equipment
Guard, Falling Objects
Hydraulics, Auxiliary
Cab Riser, 1219 mm (48 in)
Exit, Secondary, Rear Window
Product Link 201
12V 20A Power Supply
Trash Grapple, 4.6 yd3 (3.5 m3)
* Please Have Your Dealer Salesperson Consult Caterpillar Work Tools for the Proper Grapple for Your Application and Material
Precleaner Arrangement
Syklone Gideon Cab Air Precleaner
Beacon
In-Cab Master Disconnect
CONNECT. DISCUSS. SOLVE.
CATERPILLAR EQUIPMENT MAINTENANCE ONLINE COMMUNITY
HOW CAN WE HELP?
SHARE YOUR FEEDBACK OR ASK A QUESTION