328D LCR
SPECIFICATIONS
Engine
Engine Model
Cat® C7 ACERT™
Net Flywheel Power
204.0 hp
Net Power - ISO 9249
204.0 hp
Net Power - EEC 80/1269
204.0 hp
Net Power - SAE J1349
202.0 hp
Weights
Operating Weight
87850.0 lb
Maximum Weight
87850.0 lb
Maximum Weight**
87850.0 lb
Minimum Weight
73350.0 lb
Minimum Weight*
73350.0 lb
Drive
Maximum Drawbar Pull
67443.0 lb
Maximum Travel Speed
2.6 mph
Hydraulic System
Main Implement System - Maximum Flow (2x)
62.0 gal/min
Pilot System - Maximum Flow
8.6 gal/min
Pilot System - Maximum Pressure
566.0 psi
Boom Cylinder - Bore
5.5 in
Boom Cylinder - Stroke
55.4 in
Stick Cylinder - Bore
5.9 in
Stick Cylinder - Stroke
64.8 in
CB2 Family Bucket Cylinder - Bore
5.3 in
CB2 Family Bucket Cylinder - Stroke
46.0 in
Maximum Pressure - Equipment
5076.0 psi
Maximum Pressure - Equipment - Heavy
5221.0 psi
Maximum Pressure - Swing
3989.0 psi
Maximum Pressure - Travel
5076.0 psi
Service Refill Capacities
Fuel Tank Capacity
106.0 gal
Final Drive (each)
2.1 gal
Hydraulic System (including tank)
76.6 gal
Sound Performance
Standards
Cab/FOGS
SAE J1356 FEB88 ISO 10262
Cab/ROPS
ISO 12117-2:2008
Swing Mechanism
Swing Torque
60628.0 lb ft
Track
Number of Shoes (each side) - Long Undercarriage
49
Number of Track Rollers (each side) - Long Undercarriage
9
Number of Carrier Rollers (each side) - Long Undercarriage
2
BENEFITS & FEATURES
Compact Radius
The 328D LCR has been designed to rotate with a minimal amount of counterweight hanging over the tracks, which allows it to work in tight, confined areas.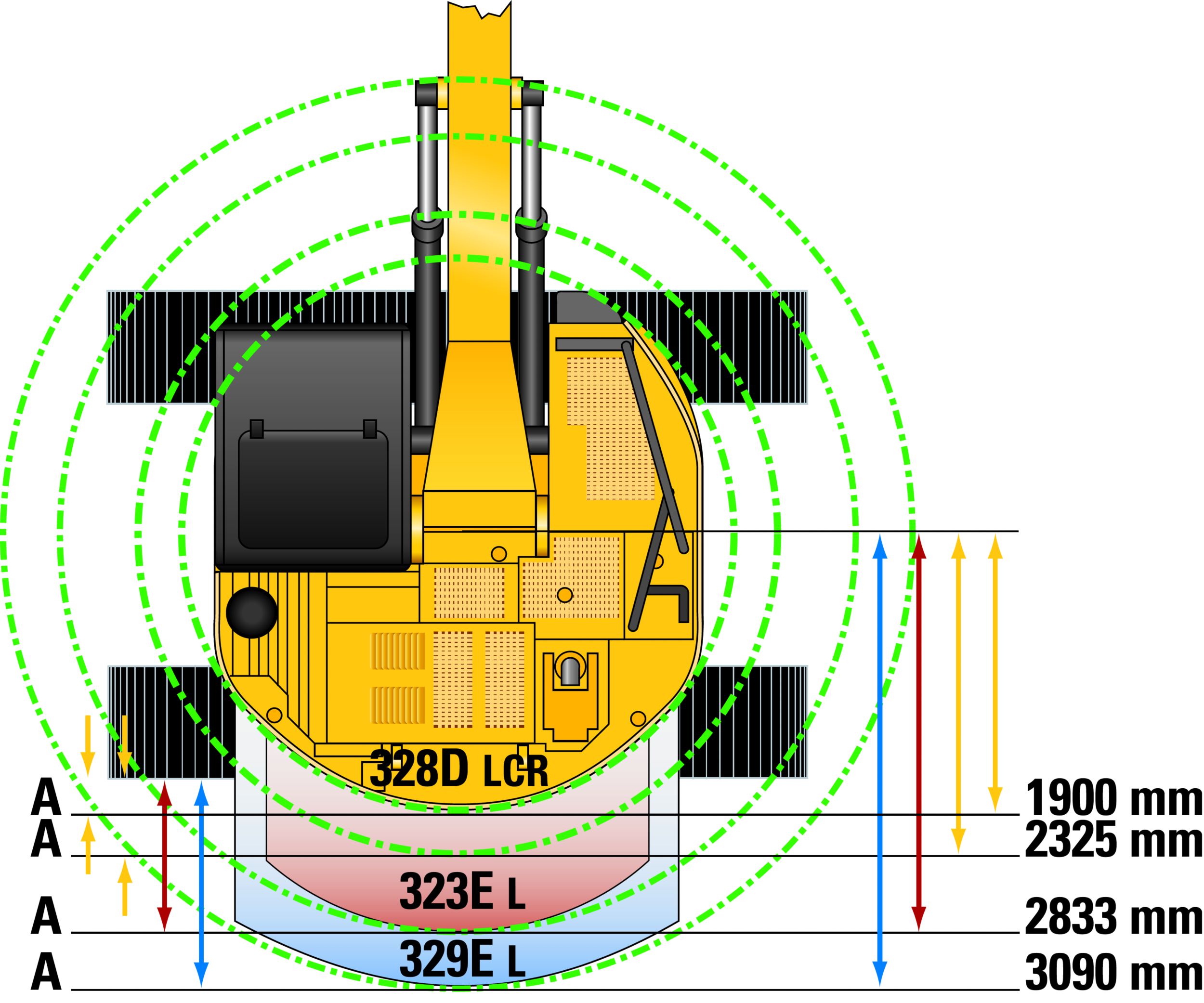 Space Restriction
The increasing need to work within space-restricted areas has created a demand for larger excavators that can also work within tighter quarters and provide greater productivity. The newest addition to this lineup of compact radius (CR) excavators is the 328D LCR.
Productivity
Even though the 328D LCR has been designed for use in specific applications that require high maneuverability in confined spaces, it still maintains the ability to accomplish tasks in a variety of applications where space is not a factor.
Swing Radius
The Cat 328D LCR has a tail swing radius of 1900 mm compared to 3090 mm for the standard Cat 329E L. This reduction of tail swing may allow for swing operation with greater confidence knowing that the tail of the machine only has a minimal amount of overhang.
Lift and Stability
The boom on the 328D LCR has been moved more toward the center of the machine. This results in overall greater lift capacity over the front as compared to the standard 329E L. In addition to the repositioning of the boom, the Cat 328D LCR utilizes the undercarriage of the 336D L, which allows for an extremely stable operating platform.
328D LCR versus 329E L
The tail swing radius for the 328D LCR is 1900 mm compared to 3090 mm for the 329E L. The 328D LCR's minimum front swing radius is 3412 mm and the 329E L's is 4180 mm.
C7 with ACERT Technology
Built for power, reliability, economy and low emissions.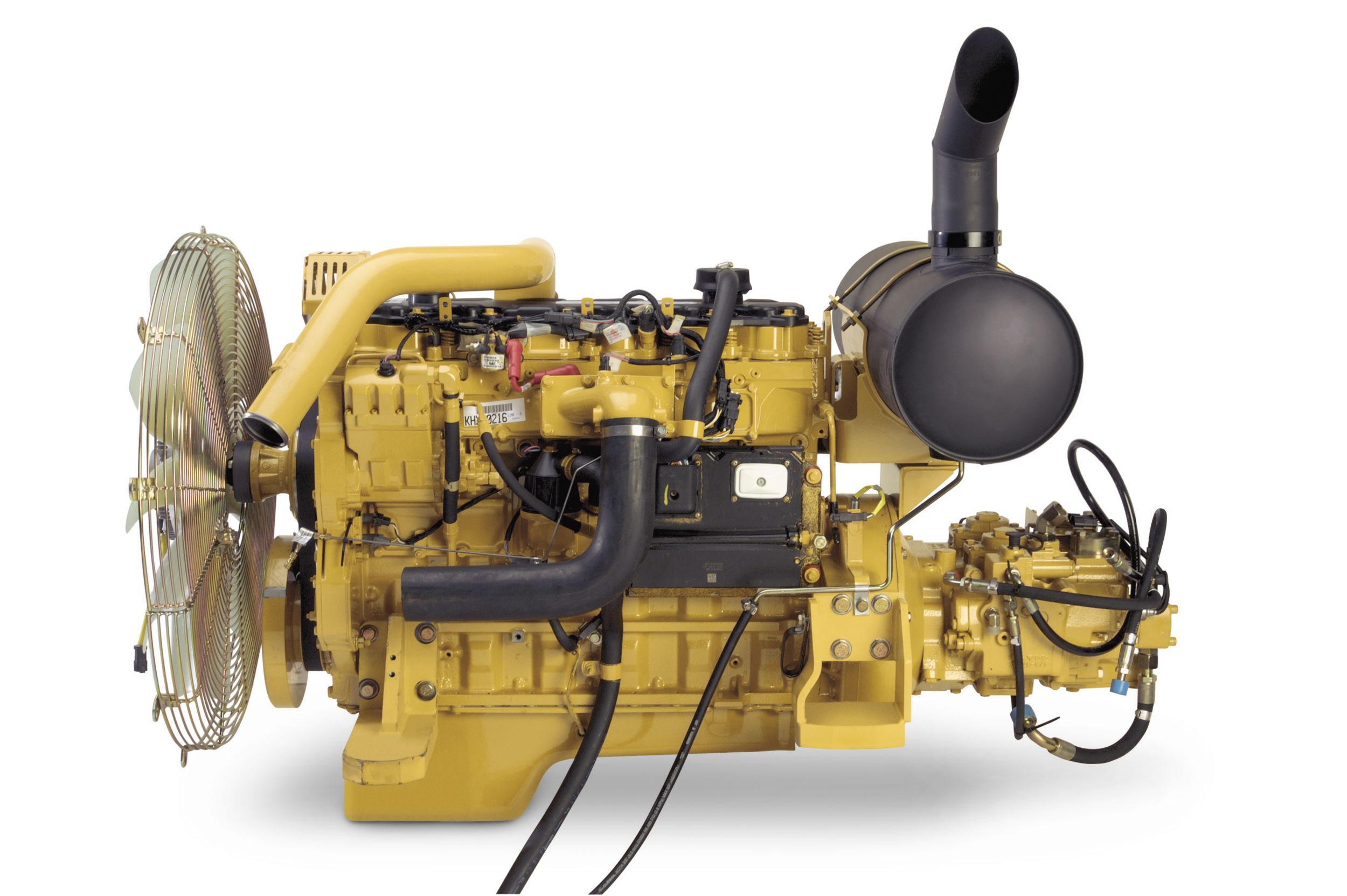 Cat C7 ACERT
The Cat C7 with ACERT Technology introduces a series of evolutionary, incremental improvements that provide breakthrough engine technology. The building blocks of ACERT Technology are fuel delivery, air management, and electronic control. ACERT Technology optimizes engine performance while meeting U.S. EPA Tier 3 EPA/ARB Flexibility requirements and EPA/ARB Tier 4 Interim AB&T requirements for emission regulation.
Performance
The 328D LCR, equipped with the C7 engine with ACERT Technology provides 8 percent more horsepower as compared to the 3126B ATAAC HEUI in the 325C LCR.
Automatic Engine Speed Control
The two-stage, one-touch control maximizes fuel efficiency and reduces sound levels.
ADEM™ A4 Engine Controller
The ADEM A4 electronic control module manages fuel delivery to get the best performance per liter (gallon) of fuel used. The engine management system provides flexible fuel mapping, allowing the engine to respond quickly to varying application needs. It tracks engine and machine conditions while keeping the engine operating at peak efficiency.
Electronic Control Module
The Electronic Control Module (ECM) works as the "brain" of the engine's control system, responding quickly to operating variables to maximize engine efficiency. Fully integrated with sensors in the engine's fuel, air, coolant, and exhaust systems, the ECM stores and relays information on conditions such as rpm, fuel consumption, and diagnostic information.
Fuel Delivery
The Cat C7 features electronic controls that govern the fuel injection system. Multiple injection fuel delivery involves a high degree of precision. Precisely shaping the combustion cycle lowers combustion chamber temperatures, generating fewer emissions and optimizing fuel combustion. This translates into more work output for your fuel cost.
Cooling System
The 328D LCR side-by-side cooling allows easy access to keep the cooling cores free of debris.
Air Cleaner
The radial seal air filter features a double-layered core for more efficient filtration.
Noise Reduction Technologies
Engine mounts are rubber coated to reduce vibrations. Further noise reduction is achieved through design changes to the isolated top cover, oil pan, sculpted crankcase, and other components.
Hydraulics
Cat hydraulics deliver power and precise control to keep material moving.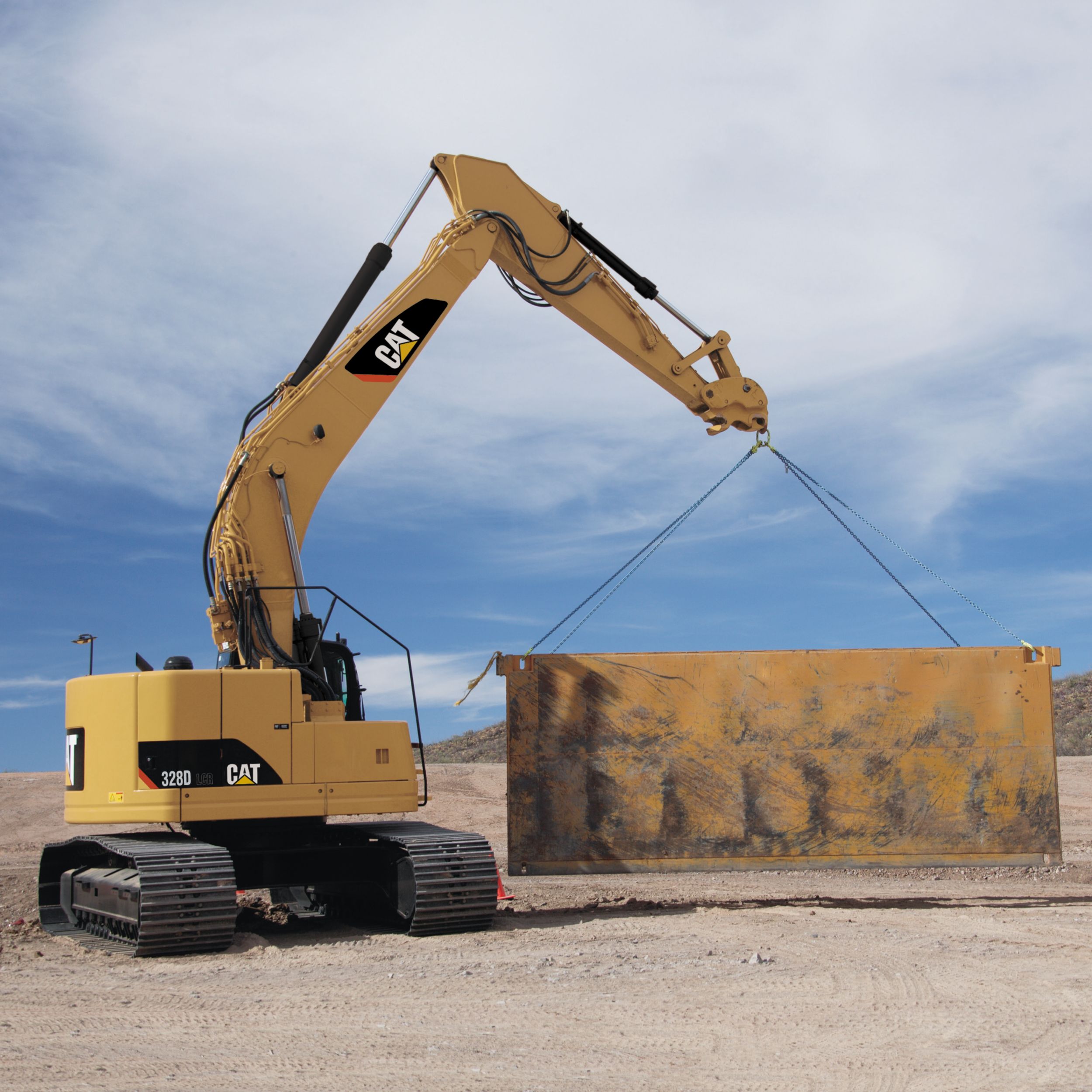 Component Layout
The hydraulic system and component locations have been designed to provide a high level of system efficiency. The main pumps, control valves, and hydraulic tank are located close together. This allows for shorter tubes and lines between components, reducing friction loss and pressure drops in the lines. The layout further provides greater operator comfort by placing the radiator on the cab side of the upper structure. This allows incoming air to enter the engine compartment from the operator side. Hot air and corresponding engine sound exits on the opposite side away from the operator. This reduces engine compartment heat and sound being transmitted to the operator.
Pilot System
The pilot pump is independent from the main pumps and controls the front linkage, swing, and travel operations.
Hydraulic Cross Sensing System
The hydraulic cross sensing system utilizes each of two hydraulic pumps to 100 percent of engine power under all operating conditions. This improves productivity with faster implement speeds and quicker, stronger pivot turns.
Boom and Stick Regeneration Circuit
Boom and stick regeneration circuit saves energy during boom-down and stick-in operation. This increases operator efficiency and reduces cycle times and pressure loss. Benefits include higher productivity, lower operating costs, and increased fuel efficiency.
Auxiliary Hydraulic Valve
The auxiliary valve is standard on the 328D LCR. Control circuits are available as attachments, allowing for operation of high- and medium-pressure tools. These include shears, grapples, hammers, pulverizers, multi-processors, and vibratory plate compactors.
Hydraulic Cylinder Snubbers
Snubbers are located at the rod-end of the boom cylinders and both ends of the stick cylinders. Benefits include reducing sound levels and shocks while extending component life.
Operator Station
Designed for comfort, simple and easy operation, the 328D LCR allows the operator to focus on production.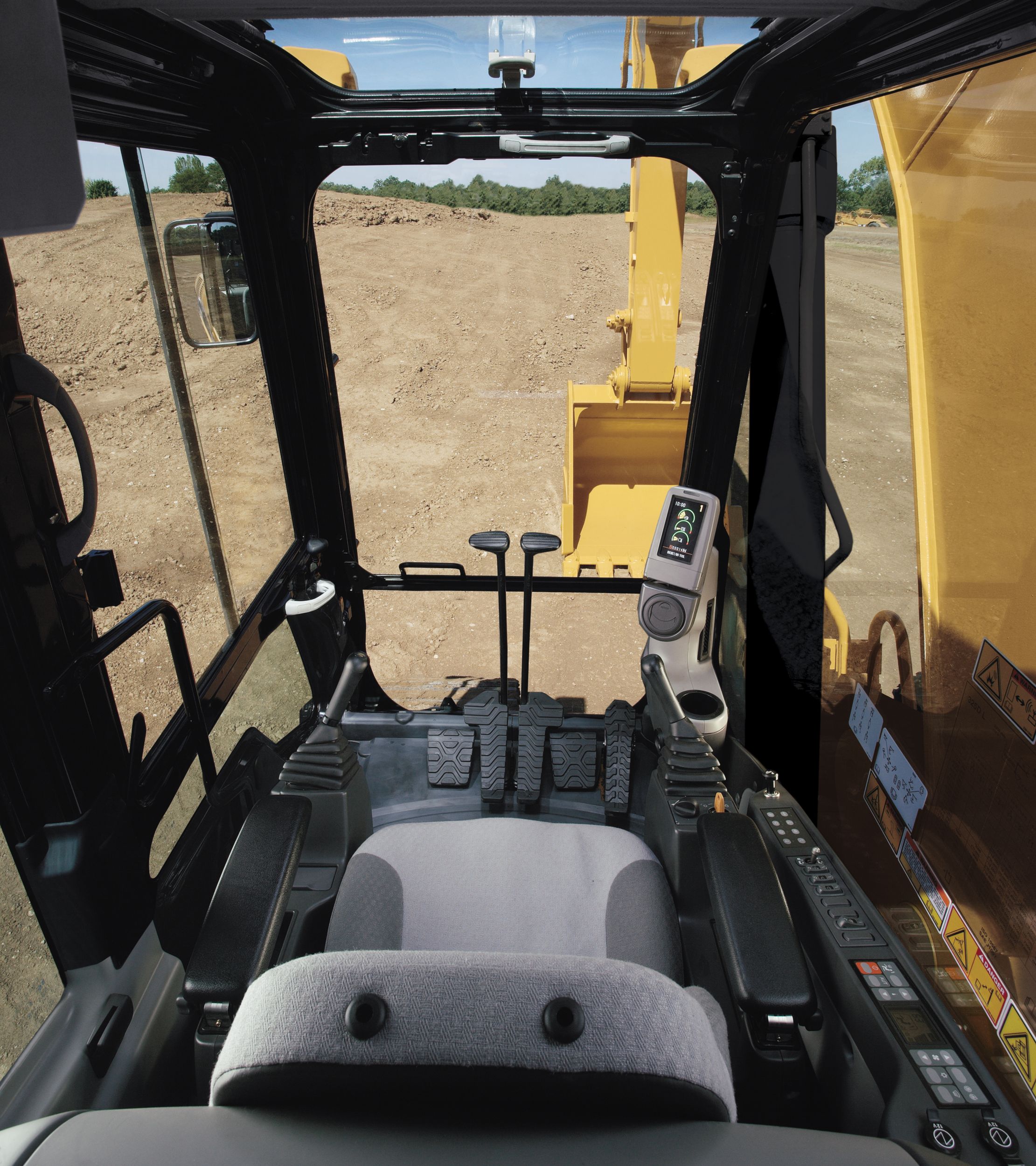 Operator Station
The workstation is spacious, quiet, and comfortable, assuring high productivity during a long workday. The attachment switches, key switch, and throttle dial are conveniently located on the right-hand wall. The monitor is easy to see and maximizes visibility.
Monitor
The monitor is a full color Liquid Crystal Display (LCD) programmable in up to 27 different languages to meet today's diverse workforce.
Pre-Start Check
Prior to starting the machine, the system will check for low fluid levels. These include engine oil, hydraulic oil, and engine coolant.
Gauge Display
Fuel level, hydraulic oil temperature, and coolant temperature are displayed.
Seat
A new adjustable air suspension seat is available in the 328D LCR. Wide adjustable armrests and a retractable seat belt are also included.
Joystick Control
The joystick controls are designed for low lever effort and match the operator's natural wrist and arm position.
Hydraulic Activation Control Lever
For added safety, this lever must be in the operate position to activate the machine control functions.
ROPS Certified Operator Station
ROPS (Roll Over Protective Structure) compliant cab is standard with improved visibility. Falling Object Guard System (FOGS) or front windshield guard can be bolted directly to the cab at factory or in the field.
Cab Mounts
The ROPS cab shell is attached to the frame with viscous rubber cab mounts dampening vibrations and sound to increase operator comfort.
Windows
A 70/30 split front window enhances operator visibility. An enlarged skylight provides excellent visibility and ventilation.
Console
Redesigned consoles feature a simple, functional design to reduce operator fatigue, ease of switch operation, and excellent visibility. Both consoles have attached armrests with height adjustments.
Structures
328D LCR structural components and undercarriage are the backbone of the machine's durability.
Robotic Welding
Up to 95 percent of the structural welds on a Cat excavator are completed by robots. Robotic welds achieve over three times the penetration of manual welds.
Carbody Design and Track Roller Frames
X-shaped, box-section carbody provides excellent resistance to torsional bending. Robot-welded track roller frames are press-formed, pentagonal units to deliver exceptional strength and service life.
Main Frame
Rugged main frame is designed for maximum durability and efficient use of materials.
Swing Bearing
The swing bearing utilizes cross roller bearings versus the traditional ball bearing design. The cross roller bearing design allows for more surface contact to absorb the stresses that are a result of the high swing torque that Cat offers. It provides exceptional machine stability and reduces machine pitching during boom down operation.
Undercarriage
Durable Cat undercarriage absorbs stresses and provides excellent stability.
Rollers and Idlers
Sealed and lubricated track rollers, carrier rollers, and idlers provide excellent service life to keep the machine in the field longer.
Long Undercarriage
Long (L) undercarriage maximizes stability and lift capacity. Two additional track links have been added to the 328D LCR. This long, wide, and sturdy undercarriage offers a very stable work platform.
Booms, Sticks and Bucket Attachments
Designed for maximum flexibility, productivity and high efficiency on all jobs, the 328D LCR offers a wide range of configurations suitable for a variety of applications.

Reach Boom
The reach boom features an optimum design that maximizes digging envelopes.
R3.2CB2 (10'6") Stick
This stick offers excellent reach and depth in trenching and general construction applications.
R2.65CB2 (8'8") Stick
This stick is suited to trenching, excavation, and other general construction work. It has been designed with enough reach and depth to match a large-capacity bucket and high digging force.
Linkage Pins
The bucket linkage pins have been enlarged to improve reliability and durability. All the pins in the front linkages have thick chrome plating, giving them high wear and corrosion resistance.
Bucket Linkage
The power link improves durability and increases machine lifting capability in key lifting positions. With the integrated lift eye, it is easier to use than compared to the previous power link.
Work Tools
You can dig, hammer, rip, and cut with confidence.

An extensive range of Cat work tools for the 328D LCR includes buckets, hydraulic hammers, multi-processors, scrap and demolition shears, grapples, rippers, and thumbs. Each is designed to optimize machine versatility and performance. Consult with your local Cat dealer for product availability.
Couplers
Quick couplers allow one person to change work tools in seconds for maximum performance and flexibility on a job site. One machine can move rapidly from task to task, and a fleet of similarly equipped machines can share a common work tool inventory.
Cat Center-Lock™ Pin Grabber Coupler
Center-Lock is a pin grabber style quick coupler and features a patent-pending locking system. A highly visible secondary lock clearly shows the operator when the coupler is engaged or disengaged from the bucket or work tool.
Buckets
Cat buckets are designed as an integral part of the 328D LCR system and feature new geometry for better performance. The base edge has been repositioned, resulting in more efficient filling and better operator control for greatly improved productivity. Wear coverage in the corners and side cutter and sidebar protector coverage are improved; a new lift eye design accepts a wide range of shackle sizes. All benefits are captured in a new bucket line with a new bucket naming convention.
Durability Categories Suitable for Any Situation
Caterpillar offers four standard bucket categories for excavators. Each category is based on intended bucket durability when used in recommended applications and material. Each bucket durability type is available as pin-on or can be used with a quick coupler. Red areas on bucket images illustrate additional protection against wear as it increases across each category.
General Duty (GD)
GD buckets are for digging in low-impact, low-abrasion material such as dirt, loam, and mixed compositions of dirt and fine gravel.
Heavy Duty (HD)
The most popular bucket style, HD buckets, are a good starting point when digging conditions are not well known like a wide range of impact and abrasion conditions that include mixed dirt, clay, and rock.
Severe Duty (SD)
SD buckets are for higher abrasion conditions such as well shot granite and caliche.
Extreme Duty (XD)
XD buckets are the new standard for high-abrasion conditions, including high quartzite granite.
Specialty Buckets
In addition to standard bucket categories, several specialty bucket styles are available for the 328D LCR, each with a different purpose:
Ditch Cleaning and Tilt Buckets for cleaning ditches, slope grading, and other finish work
Center-Lock Pin Grabber Performance Buckets for maximum digging performance while keeping the versatility and convenience of a coupler
Power Buckets for use in abrasive applications where breakout force and cycle times are critical
Wide Tip Buckets for low-impact material where leaving a smoother floor and minimal spillage are necessary
Hydraulic Kits
Caterpillar offers field-installed hydraulic kits that are uniquely designed to integrate Cat work tools with Cat excavators. Hoses and tubes are pre-made, pre-shaped, and pre-painted to make installation quick and easy.
Comprehensive Product Support
All Cat work tools are backed up by a world-wide network of well-stocked parts depots and highly experienced service and support personnel.
Versatility
A wide variety of optional factory-installed attachments will enhance performance and improve job site management.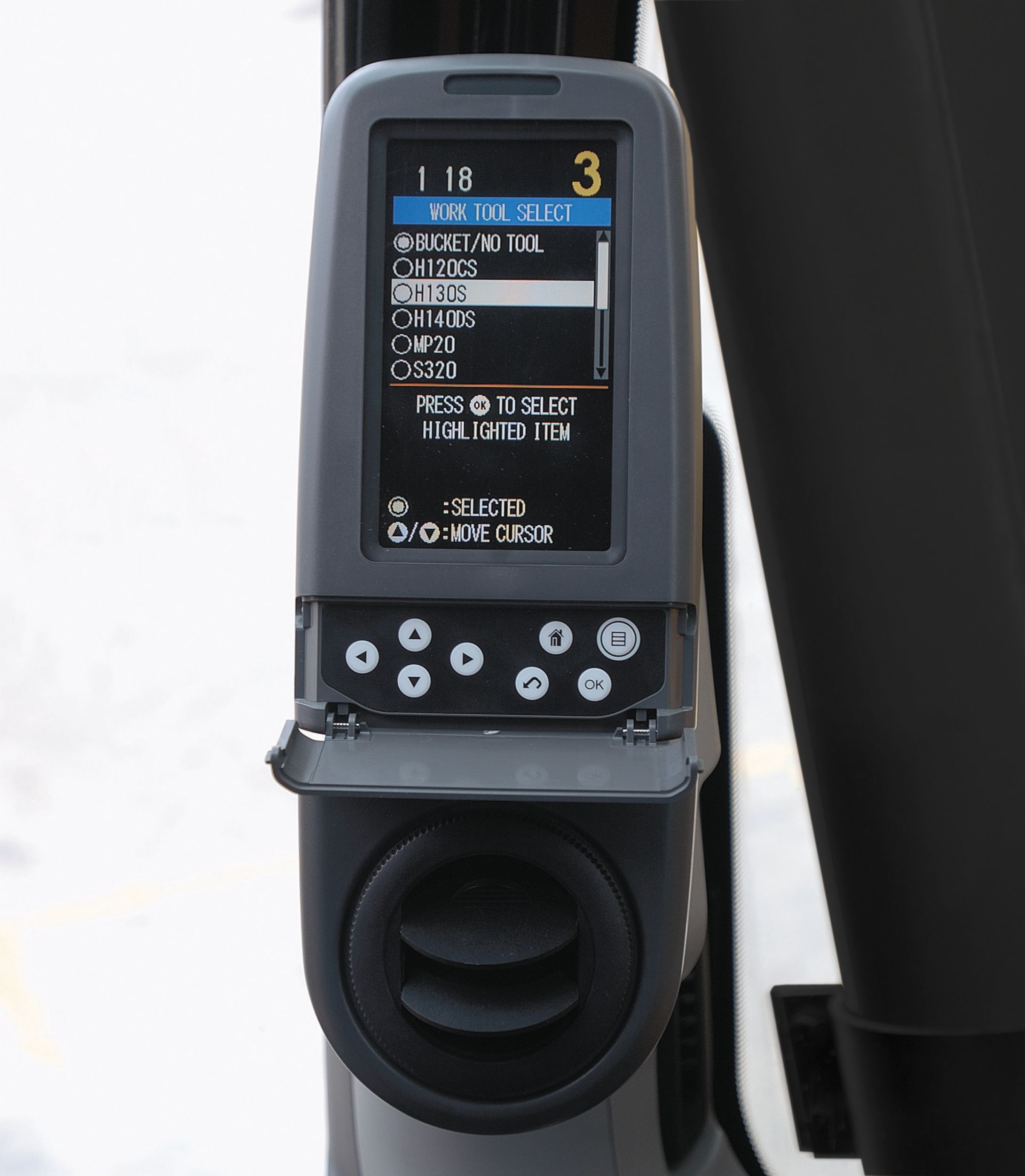 Tool Control System
This system offers the most flexibility and versatility of the auxiliary options offered. The system is available in two configurations, as a stand-alone system or with a medium pressure circuit and third pump. This system handles either single or double function, one or two pump tools. Additionally, the medium-pressure circuit allows use of tools that rotate such as grapples, shears, or multi-processors. Up to 10 different tool settings can be pre-programmed and selected through the monitor.
Auxiliary Hydraulics Options
There are four different options that can be factory installed to meet the various demands for hydra-mechanical tools.
Single Function
Double Function
Tool Control System
Medium Pressure
Single-Function Auxiliary Hydraulics
This single-function circuit utilizes one-way flow action with two pumps. The circuit can run tools such as hammers and vibratory plate compactors.
Double-Function Auxiliary Hydraulics
The double-function circuit utilizes two-way flow and one pump. It is capable of running tools such as a thumb, tilt bucket, or non-rotating grapples or shears.
Cat Product Link™
This deeply integrated machine monitoring system is designed to help customers improve their overall fleet management effectiveness. Events and diagnostic codes as well as hours, fuel consumption, idle time, machine location, and other detailed information are transmitted to a secure web application called VisionLink™.
Machine Security
The optional Cat Machine Security System is available from the factory. Utilization of specific keys prevents unauthorized machine use and is a theft deterrent.
Center-Lock Pin Grabber Coupler
This coupler increases excavator versatility by allowing you to pick up a wide variety of work tools without leaving the cab.
Service and Maintenance
Simplified service and maintenance features save you time and money.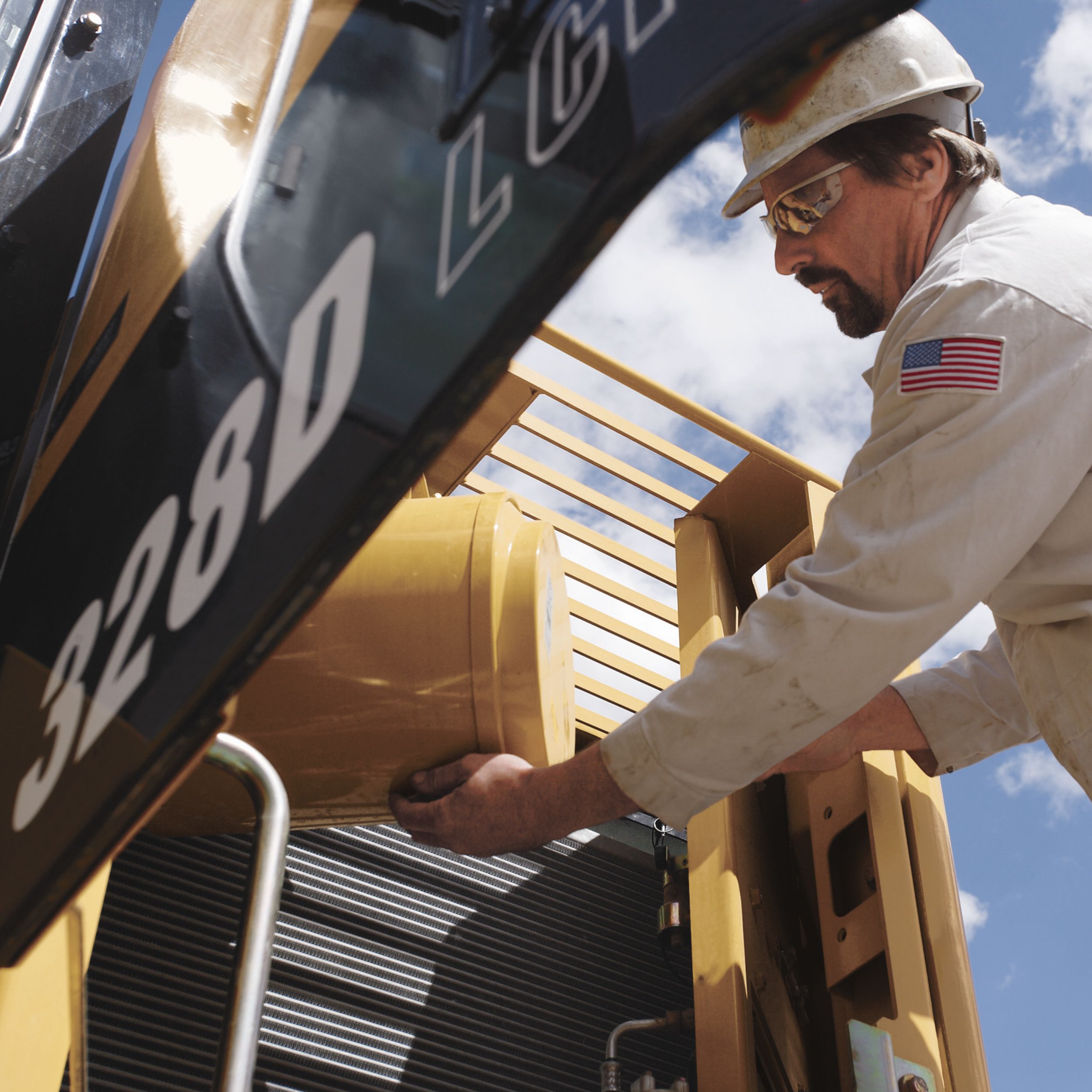 Ground Level Service
The design and layout was made with the service technician in mind. Many service locations are easily accessible at ground level, allowing critical maintenance to get done quickly and efficiently.
Air Filter Compartment
The air filter features a double-element construction for superior cleaning efficiency. When the air cleaner plugs, a warning is displayed on the monitor screen inside the cab.
Pump Compartment
A service door on the right side of the upper structure allows ground-level access to the pump and pilot filter.
Radiator Compartment
The left rear service door allows easy access to the engine radiator, oil cooler, and air-to-air-aftercooler. A reserve tank and drain cock are attached to the radiator for simplified maintenance.
Greasing Points
A concentrated remote greasing block on the boom delivers grease to hard-to-reach locations on the front.
Diagnostics and Monitoring
The 328D LCR is equipped with S·O·SSM sampling and hydraulic test ports for the hydraulic system, engine oil, and for coolant. A test connection for the Cat Electronic Technician (Cat ET) service tool is located in the cab.
Extended Service Interval
The service and maintenance intervals have been increased to extend machine up time.
Complete Customer Support
Cat dealer services help you operate longer with lower costs.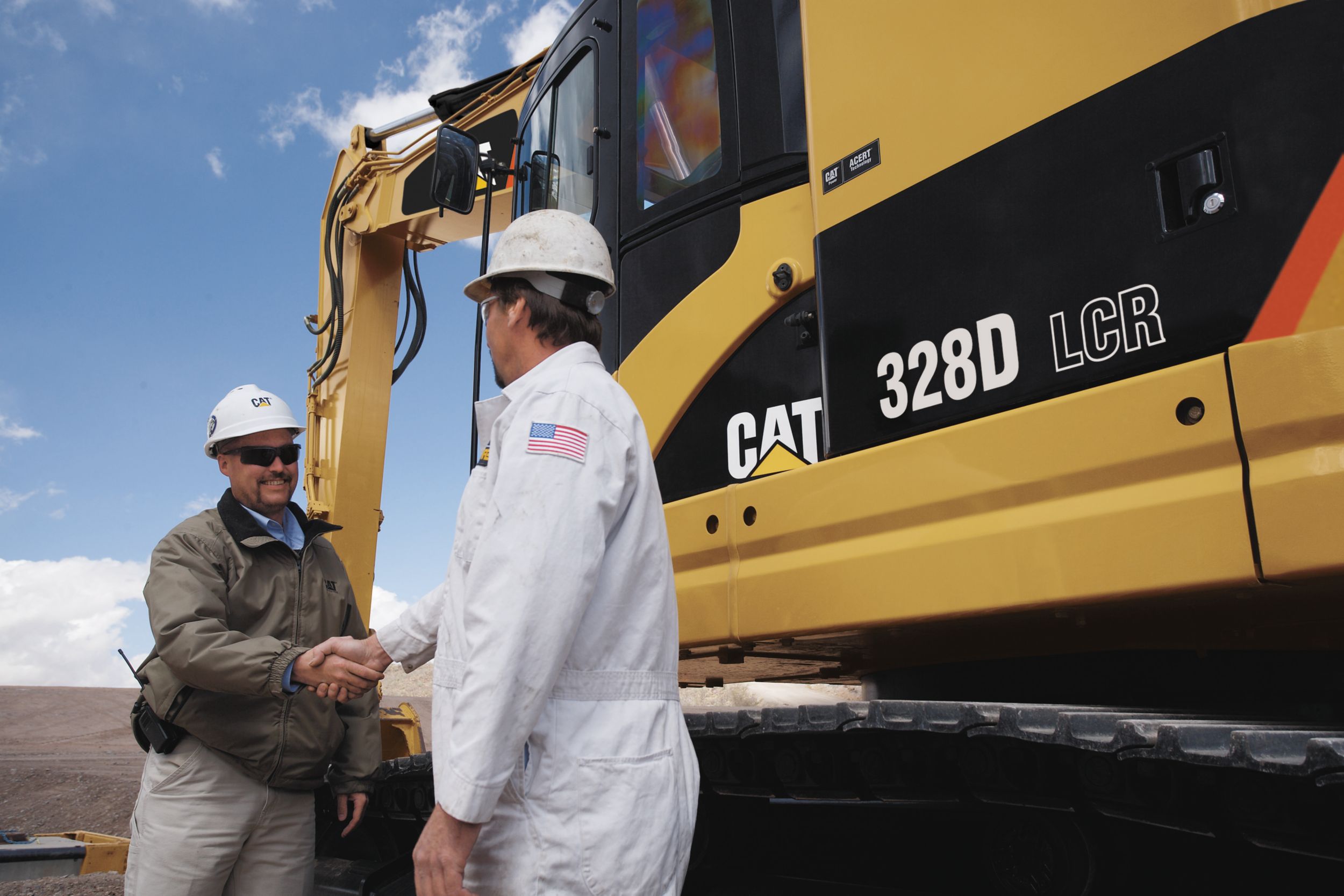 Product Support
You will find nearly all parts at our dealer parts counter. Cat dealers utilize a worldwide computer network to find in-stock parts to minimize machine downtime. Save money with remanufactured components.
Customer Support Agreements
Cat dealers offer a variety of product support agreements and work with customers to develop a plan that best meets specific needs. These plans can cover the entire machine, including attachments, to help protect the customer's investment.
Operation
Improving operating techniques can boost your profits. Your Cat dealer has videotapes, literature, and other ideas to help you increase productivity, and Caterpillar offers certified operator training classes to help maximize the return on your investment.
Maintenance Services
Repair option programs guarantee the cost of repairs up front. Diagnostic programs such as scheduled oil sampling, coolant sampling, and technical analysis help you avoid unscheduled repairs.
EQUIPMENT
Standard Equipment
ELECTRICAL
65 Ampere alternator
Base machine light (frame)
Horn
Pre-start monitoring system - checks for low fluids (engine oil, coolant, hydraulic oil) prior to starting machine
OPERATOR ENVIRONMENT
Air conditioner, heater, defroster with automatic climate control
AM/FM radio with antenna and two speakers
Ashtray
Beverage/cup holder
Bolt-on Falling Object Guarding System (FOGS) capability
Cab glass: - Openable and retractable two-piece front windshield - Sky-light, pop-up, polycarbonate - Rear window, emergency exit
Coat hook
Floor mat
Instrument panel and gauges
Joysticks, console mounted, pilot operated
Light, interior
Literature compartment
Monitor, full graphic color display
Neutral lever (lock out) for all controls
Polycarbonate side windows
Positive filtered ventilation
Pressurized cab
ROPS cab
Seat, suspension, with high back and head rest
Seat belt, retractable — 76 mm (3")
Sun shade (for skylight)
Travel control pedals with removable hand levers
Windshield wiper and washer
ENGINE/POWER TRAIN
Cat C7 ACERT: - Air intake heater - Air-to-Air Aftercooler (ATAAC) - 24V electric starting - Hydraulic Electronic Unit Injectors (HEUI) - 2300 m (7,500 ft) altitude capability without derate
Automatic engine speed control with one touch low idle
Cooling: - Protection of 43° C to -18° C (109° F to 0° F) at 50% concentration
Electric priming pump
Straight line travel
Two speed auto-shift travel
Water separator in fuel line: - Water level indicator for water separator
UNDERCARRIAGE
Grease lubricated track
Heavy-duty rollers
Hydraulic track adjusters
Idler and center section track guards
OTHER STANDARD EQUIPMENT
Automatic swing parking brake
Auxiliary hydraulic valve
Capability of stackable valves (maximum of two) for main valve
Capability of auxiliary circuit
Counterweight - 7720 kg (17,020 lb)
Door locks, cap locks and Cat one key security system
Fine swing control
Fully pressurized hydraulic system
Heavy lift
Mirrors (upper frame, rear)
S·O·S quick sampling valves for engine and hydraulic oil
Travel alarm
Optional Equipment
FRONT LINKAGE
Booms: - Reach 6.15 m (20'2")
Sticks: - Reach 3.75 m (12'4") - Reach 3.2 m (10'6") - Reach 2.65 m (8'8")
Bucket linkage: - CB1 family
Boom lowering control device
ELECTRICAL
Light, cab mounted (one)
Machine Security System (MSS)
Power supply (12V - 10 Amp)
Product Link (PL522)
GUARDING
Falling Object Guarding System (FOGS): - Either as a system or separate (Top/Bottom)
Front windshield guard: - Full length, wire mesh
Heavy-duty bottom guards
Track guiding guards: - Sprocket end, idler end guard - Two-piece full length (center guard removed)
Vandalism guards
OPERATOR ENVIRONMENT
Hand control pattern changer (ISO-SAE)
Rear window, secondary exit (hinged)
Seat, high back with air suspension and heater
ENGINE/POWER TRAIN
Prefilter, air
Starting, cold weather package: - Two additional high capacity, maintenance-free batteries - Heavy-duty cable - Jump-start receptacle - Ether aid - Block heater
UNDERCARRIAGE
Track shoes (mandatory attachment): - 600 mm (24") double grouser - 700 mm (28") triple grouser - 850 mm (34") triple grouser
AUXILIARY HYDRAULICS
Hammer circuit: - For single function (1 way/2 pump) hydraulic tools
Thumb circuit: - For double function (2 way/1 pump) hydraulic tools
Tool control system: - For single or double function, (1 or 2 way/1 or 2 pump) hydraulic tools - Joysticks with additional switches - Program up to 10 tools in memory - Capability of adding medium pressure - Medium pressure circuit for tools requiring medium pressure
Center-Lock pin grabber coupler and controller
Lines for booms and sticks
WORK TOOLS
Wide offering of buckets, tips and sidecutters available through Cat Work Tools directly
CONNECT. DISCUSS. SOLVE.
CATERPILLAR EQUIPMENT MAINTENANCE ONLINE COMMUNITY
HOW CAN WE HELP?
SHARE YOUR FEEDBACK OR ASK A QUESTION