321C LCR
The C Series incorporates innovations for improved performance and versatility.
SPECIFICATIONS
Engine
Engine Model
Cat® 3066T ATAAC
Net Flywheel Power
137 hp
Net Power - ISO 9249
138 hp
Net Power - EEC 80/1269
138 hp
Net Power - SAE J1349
137 hp
Weights
Operating Weight
51864 lb
Operating Weight - Minimum
50416 lb
Operating Weight - Std. Undercarriage
51863.69 lb
Counterweight
13448.18 lb
Drive
Maximum Drawbar Pull
44063 lb
Maximum Travel Speed
3.4 mph
Hydraulic System
Main Implement System - Maximum Flow (2x)
54 gal/min
Max. Pressure - Equipment
4974 psi
Max. Pressure - Travel
4974 psi
Max. Pressure - Swing
3625 psi
Pilot System - Maximum Flow
11 gal/min
Pilot System - Maximum Pressure
566 psi
Boom Cylinder - Bore
4.92 in
Boom Cylinder - Stroke
55 in
B1 Family Bucket Cylinder - Bore
4.72 in
B1 Family Bucket Cylinder - Stroke
41 in
Service Refill Capacities
Fuel Tank Capacity
87 gal
Final Drive (each)
2.6 gal
Hydraulic System (including tank)
69 gal
Swing Mechanism
Track
Standard w/Long Undercarriage
32 in
Ground Clearance - Fixed Gauge
18.7 in
Dimensions
BENEFITS & FEATURES
Compact Radius
Compact radius design delivers top performance in tight quarters.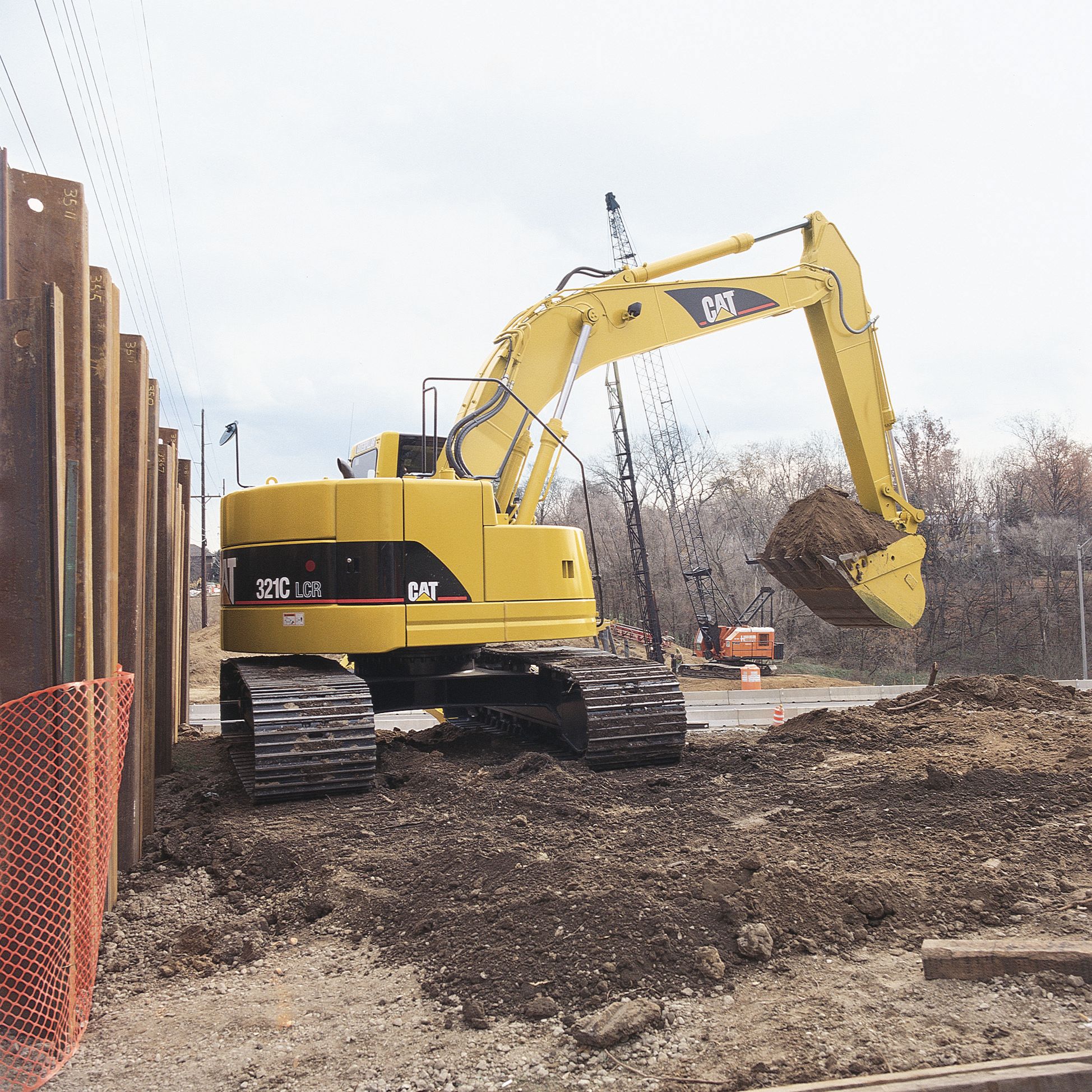 Compact Radius Design
The 321C LCR features a compact radius, making it ideal for working in tight areas such as: next to buildings, highway construction - limiting lane closures, logging roads and other tight areas where space is restricted.
Operator Confidence
Due to the 321C LCR's compact working envelope, operators can work in confidence that the counterweight will not swing into any object behind them, which allows the operator to concentrate on the task at hand.
Working Envelope
The 321C LCR has been designed to rotate with little to none of the counterweight extending beyond its tracks, and working within its width. To further minimize the working envelope, the 321C LCR's boom is positioned further back in the upper frame as compared to a standard excavator. This reduces the front swing radius when the boom is pulled all the way up and the stick is brought back.
Engine and Hydraulics
The Cat 3066T engine and hydraulics give the 321C LCR exceptional power, efficiency, and controllability unmatched in the industry for consistently high performance in all applications.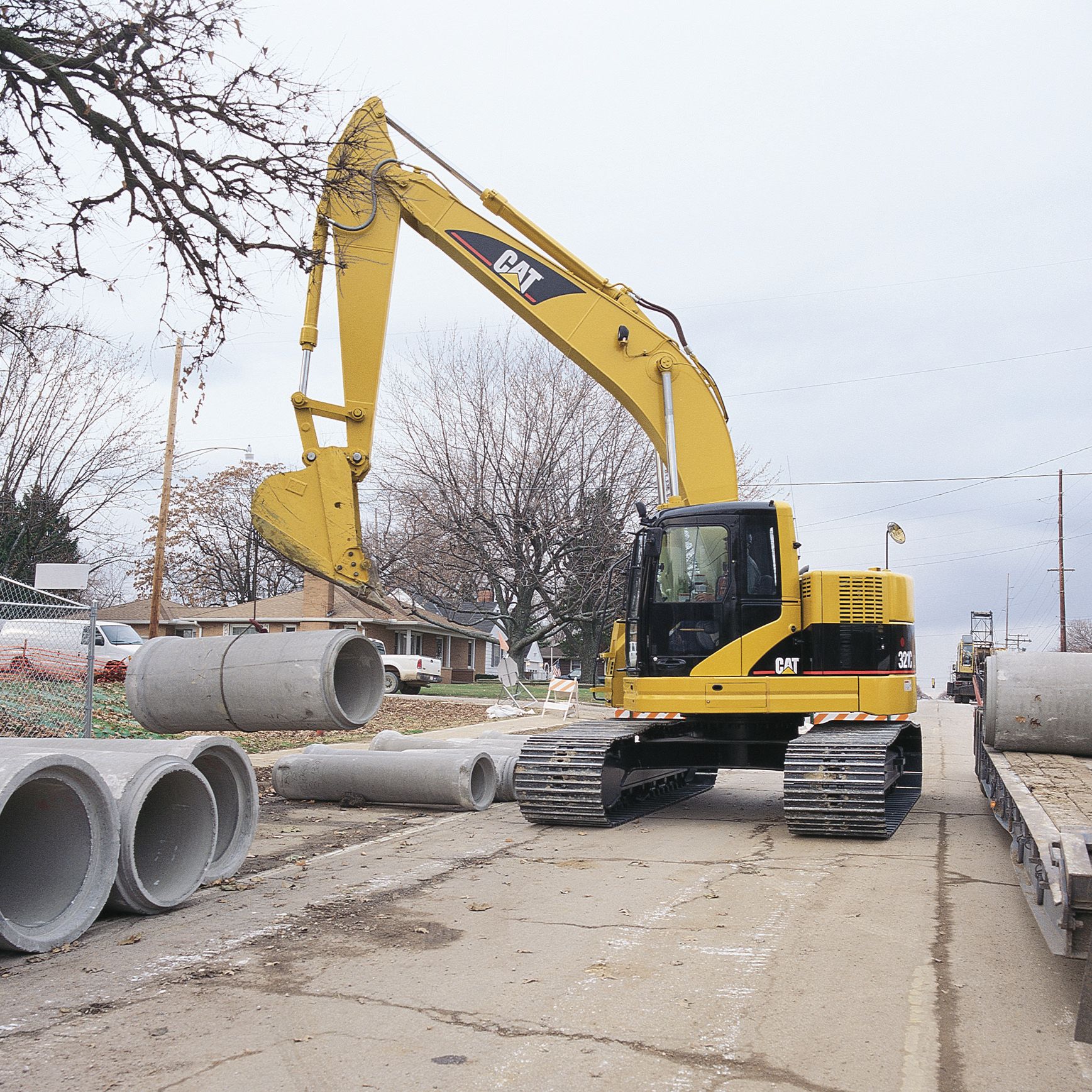 Engine
Six cylinder turbocharged engine built for power, reliability, economy and low emissions will keep the machine up and running. The Cat 3066T engine meets Tier 2 worldwide emissions requirements.
Automatic Engine Speed Control
The two-stage one touch control maximizes fuel efficiency and reduces sound levels.
Low Sound, Low Vibration
The Cat 3066T design improves operator comfort by reducing sound and vibration.
Electronic Control Module
The Electronic Control Module (ECM) works as the "brain" of the engine's control system, responding quickly to operating variables to maximize engine efficiency. Fully integrated with sensors in the engine's fuel, air, coolant, and exhaust systems, the ECM stores and relays information on conditions such as rpm, fuel consumption, and diagnostic information.
Hydraulic Cross Sensing System
Improves productivity with faster implement speeds and quicker, stronger pivot turns.
Fine Swing Control
Fine swing control cushions swing start and stop for better implement control.
Hydraulic Cylinder Snubbers
The hydraulic cylinder snubbers at rod-end of boom cylinders and both ends of stick cylinder cushion shocks, reduce sound, and increase cylinder life, keeping the machine working longer.
Controllability
The hydraulic system offers precise control to the 321C LCR, reducing operator fatigue, improving operator effectiveness and efficiency, which ultimately translates into enhanced performance.
Boom and Stick Regeneration Circuit
Boom and stick regeneration circuit increases efficiency and reduces cycle times for higher productivity and lower operating costs.
Structures
321C LCR structural components and undercarriage are the backbone of the machine's durability.
Robotic Welding
Up to 95% of the structural welds on a Caterpillar hydraulic excavator are completed by robots. Robotic welds achieve up to three times the penetration of manual welds.
Carbody Design and Track Roller Frames
X-shaped, box-section carbody provides excellent resistance to torsional bending. Robot-welded track roller frames are press-formed, pentagonal units that deliver exceptional strength and service life.
Main Frame
Rugged main frame is designed for maximum durability and efficient use of materials.
Undercarriage
Durable Cat undercarriage absorbs stresses and provides excellent stability.
Rollers and Idlers
Sealed and lubricated track rollers, carrier rollers, and idlers provide excellent service life, that keeps the machine in the field longer.
Long Undercarriage
The long (L) undercarriage maximizes stability and lift capacity. This long, wide, and sturdy undercarriage offers a very stable work platform.
Booms and Sticks
Built for performance and long service life, Caterpillar booms and sticks are large, welded, box-section structures with thick, multi-plate fabrications in high stress areas.
Reach Boom
The reach boom features an optimum design that maximizes digging envelopes.
R2.9B Stick
The R2.9B stick is versatile and used in a variety of applications.
Operator Station
The 321C LCR operator workstation is quiet with ergonomic control placement and convenient adjustments, low lever and pedal effort, ergonomic seat design and highly efficient ventilation.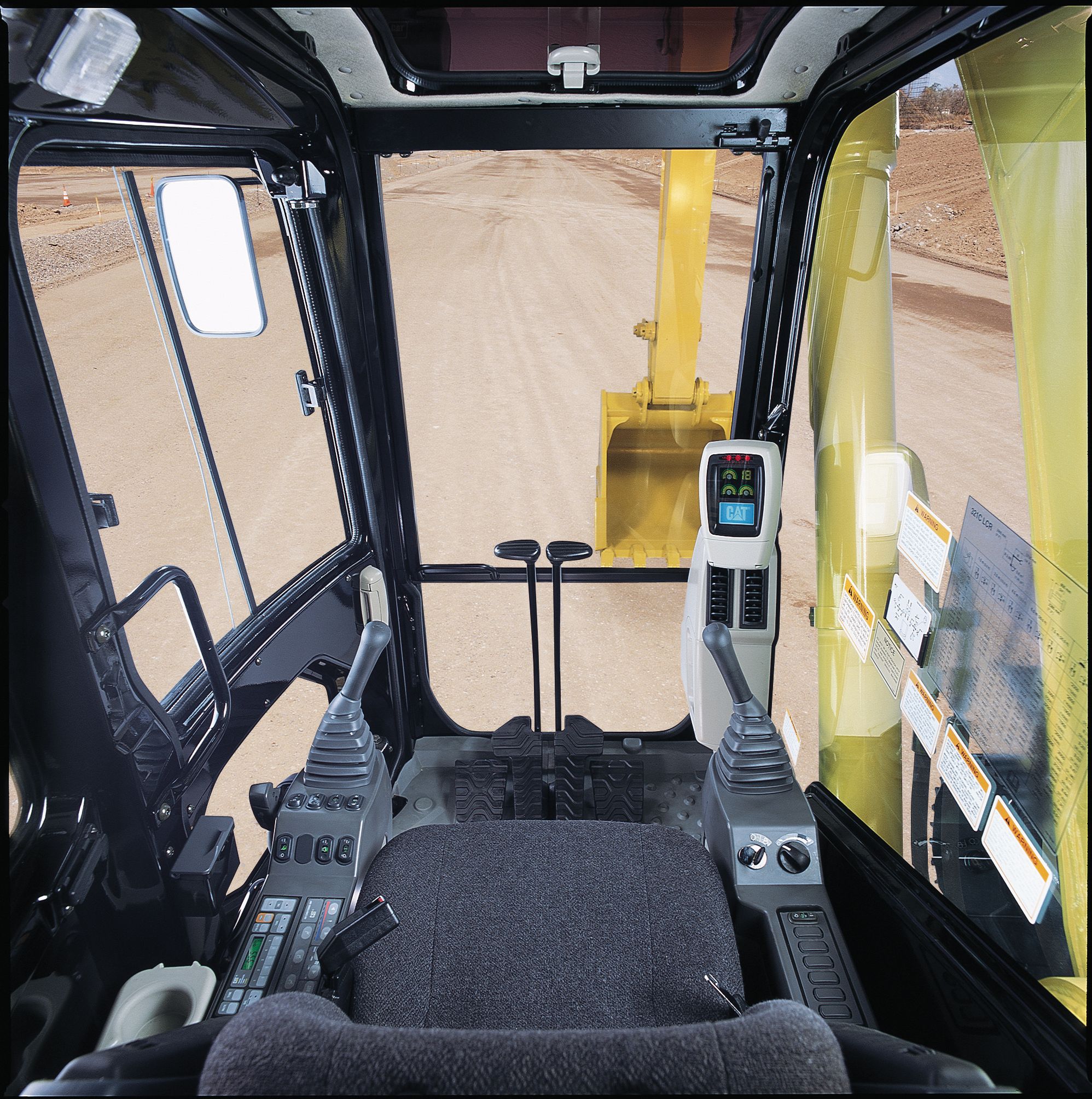 Cab Design
An enlarged cab with curved styling gives the operator a comfortable, spacious working environment and excellent visibility.
Sliding Door
The cab door slides alongside the cab and takes less space to open and close than a hinged door. This unique design allows the operator to easily get in and out of the cab when working against walls on job sites, even when attachments are added.
Monitor
New, compact monitor enhances viewing while displaying a variety of easy to read and understand language-based information.
Climate Control
The 321C LCR features a semi-automatic climate control with air intake system. The air conditioner is standard and adjusts temperature and flow.
Windshields
The upper front windshield opens, closes, and stores below the roof of the operator with a one-touch action release system. Grips on the mid-lower portion of the front windshield assist in easy opening.
Windows
The enlarged right-side window provides excellent visibility and isolates the operator from the hydraulic lines. The upper cab door window slides open, providing ventilation and allowing the operator to easily communicate with people on the work site.
Skylight
The pop-up skylight provides improved upward visibility and opens easily with the assistance of a gas cylinder.
Work Tools - Attachments
The 321C LCR provides greater versatility by offering factory installed auxiliary hydraulics, couplers and a variety of bucket types and sizes.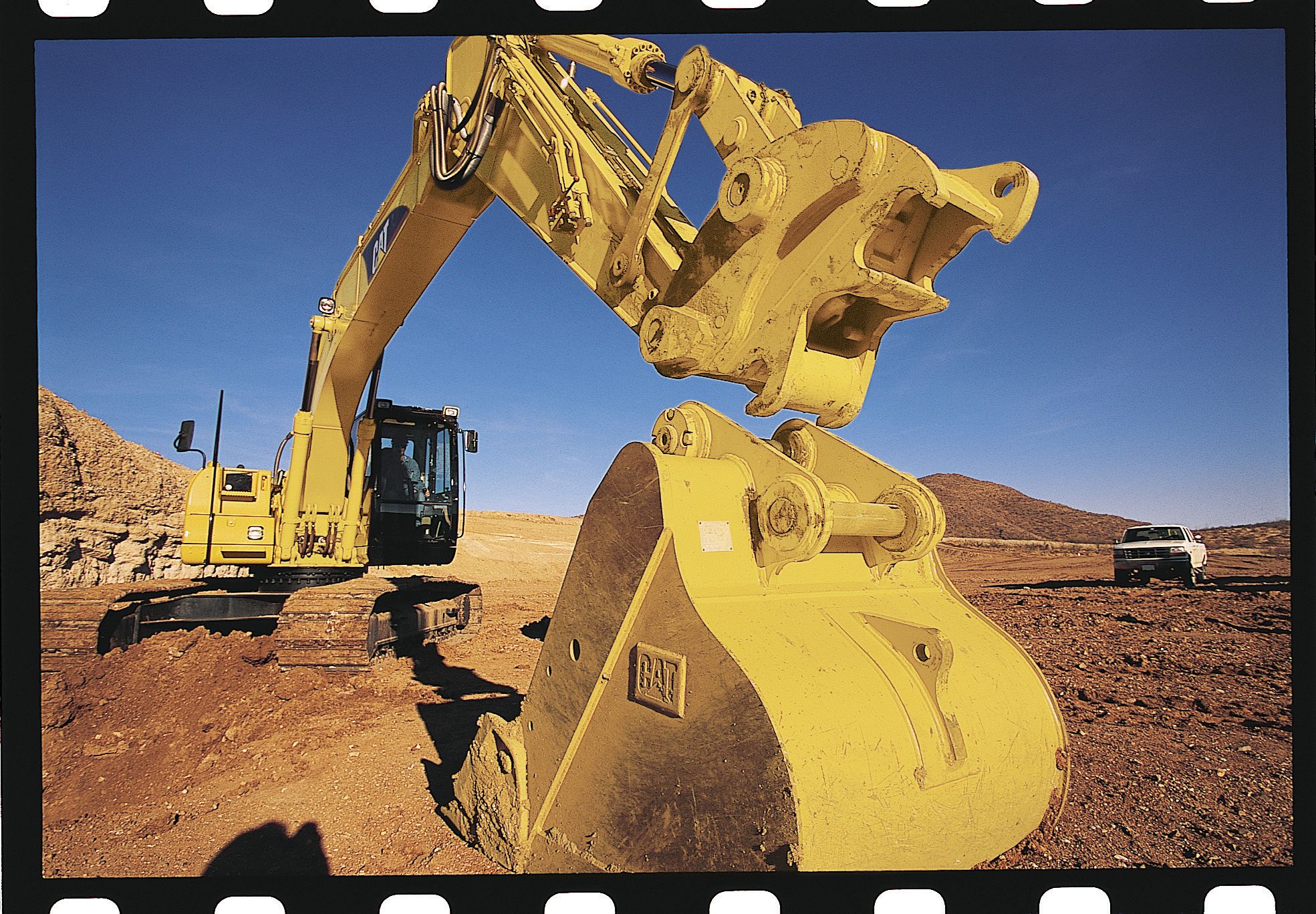 Quick Couplers
The Pin Grabber Plus and the Dedicated Hydraulic Quick Coupler enhances machine versatility by enabling the rapid change over of a wide range of work tools in the field.
General Purpose (GP) Buckets
General Purpose Buckets are best for digging in soft to hard ground with low to moderately abrasive materials.
Ditch Cleaning (DC) Buckets
These wide shallow buckets are best for bank forming, ditch cleaning, and finishing.
Heavy-Duty Rock (HDR) Buckets
Heavy-Duty Rock Buckets perform best when digging fragmented rock, frozen ground, caliche, and highly abrasive materials.
Heavy-Duty (HD) Buckets
Heavy-duty buckets are for digging in moderate to hard material and feature large ground engaging tools, thick cutting edges and thick bottom and side wear plates to improve performance in demanding conditions.
Heavy-Duty Power (HDP) Buckets
Designed to improve breakout force and machine cycle times, the Heavy Duty Power Bucket (HDP) compliments the General Purpose, Heavy Duty, and Heavy Duty Rock bucket lines.
Monitor
With the optional Tool Control System, up to five different tool settings may be pre-programmed and selected from the electronic controller through the monitor.
Work Tools
Choose from a variety of work tools such as hammers, shears, thumbs, rotators, grapples, or crushers. Ask your Cat dealer for information on attachments or special configurations.
Tool Control System
The optional Tool Control System maximizes work tool productivity by configuring hydraulic flow, pressure and operator controls to match a specific work tool. System versatility enables a wide range of tools to be used. Factory installed hammer and thumb circuits are also available as attachments.
Serviceability
Simplified service and maintenance save you time and money.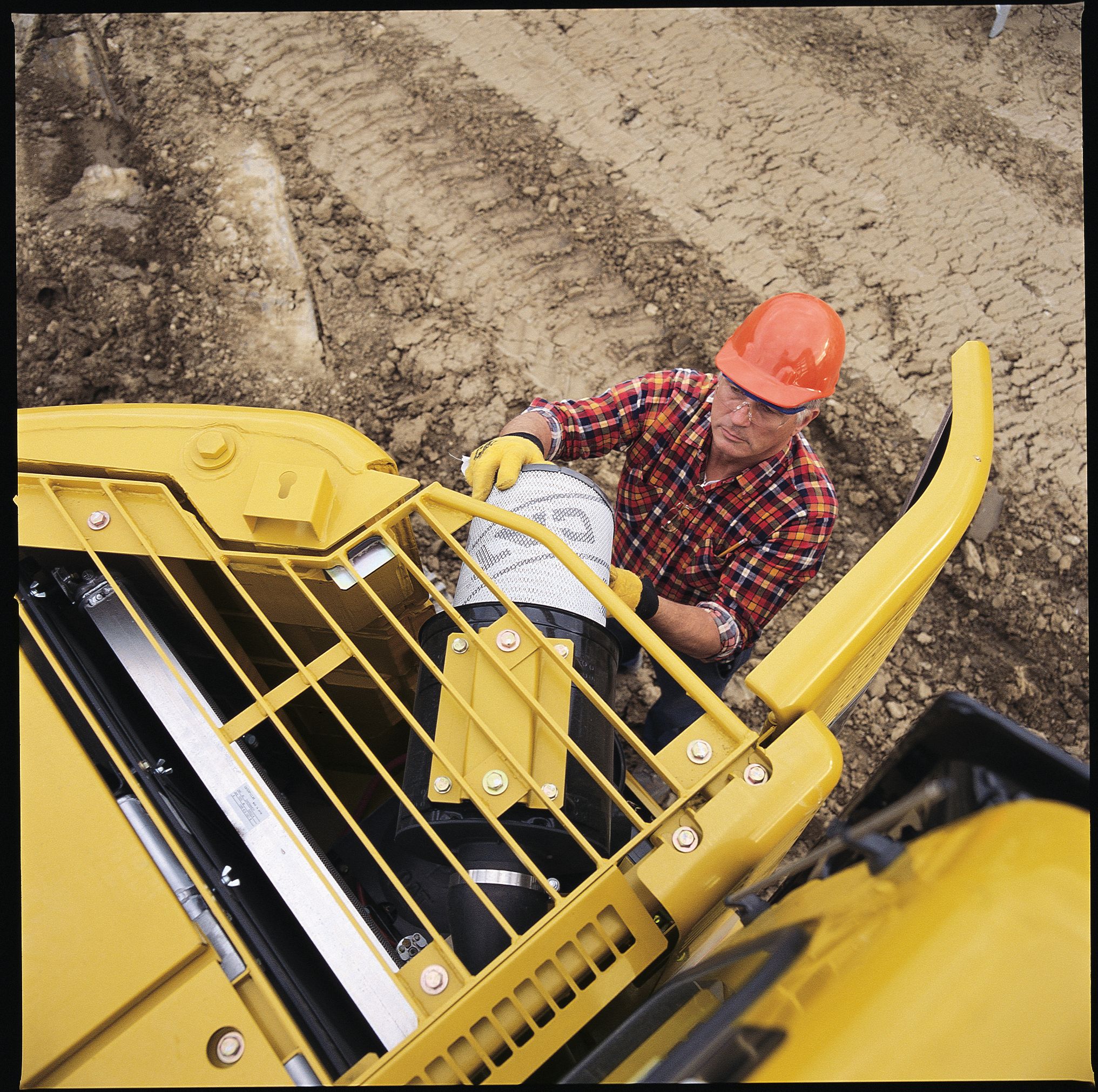 Extended Service Intervals
Extended service and maintenance intervals reduce service time and machine availability. Use of oil-free bearing extends front linkage greasing interval to 1000 hours, except in the bucket area, which has been extended to 100 hours.
Ground-Level Maintenance
For operator convenience, daily maintenance areas can be easily reached from ground level.
Pre-Start Monitoring System
This system allows the operator to check coolant, hydraulic oil and engine oil levels from the monitor inside the cab.
Anti-Skid "Pressed-Star" Plate
The top of the storage box and surface of the upper structure are covered with "pressed-star" plate to prevent the service person or operator from slipping during maintenance.
Handrail and Steps
Larger handrails and steps make it easier for the operator to climb on and off the machine.
Fan Guard
Engine radiator fan and oil cooler are completely enclosed by fine wire mesh, reducing the risk of injury.
Greasing Points
A concentrated remote greasing block on the boom delivers grease to hard-to-reach locations.
Service Doors
Service doors are located on both sides of the upper structure. The doors make it easy to reach maintenance items such as the engine radiator or any hydraulic components from ground level. Openings are large and service doors latch in the full open position.
Air Filter
The air filter features a double-element construction for superior cleaning efficiency. When the air cleaner plugs, a warning is displayed on the monitor screen inside the cab.
Fuel-Water Separator
The water separator has a primary fuel filter element and is located in the radiator compartment for easy access from the ground.
Complete Customer Support
Cat dealer services help you operate longer with lower costs.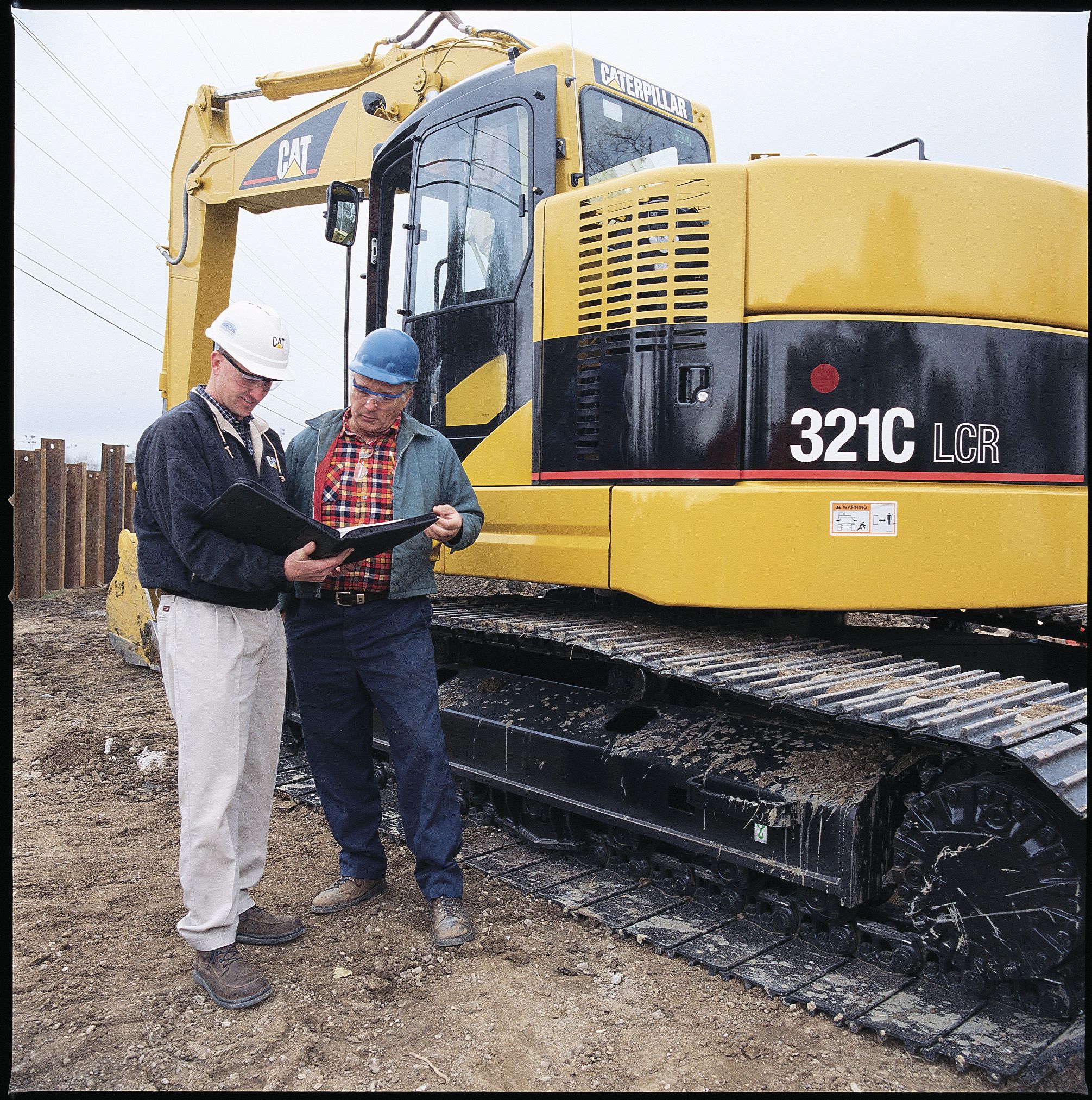 Selection
Make detailed comparisons of the machines you are considering before you buy. What are the job requirements, machine attachments and operating hours? What production is needed? What is the true cost of lost production? Your Cat dealer can give precise answers to these questions.
Operation
For the best operating techniques to increase productivity and your profit, turn to your Cat dealer for the latest training literature and trained staff.
Maintenance
Repair option programs guarantee the cost of repairs up front. Diagnostic programs such as Scheduled Oil Sampling and Technical Analysis help you avoid unscheduled repairs.
Replacement
Repair, rebuild or replace? Your Cat dealer can help you evaluate the cost involved so you can make the right choice.
Product Support
You will find nearly all parts at our dealer parts counter. Cat dealers utilize a worldwide computer network to find in-stock parts to minimize machine downtime. You can save money with Cat remanufactured components.
Warranty
Your local Cat dealer is there to support and protect you. Extended warranty options are also available.
EQUIPMENT
Standard Equipment
Electrical
Alternator, 50 Ampere
Working Light
Horn
Operator Environment
AM/FM Radio with Speakers
Ashtray
Beverage Holder
Air Conditioner, Semi-automatic
Coat Hook
Door, Sliding
Floor Mat, Washable
Hydraulic Neutralizer Lever for All Controls
Joystick Type Controls, Pilot Operated
Language Display Monitor with Gauges
Laminate Front Windshield
Lighting, Interior
Literature Holder
Pop-up Skylight, Polycarbonate with Sun Shade
Retractable Front Windshield with Assist Device
Seat, Suspension Type
Storage Compartment
Tempered Windows
Travel Control Pedals with Footrests
Windshield Wiper with Washer, Upper
Power Train
Cat 3066T Diesel Engine
2300 m (7500 ft) Altitude Capability without Deration
Air-to-Air Aftercooling (ATAAC)
Automatic Engine Speed Control
Cooling
Straight Line Travel
Two Speed Auto-shift Travel
Water Separator in Fuel Line
Undercarriage
Hydraulic Track Adjusters
Idler and Center Section Track Guiding Guards
Track-type Undercarriage with Grease Lubricated Seals
Other Standard Equipment
Automatic Swing Brake
Automatic Work Modes
Auxiliary Hydraulic Valve (1)
Capability of Stackable Valve for Main Valve
Capability of Auxiliary Circuit
Counterweight 6100 kg (13,448 lb)
Door Locks and Cap Locks with One-key Security System
Pre-wired for Product Link Capability
System Mirrors
Wave Fin Radiator
Optional Equipment
Electrical
Alarm, Travel
Light, Working, Cab Mounted
Light, Boom, Right Side
Power Supply, 12V-5A (1 socket)
Operator Environment
Cab with Polycarbonate Windows
Hand Control Pattern Changer
Seat, Suspension Type
Power Train
Cold Weather Starting Aid
Undercarriage
Guard, Track Guiding
Guard, Track Guiding
Track Shoes
Other Optional Equipment
3 Auxiliary Hydraulic Arrangement Options
Hammer Circuit
Thumb Circuit
Tool Control Circuit
Boom, Reach 5.68 m (18 ft 7 in)
Control, Fine Swing
Coupler, Hydraulic Pin Grabber
Linkage, Bucket, B-Family
Drive, for Auxiliary Pump
Guard, Swivel
Guard, Vandalism
Guard, Full Front Windshield
Stick, 2.9 m (9 ft 6 in)
CONNECT. DISCUSS. SOLVE.
CATERPILLAR EQUIPMENT MAINTENANCE ONLINE COMMUNITY
HOW CAN WE HELP?
SHARE YOUR FEEDBACK OR ASK A QUESTION