312C L
Increased horsepower, better controllability, extended service intervals and a redesigned operator station increase your productivity and lower your operating costs.
SPECIFICATIONS
Engine
Weights
Operating Weight
28970 lb
Operating Weight - Long Undercarriage
29010 lb
Drive
Maximum Drawbar Pull
25200 lb
Swing Mechanism
Hydraulic System
Main Implement System - Maximum Flow (2x)
33.5 gal/min
Maximum Pressure - Implements
4340 psi
Maximum Pressure - Travel
4980 psi
Maximum Pressure - Swing
3340 psi
Pilot System - Maximum Flow
6.3 gal/min
Pilot System - Maximum Pressure
600 psi
Blade - Maximum Flow
15.5 gal/min
Blade System - Maximum Pressure
2990 psi
Boom Cylinder - Bore
4.3 in
Boom Cylinder - Stroke
40 in
Stick Cylinder - Bore
4.7 in
Stick Cylinder - Stroke
47.1 in
Bucket Cylinder - Bore
3.9 in
Bucket Cylinder - Stroke
37 in
Service Refill Capacities
Swing Drive (each)
0.79 gal
Final Drive (each)
0.66 gal
Hydraulic System (including tank)
42.8 gal
Dimensions
BENEFITS & FEATURES
Engine
The four cylinder turbo-charged Cat 3064 T engine is built for power, reliability, economy and low emissions.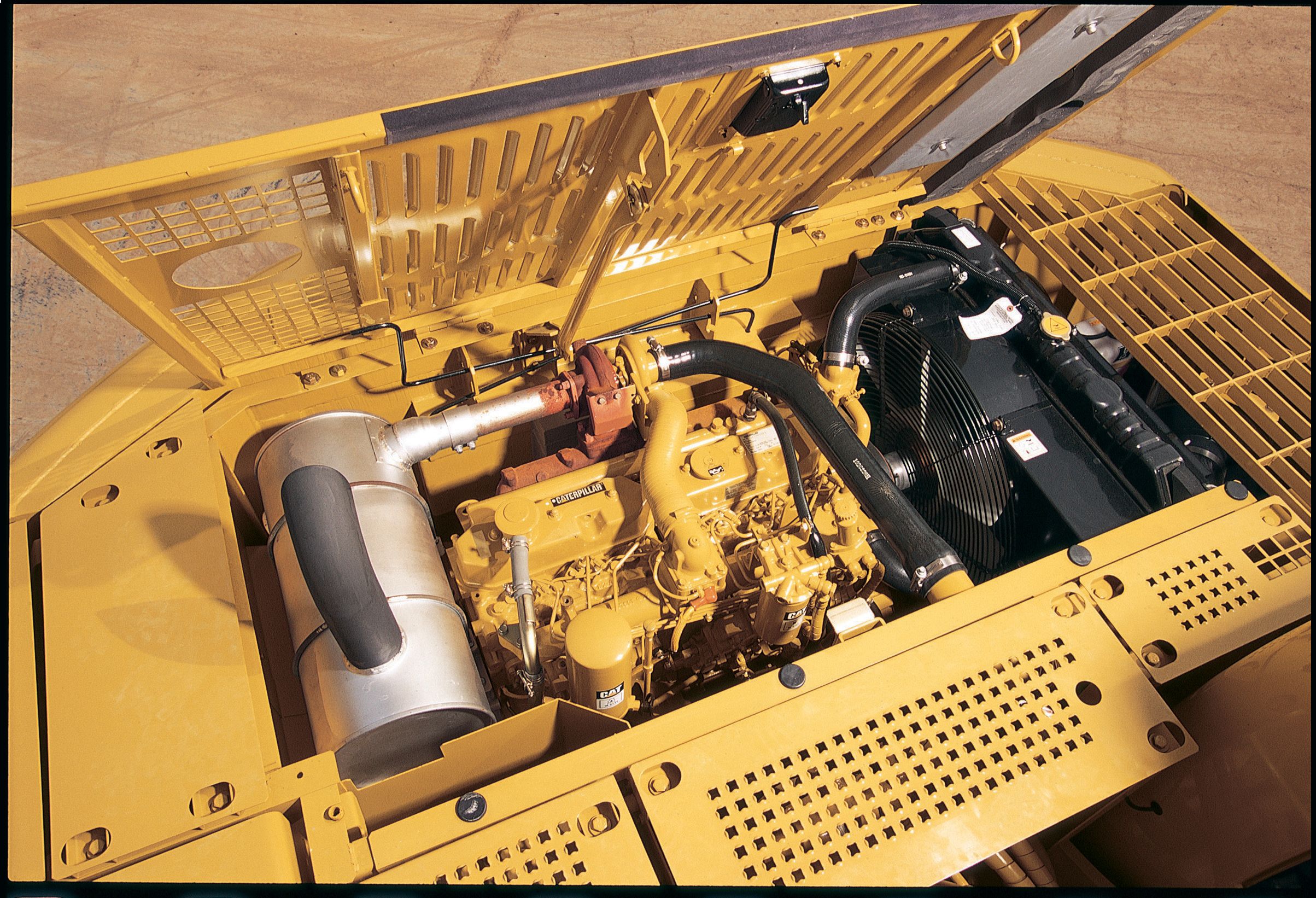 Torque Rise
The engine is designed for high torque rise at middle rpm, a feature that is especially beneficial for heavy-duty use.
Automatic Engine Control
Automatic Engine Control with convenient one-touch command. Three-stage control maximizes fuel efficiency and reduces sound levels.
Maintenance
The oil level gauge, oil filter, fuel filter and priming pump are located on the right side of the upper structure for easy maintenance. The engine oil filter and fuel filter change intervals have been extended.
Crankshaft
Eight balance, one-piece, forged crankshaft enhances balance and decreases vibration and is induction hardened to improve abrasion resistance.
Pistons
Heat resistant aluminum alloy pistons have a short compression height, reducing weight and improving efficiency.
Fuel Consumption
The 3064 T engine has the best fuel consumption in this class of diesel engines. It features improved thermal efficiency and reduced friction resistance between piston and liners.
Air Intake Heating
Air intake heating is standard on the 312C L for easier cold starts.
Hydraulics
Caterpillar hydraulics deliver power and control to keep material moving at high volume.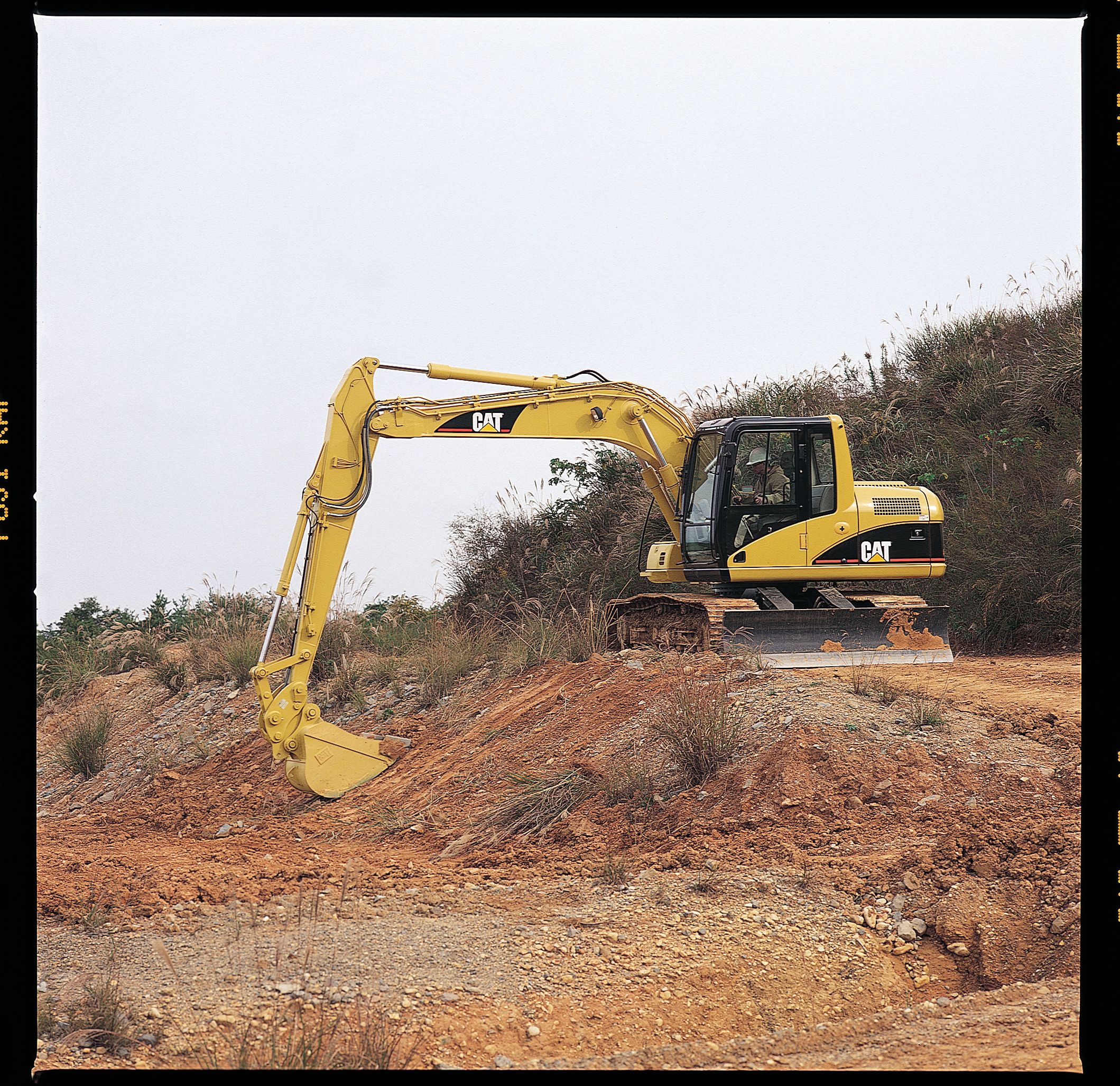 Component Layout
The 312C hydraulic system was designed to provide a high level of efficiency. With all major components located close together, shorter tubes and lines are needed, resulting in less friction loss in the lines and reduced pressure drops.
Hydraulic Cross Sensing System
Improves productivity with faster implement speeds and quicker, stronger pivot turns.
Automatic Boom and Swing Priority
For simpler operation, work mode and power mode switches have been eliminated. Instead, the automatic boom and swing priority function selects the best mode, based on joystick movement.
Stackable Valves
Three types of stackable valves and one independent valve are available on the 312C and attached directly to the main control valve. Up to two stackable valves can be used in combination with the main control valve to provide a variety of different functions.
Controllability
The hydraulic system offers precise control to the 312C, reducing operator fatigue and improving operator effectiveness and efficiency, which ultimately translates into enhanced performance.
Auxiliary Hydraulic Valve
The auxiliary hydraulic valve is standard on the 312C for use with optional hydraulic circuits.
Hydraulic Snubbers
Hydraulic cylinder snubbers at the rod-end of boom cylinders and both ends of the stick cylinders cushion shocks, reduce sound and increase cylinder life.
Undercarriage and Structures
Durable undercarriage absorbs stresses and provides excellent stability.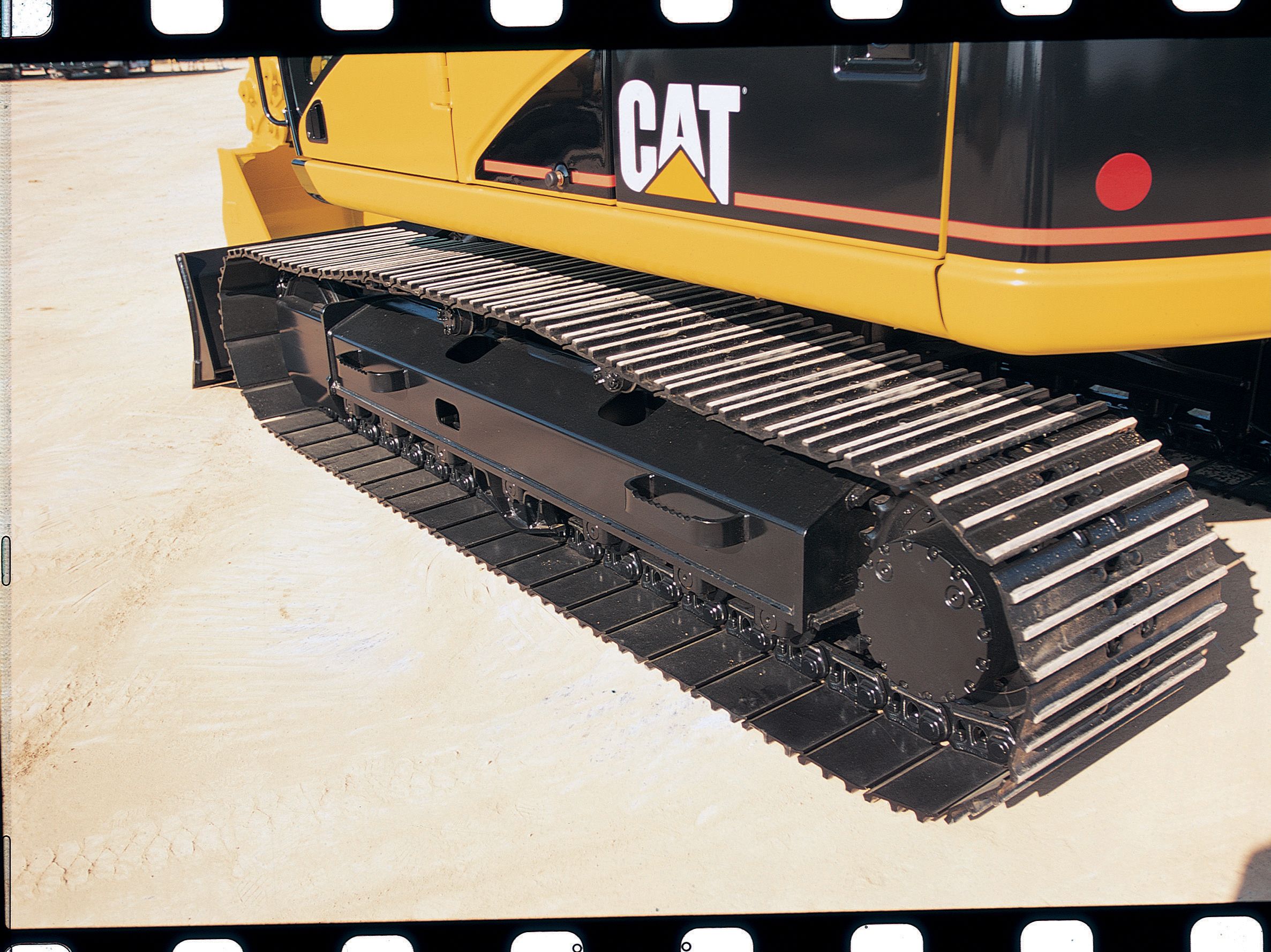 Structures
The 312C structural components and undercarriage are the backbone of the machine's durability.
Carbody Design and Track Roller Frames
X-shaped, box-section carbody provides excellent resistance to torsional bending. Robot-welded track roller frames are press-formed, pentagonal units to deliver exceptional strength and service life.
Rollers and Idlers
Sealed and lubricated track rollers, carrier rollers and idlers provide excellent service life, keeping the machine in the field longer.
Main Frame
The rugged main frame is designed for maximum durability and efficient use of materials.
Grease Lubricated Track
New grease lubricated seals protect the track link and deliver long track link pin and bushing inner wear life.
Travel Motors
Automatic speed selection enables the machine to automatically change up and down from high and low speeds in a smooth, controlled manner.
Idler Guard
An idler guard, which is integral to the track roller frame, is standard. This guard helps maintain track alignment while traveling or working on slopes.
Blades
For further versatility and to meet more general purpose needs, three blade width options are available on the 312C.
Front Linkage
Designed-in flexibility brings higher production and efficiency to all jobs.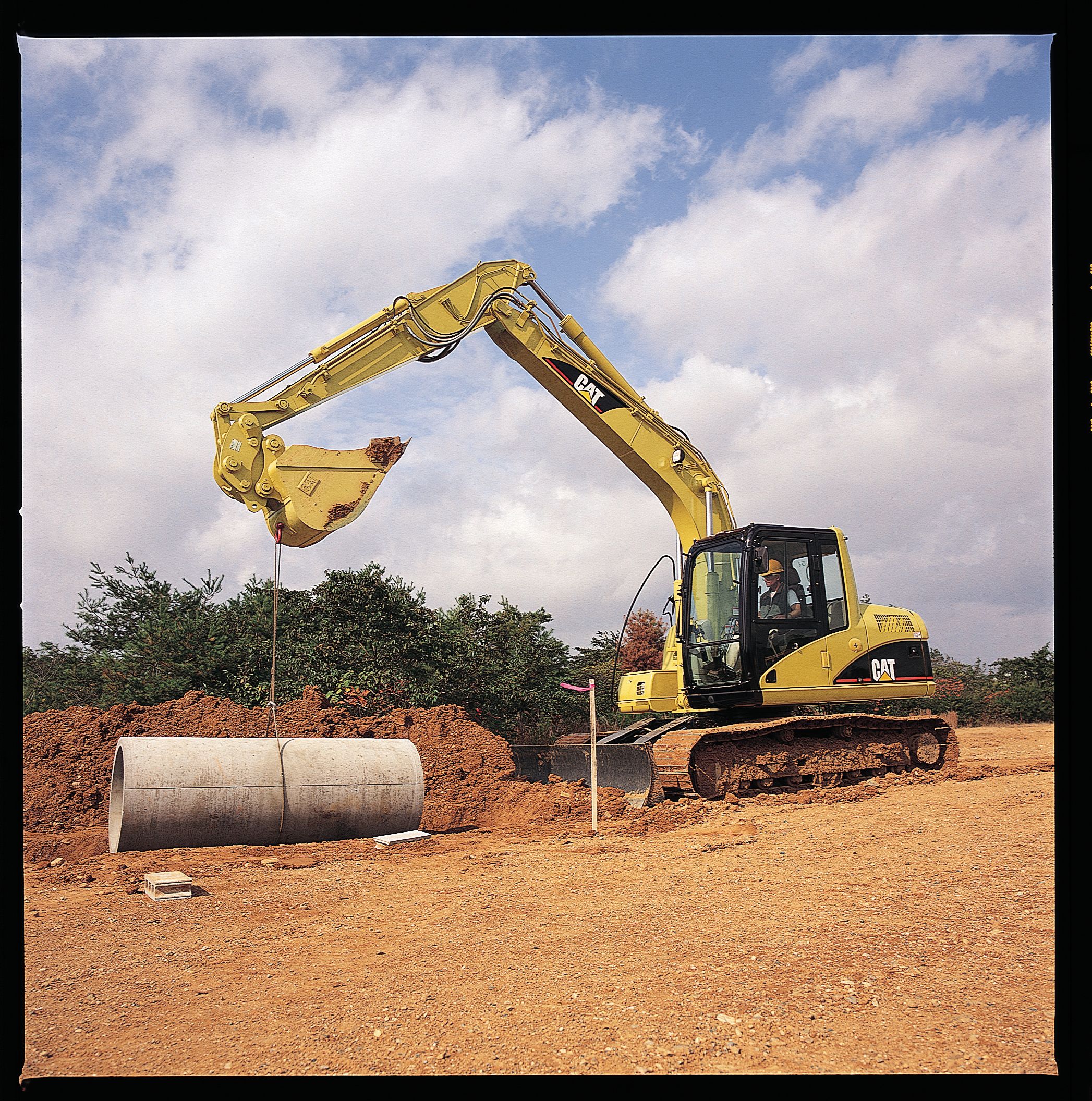 Front Linkage
Front linkage variations on the 312C allow for the use of one boom, two sticks and five buckets. Using these combinations improves the general-purpose versatility of the 312C by suiting it to a diverse range of applications.
Boom
The boom on the 312C is designed to provide maximum digging capability. Caterpillar booms are manufactured with high-tensile steel for upper, lower and side plates and robot welded for consistent quality.
Stick
Two sticks are available on the 312C. The customer's working envelope and bucket capacity needs determine their stick choice.
Boom and Stick Construction
Built for performance and long service life, Caterpillar booms and sticks are large, welded, box-section structures with thick, multi-plate fabrications in high-stress areas.
Buckets
High tensile strength steel is used in high-stress areas for excellent wear and shock resistance. The side plates are tapered to prevent contact of the bucket sidewalls during trenching operations. All buckets are general purpose, share a common side profile and have lifting eyes.
Bucket Linkage
The bucket linkage on the 312C includes the bucket cylinder, idler link and power links.
Bucket Flop Adjustment Mechanism
All 300 family excavator buckets are equipped with a bucket flop adjustment mechanism which allows the operator or serviceman to reduce the side play at the bucket to stick-nose connection. To reduce the play, or bucket slap, three bolts on each side of the bucket hinge pin are loosened and the cover removed. Shims, already in the bucket adjustment mechanism, can be removed to reduce bucket slap.
Linkage Bearings
New bearing technology has extended the front linkage greasing intervals for all bearings.
Operator Station
Designed for simple operation, the 312C operator station allows the operator to focus on production.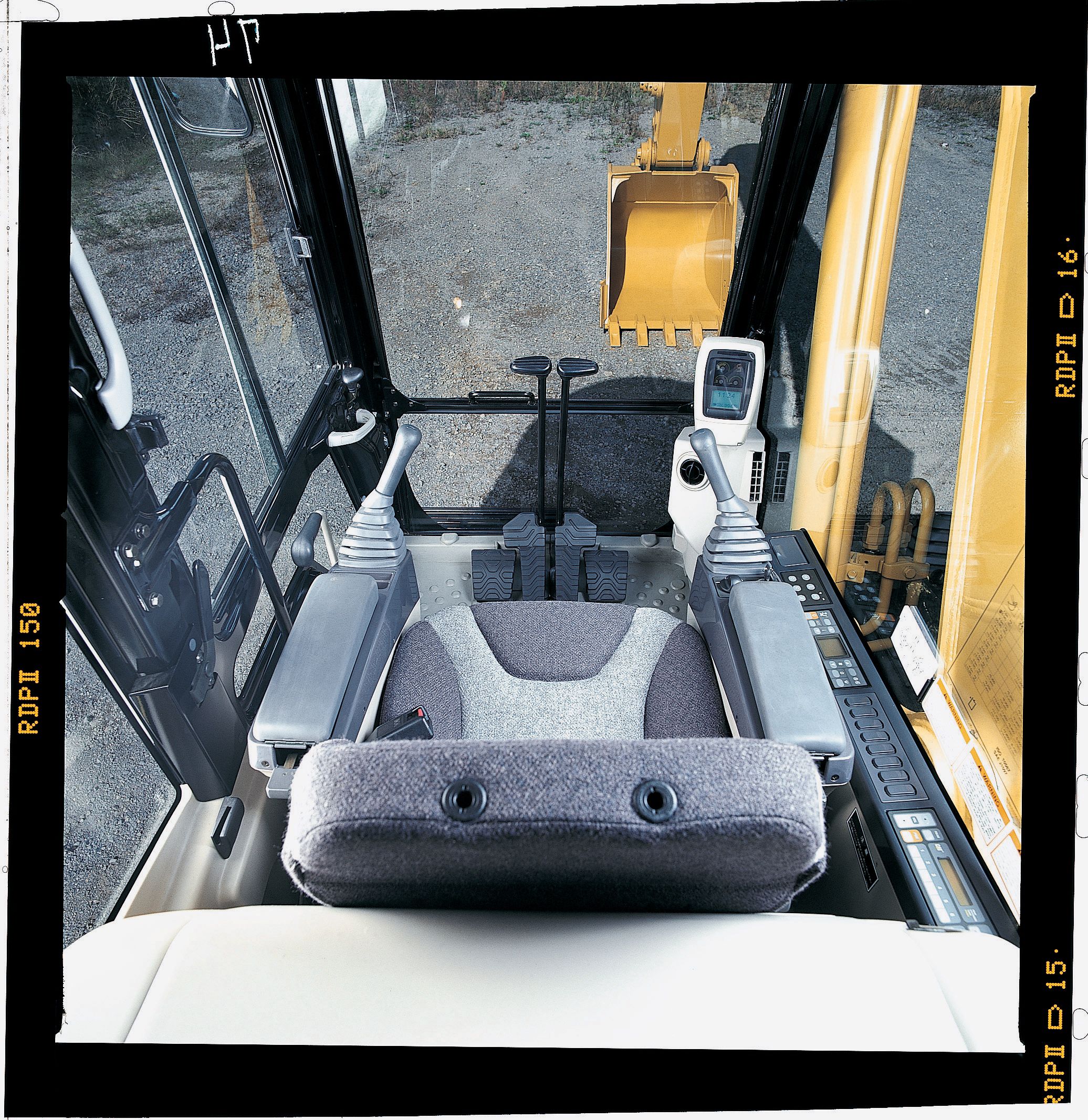 Operator Environment
The 312C operator work station is quiet, with ergonomic control placement and convenient adjustments, low lever and pedal effort, ergonomic seat design and highly efficient ventilation.
Monitor
New, compact monitor enhances viewing while displaying a variety of easy-to-read and understand language-based information.
Automatic Boom and Swing Priority Function
For simpler operation, work mode and power mode switches have been eliminated. Instead, the automatic boom and swing priority function selects the best mode, based on joystick movement.
Redesigned Layout
Redesigned cab layout emphasizes simplicity and ease of use. Right-hand wall and console provide easy access to all switches, dials and controls.
Travel Controls
A large rubber-covered footrest at the side of the travel pedals allows the foot to easily grip the pedal. The travel lever stroke and force have been enhanced to improve the 312C's fine controllability, making the machine easier to operate.
Seat
A new seat with a two-tone color offers two types of cushions - soft and firm - for operator comfort. The reclining knob is located at the right-side of the seat for easier reclining adjustment.
Automatic Climate Control
Fully automatic climate control adjusts temperature and flow and determines which air outlet is best in each situation.
Skylight
A large polycarbonate skylight delivers excellent natural lighting and good ventilation. Standard sliding sunshade protects from direct sunlight.
Cab Exterior
The 312C's cab is newly designed using asymmetrical steel tubing for improved resistance to fatigue and vibration. Falling Object Guard System (FOGS) may be bolted-on directly to the cab.
Cab Mounts
The cab shell is attached to the frame with improved viscous mounts, reducing vibration and sound.
Wiper
With continuous and intermittent modes, the wiper is positioned on the right cab pillar to further improve the operator's viewing area.
Clear View Over the Engine
The engine hood has been redesigned to improve the operator's rear viewing area.
Hydraulic Actuation Control LeverUpper Front WindshieldLower Front Windshield
Serviceability
Simplified service and maintenance features save you time and money.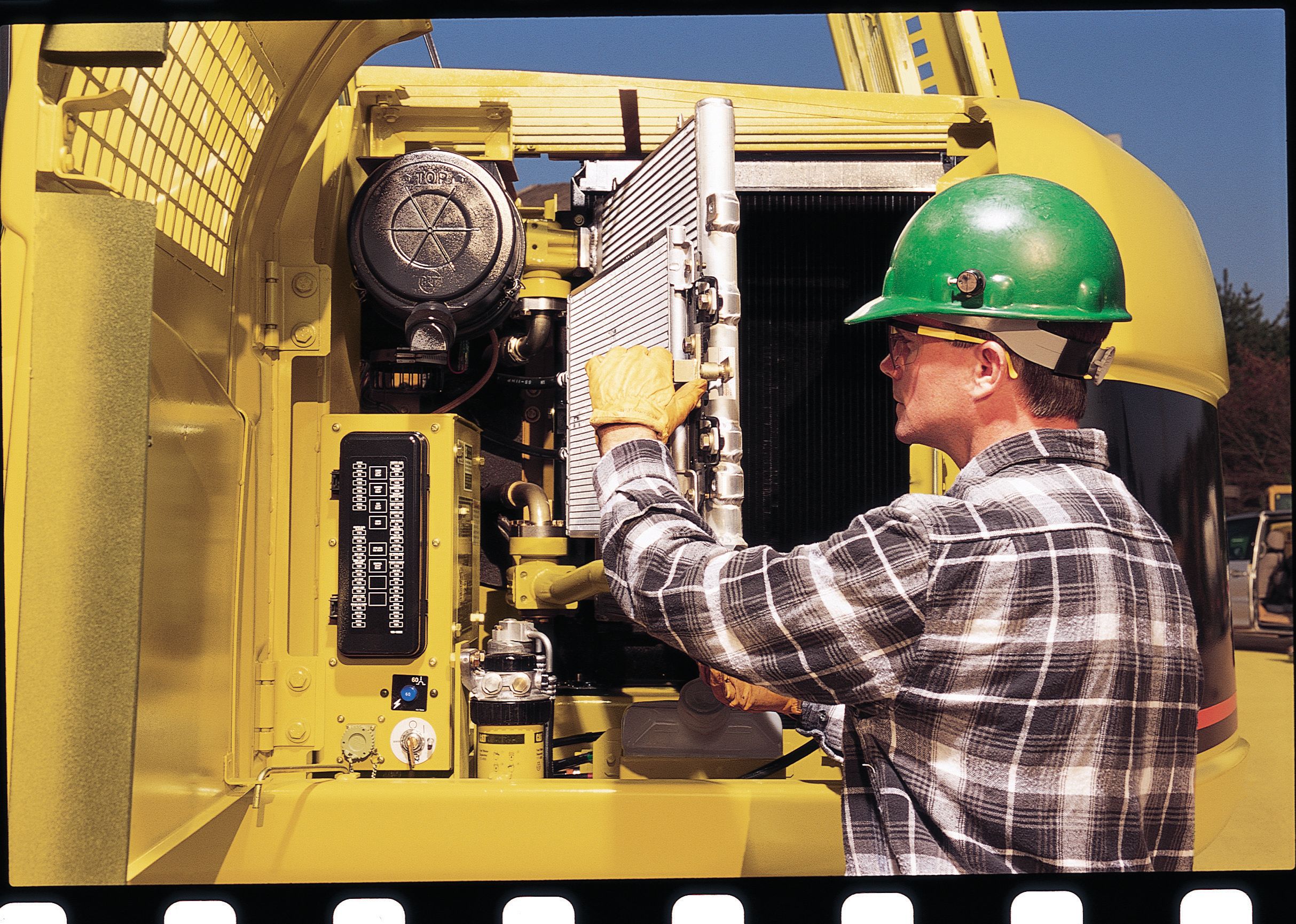 Extended Service Intervals
312C service and maintenance intervals have been extended to reduce machine service time and increase machine availability.
Radiator Compartment
The left rear service door allows easy access to the engine radiator and the oil cooler. A reserve tank and drain cock are attached to the radiator for simplified maintenance.
Air Filter Compartment
The air filter features a double-element construction for superior cleaning efficiency. When the air cleaner plugs, a warning is displayed on the monitor screen inside the cab.
Ground Level Service
The design and layout of the 312C was made with the service technician in mind. Many service locations are easily accessible at ground level allowing critical maintenance to get done quickly and efficiently.
Swing-Out Oil Cooler
The oil cooler swings out horizontally for excellent cleaning.
Pump Compartment
A service door on the right side of the upper structure allows ground-level access to the pump and pilot filter.
Capsule Filter
The hydraulic return filter, a capsule filter, is situated outside the hydraulic tank. This filter prevents contaminants from entering the system when hydraulic oil is changed, keeping the operation clean.
Anti-Skid
Anti-skid punched-star plate covers the top of storage box and upper structure to prevent slipping during maintenance. The plate can be removed for cleaning.
Engine Inspection
Engine can be accessed from the upper structure or from under the machine. The engine and pump compartment are separated by a steel wall.
Handrails and Steps
Larger handrails and steps assist operator in climbing on and off machine.
Grease-lubricated Track
Grease-lubricated seals protect the track link and deliver long track link pin and bushing inner wear life.
Fan Guard
Engine radiator fan is completely enclosed by fine wire mesh, reducing the risk of an accident.
Complete Customer Support
Cat dealer services help you operate longer with lower costs.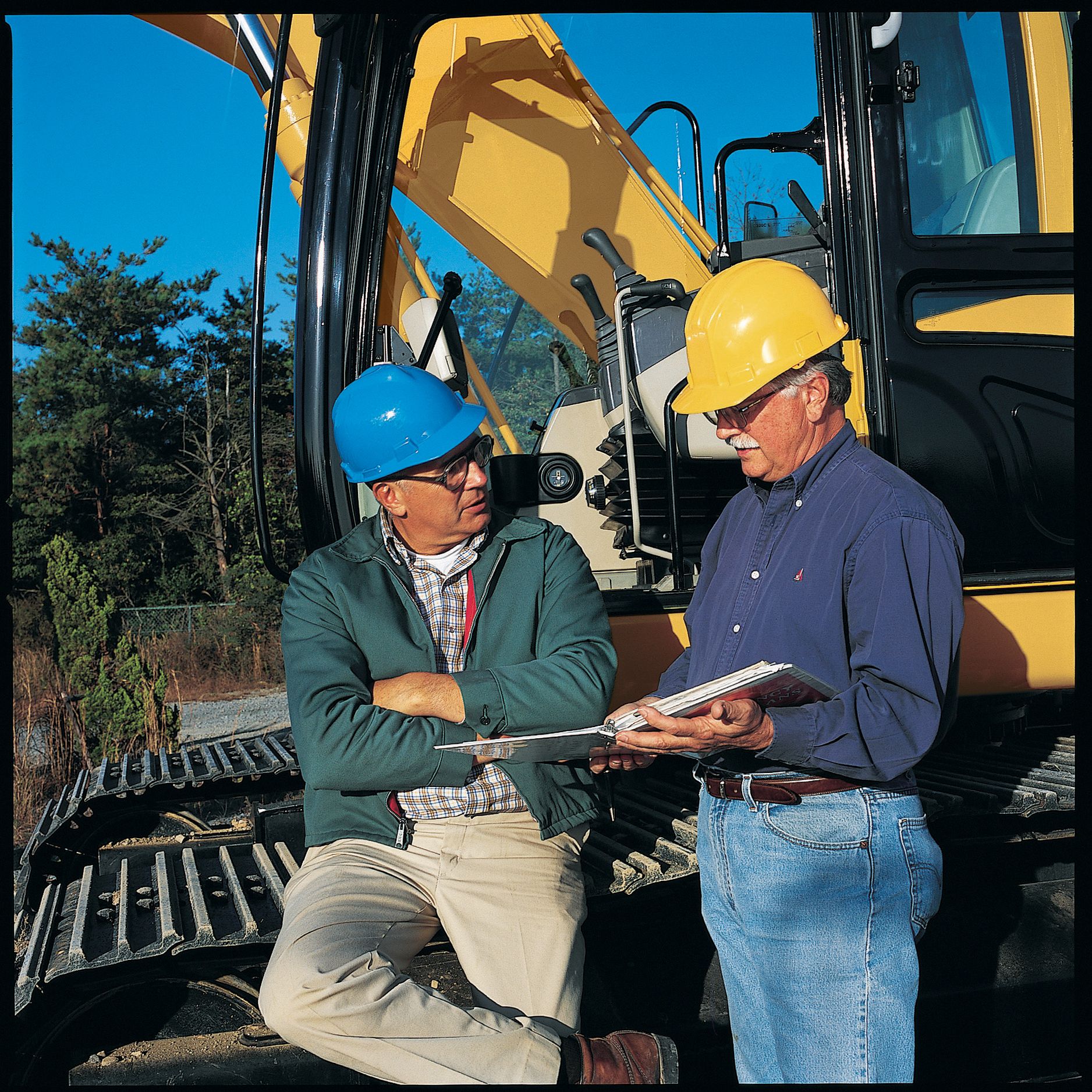 Selection
Make detailed comparisons of the machines you are considering before you buy. What are the job requirements? What production is needed? What is the true cost of lost production? Your Cat dealer can give you precise answers to these questions.
Purchase
Look past initial price, look at the value the 312C offers. Consider the financing options available as well as day-to-day operating costs.
Operation
Improving operating techniques can boost your profits. Your Cat dealer has training literature and other ideas to help you increase productivity.
Maintenance
Repair option programs guarantee the cost of repairs up front. Diagnostic programs such as Scheduled Oil Sampling and Technical Analysis help you avoid unscheduled repairs.
Replacement
Repair, rebuild or replace? Your Cat dealer can help you evaluate the cost involved so you can make the right choice.
Product Support
You will find nearly all parts at our dealer parts counter. Cat dealers utilize a worldwide computer network to find in-stock parts to minimize machine down time. You will save money with remanufactured components.
EQUIPMENT
Standard Equipment
Alternator, 50 amp
Automatic engine speed control
Automatic swing brake
Automatic work modes
Auxiliary hydraulic valve (1)
Bolt-on Falling Objects Guard System (FOGS) capability
Cab
AM/FM radio, 24-volt
Ash tray with cigar lighter
Bi-level air conditioner with defroster
Drink holder
Floor mat
Fully adjustable suspension seat
Horn
Hydraulic neutralizer lever for all controls
Joysticks, adjustable pilot-operated
Language display monitor with gauges
Light, interior
Light, storage box mounted (1)
Literature holder
Openable front windshield
Openable skylight with sunshade
Storage compartment
Travel control pedals with removable hand levers
Doors and caps lock with one-key security system
Mirrors (frame and cab)
Power train
Cat 3064T diesel engine
Swing-out oil cooler
Water separator
Undercarriage
312C 20" (500 mm) triple grouser shoes
312C L 24" (600 mm) triple grouser shoes and center section track guiding guards
Hydraulic track adjusters
Idler section track guiding guards
Track-type undercarriage with grease lubricated seals
Optional Equipment
Air prefilter
Auxiliary hydraulics - dual directions and a medium pressure circuit
Auxiliary hydraulics for hydraulic hammer
Auxiliary hydraulics for hydraulic thumb
Auxiliary hydraulic lines from booms and sticks
Blade, 8'2" (2500 mm) with replaceable cutting edges (for 20" (500 mm) triple grouser shoes)
Blade, 8'6" (2600 mm) with replaceable cutting edges (for 24" (600 mm) triple grouser shoes)
Blade, 8'10" (2700 mm) with replaceable cutting edges (for 28" (700 mm) and 30" (770 mm) triple grouser shoes)
Boom lowering control device (mandatory in certain countries)
Bucket linkage
Cab fan
Cab front mesh guard for use with hammers
Cab mounted working lights
Cab with polycarbonate windows (mandatory in certain countries)
Cold weather start
Falling Object Guard System
Front windshield guard
Hand control pattern changer
Heavy-duty bottom guard
High ambient cooling system
KAB 527 seat
KAB 527 seat with heater
Lower windshield wiper
Power Supply 12V
Rain protector
Rear window with external opening provisions (mandatory in British Columbia)
Right side boom lights
Secondary exit, rear window (mandatory in certain countries)
Steel side bumpers
Stick and boom combinations:
15'3" (4.65 m) boom with left side light
9'10" (3.0 m) stick
8'2" (2.5 m) stick
Straight travel pedal
Sun visor
Swivel guard
Track:
312C 24" (600 mm) triple grouser shoes
312C/312C L 28" (700 mm) triple grouser shoes
312C L 30" (770 mm) triple grouser shoes
312C 20" (500 mm) segment rubber track
Track guiding guard, center (312C)
Travel alarm (mandatory in certain countries)
Vandalism protection
CONNECT. DISCUSS. SOLVE.
CATERPILLAR EQUIPMENT MAINTENANCE ONLINE COMMUNITY
HOW CAN WE HELP?
SHARE YOUR FEEDBACK OR ASK A QUESTION