312B L
Improved serviceability, performance and rugged durability combine to maximize productivity. Better controllability, simplified service and a more comfortable operator station increase productivity and lower operating costs.
DETAILS
SPECIFICATIONS
Engine
Engine Model
Cat 3064T Diesel Engine
Weights
Operating Weight
31110 lb
Drive
Maximum Drawbar Pull
22930 lb
Swing Mechanism
Hydraulic System
Main Implement System - Maximum Flow (2x)
64 gal/min
Maximum Pressure - Implements
4340 psi
Maximum Pressure - Travel
4980 psi
Maximum Pressure - Swing
3340 psi
Pilot System - Maximum Flow
4.8 gal/min
Pilot System - Maximum Pressure
570 psi
Boom Cylinder - Bore
4.3 in
Boom Cylinder - Stroke
40 in
Stick Cylinder - Bore
4.8 in
Stick Cylinder - Stroke
47 in
Service Refill Capacities
Swing Drive (each)
0.74 gal
Final Drive (each)
0.66 gal
Hydraulic System (including tank)
42.8 gal
BENEFITS & FEATURES
Overview
Improved performance and rugged durability combine to maximize productivity.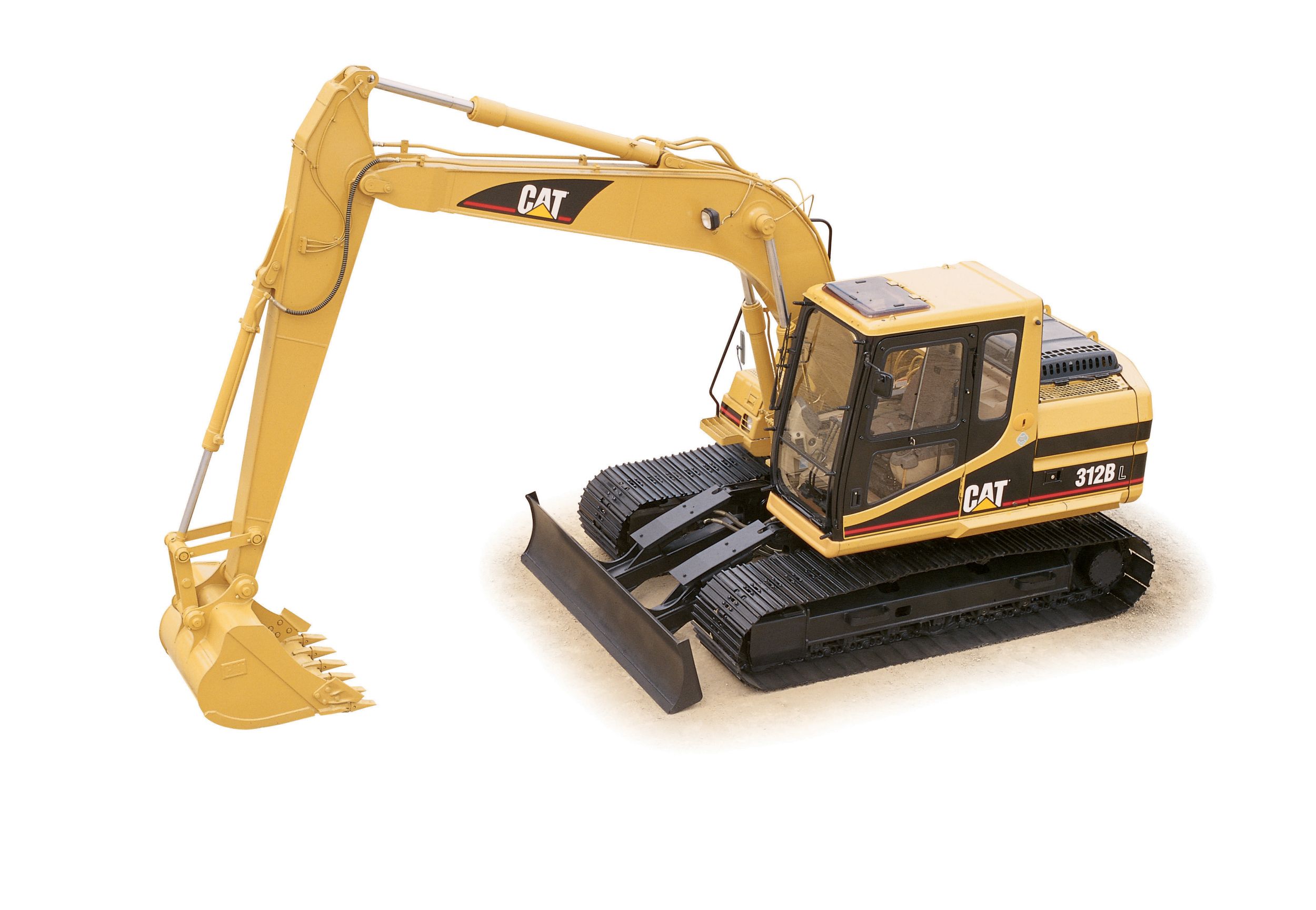 Improved Performance
Better controllability, higher stick and bucket forces, increased lift capacity, simplified service and a more comfortable operator station increase your productivity and lower your operating costs.
Operator Station
Operator Station designed for comfort and ease of operation. Roomy, quiet, automatically climate controlled cab has excellent sightlines to the work area to help keep operator fatigue low and production up throughout the entire shift.
Ergonomic Control
This cab puts the operator firmly and comfortably in control which can translate into greater productivity.
Viewing Area
Excellent viewing area through large, wide windows.
Ventilation System
At the touch of a switch, the operator can choose between fresh, recirculated or (optional) air conditioning.
Joystick Control
Joysticks control all implements and swing functions with minimal effort. The integrated joystick consoles adjust to operator preference.
Hand or Foot Actuated Travel Controls
Hand or foot actuated travel controls allow the operator to move the excavator while working the front-end.
Hydraulic activation Control Lever
Hydraulic activation control lever deactivates hydraulic functions and prevents start-up when the operator exits the cab.
(Standard) Suspension Seat
The fully adjustable (standard) suspension seat includes an impressive range of comfort features.
Steering
Two rocker pedals with detachable hand levers control steering and travel functions.
Pillar-mounted Wiper
On the 312B L, the wipers are mounted on the right-hand pillar, and the wiper blade "stores" on the pillar. This provides unobstructed viewing through the front windshield.
Integrated Seat and Consoles
The 312B L seat and consoles are installed on sliding mounts, which allow them to move backward and forward as a unit.
New Instrument Panel
The 312B L monitors use an illuminated, high-contrast liquid display (LCD) that improves readability, even in direct sunlight.
Serviceability
Simplified service and maintenance features save time and money.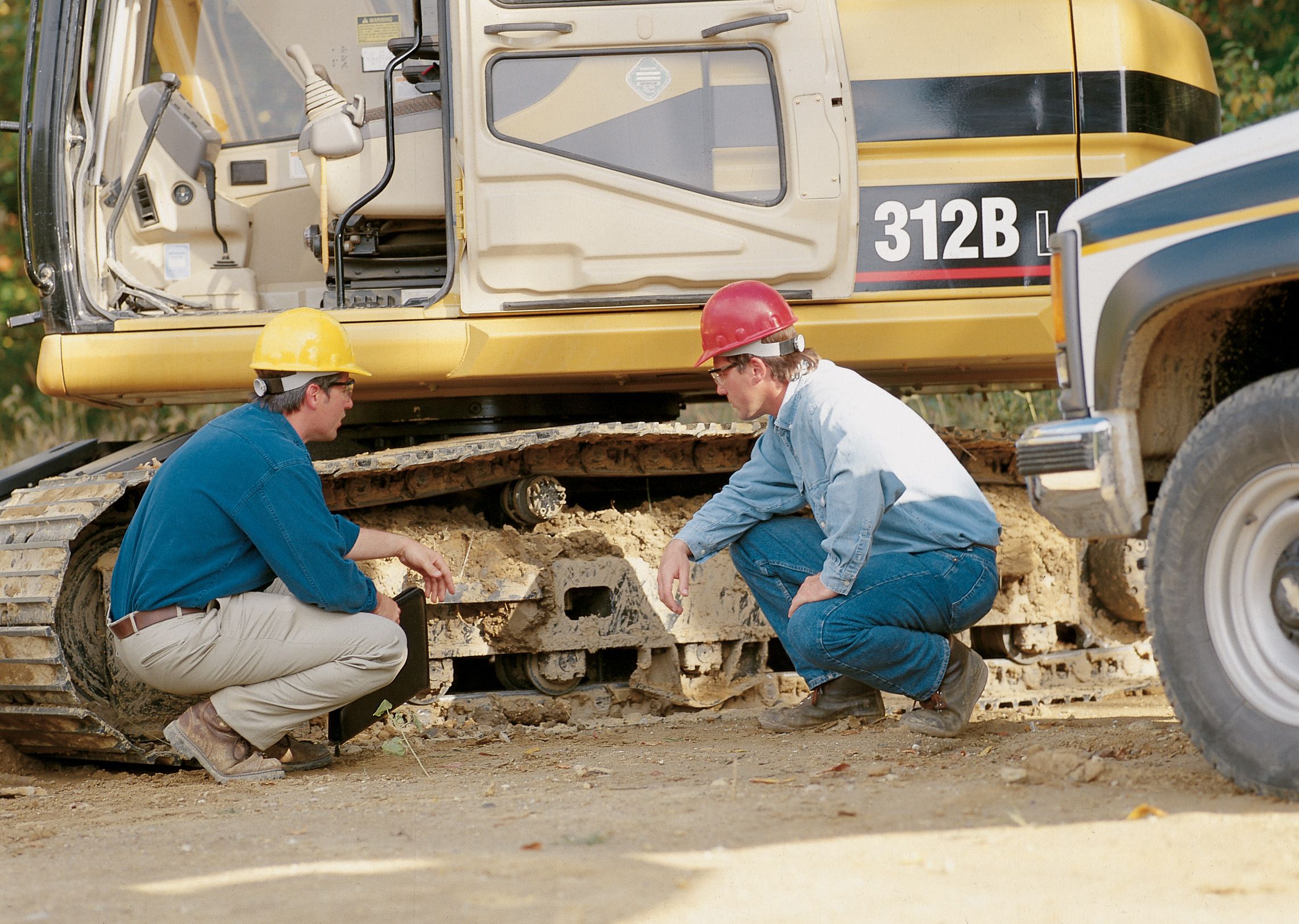 Hydraulic Oil Filter
An operator or a serviceman can replace this cartridge-type filter without putting his hands in hydraulic oil.
Engine Oil Filter
The 312B L engine oil filters for the 3064T engine are mounted upside-down on the cab side in the engine compartment for easier access.
Pre-start Monitoring System
The pre-start monitoring system alerts the operator when there is a shortage of coolant, engine oil or hydraulic oil.
Autolubricator
The 312B L offer, as an attachment, an autolubricator that supplies grease at pre-determined intervals to all greasing points - except the bucket linkage pins and swing bearing.
Electronic Control System
Maximizes fuel efficiency and performance by maintaining the optimum balance between engine speed and hydraulic demand.
Controllability
Controllability of the 312B L have been greatly improved to increase operator comfort. This improves operating effectiveness and efficiency.
Hydraulics
New higher pressure Caterpillar® hydraulics provide increased break-out and crowd forces to maximize bucket loads and decrease cycle times. The Cat electronic power control system allows smooth, efficient operation.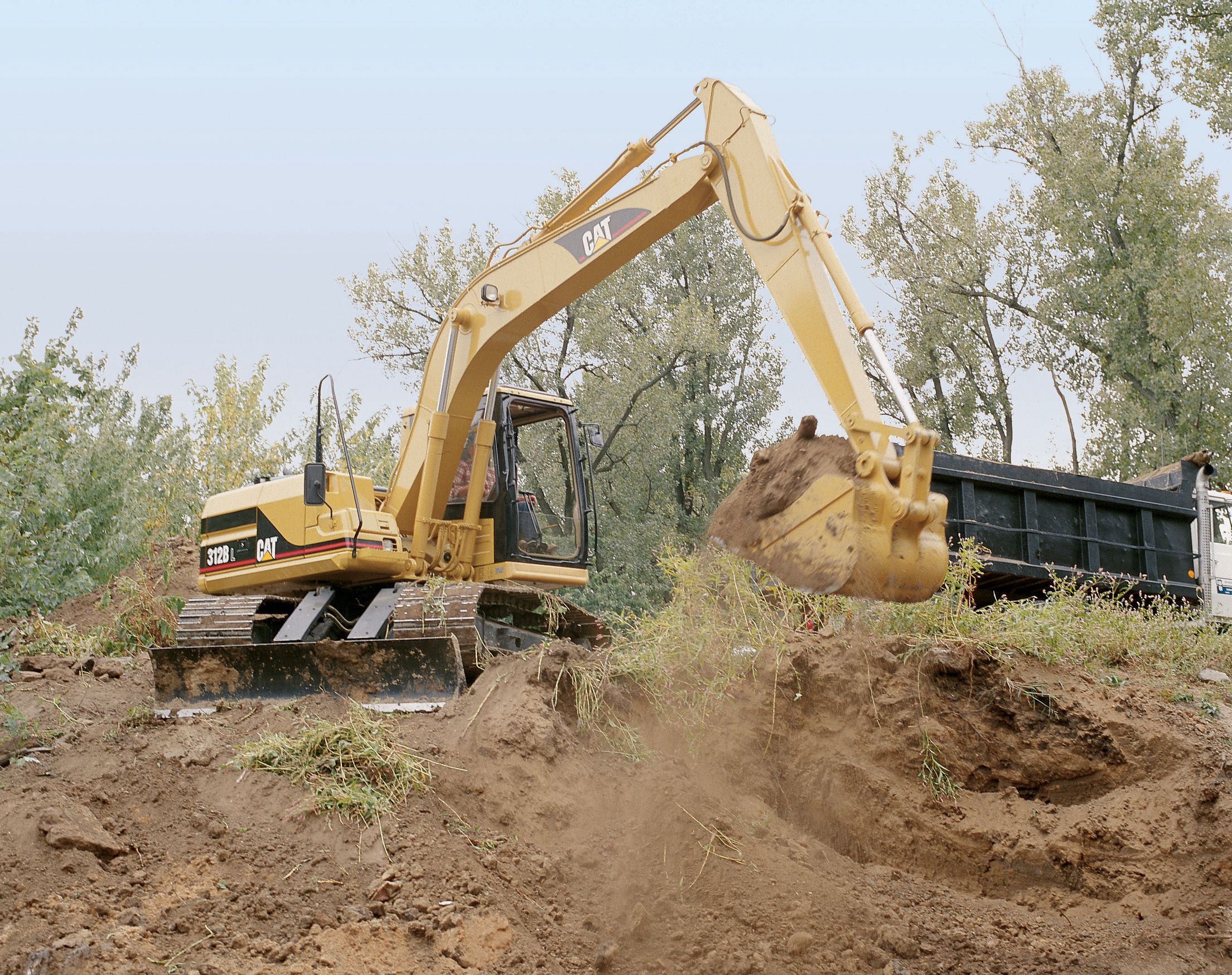 Hydraulic System
Two variable displacement, axial-piston pumps power the boom, stick, swing, bucket, auxiliary and travel circuits. One single-section, gear-type pump powers the pilot circuit.
Engine
The Cat 3064T engine includes several design features which enhance performance, efficiency and reliability. The four cylinder turbo-charged engine is built for power, reliability, economy and low emissions.
Undercarriage and Blade
Cat designed excavator undercarriage is stable, durable and low maintenance. New smoother track roller frames are easier to clean.
Undercarriage
Precision robotic welding helps ensure quality welds. These welds increase rigidity, reduce internal stresses and enhance durability for the chassis and track roller frames.
Blade
Optional blade increases versatility. Helps level a working space so the 312B L sits firmly and digs vertically.
Drive
Drive system is fully hydrostatic.
Brakes
Meets the following standards: SAE J1026 APR90
Booms and Sticks
The 312B L has designed-in flexibility to help bring higher versatility and efficiency to your jobs. A selection of buckets helps tailor the machine to your application.
Structures
The 312B L structural components are the backbone of the machine's durability.
Advanced Carbody
Advanced carbody design stands up in the toughest applications.
Robot-welded Track Roller Frames
Robot-welded track roller frames are press-formed, pentagonal units deliver exceptional strength and service life.
Rugged Main Frame
Rugged main frame is designed for maximum durability and efficient use of materials.
Complete Customer Support
Cat dealer services help you operate longer with lower costs. Your Cat dealer offers a wide range of services that can be set up under a customer support agreement when you purchase your equipment.
CONNECT. DISCUSS. SOLVE.
CATERPILLAR EQUIPMENT MAINTENANCE ONLINE COMMUNITY
HOW CAN WE HELP?
SHARE YOUR FEEDBACK OR ASK A QUESTION