303.5C CR
Engineered by Cat to deliver high levels of productivity, versatility and serviceability .
SPECIFICATIONS
Engine
Engine Model
Mitsubishi S3Q2-T
Weights
Operating Weight with Cab
8620 lb
Dimensions
Max digging depth - standard stick
10.3 ft
Max reach ground level - standard stick
17.2 ft
Length to Center of Rollers
17.19 ft
Max cutting height - long stick
16.77 ft
Max cutting height - standard stick
16.47 ft
Max digging depth - long stick
11.32 ft
Max dump height - long stick
12 ft
Max dump height - standard stick
11.75 ft
Max horizontal reach - long stick
18.04 ft
Max horizontal reach - standard stick
17.19 ft
Max vertical dig depth - long stick
8.7 ft
Max vertical dig depth - standard stick
8.2 ft
Swing radius - rear
3.18 ft
Engine Dimensions
Travel System
Gradeability (max) - high
30 Degrees
Max traction force - high speed
3979 lb
Max traction force - low speed
7508 lb
Travel Speed - High
2.9 mph
Travel Speed - Low
1.6 mph
MSC Comments
Hydraulic System
Operating Pressure - Equipment
3553 psi
Digging Forces - Stick (standard)
4856 lb
Digging Force - Stick (long)
4384 lb
Digging Force - Bucket
8498 lb
Operating Pressure - Travel
3553 psi
Operating Pressure - Swing
2625 psi
Auxiliary circuit - primary (245 bar, 3550 psi)
15.9 gal/min
Auxiliary circuits - secondary - at 174 bar
7.15 gal/min
Swing System
Machine Swing Speed
9 RPM
Boom swing - left (without stop)
70 Degrees
Boom swing - left (with stop)
55 Degrees
Boom Swing - Right
50 Degrees
Sound Levels
Blade
Service Refill Capacities
Hydraulic System
17.2 gal
BENEFITS & FEATURES
Comfort and Ease of Operation
Class leading space and top level features contribute to a comfortable and productive environment .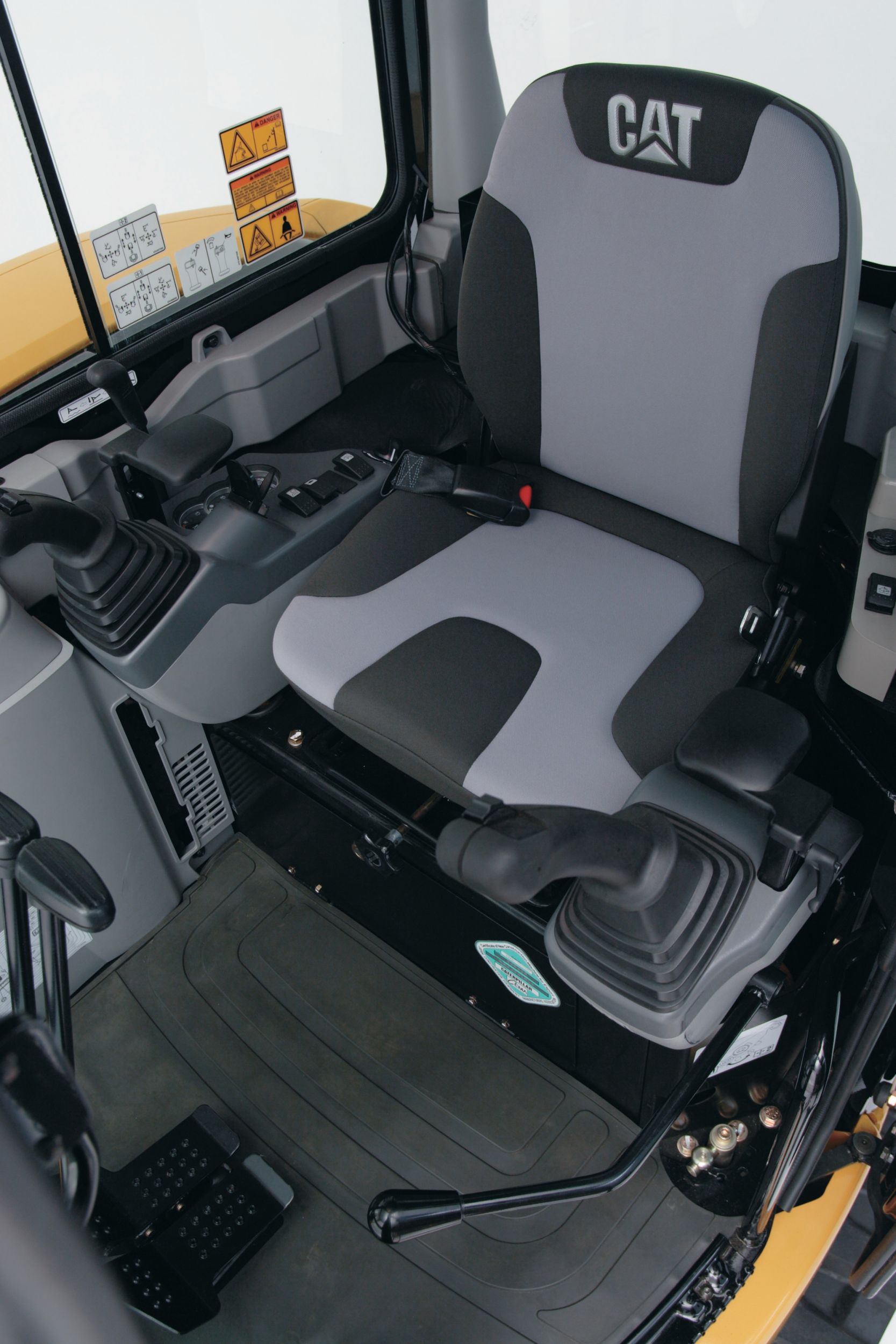 Impressive Cab Dimensions
The CR C Series gives the operator a comfortable and spacious working environment with excellent visibility. The clear flat floor space and superior operator legroom provide high levels of operator comfort and help minimize fatigue .
Optional Air Conditioning
Optional air conditioning or fan and sun blind package offers further operator comfort .
Sliding Cab Door
The sliding door system offers good access and maintains the machine's compact dimensions to reduce the risk of damage .
Fully Pilot Operated Controls
Pilot operated controls on all services including travel levers and dozer function ensure that "as new" levels of controllability are maintained throughout the machine life .
Automatic Two Speed Function
Improves machine maneuverability around the job site. Increased productivity by balancing high speed travel requirements with controllability .
Joystick Mounted Auxiliary and Boom Swing Functions
The new joystick mounted position of these functions gives "fingertip" control and a clear cab floor .
Compact Radius Design
Compact radius design gives greater machine versatility and the capability to work within confined areas. The radius of the upper body stays within the width of the undercarriage so the operator can concentrate on the work being done without having to worry about the back of the machine .
High Level of Standard Comfort Features
Reclining suspension seat, power point, adjustable wrist rests and a cup holder are standard features on the Cat C CR machines .
Performance and Versatility
The range of Cat® buckets and hydraulically powered tools are machine matched to optimize performance .
Exceptionally High Digging Forces
High digging forces and fast cycle times ensure that the Cat 303.5C CR delivers the productivity demanded by our customers .
Turbocharged Engine
Three cylinder diesel engine in the 303.5C CR provides massive power, coupled with a variable displacement pump, making it ideal for work at high altitude .
Stick Options
A choice of standard or long stick enables matching of machine to application .
Bucket Angle
High rotation bucket angle combines good spoil retention and flat back trench characteristics .
Wide Range of Work Tools
These tools are designed to get the best out of the machine and deliver excellent value through high productivity and long life. Tools include:
Digging buckets
Ditch cleaning buckets
Angling ditching buckets
Hydraulic hammers
Augers
Auxiliary Lines and Connectors
The auxiliary lines and connectors including quick connections are fitted as standard, meaning the 303.5C CR comes ready to work. Hammer (one-way) and auger (two-way) auxiliary lines are also fitted as standard .
Mechanical Quick Coupler
The Cat Quick Coupler makes tool changes fast and easy. Maximizing performance and compatible with all standard work tools. Work tool versatility is further enhanced with the option of a second additional auxiliary supply .
Dozer Blade Float Function
The dozer float enables easy ground levelling for landscaping and finishing applications, as well as more efficient site clean-up .
Low Operating Costs
Good access to main check points and major components makes servicing and maintaining the 303.5C CR easier .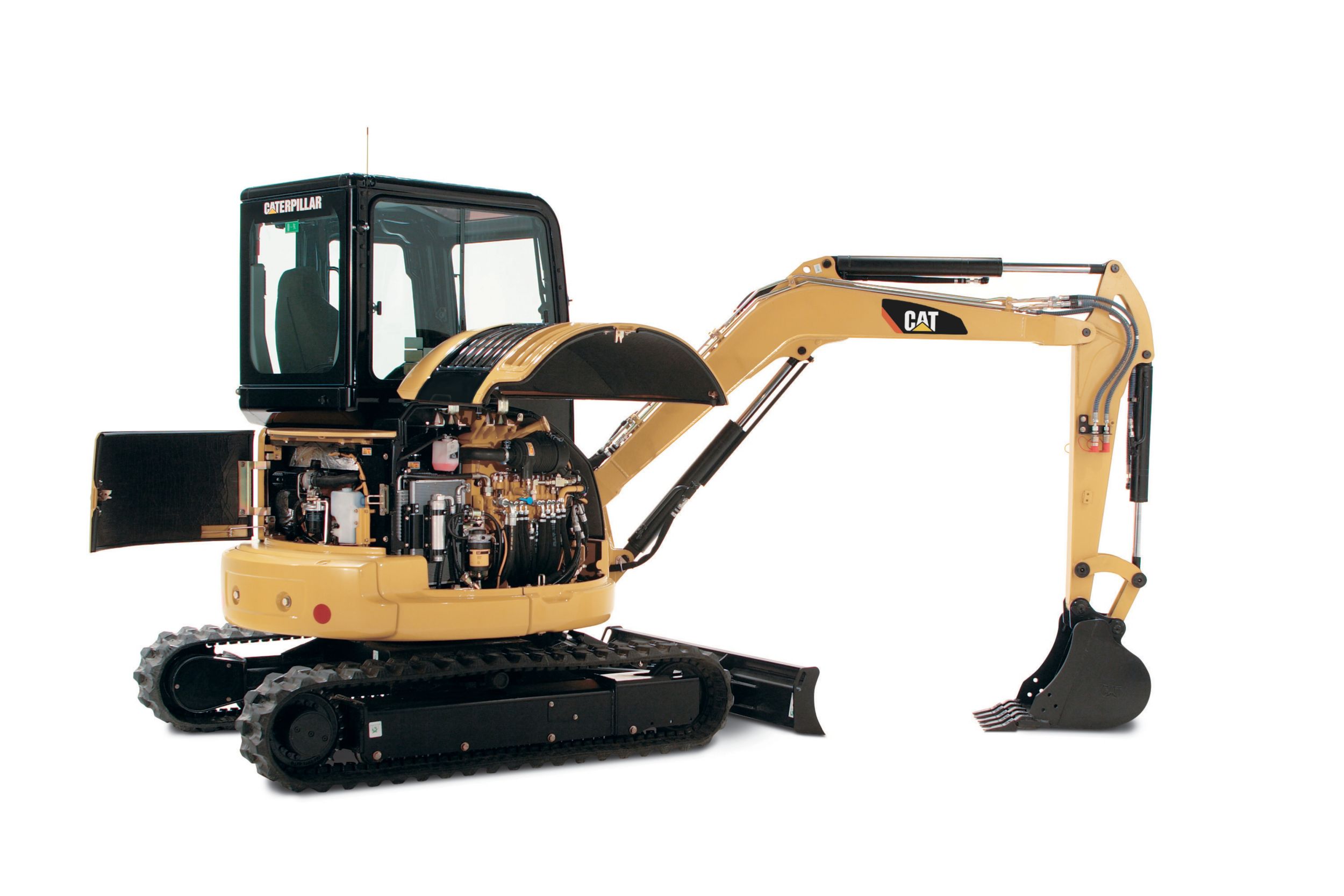 Swing Out Rear Door
Provides access to major components and service points:
Engine oil check and fill
Vertically mounted engine oil filter
Starter motor
Alternator
S·O·SSM Oil Sampling Valve
Allows easy sampling of the hydraulic fluid for preventative maintenance .
500 Hour Oil and Filter Change Period
Reduces operating costs and machine down time .
Lifting Side Hood
Allows excellent access to:
Air filter
Main implement valve
Auxiliary change over valve
Accumulator
Fuel filter
Hydraulic tank
Radiator and oil cooler
Front Linkage
Protected front linkage lines are routed above the boom and stick to help reduce damage and downtime .
End Dampening
End dampening on both boom and stick cylinders reduces shock loading, increasing component life and improving soil retention when loading at height .
Liner Bearings
Liner bearings in the swing casting deliver longer component life and reduced parts replacement costs .
Angle Blade Configuration
Increased versatility and productivity are offered with the Cat® angle blade .
Versatility and Productivity
The Cat C Series machine can be increased even further by ordering the angle dozer blade configuration .
Strong and Durable
The Cat hydraulic angle blade is engineered to be strong and durable with a hardened steel wear edge and good protection to cylinders and hydraulic lines .
Angle Blade Positioning
The angle blade can be positioned straight ahead or angled up to 25 degrees to the left or right reducing the number of times required to back-up and reposition when backfilling thus reducing operation time .
Single Control Lever
All dozer functions are controlled from inside the cab, with fully proportional fingertip control to position the blade at any angle, from the start to 25 degrees left or right while travelling in either direction .
Full Pilot Control
Full pilot control means no cables or linkages to wear, keeping "as new" controllability throughout the machines life and reducing maintenance costs .
Load Sensing Hydraulics, High Traction Force and Auto 2-Speed Travel
These features are standard on the Cat C Series CR machines and ideally suited for getting the best out of the angling blade installation .
Excellent Blade Visibility
The compact radius design of the Cat C Series machine gives excellent visibility to the blade in any position, allowing the blade to be positioned behind the operator and away from the front linkage for better access when back dragging and finishing in tight areas .
Customer Support
Industry-leading customer support is provided by the Cat® dealer network .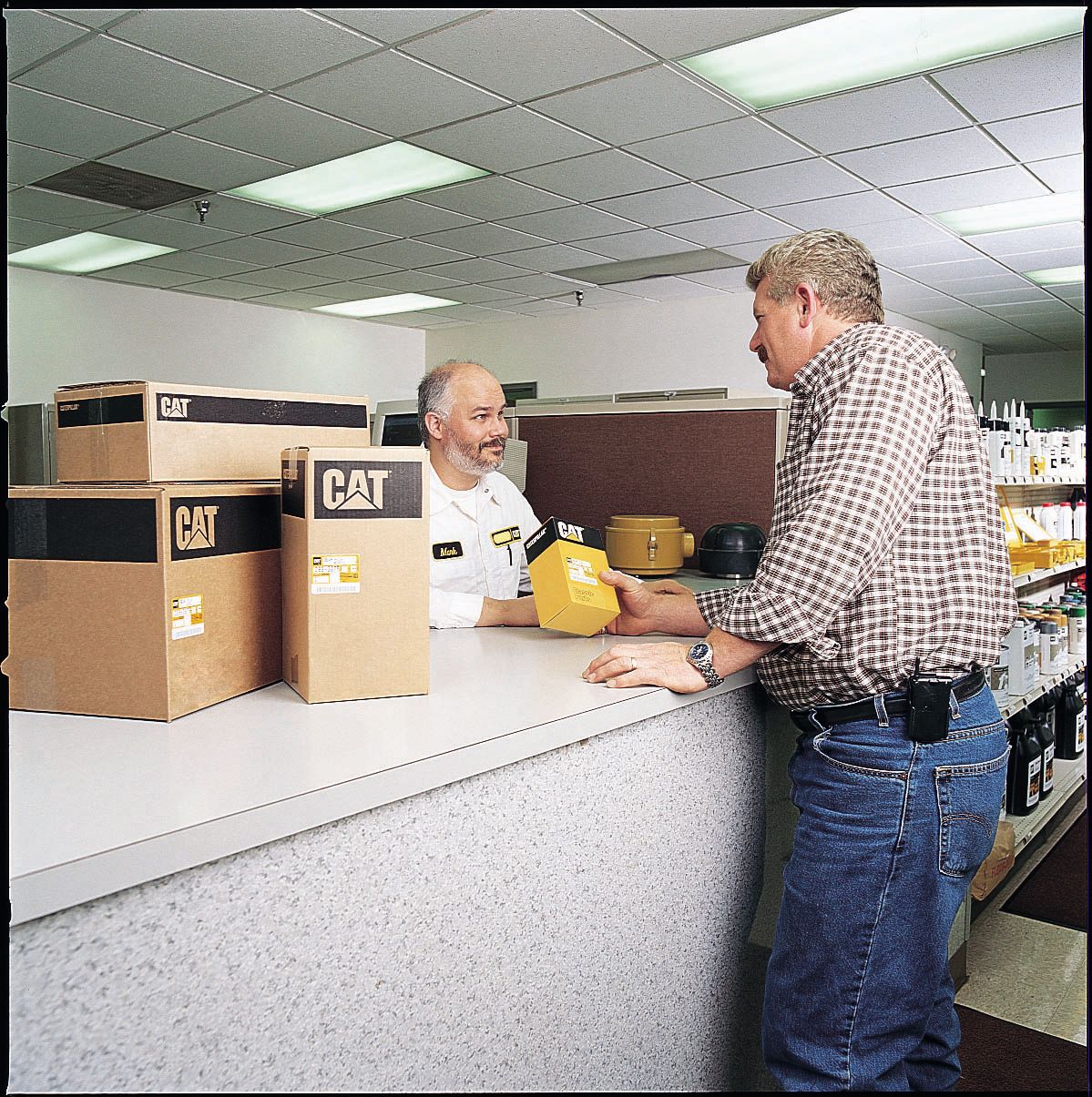 Selection
Make detailed comparisons of the machines under consideration before you purchase. Your Cat dealer can give you precise answers to your questions, as well as estimate component life, preventive maintenance cost and the true cost of lost production .
Purchase
Look past initial price. Consider the flexible financing options available, as well as day-to-day operating costs. Look at dealer services that can be included in the cost of the machine to yield lower equipment owning and operating costs over the long haul. Your Cat dealer can provide a package to meet your needs .
Operation
Improving operating techniques can boost your profits. Your Cat dealer has training literature, video tapes, classes and other ideas to help increase your productivity .
Equipment Maintenance Services
More and more equipment buyers are planning for effective maintenance before buying. Choose from your dealer's wide range of maintenance services at the time you purchase your new machine. Repair option programs guarantee the cost of repairs up front. Services that help optimize machine performance include:
Customer Support Agreements
S·O·SSM and Coolant Sampling and Technical Analysis
Maintenance contracts
Scheduled technical inspections
Unmatched Product Support
You will find nearly all parts at our dealer parts counter. Cat dealers use a world-wide computer network to find in-stock parts to minimize machine downtime . Save money with genuine Cat Remanufactured parts. You receive the same warranty and reliability as new products at a cost savings of 40-70 percent.
EQUIPMENT
Standard Equipment
Additional counterweight 165 kg (364 lb)
Adjustable wrist rests
Alternator
Automatic swing park brake
Auxiliary hydraulic circuit valve, controls and
1-way hammer lines to the stick
2-way (auger) auxiliary hydraulic lines to the stick
Auxiliary line quick couplers
Boom cylinder guard
Cab mounted work light
Canopy with FOPS ISO10262 (Level 1) and Tip-Over Protection ISO12117
Coat hook and cup holder
Control pattern changer
Dial type accelerator
Dozer blade with float function
Floor mat
Foot travel pedals
Gauges or indicators for fuel level, engine coolant temperature, hour meter, engine oil pressure, air cleaner, alternator and glow plugs, service interval
Horn
Hydraulic oil cooler
Lockable storage box
Low maintenance linkage pin joints
Maintenance-free battery
Rubber track
Retractable seat belt
Standard stick
Suspension seat, vinyl covered
'Thumb ready' sticks
Travel alarm
Two speed travel
Optional Equipment
Air conditioning
Additional auxiliary lines
Biodegradable hydraulic oil
Boom check valve
Boom mounted light
Cab, fully glazed with FOPS ISO10262 (Level 1)
Tip-Over Protection ISO 12117 with: heater/defroster, interior light and windshield wiper/washer
Ecology drain valve for hydraulic tank
Ecology drain valve for engine oil
Fan and sun blind installation
Front screen guard for cab and canopy
Immobilizer system
Long stick
Mechanical quick coupler
Mirrors for cab and canopy
Radio installation kit Factory fitted radio/CD player
Seat belt, 75 mm (3 in) wide
Suspension seat, fabric covered
High back suspension seat, fabric covered
Tool kit
Work tools
CONNECT. DISCUSS. SOLVE.
CATERPILLAR EQUIPMENT MAINTENANCE ONLINE COMMUNITY
HOW CAN WE HELP?
SHARE YOUR FEEDBACK OR ASK A QUESTION