D7R SERIES 2
Engineered for demanding work. The D7R Series II is designed to be productive in a variety of applications. It keeps material moving with the reliability and low operating costs you expect from a Cat machine.
SPECIFICATIONS
Engine
Maximum Flywheel Power
258.0 hp
Net Power - Caterpillar
240.0 hp
Net Power - ISO 9249
240.0 hp
Net Power - SAE J1349
238.0 hp
Net Power - EU 80/1269
240.0 hp
Net Power - DIN 70020
248 PS
Gross Power - ISO 14396
253.0 hp
Weights
Operating Weight
55786.0 lb
Shipping Weight
45479.0 lb
Operating Weight - XR
57056.0 lb
Shipping Weight - XR
46752.0 lb
Operating Weight - LGP
60503.0 lb
Shipping Weight - LGP
50094.0 lb
Blades
U-Blade Capacity
10.91 yd3
SU-Blade Capacity
8.98 yd3
S-Blade Capacity
6.75 yd3
A-Blade Capacity
5.08 yd3
LGP S-Blade Capacity
7.7 yd3
LGP S-Blade Width
14.91 ft
Transmission
Undercarriage
Shoe Type
Extreme Service
Width of Shoe - Optional
24.0 in
Width of Shoe - LGP
36.0 in
Track Gauge - LGP
87.99 in
Track on Ground - LGP
124.68 in
Ground Contact Area
4991.0 in2
Ground Contact Area - LGP
8974.52 in2
Ground Pressure - LGP
6.6 psi
Track Rollers/Side - LGP
7
Service Refill Capacities
Final Drives (each)
3.4 gal
Roller Frames (each)
6.5 gal
Pivot Shaft Compartment
0.5 gal
Attachment Hydraulic System Tank Only
14.3 gal
Hydraulic Controls - Maximum Operating Pressure
Ripper (Pitch)
3300.0 psi
Dimensions
Drawbar Height (center of clevis) from ground face of shoes
24.96 in
Length of Track on Ground
113.31 in
Width without Blade
9.5 in
Height ROPS/Canopy
11.06 ft
Overall Length Basic Tractor (with Drawbar)
15.54 ft
Ripper
Weight - With One Shank
7431.0 lb
Type
Adjustable Parallelogram
Overall Beam Width
87.0 in
Beam Cross Section
343 x 279 mm 13.5 x 11 in
Maximum Clearance Raised (under tip, pinned in bottom hole)
29.8 in
Maximum Penetration
29.4 in
Maximum Penetration Force
19100.0 lb
Weight - Each Additional Shank
330.0 lb
Hydraulic Controls - Pump
Pump Capacity at
1015.0 psi
RPM at Rated Engine Speed
2231.0 RPM
Pump Output (Differential Steering)
77.9 gal/min
Lift Cylinder Flow
47.6 gal/min
Tilt Cylinder Flow
21.1 gal/min
Ripper Cylinder Flow
47.6 gal/min
Hydraulic Controls - Main Relief Valve
Pressure Setting - Differential Steering Models
6092.0 psi
Winch
Winch Model
PA110VS Variable Speed
Winch and Bracket Length
57.5 in
Winch Case - Width
46.1 in
Increased Tractor Length - STD
29.2 in
Increased Tractor Length - XR
23.1 in
Increased Tractor Length - LGP
29.2 in
Drum Capacity - 24 mm (1 in)
418.0 ft
Drum Capacity - 29 mm (1.13 in)
276.0 ft
Drum Capacity - 32 mm (1.25 in)
193.0 ft
Ferrule Size (O.D. × Length)
2.38 in x 2.56 in / 60 mm x 65 mm
BENEFITS & FEATURES
Engine
The 3176C engine, matched with the torque divider and field proven power shift transmission, provides years of dependable service.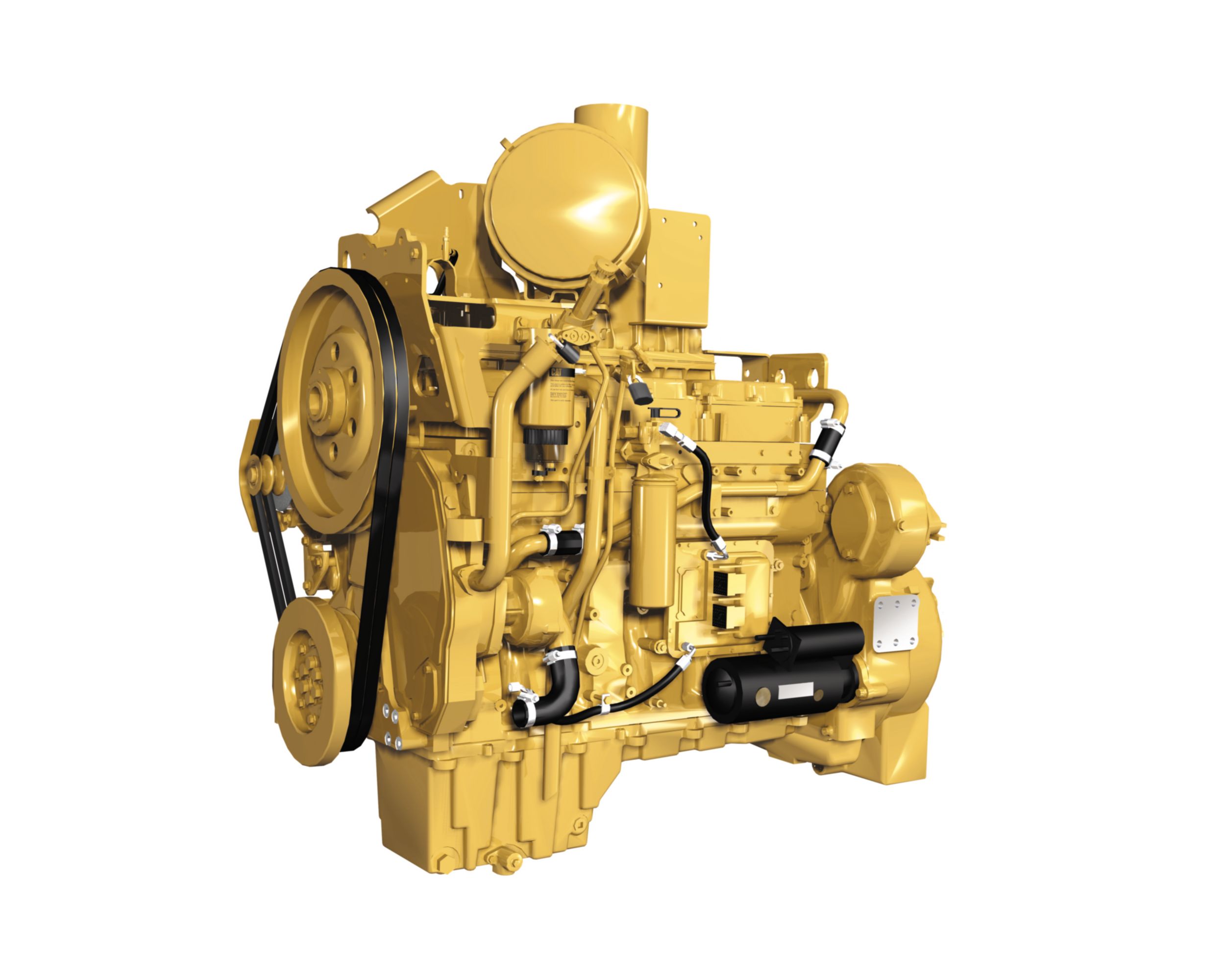 3176C Engine Features
Higher efficiency turbocharger for improved airflow.
Fuel/Air Ratio Control to minimize acceleration smoke.
Electronic Unit Injector (EUI)
The mechanically-actuated, electronically controlled unit injector combines an electronic actuator, pump assembly and nozzle into a single, compact unit for reliability and durability. The 3176C fuel system has been tested in thousands of engines in some of the most demanding applications and environments around the world.
Cylinder Block
Engine durability begins with its foundation - the engine block. The serpentine design of the 3176C block provides maximum strength in a reduced weight design. It is a single-piece, deep-skirted design that provides a solid base for the durability you require in today's D7R Series 2.
Cylinder Head
The 3176C cylinder head is designed for maximum breathing, which helps ensure excellent fuel efficiency. This one-piece, stress-relieved, gray-iron casting has four valves per cylinder. Robust intake and exhaust valves aid airflow and provide excellent reliability and fuel efficiency.
Pistons
The two-piece, articulated piston design consists of a forged-steel crown for maximum strength and a cast aluminum skirt to reduce weight. A large piston pin holds the crown, skirt and connecting rod together. The aluminum skirt runs cooler than conventional pistons, allowing a closer fit to the cylinder liner and providing longer life. The steel crown handles the higher internal pressures of today's engines.
Crankshaft
The crankshaft is a steel forging with induction-hardened journals and fillets. The wide center and end main journals and bearings are designed to maintain maximum oil film thickness for excellent lubrication and for cooling the bearings. The result is long life-to-overhaul.
Turbocharging and Aftercooling
When you couple a turbocharger with cooler inlet air from a superior aftercooling system it is no surprise that the 3176C engine will have cleaner emissions with better response, longer life, improved fuel economy and less heat rejection.
Components Live Longer
The cylinder head utilizes additional coolant passages to provide maximum engine cooling. Cylinder liner inner surfaces are fully honed and induction hardened to maximize wear resistance. Oil-cooled pistons and full-length, water-cooled cylinder liners provide maximum heat transfer for longer component life.
Advanced Modular Cooling System (AMOCS)
AMOCS utilizes an exclusive two pass cooling system and increased cooling surface area to provide significantly more cooling efficiency than conventional systems.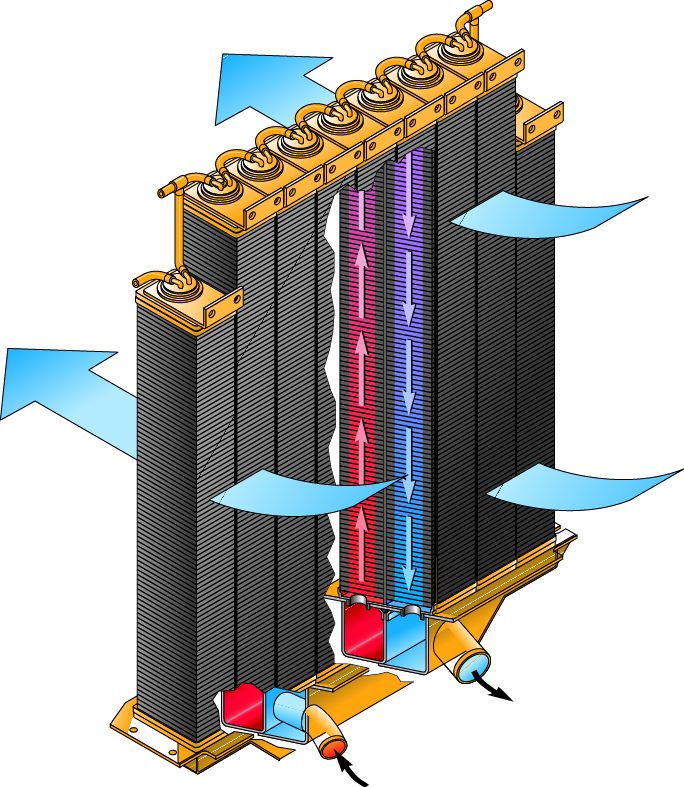 Two Pass Cooling System
Using a two pass system, the AMOCS radiator provides a more efficient heat exchange. The coolant is routed from a sectioned bottom tank up the front side, over the top of the core and down the engine side of the core to the bottom tank. This flow pattern allows the coolant to pass through the radiator twice for better cooling.
Modular Design
The cooling elements are individual core modules that are connected to a sectioned bottom tank. There is no top tank to remove. - Standard 9 steel fins per 1 in (2.54 cm), or an optional 6 steel fins per 1 in (2.54 cm). - Brass tube construction within each core for improved reliability.
Separate Circuit Aftercooling
The D7R Series 2 features a Separate Circuit Aftercooler. Two of the AMOCS cores are dedicated to the aftercooler coolant circuit to achieve cooler inlet air temperatures, which increases performance and improves engine emissions. A separate water pump is used to circulate the aftercooler coolant.
Serviceability
The modular core design permits removal of a single core without removing the entire radiator, which reduces repair costs and downtime. AMOCS also eliminates the top tank, side channels and one sealing surface, making it more reliable and easier to service. It also features a site gauge for quick service checks.
Protection From Leaks
To reduce the potential for coolant leaks, brass tubes are welded to a large, thick header, improving strength of the tube-to-header joint. In conditions where abrasive materials can be airborne, the attachment sand blast grid should be used to prevent core damage.
Sand Blast Grid
In an application where airborne debris is prevalent, radiator core protection is a concern. To extend radiator life in harsh applications, a sand blast grid is available as an option to deflect the damaging debris the engine fan propels at the radiator.
Drive Train
Getting maximum power to the ground with the efficiency and reliability you expect from Cat machines.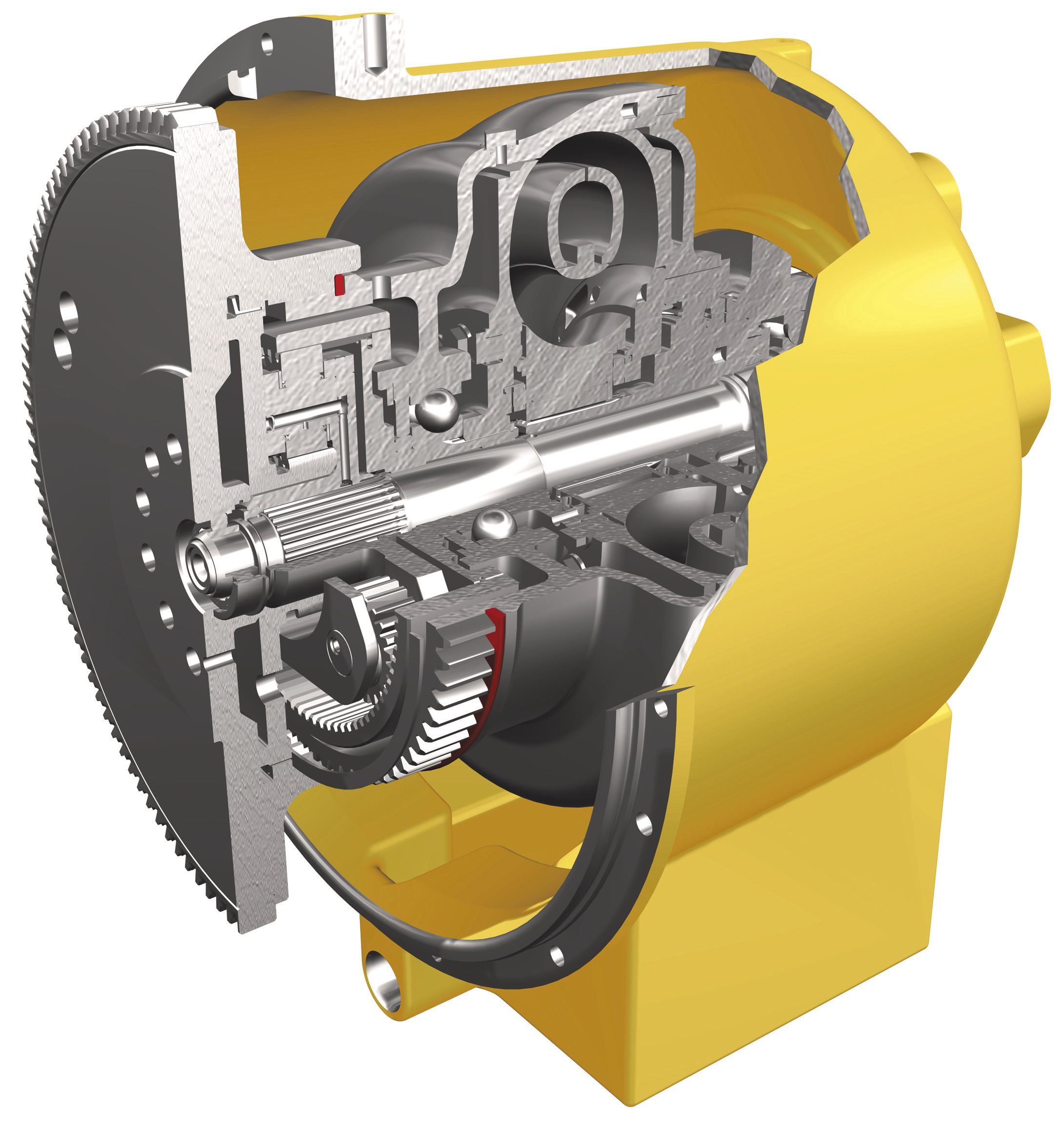 Torque Divider
An improved single-stage torque converter sends 70% of engine torque through a converter and 30% through a direct drive shaft for greater driveline efficiency and higher torque multiplication. The torque divider provides improved efficiency and broader range of performance in second gear dozing and scraper pushloading.
Transmission
The D7R Series 2 planetary power shift transmission features three speeds forward and three speeds reverse and utilizes large diameter, high-capacity, oil cooled clutches. To maximize the life of the transmission the planetary design distributes loads and stresses over multiple gears. An additional fifth planetary gear is used in the high load-capacity carrying gears.
Controlled throttle shifting regulates engine speed during high energy directional shifts for smoother, more comfortable operation and longer component life.
Electronic modulations system permits fast speed and direction changes.
Modular transmission and bevel gear slide into rear case for servicing ease, even with ripper installed.
Oil-to-water cooler for maximum cooling capacity.
Forced oil flow lubricates and cools clutch packs to provide maximum clutch life.
Drawbar Pull vs Ground Speed
As loads on the tractor increase, the D7R Series 2 offers unmatched lugging capability and smooth shifting as the need occurs to change gears under varying loads. The 3-speed forward, 3-speed reverse transmission offers excellent runout speeds.
Differential Steering
A D7R Series 2 equipped with differential steering maintains power to both tracks while turning. The tractor turns when one track speeds up and the other slows down an equal amount. The operator can steer and control the transmission simutaneously, which can reduce cycle times in some applications. The differential steering tiller bar has touch shift buttons for upshifts and downshifts. The tiller bar itself is easily rotated forward or reverse to change the respective tractor direction. The tiller bar is moved forward to steer the tractor to the left and pulled back to go right. Low tiller bar efforts assure operator comfort during long shifts. Large blade loads can be maneuvered around buildings, bridge abutments, trees or other obstacles. Steering modulation is also optimized for precise control in these applications. Greater load capacity, power and speed control are possible in soft underfoot conditions on steep slopes because both tracks are powered during turns.
Elevated Final Drive
Isolates final drives from ground and work tool induced impact loads for extended power train life.
Auto-Shift/Auto-Kickdown
Autoshift allows the operator to pre-select a forward and reverse gear for easy, efficient directional changes. Auto-shift settings include first forward to second reverse, second forward to second reverse and second forward to first reverse. Auto-kickdown allows the transmission to automatically downshift when significant load increases are detected.
Operator's Station
The D7R Series 2 operator station is designed for comfort and ease of operation.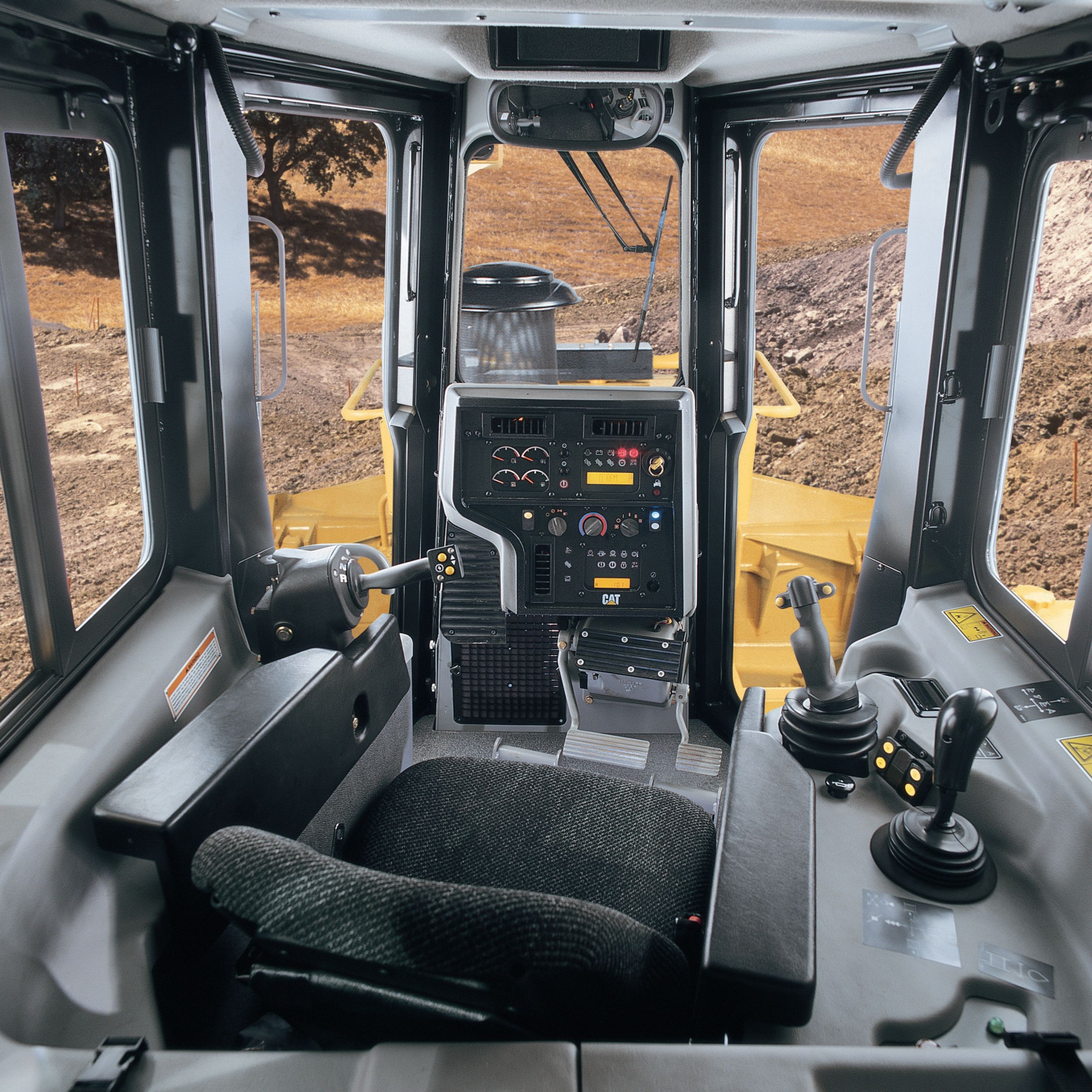 Cab
Isolation-mounted, pressurized cab reduces noise and vibration for operator comfort.
Dash
An informed operator is a productive operator. With a newly designed dash, the operator will be kept informed of the machine status and system information. The analog gauges are easy to read and a warning lamp keeps the operator aware of any action that is needed. A new feature for the D7R Series 2 is the addition of the foot pads on the dash. These foot pads help the operator stay confident and comfortable during slope applications.
Electronic Steering And Transmission Control
The D7R Series 2 has standard Differential Steering which gives the D7R Series 2 the maneuverability and control that operators need to match to the applications. The touch buttons on the steering control shifts the electronically controlled powershift transmission.
Work Tool Controls
Low effort pilot operated hydraulics for the work tools make the D7R Series 2 easy to operate and provides sure, precise blade control with less operator fatigue. Lower lever efforts and ergonomically shaped blade and ripper control handles provide increased operator comfort during long shifts.
Work Tool Lockout Rocker Switch
When engaged, the lock-out prevents inadvertent operation of the hydraulic work tool attachments.
Throttle Rocker Switch
A rocker switch control sets the high or low idle with a touch of the finger. A decelerator pedal gives the operator full control of engine speed when the rocker switch is in the high idle position.
Caterpillar Comfort Series Seat
The D7R Series 2 features a new Cat Comfort Series Seat for increased operator comfort and reduced operator fatigue. The seat is fully adjustable and designed for comfort and support. The seat and back cushions are thicker and designed to reduce pressure on the lower back and thighs while allowing unrestricted arm and leg movement.
Work Tools
Caterpillar D7R Series 2 work tools are designed to provide flexibility to match the machine to the job.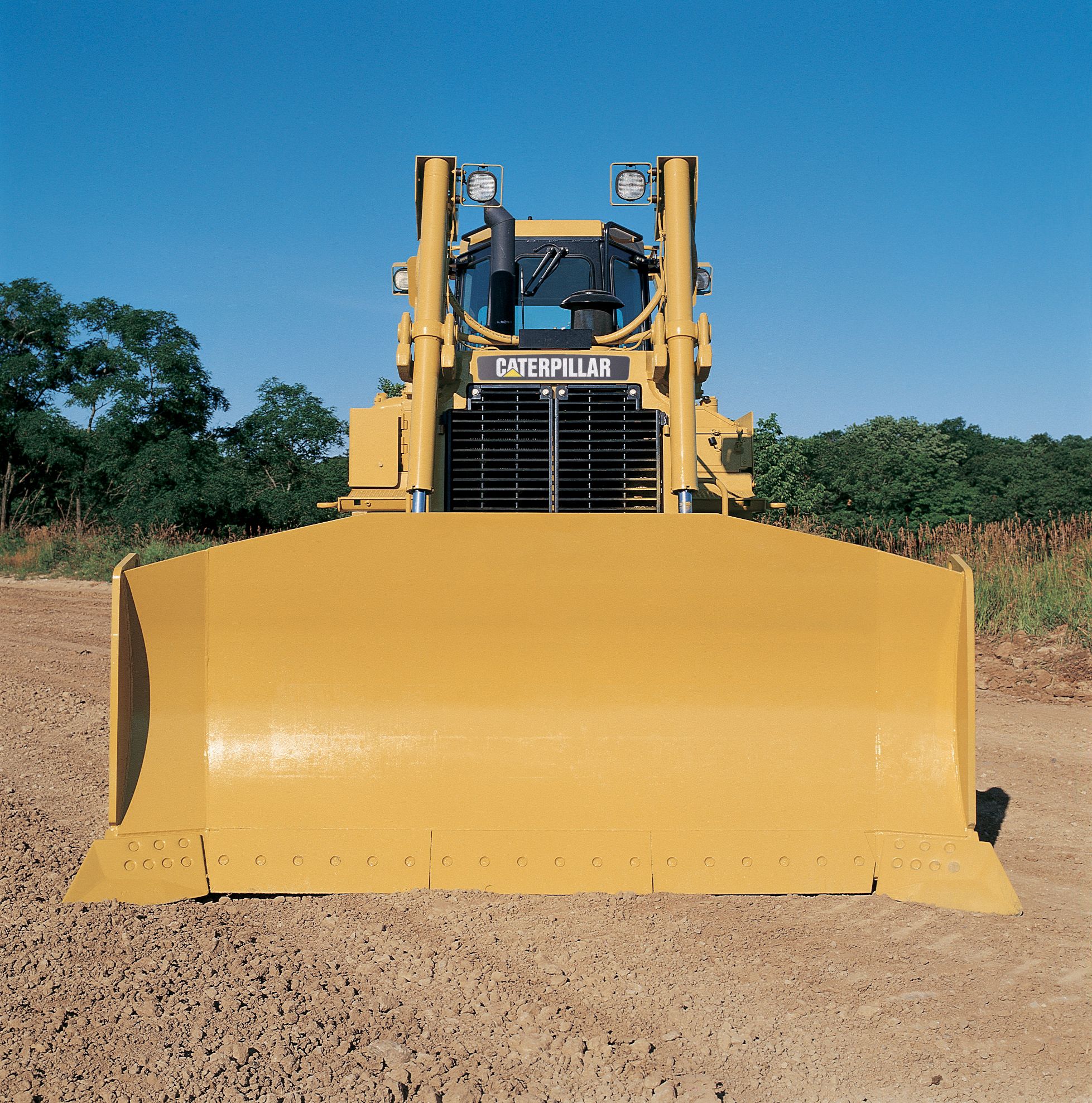 Dozers
With moldboard construction and hardened bolt-on cutting edges, Caterpillar bulldozer blades load easily and are durable. In tough applications, Caterpillar blades resist torsional bending and distortion thanks to their high-tensile strength.
Load Sensing Hydraulics
The D7R Series 2 features field-proven load-sensing pilot controlled hydraulics, which respond to operating requirements by automatically and continually adjusting attachment hydraulic power.
Multi-Shank Ripper
The multi-shank parallelogram ripper is adjustable and lets you choose one, two or three shanks depending on job conditions.
Winches
Variable line pull and line speed.
Hydraulically driven winch for precise load control during real in or real out.
Inching control through modulation of variable displacement pump and motor.
Dual braking system provides a static brake with a sprag clutch to eliminate fall back and a brake valve for dynamic braking.
Single lever joystick control for ease of operation and reliable performance with no cable nor linkage adjustments.
Three roller fairlead is standard.
Rear Counterweights
Rear counterweights may be needed to maximize balance for backing up steep slopes or increasing performance in heavy dozing applications. Recommended if other rear attachment is not specified.
Drawbar
D7R Series 2 can be equipped with a drawbar for applications such as:
Disks.
Compactors.
Chopper wheels.
Pull-type scrapers.
Retrieving other equipment.
Forestry Sweeps
In applications where tree limbs can damage a machine, optional forestry sweeps are available to protect your investment. Sweeps help shield intake air cleaners, exhaust stack, cab windows, and lights from damage.
Structure
Engineered and built to give solid support in the most demanding work.
Frame and Castings
The D7R Series 2 frame is built to absorb high impact shock loads and twisting forces. Castings provide added strength to the main case and equalizer bar saddle.
Tag-Link
The tag-link blade mounting brings the blade closer to the machine for excellent maneuverability, machine balance and blade penetration. The tag-link design provides solid lateral stability and better cylinder positions for constant pryout independent of blade height. The tag-link also eliminates the need for diagonal bracing because it transfers side loads to the mainframe instead of the dozer pusharms.
Pivot Shaft
The pivot shaft runs through the mainframe and connects to the roller frames for independent oscillation. The full-length pivot shaft distributes impact loads throughout the case, reducing bending stresses on the case. This design eliminates alignment problems and the need for diagonal braces on the roller frames. Caterpillar track-type tractors set the industry standard for mainframe durability.
Equalizer Bar
The pinned equalizer bar gives the roller frames the ability to oscillate up or down to better match ground contours while providing maximum traction and operator comfort. Equalizer bar end pins are oil filled with limited slip seals for longer life and reduced repair costs.
Undercarriage
The Caterpillar elevated sprocket undercarriage arrangements allow optimized balance for the best possible performance in each application.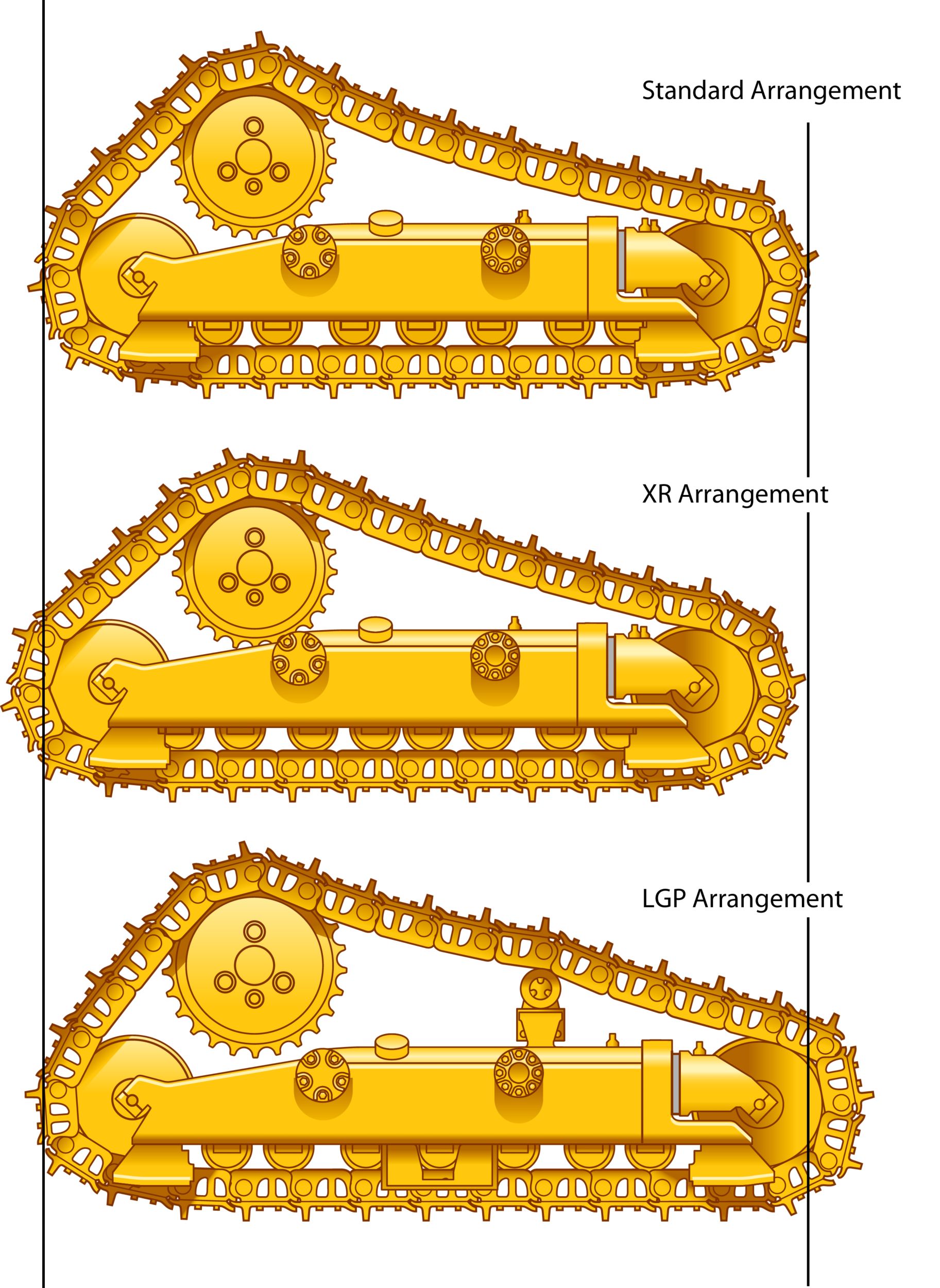 Undercarriage Arrangements
Standard arrangement
A general-purpose undercarriage that performs well in many applications with firm underfoot conditions. XR arrangement
More track to the rear positions moving the tractor's weight forward, which increases traction and stability for drawbar, skidding, and ripping applications. LGP arrangement
Specially designed to work in soft and spongy conditions.Wide track shoes, long track frames, and a wider gauge increases track contact area and reduces ground pressure for improved stability providing excellent floatation in swampy conditions.
Roller Frames
Roller Frames are tubular, to resist bending and twisting, with added reinforcement where operating loads are the highest.
Roller frames attach to tractor by a pivot shaft and pinned equalizer bar.
Large pivot shaft bushings operate in an oil reservoir.
Resilient pads restrain equalizer bar oscillation.
The recoil system is sealed and lubricated.
Sealed And Lubricated Track
The heavy-duty sealed and lubricated track is designed for superior track life. A wider bushing strap provides improved bushing retention and resistance to bore stretching and cracking. Other improvements include:
Improved sealability and link rail wear life.
Wider pin boss and longer pin improves pin-to-link retention.
More rail material increases link and roller system wear life.
Extends undercarriage maintenance intervals.
Reduces overall undercarriage operating costs.
Improved Steel Sprocket Segments
D7R II sprocket segments material is metallurgically optimized to be fracture resistant. This allows the sprocket to live longer and better match a bushing turn.
Rotating Bushing Track
Optional Rotating Bushing Track (RBT) is a sealed and lubricated system which includes four track seals per joint, non-restrained floating bushings, longer track pins, redesigned track links (wider pin boss and bushing strap, and taller rail) and a unique pin retention system. Because the bushings rotate, relative motion between the bushings and the sprocket teeth is virtually eliminated. The minimal wear that does occur is evenly distributed around the bushings. Therefore, no bushing turn is required, and sprocket segment wear is dramatically reduced. In effect, the rotating bushing track does an ongoing bushing turn as the machine works.
Elevated Sprocket Design
The sprocket position keeps sprocket teeth, bushings and final drives away from the abrasive materials and moisture - resulting in longer final drive gear and seal life.
Serviceability
Simplified service means more productive uptime.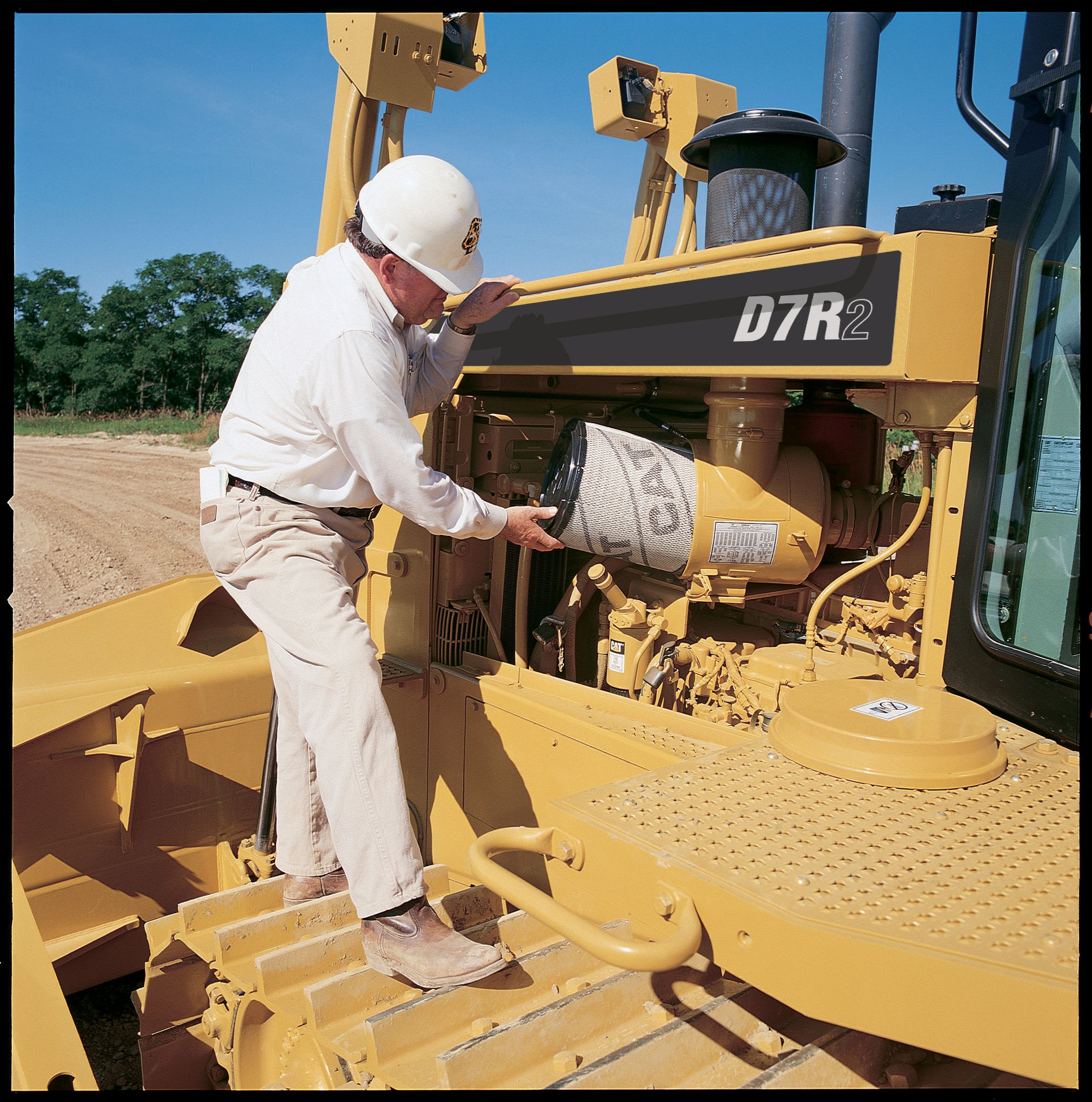 Built-In Serviceability
Less service time means more working time. Major components are made as modules and most can be removed without disturbing or removing others.
Cooling System
AMOCS individual cooling elements allow radiator servicing without major component removal, saving considerable time and cost.
Caterpillar Monitoring System
The D7R Series 2 features a more flexible monitoring system that is easily upgraded by flashing software rather than replacing the module. As technology changes and new electronics and software become available, this upgraded monitoring system will allow the machine to be easily updated and take advantage of improvements. The Caterpillar Monitoring System is designed to:
Allow easy upgrades.
Reduce the parts cost.
Reduce downtime.
Match software to unique application needs.
Diagnostic Connector
Diagnostic connector allows Caterpillar dealers to quickly troubleshoot the D7R Series 2 or access stored data with the use of Electronic Technician (ET) or ECAP.
Pressure Test Points
Pressure test points for power train and hydraulic systems are provided.
Ecology Drains
Ecology drains provide an environmentally safer method to drain fluids. They are included on the radiator, hydraulic tank and major power train components.
Fast Fuel System
The D7R Series 2 includes an optional fast fuel fill attachment with positive fuel shut-off to prevent fuel spillage.
Scheduled Oil Sampling (S•O•Ssm)
Scheduled Oil Sampling made easier through live sampling ports for the engine oil, power train, coolant and hydraulics.
Total Customer Support
Unmatched in the industry!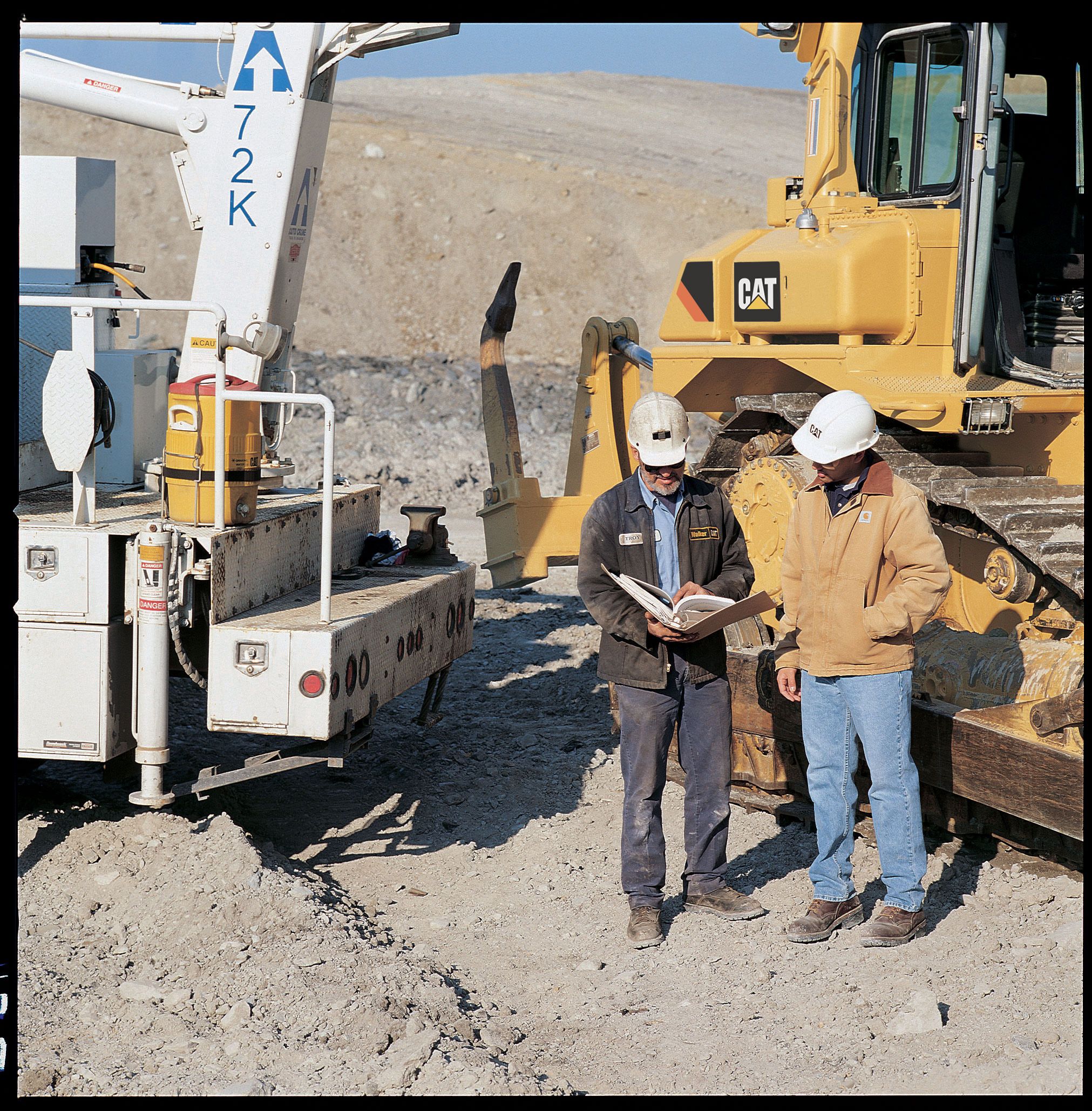 Services
Your Cat Dealer offers a wide range of services that can be set up under a customer support agreement when you purchase your equipment. The dealer will help you choose a plan that can cover everything from machine and attachment selection to replacement, to help you get the best return on your investment.
Product Support
You will find nearly all D7R Series 2 parts at our dealer parts counter. Cat Dealers utilize a worldwide computer network to find in-stock parts to minimize machine down time. Save money with remanufactured parts. You receive the same warranty and reliability as new products at cost savings of 40 to 70 percent.
Service Capability
Whether in the dealer's fully equipped shop or in the field, you will get trained service technicians using the latest technology and tools.
Selection
Make detailed comparisons of the machines you are considering before you buy. How long do components last? What is the cost of preventive maintenance? What is the true cost of lost production? Your Cat Dealer can give you precise answers to these questions.
Purchase
Consider the financing options available as well as day-to-day operating costs. This is also the time to look at dealer services that can be included in the cost of the machine to yield lower equipment owning and operating costs over the long run.
Operation
Improving operating techniques can boost your profits. Your Cat Dealer has training videotapes, literature and other ideas to help you increase productivity.
Replacement
Repair, rebuild or replace? Your Cat Dealer can help you evaluate the cost involved so you can make the right choice.
Maintenance
More and more equipment buyers are planning for effective maintenance before buying equipment. Choose from your dealer's wide range of maintenance services at the time you purchase your machine. Repair option programs guarantee the cost of repairs up front. Diagnostic programs such as Scheduled Oil Sampling and Technical Analysis help you avoid unscheduled repairs.
Remanufactured Components
You will find nearly all parts at our dealer parts counter. Cat Dealers utilize a worldwide computer network to find in-stock parts to minimize machine down-time. Save money with remanufactured parts. You receive the same warranty and reliability as new products at a cost savings of 40 to 70 percent.
Dealer Commitment
Cat dealers help manage equipment investments with:
Custom Track Service.
Effective preventive maintenance programs.
Diagnostic programs like Scheduled Oil Sampling and Technical Analysis.
Information to make the most cost effective repair option decisions.
Customer meetings, training for operators and mechanics.
Integrated Electronic Solutions
Caterpillar technology offers customers new opportunities for efficiency and profitability.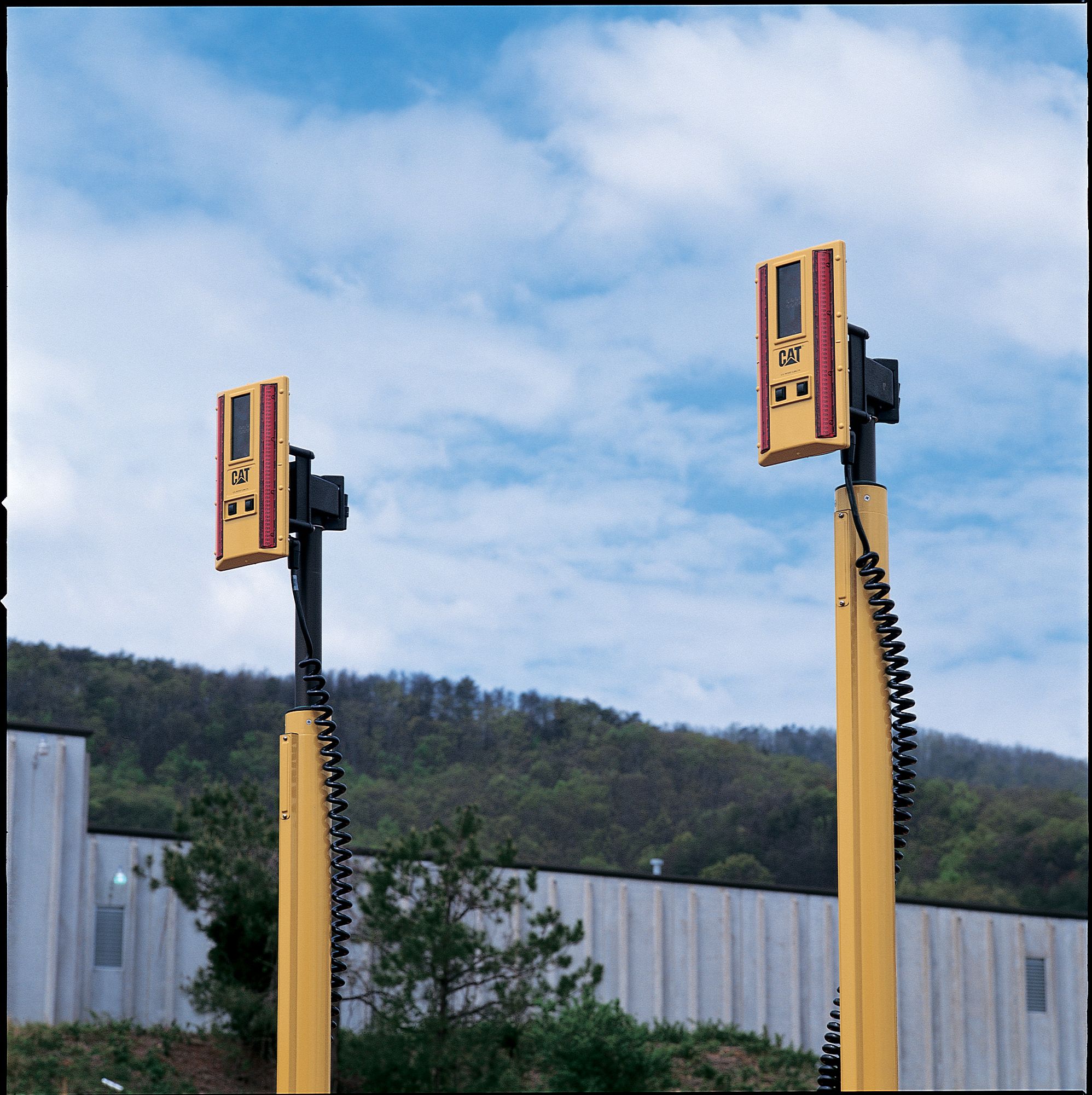 AccuGrade® Grade Control System
The AccuGrade System allows operators to grade and fill with increased accuracy without the use of traditional stakes or grade checkers. Using advanced laser or Global Positioning System (GPS) technology, machine-mounted components and an off-board transmitter, the AccuGrade System significantly improves the productivity and accuracy of grading equipment by as much as 50 percent over conventional methods.
AccuGrade System Cost Savings
Grade is reached in fewer passes so owning and operating costs are reduced. Fewer grade stakes are required and re-staking is virtually eliminated realizing a 90 percent cost savings. Higher accuracy means savings in imported material. Productivity is increased up to 50 percent and can be maintained all day so more jobs can be scheduled with more scheduling flexibility.
Product Link
The optional Product Link system is factory installed or easily retrofitted wireless system that simplifies equipment fleet tracking. Using satellite or cellular technology, the system automatically reports key machine parameters such as location, machine hours, active and logged service codes and security alarms. Depending on the Product Link version, it can connect with other on-board systems, issue e-mail or pager alerts and provide fuel consumption data.
Cat Machine Security System (MSS)
MSS uses electronically coded keys selected by the customer to limit usage by individuals or time parameters. MSS deters theft, vandalism and unauthorized usage. Each machine system can store up to 255 keys and each key can be used on as many machines as desired. MSS can be controlled by a customer's Personal Data Assistant. Field installation is available.
EQUIPMENT
Standard Equipment
Electrical
Alternator, 95-amp brushless
Alarm, backup
Batteries, 2 maintenance free 12V (24V system)
Converter, 12V, 10 amp with 2 power outlets
Electronic air cleaner service indicator
Horn, forward warning
Starting receptacle, auxiliary
Operator Environment
Air conditioner, under hood
Armrest, adjustable
Cab, sound suppressed
Differential steering control with touch shift
Electronic Monitoring System (EMS)
Heater
Hour meter, electronic
Mirror, rearview
Pedal, decelerator
Pilot operated hydraulic controls with electronic deactivation switch
Radio ready
Seat, adjustable contour suspension (gray fabric)
Seat belt, retractable - 76 mm (3 in)
Wipers, intermittent
Power Train
3176C diesel engine with EUI (Electronic Unit Injection)
Advanced Modular Cooling System (AMOCS)
Air filter with electronic service indicator
Coolant, extended life
Fan, blower, direct drive
Final drives, 3 planet double reduction planetary
Fuel priming pump
Muffler with mitered stack
Parking brake, electronic
Precleaner with stratta tube dust ejector
Prescreener
Shift management:
Starting aid, automatic ether
Torque divider
Transmission, electronically controlled - 3F/3R speeds
Turbocharger, waste gate
Water separator
Undercarriage
Carrier roller (LGP only)
Track adjuster, hydraulic
Idlers, lifetime lubricated
Track rollers, lifetime lubricated
End track guiding guards
Sprocket rim segments, replaceable
Other Standard Equipment
CD-ROM parts book
Engine enclosures, perforated
Front pull device
Guards, hinged bottom
Hood, perforated
Hydraulic, load sensing, dozer lift and tilt
Oil cooler, hydraulic
Product Link ready
Radiator doors, hinged fan blast deflector
S·O·SSM sampling ports
Tool box
Vandalism protection for fluid and battery compartments
Optional Equipment
Bulldozer Arrangements, Complete
7A Bulldozer
7S Bulldozer
7S LGP Bulldozer
7SU Bulldozer
7U Bulldozer
Bulldozer Attachments
7A Tilt Cylinders
7S Landfill Blade with Trash Rack
7SU Blade Wear Plate
7SU Landfill Blade with Trash Rack
7SU Landfill Blade Wear Plate
7S LGP ERF Dual Tilt
7U Landfill Blade with Trash Rack
Electrical
Alternator - 100A
Alternator - 75A
Converter - 20A, 12V
Lights, 6
Lights, 8
Lights, 10
Lights, Supplemental - (Adj. Rip. Only)
Lights, Supplemental - 2 Fender
Product Link
Guards
Crankcase - ES
Fuel Tank - STD
Fuel Tank - XR
Fuel Tank - LGP
Radiator, Hinged - HD
Rear
Screen - Rear (Winch)
Screen - Rear (ROPS AC)
Sweeps
Track Roller Guards
Track Roller Guard - STD
Track Roller Guard - XR
Track Roller Guard - LGP
Operator Environment
Air Conditioner
Air Conditioner (ROPS Mounted)
Air Suspension Seat
Armrest, Electric Adjustable
Cab
Glass, Ultra Strength 40
Seat, Vinyl
Power Train
Ecology Drain
Fan, Reversible
Fast Fuel System
Oil Change System
Sand Blast Grid
Undercarriage
Track Groups
Carrier Rollers
Other Attachments
Counterweight
Counterweight, Additional
Drawbar
Enclosures, Engine
Sound Suppression
Winch
Winch Control
Starting Aids
Batteries, HD
Heater, Engine Coolant
Hydraulics
Controls, Ripper
Controls, Ripper Adjustable
Controls, Hydraulic Oil
Ripper
Adjustable Ripper, Multi-shank
Additional Teeth
Field Installed Attachments
CONNECT. DISCUSS. SOLVE.
CATERPILLAR EQUIPMENT MAINTENANCE ONLINE COMMUNITY
HOW CAN WE HELP?
SHARE YOUR FEEDBACK OR ASK A QUESTION