D4K2
Experience the most intuitive finish grading tractor in the industry. The Cat® D4K2 Track-Type Tractor with Stable Blade delivers a smooth finish grade with less operator effort. Stable Blade senses ground conditions and works with the operator to produce the desired grade. The addition of the integrated AccuGrade™ grade control system helps you get to target grade even faster, with fewer passes and less manpower. From the first cut to finish grade, the D4K2 sets the standard.
SPECIFICATIONS
Engine
Engine Model
Cat C4.4 ACERT™
Weights
Operating Weight - XL
18080.0 lb
Operating Weight - LGP
18761.0 lb
Transmission
Relief valve settings
6918.0 psi
Maximum travel speed - forward
5.6 mph
Maximum travel speed - reverse
6.2 mph
Service Refill Capacities
Crankcase and filter
2.91 gal
Final drives, XL (each side)
2.6 gal
Final drives, LGP (each side)
2.6 gal
Transmission/hydraulic tank
15.7 gal
Hydraulic Controls
Relief valve setting
2988.0 psi
Standards
ROPS
SAE J397-OCT95, SAE J1040-MAY94, ISO 3471-94, ISO 3164-95
FOPS
SAE J231-JAN81, ISO 3449-92
Winch
Rope diameter - recommended
0.63 in
Rope diameter - optional
0.75 in
Drum capacity - recommended cable
371.0 ft
Drum capacity - optional cable
256.0 ft
Maximum line pull - bare drum
40000.0 lb
Maximum line pull - full drum
25000.0 lb
Maximum line speed - bare drum
131.0 ft/min
Maximum line speed - full drum
207.0 ft/min
Ripper
Maximum digging depth
13.3 in
Maximum reach at ground line
23.5 in
Maximum ground clearance under tip
17.6 in
Undercarriage
Length of track on ground - XL
89.0 in
Length of track on ground - LGP
89.0 in
Track gauge - LGP
68.0 in
Ground contact area - XL
3206.0 in2
Ground contact area - LGP
4425.0 in2
Ground pressure - XL
5.6 psi
Ground pressure - LGP
4.24 psi
Blade
Blade width - Intermediate
115.0 in
Blade width - XL
109.5 in
Blade width - LGP
124.0 in
Blade height - Intermediate
33.9 in
Blade height - XL
39.8 in
Blade height - LGP
35.8 in
Blade capacity - Intermediate
1.96 yd3
Blade capacity - XL
2.59 yd3
Blade capacity - LGP
2.42 yd3
Digging depth - Intermediate
23.2 in
Digging depth - XL
22.5 in
Digging depth - LGP
23.2 in
BENEFITS & FEATURES
Operator Station
Everyone can get comfortable in this cab.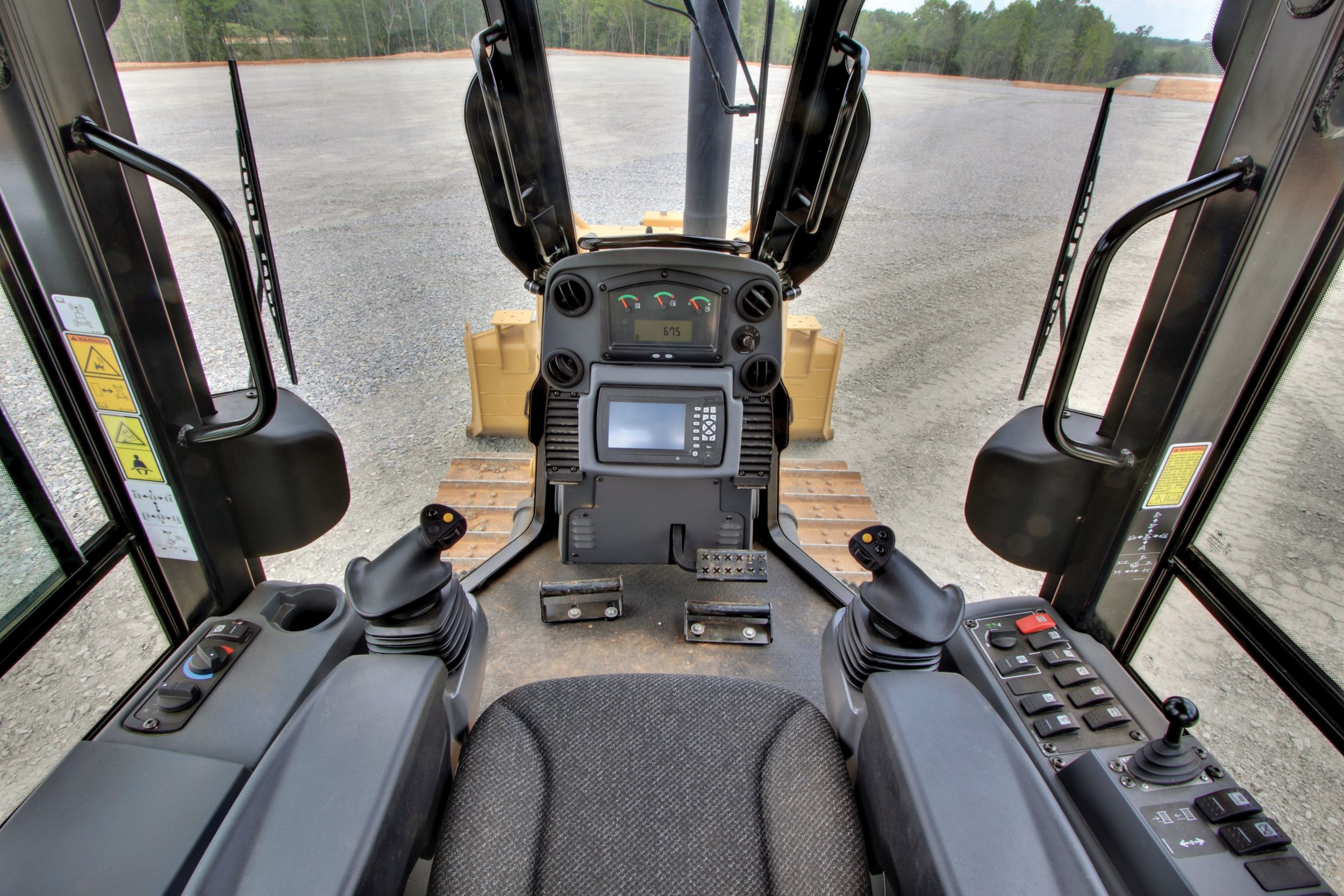 Seat-Mounted Joystick Controls
Ergonomically designed, seat-mounted controls isolate vibrations from the operator for optimum comfort and precise control.
New contoured armrest cushion
Bi-directional transmission shifting
Easy to grip handles
New heated control handles (optional)
Stable Blade Control
New Stable Blade control makes operating the machine easy for both new and experienced operators.
Stable Blade complements operator input for smooth finish grading results
Handle fits to hand to allow for more precise control and reduce operator fatigue
Thumb roller for low effort blade angle control
Blade shake feature for easy removal of material
All Day Comfort
The spacious, comfortable cab helps keep you relaxed and productive throughout the day.
Quiet environment - 78 dB(A) - ANSI/SAE J1166 OCT98
Wide door openings for easy entry/exit
Dash mounted air vents for improved air circulation
Air suspension seat for a more comfortable ride
Air conditioning for greater comfort in all climates
New ventilated seat (optional)
Heated seat and heated control handles (optional)
Monitoring Package
Easy to read display provides vital system information. Easy to read gauges keep you informed of system conditions. Larger AccuGrade™ CB460 GPS display is available as an option and is mounted in line with blade corners for easy viewing.
Outstanding Visibility
Large door windows provide an unobstructed view to the blade corners and cutting edge which is especially important in fine grading, curbing and working against foundations. Large side windows offer a clear view to the sides of the machine.
Hydrostatic Transmission
Responsive to changing loads.
Traction Control
Increase your productivity with the new Traction Control feature:
Reduces track slippage
Activated with a button on the transmission control
Reduces undercarriage wear
Improves fuel economy
Performance
Quick response to varying loads for shorter cycle times and less operator fatigue.
Maneuverability
Intuitive control helps you work in tight areas
Power turn feature provides power to both tracks while working in confined areas
Counter-rotation provides quick steering corrections during side loading applications
Engine
Increased horsepower, improved fuel economy.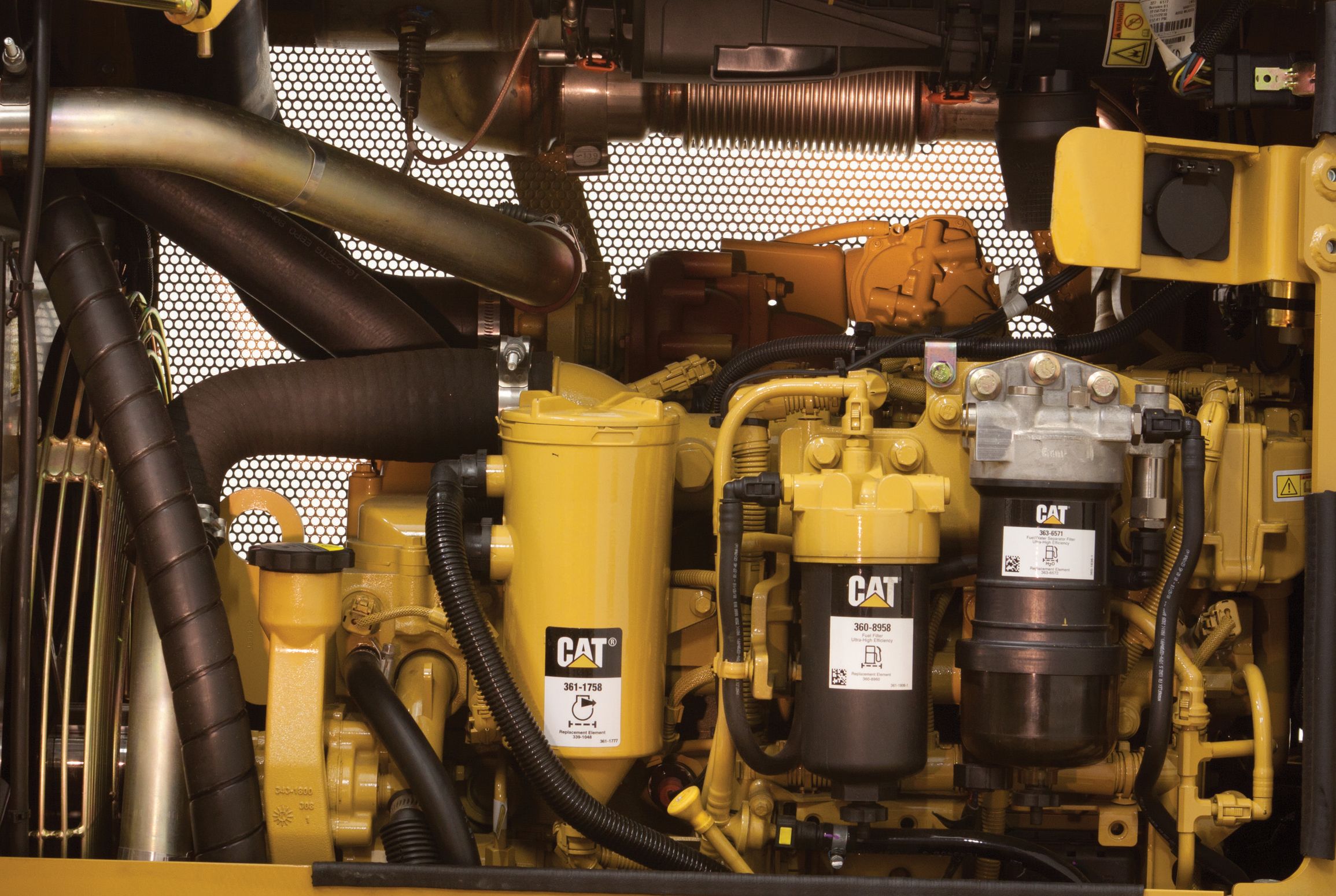 Cat C4.4 Engine
The C4.4 engine responds quickly to changing loads. Eco mode throttle setting can deliver up to 25% improved fuel economy. Engine meets U.S. EPA Tier 4 Interim, EU Stage IIIB and Japan MLIT Step 4 emission standards using a passive regeneration solution:
Simple…no operator interaction required
Long life diesel particulate filter (no service required for 8,000 hours)
Undercarriage
Solutions to lower your costs per hour.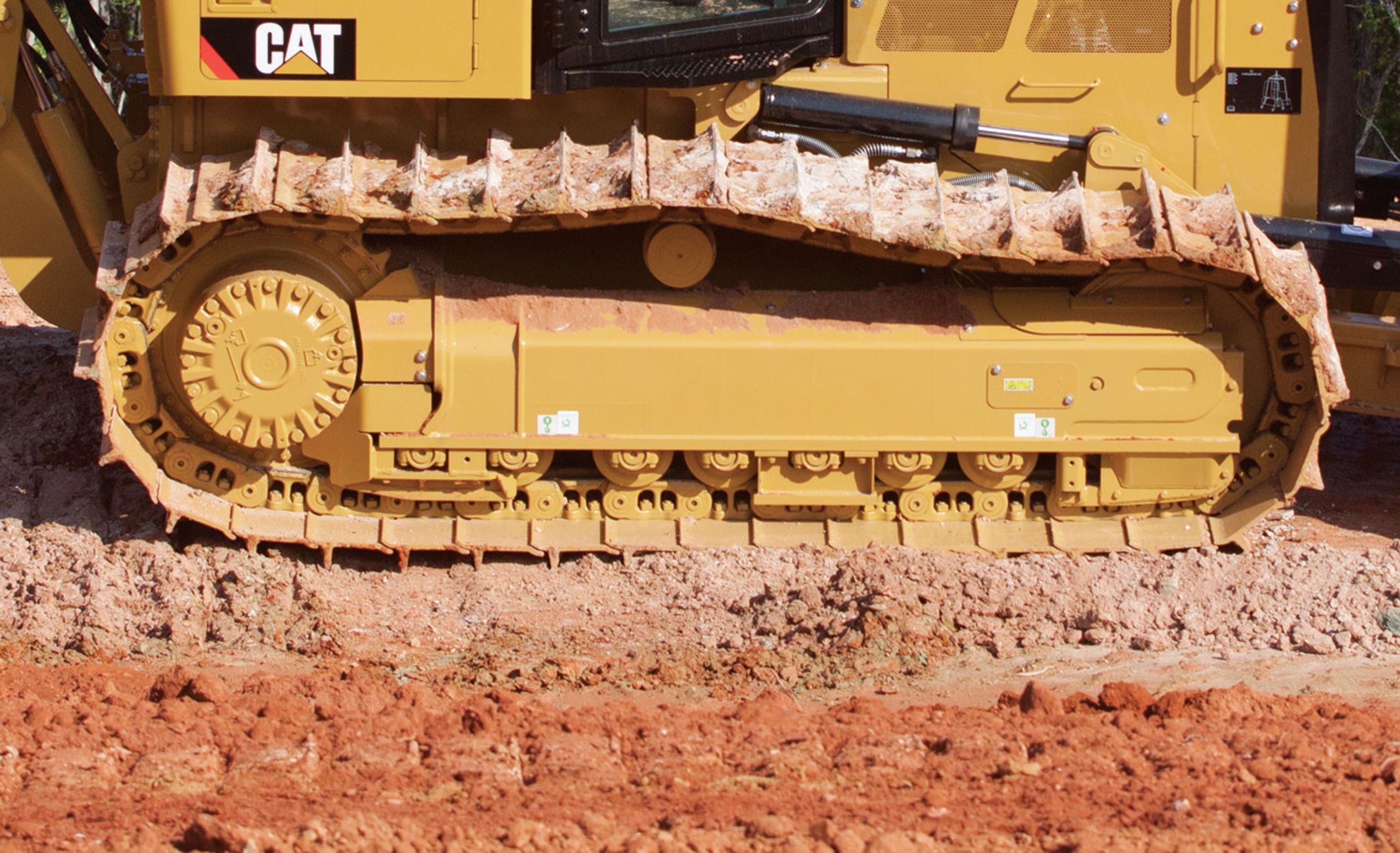 Choice of Undercarriage Configurations to Meet Your Application
Track frames are available in extra long (XL) or low ground pressure (LGP) configurations:
XL undercarriage for most applications where flotation and side stability are not extreme
LGP undercarriage for soft underfoot conditions where additional flotation is required
Track Selections
Caterpillar offers a choice of two undercarriages - Sealed and Lubricated Track (SALT) and SystemOne™. Matching the correct undercarriage to the application and soil conditions will deliver the lowest costs per hour.
Sealed and Lubricated Track (SALT) Undercarriage - For applications where the track is not bushing limited - May require pin and bushing turn
SystemOne™ Undercarriage
- For applications where track is bushing limited - Bushing rotates continuously - Does not require bushing turn - Designed to maximize the life of all undercarriage components
AccuGrade™ Systems
Grade with increased accuracy.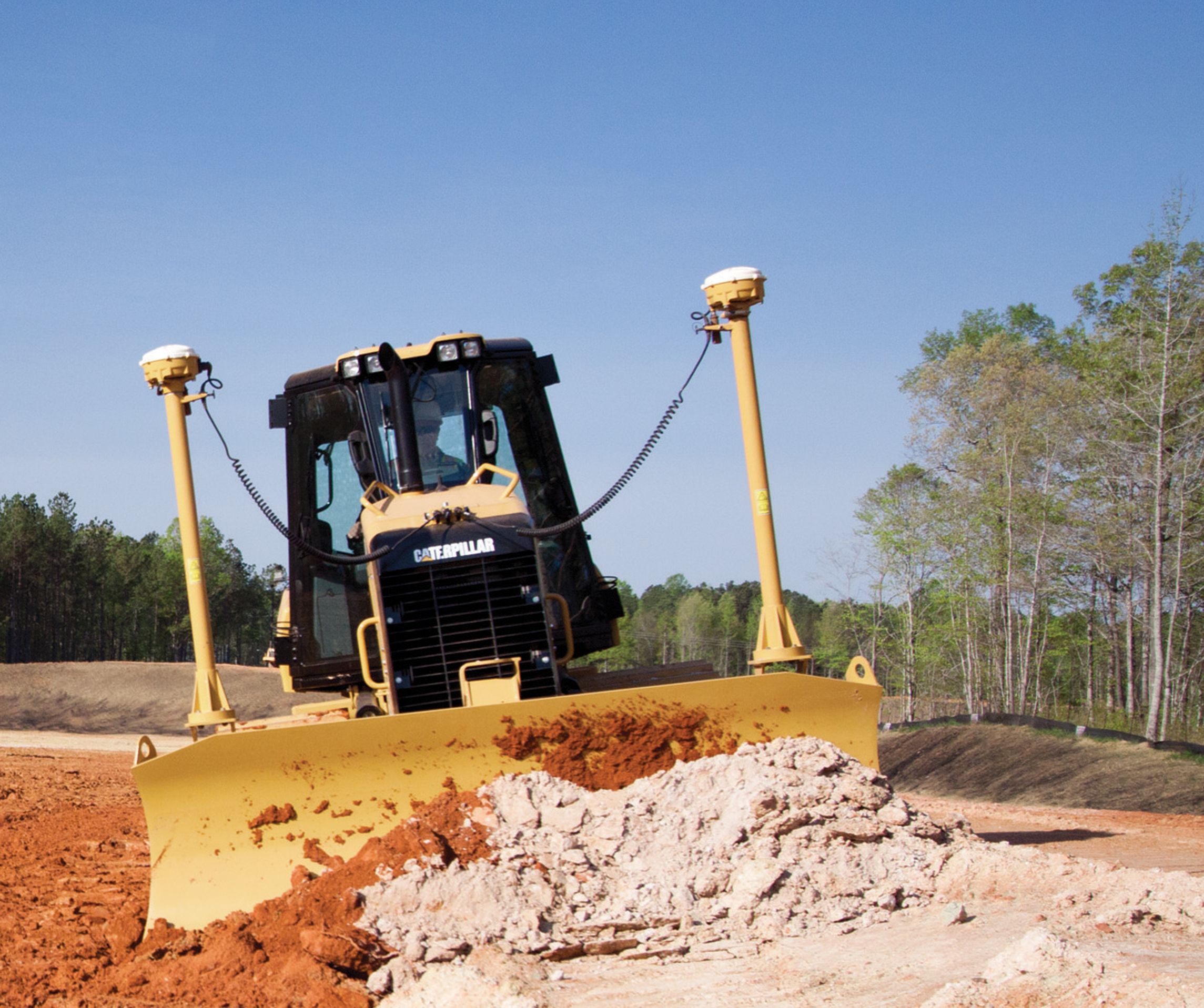 Improve Your Efficiency with AccuGrade
AccuGrade is a fast machine grade control system which enables operators to cut and fill to grade with increased accuracy, minimizing the need for traditional stakes and grade checkers. Caterpillar offers a choice of Laser, GNSS or Universal Total Station solutions:
AccuGrade Laser - for two dimensional flat type work
AccuGrade GNSS - for three dimensional cut to contour work
Universal Total Station - for fine and finish grade applications
New Larger Displays
Easy to read, large displays let you focus on your work:
CB450 Laser Display - Larger 109 mm (4.3 in) color display
CB 460 GNSS Display
- Larger 178 mm (7 in) color display - USB data port - 3.7 gig internal disk space
Blade and Attachments
Power pitch blade for maximum productivity.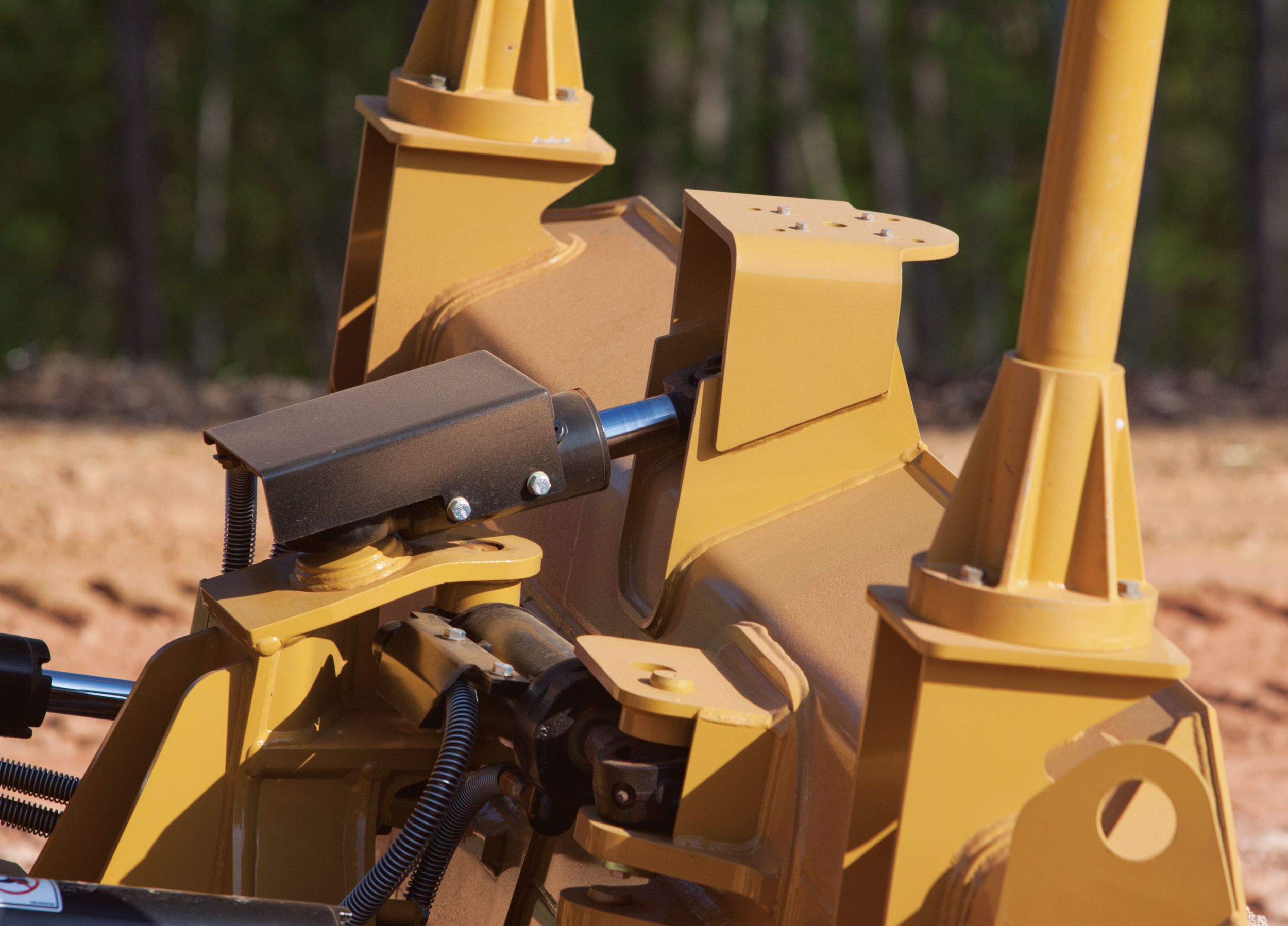 Power Pitch Blade
The power pitch blade feature lets the operator adjust the blade pitch to meet various operating conditions without ever leaving the cab.
Pitch the blade forward for increased penetration
Lay the blade back for maximum carrying capacity
Change the pitch from inside the cab
Optimize blade pitch for application
Improves productivity
VPAT Blade
The VPAT blade is specifically designed for finish grading, backfilling ditches, cutting V ditches, windrowing, fill spreading, medium land clearing and heavy dozing. Built for rugged strength and durability this 6-way blade allows for maximum angle, tilt and pitch.
Hydrostatic Winch
The Cat hydrostatic winch features:
Excellent line pull at any speed
Infinitely variable drum speed
Lower operator effort
Unmatched load control
Parallelogram Ripper
The aggressive parallelogram ripper lets you do more productive ripper work. The parallel linkage design provides better penetration and maneuverability in tight working areas.
Forestry Options
An easier way to work in the woods. The following features are available for forestry applications:
Cat hydrostatic winch
360 degree guarding, for added protection of the cab
Heavy-duty rear tank guard
Serviceability and Customer Support
Easy service and unmatched support keep you working.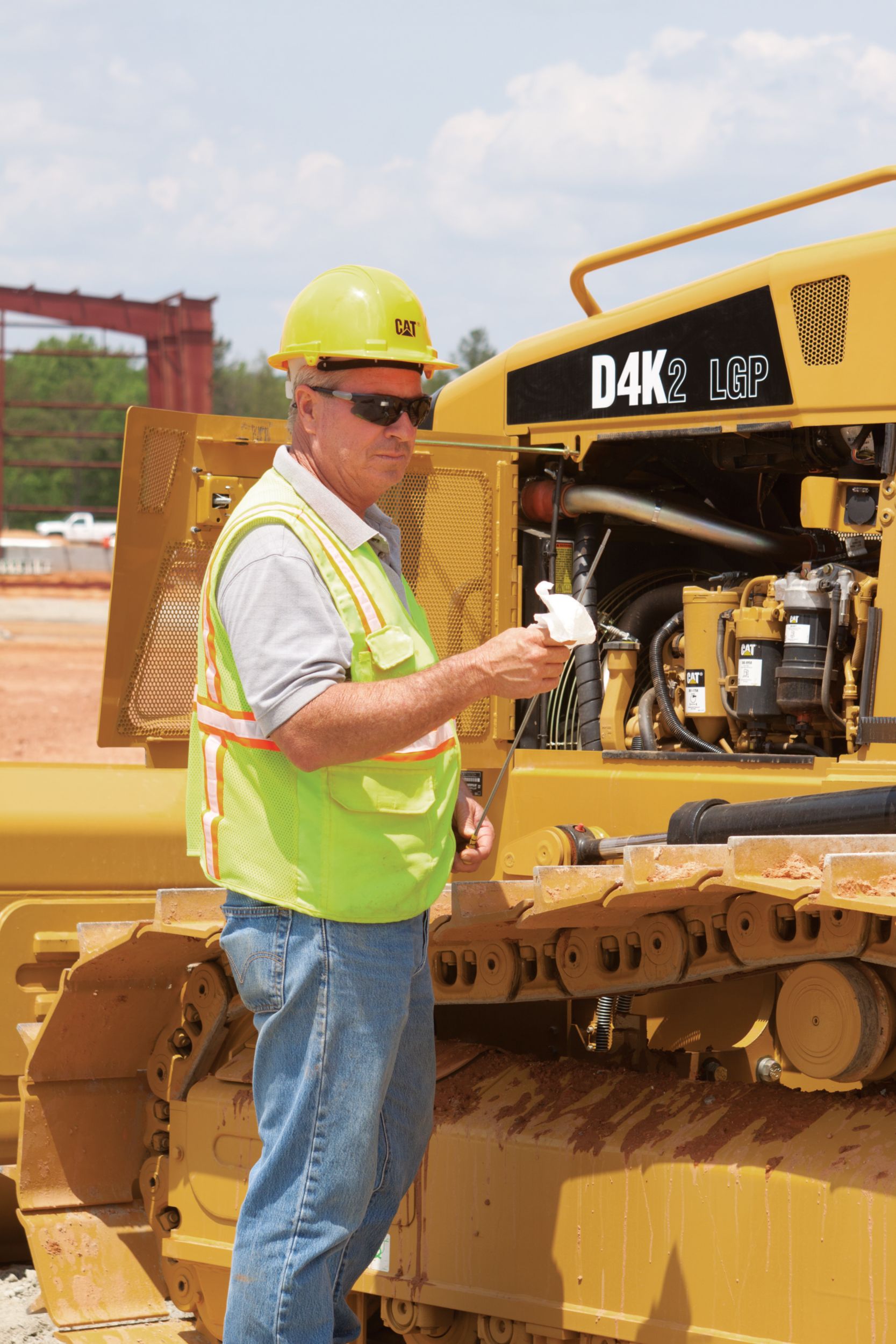 Easy Access
Long service intervals and easy maintenance keep the machine up and running to lower your owning and operating costs.
Large, hinged door on the left side of the engine compartment for easy access to all regular engine maintenance points
Grouped pressure taps for quick testing and troubleshooting of the hydraulic system
Easy ground level access to hydraulic filters located in the left rear service compartment
Product Link
The optional Product Link system simplifies equipment fleet tracking. Using satellite or cellular technology, the system automatically reports information such as location, machine hours, active and logged service codes and security alarms.
Renowned Cat Dealer Support
From helping you choose the right machine to knowledgeable ongoing support, Cat dealers provide the best in sales and service.
Preventive maintenance programs and guaranteed maintenance contracts
Best-in-class parts availability
Operator training to help boost your profits
Genuine Cat Remanufactured parts
SITECH® dealer support for grade control solutions
EQUIPMENT
Standard Equipment
ELECTRICAL
Alternator, 12 volt, 120 Amp, heavy duty
Alarm, backup
Batteries, two, heavy duty, maintenance free, 750 CCA
Diagnostic connector
Horn, electric
Lights, halogen, 2 front and 2 rear
Starter, electric, 12 volt
OPERATOR STATION
ROPS/FOPS canopy
Seat, air suspension, cloth or vinyl
Seatbelt, retractable 76 mm (3 in)
Foot pads, dash
Electronic Monitoring System with: • Gauges for engine coolant temperature, hydraulic oil temperature and fuel level • Travel speed limiter, electronic • Engine RPM and gear display • Hour meter, electric • Engine air cleaner service indicator, electronic • Water-in-fuel indicator, electronic
Throttle switch, rotary
Eco mode
Controls, seat mounted, fore/aft adjustment
Armrests, adjustable
Mirror, rearview, inside
Single pedal combining deceleration and braking functions
Independent forward/reverse speed settings
Power port, 12 volt
Coat hook
Storage compartment
Cup holder
Floor mat, rubber, heavy duty
HYDRAULICS
Hydraulics, 3 valve
Load sensing hydraulics
Single lever, three function control
Hydraulic pump and oil
Stable blade control
POWER TRAIN
Cat C4.4 ACERT™ diesel engine, turbocharged, U.S. EPA Tier 4 Interim and EU Stage IIIB certified with aftertreatment
Aftercooler, Air-to-Air (ATAAC)
Aluminum bar plate cooling system (radiator, power train)
Air cleaner with precleaner, automatic dust ejection and under-hood intake
Dual path, closed-loop hydrostatic transmission
Electric fuel priming pump
Fuel/water separator
Traction control
UNDERCARRIAGE
SALT Undercarriage
7 roller track frame
Track rollers, lifetime lubricated
Carrier rollers
Track adjusters, hydraulic
Guards, front/rear guiding
Master link
OTHER STANDARD EQUIPMENT
C-Frame, VPAT, hydraulic cylinders and lines
Lockable engine enclosures
Front pull device
Rigid drawbar
Ecology drains (engine, power train and implement oil and engine coolant)
Scheduled oil sampling ports (engine, power train implement oil)
Vandalism protection
Heavy duty crankcase guard
ANTIFREEZE
Extended life coolant, -37° C (-35° F)
Optional Equipment
ELECTRICAL
Integrated four front halogen lights, two rear halogen lights
POWER TRAIN
Drive, auxiliary
Installation, winch
UNDERCARRIAGE
TRACK PAIRS, XL • Track, 460 mm (18") MS SystemOne™
TRACK PAIRS, LGP • Track, 635 mm (25") MS SystemOne™
OPERATOR STATION
Cab with air conditioning
Cab, polycarbonate windows and air conditioning
Seat, cloth, air suspension, choice of: • Vinyl, heated seat with heated controls • Cloth, heated seat with heated controls • Cloth, heated and ventilated seat with heated controls
Radio, AM/FM, CD player
Sound suppression
HYDRAULICS
Hydraulics, 4 valve for use with ripper
Hydraulics, 4 valve for use with winch
GUARDS
Guard, rear, heavy duty
Grill, radiator, heavy duty
Guard, track guiding, center
Guard, track roller, full length
Screen, rear, cab
Screen, side, cab
Screen, rear, canopy
Screen, front and doors, canopy
Sweeps, front
Sweeps, rear
BLADES
VPAT XL blade
VPAT LGP blade
VPAT Intermediate blade
REAR ATTACHMENTS
Drawbar, towing
Mounting, winch
Ripper, parallelogram, includes three shanks and teeth
REAR ATTACHMENT CONTROL
Control, ripper
Control, winch
Control, ripper and winch
MACHINE CONTROL AND GUIDANCE
Installation, AccuGrade ready
Power Pitch blade control
STARTING AIDS
Heater, engine, coolant, 120V
Starting aid, ether
OTHER ATTACHMENTS
Machine Security System
Cat Product Link 321
Cat Product Link 121
Cat Product Link 522
ANTIFREEZE
Extended life coolant, -50° C (-58° F)
FIELD INSTALLED ATTACHMENT
CONNECT. DISCUSS. SOLVE.
CATERPILLAR EQUIPMENT MAINTENANCE ONLINE COMMUNITY
HOW CAN WE HELP?
SHARE YOUR FEEDBACK OR ASK A QUESTION