D3G
The new D3G combines the power of a larger tractor with the versatility and maneuverability of a smaller machine in one package to meet a wide range of job applications. With its comfortable operator station, excellent visibility and simple joystick control, the D3G is everything you expect from Caterpillar and more!
SPECIFICATIONS
Engine
Weights
Operating Weight - XL
16227 lb
Operating Weight - LGP
17160 lb
Transmission
Relief valve settings
6380 psi
Maximum travel speed - forward
5.6 mph
Maximum travel speed - reverse
6 mph
Service Refill Capacities
Crankcase and filter
3.4 gal
Final drives, XL (each side)
3.6 gal
Final drives, LGP (each side)
5.4 gal
Transmission/hydraulic tank
12 gal
Hydraulic Controls
Relief valve setting
2900 psi
Standards
ROPS
SAE J397-OCT95, SAE J1040-MAY94, ISO 3471-94, ISO 3164-95
FOPS
SAE J231-JAN81, ISO 3449-92
Final Drive
Steering and Braking
Winch
Rope diameter - recommended
0.63 in
Rope diameter - optional
0.75 in
Drum capacity - recommended cable
371 ft
Drum capacity - optional cable
257 ft
Maximum line pull - bare drum
40000 lb
Maximum line pull - full drum
25000 lb
Maximum line speed - bare drum
132 ft/min
Maximum line speed - full drum
207 ft/min
Ripper
Maximum digging depth
13.3 in
Maximum reach at ground line
29.1 in
Maximum ground clearance under tip
16.2 in
Undercarriage
Length of track on ground - XL
81 in
Length of track on ground - LGP
81 in
Ground contact area - XL
2586 in2
Ground contact area - LGP
4045 in2
Ground pressure - XL
6.27 psi
Ground pressure - LGP
4.24 psi
Blade
Blade width - Intermediate
115 in
Blade width - LGP
123.9 in
Blade height - Intermediate
33.2 in
Blade height - XL
36.8 in
Blade height - LGP
33.2 in
Blade capacity - Intermediate
1.86 yd3
Blade capacity - XL
1.88 yd3
Blade capacity - LGP
2 yd3
Digging depth - Intermediate
20.7 in
Digging depth - XL
21.8 in
Digging depth - LGP
20.7 in
BENEFITS & FEATURES
AccuGrade Laser Grade Control System
Advanced laser technology simplifies grading, improves accuracy, increases productivity and lowers operating costs.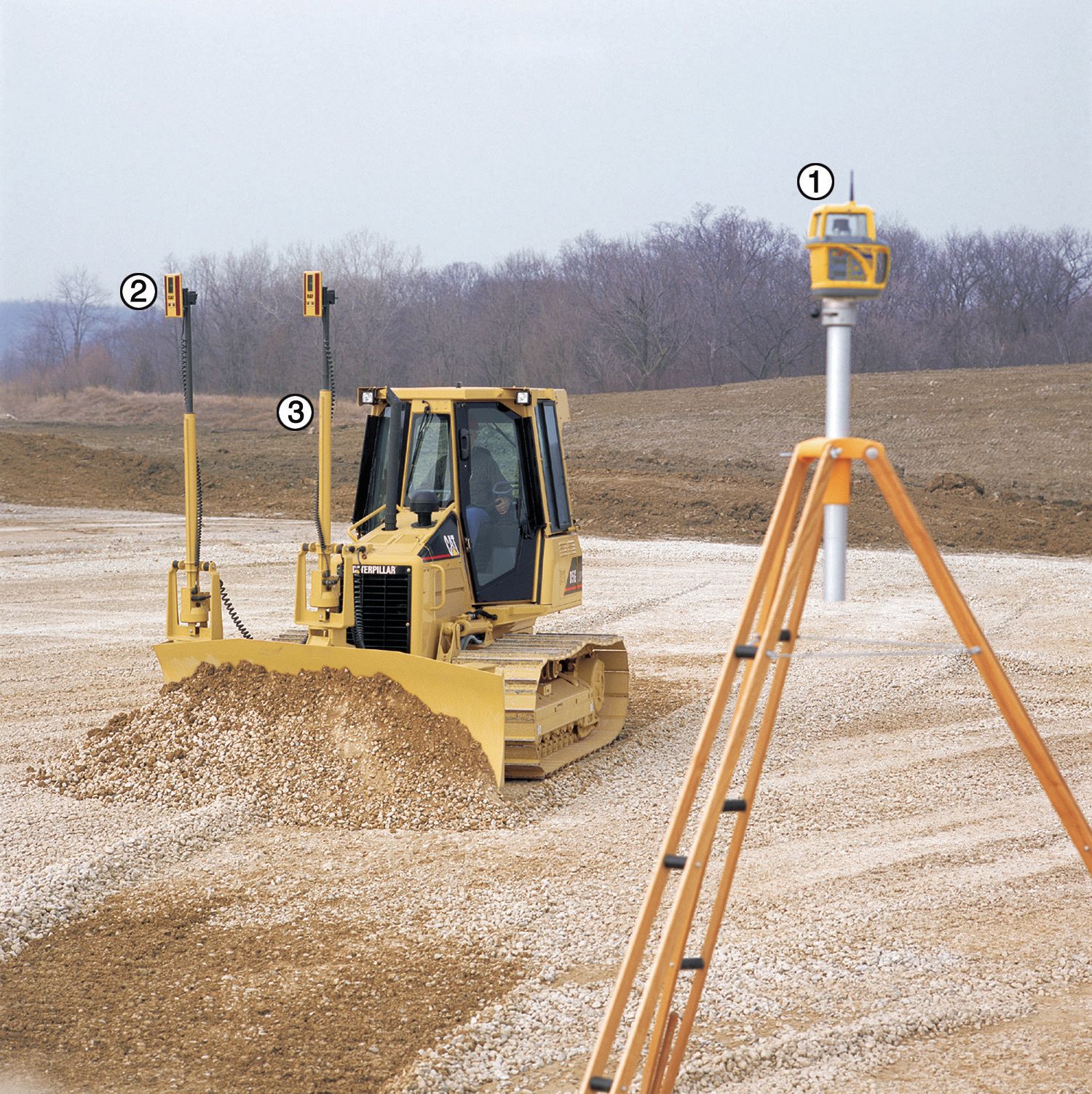 Advantages
Current earth moving and fine grading processes are labor intensive, dependent on manpower and instruments. Maintaining consistent grade between grade stakes is challenging, even for experienced operators. The AccuGrade Laser Grade Control System reduces labor requirements, aids operators in maintaining a consistent grade across the worksite and reduces material cost.
Simple Operation
The AccuGrade System consists of 4 basic components:
Laser Transmitter
Laser Receiver
Electric Mast
In-Cab Display
1) Laser Transmitter
An off-board laser transmitter (sold separately) emits a thin beam of light that rotates 360º, creating a grade reference over the work area. The transmitter is mounted on a tripod so the laser beam can rotate unobstructed above the tractor.
2) Laser Receivers
A digital laser receiver, mounted on a telescopic mast above the blade's cutting edge, is used to detect the laser beam. During grade set-up, with the cutting edge placed at finish elevation, the electric mast automatically positions the laser receiver to within 1.5 mm of the center of the laser beam. As the blade moves above or below finish grade elevation during the grading process, correction information is sent to the in-cab display. One receiver is required for single dimension control (lift) and two receivers are required for two-dimensional control (lift and tilt).
3) Electric Masts
Electric adjustable machine-mounted telescopic mast(s) are used for mounting the laser receiver(s) over the cutting edge, ensuring unobstructed laser reception. Powered by an electric motor, the operator can vertically raise and lower the mast(s) from inside the cab for precise positioning of the receiver(s)' elevation.
4) In-Cab Display
The in-cab display with easy to read grade indicator and backlit elevation display delivers all AccuGrade system information to the cab for easy viewing by the operator. The in-cab display arrows show the blade's position relative to grade and indicates cut or fill requirements of the work area. A built-in beeper provides audible tones to indicate grade errors and switch activation. Push button operation allows the operator to easily switch from manual mode for rough grading to automatic for fine grading.
Applications
The AccuGrade System is designed for a wide range of construction earthwork applications requiring tight tolerances and high production rates. The single laser system or dual laser system can be selected depending on the job requirements. The single laser system is ideal for fine grading sites with flat, single slope surfaces. The more versatile dual laser system is well matched for single or dual slope surfaces such as industrial, commercial and residential building sites.
Automatic Blade Control Feature
Automatic control of the blade's lift and/or tilt, depending on single or dual receiver system, provides consistent accuracy with higher productivity by reducing blade control demands on the operator. Based on correction signals, a hydraulic control valve automatically raises or lowers the blade cutting edge to maintain the correct blade cutting edge elevation. A single push button mounted on the blade control lever, allows the operator to easily switch from automatic to manual control for various work conditions.
Weatherproof Design
All components are designed rugged for dependable performance in harsh environments.
Operator Station
The redesigned operator station is quieter and more spacious for a comfortable work environment.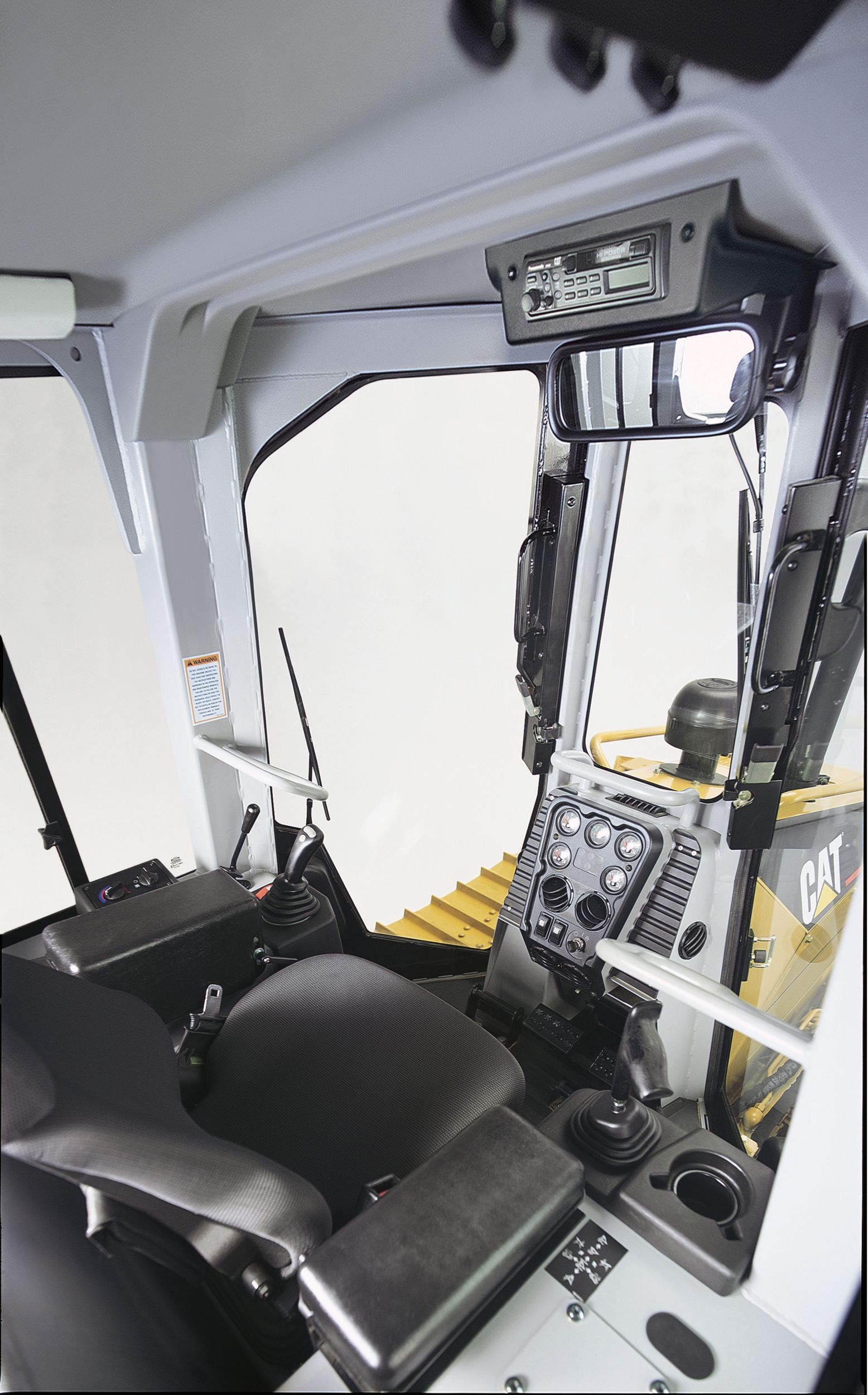 Redesigned Operator Station
Based on the cab designs of the large Caterpillar track-type tractors, the operator station has been redesigned to be more spacious. The new ergonomic layout emphasizes simplicity, ease of use and comfort. A new climate control system (HVAC), increased leg room and enhanced visibility allow the operator to focus on the job. With 13% more tinted glass area, the operator station provides a clear view to the blade and the surrounding work site.
Other Cab Conveniences
Vertical & horizontal armrest adjustments
Directed air vents in key locations
Wide angle rear view mirror
Cupholder
12 volt power port
Radio ready factory installed components including speakers, antenna and all wiring brackets
Dome light
Coat hook
Tie down for lunch box
Air conditioner (standard equipment)
Reduced Sound Levels
Sound levels are greatly reduced to further enhance the operator's comfort.
VPAT Dozer Control
A single lever control handle is used to control all blade lift, angle and tilt functions. The ergonomically designed handle fits comfortably in the operator's hand and delivers superb grading results.
Ease of Entry and Exit
The hexagon shaped cab provides plenty of space to enter the roomy operator compartment. Easy to reach door handles make it easy to enter and exit during the workday. Angled doors allow the operator to walk right into the cab.
Seat
The Caterpillar Comfort Suspension seat provides adjustable positioning to fit any operator. It is the most comfortable seat in the industry and features:
3" wide retractable seatbelt
Fore/aft positioning
Back cushion angle adjustment
Seat cushion tilt
Back rest extension
Lumbar adjustment
Height adjustment
Cloth seat is standard with cab; vinyl seat is available on open canopy machines
Decel Pedal
Decelerator allows operator to modulate ground speed effortlessly. Intuitive control enhances operator confidence when maneuvering in and around structures.
Monitoring Package
The monitoring package allows the operator to be aware of system conditions without having to constantly view gauges. Fuel level, hydraulic oil temperature, oil pressure, coolant temperature, and maximum speed setting gauges are all included in the instrument panel. Indicator lamps warn operator of:
Low oil pressure
Power train oil filter bypass
Low alternator voltage
Parking brake engaged
Electronic control fault
Water in fuel
Air inlet restriction
Air intake heater
Other Features
Footrests for operator comfort and stability
Vandalism guard to protect dash and instruments (canopy machines only)
Visibility
The key to great grading is excellent visibility, and we deliver.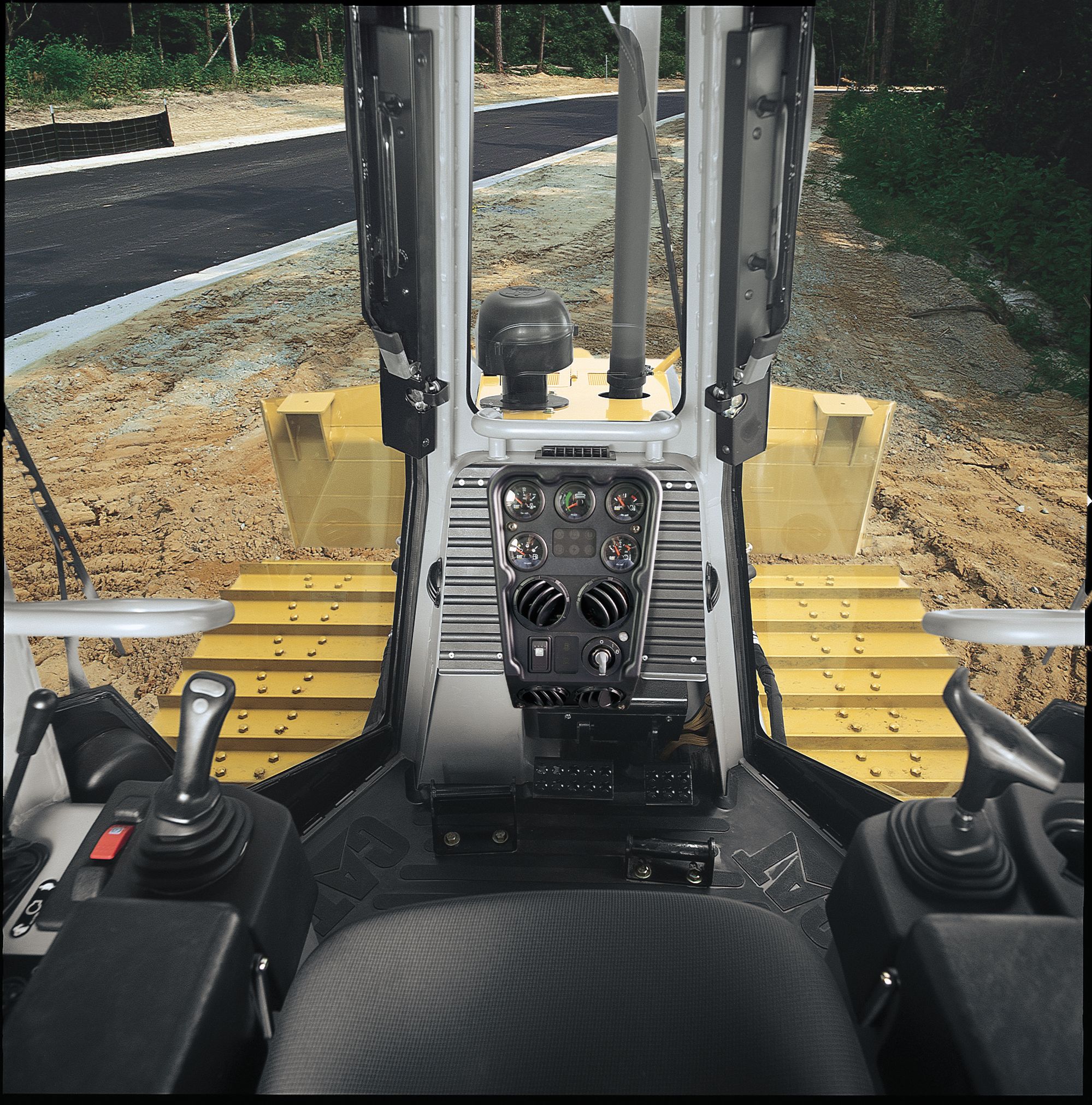 Excellent Visibility
Visibility is key to productive grading. The D3G delivers excellent visibility to the blade corners and edges. No longer does an operator have to grade by feel. He can easily see blade corners and cutting edges. Wide open peripheral vision allows the operator to have an optimum view of the jobsite.
Windows
Large, tinted windows provide excellent visibility to the blade and surrounding work site. Large, sliding side windows provide flow-through ventilation. With 13% more glass area, the operator station delivers an outstanding view all around the machine.
Excellent Line of Sight to Blade
Grade stakes and utility structures are easy to see and maneuver around with the G-Series tractors.
Angled Doors
Angled doors on the left and right hand sides provide virtually unrestricted visibility to the sides of the machine.
Engine
The well-proven Caterpillar 3046T six-cylinder engine provides smooth, responsive power, excellent fuel economy and lasting reliability.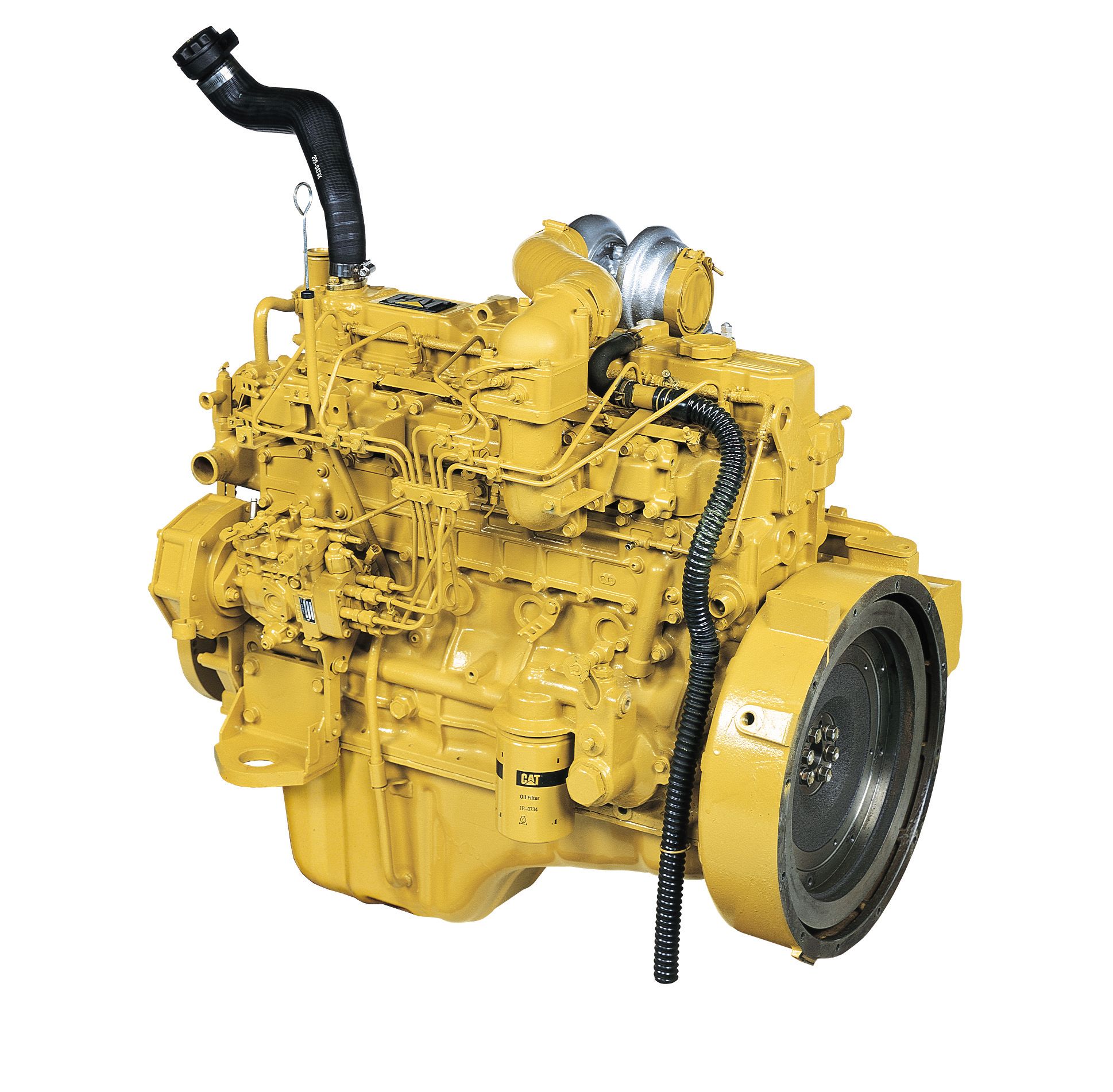 Caterpillar 3046T Diesel Engine
Designed specifically for small to medium size earthmoving machines, the Cat six-cylinder 3046T engine is inherently balanced, providing low vibration, superior performance and exceptional responsiveness. The 3046T engine is designed for improved response and performance at lower engine speeds. This is important for earthmoving machines in the under 100 hp size class, allowing operators to work in tight spaces, at part throttle and slower travel speeds without sacrificing responsiveness. The turbocharger also helps reduce fuel consumption and sound levels.
Direct Injection Fuel System
The direct injection fuel system is adjustment free for reduced maintenance. High pressure fuel injection results in reduced fuel consumption and emissions. Electric, internal fuel shut-off solenoid is protected from the elements to provide long life.
Turbocharger
The turbocharger improves response and performance at low to medium engine speeds.
Spin-on Oil and Fuel Filters
Spin-on oil and fuel filters are vertically mounted and easily accessible for faster maintenance.
Air Inlet Heater
The air inlet heater delivers dependable starts when operating in cold temperatures. A built-in temperature switch helps ensure lasting reliability.
Lubrication System
Gear driven oil pump provides lubrication from a deep sump oil pan. An efficient, multiple-plate, water-cooled oil cooler prolongs engine and lubricant life.
Cooling System
A large diameter fan and full length, water-cooled cylinders, combined with excellent thermal efficiency, minimize heat rejection, prevent overheating and prolong engine life.
Regulations
The Caterpillar 3046T engine is EPA Tier 2, MOC Step 2, and CE Stage 2 emissions certified.
Hydrostatic Transmission Control
Simple joystick control eases operation and increases productivity.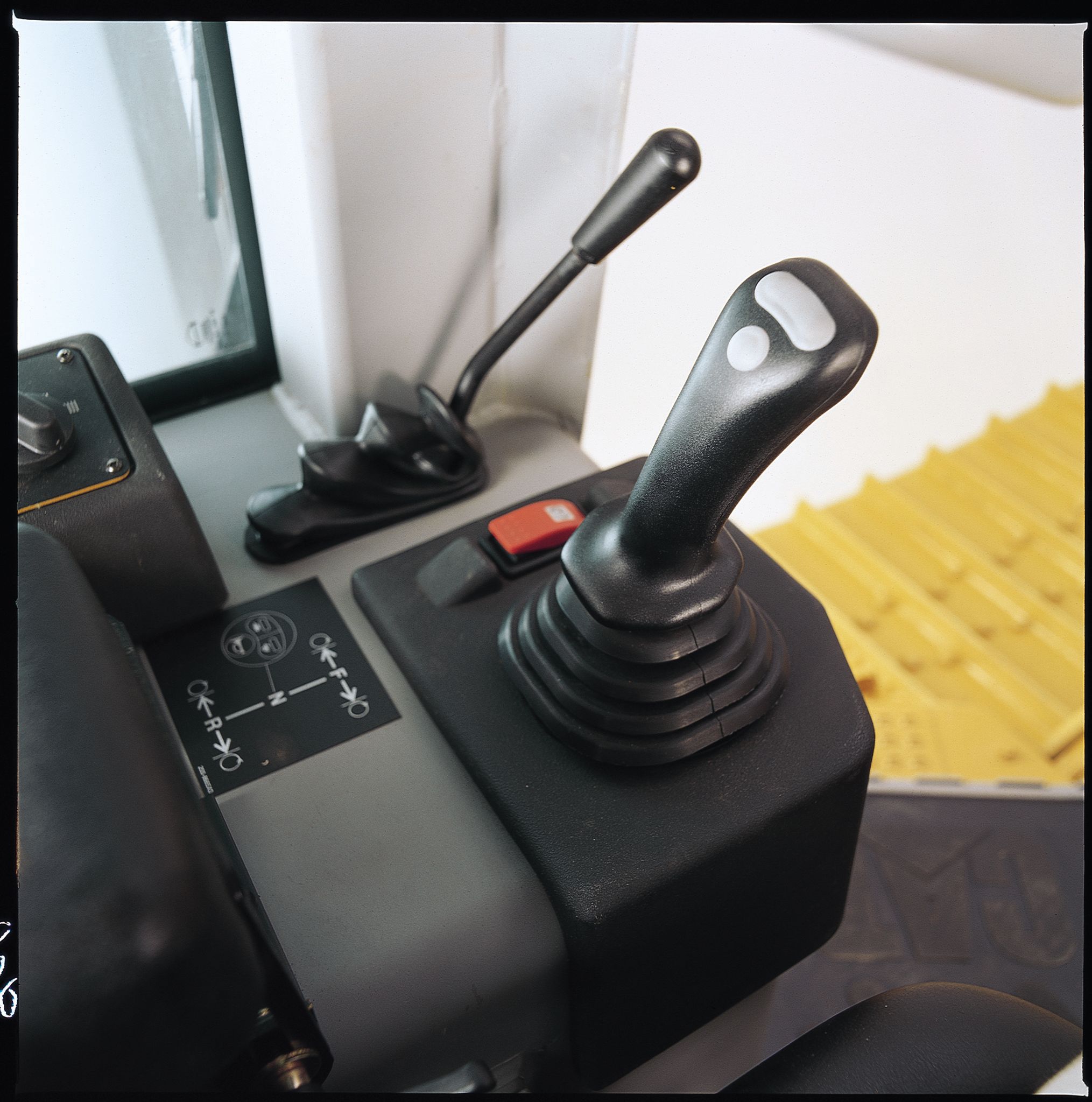 Simpler Operation, Improved Control
We listened to our customers and designed the new G-Series machines with even simpler operation and improved control. This allows the operator to concentrate on more important aspects of the job such as blade control.
Joystick Control
The joystick control is easy to use. Speed, direction and steering are all controlled with the joystick. The result is easier operation and improved productivity. Ergonomic placement reduces operator effort and fatigue.
Speed and Direction
The joystick has three simple detented positions for travel: forward, reverse and neutral. A new feature is the capability to utilize faster reverse speed as a percentage of forward speed for increased productivity. Two joystick-mounted buttons are used to infinitely increase and decrease speed. An indicator on the dash displays the tractor's current operating speed setting. When the joystick is moved to the neutral position, the machine stops.
Steering
With the machine moving in forward or reverse, move the joystick to the left to turn the machine to the left; move the joystick to the right to turn right. The more the handle is moved to the right or left, the tighter the turn. Regardless of ground conditions, steering is consistent and predictable. Moving the joystick to the far right or left will make the tracks counterrotate for maneuvering in tight work areas.
Counterrotation
The D3G maneuvers easily through side loading blade applications. Simply engage counter- rotation briefly to correct machine position. Counterrotation also provides easy, quick maneuvering in small, confined work areas.
Tracking
The D3G has excellent tracking capabilities which increase productivity on side slopes.
Powerturn
Utilizing active effort of both tracks during a turn allows for more pushing power at the blade and less spillage of material from the blade.
Undercarriage
Durable components provide maximum performance and wear life.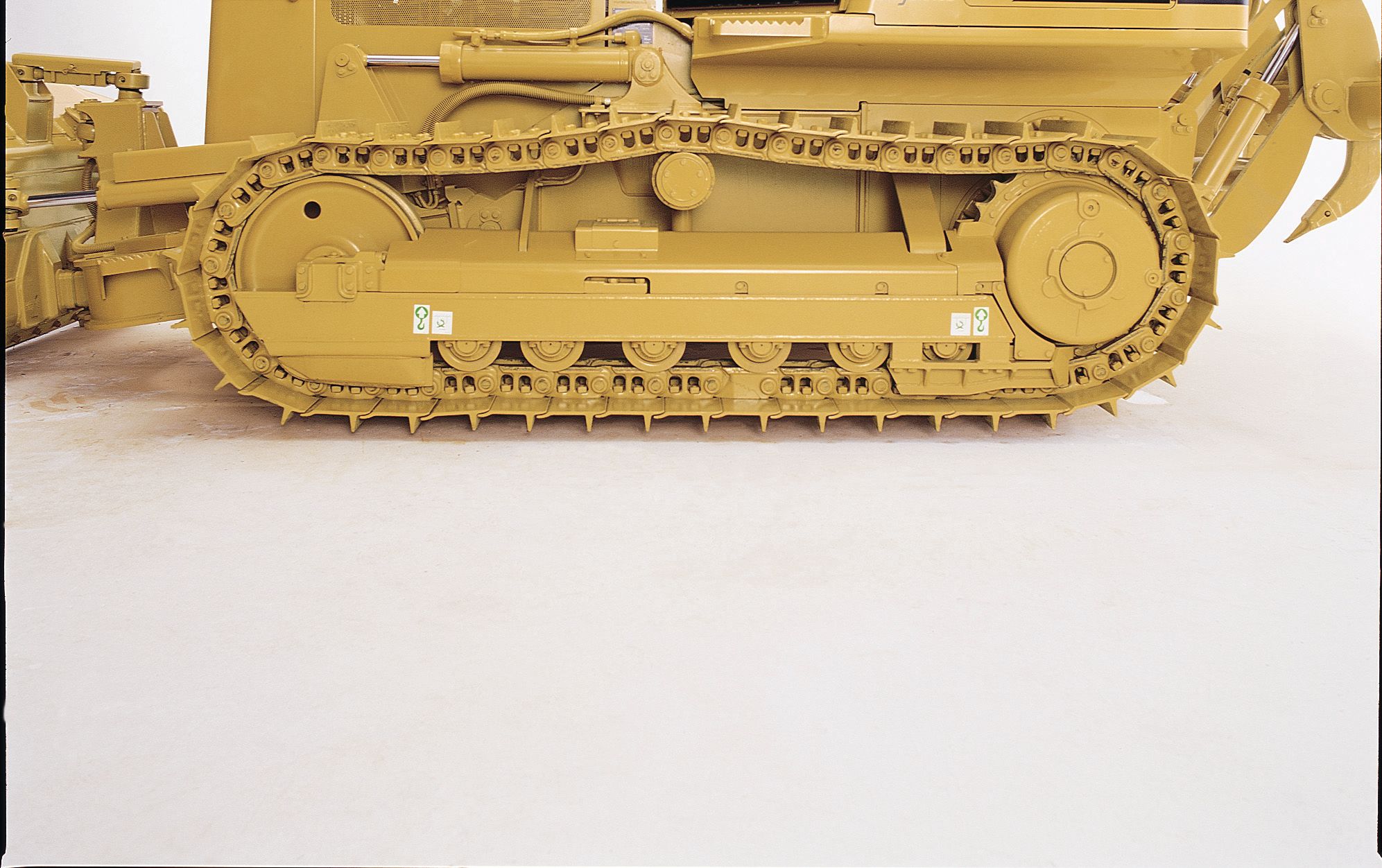 Durable Components
Advanced metallurgy processes produce improved life for bushing and sprocket segments. Segmented sprockets (standard equipment) offer easy serviceability and low replacement cost compared to replacing the complete sprocket hub. Caterpillar undercarriages are designed for long wear and lower owning and operating costs.
Complete Guarding
Caterpillar undercarriages are designed with full length guarding on top of the track roller frame. This prevents abrasive material from falling down on moving parts.
Available Configurations
The D3G is available in either an extra long (XL) or low ground pressure (LGP) undercarriage configuration.
XL Undercarriage
Track length is extended on extra long (XL) undercarriages for increased ground contact area and flotation, superior balance and excellent finish grading.
LGP Undercarriage
The low ground pressure (LGP) undercarriage offers a wider track, increasing ground contact area for optimum flotation and greater stability on sloping and finish grading jobs.
LGP with Standard Shoes
For increased stability when additional flotation is not required, 406 mm (16") track shoes are available for the D3G LGP.
Blade and Mainframe
With a 14% increase in blade capacity, the Variable Pitch, Power Angle and Tilt (VPAT) blade is designed and built for unmatched versatility, durability and strength.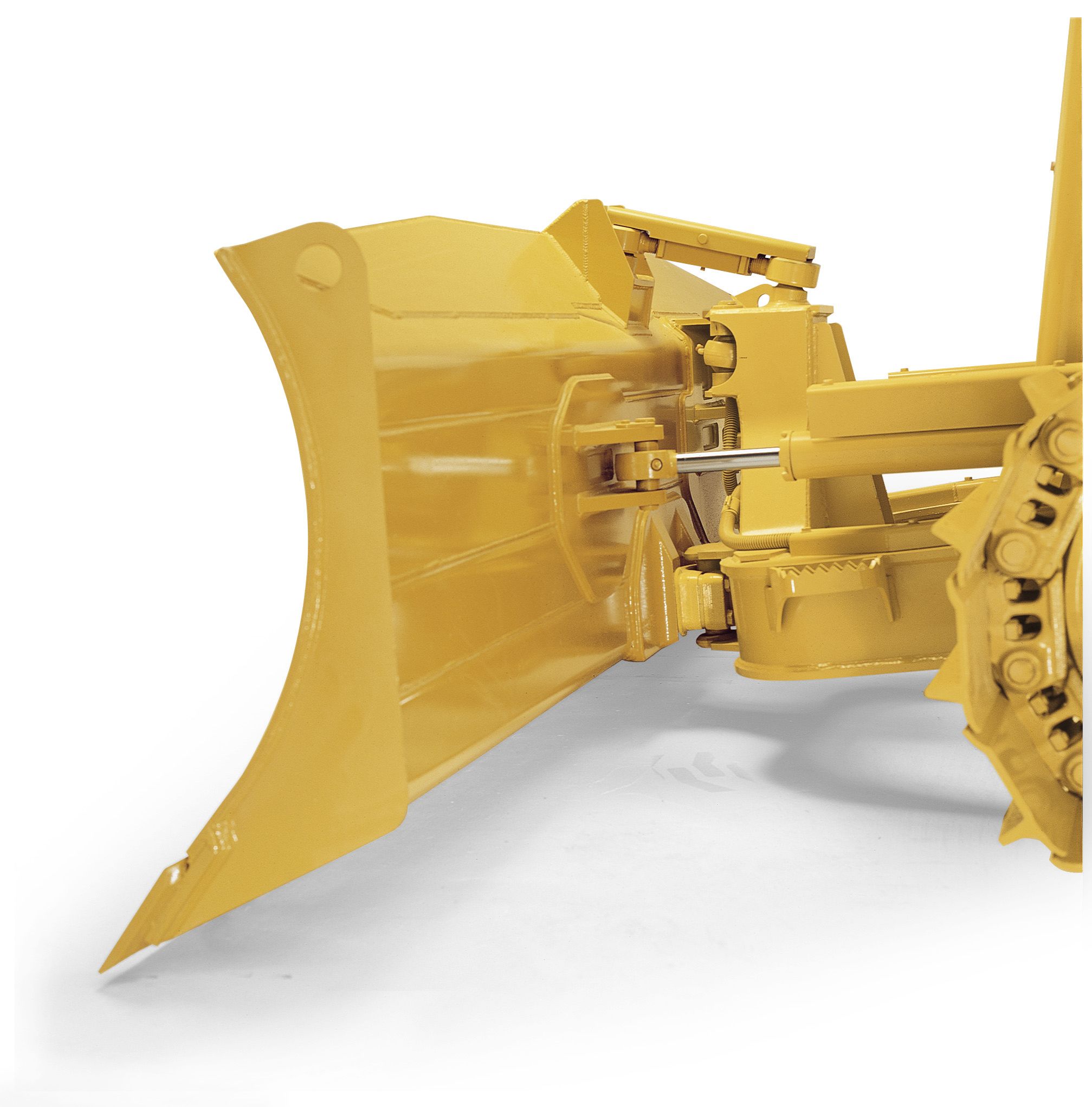 VPAT Blade
The VPAT blade is specifically designed for finish grading, backfilling ditches, cutting V ditches, windrowing, fill spreading, medium land clearing and heavy dozing. VPAT blades are built with four full-width (three on intermediate and LGP), box-section reinforcement cells for unmatched strength and durability.
Increased Blade Capacity
Blade capacity has been increased by 14% to greatly improve productivity.
Larger Trunnion
The blade trunnion ball size has been increased to provide longer life of the trunnion and reduce owning and operating costs. The trunnion is also now mounted on the C-frame instead of the blade.
Adjustable Top Pitch Link
The adjustable top pitch link provides a solid link between the blade and the top of the tilt tower on the C-frame. The turn buckle top pitch link allows the blade pitch to be adjusted without the use of tools. The cutting edge position can be adjusted between 50 and 55 degrees. The pitch link cover has been redesigned to provide better retention.
Improved Pin Joints
Pin joints have been improved to be more durable and provide longer life. Remote lubrication points provide easier service.
One-Piece Mainframe
Modeled after the large Caterpillar track-type tractors, the mainframe provides a solid back bone for handling forces generated during tough dozing. The robotic welding process delivers reliability and durability throughout the life of the machine.
Hydrostatic Winch
Providing high line pull and high line speed, this new winch improves control for better modulation.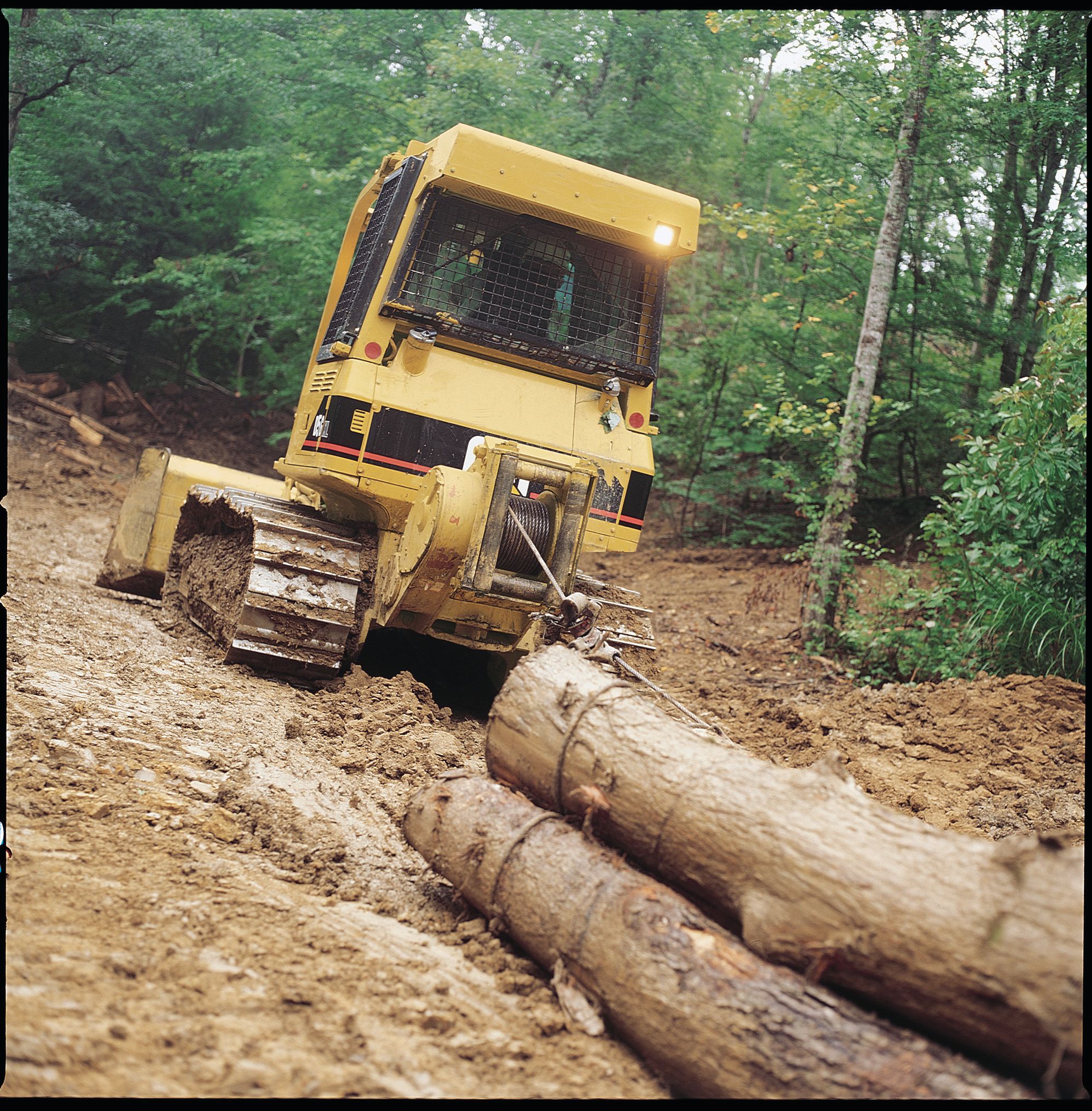 Hydrostatic Winch
Previous mechanical winches were driven by shafts and controlled by brakes and clutches. This new winch is driven by its own closed-loop hydrostatic system consisting of a variable displacement hydraulic piston pump and motor.
Infinitely Variable Speed Control
This winch offers outstanding control of the load with infinitely variable modulation of speed and pull. Other shaft-driven winches force the operator to choose the gear ratio of the winch. The G-Series hydrostatic winch eliminates this compromise by providing the speed of a standard speed winch and the pull of a low speed winch, all in one package.
Forestry Segment
A new, easier way to work in the woods. The new hydrostatic winch makes the job easier with:
Excellent line pull at any speed
Infinitely variable drum speed
Lower operator effort
Excellent load control
360 Degree Guarding
All around screen guarding is available. Canopy version includes screened, hinged doors with dampening device along with side and rear screens. The cab version offers Lexan glass doors for improved visibility while providing protection. Meets OSHA and WCB requirements.
Attachments
New Cat work tools increase your productivity. Product Link and Machine Security System help protect your investment.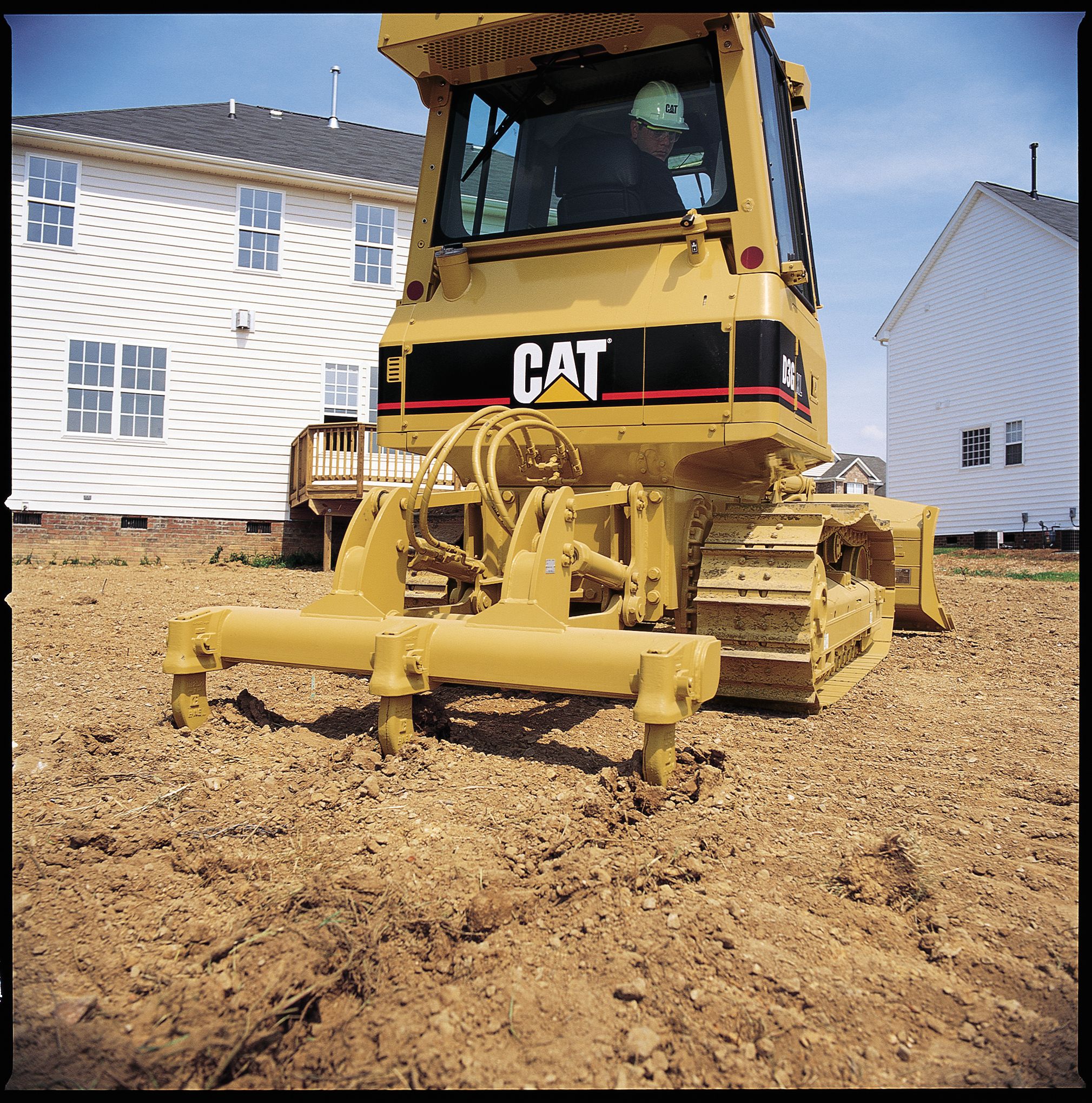 Parallelogram Ripper
This new, larger tool is more aggressive and allows the operator to do more effective ripper work. Heavy duty design provides long life. Parallel linkage design allows for better penetration and maneuverability in tight working areas. A longer shank delivers more work per pass making the machine more productive.
Hydrostatic Winch
The new Caterpillar exclusive hydrostatic winch provides smooth modulation, infinitely variable speed and better control.
Product Link
This option allows the customer or dealer to obtain machine diagnostics and location from their office, eliminating trips and phone calls. Scheduled service can be completed more efficiently, thus reducing owning and operating costs. Product Link provides updates on service meter hours and machine location as well as integrated mapping/route planning.
Machine Security System
Secure your investment with the Caterpillar Machine Security System (MSS), a programmable key system that provides optimum machine security for both fleet users and single users. MSS can reduce owning and operating costs by preventing unauthorized machine use, thus saving fuel and maintenance costs. MSS prevents theft and vandalism, which may reduce insurance costs.
Serviceability and Customer Support
Cat dealer services help you operate longer with lower costs.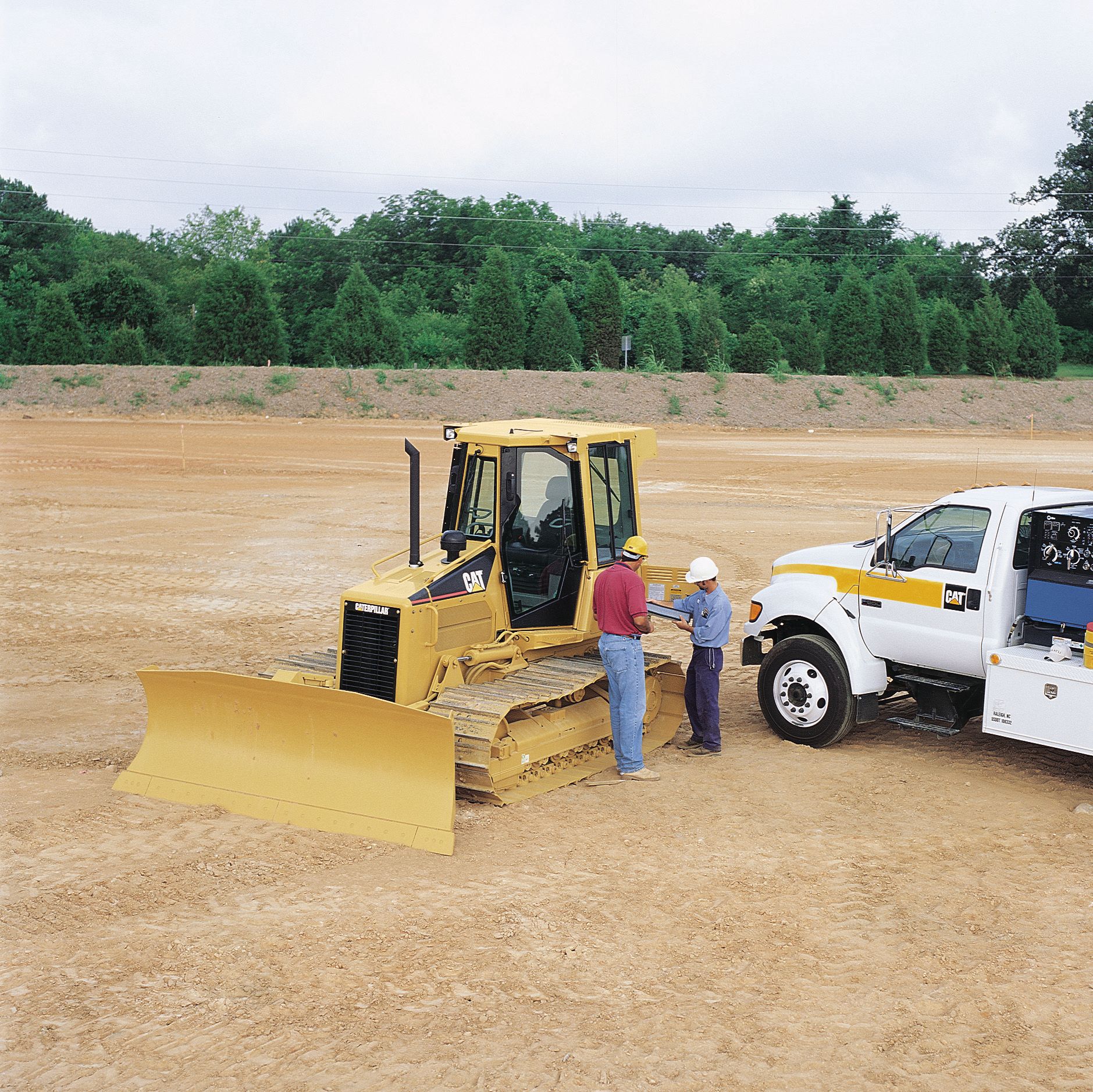 Serviceability
Longer service intervals and easier maintenance result in better machine availability and lower owning and operating costs. The D3G features:
Side by side radiator/transmission cooler
Easier filter access
Turbine precleaner
Centrally located hydraulic pressure tap bank
Extended oil and oil filter change intervals
Extended oil dipstick
Comprehensive on-board diagnostics
Coolant level sight gauge
Right Side Access Doors
Access doors provide easy access to the diagnostic test bank, hydraulic oil filters and disconnect switch.
Left Side Access Doors
Left side access doors provide easy access to:
Cab fresh air filter
Heavy duty battery
Fuel/water separator with filter
Grease gun holder
Selection
Make detailed comparisons of the machines you are considering before you buy. What are the job requirements? What production is needed? What is the true cost of lost production? Your Cat dealer can give you precise answers to these questions.
Purchase
Look at the value G-series tractors offer. Consider all the flexible financing options your Cat dealer offers as well as day-to-day operating costs.
Operation
Improving operating techniques can boost your profits. Your Cat dealer has training literature and other ideas to help you increase productivity.
Maintenance
Repair options guarantee the cost of repairs up front. Diagnostic programs such as Scheduled Oil Sampling and Technical Analysis help you avoid unscheduled repairs.
Replacement
Repair, rebuild or replace? Your Cat dealer can help you evaluate the cost involved so you can make the right choice.
Product Support
You will find high availability of parts at our dealer parts counter. Cat dealers utilize a worldwide computer network to find in-stock parts to minimize machine downtime. Additionally, Caterpillar offers a line of genuine remanufactured components which can help lower repair costs.
Easy Financing
Your Cat dealer can provide a financing package to meet your needs.
EQUIPMENT
Standard Equipment
POWERTRAIN
Air-to-oil transmission cooler and side by side radiator
Air cleaner, radial dry-type with turbine precleaner
Blower fan
Cat 3046T 6-cylinder diesel engine with 12-volt direct electric key start/stop
Fuel priming pump, electric
Fuel/water separator with integral filter
Hydrostatic transmission, dual path, closed loop
Muffler
ELECTRICAL
Air inlet heater
Alternator, 110 amp
Back-up alarm
Batteries, heavy duty, 12-volt, 900CCA (2)
Horn
12-volt powerport
UNDERCARRIAGE
6 roller track frame
57 inch gauge - XL
66 inch gauge - LGP
Sealed and lubricated tracks (39-section)
16 inch single grouser shoes - XL
25 inch single grouser shoes - LGP
Front/rear guiding guards
Full length recoil guards with sprocket wiper plates
Hydraulic track adjusters
Segmented sprockets
Split master link
HYDRAULICS
3 valve
Hydraulic pump and oil
Single lever-three function control
ANTIFREEZE
Extended Life Coolant -37°C (-34°F)
OPERATOR ENVIRONMENT
ROPS, Canopy
Headliner
Dash mounted lighted gauge package includes:
Indicator lights:
Service hour meter
Comfort adjustable vinyl suspension seat
Seat belt (3 in)
Adjustable arm rests
Joystick control lever:
Adjustable foot rests
Decelerator
12-volt powerport
OTHER STANDARD EQUIPMENT
C-Frame, VPAT, hydraulic cylinders and lines
Heavy duty crankcase guard
Engine enclosures
Heavy-duty hood, radiator guard and grill
Retrieval hitch (rear)
Front pull device
Vandalism protections
Instructions, English
Electronic technician connector
Product Link - Installation ready
CONNECT. DISCUSS. SOLVE.
CATERPILLAR EQUIPMENT MAINTENANCE ONLINE COMMUNITY
HOW CAN WE HELP?
SHARE YOUR FEEDBACK OR ASK A QUESTION