D11R
The D11R's elevated sprocket increases productivity, simplifies maintenance, reduces downtime with modular components, and raises final drives and associated power train components out of the work environment.
SPECIFICATIONS
Engine
Net Power - Caterpillar
850 hp
Net Power - ISO 9249
850 hp
Net Power - EU 80/1269
850 hp
Weights
Operating Weight
230100 lb
Shipping Weight
163543 lb
Undercarriage
Shoe Type
Extreme Service
Length of Track on Ground
14.58 ft
Ground Contact Area
9781 in2
Transmission
1 Forward - Drawbar Pull (1000)
337.2 lbf
2 Forward - Drawbar Pull (1000)
191 lbf
3 Forward - Drawbar Pull (1000)
105.7 lbf
Service Refill Capacities
Final Drives (each)
8 gal
Roller Frames (each)
25.1 gal
Pivot Shaft Compartment
13.5 gal
Implement Hydraulic System Tank Only
60 gal
Hydraulic Controls
Bulldozer Relief Valve Setting
3300 psi
Tilt Cylinder Relief Valve Setting
3525 psi
Ripper (Lift) Relief Valve Setting
3300 psi
Ripper (Pitch) Relief Valve Setting
3300 psi
Blades
Capacity (SAE J1265)
35.58 yd3
Width (over end bits)
18.37 ft
Ground Clearance
60.35 in
Weight* (without hydraulic controls)
35697.21 lb
Total Operating Weight** (with Blade and Single-Shank Ripper)
224772.03 lb
Capacity (SAE J1265)
44.99 yd3
Width (over end bits)
20.86 ft
Ground Clearance
60.35 in
Weight* (without hydraulic controls)
41497.56 lb
Total Operating Weight** (with Blade and Single-Shank Ripper)
230581.21 lb
Dimensions
Width without Trunnions (Standard Shoe)
12.5 ft
Overall Length Basic Tractor
34.4 ft
Rippers
Maximum Clearance Raised (under tip, pinned in bottom hole)
43.9 in
Maximum Penetration (standard tip)
63.46 in
Weight (without hydraulic controls)
21259.15 lb
BENEFITS & FEATURES
Engine
The 3508B engine, when matched with a field proven torque divider and power shift transmission, will provide years of dependable service.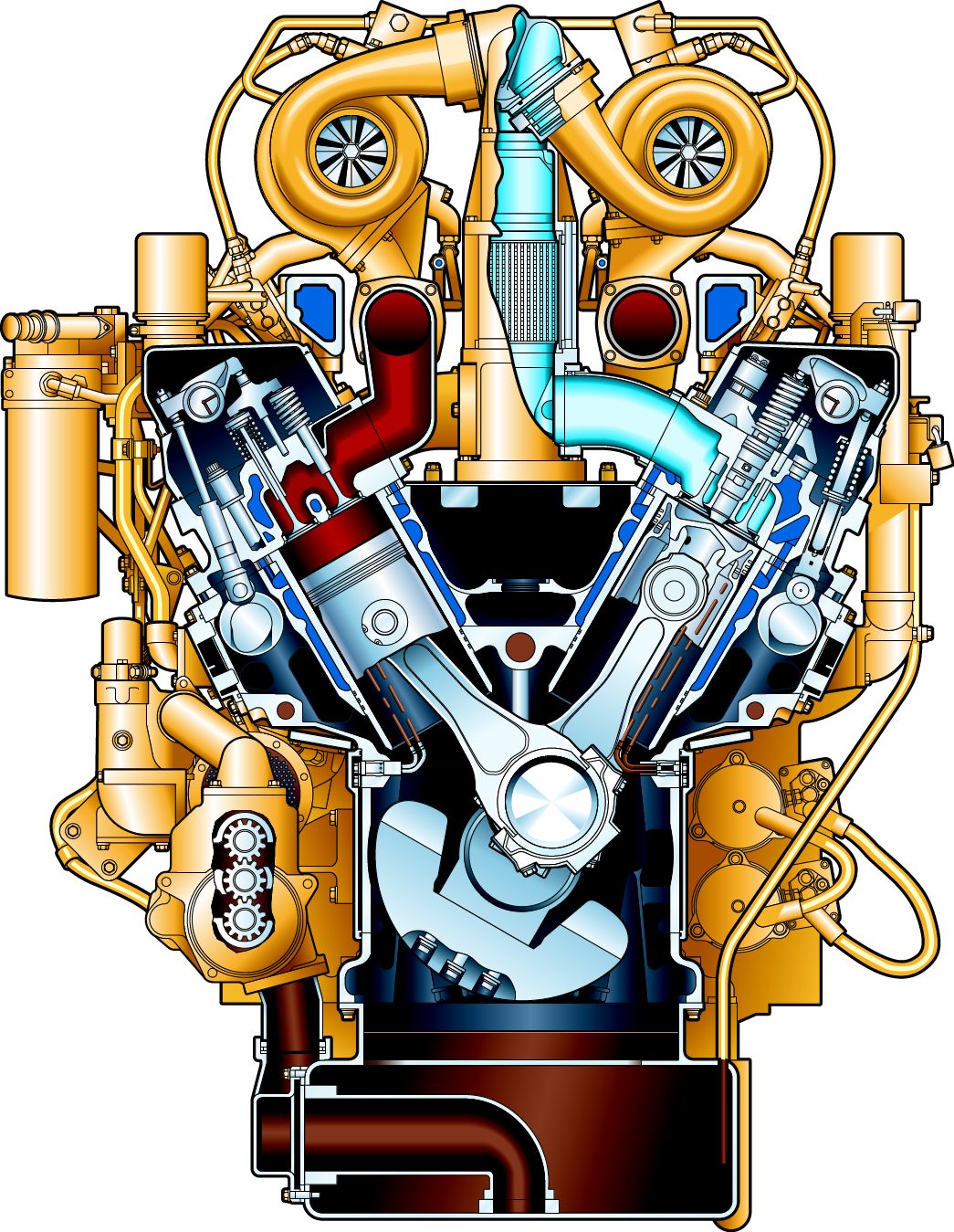 Diesel Engine
Caterpillar 3508B Diesel Engine with Electronic Unit Injection (EUI) performs at rated net power of 634 kW (850 hp) at 1,800 rpm with a torque rise of 25 percent and meets the worldwide emissions regulations for the Environmental Protection Agency (EPA), the European Union (EU) and the Japan Ministry of Construction (JMOC).
Turbocharging and Aftercooling
Turbocharging and aftercooling provide high horsepower while keeping rpm and exhaust temperatures low for long hours of continuous operation.
Electronic Unit Injection (EUI) System
The EUI system is a unique and proven high-pressure, direct injection fuel system. This system electronically monitors operator and sensor inputs to optimize engine performance and fuel efficiency by maintaining precise fuel settings.
EUI System
The EUI system provides higher injection pressure with shorter duration for improved fuel economy and reduced emissions.
Engine Overspeed Control
Automatic engine overspeed control, actuated hydraulically, helps keep the operator from overspeeding the engine.
Reliability and Durability
Proven reliability and durability result by electronically protecting the engine during cold starts, high-altitude operation and operation with plugged air filters.
Easier Maintenance and Repair
Engine maintenance and repair is easier through electronic monitoring of key functions and logging critical indicators. Electronic diagnostic access is possible with the Electronic Technician (ET).
Aluminum Spacer
An aluminum spacer between the block and head eliminates the need for block counterbores, extending block life.
Valves
Hardened-faced valves, through-hardened crankshaft journals and steel-backed, copper-bonded aluminum bearings help assure reliable performance in the toughest duty.
Component Life
Components live longer because oil-cooled pistons and full-length water-cooled cylinder liners provide maximum heat transfer. The cylinder heads also utilize additional coolant passages to provide maximum cooling to the engine.
Exchange Program
Cat dealer's exchange program for major engine components can cut repair time and costs.
Cooling System
Superior cooling in the most demanding work conditions.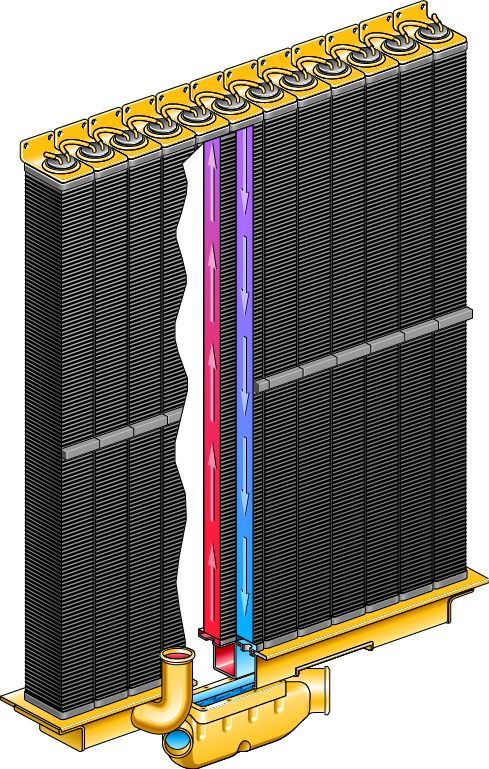 Cooling Capacity
Advanced Modular Cooling System (AMOCS) utilizes an exclusive two pass cooling system and increased cooling surface area to provide significantly more cooling capacity than conventional systems.
Servicing
The servicing of the AMOCS can be performed without tilting the radiator guard.
No need to remove or replace a major component as on single-core radiators.
Each core module can be replaced individually (without removing the entire radiator), saving considerable cost and repair time.
Circulation
Two pass cooling system circulates coolant from the sectioned bottom tank(1), up through one side of the cooling element(2), and down through the other side(3), returning it to the bottom of the tank.
Cooling Elements
The cooling elements are individual core modules that are connected to a sectioned bottom tank. There is no top tank to remove or service.
Has nine steel fins per inch.
Brass tube construction within each core.
Variable Speed Fan
Engine Control Module (ECM) regulates fan speed through a hydraulic variable displacement pump.
Increases available horsepower, reducing parasitic load.
Increases fuel efficiency.
Reduced spectator and operator sound levels.
Powertrain/Integration
Combining the electronic engine control with the Caterpillar electronic transmission control allows these critical power train components to work more intelligently.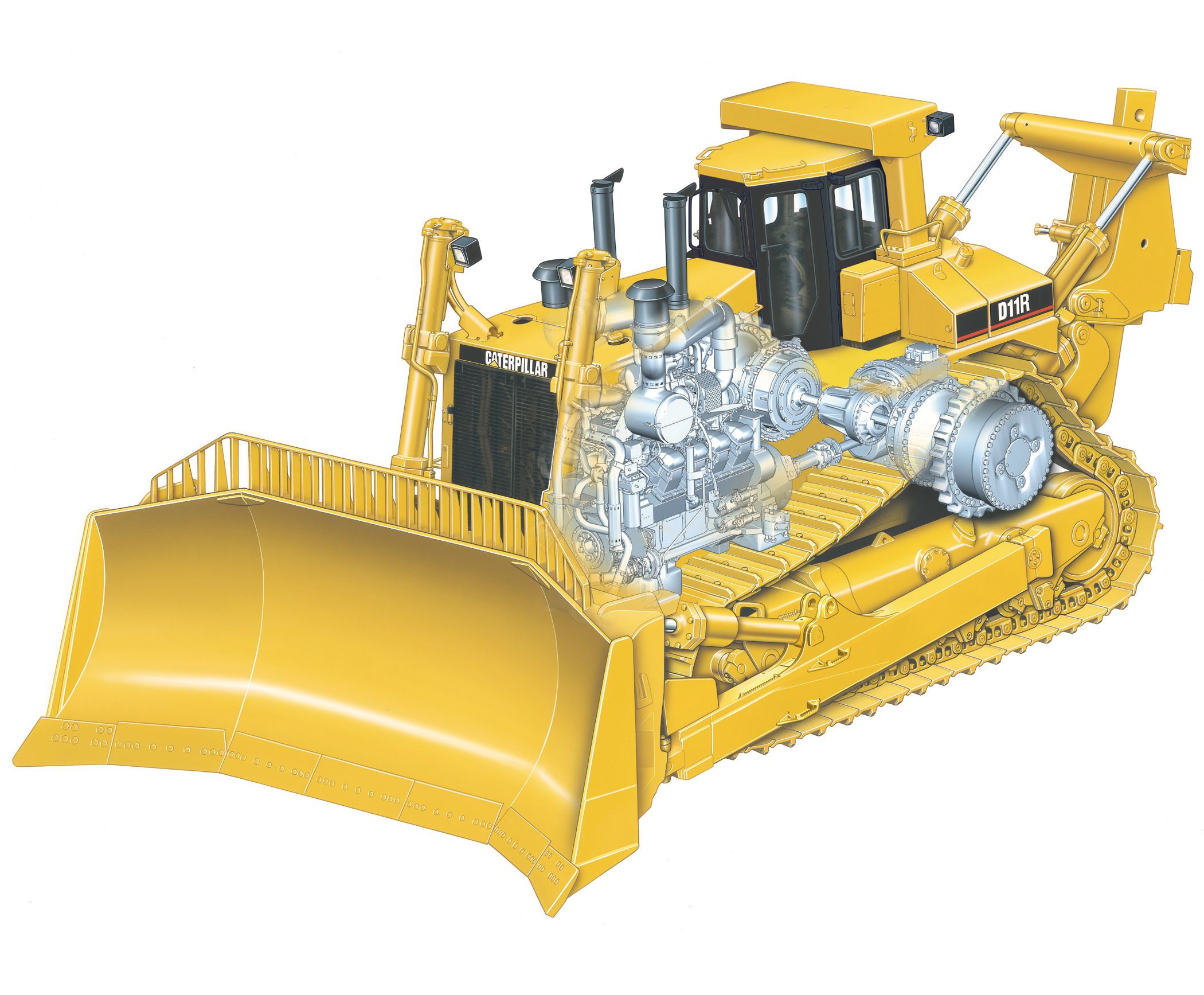 Torque Divider
A single-stage torque converter with output torque divider sends 75 percent of engine torque through the converter, 25 percent through a direct drive shaft for greater driveline efficiency and higher torque multiplication.
Transmission
Planetary Power Shift Transmission has three speeds forward and three speeds reverse and utilizes large- diameter, high-capacity, oil-cooled clutches.
Modulation system permits fast speed and direction changes.
Modular transmission and bevel gear slide into rear case for servicing ease, even with ripper installed.
Oil-to-water cooler for maximum cooling capacity.
Forced oil flow lubricates and cools clutch packs to provide maximum clutch life.
Controlled throttle shifting regulates engine speed during directional shifts for smoother operation and longer component life.
Size of bevel group unit increased for higher torque.
Final Drives
Elevated final drives are isolated from ground and attachment induced impact loads for extended power train life.
Double-reduction, planetary final drive gears provide smooth, quiet, low maintenance operation.
Splash lubrication and Duo-cone Seals extend service life.
Gears and planet carriers are sized for higher loads and increased durability.
Axle and spline have been enlarged for higher torque.
D11R Brakes
1 Thick, large diameter plates and disks provide higher torque capacity and increased service life. 2 Brake housing has cast-in ribs for more durability and a new valve design. 3 Cooling oil valve controls 75 gallon per minute of oil (increase of 78 percent). 4 Clutch disks provide greater torque capacity on the clutch. 5 Tapered roller bearing design provides increased service life.
Performance
By communicating, these components work to optimize overall power train performance, reliability and component life for reduced power train operating cost.
Cat Data Link
The Cat data link electronically connects the engine and steering controls for diagnostic and serviceability ease.
Improved Diagnostics and Serviceability
Improved diagnostics and serviceability are the result of electronic engine and transmission controls. The ability to store both active and intermittent indicators will simplify problem diagnosis and total repair time, resulting in improved me chanical availability and lower operating costs.
Access to diagnostic data is made easy through the use of a single service tool -- Electronic Technician (ET).
ET accesses data stored in the engine control module via the Cat Data Link. Information on engine boost pressure, fuel consumption, engine speed and transmission shift data can be retrieved by ET.
ET is also a powerful diagnostic tool. It replaces 13 mechanical tools to perform functions like cylinder cutout checks, injector solenoid test and timing calibration.
Operator Station
Designed for comfort and ease of operation.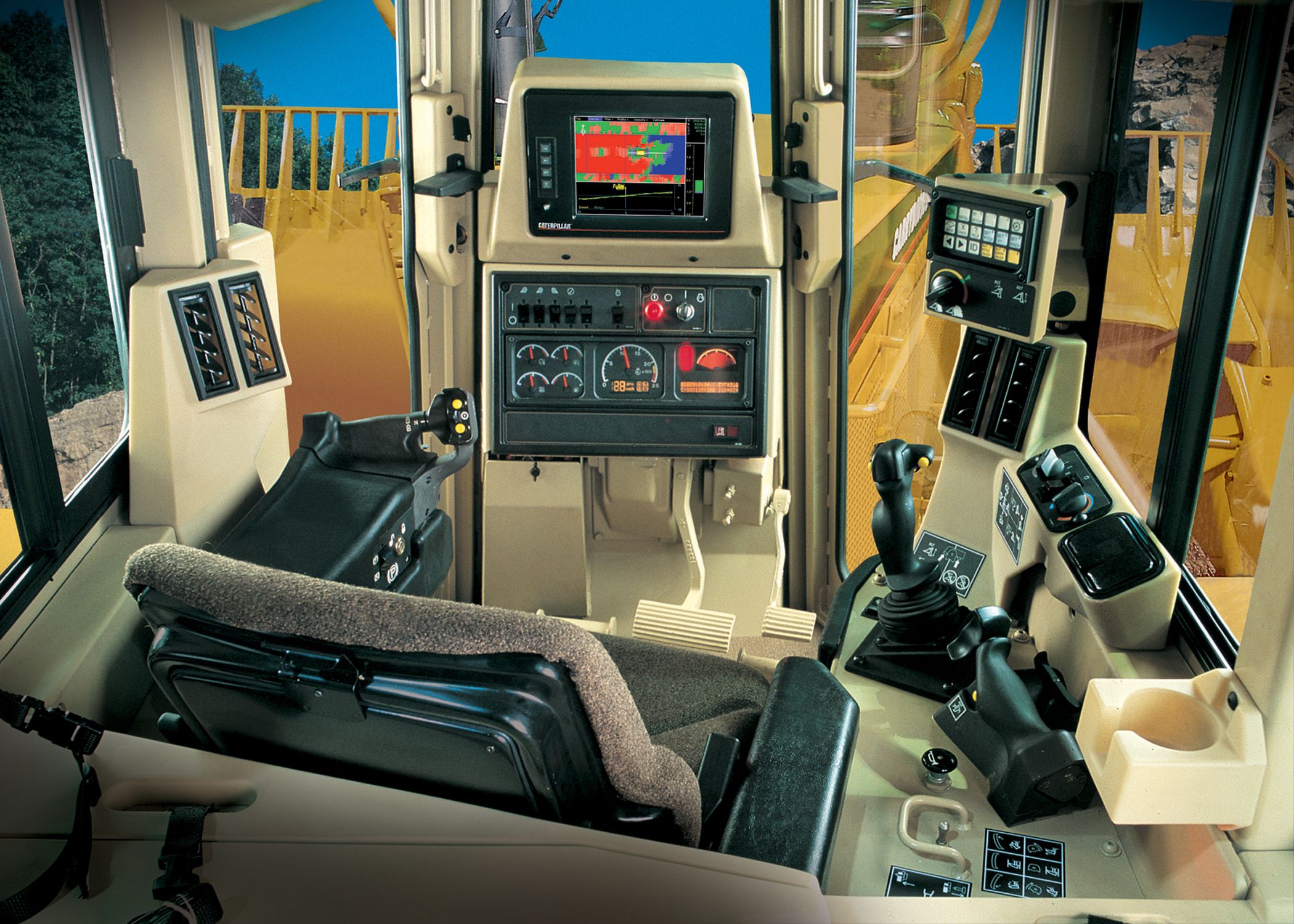 View
Angled seat, tapered hood and "notched" fuel tank give the operator a clear line of sight to the front and rear work areas. Large single-pane door windows allow the operator to see close-in to each side without leaning.
Operation
Comfortable, non-tiring operation. The isolation-mounted cab reduces noise and vibration, maintaining an internal sound level under 82 dB(A). A powerful heater/air conditioner with four-speed fan increases operator comfort. The cab is pre-wired for a 12-volt or 24-volt radio, and equipped with two speakers, antenna and radio mount recessed in the headliner.
1) Controls
Low effort Finger Tip Controls (FTC) are easily accessible and provide sure, precise maneuvering with enhanced operator comfort.
2) Seat
The Caterpillar Contour Series Seat is fully adjustable and designed for comfort and support. The seat cushion reduces the pressure on the lower back and thighs while allowing unrestricted arm and leg movement. Retractable 75 mm (3 in) wide seat belt provides positive, comfortable restraints. Padded armrests are adjustable to accommodate different size operators. Air suspension seat available.
3) Cat Vital Information Display System
Cat Vital Information Display System provides instant feedback on machine systems to the operator on all critical machine functions. The system also records performance data for assistance in diagnosis and troubleshooting.
4) Throttle
Throttle rocker switch simplifies operation. High or low idle is delivered with a touch of a finger. By pressing the decelerator pedal and holding the rocker switch at high idle for three seconds, any idle rpm can be set.
5) Electronic Dozer Joystick
A low-effort, comfortable-to-grip, electronic dozer joystick allows the operator control of all dozer functions with one hand.
6) Electronic Ripper Control
The rigidly mounted hand grip remains stable even when ripping in the roughest terrain.
7) Computer Aided Earthmoving System (CAES)
The CAES brings a new level of production and efficiency. A color display coupled with on-board software and GPS, gives real-time information to execute the site plan with centimeter level accuracy.
8) Attachment Deactivating Switch
Attachment deactivating switch turns power off to the dozer and ripper controls.
Vital Information Display System (VIDS)
Electronic monitoring system continuously watches machine systems and alerts operator to abnormal conditions.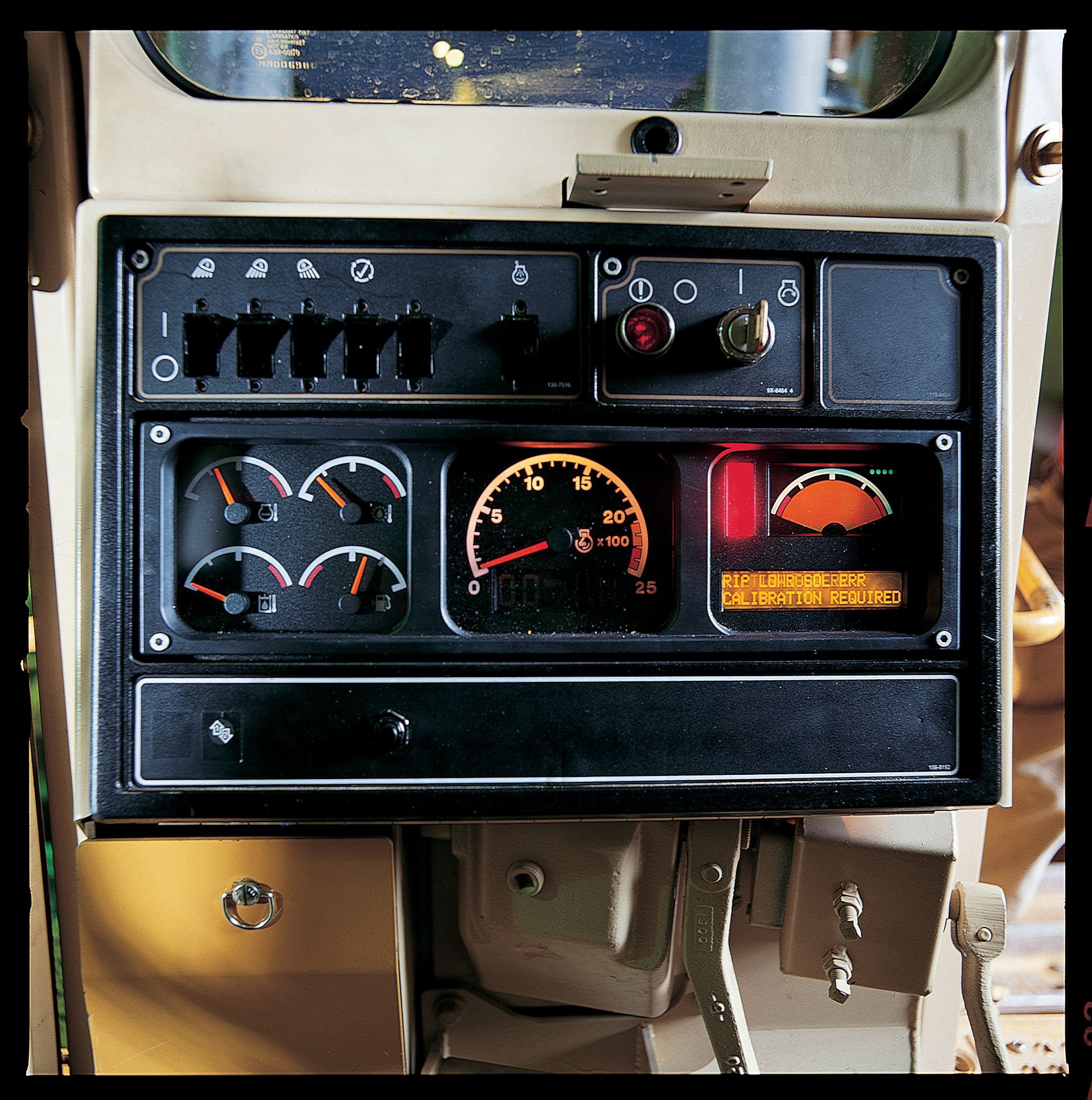 Monitor Functions
The Vital Information Display System (VIDS) provides the operator with continuous feedback on machine and system operation and includes three levels of operator alert. The system consists of three display modules.
Keypad
Activates features at the touch of a key or accesses settings using menu keys.
Keypad
Keypad allows the operator to access and acknowledge machine and system information provided by VIDS, activate automatic dozer functions, access gauge values, customize factory settings and change operator preferences on the message center module. The keypad consists of eight active keys that enable the operator to perform the following functions.
Utility Keys
The keypad also contains several utility keys used in conjunction with the function keys.
Electronic Steering and Transmission Controls
Combines steering, machine direction and gear selection into a control system which can be operated with one hand for enhanced operator comfort and increased productivity.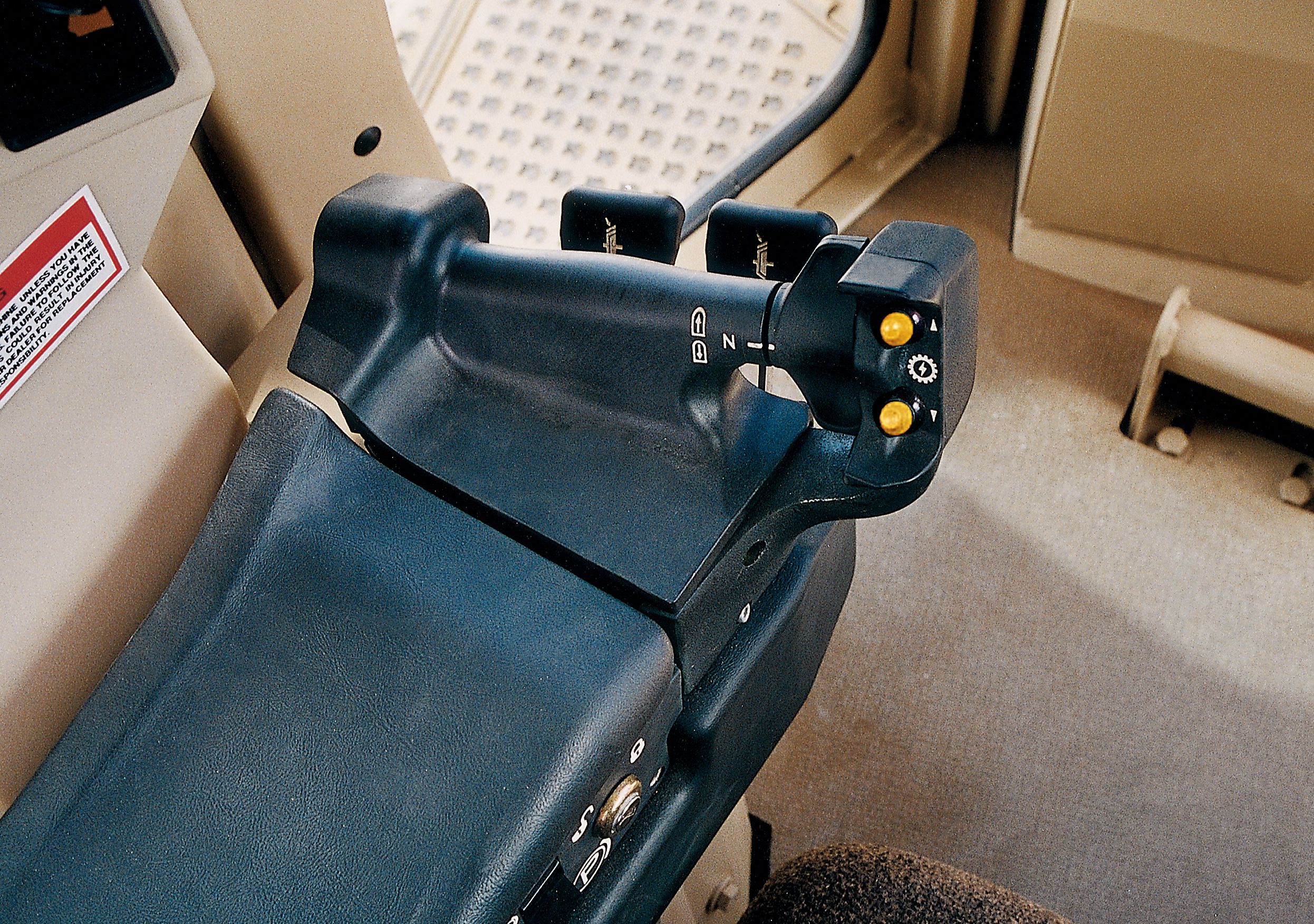 Finger Tip Controls (FTC)
Finger Tip Controls (FTC) are clustered for easy, one-handed operation to the operator's left.
1) Electronic Clutch and Brake (ECB) Steering System
Electronic Clutch and Brake (ECB) steering system consists of two small levers which send signals that control the steering valve.
Levers require less than three pounds of pull to actuate.
Steering is accomplished in much the same way as with traditional clutch and brake arrangements but with less time and effort.
Adjustable Operator Comfort
The system is attached to an electrical linear actuator which allows the FTC module to be adjusted up and down. Fore/aft adjustment is controlled by a manual lever on the front of the control module. The rigidly mounted hand grip provides firm support for the operator even when ripping in the roughest terrain.
2) Machine Direction
Machine direction is controlled by a pivoting knob which can be actuated by the thumb of the left hand. Rotating the knob up shifts the machine transmission to forward. Rotating the knob down reverses the machine. The middle setting puts the machine transmission in neutral.
3) Gear Selection
Gear selection is made by two buttons to the right of the machine direction knob. The top (up-shift) button shifts the machine transmission to the next higher gear while the bottom (down-shift) button shifts to the next lower gear.
4) Parking Brake
Parking brake switch electronically locks ECB system and transmission control.
Automatic Shifting
Automatic shifting features easier upshifts and downshifts which can increase operator productivity, reduce fatigue, and shorten cycle times. Operators can choose between manual shifting or the Automatic shifting feature which lets the operator shift from first forward to second reverse when making directional changes.
Automatic Blade Function and Ripper Controls
Low-effort, automatic control functions significantly reduce operator fatigue for increased performance.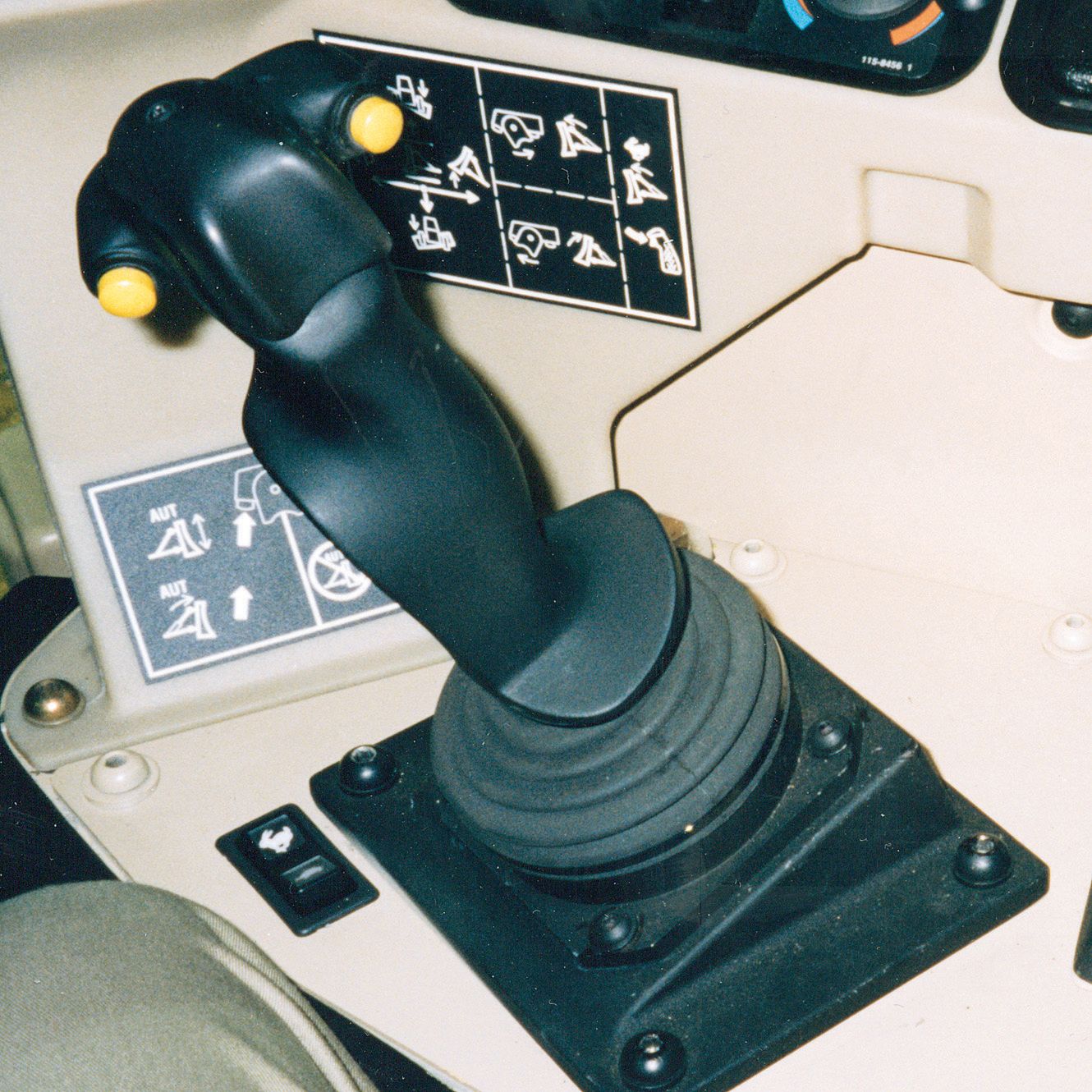 Automated Blade Assist (ABA)
Automated Blade Assist (ABA) is a semi-automatic dozer control function that increases efficiency and reduces operator workload by automating some of the more common blade functions. The ABA system for a dual-tilt tractor consists of AutoPitch.
Ripper Control
7) Rigidly mounted hand grip provides firm support for the operator even when ripping in the roughest terrain. 8) Low-effort thumb lever controls ripper raise and lower. 9) Low-effort finger lever controls shank in and shank out positioning. 10) Thumb button activates auto raise and stow feature.
Work Tools
A variety of attachments provides the flexibility to match the machine to the job.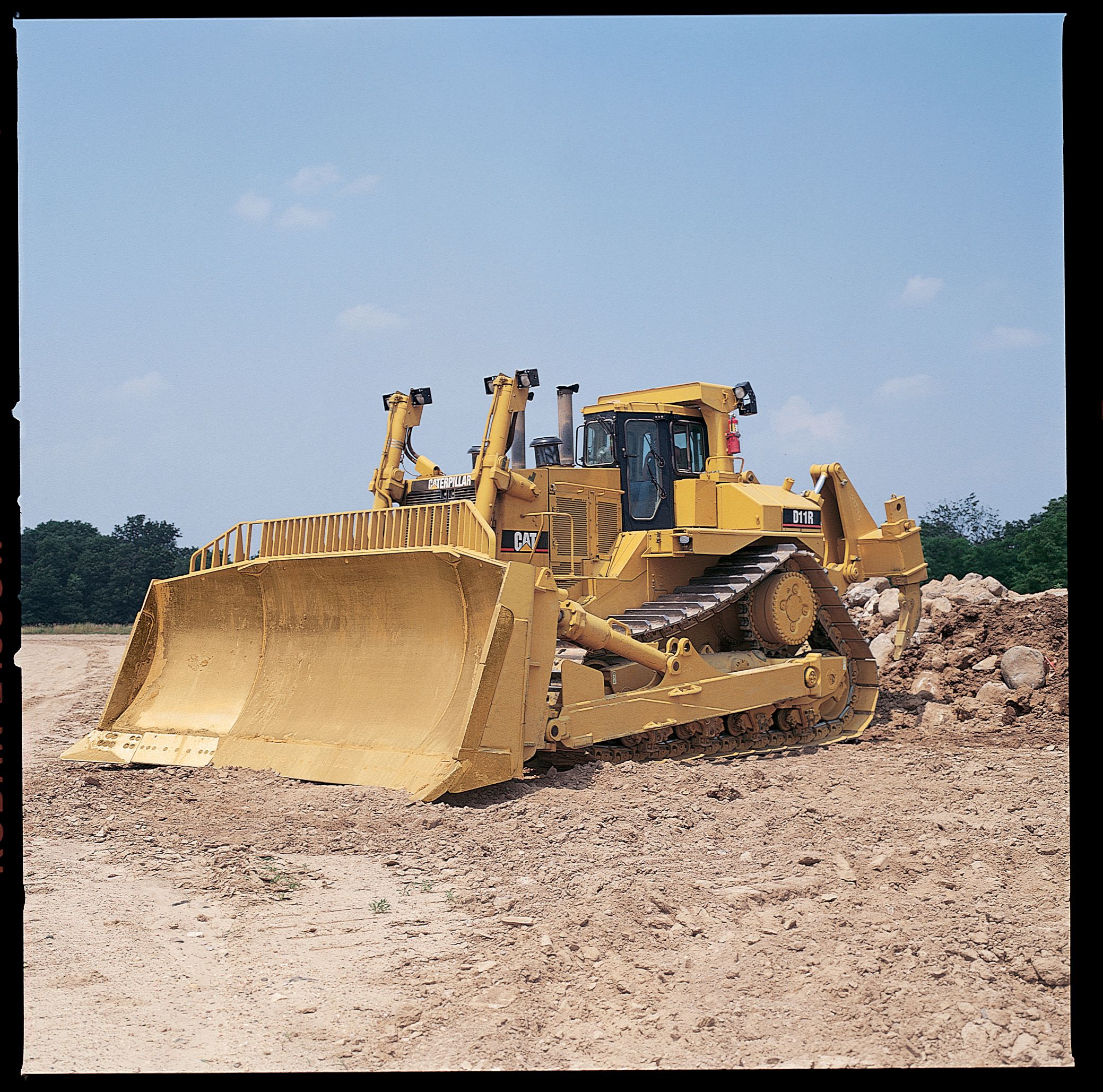 Bulldozers
The 11SU blade, rated at 27.2 m³ (35.5 yd³) and the 11U blade at 34.4 m³ (45.0 yd³) make full use of the D11R's power.
Rippers
Single and multi-shank rippers are made to penetrate tough material fast and rip thoroughly for use in a variety of materials.
Undercarriage
The Caterpillar elevated sprockets are designed for better machine balance and component life.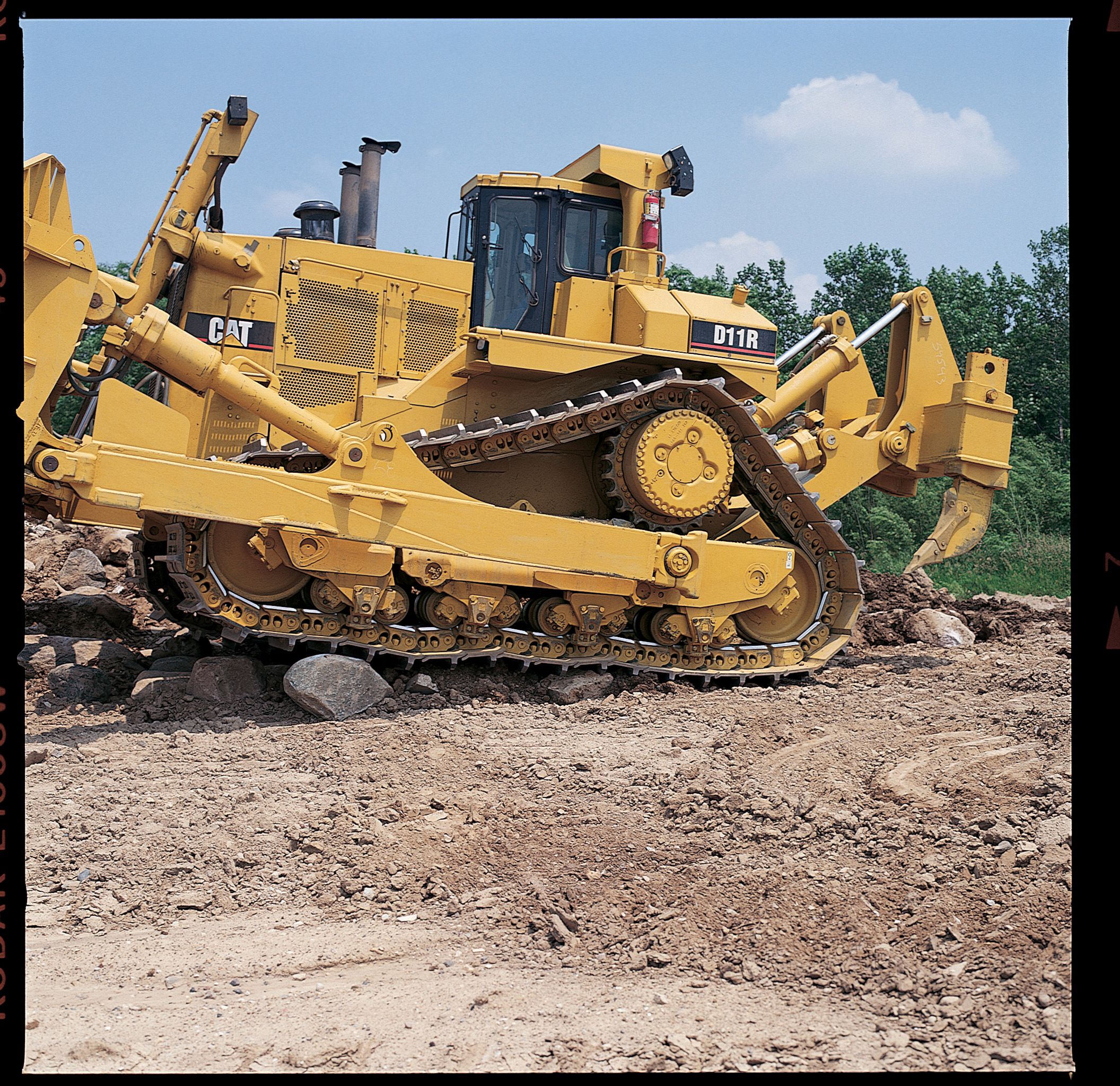 Design
Suspended undercarriage design absorbs impact loads to reduce the shock loads transferred to the undercarriage by up to 50 percent.
Suspension
Bogie suspension conforms more closely to the ground to provide up to 15 percent more ground contact, especially in hard, uneven terrain. Higher traction means less slippage, better balance and a smoother ride.
Sprockets
Sprockets have five bolt-on replaceable rim segments of abrasion resistant steel for long wear life.
Equalizer Bar
End pin bearings are oil lubricated from a remote reservoir for easy maintenance and longer life.
Roller Frames
Roller frames are tubular, to resist bending and twisting, with added reinforcement where operating loads are the highest.
Roller frames attach to tractor by a pivot shaft and pinned equalizer bar.
Large pivot shaft bushings operate in an oil reservoir.
A low friction, no maintenance bushing is used in the saddle connection.
Resilient pads restrain equalizer bar oscillation.
The recoil system is sealed and lubricated.
Patented alignment design increases undercarriage wear life.
Idler guards (optional) increase undercarriage wear life.
Track adjustment provided to 120 percent undercarriage wear limit.
Track
Positive pin retention sealed and lubricated track permanently coats the track pin with a sealed-in lubricant, minimizing metal-to-metal contact.
Virtually eliminates internal pin and bushing wear.
Lubricant is held in a reservoir in the track pin.
Coated track bushing maximizes sealability.
Stronger track link resists high impact loads.
Positive pin retention mechanically locks the link to the pin, resisting end play and increasing joint stability.
Structures
Engineered to provide durability and the solid support necessary for maximum production and service life.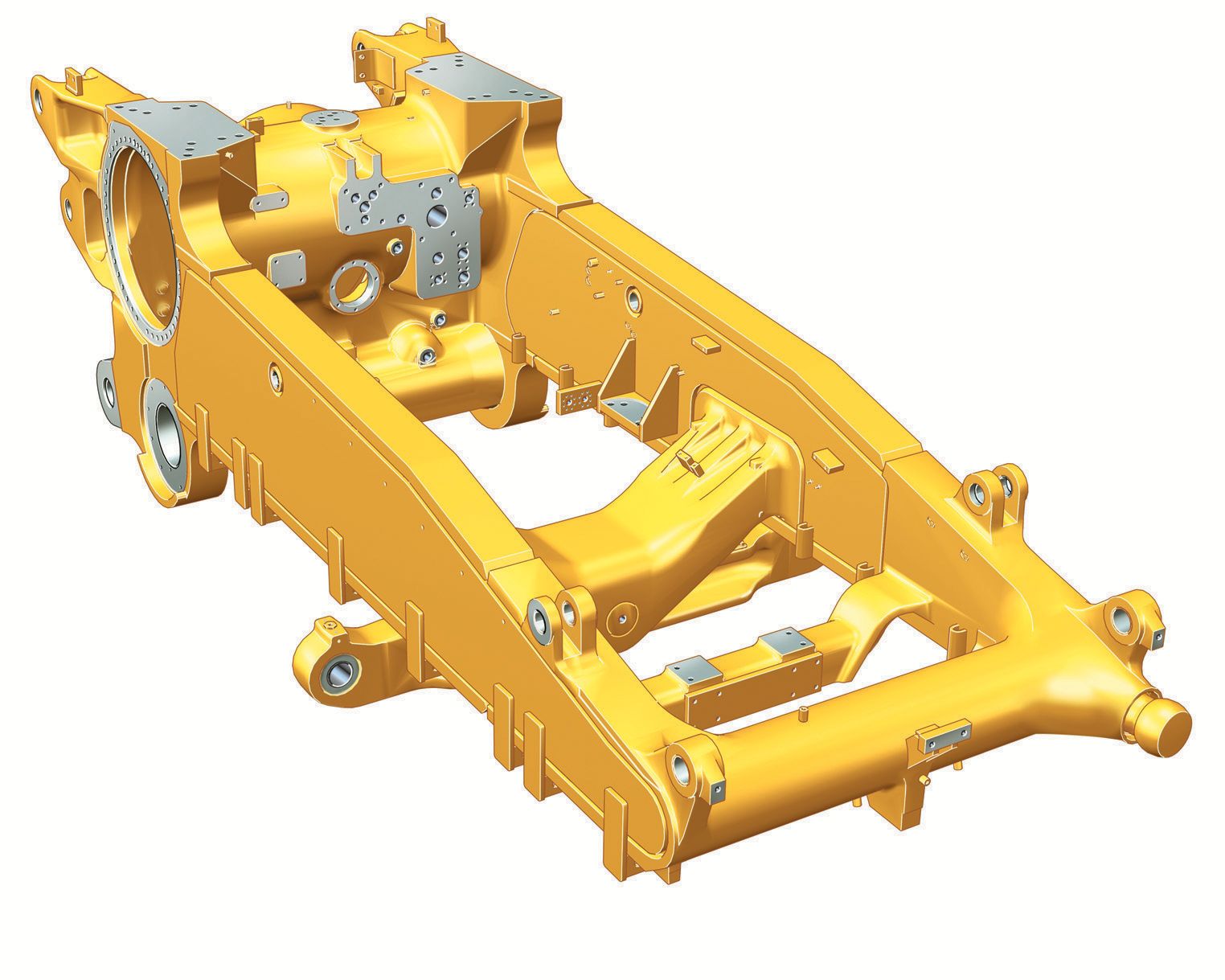 Mainframe
Mainframe strength. The D11R mainframe is built to absorb high impact shock loads and twisting forces.
6) Case and Frame Design
Case and frame design features one-piece cast case with ripper and ROPS mounting. Oil reservoir included in one-piece cast casting.
9) Tag-link Construction
Tag-link construction has fewer parts for reduced wear and brings the blade closer to the machine for more precise dozing and load control. • Tag-link design provides solid lateral stability and better cylinder positions for constant pryout independent of blade height.
Serviceability
Major modular component design allows fast in-field component exchange, lowering time spent on maintenance.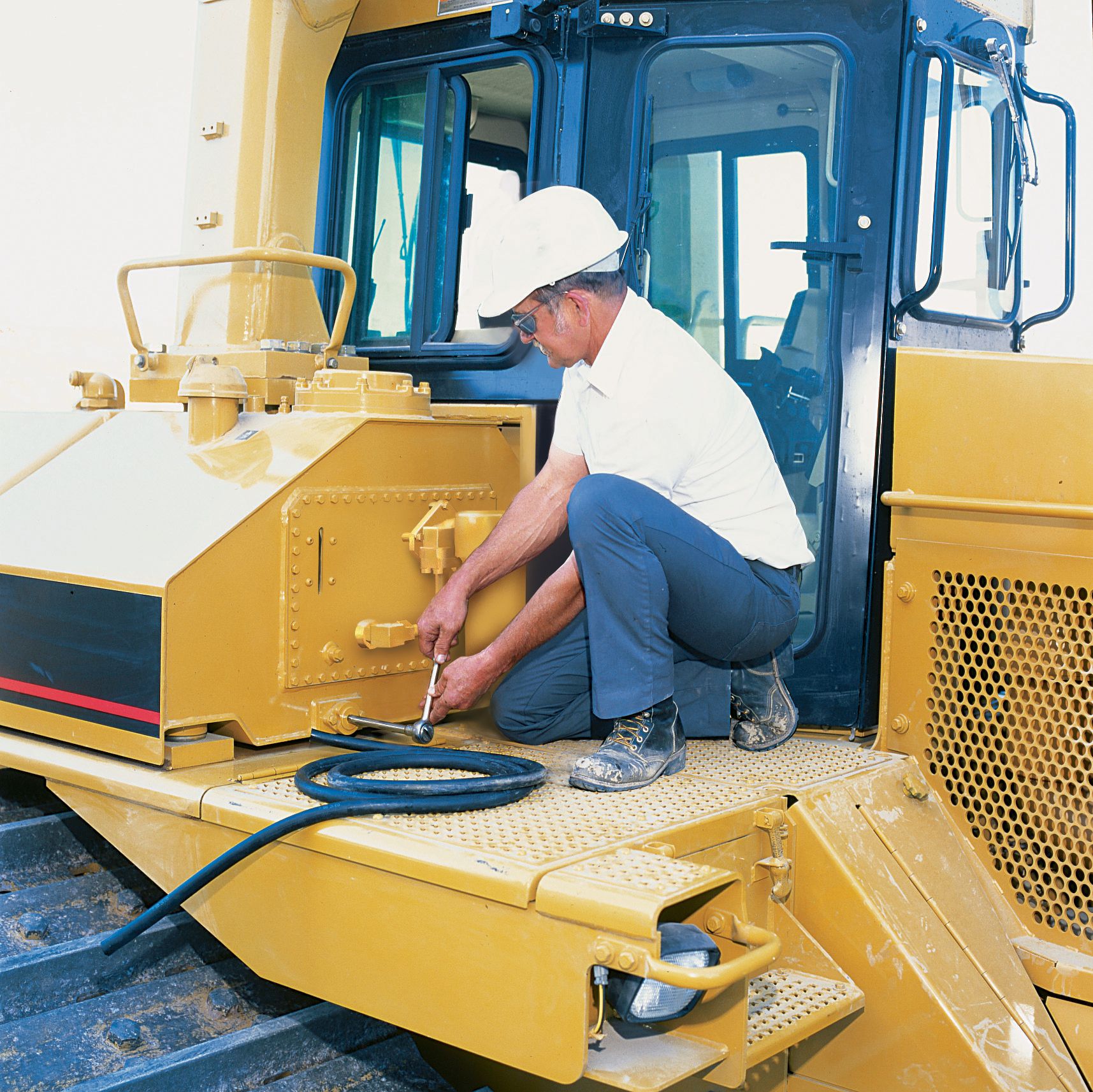 Built-in Servicing Ease
Less service time means more working time. Major components are made as modules and most can be removed without disturbing or removing others.
Air Conditioner Core
Air conditioner core can be cleaned without disconnecting line.
Air Conditioner Unit
Air conditioner unit uses positive air pressure to help prevent dust and dirt entry.
Advanced Modular Cooling System
Advanced Modular Cooling System (AMOCS) individual cooling elements allow radiator servicing without major component removal, reducing considerable downtime and cost.
Fittings
Quick disconnect fittings allow for fast diagnosis of the power train and attachment oil systems.
Diagnostic Connector
Diagnostic connector allows connection to electronic Technician (ET). This connection gives capability of troubleshooting engine, obtaining total fuel usage history and other data stored in the Electronic Control Module.
Test Points
Pressure test points for power train and hydraulic systems are provided.
Service Points
Grouped service points and excellent access to service areas make routine checks fast and convenient.
Service and Maintenance
Quick, easy service access and inspection of daily maintenance items.
Remanufactured Materials
Caterpillar remanufactured dozer hydraulic cylinders and rods, starters, alternators, cylinder heads, short blocks, engines, oil pumps and final drive hubs are available for fast, economical repairs.
Vital Information Display System
Caterpillar Vital Information Display System analyzes critical temperatures and pressure, giving visual and audible warning for fast troubleshooting.
Ecology Drains
Ecology drains provide an environmentally safer method to drain fluids. They are included on the radiator, hydraulic tank and major power train components.
Scheduled Oil Sampling
Scheduled Oil Sampling made easier through live sampling ports for the engine, power train and hydraulics.
Fast Fill Fuel System
The D11R has an optional fast fill fuel system with positive shut-off to prevent fuel spillage.
Oil Change System
Oil change system optional for quick service to engine and power train oil.
Tilt Cylinder Lines
Tilt cylinder lines are routed on the outside of the tag-link for better ease of service.
Total Customer Support
Unmatched in the industry!
Selection
Make detailed comparisons of the machines you are considering before you buy. How long do components last? What is the cost of preventive maintenance? What is the true cost of lost production? Your Cat Dealer can give your precise answers to these questions.
Purchase
Look past initial price. Consider the financing options available as well as day-to-day operating costs. This is also the time to look at dealer services that can be included in the cost of the machine to yield lower equipment owning and operating costs over the long run.
Operation
Improving operating techniques can boost your profits. Your Cat Dealer has training videotapes, literature and other ideas to help you increase productivity.
Machine Management Services
Cat Dealers help manage equipment investments with:
Custom Track Service
Effective preventive maintenance programs
Diagnostic programs like Scheduled Oil Sampling and Technical Analysis
Information to make the most cost effective repair option decisions
Customer meetings and training for operators and mechanics.
Replacement
Repair, rebuild or replace? Your Cat Dealer can help you evaluate the cost involved so you can make the right choice.
Product Support
You will find nearly all parts at our dealer parts counter. Cat Dealers utilize a world-wide computer network to find in-stock parts to minimize machine down-time. Save money with remanufactured parts. You receive the same warranty and reliability as new products at a cost savings.
EQUIPMENT
Standard Equipment
ELECTRICAL
Alarm, back-up
Alternator, 100-amp
Batteries, 12-volt (4), 190 amp-hour
Converter, 12-volt, 5-amp
Deutsch electrical connectors
Diagnostic connector (3)
Horn, forward warning
Lighting system, Halogen
Receptacle, starting
OPERATOR ENVIRONMENT
Armrests, adjustable
Attachment control lever lockout switch
Cat VIDS with fuel gauge, temperature
Decelerator and governor switch
Electronic controls
Finger Tip Control (FTC) steering
Heater
Radio-ready cab
Rearview mirror
ROPS/FOPS sound suppressed cab
Seat, adjustable contour suspension
Seat belt, retractable
POWERTRAIN
3508B Diesel Engine:
Advanced Modular Cooling System (AMOCS)
Blower fan with hydraulic demand drive
Clutch and brake system, electronic
Controlled throttle shifting
Drains, ecology fluid
Electronic transmission control module
Parking brake, electronic
Planetary final drives, 4-planet,
Power shift transmission (3 speed)
Precleaner with dust ejector
Torque divider
UNDERCARRIAGE
Grousers, 710 mm (28 in), extreme service,
Hydraulic track adjusters
Suspension-type undercarriage,
Track guides
OTHER STANDARD EQUIPMENT
Dual-tilt blade control
Guards:
Pilot-operated, two-valve hydraulic
Vandalism protection (8 caplocks)
Optional Equipment
Air conditioner (R134a) (50 kg) (110 lb)
Antifreeze -50°C (-58°F)
Bulldozer:
11SU Abrasion (16,192 kg) (35,698 lb)
11U Abrasion (18,823 kg) (41,498 lb)
11SU (14,813 kg) (32,658 lb)
11U (17,296 kg) (38,131 lb)
Converter, Auxiliary 24-volt to 12-volt (2.7 kg) (6 lb)
Counterweight:
*Rear mounted (basic) (4990 kg) (11,000 lb)
*Rear mounted (additional weight for two) (2268 kg (5000 lb)
Cylinder, single-tilt (dual-tilt is standard) (-21 kg) (-46 lb)
Fan, defroster (6.8 kg) (15 lb)
Fast-fill fuel system for use with:
Counterweight (22 kg) (48 lb)
Ripper (34 kg) (58 lb)
Glass, ultra strength cab
(designed to withstand external pressures up to 276 kPa (40 psi)
Guard, rear hitch and transmission (1618 kg) (3,568 lb)
Guards, undercarriage (34 kg) (75 lb)
Heater:
Engine coolant (120-volt or 240-volt) (1.4 kg) (3 lb)
Fuel (7.7 kg) (17 lb)
Hydraulic controls for ripper (122 kg) (268 lb)
Lights, supplemental
2 front (10 kg) (20 lb)
2 rear (11 kg) (24 lb)
Lines, cylinder
Mounting, cylinder (324 kg) (745 lb)
Oil change system for quick service to engine (1.8 kg) (4 lb)
Operators arrangement, modified
(improves visibility and comfort for smaller operators)
Pin puller:
Single-shank ripper (100 kg) (220 lb)
Hydraulic control (5 kg) (11 lb)
Prelubrication system, engine (8.2 kg) (18 lb)
Pushblock (for single-shank ripper) (145 kg) (320 lb)
Rippers:
Single-shank, standard arrangement (9643 kg) (21,215 lb)
Single-shank, deep ripping (10 022 kg) (22,050 lb)
Multi-shank (includes one shank) (9698 kg) (21,335 lb)
Ripper shank, additional (671 kg) 1,498 lb)
Roller, carrier (327 kg) (720 lb)
Seat, air suspension
Seat, vinyl (1 kg) (2 lb)
Sound suppression, spectator
Tracks, pair, sealed and lubricated:
810 mm (32 in), PPR Extreme Service (831 kg) (1,831 lb)
910 mm (36 in), PPR Extreme Service (1703 kg) (3,754 lb)
*A rear attachment and/or counterweight is required.
CONNECT. DISCUSS. SOLVE.
CATERPILLAR EQUIPMENT MAINTENANCE ONLINE COMMUNITY
HOW CAN WE HELP?
SHARE YOUR FEEDBACK OR ASK A QUESTION