PS360C
The PS360C Pneumatic Roller establishes new standards for productivity and reliability in the compaction industry. A durable Cat® engine, large ballast tank and the world's largest and most dedicated dealer support system ensure the PS360C will provide maximum utilization. The PS360C will achieve outstanding compaction results regardless of the application with its proven suspension design and flexible weight adjustment.
SPECIFICATIONS
Weights
Operating Weight - Max Ballast
55115.0 lb
Average Weight per Wheel - Max Ballast
7870.0 lb
Average Weight per Wheel - No Ballast
2675.0 lb
Operating Weight - No Ballast
18740.0 lb
Operating Specifications
Travel Speed - Maximum
11.0 mph
Turning Radius - Inside
11.42 ft
Engine
Dimensions
Height at Steering Wheel
100.0 in
Maximum Machine Height
126.0 in
Tires
Service Refill Capacities
Fuel Tank Capacity
52.0 gal
Water (Spray) Tank Capacity
104.0 gal
BENEFITS & FEATURES
Cat® 3054C Turbocharged Engine
The high-tech four cylinder engine provides outstanding performance and fuel economy.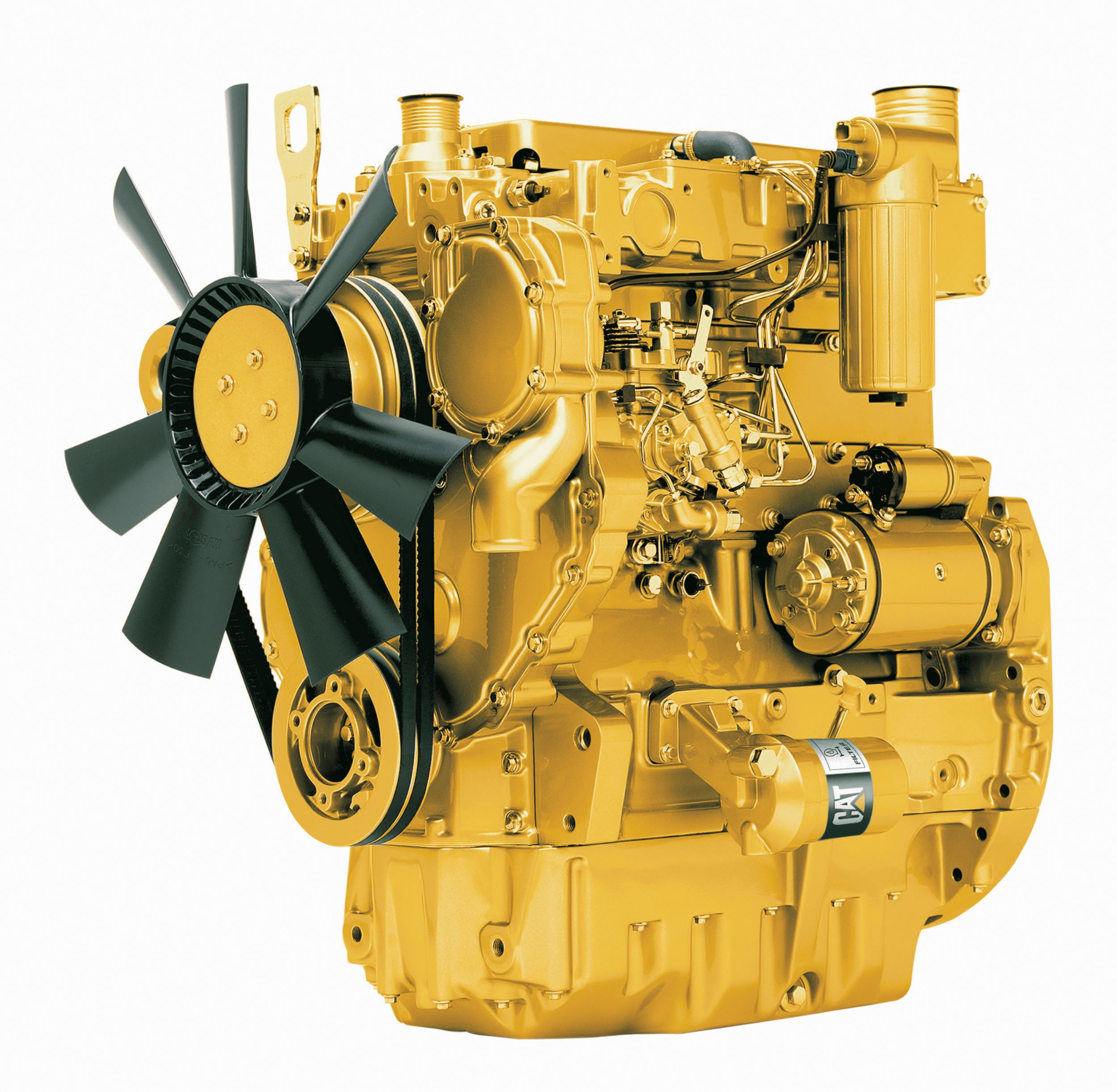 Top Performance And Efficiency
Turbocharged engine for top performance and efficiency, even at high altitude with no derating required up to 2134 m (7,000 ft).
Direct Injection Fuel System
Direct injection fuel system provides individually metered high-pressure injection of fuel for maximum efficiency.
High Displacement To Power Ratio
High displacement to power ratio ensures long life and exceptional reliability.
Engine Oil Cooler
Engine oil cooler maintains the integrity of the oil to provide a cool operating engine.
Injection System Protection
Dual fuel filters and a water separator provide superior protection for the injection system.
Glow-Plug Ignition
Glow-Plug ignition assists in cold weather starting.
Propel System
The "High Drive System" combines smooth starts and stops with plenty of torque.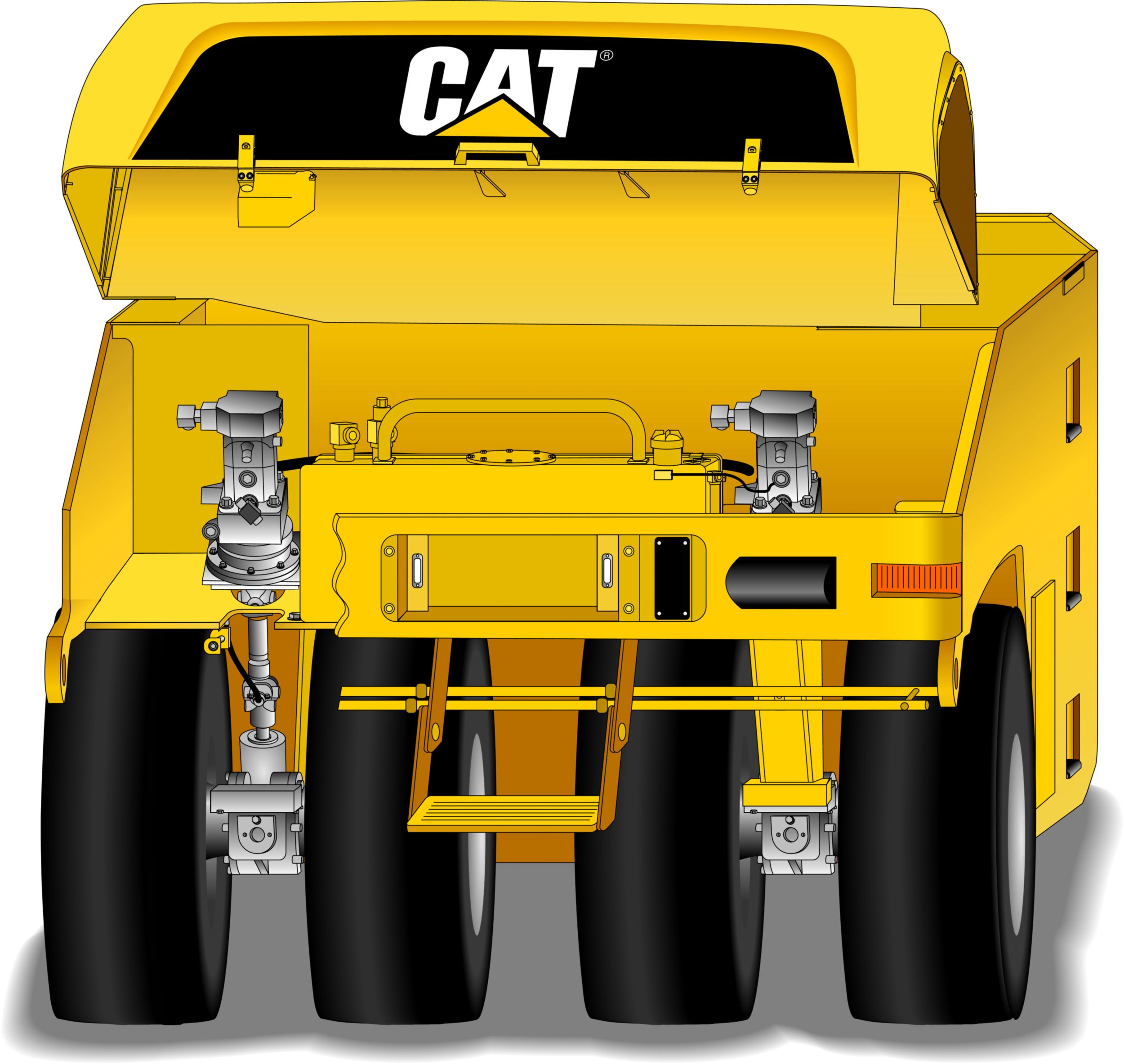 Hydrostatic Transmission
Hydrostatic transmission provides smooth direction and speed control, no chains are used.
Contamination And Damage Limited
Hydraulic motors, secondary brakes, and drive lines are positioned high inside the machine frame, limiting contamination and damage.
Remote Drive-train Flushing System
Remote drive-train flushing system supplies cool hydraulic oil to the brakes and axles to provide extended drive-train life.
Two-speed Throttle Switch
Two-speed throttle switch provides job-site versatility to suit working conditions.
Operator's Station
Ergonomic design for maximum operator productivity while offering unmatched comfort.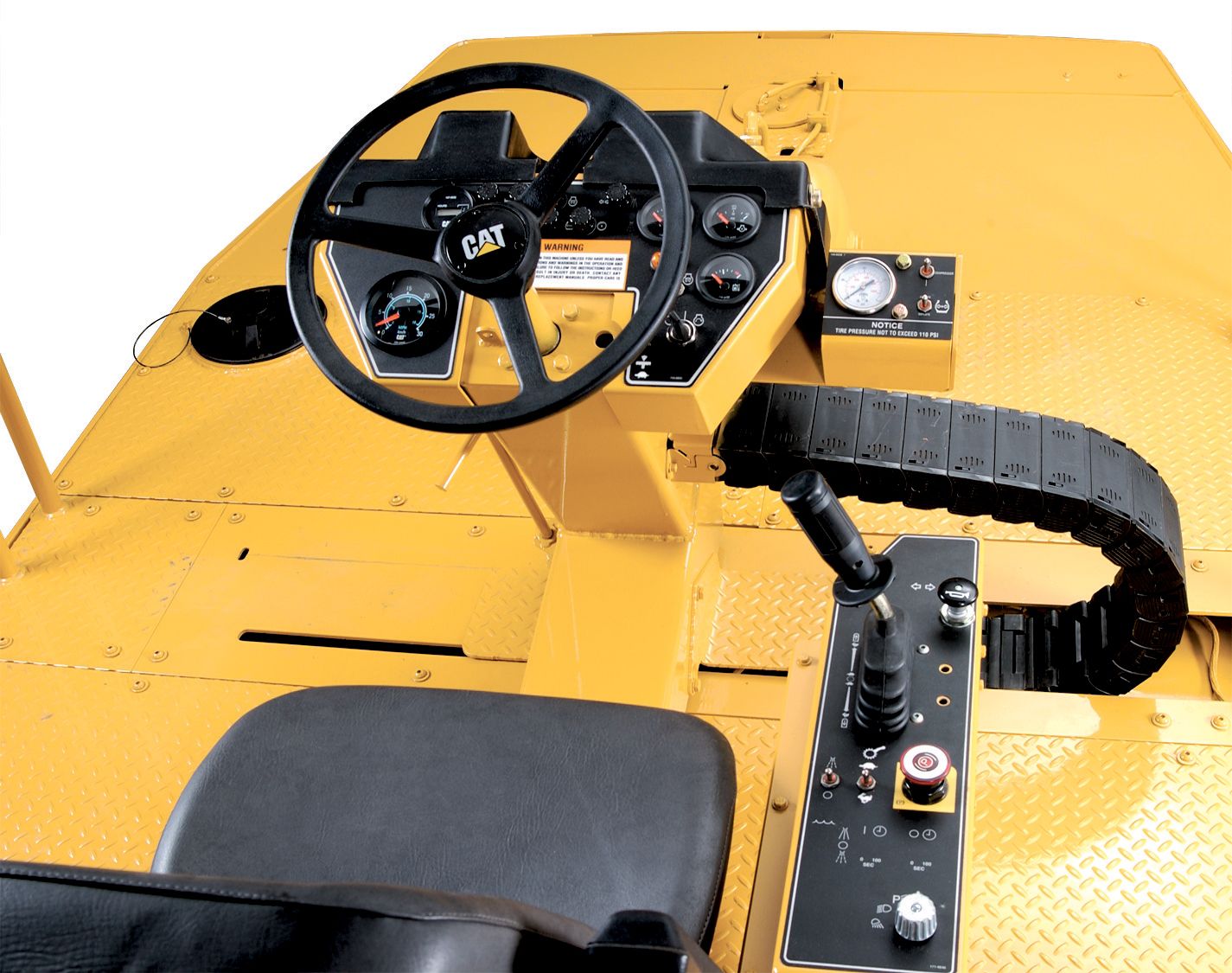 Working Environment
Spacious and comfortable working environment with controls, levers, switches and gauges positioned to maximize productivity.
Operator Seat
Durable suspension seat (optional) or non-suspension seat offers day-long comfort.
Gauges and Controls
Gauges and controls move with the operator console and seat for easy operation.
Instrument Panel
Instrument panel includes indicators for hour meter, transmission oil temperature, engine coolant temperature, engine oil pressure and fuel level.
Multi-Position Operator Station (Optional)
Multi-position operator station (optional) slides into three different positions and the seat pivots 30° in either direction to provide maximum visibility.
Ballast Compartment
Ballast options allow the machine to be tailored to specific weight capacities.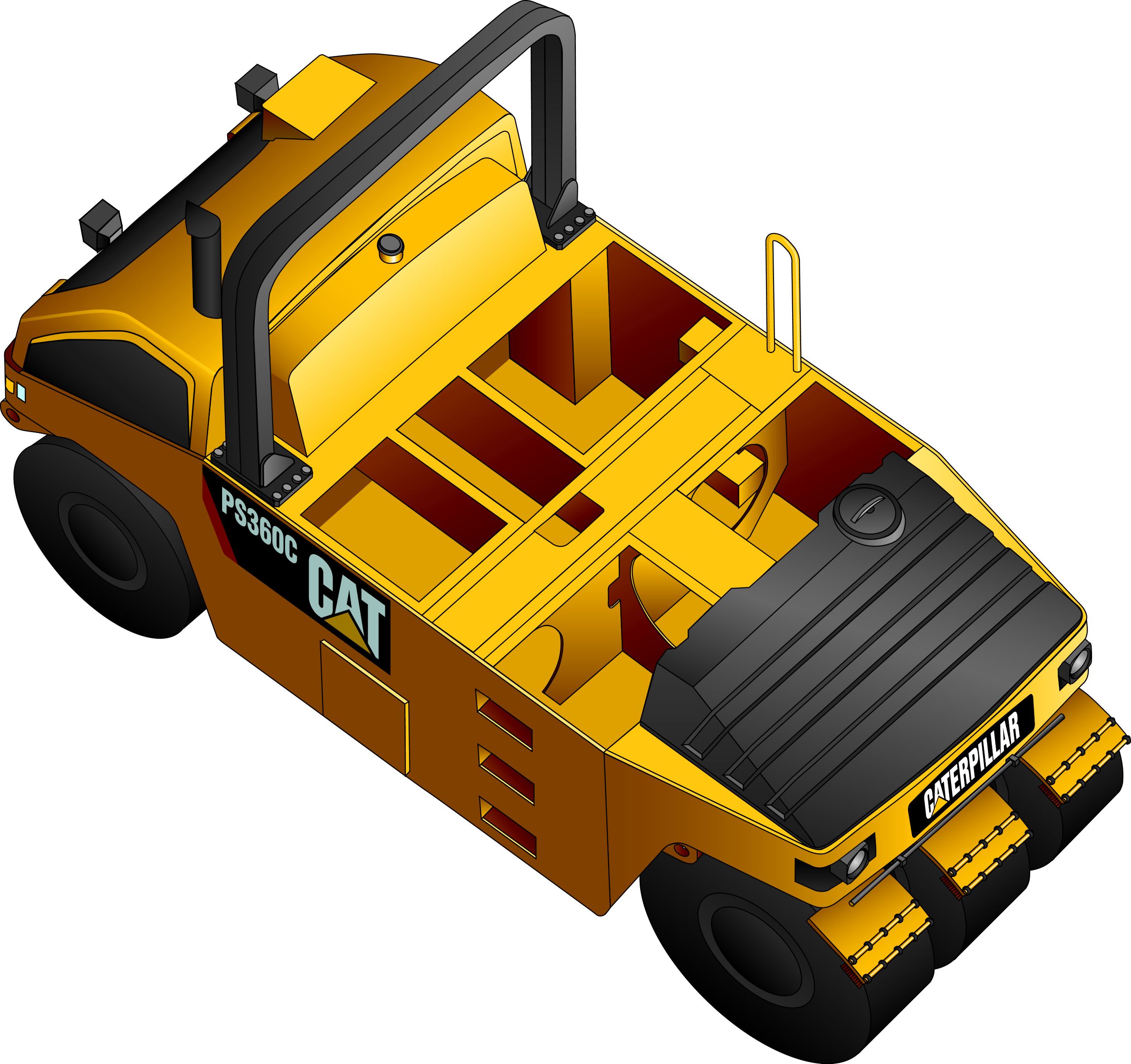 Versatality For Thick Lifts
Maximum operating weight of 25 000 kg (55,115 lb) provides versatility for thick lifts.
Ballast Compartments
Ballast compartments accommodate water, sand or steel in order to provide varying weight capacities.
Integrated Baffles
Integrated baffles prevent surges when water ballasted.
Fill Points for Sand Or Steel
Large cover plates on the operator's platform provide fill points for sand or steel. The water fill port can be accessed from ground level.
Bolt-on Side Cover
Bolt-on side cover allows quick removal of sand or steel ballast. Water ballast can be emptied through a drain valve located on the chamber.
Serviceability
Less time on maintenance means more time on the job.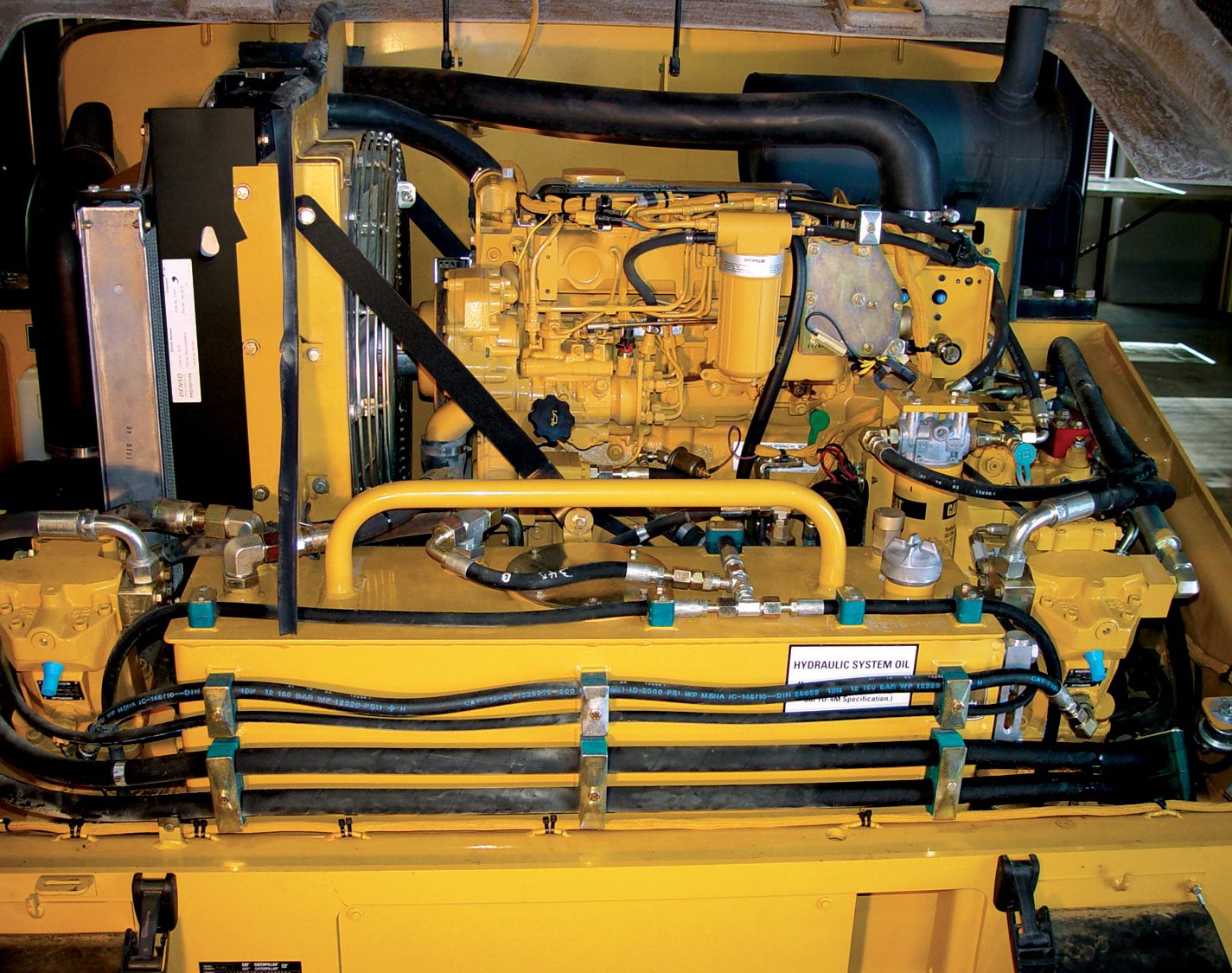 Routine Maintenance Points
Routine maintenance points are grouped in the engine compartment.
Maintenance Simplified
Ground level servicing simplifies maintenance.
Visual Restriction Indicators
Visual restriction indicators for the hydraulic oil filter and air filter.
Access To Power Train Simplified
Simplified access to the power-train through the engine hood.
Color-Coded and Numbered Wires
Color-coded and numbered wires wrapped in nylon braid ensure system integrity and help simplify troubleshooting.
Grouped Pressure Taps
Grouped pressure taps with quick-connect fittings simplify troubleshooting.
Remote Lubrication Fittings
Remote lubrication fittings decrease maintenance time.
Cat Product Link System
The PS360C includes an electrical harness to accept the optional Cat Product Link System. The Cat Product Link System simplifies machine tracking by providing location and hour updates to assist in scheduling of routine service.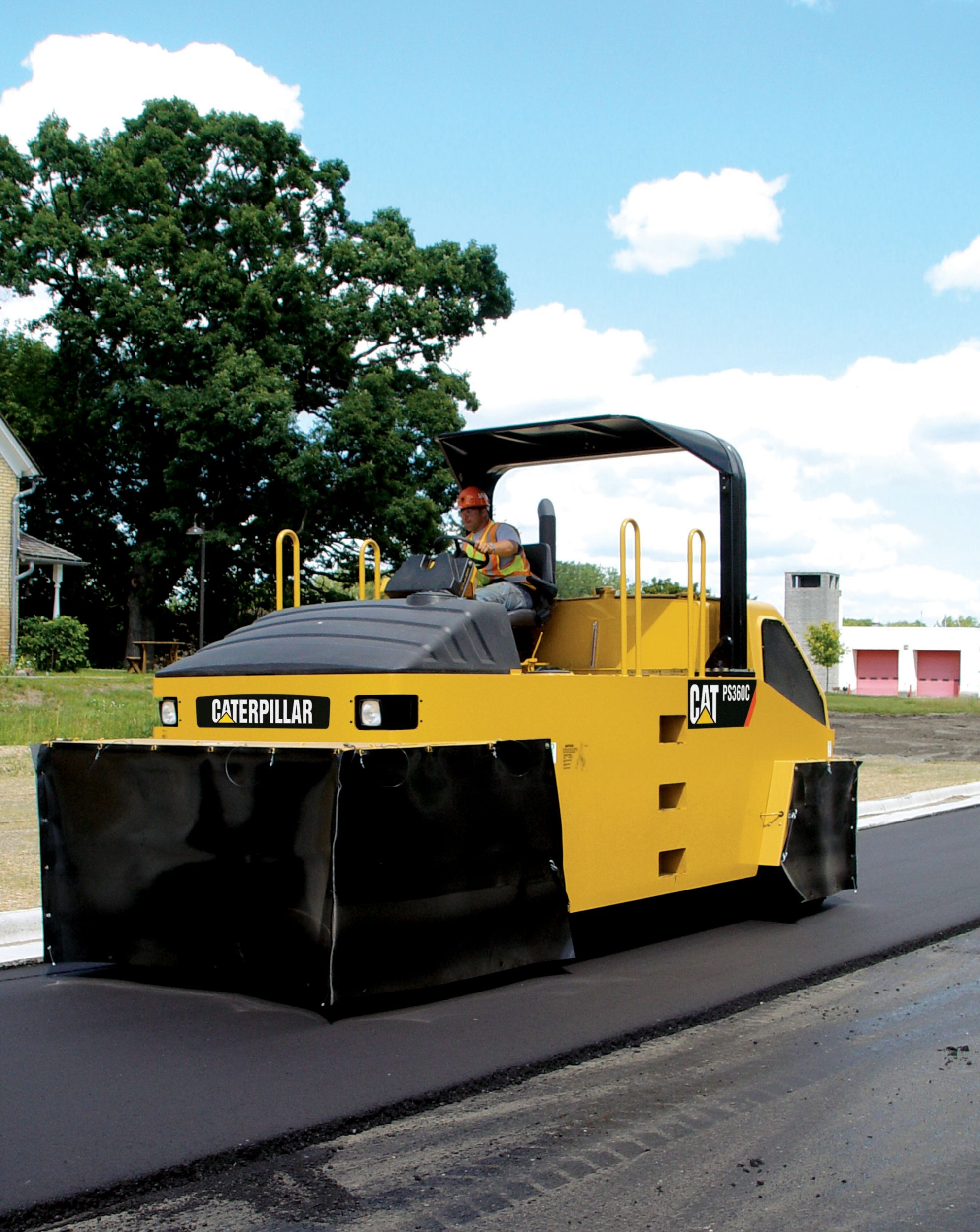 EQUIPMENT
Optional Equipment
Sliding Operator's Station
Suspension Seat
Speedometer
Roading Light Package
Tire Wetting System
Sun Canopy
Heat Retention Shields
Combined Ballast
Spare Tire And Wheel
Air-On-The-Run
CONNECT. DISCUSS. SOLVE.
CATERPILLAR EQUIPMENT MAINTENANCE ONLINE COMMUNITY
HOW CAN WE HELP?
SHARE YOUR FEEDBACK OR ASK A QUESTION