CS54 XT
Durable, field-proven powertrain and vibratory systems and the world's largest and most dedicated dealer support system ensure the CS54 XT Soil Compactors will provide maximum utilization. The operator's station provides a spacious and comfortable work environment that allows simple and productive operation. Good service access and long service intervals minimize maintenance time and increases productive work time.
SPECIFICATIONS
Weights
Operating Weight with Cab
27249.0 lb
Operating Weight with ROPS/FOPS
26456.0 lb
Weight at Drum with Cab
15499.0 lb
Weight at Drum with ROPS/FOPS
15080.0 lb
Operating Specifications
Static Linear Load, with Cab
184.5 lb/in
Static Linear Load, with ROPS/FOPS
179.5 lb/in
Travel Speed – Maximum
6.9 mph
Turning Radius Inside Drum Edge
12.08 ft
Engine
Dimensions
Height with ROPS/FOPS or Cab
10.08 ft
Tires
Tires
23.1 × 26 8-ply flotation
Service Refill Capacities
Fuel Tank Capacity
53.0 gal
Vibratory System
Centrifugal Force – Maximum
52600.0 lb
Centrifugal Force – Minimum
30000.0 lb
Nominal Amplitude – High
0.071 in
Nominal Amplitude – Low
0.033 in
Vibratory Frequency - Standard
31/34 Hz (1,860/2,040 vpm)
BENEFITS & FEATURES
Cat® C4.4 Engine with ACERT™ Technology
Cat® C4.4 Electronic Diesel Engine with ACERT™ Technology delivers 97 kW (132 hp) and is built for performance and reliability.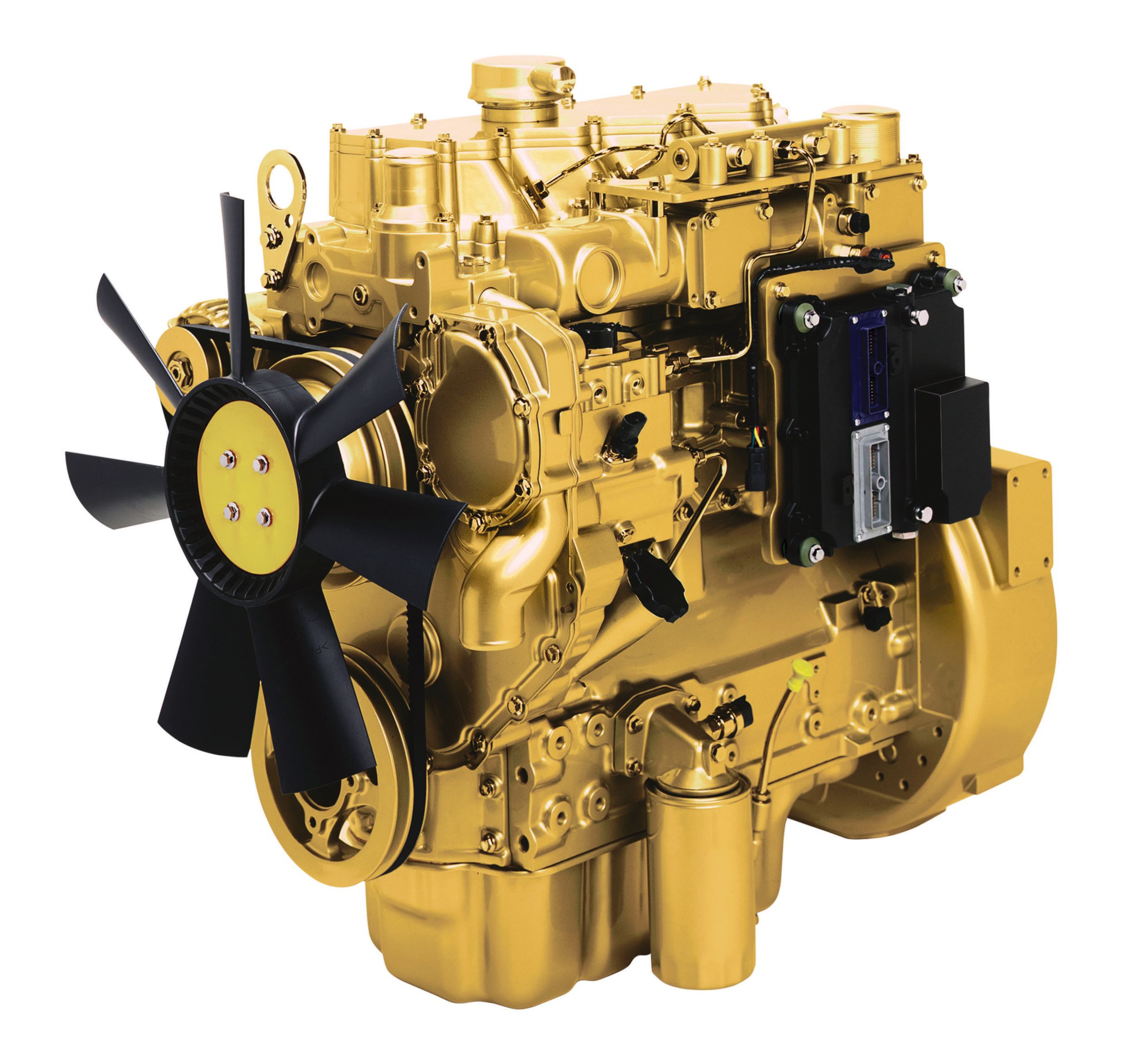 Vibratory System
The pod-style vibratory system delivers superior compactive force while offering serviceability advantages.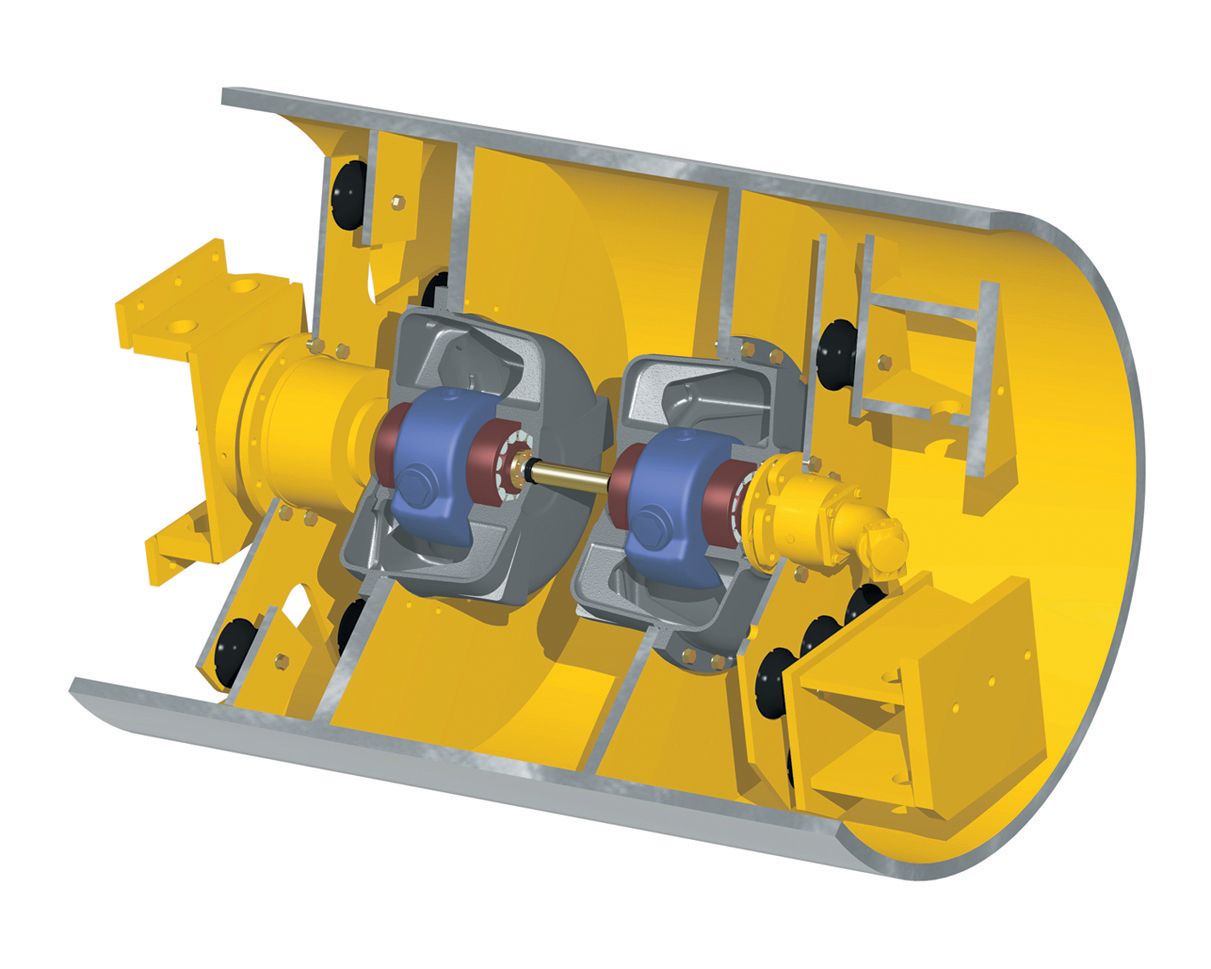 Proprietary Eccentric Weights
Reliable dual amplitude selection and innovative design ensure precise performance.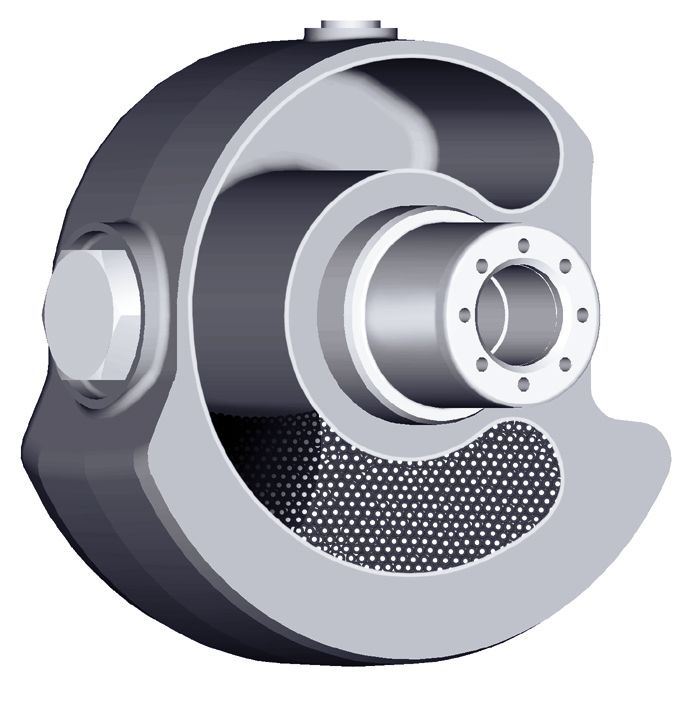 Dual Pump Propel System
High tractive effort and gradeability for outstanding productivity in tough applications.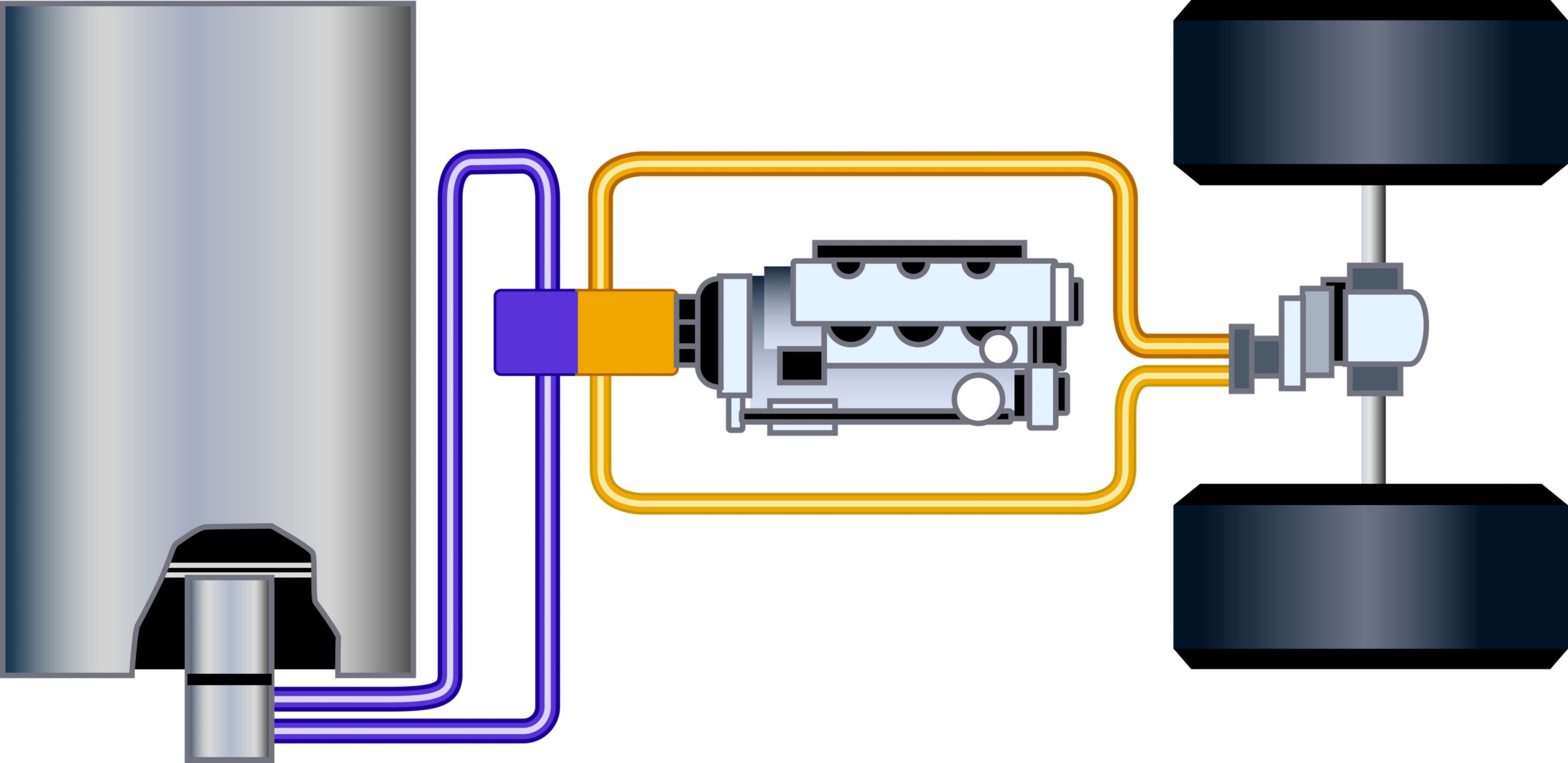 Gradeability and Machine Control
The exclusive dual pump propel system provides superior performance, machine control and exceptional grade climbing capability.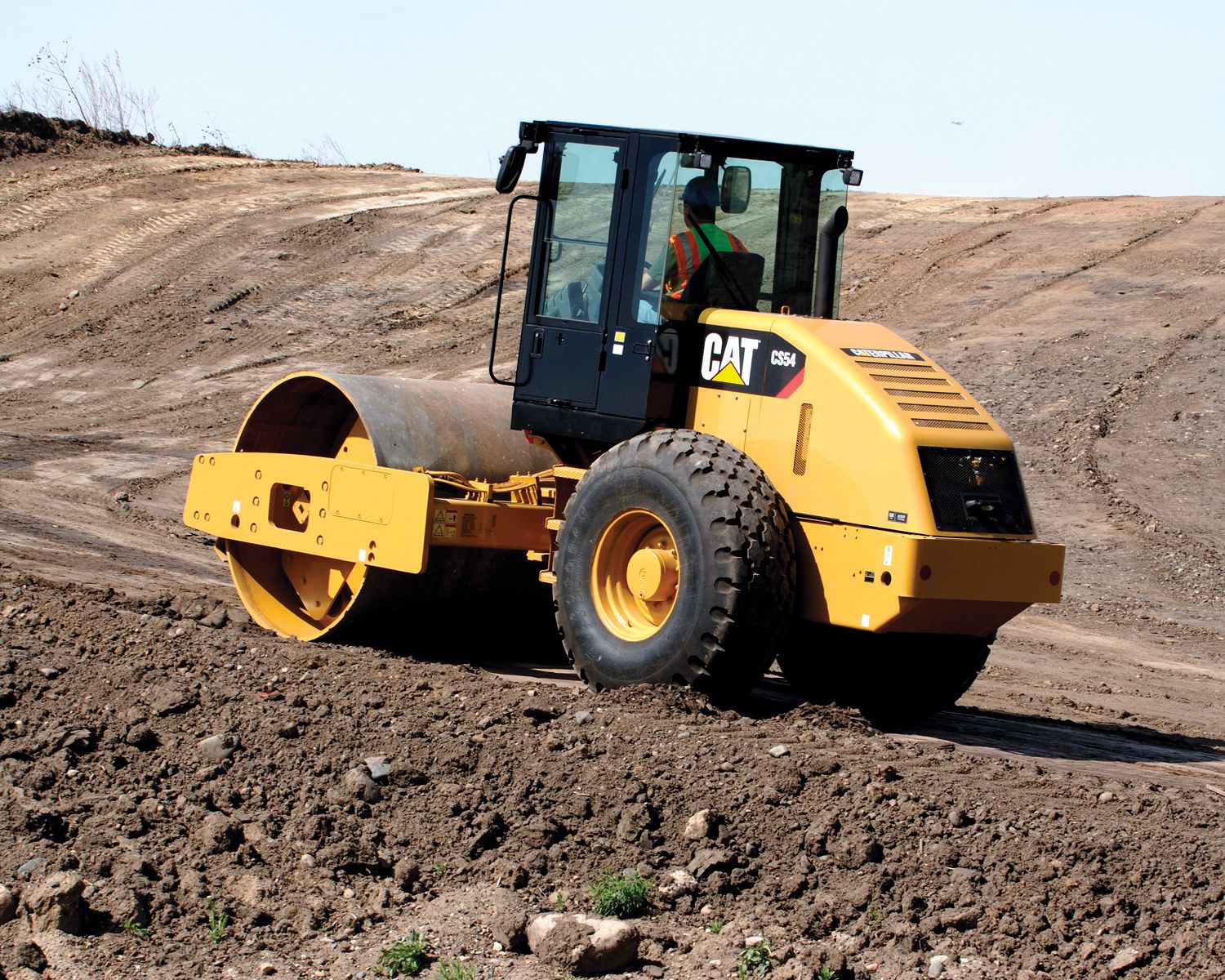 Rear Visibility
The sloped hood design provides exceptional operator visibility to the outside edge of the rear tires and to the rear of the machine.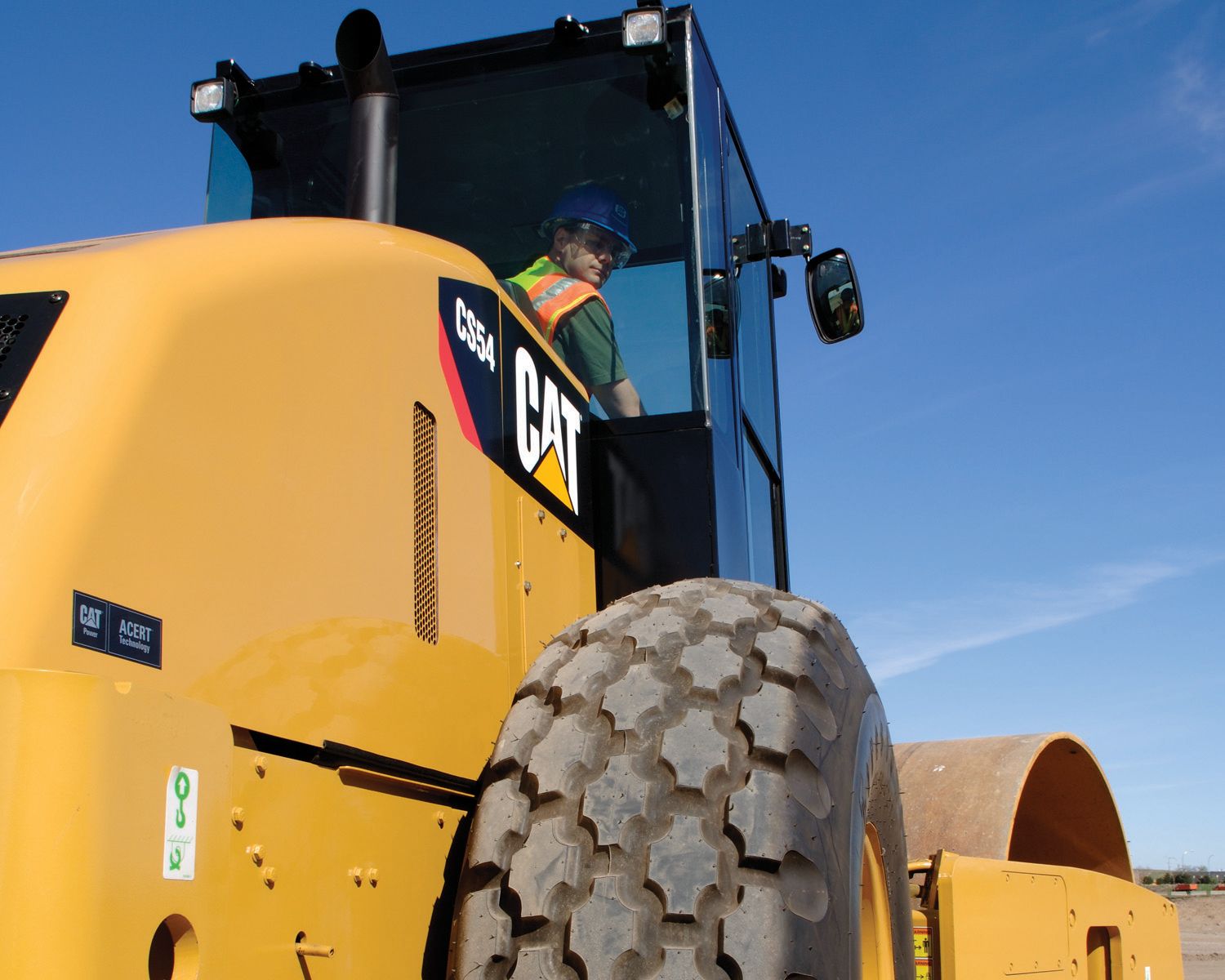 Open Platform with ROPS/FOPS Canopy
The platform is equipped with a ROPS/FOPS canopy and is enclosed by handrails and features angled foot rests for sure footing and support when working on a grade.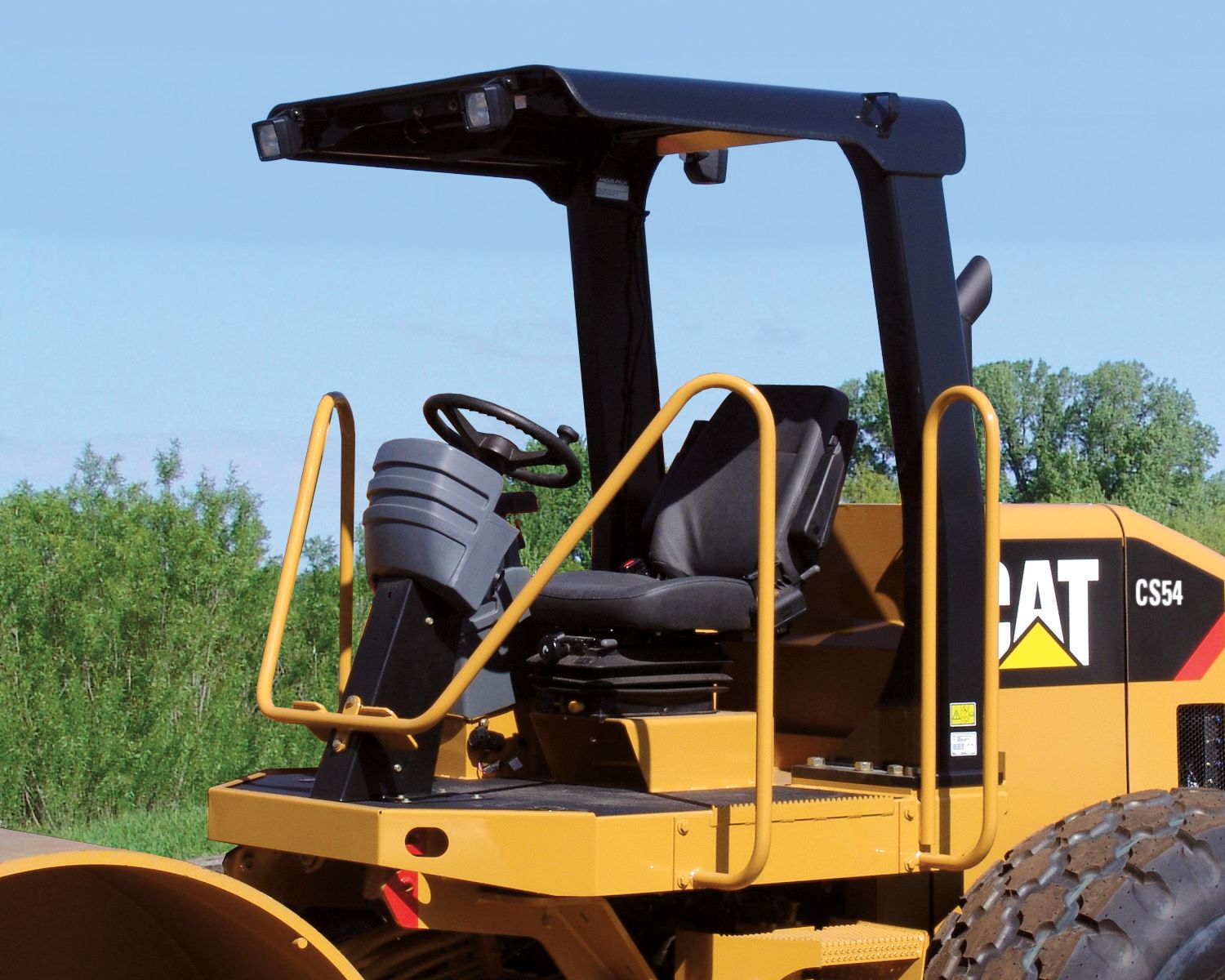 ROPS/FOPS Cab
Optional cab can increase machine utilization and provides greater year-round comfort in extreme environment conditions.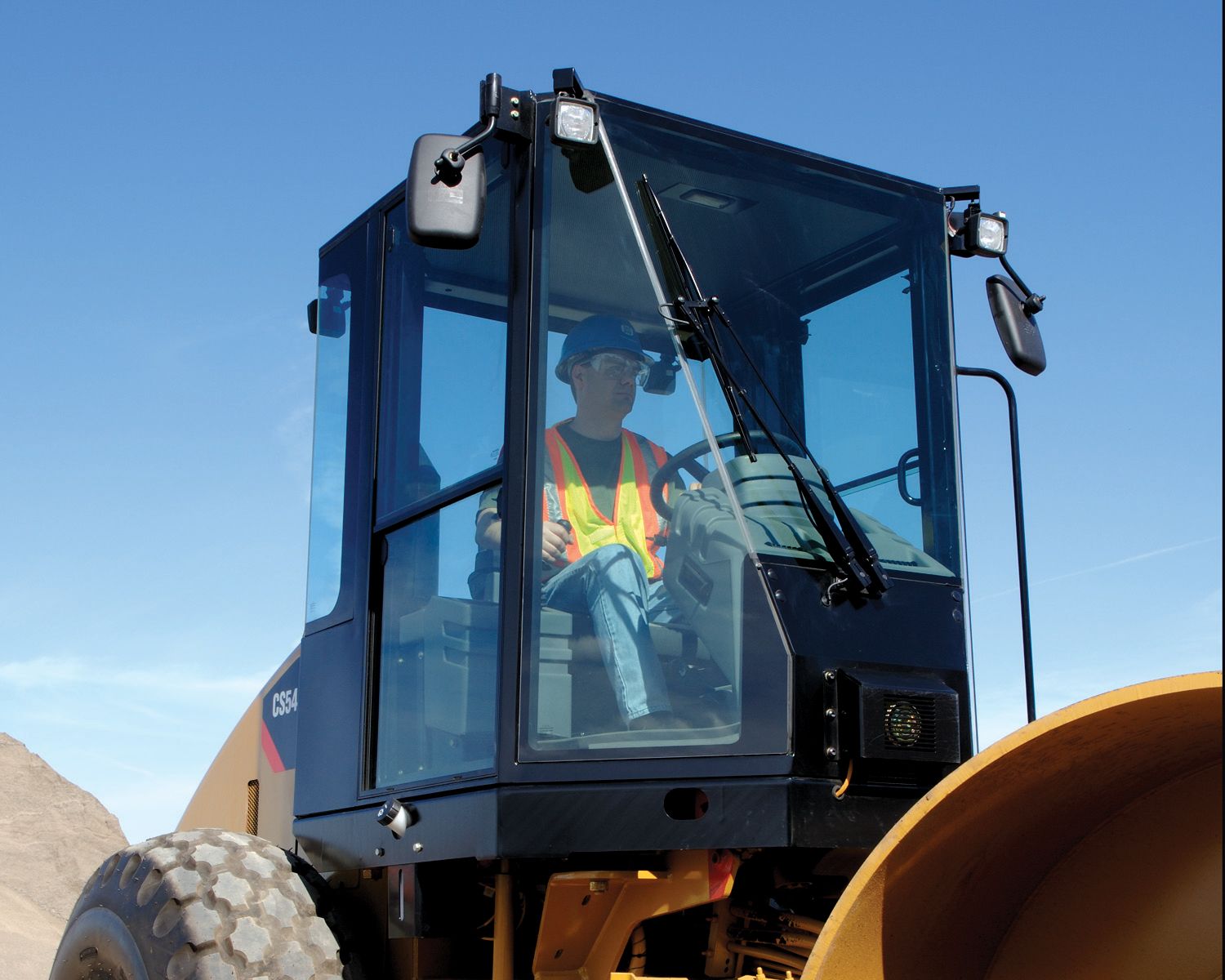 Operator's Station
Ergonomically designed for maximum operator productivity while offering excellent visibility and unmatched comfort.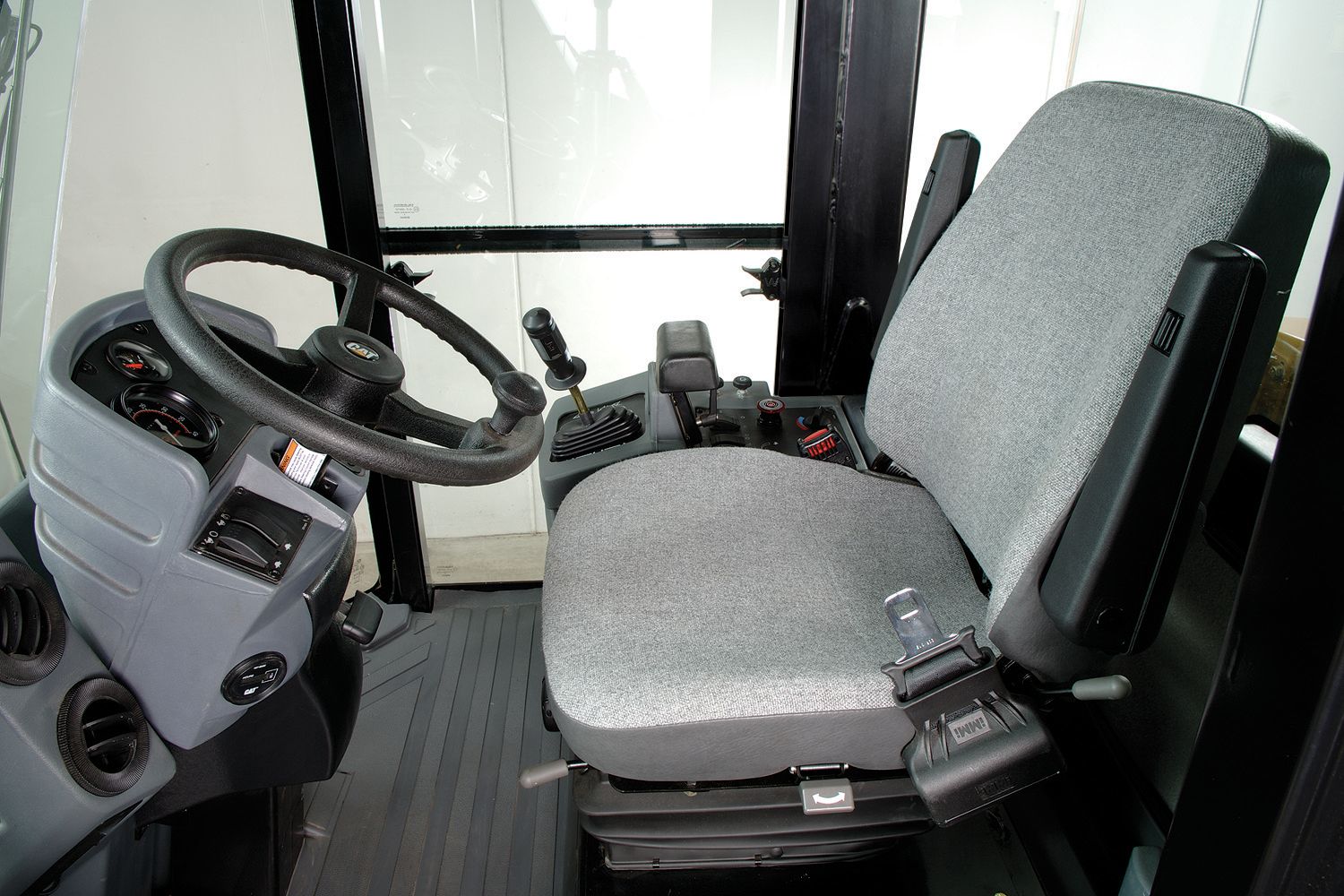 Optional Padfoot Shell Kit
The optional padfoot shell kit makes the CS54 XT an extremely adaptable machine when compacting semi-cohesive or cohesive materials.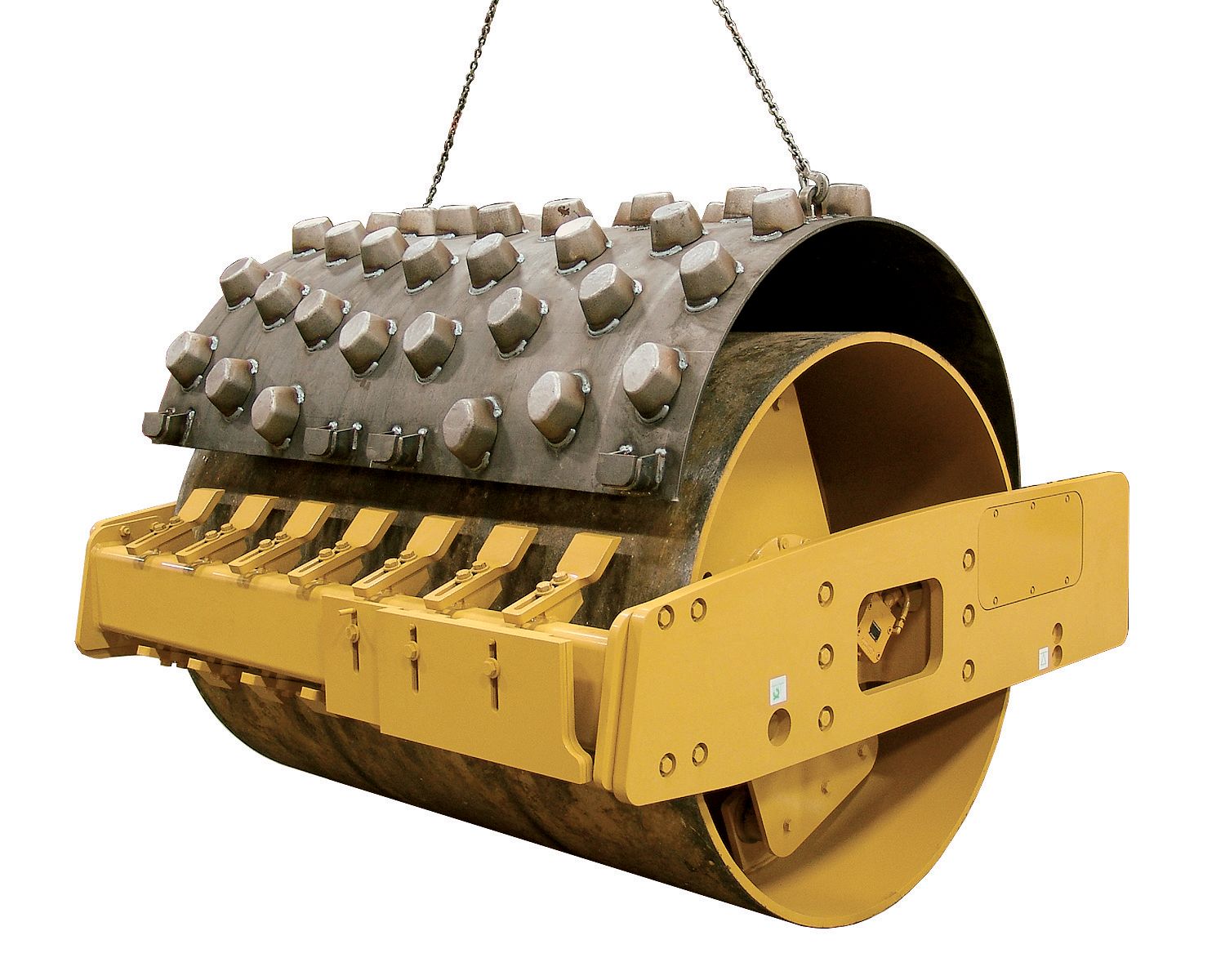 Serviceability
The CS54 XT provides exceptional reliability and serviceability that you've come to expect from Caterpillar.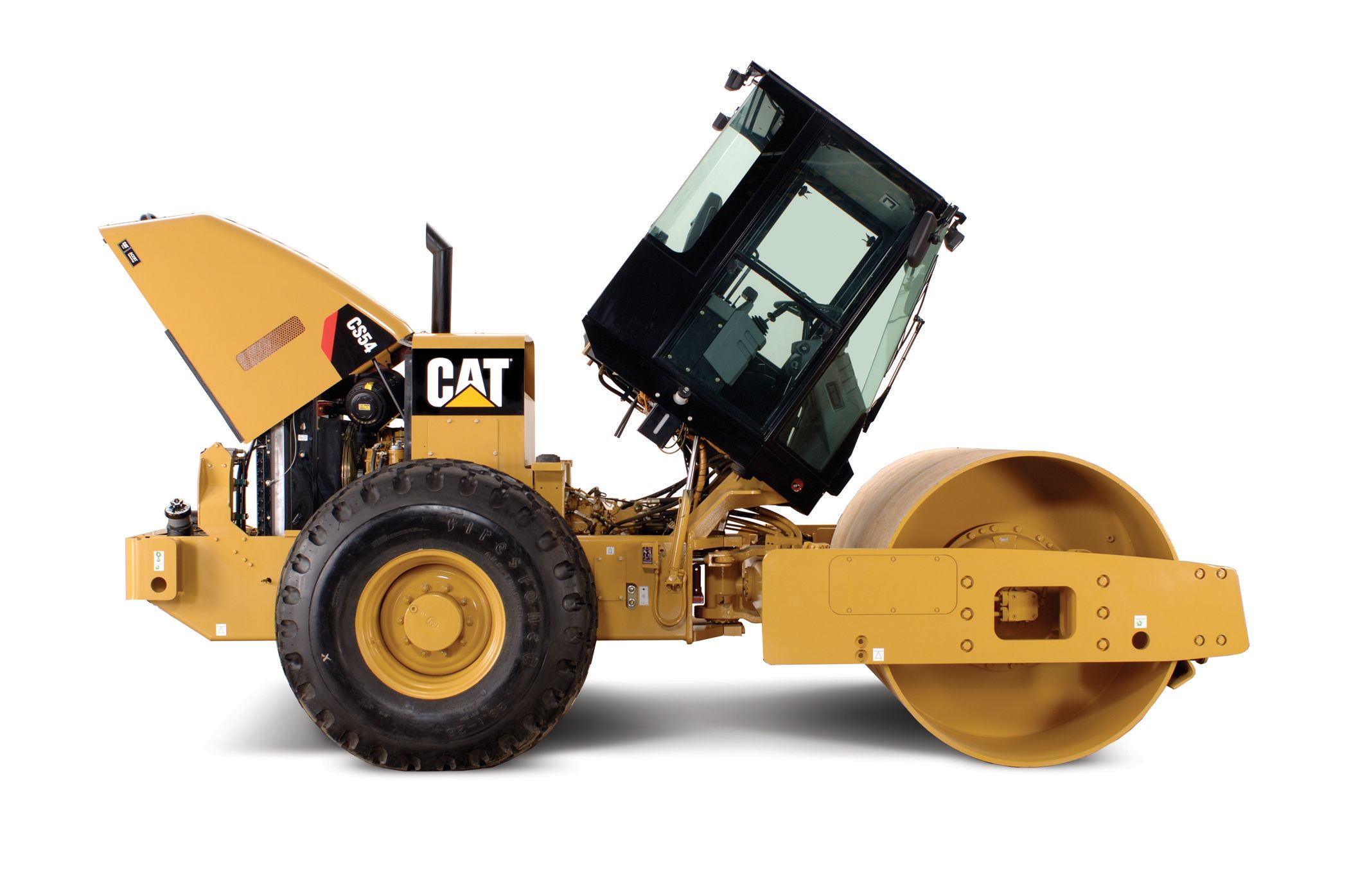 Cat Product Link System
Simplifies the tracking of equipment fleets to ensure maximum uptime and minimum repair costs.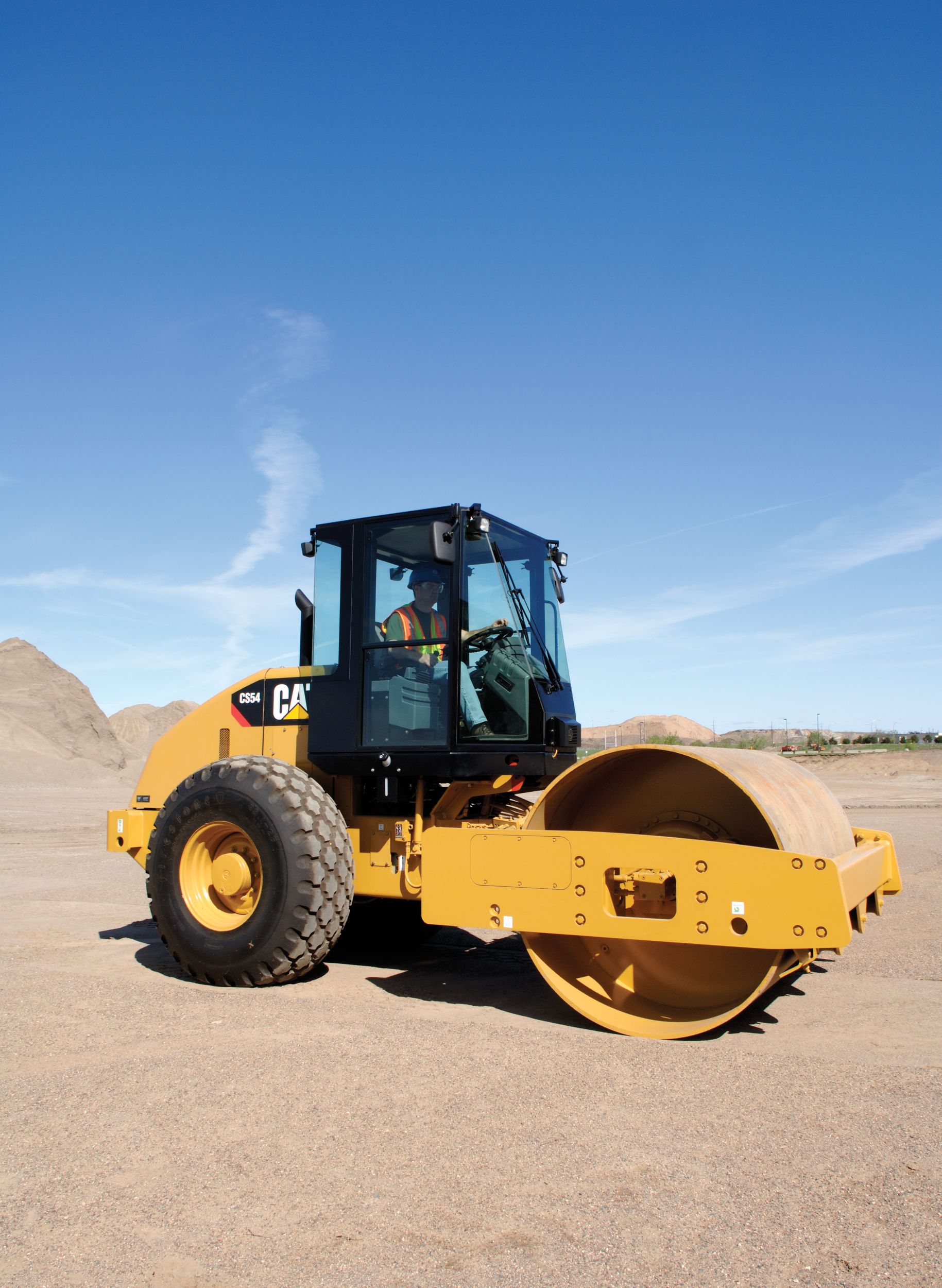 Your Cat Dealer
Caterpillar backs your machine purchase with the best support system and personnel in the industry.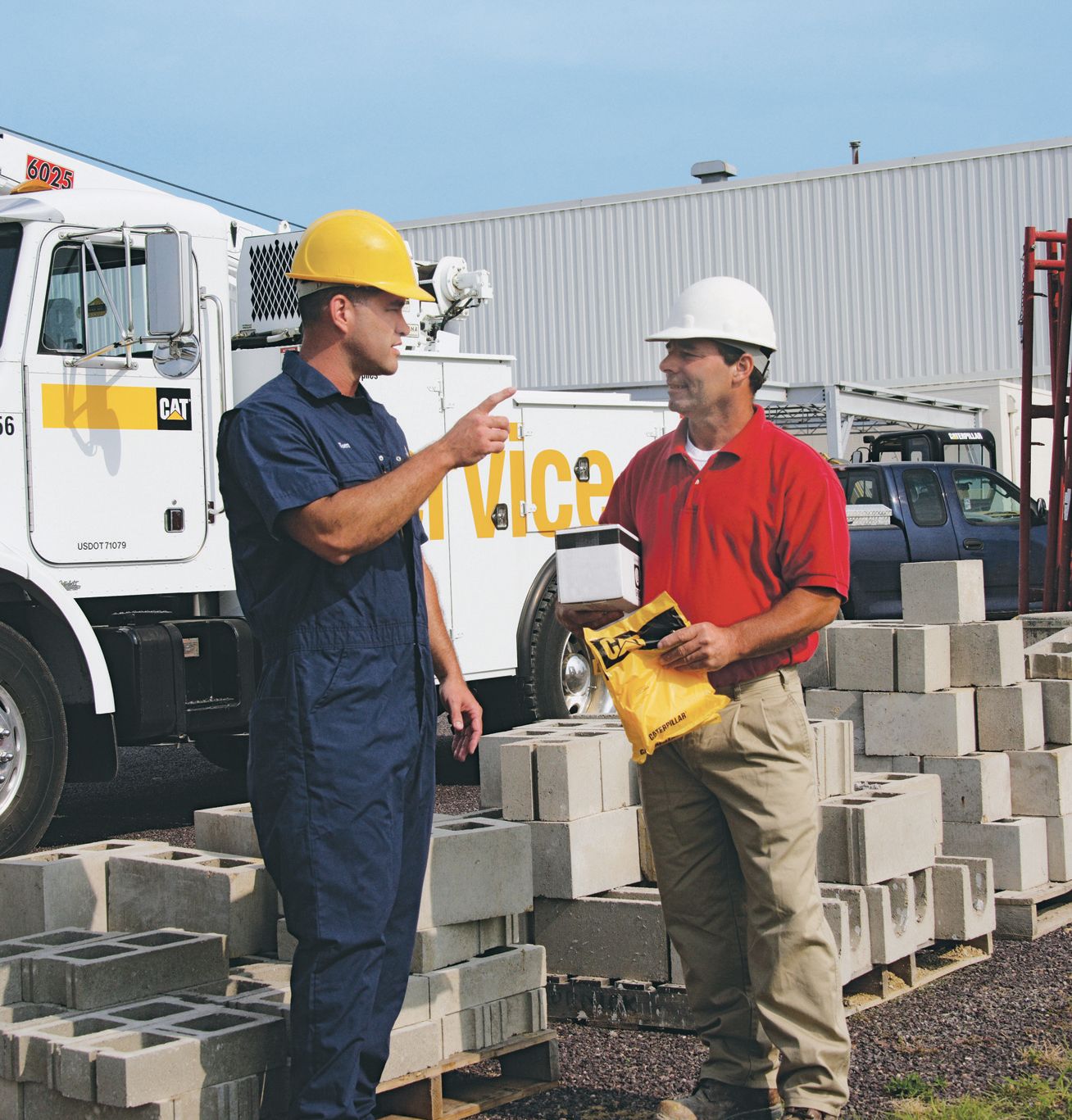 CONNECT. DISCUSS. SOLVE.
CATERPILLAR EQUIPMENT MAINTENANCE ONLINE COMMUNITY
HOW CAN WE HELP?
SHARE YOUR FEEDBACK OR ASK A QUESTION