CD54
The CD54 Drum Steer Tandem Vibratory Roller offers a versatile vibratory system that is effective on all types of asphalt mix. The front and rear split drums, wide offset feature, optimum maneuverability, power and reliable water spray system deliver unmatched performance in adverse conditions.
SPECIFICATIONS
Weights
Operating Weight
20944.0 lb
Operating Specifications
Standard Compaction Width
67.0 in
Turning Radius Inside Drum Edge
9.17 ft
Maximum Compaction Width
118.0 in
Static Linear Load
153.0 lb/in
Travel Speed – Maximum
5.5 mph
Engine
Service Refill Capacities
Fuel Tank Capacity
42.3 gal
Water (Spray) Tank Capacity
198.0 gal
Vibratory System
Centrifugal Force per Drum – Maximum
18900.0 lb
Centrifugal Force per Drum – Minimum
16762.0 lb
Frequency
53/42 Hz (3,180/2,520 vpm)
Nominal Amplitude – High
0.024 in
Nominal Amplitude – Low
0.013 in
Dimensions
Maximum Machine Height
120.0 in
BENEFITS & FEATURES
Steering
Wide offset capability provides high production.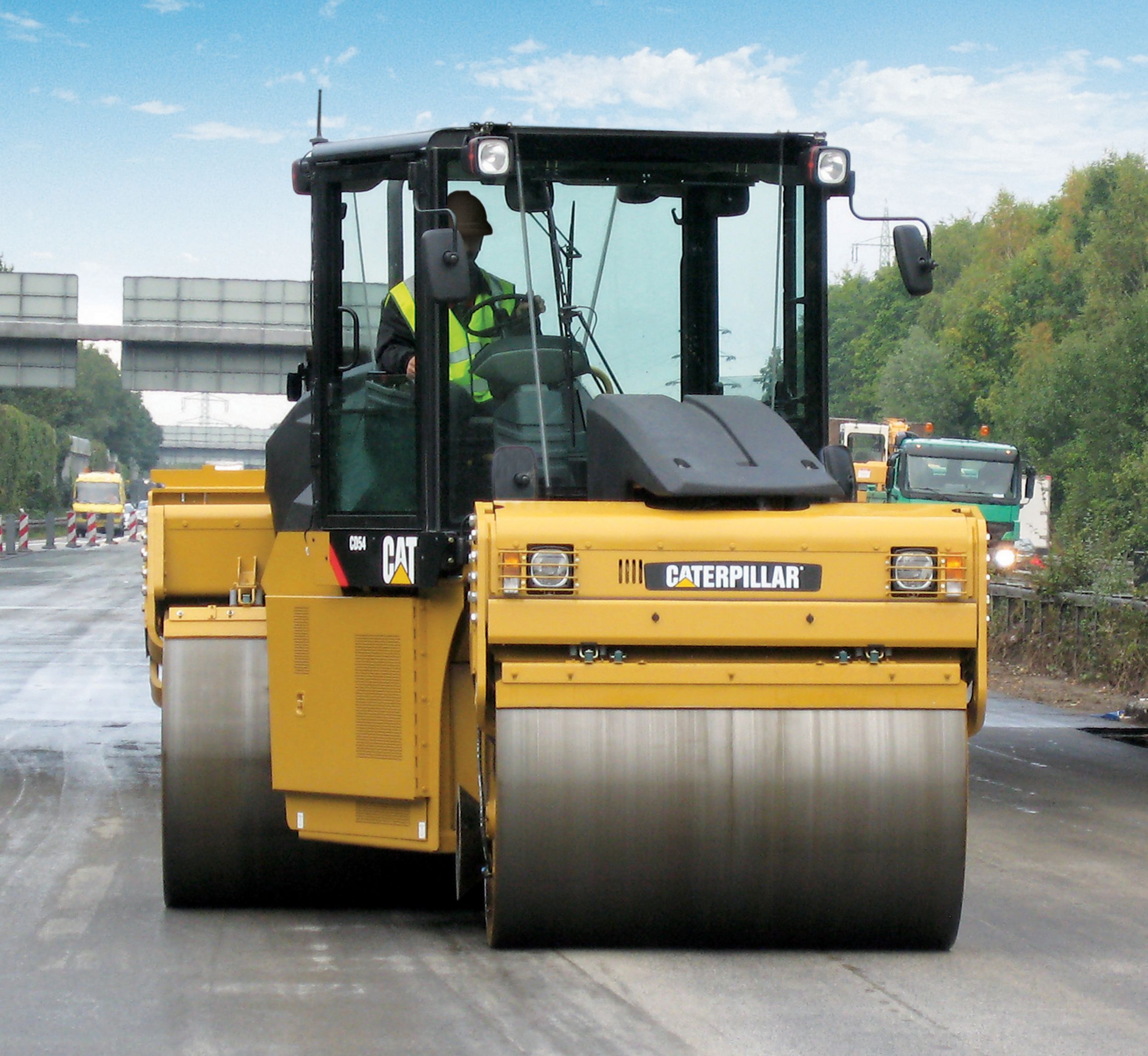 Split Drums
Split drums provide superior mat finish and tight turning radius without damaging mat.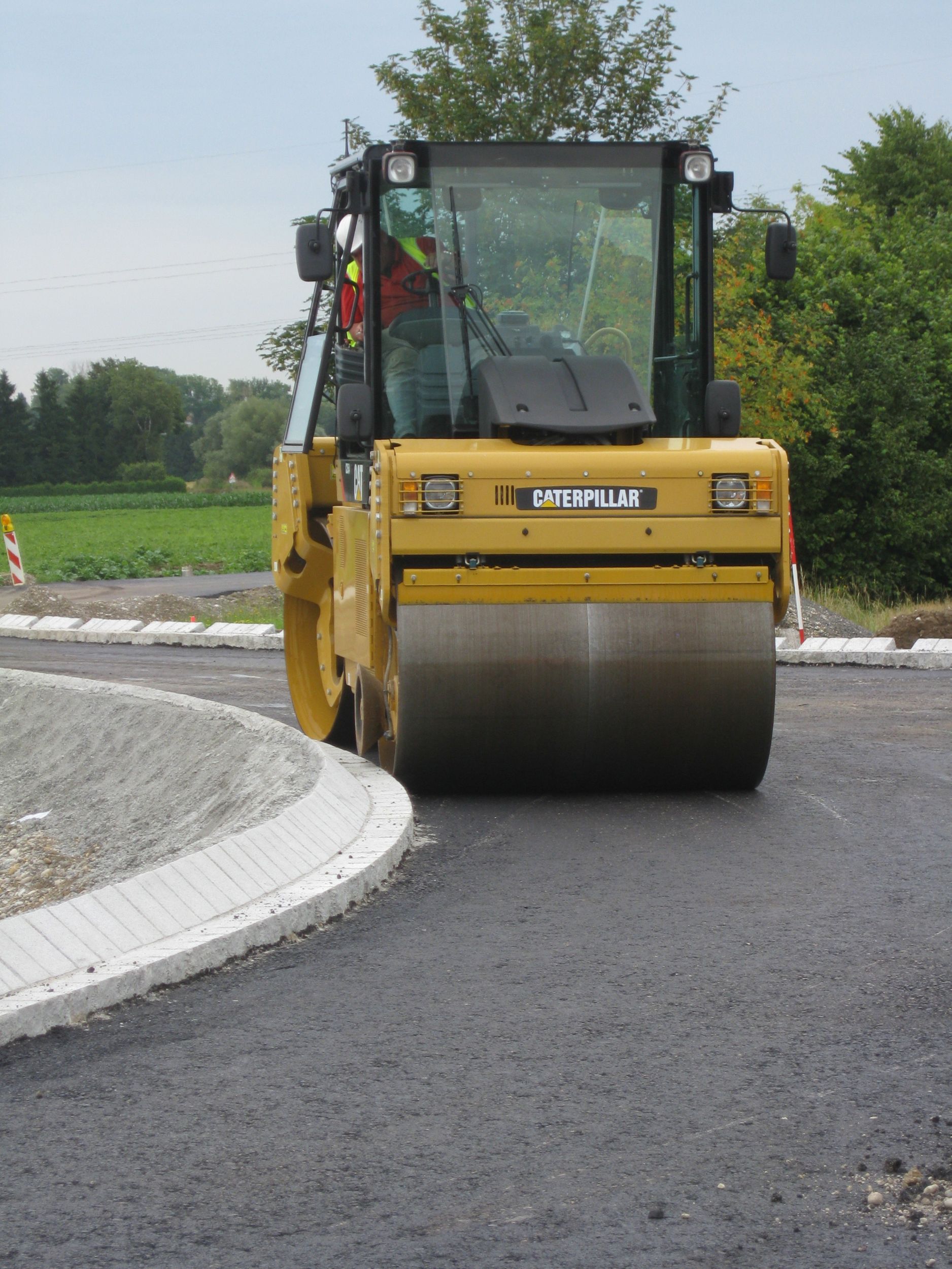 Vibratory System
The pod-style vibratory system delivers optimum compactive force while offering serviceability advantages.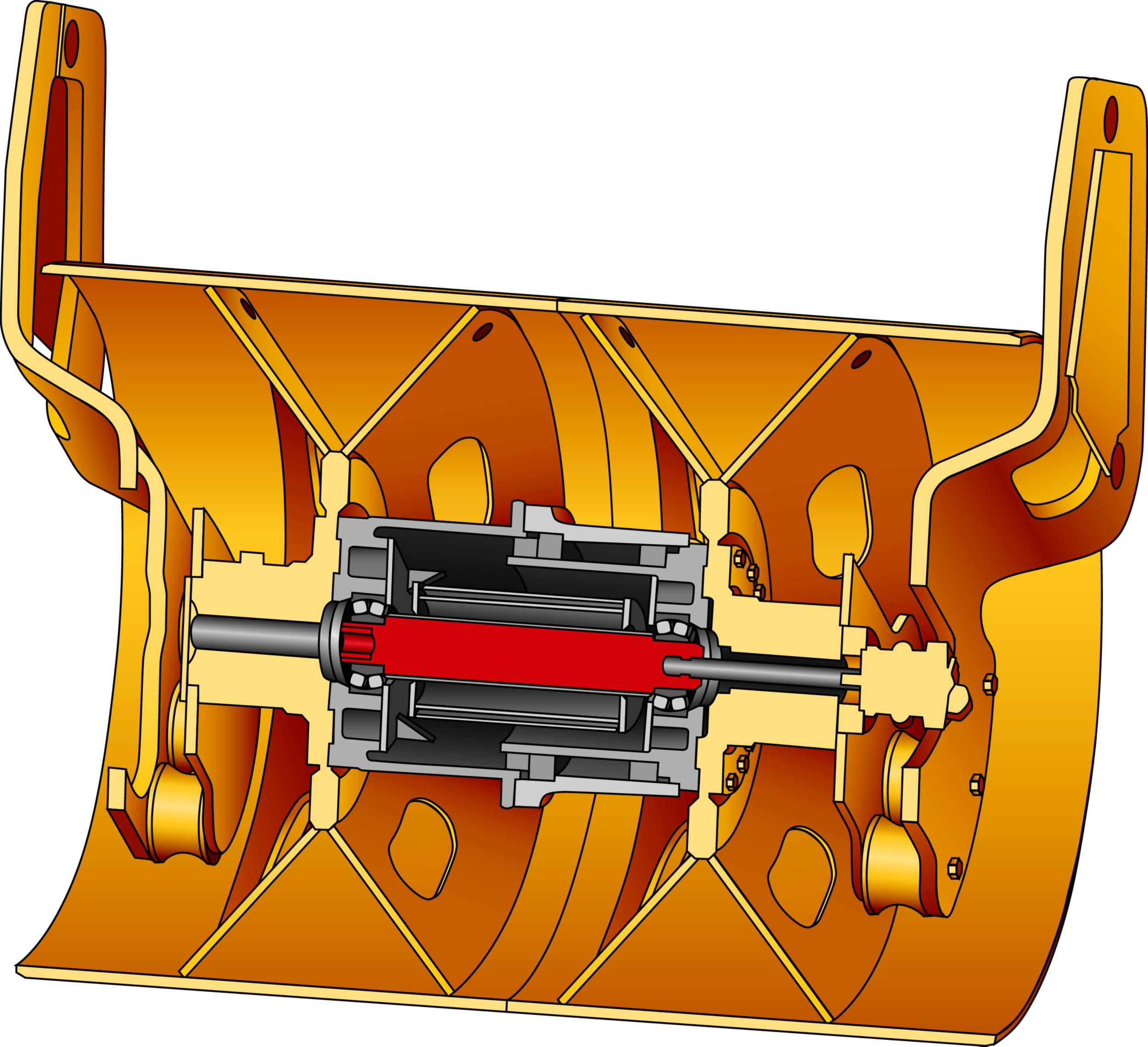 Dual Amplitude, Dual Frequency
Dual amplitude settings work efficiently in a wider range of applications. A switch on the operator's station changes amplitude and its corresponding frequency. The simple setup eliminates the guesswork associated with vibratory selection.
Automatic Vibration Control
The vibratory system automatically starts when the propel lever is moved from neutral and stops when positioned in neutral. A manual vibratory control is also provided.
Cat® 3054C Engine
High-tech four-cylinder engine provides outstanding performance and reliability.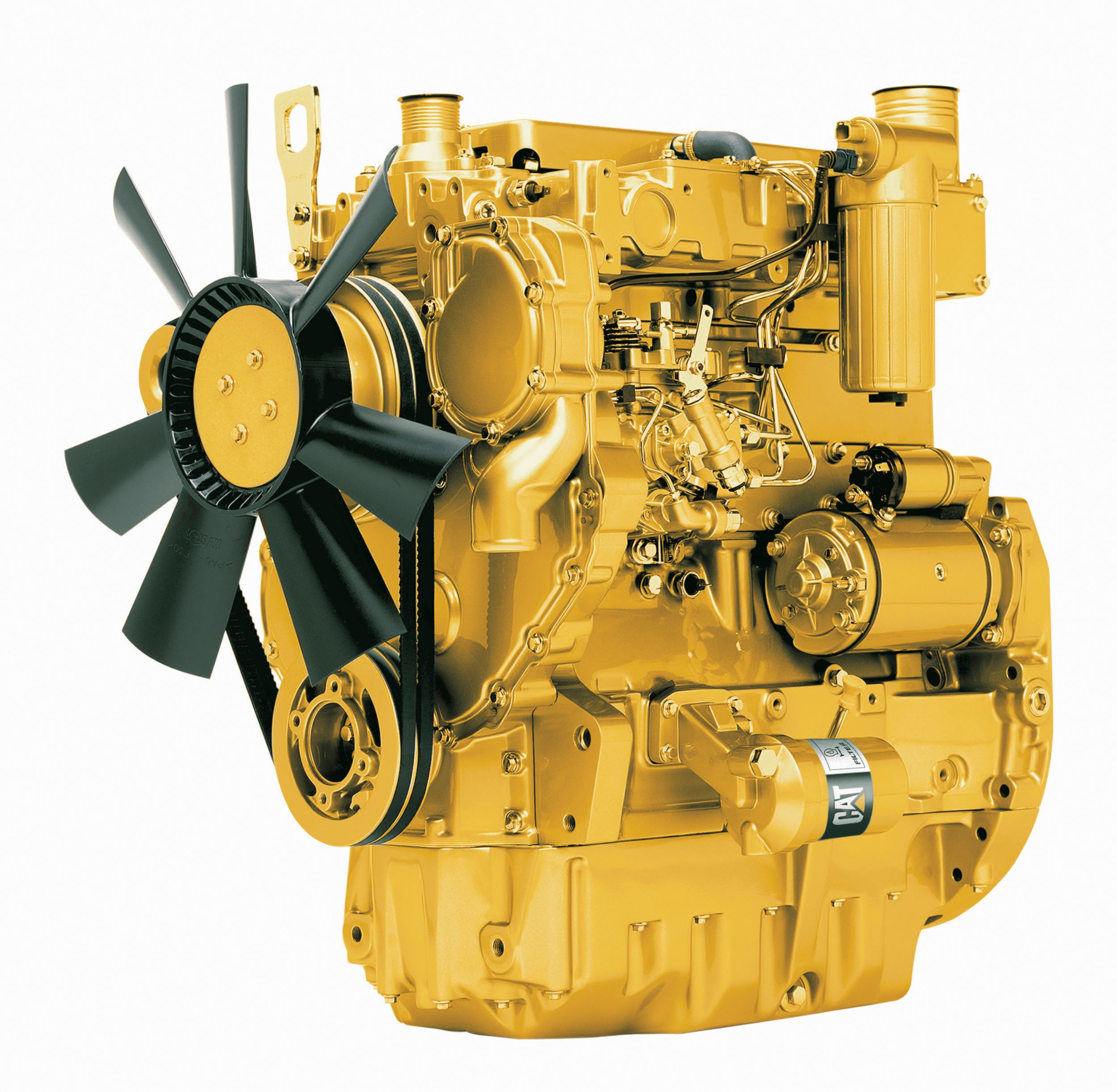 Cat 3054C Engine
The 3054C engine produces 74.5 kW (99.5 hp) of power at 2,200 rpm providing fuel efficiency.
Turbocharged for Top Performance
The turbocharged engine provides efficient operation especially at high altitudes, up to 2500 meters (8,200 feet) without derating.
Balanced Power
The Pressure Override (POR) valve balances power demand in order to provide responsiveness.
Standard Cab
Ergonomically designed for maximum operator productivity and unmatched comfort.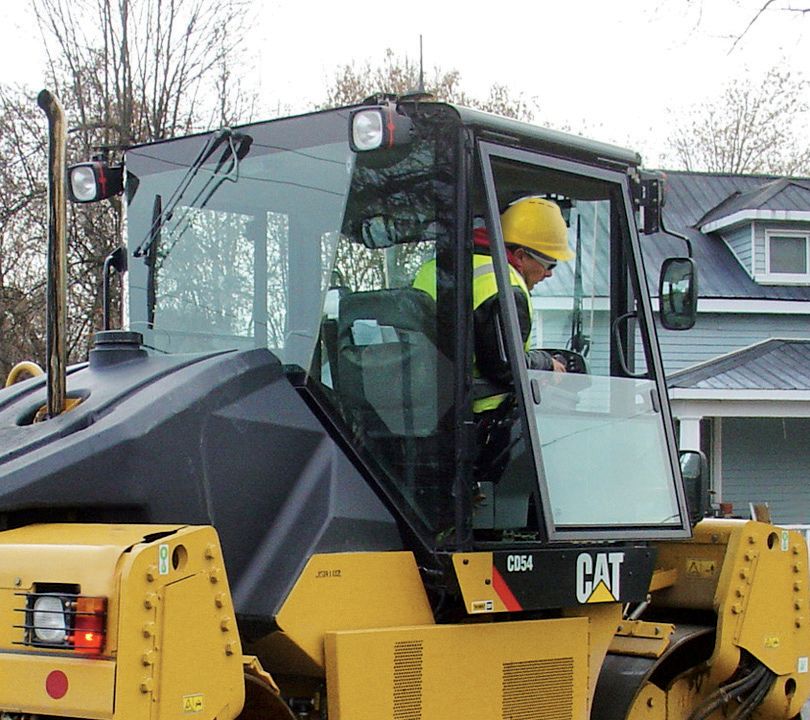 Comfortable Operating Environment
The console and instrumentation move with the operator, staying in the same relative position to the operator.
Multi-position Operator's Station
The operating station has nine rotating and seven sliding positions, maximizing comfort.
Multi-function Propel Handle
The multi-function propel handle simplifies operation with the following controls: propel speed, vibe on/off, water spray on/off, horn and optional drum offset.
Steering Console
The entire console tilts for simple entrance and exit. A lockable vandal cover is provided for the console.
Comfortable and Durable Seat
The seat has adjustable fore/aft position, suspension stiffness, and flip-up arm rests with a 76 mm (3") wide.
Isolated Operator's Station
The operator's station with four, heavy-duty rubber mounts reduce machine vibration to the operator.
Automatic Speed Control
A speed control dial located on the operator's console simplifies operation by allowing the operator to preset the machine speed or impact spacing. The speed control dial allows the operator to push the propel lever to the forward or reverse positions while repeating the desired speed or impact spacing.
Water Spray System
Durable water spray system with dual pumps, dual spray bars and triple filtration ensures reliable performance.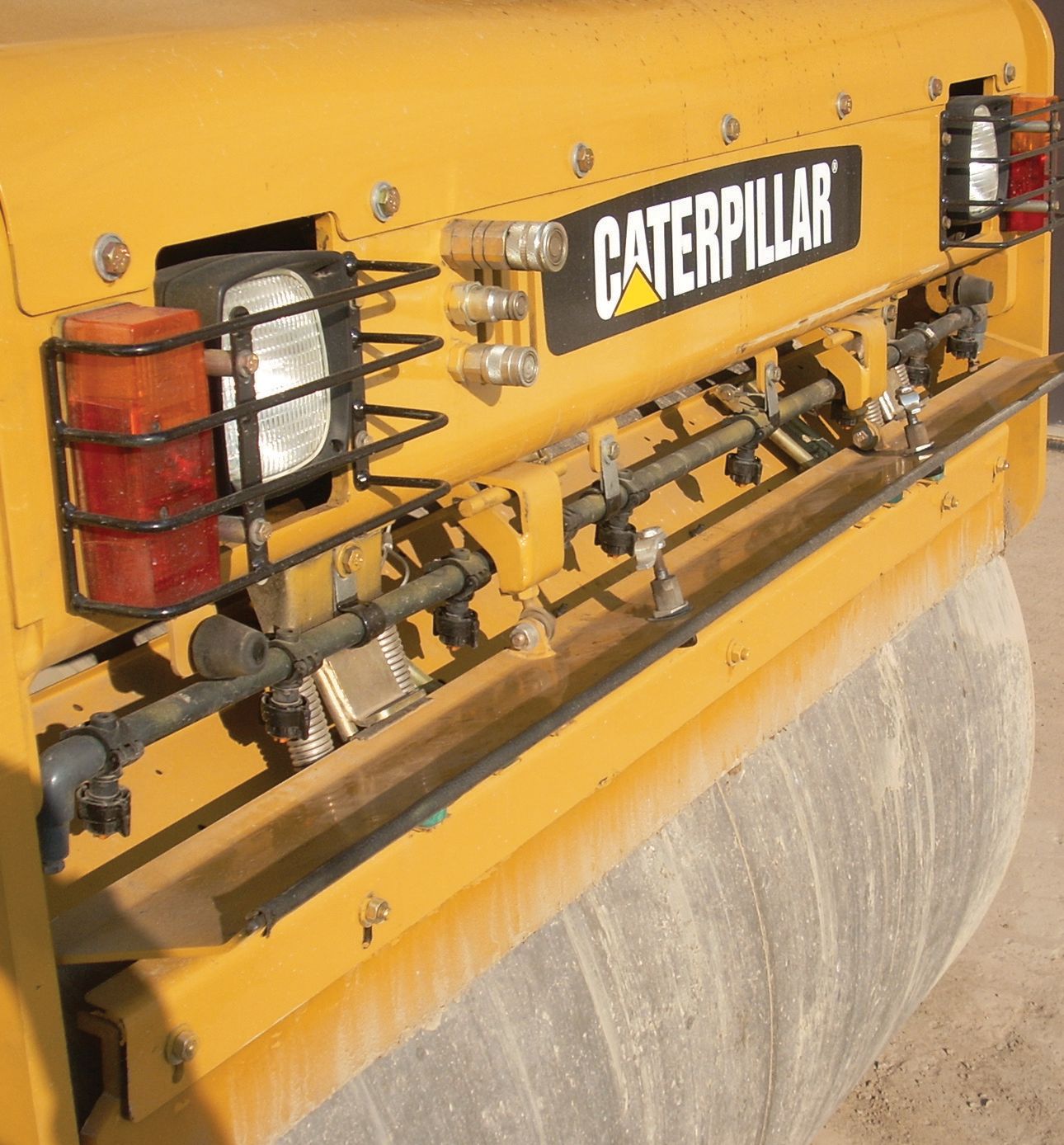 High-Capacity Water Tank
The single, high capacity, polyethylene water tank is enclosed within the machine frame providing extended operation.
Two Pump System
An auto pump control setting selects water from one pump while traveling forward and water from the other pump while traveling rearward. The system maintains even pump usage for uniform life. Manual override control is provided.
Triple Water Filtration
Water filtration reduces machine downtime caused by system clogs. A mesh strainer is located in the water fill port. The water pump and spray nozzles, include screen filters that provide simple access and cleaning.
Nozzle Orientation
The upward spray nozzle orientation allows water to drain back into the supply line, limiting particle accumulation in the nozzle filter.
Constant or Intermittent Spray Capability
The water spray system provides constant or intermittent spray settings. The intermittent spray setting provides longer operation between fill-ups. The intermittent spray is infinitely variable allowing fine-tuning for any condition.
On/Off Spray Control
The spray control is located on the propel lever providing simple operation.
Quick Release Spray Bars Covers
Quick release spray bar covers shield the spray bars and nozzles from wind and sun, allowing the spray nozzles to provide consistent coverage across the drum surface.
Freeze Protection Kit (Optional)
The freeze protection kit includes an in-line antifreeze bottle that allows the operator to pump antifreeze into the system.
Visibility
The CD54 provides good visibility for precise control and operator comfort.
Multi-Position Seating
The multi-position operator's station provides good visibility to the drum edges, drum surfaces, water spray nozzles and overall visibility around the machine.
Folded Drum Supports
Vertically folded drum supports provide the operator with good sight lines to the drum edges when working near obstructions.
Reliability and Serviceability
The CD54 Tandem Vibratory Roller provides the exceptional reliability and serviceability that you've come to expect from Caterpillar.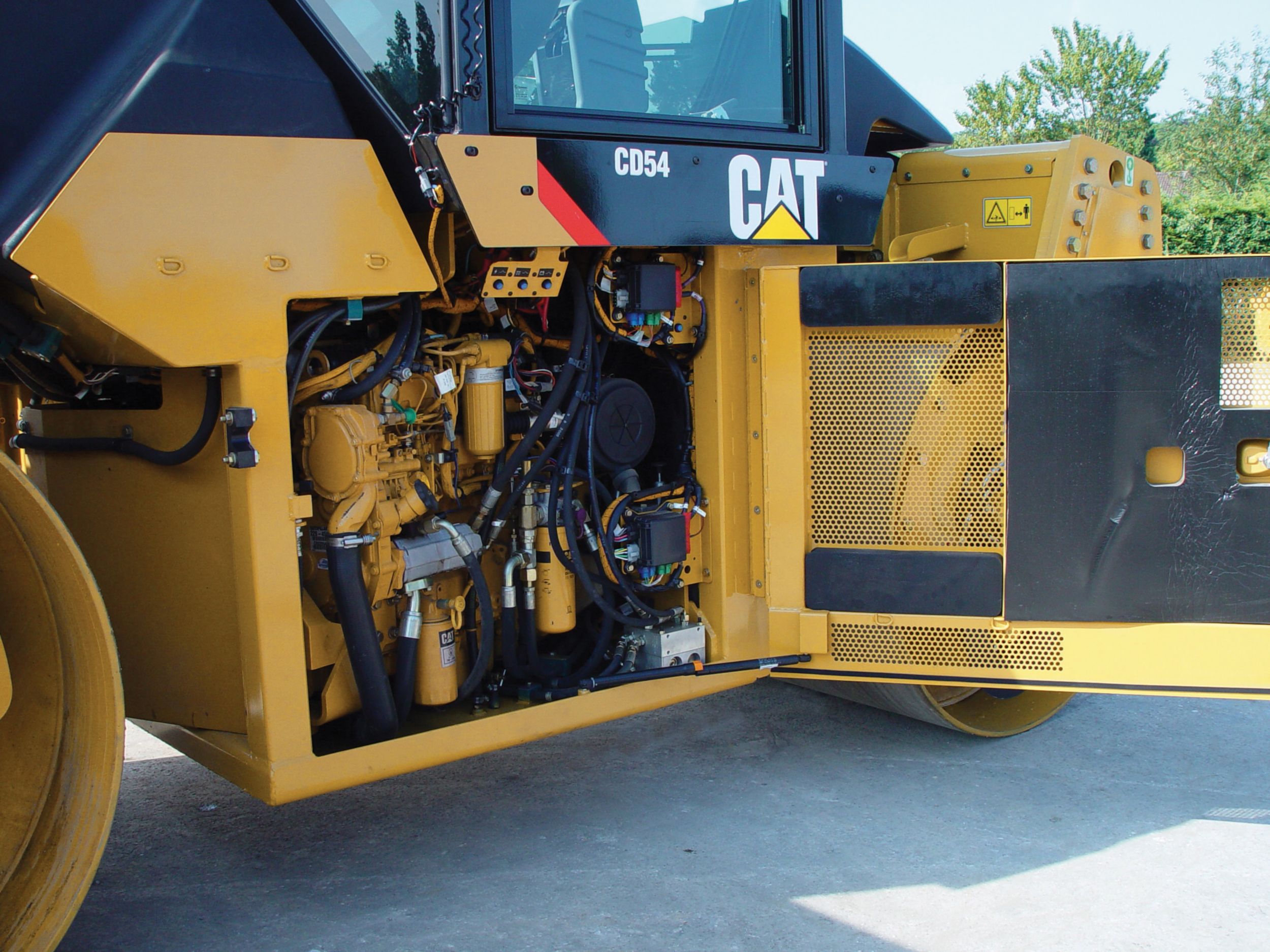 Large Access Panels
Large access panels provide easy ground level access to major systems and routine maintenance points.
Spray System Easy Access and Removal
The filters and spray nozzles are easily removed by hand without the need for special tools.
Product Link Ready
The Product Link System ensures maximum uptime and minimum repair costs by simplifying tracking of equipment fleets. The system provides automatic machine location and hour updates.
EQUIPMENT
Optional Equipment
Water Distribution Mats
Cocoa Mats
Water Spray Freeze Protection Kit
Warning Beacon
External Mirrors
Bio-Degradeable Oil
Product Link
Air Conditioning
Sun Screen
Recording Module
Edge Cutter
Chip Spreader Ready
Weight Kit
CONNECT. DISCUSS. SOLVE.
CATERPILLAR EQUIPMENT MAINTENANCE ONLINE COMMUNITY
HOW CAN WE HELP?
SHARE YOUR FEEDBACK OR ASK A QUESTION