CB-224E
The CB-224E is a versatile machine that can be used as the only vibratory compactor on small sized jobs or on larger jobs as a support roller for high-production compactors. The CB-224E provides greater production capabilities with its 1200 mm (47") wide drums. Its high amplitude and drum width give it the capacity to achieve a tons-per-day production rate that make it an excellent match for shoulders, small parking lots, lane additions or other similar sized jobs.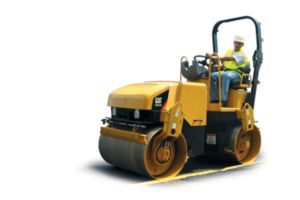 DETAILS
SPECIFICATIONS
Weights
Operating Weight at Rear Drum with ROPS/FOPS
3050.0 lb
Operating Weight at Front Drum with ROPS/FOPS
2760.0 lb
Operating Weight without ROPS/FOPS
5670.0 lb
Operating Weight with ROPS/FOPS
5800.0 lb
Operating Specifications
Turning Radius Outside Drum Edge
142.0 in
Turning Radius Inside Drum Edge
95.0 ft
Travel Speed - Maximum
6.0 mph
Engine
Net Power - EEC 80/1260
30.3 hp
Net Power - ISO 9249
30.3 hp
Service Refill Capacities
Fuel Tank Capacity
12.3 gal
Water (Spray) Tank Capacity
39.0 gal
Vibratory System
Vibration Selection
Front, rear or both
Eccentric Weight Drive
Hydraulic
Centrifugal Force per Drum - Maximum
6975.0 lb
Nominal Amplitude - High
0.02 in
Dimensions
Height at Steering Wheel
69.0 in
Height with ROPS/FOPS
102.0 in
BENEFITS & FEATURES
Caterpillar 3013C Engine
The Caterpillar 3013C is a compact and efficient diesel engine which will provide years of low maintenance operation.
Precise Balance and Optimum Running Speed
The Caterpillar 3013C engine has precise balance and optimum running speed for quiet and efficient operation.
Liquid-cooled Engine
The liquid-cooled engine operates at low temperature helping reduce component wear.
Variable Injection Timing
Variable injection timing provides highly efficient combustion eliminating visible smoke.
Oil Service
Standard 500 hour oil service interval reduces operating costs.
Engine Meets EU Stage II and U.S. Tier 2 Standards
Engine meets EU Stage II and U.S. Tier 2 off highway emissions standards.
Vibratory System
The CB-224E has a precise vibratory system that delivers optimum compactive force.
Pod-style Weight Housings
The pod-style weight housings are assembled and sealed at the factory to ensure cleanliness, extended bearing life and easy field exchange/service.
Change Interval
The change interval for bearing lubrication is every three years or 3,000 hours.
Frequency and Amplitude
The balance between frequency and amplitude provides a good mat finish for commercial work.
Vibratory Delay Option
The vibratory delay option allows front drum to vibrate before the rear drum.
Operator Comfort
Operating ease and comfort promote all-day productivity.
Single Propel Lever Control
A single propel lever control provides simplified operation, making the CB-224E a perfect fit for new operators.
Instrument Panel
The easy-to-understand instrument panel integrates warning lights for main functions, fuel gauge, water spray and switches, allowing the operator to quickly verify the status of machine systems.
Sound Levels
Low sound levels make the CB-224E comfortable for both operators and spectators.
Operator's Station
Provides maximum visibility to drum and ground contact points.
Seat Arrangements
The durable suspension or non-suspension seat arrangements offer day long comfort.
Ignition Key Switch
The ignition key switch automatically enables engine pre-heat system.
Operator's Station is Isolated
The operator's station is isolated with four rubber mounts that help reduce vibration before it reaches the operator, controls and instrumentation.
Lockable Cover
A lockable cover protects instrumentation and gauges.
Visibility
The low-profile design of the CB-224E provides excellent forward and rearward visibility for convenient control of the machine.
Forward Visibility
Excellent forward visibility allows the operator to see objects 0.58 m (1.9') high and 1 m (3.3') in front of the machine.
Rearward Visibility
The rearward visibility is even better. The operator can see objects that are 0.35 m (1.1') behind the machine and flush to the surface.
Engine Enclosure
The low-profile engine enclosure provides unobstructed sight lines to ground personnel working near the machine.
Water Spray System
The corrosion-proof water spray system and extended-life components provide reliable operation.
Constant or Intermittent Spray Capabilities
Constant or intermittent spray capabilities provide extended operation between refills.
Water Filtration
Triple water filtration reduces machine downtime caused by system clogs.
Water Pump
The extended-life water pump provides optimum spray and flow. The pump and filters are conveniently located for easy access.
Water Tank
The large water tank drain allows system to be drained in less than five minutes.
Optional Front and Rear Spray Bar Shields
Optional front and rear spray bar shields prevent wind displacement of water.
Optional 70 Liter (18.5 gal) Water Tank
Optional 70 liter (18.5 gal) water tank increases production between refills.
Drum Design Keeps Production High
Machined drum surfaces help ensure a smooth mat and specially designed drum edges help eliminate marks on deep lifts or when turning.
Specially Designed Drum Edges
Specially designed drum edges help eliminate marks on deep lifts or when turning.
Drum Construction
The drums are constructed of rolled steel plate and are finished to reduce surface irregularities.
Replaceable Rubber Mounts
Replaceable rubber mounts isolate vibration and enhance vibratory capabilities.
Drum Scrapers
Each drum is fitted with two retractable, spring-loaded, self-adjusting scrapers, positioned at the front and rear of the each drum.
Serviceability
Time-saving features reduce maintenance requirements and increase production.
Fiberglass Engine Enclosure
The fiberglass engine enclosure pivots upward and locks open with a prop rod.
External Engine Components
External engine components, hydraulics and routine service points are clustered in easy-to-access locations.
Daily Visual Maintenance
Daily visual maintenance system simplifies verification of fluid levels and filter conditions.
Extended-life Oils
Extended-life oils increase maintenance intervals for the vibratory system, hydraulic system and engine oil.
Remote-mounted Drains for Hydraulic and Engine Oils
Remote-mounted drains for hydraulic and engine oils provide simplified collection of fluids.
Quick-connect Hydraulic Test Ports
Quick-connect hydraulic test ports simplify system diagnosis.
Electrical Wiring
Electrical wiring is color-coded and numbered for simple troubleshooting.
Nylon-braided Wrap and All-weather Connectors
Nylon-braided wrap and all-weather connectors ensure electrical system.
EQUIPMENT
Optional Equipment
Roll Over Protective Structure (ROPS)
Foldable ROPS
Sun Canopy
Working Light Package
Roading and Working Light Package
Rotating Beacon
Spark Arrestor Muffler
Back-up Alarm
Suspension Seat
Cocoa Mats
Heat Retention Devices
Spray Bar Shields
Light Protector Grids
Water Tank (additional)
Traction Control
Exhaust Deflector
Rear Drum Vibratory Control
Delay "ON" Vibratory System
Non-Machined Drum Edges
CONNECT. DISCUSS. SOLVE.
CATERPILLAR EQUIPMENT MAINTENANCE ONLINE COMMUNITY
HOW CAN WE HELP?
SHARE YOUR FEEDBACK OR ASK A QUESTION