450E
With pilot-operated joystick controls, a more comfortable operator station, new extendible stick design and increased performance, the 450E lets you get more done with less effort.
SPECIFICATIONS
Engine
Net Power - SAE J1349
124.0 hp
Engine Model (Standard)
Cat® C4.4
Gross Power - SAE J1995
137.0 hp
Net Power - ISO 9249
125.0 hp
Gross Power - ISO 14396
137.0 hp
Net Power - EEC 80/1269
125.0 hp
Net Torque Rise @ 1400 rpm - Standard
28.0 %
Net Peak Torque @ 1400 rpm - Standard - SAE J1349
380.0 lb ft
Backhoe
Dig Depth - Standard
17.2 ft
E-Stick Retracted
17.2 ft
Reach from Swing Pivot - Standard
22.0 ft
E-Stick Retracted
22.0 ft
Bucket Rotation
198.0 Degrees
Bucket Dig Force - Standard
17746.0 lb
E-Stick Retracted
17746.0 lb
E-Stick Extended
17746.0 lb
Stick Dig Force - Standard
11780.0 lb
E-Stick Retracted
11939.0 lb
E-Stick Extended
9009.0 lb
Stick Lift @ 2440 mm (8 ft) - Standard
8401.0 lb
E-Stick Retracted
8084.0 lb
E-Stick Extended
4514.0 lb
Loading Height - Standard
14.58 ft
E-Stick Retracted
14.58 ft
Loading Reach - Standard
6.85 ft
E-Stick Retracted
6.85 ft
Weights
Operating Weight - Maximum
27115.0 lb
Operating Weight - Nominal
24141.0 lb
Extendible Stick (no weights)
628.0 lb
Air Conditioning
157.0 lb
MP Bucket 1.1 m3 (1.5 yd3) w/Fold-Over Fork
231.0 lb
MP Bucket 1.1 m3 (1.5 yd3) w/o Fold-Over Fork
-190.0 lb
Loader
Bucket Capacity - General Purpose
1.75 yd3
Bucket Width - General Purpose
8.0 ft
Dump Height @ Max Angle - Single Tilt
8.7 ft
Dump Reach @ Max Angle - Single Tilt
2.7 ft
Dig Depth - Single Tilt
6.0 in
Lift Capacity @ Full Height - Single Tilt
7871.0 lb
Bucket Breakout Force - Single Tilt
11375.0 lb
Hydraulic System
Circuit Type
Closed center, load sensing
Pump Capacity (@ 2200 rpm)
51.3 gal/min
System Pressure - Backhoe
3800.0 psi
System Pressure - Loader
3550.0 psi
Pump Type
Variable-flow, axial piston, secondary gear
Power Steering
Hydrostatic, Hand Metering Unit
4WD Cylinder - Bore
3.35 in
Brake System
Boosted, outboard, oil-immersed, multiple disc
Axle Oscillation
10.0 Degrees
Power Train
Auto-Shift (opt), Forward 1st
3.7 mph
Auto-Shift (opt), Reverse 1st
3.7 mph
Operating Specifications - Backhoe
Turning Circle: outside, front wheels
27.4 ft
Turning Circle: outside, widest loading bucket
36.6 ft
Axle Ratings
Front Axle, 4WD, Static
50582.0 lb
Rear Axle, Static
51257.0 lb
Service Refills
Cooling System, A/C
6.4 gal
Cooling System, High-Ambient
6.8 gal
Engine Oil w/Filter
2.2 gal
Transmission, AWD, Auto Shift
5.6 gal
Front Axle, Planetaries
0.2 gal
Hydraulic System
26.5 gal
Standards
Brakes
SAE J/ISO 3450, ISO 3450 1996
Cab - ROPS
SAE J1040 May 1994/ISO 3741 1994
Cab - FOPS
SAE J/ISO 3449 APR98 LEVEL II and ISO 3449:1992 LEVEL II
Cab - Sound
ANSI/SAE J1166 Oct 98 is 83 dB (A)
Exterior Sound
SAE J88 APR95 is 79 dB (A)
Tires
Front 4WD Standard Size
15-19.5, 12 PR
Rear 4WD Standard Size
21L-24, R4 18 PR
BENEFITS & FEATURES
Operator Station
The all-new operator station provides maximum comfort and ease of operation.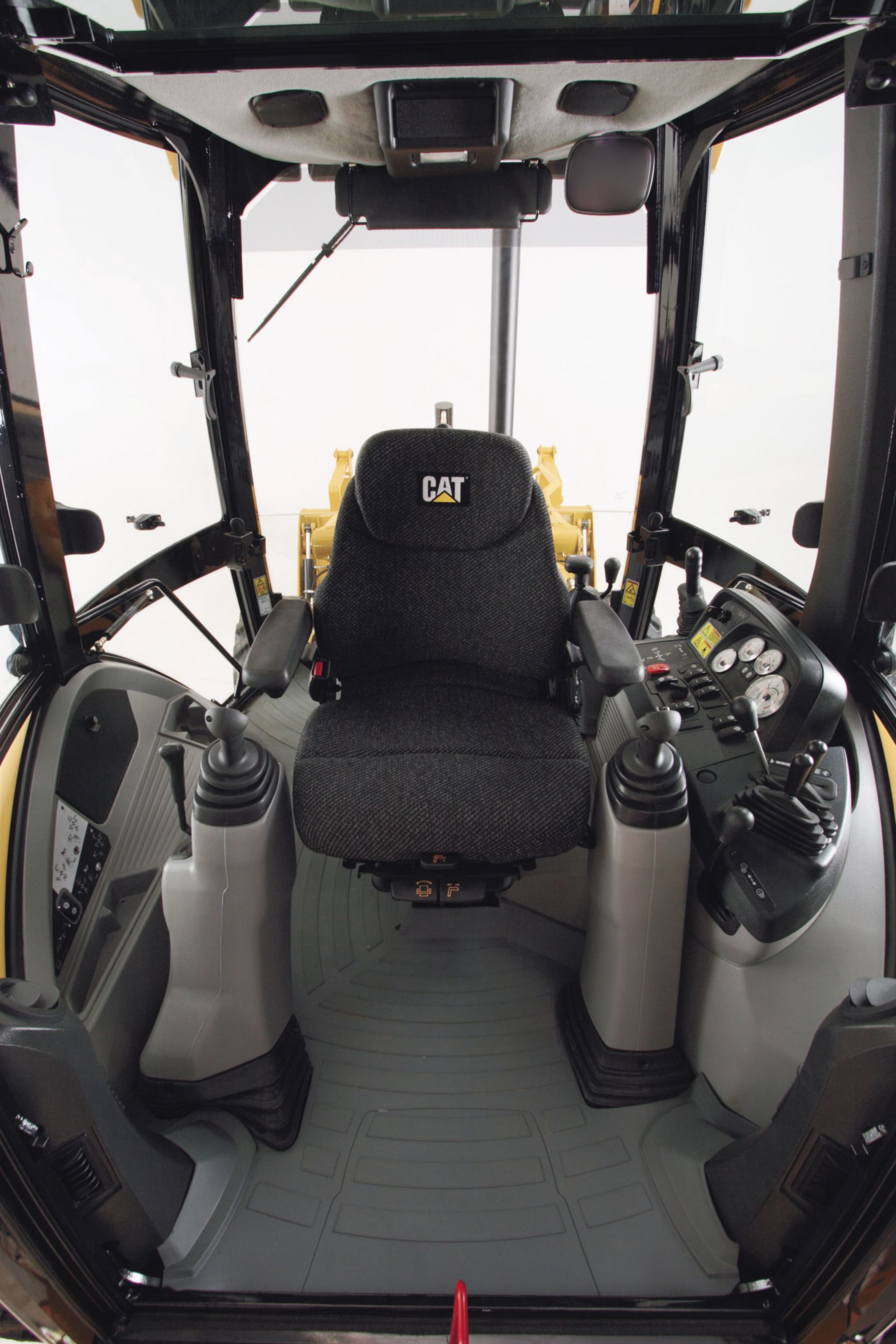 Operator Comfort
The all-new operator station has been designed to maximize operator comfort and productivity. Pilot operated controls allow for more legroom and a spacious work environment.
New Styling
The new ergonomic, automotive styling of the operator station enhances the operator environment. The narrow front dash provides excellent visibility to the front bucket. Integrated storage areas and cupholders are designed for operator convenience.
Deluxe ROPS Canopy
Features of the ROPS canopy include:
Air suspension vinyl seat
Tilt steering wheel
Two 12-volt internal power supply adapters
12-volt external power supply adapter
Phone clip
Lockable, left side storage compartment
Drink holders
Floor mat
Eight working lights
Boosted brakes
Individual auto-up feature on stabilizer controls
Rotating vandal guard
System indicators for hydraulic filter service and hydraulic temperature warning
Deluxe Cab with Air Conditioning
The standard cab features include:
Air suspension fabric seat
Tilt steering wheel
Two 12-volt internal power supply adapters
12-volt external power supply adapter
Phone clip
Lockable, left side storage compartment
Drink holders
Floor mat
Eight working lights
Boosted brakes
Individual auto-up feature on stabilizer controls
Two doors
Front and rear windshield
Wiper/washer system
Radio-ready
Dome light
Deluxe, nine-way adjustable air suspension seat
System indicators for hydraulic filter service and hydraulic temperature warning
Air conditioning
New Gauge Cluster
Operators can easily view system information on the new gauge cluster. Gauges are displayed against a white background for good visibility in different light conditions. Ergonomic, tactile switches are simple to understand.
Air Suspension Seat
The standard air suspension seat utilizes an air adjustment mechanism for a greater operating range and more comfortable ride. A switch on the seat post allows the seat to be tailored to support differing body weights. Adjustable seat height accommodates all operators. The deluxe cab air suspension seat also has an adjustable back support, lumbar support, seat cushion extension, seat cushion tilt and vertical and angle adjusting armrests.
HVAC System
The improved air conditioning system features enhanced air distribution and performance for a more comfortable work environment. Large capacity fresh air filter is easily serviced from ground level with no tools required. Nearly 20% increase in air flow combined with improved louver locations provide superior operator comfort.
Storage Compartment
New lockable, left side storage compartment is standard on the 450E.
Pilot Operated Joystick Controls
Low effort, comfortable controls reduce fatigue and provide more legroom.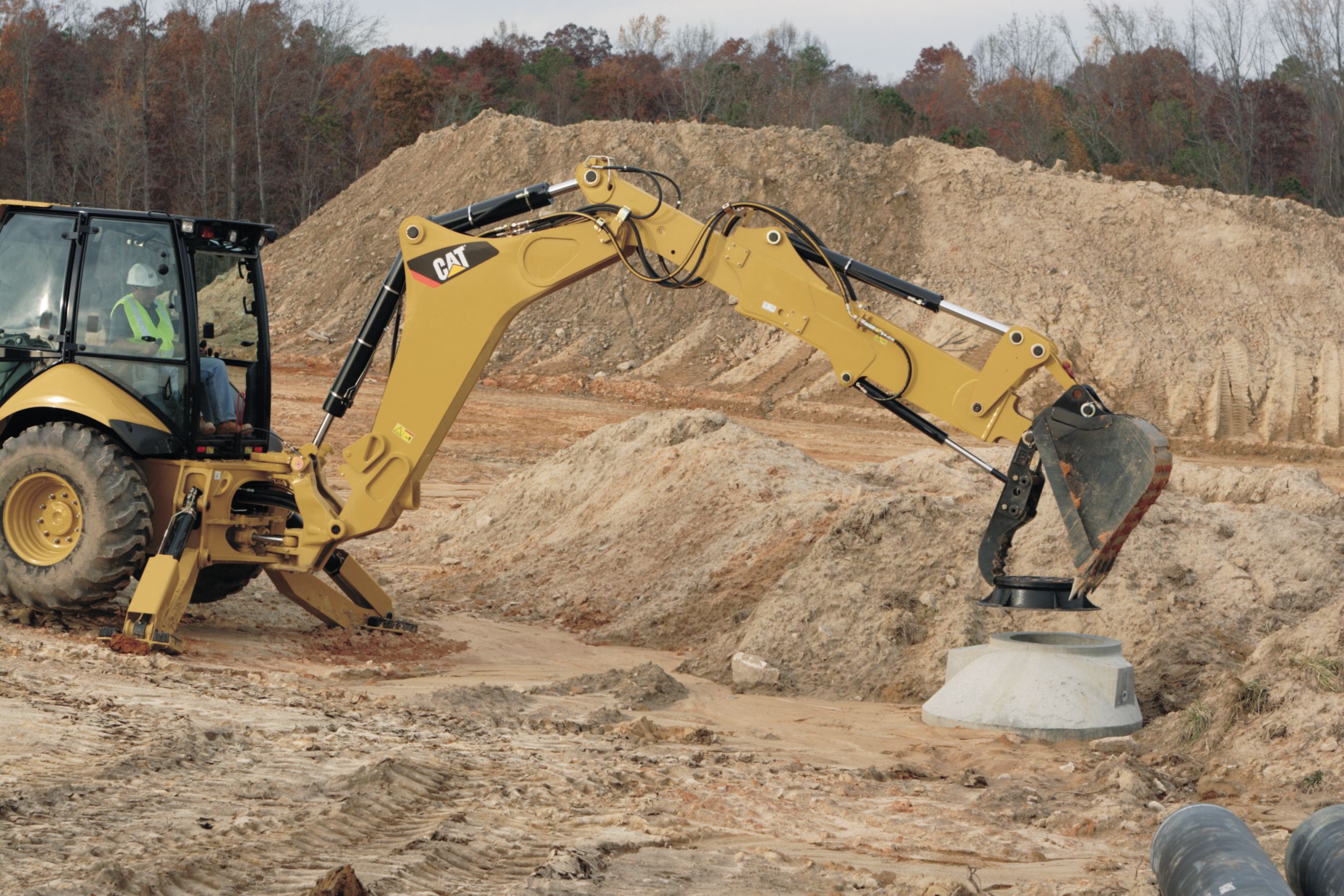 Joystick Controls
Standard excavator-style joysticks provide smooth modulation and are ergonomically designed for low effort control and operator comfort. Without the traditional, rear console, they also provide increased legroom and greater rearward viewing area.
Pilot Operated Stabilizer Controls
Stabilizer controls are within easy reach of the operator when operating the backhoe and provide low effort and fine modulation control. Each control has automatic raising or "Auto-Up" feature to speed the process for moving on.
Pilot Control Pods
Located on the left and right sides, the controls can move fore and aft and can be operated in either position for maximum comfort.
Joystick Roller Switches
Thumb rollers on the joysticks provide convenient, fingertip control of auxiliary functions for features such as the extendible stick, hammers and augers. Roller switches eliminate the need for foot pedals, providing additional foot room for the operator.
Pattern Selector Switch
The pattern selector switch, located in the cab, allows the operator to change from excavator control pattern to backhoe loader control pattern without leaving the seat.
Mechanical Controls
Hydraulics
Caterpillar sets the standard in power and precision with load-sensing hydraulics.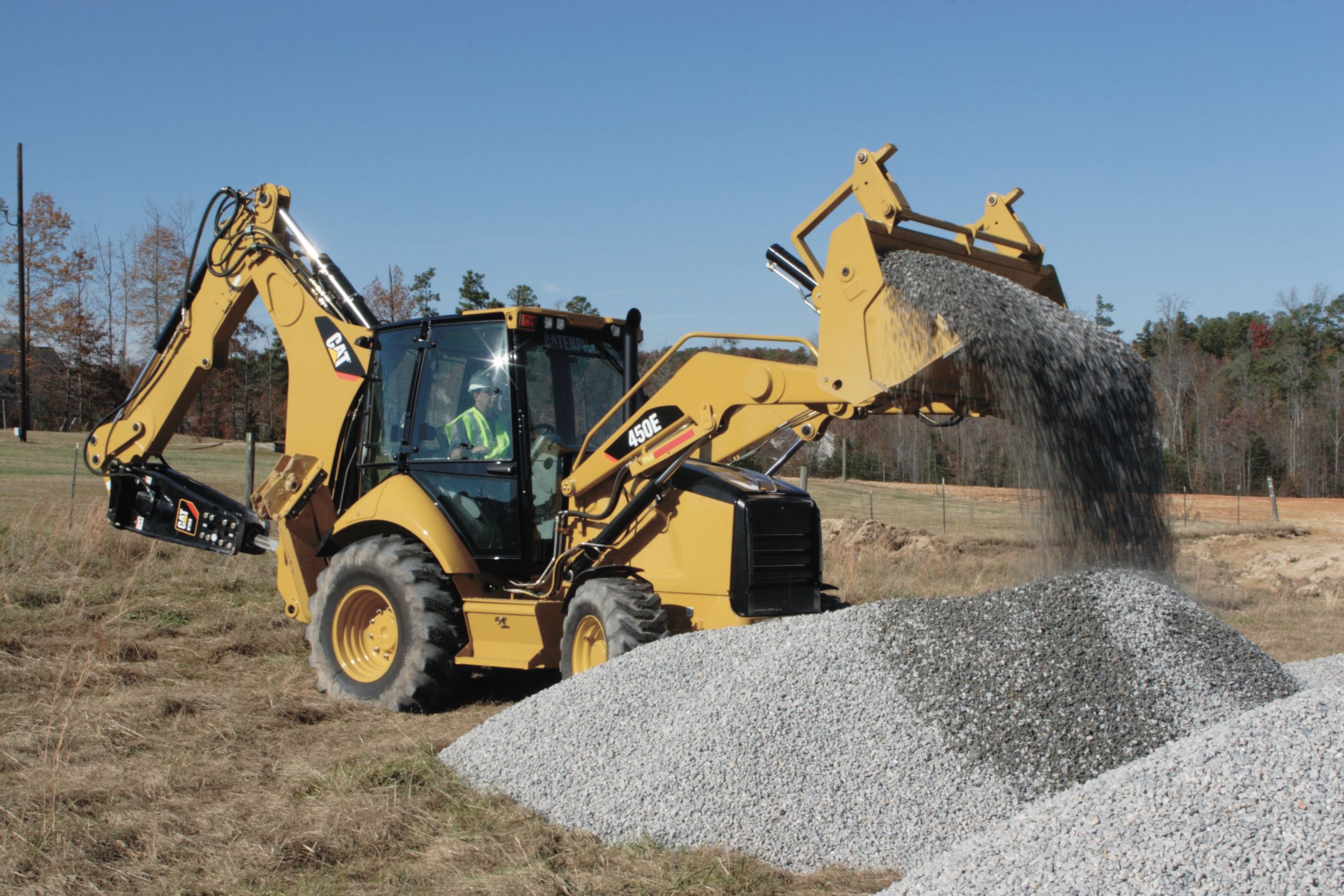 Load-Sensing Hydraulic System
The variable displacement piston pump and flow-sharing hydraulic valves sense work demand and adjust flow and pressure for increased productivity. Load-sensing hydraulics deliver:
Maximum lift and dig forces at any engine RPM
Cooler hydraulic system
Better fuel efficiency
Quieter operation
Reduced wear on components
Hydraulic Pump
The variable displacement piston pump improves implement response and speed while still providing high forces at any engine speed. A supplemental gear pump provides increased flow and responsiveness.
Torque Limiter Control
The pump torque limiter control manages distribution of engine power to the hydraulic system and drive train. E-Series improvements produce more aggressive backhoe digging and stronger truck loading performance.
Flow-Sharing Hydraulic Valves
Technology leveraged from Cat Hydraulic Excavators, new flow-sharing hydraulic valves automatically distribute flow to optimize multi-function implement performance. Closed-center implement valves signal hydraulic system requirements to a control valve located on the pump.
Clamps and Bushings
Metal clamps with rubber bushings are used at hose attachment points to eliminate metal-to-metal contact and increase wear life.
Cat XT-3 ES ToughGuard™ Hoses
Improved bend radius and abrasion resistance provide reliable long life in the toughest conditions. Made of four overlapping, insulated wire spiral wraps bonded together for durability, Cat XT-3 ES (Enhanced Spiral) ToughGuard hoses exceed SAE certification standards. The hose routing protects them from work damage, and hose failure is substantially reduced. Cat XT-3 ES ToughGuard hoses combined with Cat couplings and O-ring face seal fittings provide a leak-free system. All backhoe hydraulic circuits utilize the new ToughGuard hose with extended wear characteristics.
Power Train
The Cat® C4.4 engine is built for performance, power, reliability and fuel efficiency.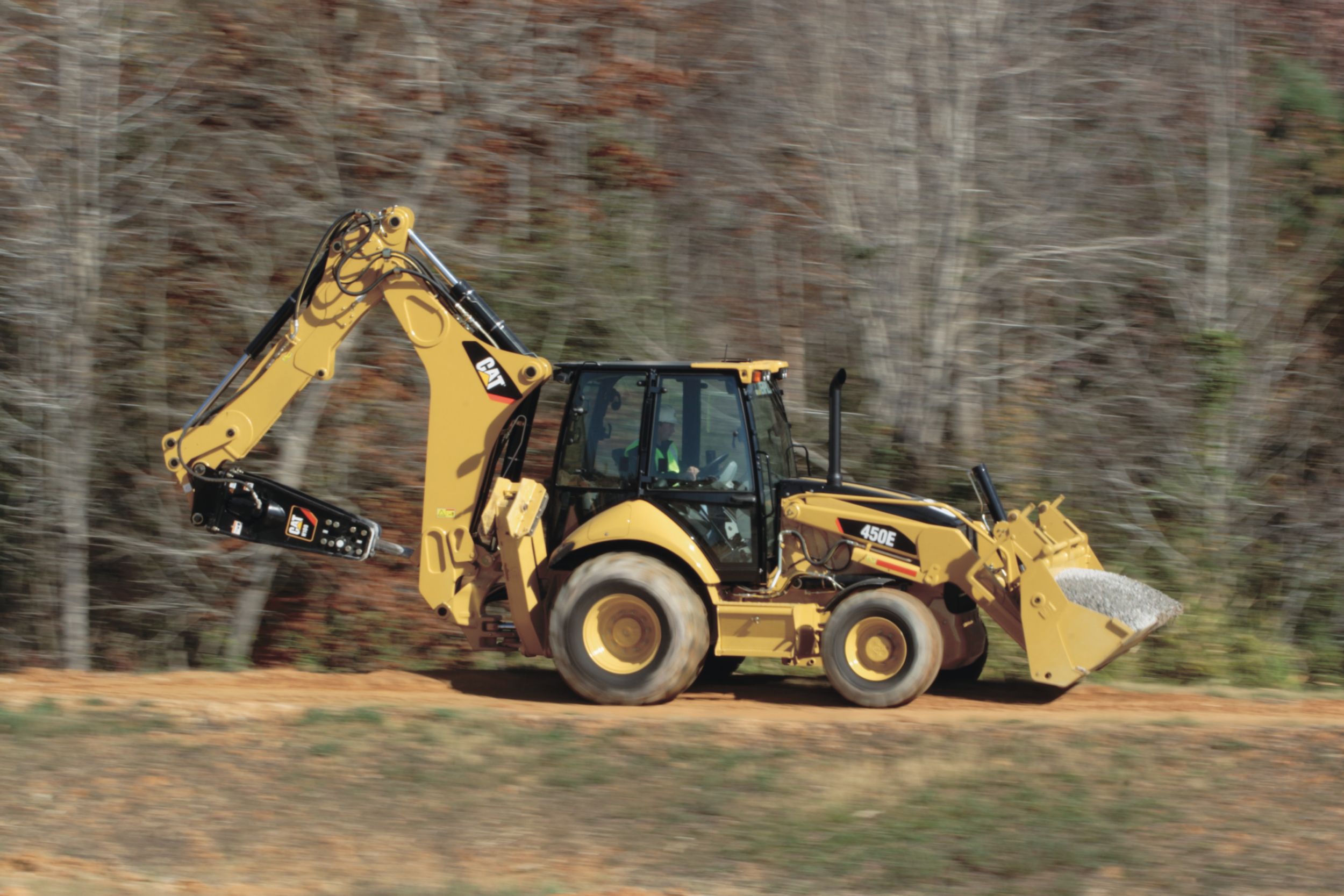 Cat C4.4 Diesel Engine
The Cat C4.4 engine meets all U.S. EPA Tier 3/EU Stage III emissions requirements. It delivers high horsepower, increased torque rise and reliable power with low emissions. It provides excellent fuel economy and system durability.
Direct Injection Fuel System
Individual unit fuel injectors deliver efficient and accurate fuel metering and reduced emissions. The water separator service indicator ensures the operator is alerted when service is necessary.
Enhanced Roading Speed
Maximum roading speed has been increased to 40 kph (25 mph) for faster travel between jobsites.
Air Cleaner
A dry-type axial seal air cleaner with automatic, integrated dust ejection system provides more efficient pre-separation. The two-stage air filter incorporates both air cleaner and precleaner functions into a single unit mounted under the hood.
New Axles
New heavy-duty axles are designed specifically for demanding backhoe loader applications. Features include outboard planetary gear sets and brakes for serviceability and longer life.
Auto-Shift Transmission
The standard automatic transmission matches gears with grade and load conditions. Top gear is selected with the twist grip control on the steering column. At the touch of a switch, manual mode gives the operator control over gear selection, as a power shift transmission.
Transmission Kick-Down Switch/Neutralizer
Located on the loader control, the kick-down switch allows the operator to downshift through the gears. When this switch is depressed for more than one second, it serves as the transmission neutralizer to maintain engine and hydraulic speed when truck loading.
Standard Four Wheel Drive (4WD)
Heavy-duty front drive axle can be engaged at any time by activating the switch on the front console. The switch can be activated while the machine is stopped or moving, with or without load. 4WD features outboard planetary gear final drives and improves mobility and loader performance in poor traction conditions.
Brake Mode Selector
The brake mode selector switch has three positions: two wheel drive, two wheel drive with all wheel braking and all wheel drive. Center position provides two wheel drive for better tire life while roading and engages the front axle when brakes are applied for improved braking performance.
Ride Control
Standard Caterpillar Ride Control delivers even greater operator comfort.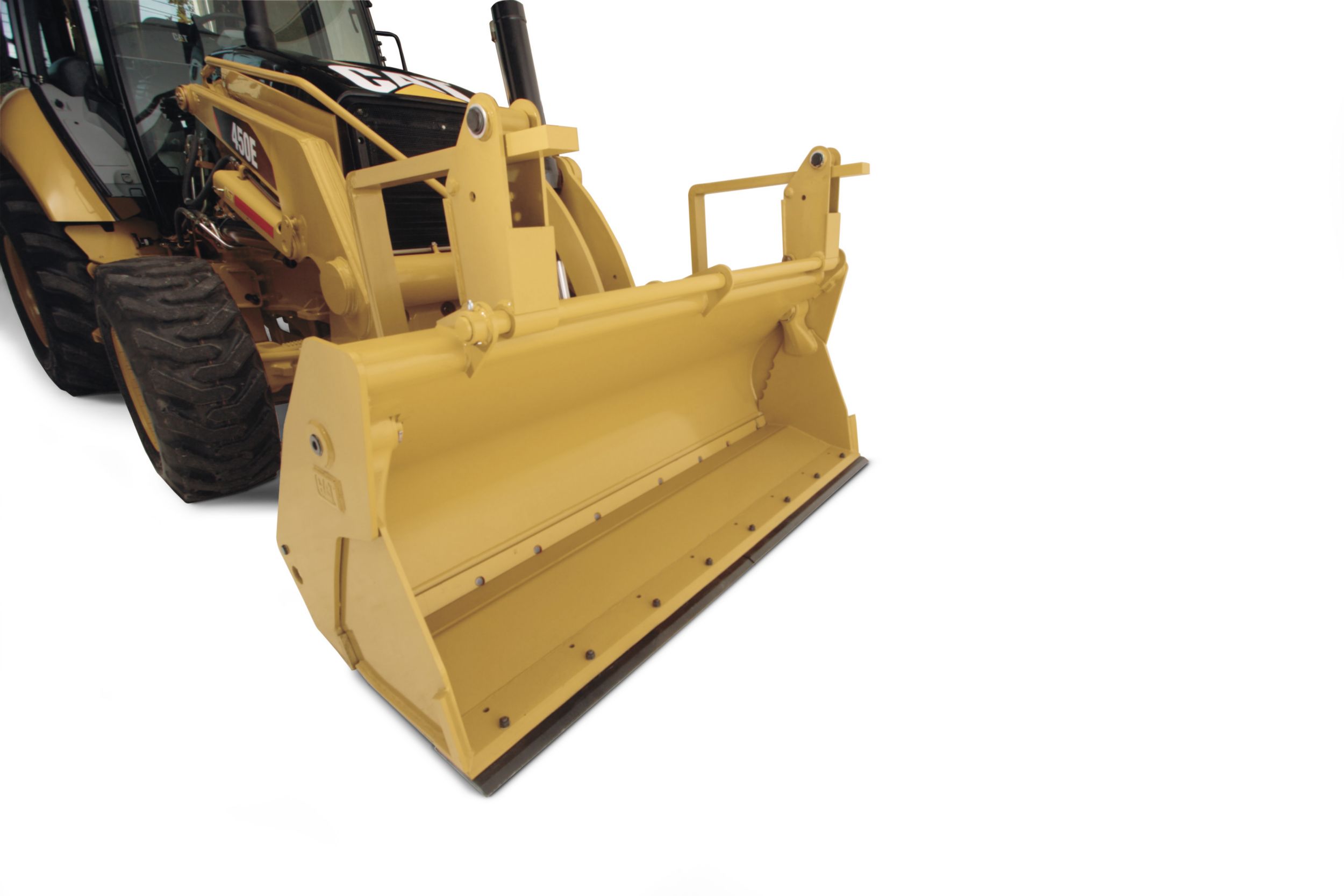 Ride Control System
The Ride Control System incorporates a nitrogen accumulator in the loader lift circuit that smooths the ride in all conditions, including load and carry, highway roading, or simply moving around the job site.
Improved Productivity
Ride Control improves material retention in the loader bucket for increased productivity and a cleaner jobsite.
Controllability
Ride Control reduces machine loping, providing a smooth and stable ride for increased operator comfort and reduced operator fatigue.
Convenient Operation
The system is easily engaged by a switch on the front console. The Ride Control switch has three positions, ON, OFF and AUTOMATIC. In the automatic position, the Ride Control engages automatically as the travel speed increases. At low speed, the system disengages for loading, grading or finishing applications.
Backhoe and Loader Features
New extendible stick is designed for better performance, higher force and improved serviceability.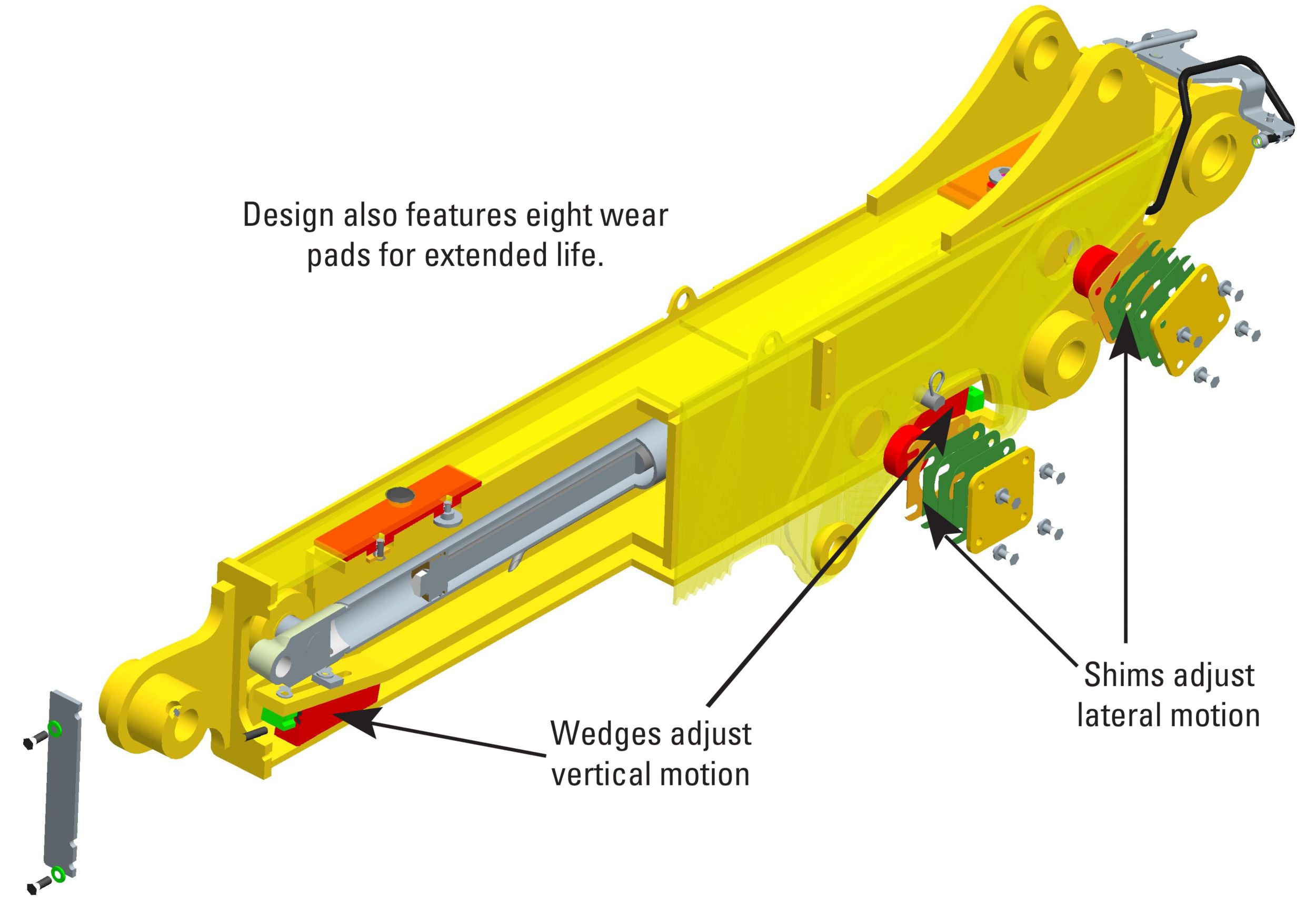 New Backhoe Design
The completely new E-Series backhoe delivers increased digging forces. Its rugged design provides durability in the toughest applications. Serrated edges on the stick provides improved material clamping for clearing and demolition applications.
New Extendible Stick
The optional extendible stick (E-stick) increases reach and dig depth by 1.26 meters (4.14 feet). The new design delivers increased life and easy in-field adjustment.
High Rotation Backhoe Linkage
Single pin bucket linkage contributes to best-in-class rotation of 198 degrees for all applications, eliminating the need to change pin position whether loading trucks or digging tight, vertical wall trenching. An extra pin hole in the E-Series buckets is provided to maintain compatability with previous machine models.
Backhoe Boom
The excavator-style boom features box section fabrication with thicker plates for optimum performance and durability. The curved design provides additional clearance over obstacles while digging a trench or truck loading. The narrow boom enhances the viewing area to the bucket and trench throughout the entire operating range.
Backhoe Swing Casting
New swing casting is designed to handle the high performance of the E-Series backhoe. It features replaceable bushings for durability and serviceability.
Thumb Mounting
Thumb mounting provisions are standard on every Cat Backhoe Loader for added machine versatility. Hydraulic thumbs are available factory-installed.
Single Tilt Loader Linkage
The standard single tilt loader linkage features strong lift and breakout forces for solid performance in backfilling and truck loading applications. The machine is equipped with either a general purpose or multi-purpose pin-on bucket to meet your specific needs.
Loader Return-to-Dig
The return-to-dig system reduces loading cycle times by bringing the loader bucket back to the dig position with an easy pull of the lever. By the time the loader bucket is at ground level, the bucket is angled correctly for the next load or cut.
Work Tools
Choose from a wide variety of tools designed specifically for the backhoe and loader.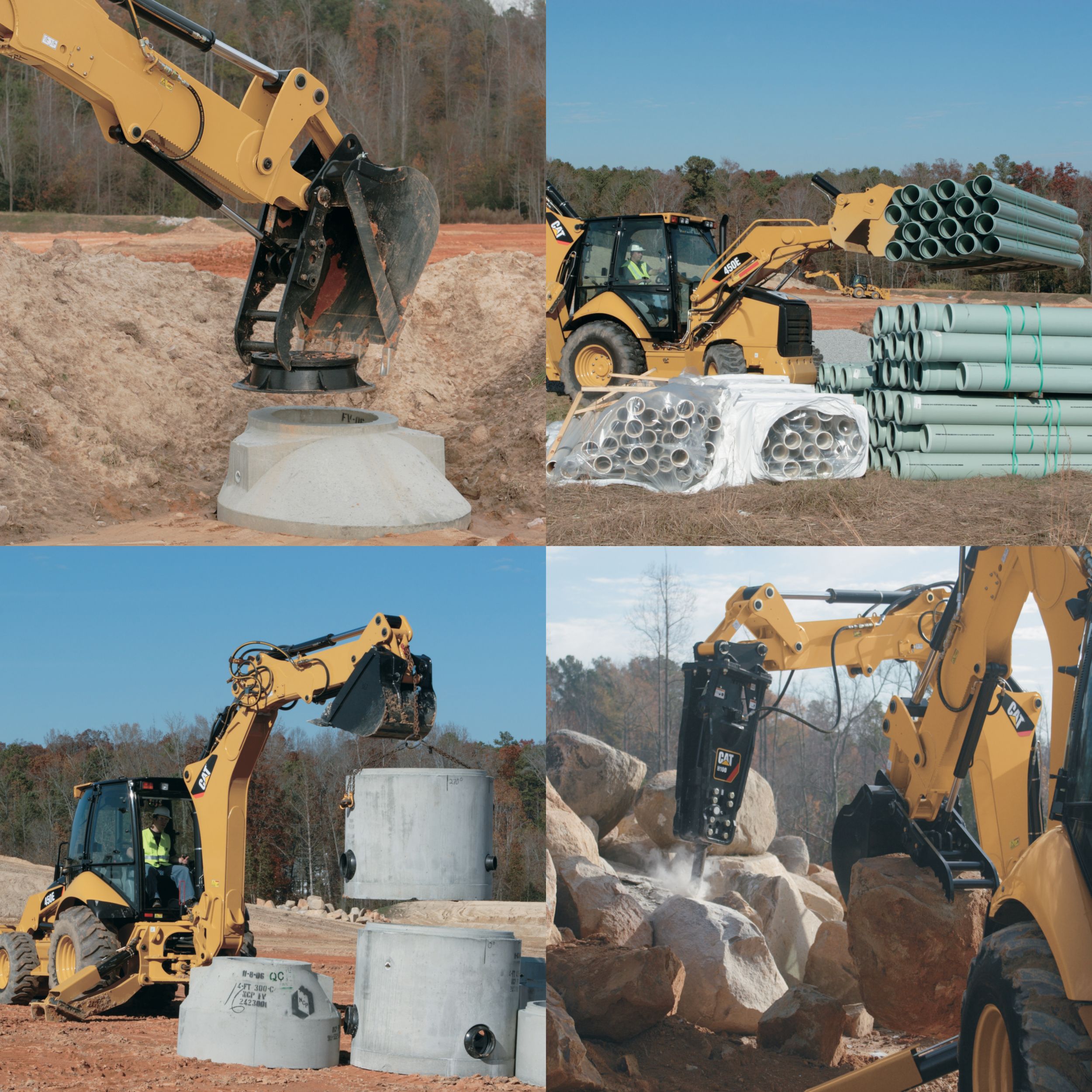 Work Tools
Caterpillar Work Tools for backhoe loaders extend the versatility of the machine. Built for performance and durability, these tools deliver high productivity, long service and excellent value.
Backhoe Work Tools
Heavy Duty Bucket
Ditch Cleaning Bucket
Hydraulic Hammer
Vibratory Plate Compactor
Thumb
Backhoe Quick Coupler
Loader Work Tools
General Purpose Bucket
Multi Purpose Bucket
Side Dump Bucket
Light Material Bucket
Single Tilt Quick Coupler
Loader Forks
Angle Blade
Broom
Rake
Heavy Duty Bucket
Cat offers a new line of E-Series heavy duty buckets with larger capacities and extreme service durability.
Thumb
Available for both the standard and the extendible stick, thumbs increase the versatility of the backhoe with the ability to grip, grab and sort virtually any material.
Tips
A variety of bucket tips are available from your Cat dealer for optimum performance in any application. Buckets are fitted with J225 adapters for maximum strength and durability.
Lift Eyes
Integral lifting eyes are a standard feature, one on the backhoe linkage and two lifting eyes on the rear of every loader bucket.
Loader Quick Coupler
The optional hydraulic quick coupler allows for quick and easy attachment of buckets and other work tools. This coupler fits on the Single Tilt loader and attaches work tools with the Integrated Toolcarrier interface.
Backhoe Quick Couplers
Quick couplers allow for quick attachment of buckets and other work tools.
Additional Features
Product Link, combined function hydraulics and work lights add more benefit.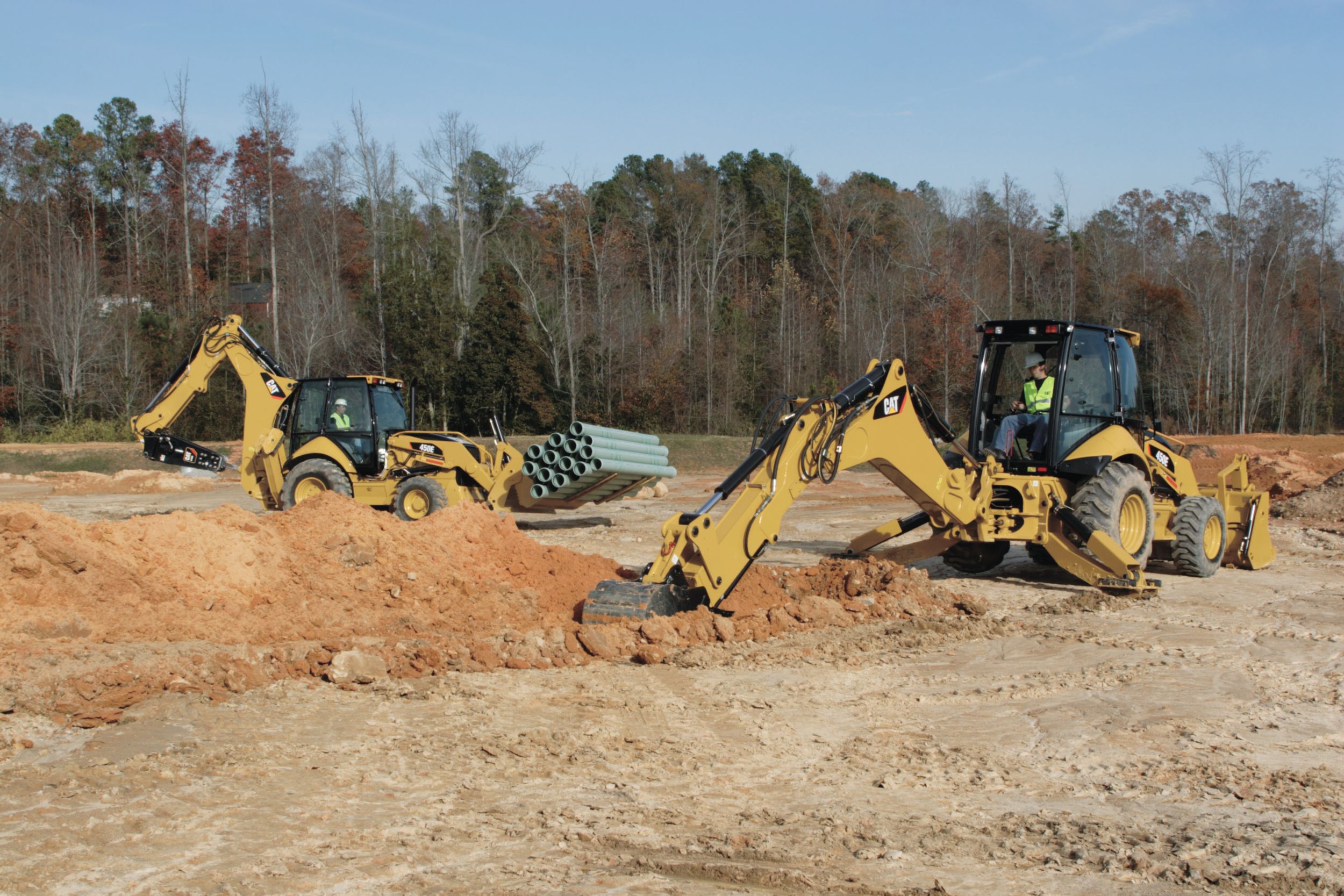 New Combined Function Auxiliary Hydraulics Lines
New backhoe auxiliary lines provide one-way or two-way flow for work tools such as hammers, vibratory compactors and thumbs. Standard hydraulic quick disconnects allow fast tool exchange.
Product Link
This established Caterpillar technology uses a Global Positioning System (GPS) to provide machine data to both Cat dealers and end users. Data can be received by either a web based application system or notification by e-mail or pager. Product Link can provide:
Machine hours
Location
Machine events and diagnostics from the on-board computer
Counterweight
A new 2200 lb counterweight is standard for improved machine balance and roading.
New Work Lights
New work lights are adjustable and better aligned for improved lighting of the work area.
Fuel Tank
Large capacity tank located on the frame's left side is lockable and includes a replaceable, bolt-on step.
Tool and Battery Box
Lockable, hinged door provides easy access to battery box with no hand tools required. Permanent punched hole tread plate on top provides stable footing in all weather conditions. A battery disconnect switch is located inside the battery box.
Flip Over Stabilizer Pads
Standard flip over stabilizer pads provide the ability to work in both dirt and street applications.
Serviceability and Customer Support
Simplified service and maintenance save you time and money.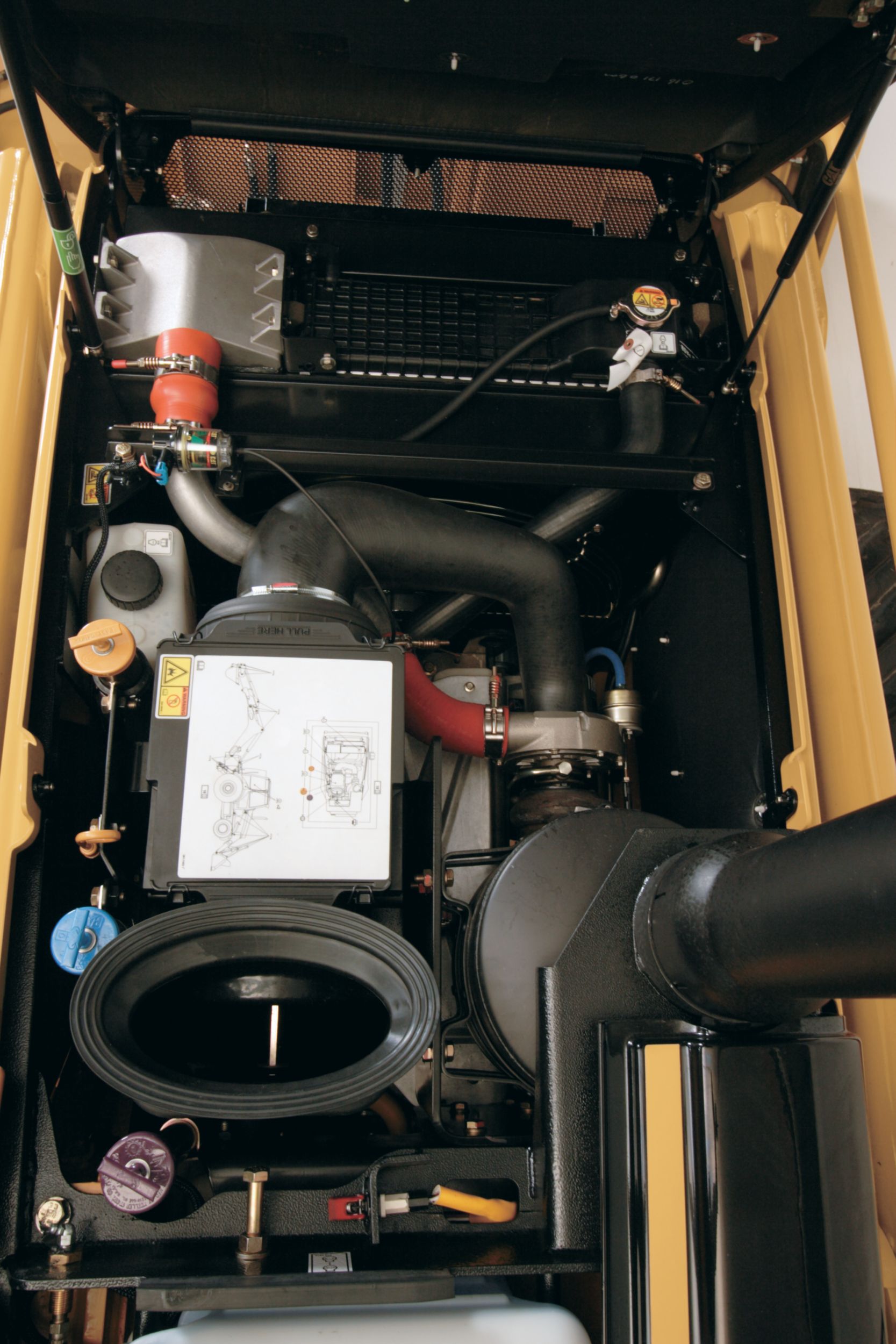 Tilt-Up Hood
The tilt-up hood provides easy, convenient access to all engine check points from the left side of the machine. Fill caps are color-coded for quick identification.
On-Board Diagnostics
Electronic control module stores fault codes for easy, efficient troubleshooting and maximum machine uptime.
Selection
Make detailed comparisons of the machines you are considering before you buy. Cat dealers can estimate component life, preventative maintenance and the true cost of lost production. You can also customize the machine that is right for you. Go on-line anytime to review the full range of features and options available using the Build and Quote applications on your dealer's website or www.Cat.com.
Purchase
Look at the value E-Series backhoe loaders offer. Consider all the flexible financing options your Cat dealer offers as well as day-to-day operating costs.
Operation
Improving operating techniques can boost your profits. Turn to your Cat dealer for the latest training literature and trained staff.
Maintenance
Repair option programs guarantee the cost of repairs up front. Diagnostic programs such as SOSSM and Coolant Sampling and Technical Analysis help you avoid unscheduled repairs.
Replacement
Repair, rebuild or replace? Your Cat dealer can help you evaluate the cost involved so you can make the right choice.
Product Support
You will find nearly all parts at our dealer parts counter. Cat dealers utilize a worldwide computer network to find in-stock parts to minimize machine downtime. Additionally, Caterpillar offers a line of genuine remanufactured components which can help lower repair costs.
Easy Financing
Your Cat dealer can provide a financing package to meet your needs.
Safety
Caterpillar is committed to providing you with a safe work environment. For more information please visit SAFETY.CAT.COM™.
EQUIPMENT
Standard Equipment
BACKHOE
17'3" center pivot backhoe
Excavator style boom w/ hammer rest
Thumb-ready stick w/ gripping edges
Boom transport lock w/ auto latching
Swing transport lock
Lifting eye
Pilot operated, auto-up stabilizers
198-degree bucket rotation
ELECTRICAL
12-volt electrical system
120-ampere alternator
Horn
Hazard flashers / turn signals
Halogen headlights (4)
Halogen rear floodlights (4)
Stop and taillights
Audible system fault alarm
Key start/stop system
Ext/int 12-volt power receptacles (2)
Two 880 CCA maintenance-free batteries
Battery disconnect switch
LOADER
Single Tilt Loader w/ bucket level indicator
Loader service brace
Return-to-dig, automatic
Self-leveling loader bucket
Transmission neutralizer switch
HYDRAULICS
Load sensing, variable flow,
closed center system, 51 gpm
5 Function backhoe hydraulics
5 Micron spin-on hydraulic filter
O-ring face seal hydraulic fittings
Snap-To-Connect hydraulic couplings
Caterpillar XT™-3 ES hose
Cat Toughguard XT-3 ES hose
Ride Control
OTHER STANDARD EQUIPMENT
Toolbox, lockable, external
4 separate transport tie-down points
Ground line fill fuel tank
Rubber impact strips on radiator guard
2200 lb counterweight
Lockable hood
Tire valve stem protection
Stabilizer cylinder rock guards
Flip style, dual purpose stabilizer pads
CD-ROM Parts Manual
Backhoe Safety Manual
Operations and Maintenance Manual
OPERATOR ENVIRONMENT
Lighted gauge group: tachometer, fuel, service hour meter,
coolant temperature, transmission temperature
Hydraulic system monitors: filter and temperature warnings
Interior rear-view mirror
Rear fender extensions
ROPS Canopy
2-inch retractable seat belt
Steering wheel assist knob
Hand and foot throttle
Floor mat
Cell phone mount
Coat hook
Backhoe position foot rests
Two lockable storage areas
Drink holders
Lunch box holder
Air suspension seat with arm rests
Service harness
Tilt steering wheel
Rear fender extensions
System fault alarm
Boosted brakes
POWERTRAIN
Cat C4.4 137GHP/124 HP (net)
U.S. EPA Tier 3 emissions compliant
Charge cooled, Direct Injection Turbo
Self-adjusting, serpentine accessory belt
Water separator with indicator light
Thermal starting aid system
Dry-type axial seal air cleaner w/ auto dust ejection,
pre-cleaner & filter indicator
Engine fan guard
On-the-go 4-wheel-drive front axle, maintenance free
2WD, 2WD w/ 4 wheel braking, 4WD modes
Front driveshaft guard
Hydrostatic power steering w/ secondary emergency steering
Boosted, multi-plate wet, outboard disc brakes
Electronic differential lock
Separate driveline parking brake
Torque converter
Transmission, Auto-shift, (5F, 3R)
40 kph (25 mph) level ground max speed
Spin-on, engine oil and transmission oil filters
Spin-on clear bowl water/fuel separator
Spin-on secondary fuel filter
Firestone 15-19.5 12 ply front tires
Firestone 21L-24 18 ply rear tires
Consolidated engine service points
Open-Circuit-Breather system
CONNECT. DISCUSS. SOLVE.
CATERPILLAR EQUIPMENT MAINTENANCE ONLINE COMMUNITY
HOW CAN WE HELP?
SHARE YOUR FEEDBACK OR ASK A QUESTION