430E/430E IT
With standard pilot-operated joystick controls, a more comfortable operator station, extendible stick design and increased performance, the 430E/430E IT lets you get more done with less effort.
SPECIFICATIONS
Engine
Net Power - SAE J1349
102.0 hp
Engine Model (Standard)
Cat® C4.4 ACERT® DIT
Gross Power - SAE J1995
111.0 hp
Net Power - ISO 9249
103.0 hp
Gross Power - ISO 14396
110.0 hp
Net Power - EEC 80/1269
103.0 hp
Net Peak Power @ 1,800 rpm - EEC 80/1269
105.0 hp
Net Peak Power @ 1,800 rpm - ISO 9249
105.0 hp
Net Peak Power @ 1,800 rpm - SAE J1349
103.0 hp
Net Torque Rise @ 1400 rpm - Standard
43.0 %
Net Peak Torque @ 1400 rpm - Standard - SAE J1349
349.0 lb ft
Backhoe
Dig Depth - Standard
15.41 ft
E-Stick Retracted
15.78 ft
E-Stick Extended
19.52 ft
Reach from Swing Pivot - Standard
19.85 ft
E-Stick Retracted
20.19 ft
E-Stick Extended
23.78 ft
Bucket Rotation
205.0 Degrees
Bucket Dig Force - Standard
15892.0 lb
E-Stick Retracted
15680.0 lb
E-Stick Extended
15680.0 lb
Stick Dig Force - Standard
9940.0 lb
E-Stick Retracted
9730.0 lb
E-Stick Extended
7197.0 lb
Stick Lift @ 2440 mm (8 ft) - Standard
5992.0 lb
E-Stick Retracted
6100.0 lb
E-Stick Extended
4334.0 lb
Loading Height - Standard
12.98 ft
E-Stick Retracted
12.83 ft
E-Stick Extended
14.83 ft
Loading Reach - Standard
5.82 ft
E-Stick Retracted
6.39 ft
Weights
Operating Weight - Maximum
24251.0 lb
Operating Weight - Nominal
15708.0 lb
Auto-Shift Transmission
60.0 lb
Four Wheel Drive
342.0 lb
Extendible Stick (no weights)
615.0 lb
Counterweights (Option 1)
255.0 lb
Counterweights (Option 2)
510.0 lb
Counterweights (Option 3)
1075.0 lb
Loader
Bucket Capacity - General Purpose
1.31 yd3
Bucket Width - General Purpose
7.89 ft
Dump Height @ Max Angle - Single Tilt
8.54 ft
Dump Height @ Max Angle - IT with QC
8.33 ft
Dump Reach @ Max Angle - Single Tilt
2.69 ft
Dig Depth - Single Tilt
4.0 in
Dump Reach @ Max Angle - IT with QC
2.62 ft
Lift Capacity @ Full Height - Single Tilt
6475.0 lb
Bucket Breakout Force - Single Tilt
10401.0 lb
Bucket Breakout Force - IT with QC
10672.0 lb
Dig Depth - IT with QC
6.0 in
Lift Capacity @ Full Height - IT with QC
6971.0 lb
Hydraulic System
Circuit Type
Closed center, load sensing
Pump Capacity (@ 2200 rpm)
43.0 gal/min
System Pressure - Backhoe
3611.0 psi
System Pressure - Loader
3307.0 psi
Pump Type
Variable-flow, axial piston
Steering Type
Front wheel
Power Steering
Hydrostatic, HMU
2WD Cylinder - Bore
2.6 in
4WD Cylinder - Bore
2.6 in
Brake System
Inboard, oil-immersed, multiple disc
Power Train
Power-Shuttle, Forward 1st
3.7 mph
Power-Shuttle, Reverse 1st
3.7 mph
Auto-Shift (opt), Forward 1st
3.7 mph
Auto-Shift (opt), Reverse 1st
3.7 mph
Operating Specifications - Backhoe
Turning Circle: outside, front wheels
26.84 ft
Turning Circle: outside, widest loading bucket
36.0 ft
Axle Ratings
Front Axle, 2WD, Static
50582.0 lb
Front Axle, 4WD, Static
50582.0 lb
Rear Axle, Static
50582.0 lb
Service Refills
Engine Oil w/Filter
2.0 gal
Transmission-Torque Converter, 4WD, Power Shuttle
4.9 gal
Rear Axle, Planetaries
0.4 gal
Front Axle, Planetaries
0.2 gal
Hydraulic System
25.1 gal
Transmission-Torque Converter, 4WD, Auto Shift
5.0 gal
Standards
Brakes
SAE J/ISO 3450, ISO 3450 1996
Cab - ROPS
SAE J1040 May 1994/ISO 3741 1994
Cab - FOPS
SAE J/ISO 3449 APR98 LEVEL II and ISO 3449: 1992 LEVEL II
Cab - Sound
ANSI/SAE J1166 Oct 98 is 80 dB (A)
Exterior Sound
SAE J88 JUN86 is 76 dB (A)
BENEFITS & FEATURES
Operator Station
Comfort, visibility and style.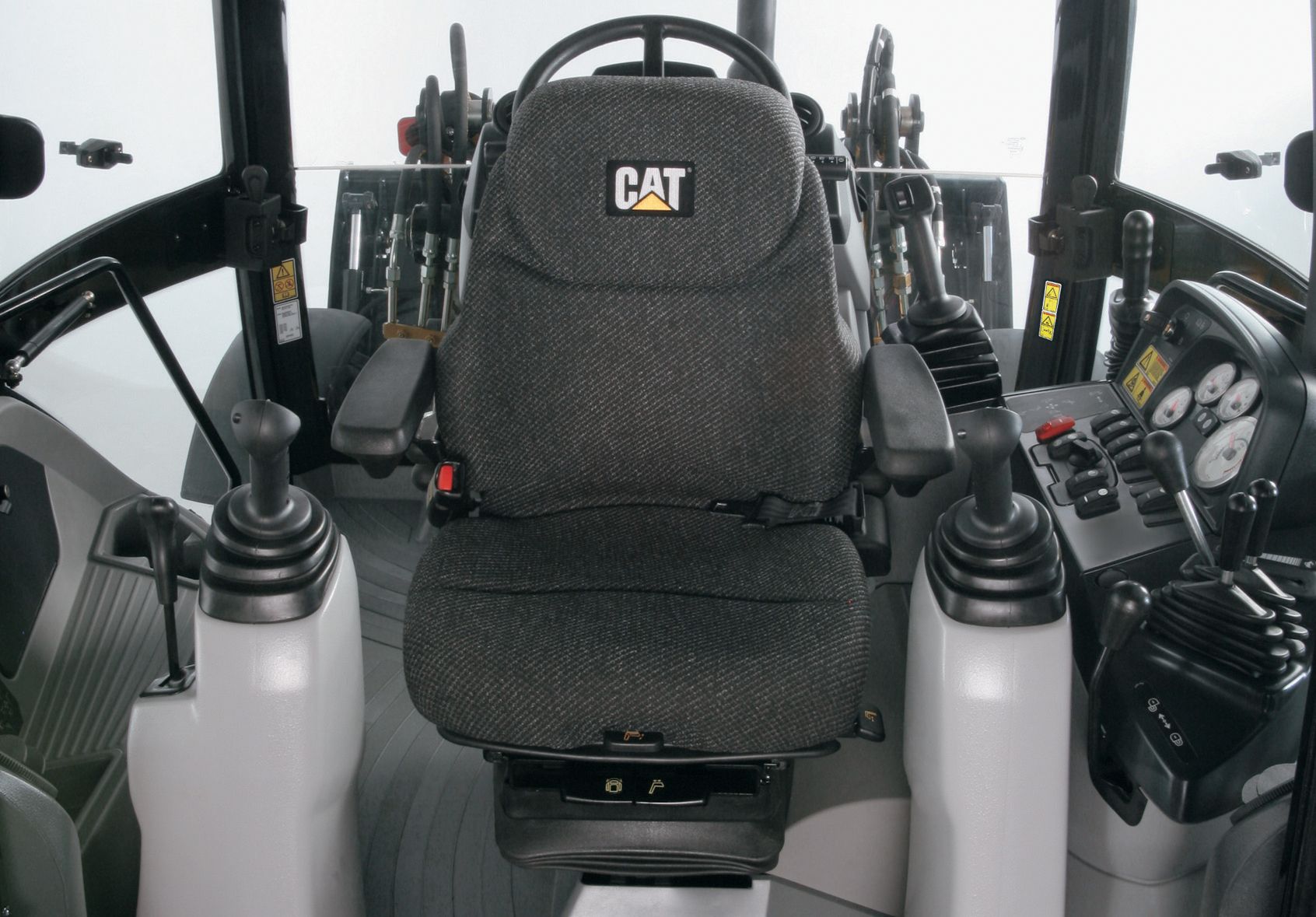 Experience a whole new level of comfort with the spacious E-Series operator station. The ergonomic, automotive style enhances the operator environment. A narrow front dash provides excellent visibility to the front bucket. Reduced vibration keeps operator fatigue low. In-cab storage compartment and lockable tool and battery box provides ample space for tools and belongings. The operator station also features an easy-to-read gauge cluster and increased legroom.
Automatic Engine Speed Control
This new feature reduces engine speed when the backhoe is not in use to conserve fuel and lower environmental noise.
Air Suspension Seat
The standard air suspension seat is adjustable for a greater operating range and more comfortable ride. A switch allows the seat to be tailored to support differing body weights. Adjustable seat height accommodates all operators. The deluxe cab air suspension seat also has an adjustable back support, lumbar support, seat cushion extension, seat cushion tilt and vertical and angle adjusting armrests.
Improved Air Conditioning
The improved air conditioning system features enhanced air distribution and performance for a more comfortable work environment. A nearly 20% increase in air flow combined with improved louver locations provide superior operator comfort.
Configurations
The 430E operator station is available in 5 options - ROPS Canopy, ROPS Canopy Plus, Standard Cab, Deluxe Cab and Deluxe Cab with Air Conditioning. See Standard and Optional Equipment for details.
Controls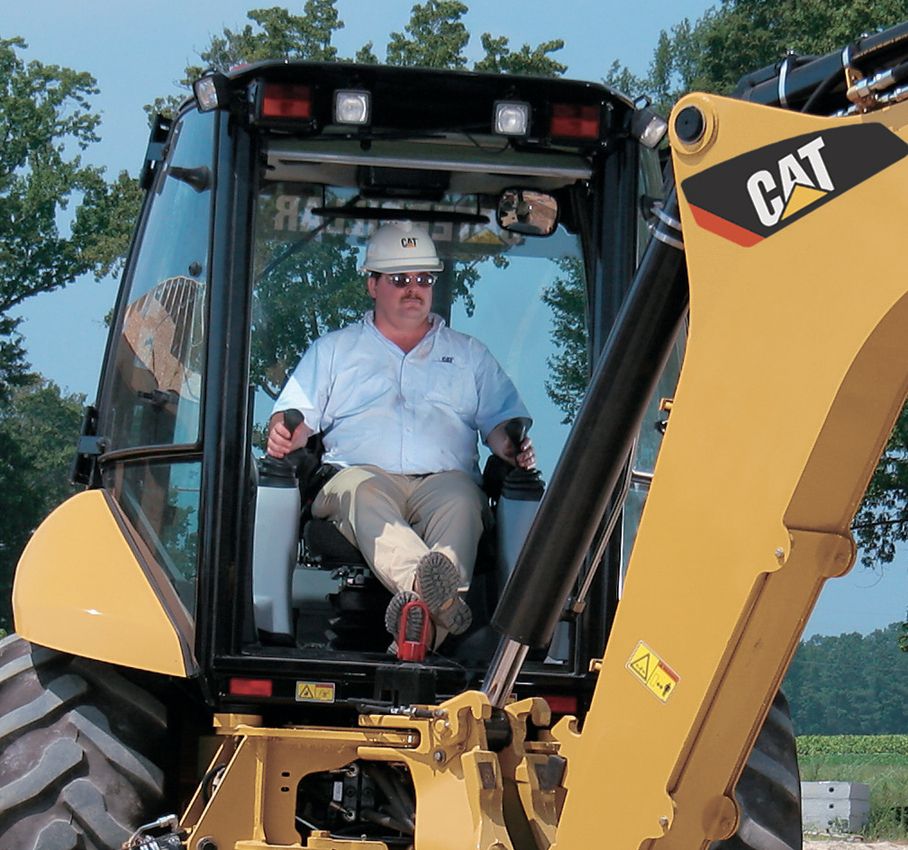 Low effort, ergonomic excavator-style joystick controls provide smooth modulation. Thumb rollers provide convenient, fingertip control of auxiliary functions, eliminating pedals on the floor.
One-Touch Low Idle
Located on the right hand joystick, this button reduces engine speed to low idle. This new feature will reduce fuel consumption and improve communication with ground crew.
Pattern Selector
The pattern selector switch, located in the cab, allows the operator to change from excavator to backhoe control pattern simply by pressing a button. This allows the operator to use the pattern they are most familiar with to get more done, faster.
Hydraulics
Load-sensing system matches power to demand.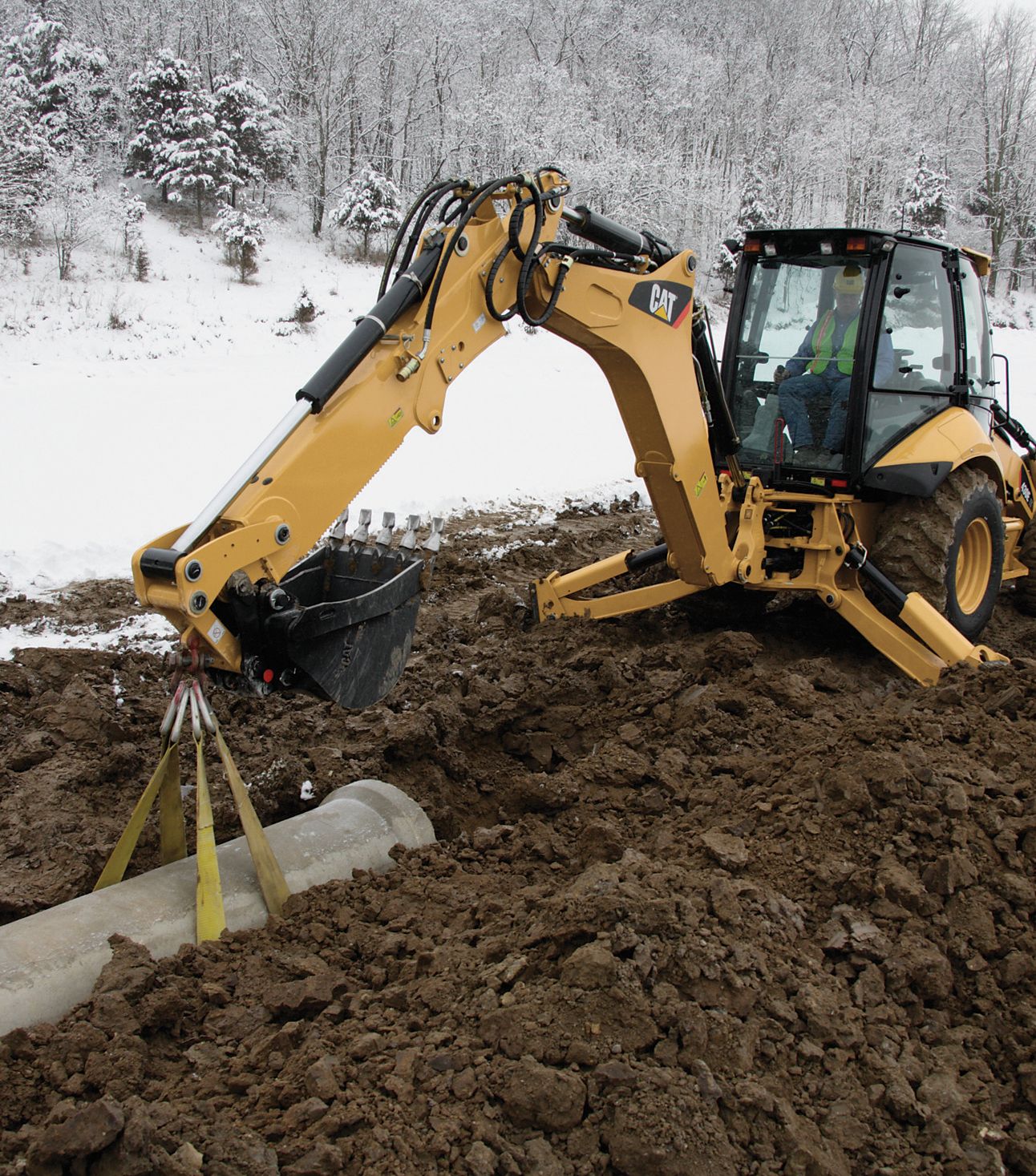 The 430E has a load-sensing, closed center hydraulic system,which closely matches power and flow to the demand needed by the implements. So whether you're in full trenching mode, or delicately digging around services, you are in control. In applications such as production trenching, speed is important and the system will match the flow needed to get the job done quickly and efficiently. The load-sensing hydraulic system also delivers:
A cooler hydraulic system
Better fuel efficiency
Quieter operation
Reduced wear on components
Cat XT-3 ES ToughGuard™ hoses combined with Cat couplings and O-ring face seal fittings provide a leak-free system. The 430E also features new flow-sharing hydraulic valves, ensuring proportional flow of oil to all hydraulic cylinders, providing greater control and improving multi-function performance.
Ride Control
Delivers even greater operator comfort.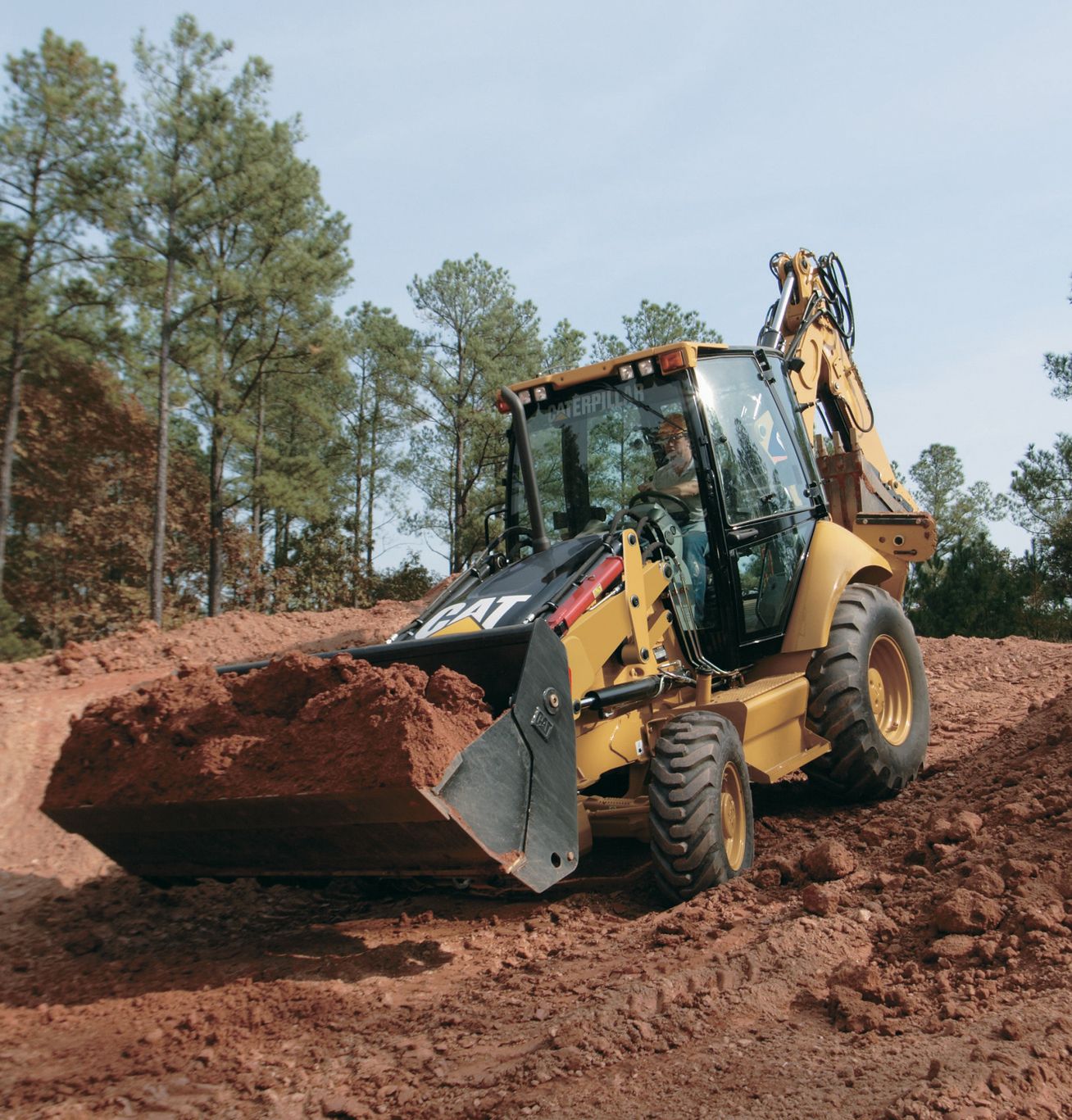 The optional Ride Control System smoothes the ride in all conditions, including load and carry, highway roading, or simply moving around the job site. It reduces machine loping, providing a smooth and stable ride for increased operator comfort and reduced operator fatigue. The Ride Control option improves material retention in the loader bucket for increased productivity and a cleaner job site. The system is easily engaged by a switch on the front console. The Ride Control switch has three positions, ON, OFF and AUTOMATIC. In the automatic position, the Ride Control engages automatically as the travel speed increases. At low speed, the system disengages for loading, grading or finishing applications.
Power Train
Built for performance, power, reliability and fuel efficiency.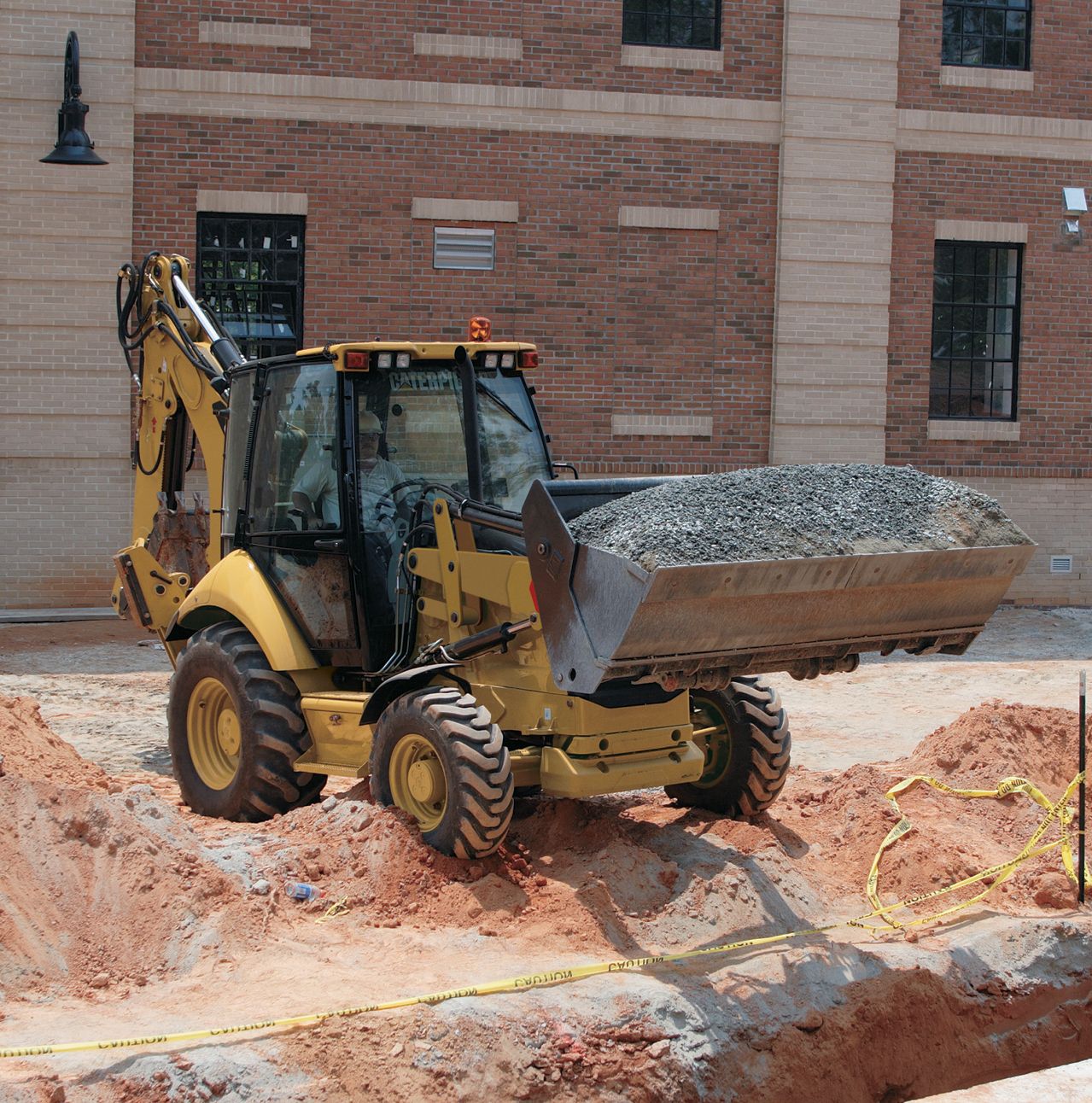 Cat Engine
The 430E features the Cat® C4.4 DIT (Direct Injection Turbocharged) engine with ACERT® technology and meets all U.S EPA Tier 3/EU Stage IIIa emissions requirements. The increased horsepower and torque rise deliver improved loading and roading performance.
Electronic engine control provides precise fuel metering for optimized power, response and fuel efficiency.
The water separator service indicator ensures the operator is alerted when service is necessary.
Dry-type axial seal air cleaner with automatic, integrated dust ejection system for more efficient pre-separation. Both air cleaner and precleaner functions are incorporated into a single unit mounted under the hood.
Transmission
The Cat standard power shuttle transmission provides four speeds forward and reverse. Hydraulically shifted clutches allow on-the-go direction and travel speed shifts. The optional auto-shift transmission matches gears with grade and load conditions. Top gear is selected with the twist grip control on the steering wheel.
Hydraulic proportional control valves smooth speed and directional shifts.
Transmission Kick-Down Switch/Neutralizer allows the operator to downshift through the gears to first.
Standard Four Wheel Drive (4WD) improves mobility and loader performance in poor underfoot and can be activated on-the-go.
Maximum roading speed of 40 km/h (25 mph) for faster travel between job sites.
Cat Rear Axles are designed specifically for demanding backhoe loader applications. Axles feature outboard planetary gear sets for easy serviceability and brake design improvements for longer service life.
Brake Mode Selector
The brake mode selector switch has three positions: two wheel drive, two wheel drive with all wheel braking and four wheel drive. Two wheel drive with all wheel braking provides better tire life while roading and engages the front axle when brakes are applied for improved braking performance.
Loader
Choice of loader linkage to meet your needs.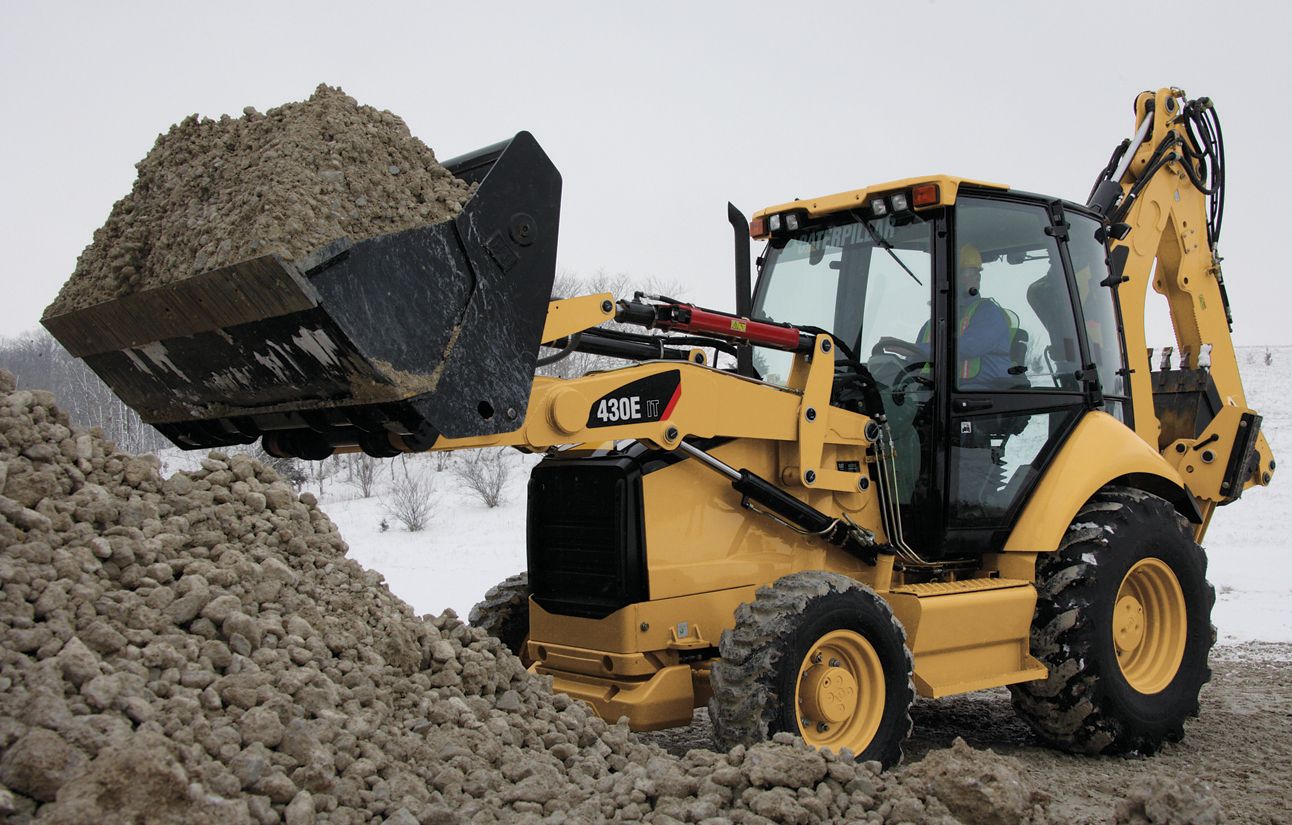 Caterpillar offers a choice of single tilt or integrated toolcarrier (IT) loader linkage to suit your application requirements. The IT loader controls provide single lever proportional control and fine modulation of the hydraulic work tools. A thumb roller operates auxiliary hydraulic functions such as the multi purpose bucket on the IT machines.
Single Tilt
The standard single tilt loader linkage features strong lift and breakout forces for solid performance in backfilling and truck loading applications.
Integrated Toolcarrier
The optional integrated toolcarrier (IT) loader linkage provides higher breakout forces, as well as parallel lift, for efficient loading and material handling. Integrated toolcarriers are highly versatile and can use a wide range of Cat Work Tools for a variety of applications.
Return-to-Dig
The return-to-dig system reduces loading cycle times by bringing the loader bucket back to the dig position with an easy pull of the lever. By the time the loader bucket is at ground level, the bucket is angled correctly for the next load or cut.
Backhoe
Boom and stick designed for high performance and easy service.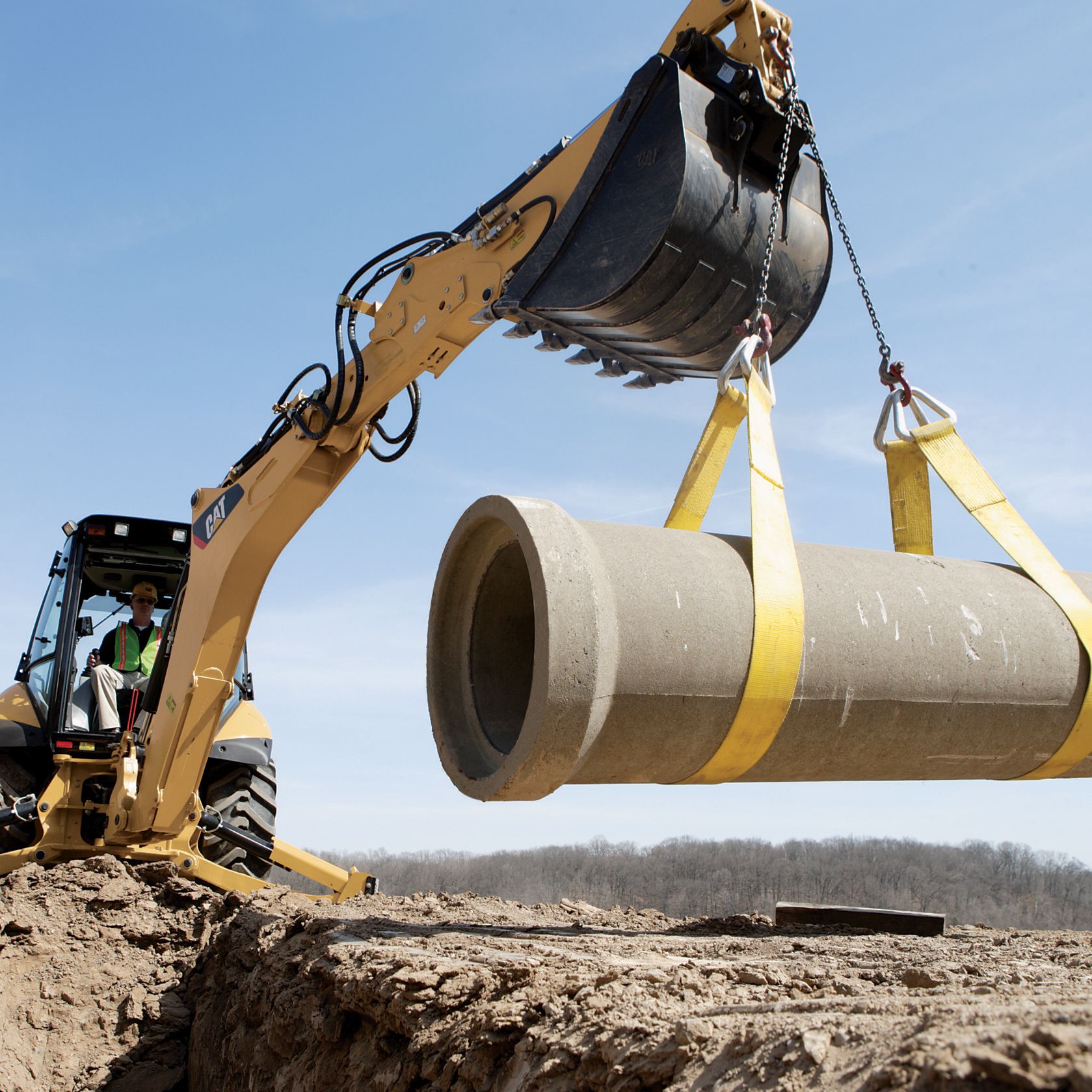 The E-Series backhoe delivers industry-leading digging forces. Serrated edges on the stick provide improved material clamping for clearing and demolition applications. The single pin bucket linkage contributes to best-in-class rotation of 205 degrees for all applications.
E-Stick Design
The optional extendible stick (E-stick) increases reach and dig depth by approximately 1.2 meters (4 feet). The new design delivers increased life and easy in-field adjustment with common hand tools.
Curved Boom
The excavator-style boom is built for optimum performance and durability. The curved design provides additional clearance over obstacles while digging a trench or truck loading. The narrow boom enhances the viewing area to the bucket and trench throughout the entire operating range.
Thumbs
Thumb mounting provisions are standard on every Cat Backhoe Loader for added machine versatility. Hydraulic thumbs are available factory-installed. Mechanical thumbs are available through your Cat Dealer.
Serviceability
Easy access and minimal maintenance requirements maximize uptime.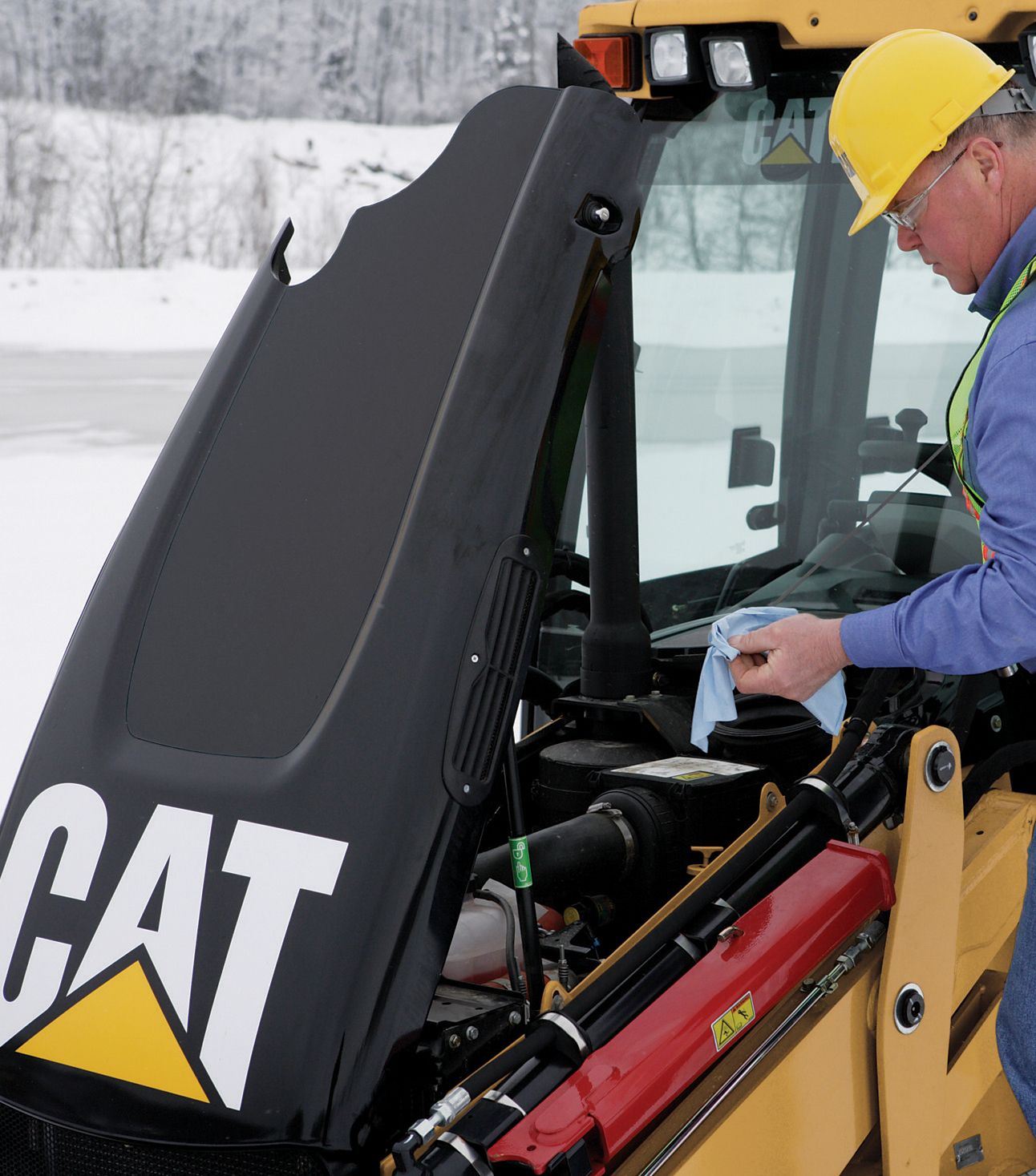 Convenient service features make maintenance easy, reducing your downtime.
Tilt-up hood provides convenient access to all engine check points.
Fill caps are color-coded for quick identification.
Electronic control modules store fault codes for easy, efficient troubleshooting and maximum uptime.
S•O•SSM, Coolant Sampling and Technical Analysis help you avoid unscheduled repairs.
Caterpillar is committed to providing you with a safe work environment. For more information please visit SAFETY.CAT.COM™.
Customer Support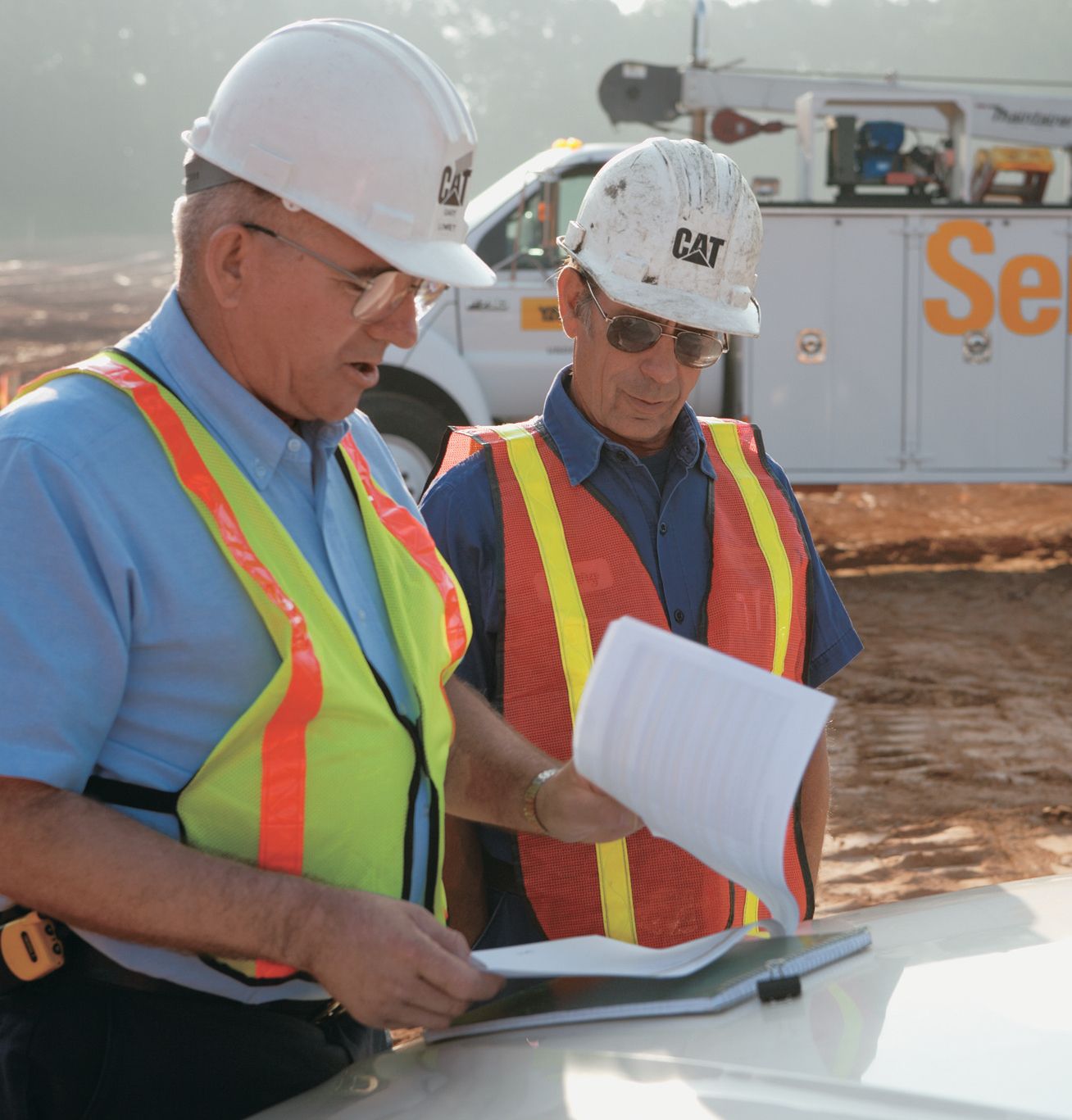 Your Cat dealer is ready to assist you with your purchase decision and everything after.
Financing packages are flexible to meet your needs.
Your Cat dealer can evaluate the cost to repair, rebuild and replace your machine, so you can make the right choice.
Nearly all parts are available at your Cat dealer parts counter.
See your dealer's website or www.cat.com to customize the machine that is right for you using the Build and Quote applications. Also find information on other Cat products, dealer services and industry solutions.
Technology Products
Advanced technologies improve productivity and simplify serviceability.
AccuGrade™ System
The AccuGrade system for backhoe loaders improves digging accuracy and site safety by eliminating the need for manual grade measuring. Both the Site and Laser Reference Systems save time and money in a variety of digging and trenching applications.
Site Reference System
The Site Reference System allows the operator to excavate to pre-determined coordinates. The intuitive software and controls allow the operator to set target grades. An in-cab display allows the operator to enter slope and dig depth parameters. Easy to read grade indicator and elevation display delivers all system information to the cab for easy viewing by the operator. System includes rugged components built to withstand the harshest environments:
In-cab display
Cylinder position sensors
Swing position sensor
Inclinometer
Wiring harnesses
Laser Reference System
The Laser Reference System works with laser transmitters to accurately grade or excavate to a site plan without the use of grade stakes. The Laser System includes all the components of the Site Reference System with the addition of the following:
Laser receiver
Electric mast and mount
Laser wiring harness
Note: Laser transmitter and tripod sold separately
Product Link
Product Link uses GPS technology to provide machine data, including service hours, location, events and diagnostic information, to you through a web-based application or e-mail/pager notification.
Machine Security System
An optional Machine Security System (MSS) that utilizes a programmable key system deters theft, vandalism and unauthorized usage. MSS uses electronically coded keys selected by the customer to limit usage by individuals or time parameters.
Work Tools
Do more jobs with one machine.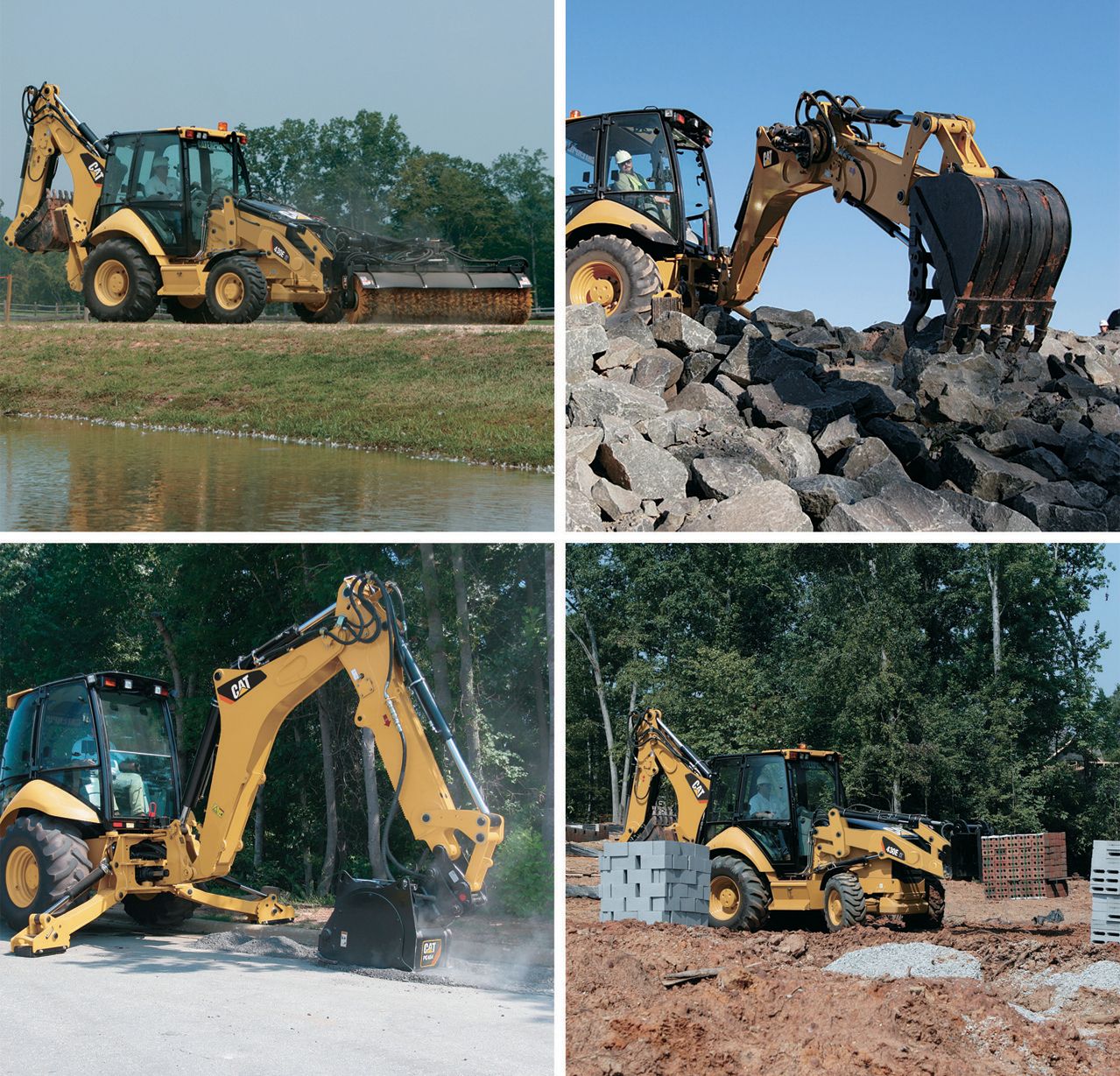 Backhoe Work Tools
A large selection of backhoe tools - including a new hydraulic thumb - gives you the flexibility to serve more customers, more profitably.
Standard Duty, Heavy Duty, Heavy Duty Rock, Pin Lock, Soil Excavation, Coral and Ditch Cleaning Buckets
Cold Planer
Hydraulic Hammer
Auger
Ripper
Mechanical and Hydraulic Thumb
Quick Coupler
Vibratory Plate Compactor
Loader Work Tools
The versatile loader tool line includes a wide variety of options from angle blades to asphalt cutters:
General Purpose, Multi Purpose, Side Dump and Light Material Buckets
Angle Blade
Broom
Rake
Asphalt Cutter
Loader Forks
Bale Spear
Material Handling Arm
Snow Plow
IT Quick Coupler
The quick coupler allows quick connection to selected work tools. Mechanical work tools can be changed in less than 30 seconds from the comfort of the operator station.
The right bucket makes all the difference
To get top performance from your Cat backhoe loader, be sure your machine is equipped with the proper bucket and tips. The soil excavation bucket provides the best productivity in most conditions.
DRS 230 (Diagonal Retention System)
Heavy-duty bucket teeth are attached with diagonal pins rather than horizontal pins for easy exchange.
EQUIPMENT
Standard Equipment
Air cleaner
Alarm, back-up
Automatic Engine Speed Control (AESC)
Backhoe position footrests
Battery, maintenance-free, 880 CCA
Battery disconnect switch
Boom transport lock
Brace, lift cylinder
Brake, secondary parking
Brakes, hydraulically boosted, oil disc, dual pedals, interlocking
Bucket level indicator
Canopy, ROPS/FOPS
Cat cushion swing system
Coat hook
Coolant/Antifreeze, extended life
Counterweight, bumper
Dome light (cab only)
Differential lock
Engine, Cat® C4.4 ACERT® DIT (Direct Injection Turbocharged)
Engine enclosure
Face seals, O-ring
Fan, suction and guard
Fast reversing shuttle, all gears
Fenders, rear
Filters, spin-on: fuel, engine oil, transmission oil, water separator, hydraulic fluid
Flashing hazard/signal lights
Floor mat
Four wheel drive with driveshaft guard
Gauges: coolant temperature, fuel level, tachometer, hour meter, torque converter oil temperature
Ground level fuel fill
High ambient cooling package
Hydraulic hose, XT™-3 ES
Hydraulic oil cooler
Indicators: air cleaner service, water separator service, brake on, engine coolant, hydraulic oil level sight gauge, oil pressure
Instrument panel lights
Joystick controls: pilot operated, excavator-style with pattern changer
Key start/stop system
Lights, working (4 front, 4 rear)
Loader, self-leveling, return-to-dig and transmission disconnect switch
Lunch box holder
Mirror, rear view
One-touch low idle
Open circuit breather
Pattern changer, in cab
Power receptacle, 12V, internal and external
Power steering, hydrostatic
Radio installation kit
Rubber impact strips on radiator guard
Seat belt, retractable (51 mm/2 in)
Service harness
Stabilizer shoes, grouser type
Seat, air suspension, fabric or vinyl cover, with armrest
Stabilizer controls, pilot operated
Starting system, glow plugs
Storage compartment, internal
Stop and tail lights
Swing transport lock
Tilt steering wheel
Tires, see page 13
Toolbox, external, lockable
Torque converter
Throttles, hand and foot
Transmission, four speed, syncromesh
Transmission neutralizer switch
Transport tie-downs
Warning horn, electric
Optional Equipment
AccuGrade™ Site Reference System for Backhoe Loaders
AccuGrade Laser Reference System for Backhoe Loaders
Attachments, front loader
General purpose buckets
Multi purpose buckets
Carriage, fork
Material handling arm
Battery, additional, 880 CCA
Cab, deluxe
Cab, deluxe with A/C
Cab, standard
Canopy Plus, ROPS
Coolant, additional protection, -50° C (-58° F)
Counterweights
116 kg (255 lb)
231 kg (510 lb)
488 kg (1,075 lb)
Cutting edge, bolt-on, two piece
Fenders, 4WD, front
Fenders, rear extensions
Guards
Boom protection plate
Stabilizer, rock
Hydraulic valves, loader (3rd valve for GP, MP or Quick Coupler)
Hydraulic valves, backhoe
Hydraulic lines
Combo, Std Stick
Combo, E-Stick
One-way, E-Stick
Loader, IT with hydraulic QC and pilot loader control
Machine Security System
Product Link
Ride Control
Seat belt, 75 mm (3 in)
Stabilizers, available with guards
Teeth, loader bucket
Transmission, auto-shift
Vandalism protection
Gauge cover
Padlocks
Hood lock
CONNECT. DISCUSS. SOLVE.
CATERPILLAR EQUIPMENT MAINTENANCE ONLINE COMMUNITY
HOW CAN WE HELP?
SHARE YOUR FEEDBACK OR ASK A QUESTION