BARBER-GREENE BG1000E
Based upon the industry-proven reputation of the BG1000D Asphalt Pavers, the BG1000E establishes new industry standards for productivity and reliability. The BG1000E Paver offers cleaner power, fuel efficiency and high performance in a mobile and versatile platform.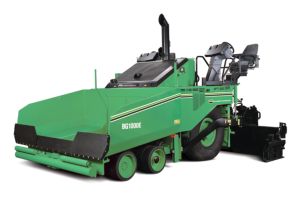 DETAILS
SPECIFICATIONS
Weights
Maximum Operating Weight
43008.0 lb
Operating Specifications
Standard Paving Width
3.05-5.94 m (10-19.5 ft)
Hopper Capacity
251.0 ft3
Inside Turning Radius
1.5 ft
Maximum Paving Speed with Tamper Bar Screed
82.0 ft/min
Maximum Paving Speed with Vibratory Screed
200.0 ft/min
Maximum Travel Speed
12.0 mph
Paving Width Maximum
26.33 ft
Paving Width Minimum
8.0 ft
Truck Dump Height
23.0 in
Truck Entry Width
11.58 ft
Engine
Engine Model
Cat C7.1 with ACERT
Dimensions
Length with Push Roller and Largest Screed
21.66 ft
Tractor Operating Width
11.83 ft
Transport Width, Hoppers Raised, Screed End Gates Attached
10.66 ft
Transport Width, Hoppers Raised, Screed End Gates Removed
9.83 ft
Service Refill Capacities
Fuel Tank Capacity
92.0 gal
BENEFITS & FEATURES
Cat C7.1 Engine with ACERT™ Technology
ACERT Technology utilizes a series of Caterpillar engineered innovations that provide advanced electronic control, precise fuel delivery and refined air management.
Cat C7.1 Engine with ACERT Technology
The C7.1 engine provides 168 kW (225 hp) at 2200 rpm with a torque of 872 N-m. The combination of large displacement and high torque allow the BG1000E to perform under the toughest conditions.
Cat C6.6 Engine with ACERT Technology
The C6.6 engine provides 168 kW (225 hp) at 2200 rpm with a torque of 1028 N-m. The combination of large displacement and high torque allow the BG1000E to perform under the toughest conditions.
Emissions Reduction Technology
The Cat C7.1 engine is equipped with a Diesel Particulate Filter (DPF) that traps soot from theexhaust stream. The soot is removed through a process called regeneration, while the ashremains in the filter and must be removed at a required service interval of 5000 hours. The C7.1engine utilizes two types of regeneration, passive and active.
Regeneration
Regeneration occurs during normal idle periods. The C7.1 utilizes two types of regeneration: active and passive. Neither active nor passive regeneration require operator intervention.
Meets U.S. EPA Tier 4 Interim and E.U. Stage IIIB Emissions Standards
Reduces oxides of nitrogen by 50 percent from Tier 3/Stage IIIA levels. Reduces particulate matter by 90 percent from Tier 3/Stage IIIA levels. Ultra Low Sulfur Diesel (ULSD) fuel is required. Engine oil must meet Caterpillar ECF-3, API CJ-4/ACEA E9 specifications.
Service, Maintenance and Repair
Easier service, maintenance and repair is accomplished by monitoring key functions and logging critical indicators. Advanced electronic diagnostic capabilities are possible using Cat Electronic Technician.
Eco-mode increases fuel efficiency
Once activated, Eco-mode reduces engine rpm from 2200 rpm to 1650 rpm, which is suitable for most normal paving applications. The reduction of engine rpm during operation will reduce fuel burn compared with normal engine rpm. If an application demands more power, Eco-mode can be deactivated to return to 2200 rpm.
Fumes Management System
The ventilation system draws fumes from the conveyor tunnel as well as the auger chamber and redirects them away from the operator for a more comfortable working environment.
High Capacity Cooling System
The high capacity cooling system allows the fan to run slower, reducing power demand while extending component life.
Variable Speed Fan
The variable speed fan is electronically controlled and hydraulically driven providing on-demand cooling, reduced engine power demand and quiet operation.
Dual Operator Stations
The dual operator stations provide complete control and good visibility from either side of the operating platform.
Dual Operator Stations
The dual operator stations incorporate fully equipped consoles with adjustable suspension seats, armrests and retractable seat belts.
Operator Visibility
The dual operator stations can bepositioned in one of four differentlocations to provide optimum visibility. The stations can extend beyond the machine frame for good visibility when joint matching or while paving other applications where precise control is required.
Wheel Undercarriage System
The wheel undercarriage system provides excellent mobility and maneuverability along with a smooth ride for optimum performance.
Excellent Mobility
The sharp turning radius and high speeds allow the paver to move quickly around the job site.
Three Propel Modes
Pave, travel and maneuver modes provide good control and versatility. The maneuver mode provides less than a 0.5 m (1.5') inside turning radius for excellent maneuverability in tight quarters.
Large Drive Tires
The 18.00 R25 sand-rib drive tires provide good tractive effort and a smooth ride.
Large Steering Tires
The 16" x 22", solid rubber steering tires provide maximum ground contact and smooth operation.
Front Suspension
Four, front solid rubber steering wheels are mounted on pairs of oscillating bogies, providing a smooth ride.
Steering Assist
Steering assist feature improves maneuverability and enhances component life by adjusting the drive speed of one side of the propel system according to the steering angle of the front wheels which allows the machine to turn while maintaining the same speed.
Front Wheel Assist (Optional)
The front wheel assist feature provides power to the rear bogey wheels for additional tractive effort.
Long Wheel Base
The long wheel base provides good tractive effort and stability on soft base materials.
Operator Consoles
The operator consoles are designed for productivity and accessibility. All gauges and displays are grouped for convenient and simple operation.
Operator Consoles
Each operator's station includes ground speed indicators, material handling controls, propel controls and screed extender controls. The controls for each station are in the same relative position providing easy control from either console.
Speed Control Dial
A speed control dial located on each operator station allows the operator to set a maximum travel speed which is important for producing a smooth, high-quality mat.
Machine Controller
The machine controller integrates performance functions and allows the feeder and auger speeds to be set independently which extends component life.
Advisor Display
The Advisor display provides visual references, self diagnostics, and planning tools that keep the operator informed for better overall job site performance.
Exclusive Material Delivery System
Productivity and quality enhancements are built-in features.
Mix Delivery
The BG1000E provides precise mix delivery with minimal operator monitoring through the most advanced material handling system.
Feeders Controlled Independently
Left and right feeders in addition to the left and right augers are controlled independently. The ability to control these four components separately, through a machine controller, eliminates the need for feeder gates.
Mix Delivery Control
In order to control mix delivery, the operator sets a speed rate for each feeder that will maintain the desired mix level in the left and right auger chambers.Once the feeder speeds are set, the ratio of feeder speed to the maximum auger speed is automatically maintained by the machine controller, even though the propel rate may change as the job progresses.
Ratio Control
This ratio control capability is particularly helpful when paving wider on one side of the machine than on the other. Each feeder can be set at a specified speed to deliver the proper amount of mix that is needed.
Outboard Feeder Drives
Increased live tunnel area provides easy servicing.
Gateless Feeders
Variable speed feeders precisely control mix delivery while reducing wear and segregation.
Gateless Feeders Run Full of Mix
The gateless feeders on the BG1000E always run full of mix regardless of the speed required to fill the auger chamber. This is typically a slower speed than would be experienced with a paver utilizing feeder gates to control mix delivery rates. By not always having to run at full speed, feeder component wear is significantly reduced.
Changes in Feeder Speed
When changes in feeder speed are required, delivery of mix to the augers is immediate. This is in contrast to pavers with gates, where any delivery rate change is delayed for the length of time it takes to clear the tunnel of mix from the previous gate setting.
Running at Lower Speeds
Running at slower speeds can also help reduce the opportunity for segregation, especially when working with larger stone mixes that have more of a tendency to segregate.
Feeder Design
Tunnel construction improves mix flow.
Auger Assembly
Provides mat consistency while minimizing segregation.
Generator System (Optional)
The high capacity, integrated generator ensures peak performance and high reliability.
Single Control Switch
A single switch on the tractor's operating console activates the generator. The generator operates at 1800 rpm and includes GFCI protection.
Auxiliary Power Panel (Optional)
The auxiliary power panel provides efficient power for night-time lighting and other job site power needs.
Electric Heat Screeds
The AS3301C and AS2301C vibratory screeds, as well as the AS4251C and AS4252C tamper bar screeds feature multi-zone electric heating, easy-to-use touch pad interface, and even-heat distribution.
Operator-Friendly Environment
The electric screed plate heating system eliminates the use of diesel fuel burners, creating a user-friendly environment.
Fast Warm-Up Time
The electric screed provides a warm-up time in 30 minutes or less to 122° C (220° F) when ambient temperatures are at or above 22° C (40° F).
Proven and Reliable
Whether you are paving interstates, highways, residential streets or commercial sites, the electric screed heat system performs under the toughest conditions.
Simple Operation
The screed control panel incorporates touch-pad technology with high intensity LEDs that promote simplified use and diagnostic capability with minimal operator training.
Multi-Zone Heating Elements
The heating elements are mounted to the screed plates in a multi-zone configuration to provide even heat distribution.
Thermostatically Controlled
The screed plates incorporate thermostatically controlled temperature sensors in each screed section including the extenders. The temperature sensors provide inputs to the screed controller.
Serviceability
Simplified service means more paving time and less maintenance time. Large swing-open doors and panels provide convenient access to service areas. Transverse engine mounting provides ground-level access to hydraulic pumps and the engine cooling system. Color-coded and numbered wiring simplifies troubleshooting of the electrical systems. The standard 500-hour engine oil change interval increases machine up-time.
Advisor Display
The Advisor display provides visual references, self diagnostics, and planning tools that keep the operator informed for better overall job site performance.
Large Access Doors and Panels
Preventative maintenance points can be accessed through the large swing-open access doors and panels.
Remote Lubrication Points
Grease fittings are grouped to provide quick, routine service of bearings.
Quick-Connect Sampling Ports
The quick-connect ports simplify retrieval of critical fluids for diagnosis.
Color-Coded and Numbered Electrical System
Troubleshooting is efficient and simplified with the color-coded and numbered electrical system.
Electronic Control Modules (ECMs)
The multiple ECMs communicate withthe Advisor display. The display lists service codes, providing quick reference. The ECMs are compatible with Cat Electronic Technician and easily connect to a laptop computer for fast technical support.
Closed-Loop Hydrostatic Propel System
The closed-loop system automatically compensates for component wear, hydraulic oil temperature and oil viscosity changes to ensure complete, low-effort, operator control.
Propulsion Control
The machine controller provides accurate control of steering and propulsion systems and ensures straight-line tracking.
Caterpillar Customer Support is Unmatched in the Industry
Caterpillar offers "Solutions and Services" and around-the-clock support that meets your everyday needs.
Project Consulting
Project consulting provides a service for improving smoothness, density, and productivity.
Technical Training
Technical training offers in-depth hands-on training to mechanics at Caterpillar training centers or customer locations.
Application Training
Paving Operations Training (POT) is a hands-on methodical approach to the process of paving. The process of "Paving by the Numbers" guides the crew when setting up to pull off the joint.
EQUIPMENT
Optional Equipment
Tractor Options
Auger and Mainframe Extensions
Oscillating Push Rollers
Truck Hitch
Generator
Auxiliary Power Panel
Ventilation System
Decelerator Pedals
Sonic Feeder Sensor or Proportional Paddle Sensor
Steering Guide
Warning Beacon
Umbrella
Uptime Kit
Washdown System
Front Wheel Assist
Controls and Grade References
Automatic Grade and Slope Control
Non-Contacting Sonic Grade Sensor
Contacting Grade Sensor
Outboard Leveler, 9.15 m (30') and 12.2 m (40')
Inboard Leveler
Mobile Stringline
Fore 'N Aft Leveler
Sonic Averaging Beam
Rigid Ski, 9.15 m (30') and 12.2 m (40')
Screed Choices
Extend-A-Mat™ 10-20B (electric or diesel)
Extend-A-Mat 10-20WB (diesel only)
AS2301 (electric or diesel)
CONNECT. DISCUSS. SOLVE.
CATERPILLAR EQUIPMENT MAINTENANCE ONLINE COMMUNITY
HOW CAN WE HELP?
SHARE YOUR FEEDBACK OR ASK A QUESTION